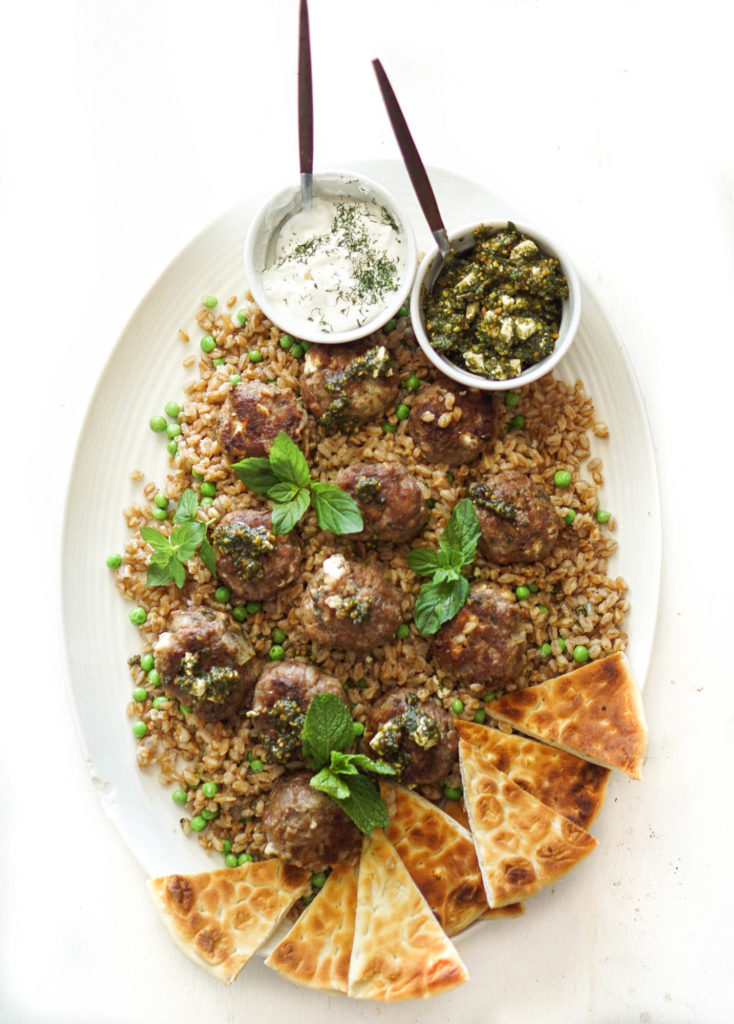 Do you ever get SO excited about a recipe that you make it a second time for family (hi mom!) and a third just to have it in the freezer, all in the spand of a week? 🙋🙋‍♂️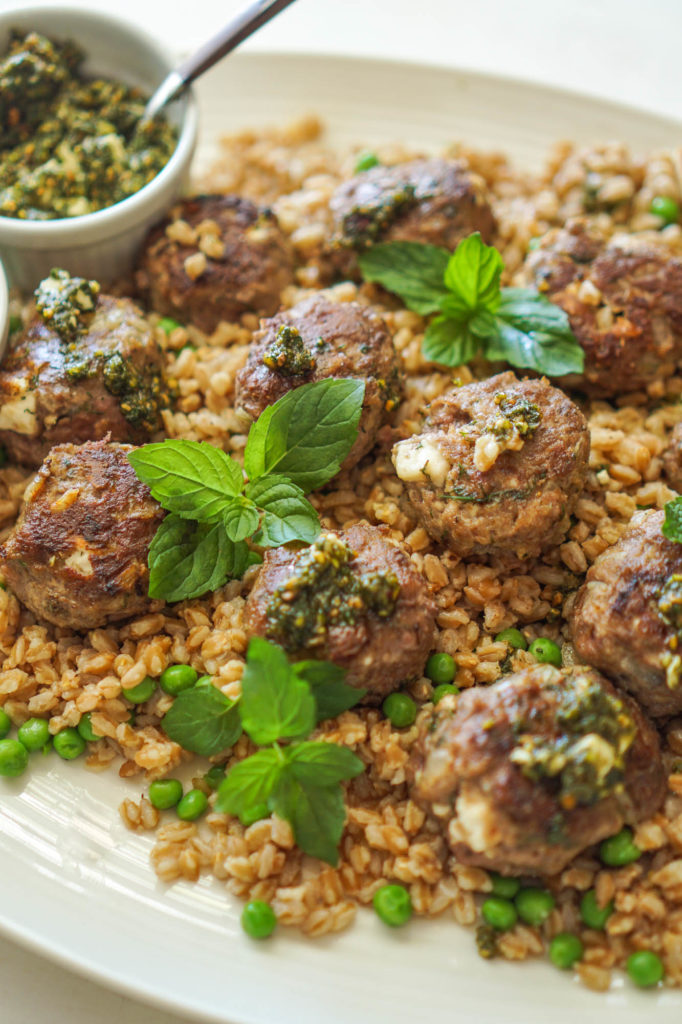 I don't want to toot my own horn, but I already knew these meatballs were going to be a hit. One of my most popular recipes are these Lamb Burgers in Pitas, made with Mediterranean spiced, dill flavored, garlicky lamb patties, stuffed inside a pita, with Mint Pesto and a lemon yogurt sauce.
The recipe is such a hit I recently gave the Mint and Pistachio Pesto its own post, and decided to adapt the burgers into meatballs for a perfect freezer friendly, weeknight, or dinner party dinner. Let's start with these meatballs.
The Meatballs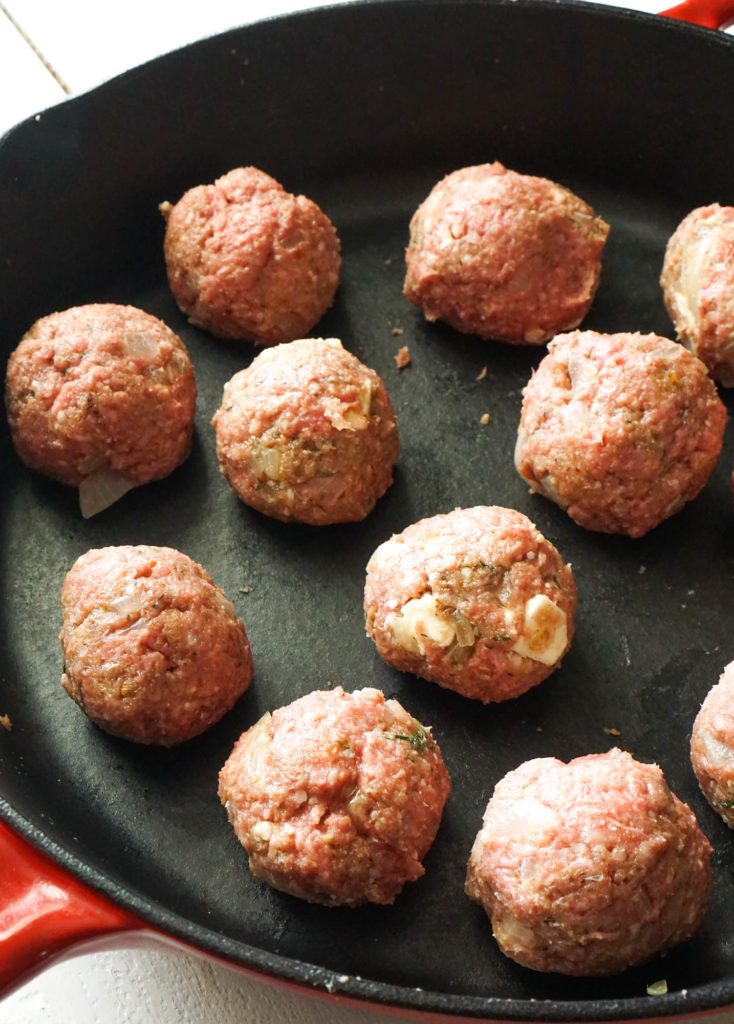 These are made very similar to the burgers except with breadcrumbs and crumbles of feta cheese. Okay pause. Feta cheese in meatballs is LIFECHANGING and needs to happen more often.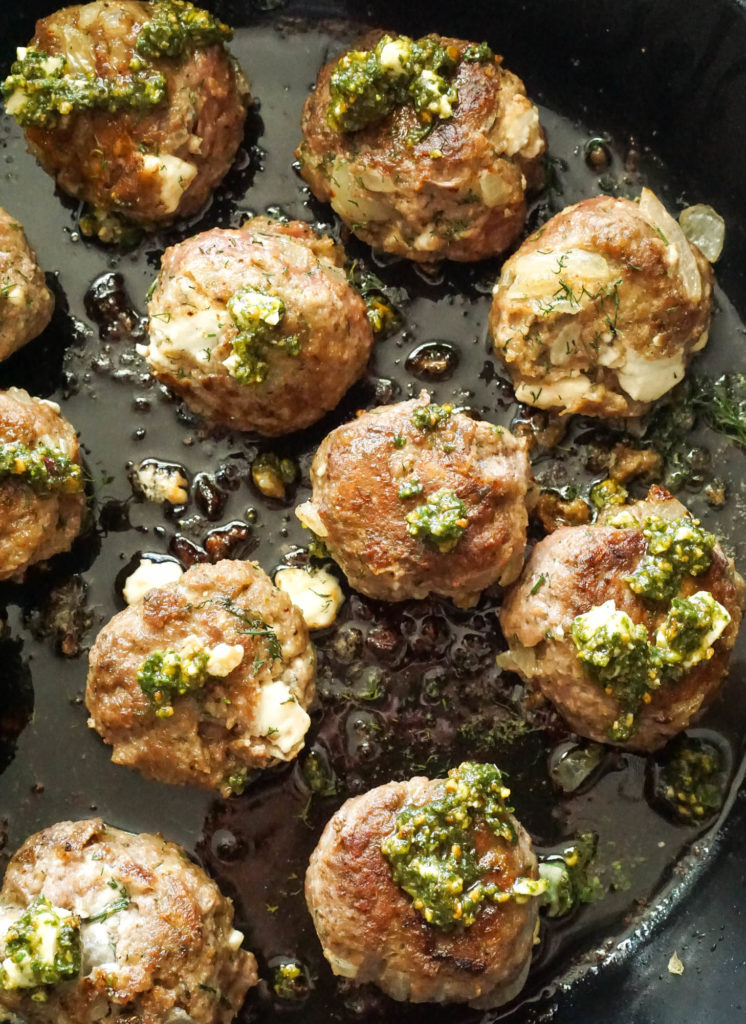 In the recipe you'll see my own blend of spices for a Mediterranean vibe (cumin, coriander, oregano, cinnamon, etc.), but feel free to substitute for 3 1/2 tablespoons of a store bought Mediterranean blend. Just add some salt and pepper for taste!
The meatballs are cooked on the stove top and only take a few minutes to cook. I serve this with a stove top farro that I SO recommend.
The Farro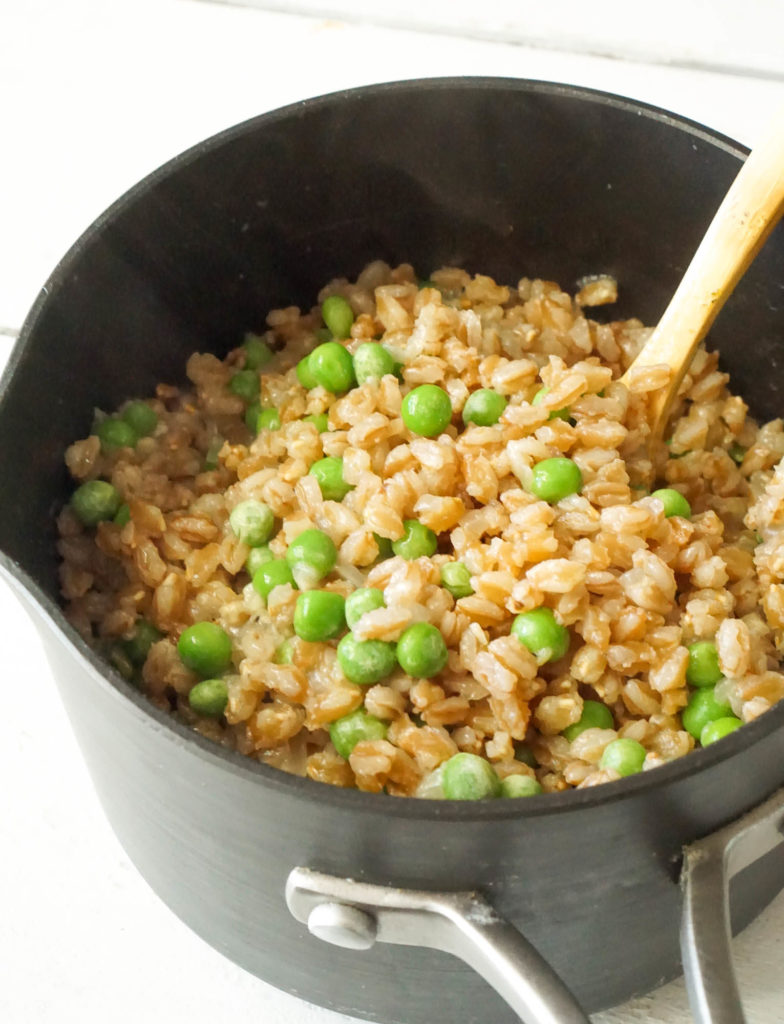 Farro is a healthy grain that looks like little plump brown rice. Once cooked it has a chewy texture and nutty flavor that will leave you hooked. In this recipe I cook the farro in chicken broth with onions, garlic, and frozen peas added in last minute. Divine!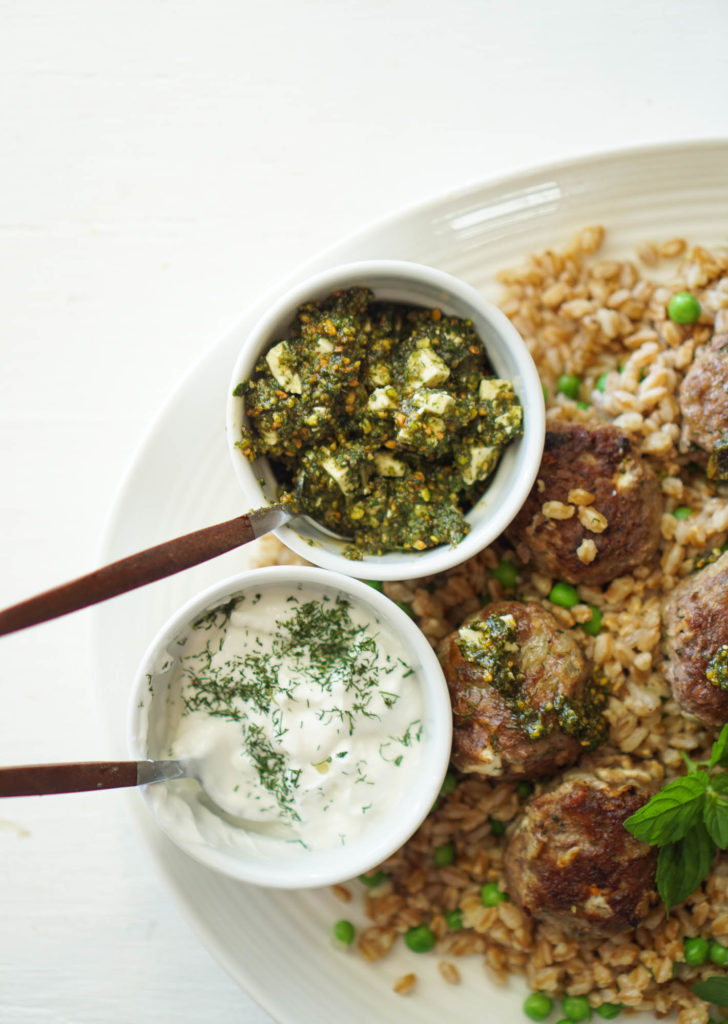 I HIGHLY encourage the Mint & Pistachio Pesto with this recipe as well as a simple yogurt-lemon-garlic sauce for drizzle. Sure, this meal requires a bit of work, so save it for a birthday dinner, special occasion, or a dinner party.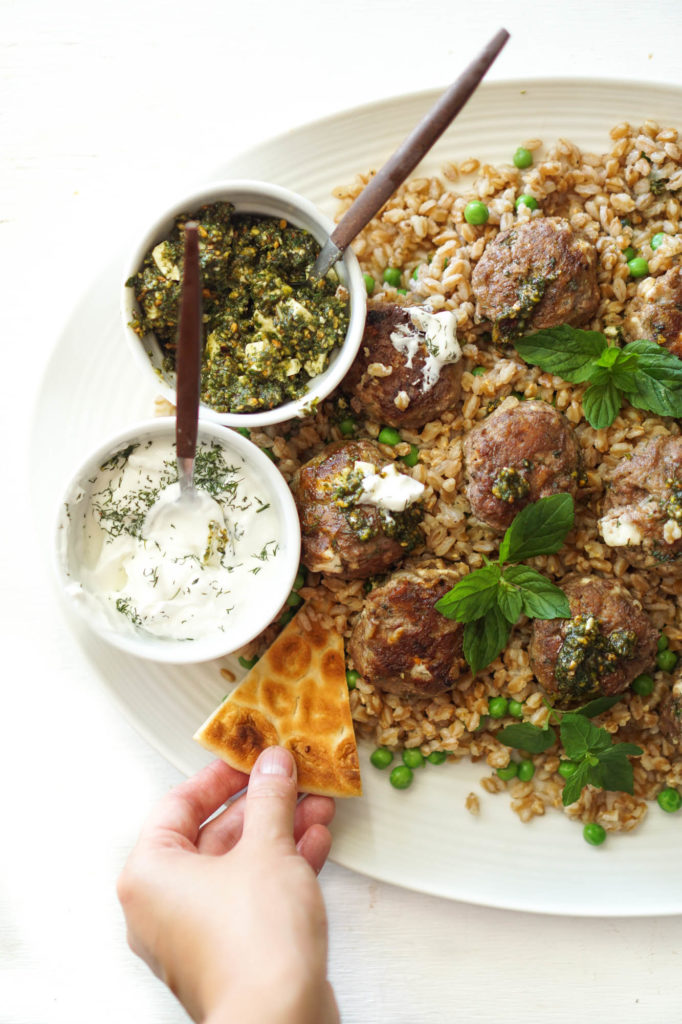 Nobody will be disappointed to see a tray of Farro & peas topped with perfectly browned lamb meatballs, sauces for dipping, and pita wedges.
ENJOY!
Mediterranean Lamb Meatballs & Farro
2017-08-31 16:34:56
Serves 4
Juicy, beyond flavorful lamb meatballs served with plump farro and peas. I recommend serving with a mint pesto and lemon yogurt. This is great for a dinner party or dinner for a special occasion.
For the Meatballs
1 small white onion, diced (about 1/2 cup)
1 clove garlic, minced
olive oil as needed
1 pound ground lamb
1 teaspoon ground cumin
1 teaspoon ground coriander
1/2 teaspoon dried basil
1/2 teaspoon dried oregano
1/2 teaspoon sea salt
1/4 teaspoon cinnamon
1/4 teaspoon black pepper
1/4 teaspoon red pepper flakes
1 tablespoon fresh dill, finely chopped
1 egg
1/3 cup breadcrumbs
4 oz. feta cheese crumbles*
For the Farro
1 small white onion, diced (about 1/2 cup)
1 clove garlic
2 cups chicken stock, low sodium
1 cup farro
1/2 cup frozen peas
garlic sea salt and pepper as needed
1 tablespoon olive oil
1 tablespoon of butter
For the Meatballs
Heat 2-counts of olive oil in a small saute pan over medium heat. Saute the onions until soft and translucent, about 2-3 minutes. Add the garlic and saute until fragrant, about 45 seconds. Remove from the heat and allow to cool.
In a large bowl add the lamb, seasonings, dill, egg, breadcrumbs, and cooled onion/garlic mixture. Mix until well combined, then gently fold in the feta crumbles.
Roll into 1 1/2 ounce meatballs. This yields 14 meatballs.
At this point, I begin to work on the farro (below). While I get started on the grain, I refridgerate my meatballs and begin cooking after the farro has been on the stove for 10 minutes. Up to you, but it's what I recommend.
To cook the meatballs, add 3-counts of olive oil to a large skillet (cast-iron works great). Heat to medium high heat. Add the meatballs and cook 3-4 minutes on each side until crisp and brown. If you like your lamb more medium-rare, 2-3 minutes will do. Keep warm.
For the Farro
Heat the olive oil and butter in a small sauce pan over medium-high heat. Once the butter has melted, saute the onion until soft and translucent, about 2-3 minutes. Add the garlic and cook until fragrant, about 45 seconds.
Add the chicken stock and bring to a vigorous boil. Stir in the farro, reduce to a simmer, and cover. Simmer until the stock has completely evaporated and the farro is plump, about 20 minutes. Once the farro is cooked, remove from the heat and stir in the peas. Season with salt and pepper, tasting and adjusting as needed.
To serve, arrange the farro on a large serving platter. Cover with the meatballs and some fresh mint (optional). I highly recommend serving with Mint and Pistachio Pesto (see notes) or a lemon yogurt sauce (see notes as well), and some pita wedges. This meal is truly a treat.
Notes
Alternatively, you can substitute the meatball spices for 3 1/2 tablespoons of a Mediterranean spice blend.
I prefer to buy a fresh block of feta and crumble by hand. No one will complain if there's a large chunk of feta in their meatball, I promise.
Mint and Pistachio pesto is made like any other pesto, except 1 cup of mint, 1/4 cup pistachios (toasted), 1 clove garlic, 1/4 cup olive oil, sprinkle of salt, then 2 ounces feta crumbles folded in. Full recipe is linked in the post.
For the lemon yogurt, combine 1/2 cup Greek yogurt, 1/2 lemon (juiced), 1 tablespoon fresh dill minced, 1/2 teaspoon grated garlic, and a dash of pepper.
To freeze, let the meatballs cool completely. Place on a wire rack, spaced 2" apart, and freeze until frozen solid. Seal in a ziplock bag. To freeze the farro, allow to cool completely. Place in a ziplock bag, laying it flat so the farror is spread evenly in the bag. Release any air inside the bag, then freeze laying the bag flat in the freezer.
http://www.vodkaandbiscuits.com/