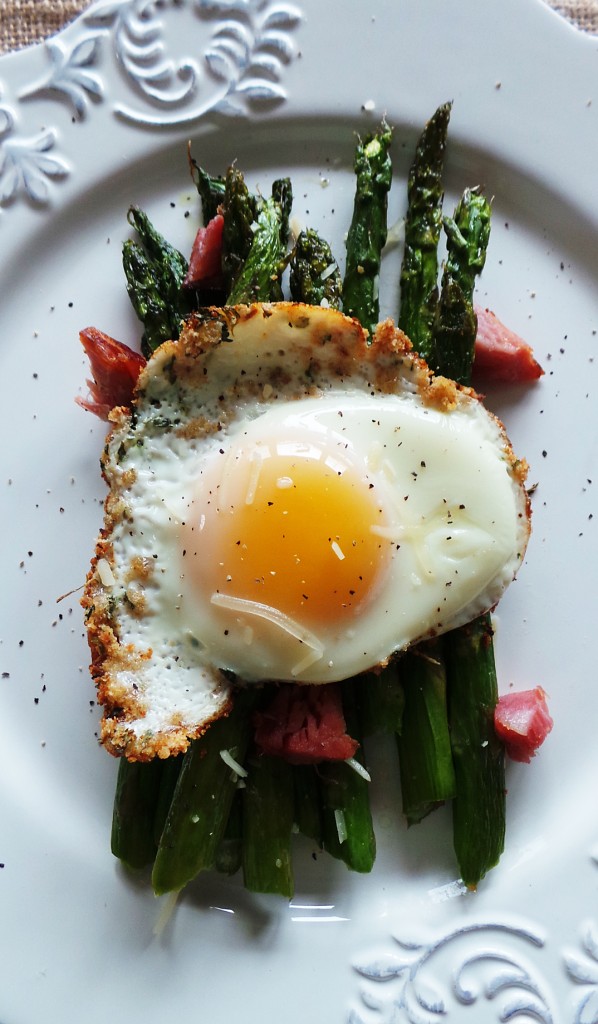 There are a few things I found out this morning.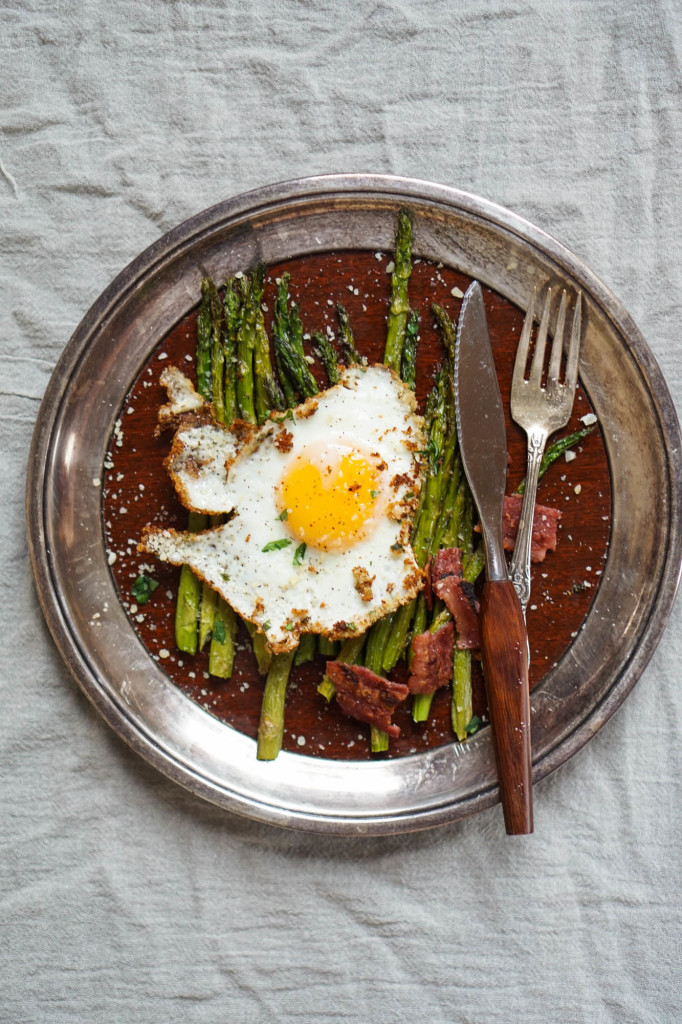 1. You can turn asparagus into breakfast.
2. You can fry an egg in breadcrumbs.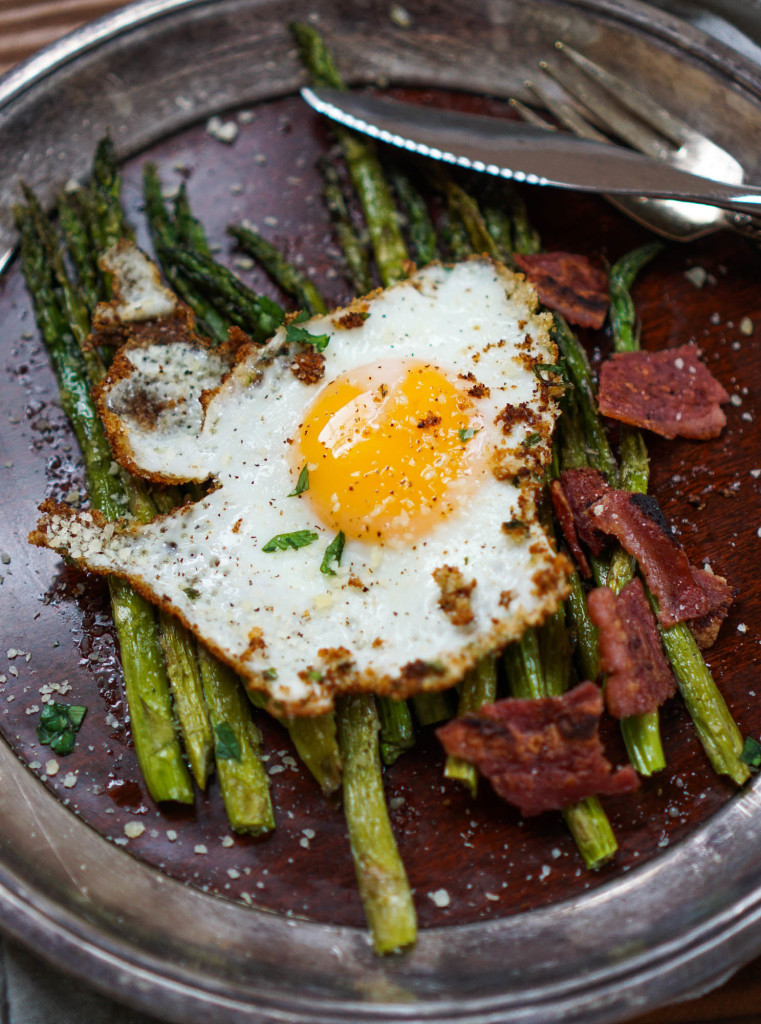 If you need a little motivation to get out of that cozy bed this.is.it.
Crispy roasted asparagus topped with some bacon (or ham), breadcrumb fried egg, and Parmesan cheese. Let me just talk about that egg.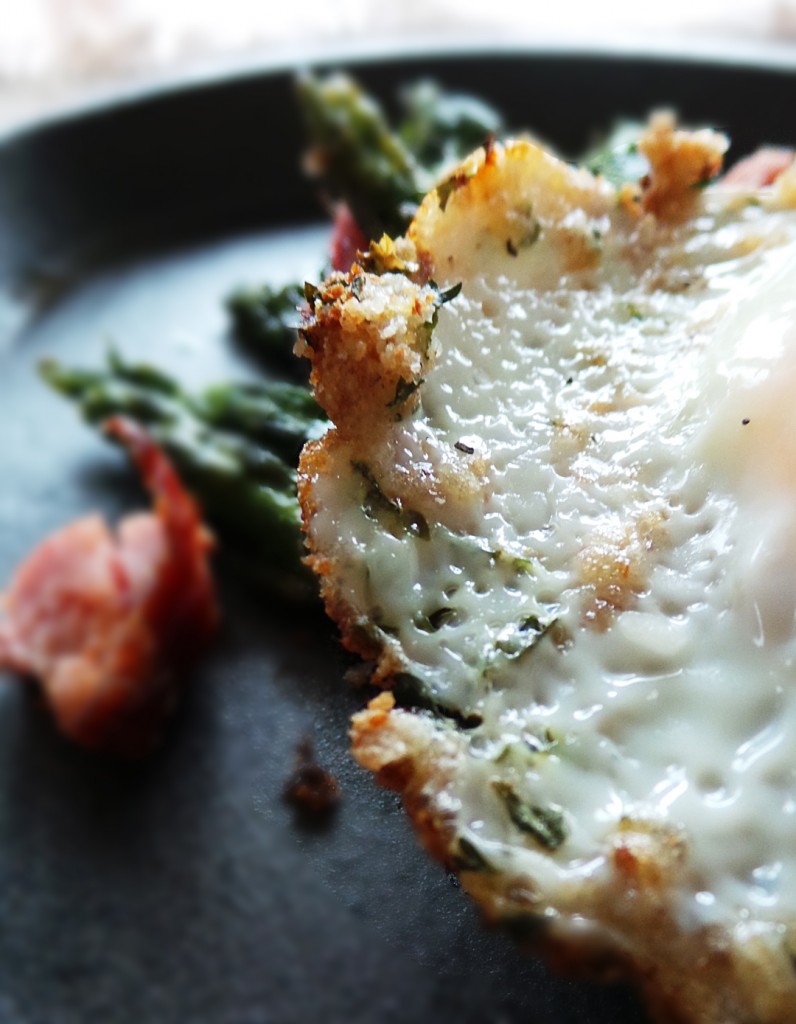 A fried egg is already delicious (explains my breakfast every morning), so if there's a way to make it even more delicious OH I am there. Frying an egg in breadcrumbs is simple and will change your breakfast egg ways. Spice up some breadcrumbs with pepper, herbs, and Parmesan cheese and you're half way there.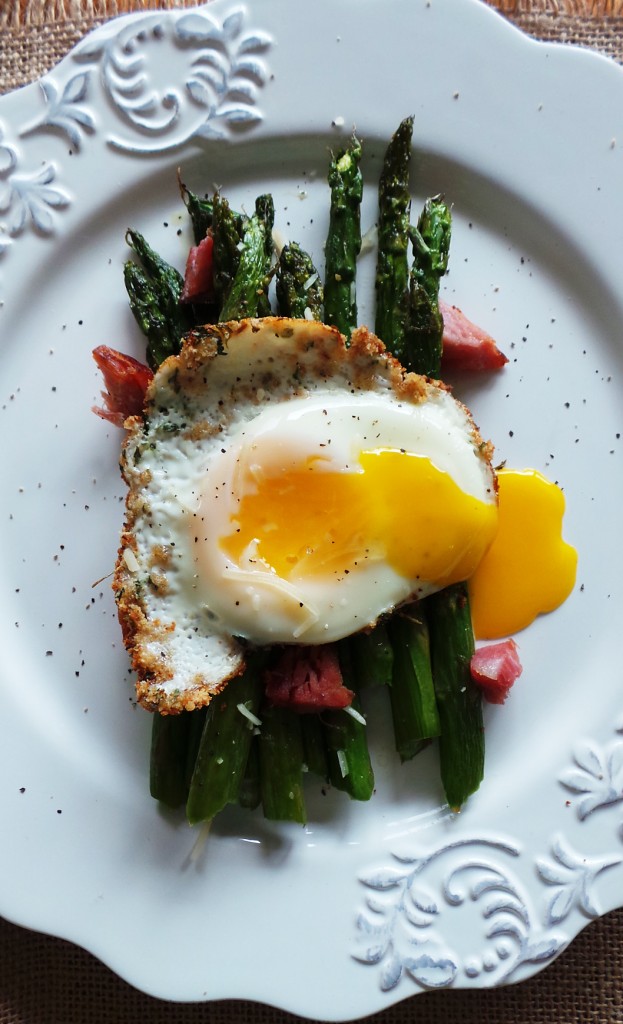 Literally all you do is add some oil to a saute pan, sprinkle the breadcrumbs in a circle, crack an egg in the middle, and cook just the way you would typically cook your way. Just ten times better because now you have flavor and a little crunch.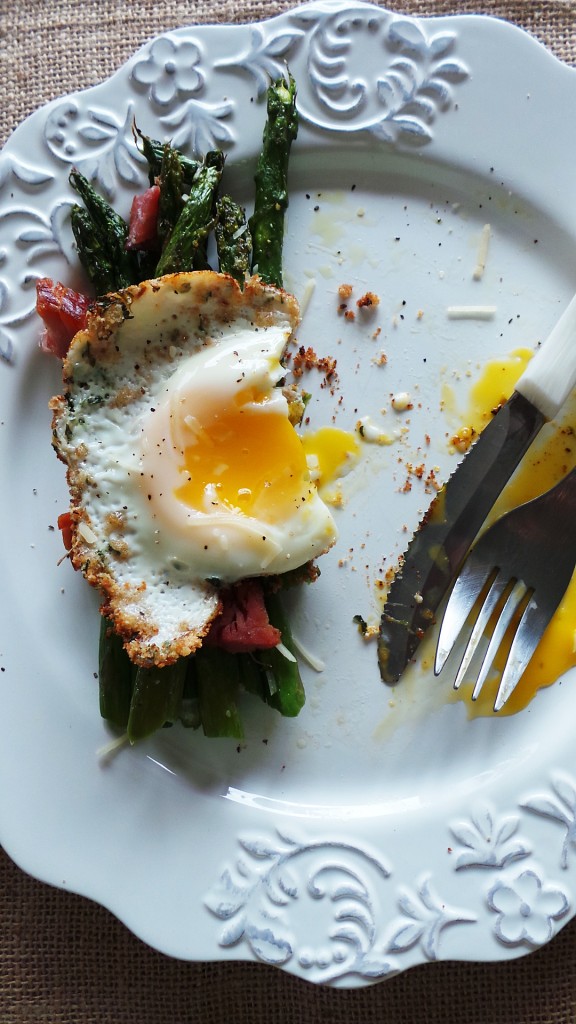 Roast some asparagus, fry up some bacon or even easier dice up a slice of ham, and GO TO TOWN. Enjoy!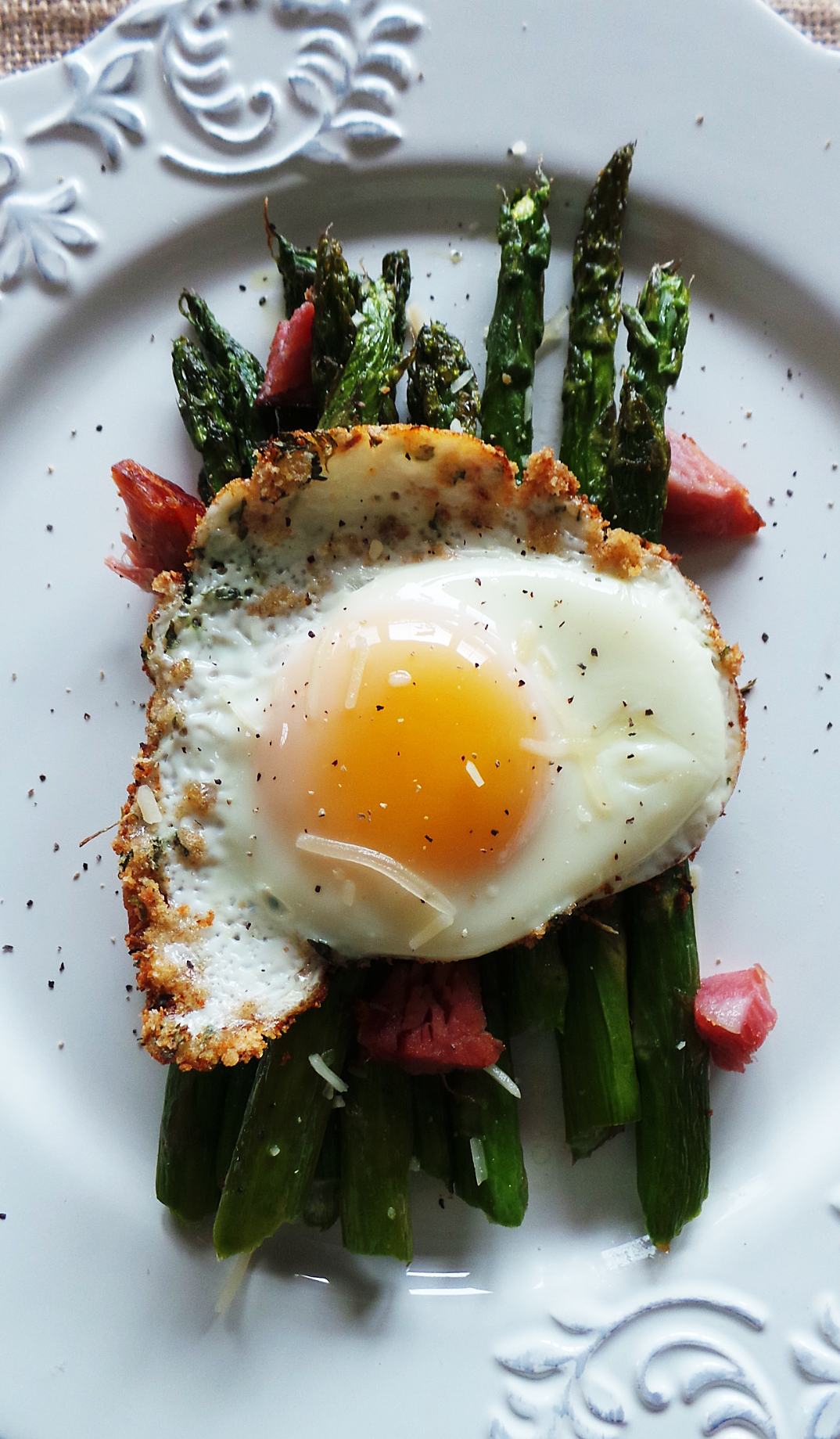 Roasted Breakfast Asparagus with Breadcrumb Fried Egg
2014-01-06 09:10:35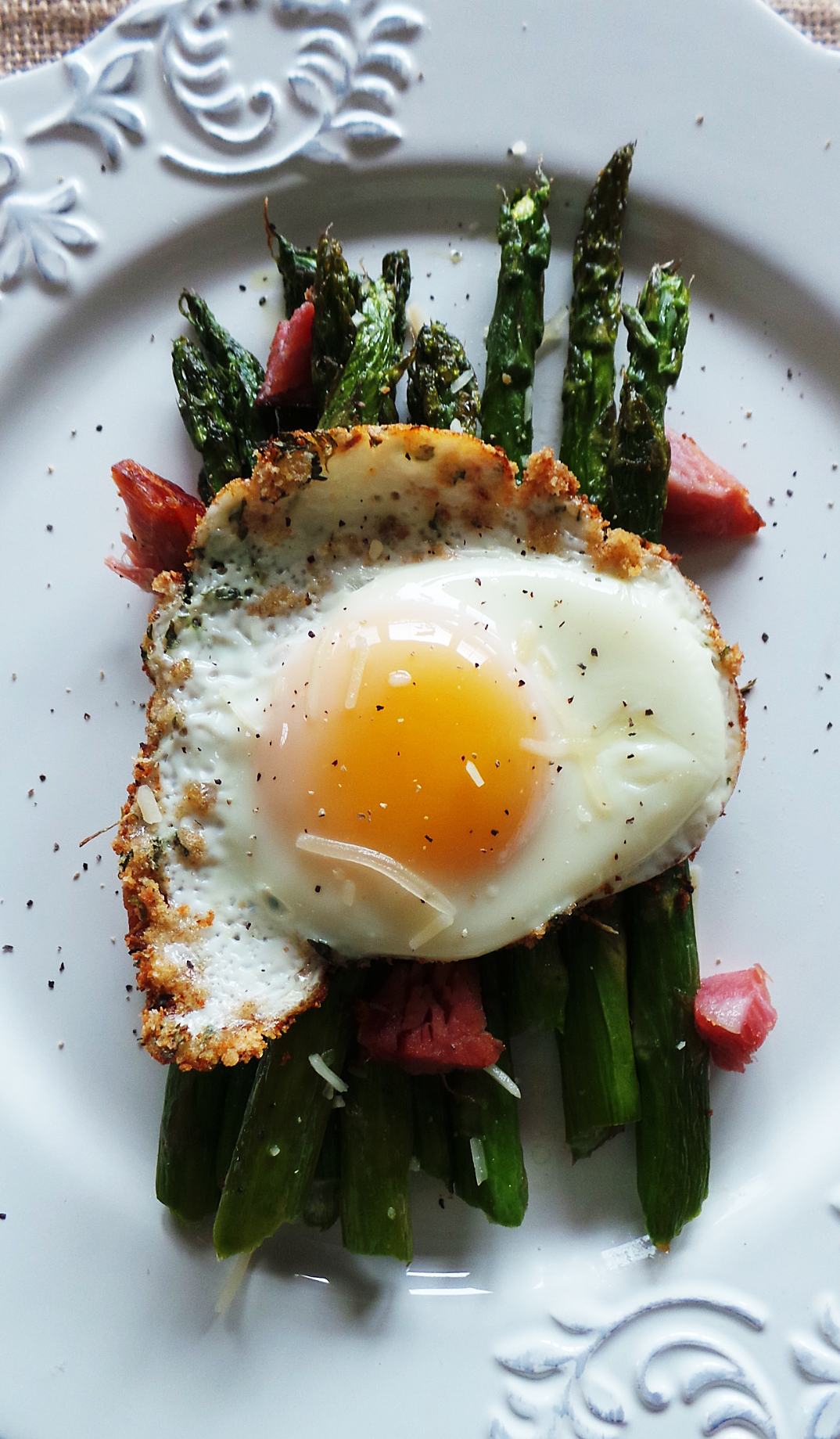 Serves 2
A fun way to eat asparagus for breakfast or lunch is to top it off with an egg fried in breadcrumbs! This dish is enticing and delectable - to say that least!
Ingredients
10 sprigs of asparagus, ends snapped off
3 tablespoons olive oil, divided
salt and pepper as needed
1/4 cup plain breadcrumbs
1 tablespoon minced parsley
1/2 tablespoon grated parmesan cheese, plus more for garnish
optional: red pepper flakes
optional: chopped cooked turkey bacon, bacon, ham, prosciutto
Instructions
Preheat the oven to 375.
Lay the asparagus on a baking sheet, drizzle with a tablespoon of olive oil, and sprinkle with a pinch of salt and pepper. Bake in the oven for 10-15 minutes until the ends are crispy.
In the mean time, mix together the breadcrumbs with the parsley, Parmesan, 1/4 teaspoon black pepper, and a pinch of red pepper flakes if using.
Heat the remaining oil in a small saute pan, tilting the pan to evenly distribute the oil. Sprinkle a circle of breadcrumbs in the saute pan and allow to toast for 30-seconds. Crack an egg in the circle and cook uncovered on medium low heat for 2 minutes.
Cover the pan with a lid, reduce the heat to low, and finish cooking until the eggwhites are firm. Repeat with the remaining egg and breadcrumbs, cleaning the pan after each round.
To ensemble, add the asparagus to a plate and top with the egg, meat, and more Parmesan cheese if desired.
http://www.vodkaandbiscuits.com/