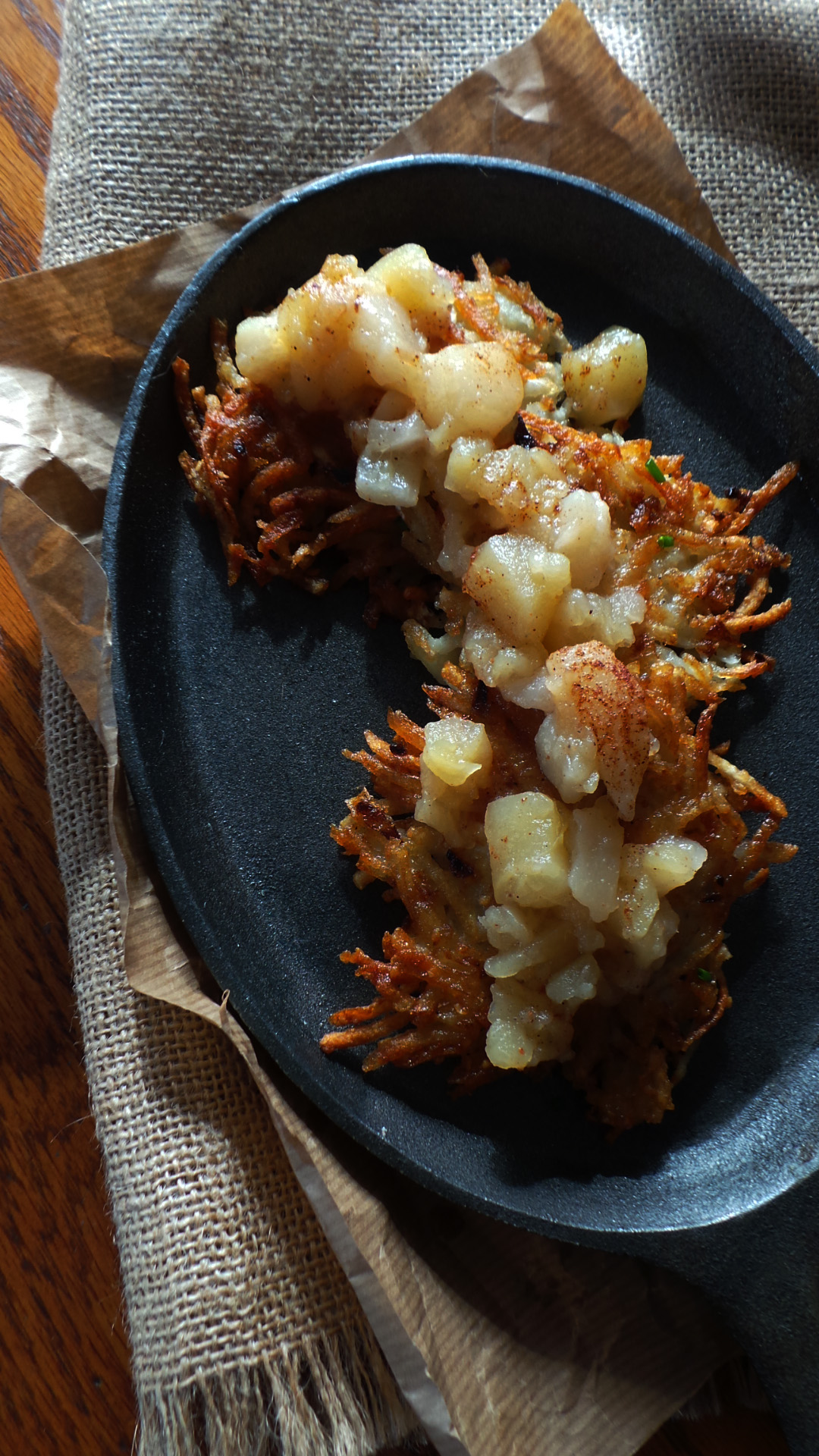 If you've never had potato latkes oh lawd you are in for a treat. Latkes, traditionally a Jewish dish, are simply potato pancakes. Though I'm not Jewish, I was fortunate enough to celebrate Passover and Hanukkah for several years growing up with a close family friend. Definitely where my love of food started. I remember one year there was tongue, and let's be honest, what fifth grader is fascinated by people eating veal tongue? Not only did I wonder why the heck they were eating it, as any ten year old would, but how they made it taste good. If only I could go back in time and force my ten-year-old-stubborn-self to try it. However, I had no problem tearing apart the plate of latkes.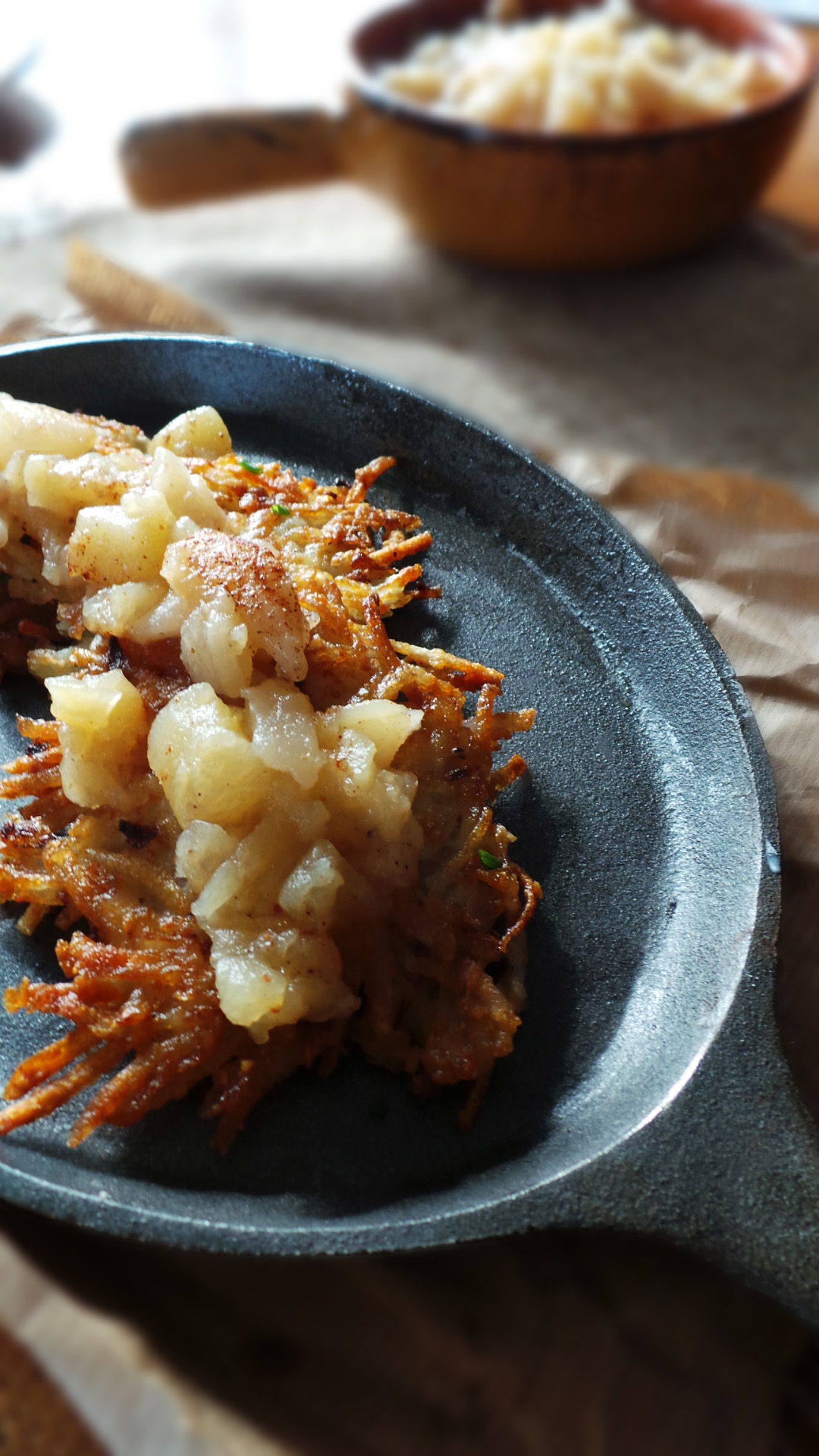 If you read my last post you know that lots of exciting things happened this week. I officially wrapped up my first semester of culinary school (with all A's!) and in six weeks I get to start the fun stuff: technique. I try not to remind myself that next semester I am taking two classes in one day. I also try not to remind myself that each class is 5 hours minimum. Let me wipe away my tears. You know what else happened this week? I finally found my chopping disc for my food processor! FHDKAEROSK DO YOU KNOW WHAT THIS MEANS? I can make soo0o0oo many new things, like these babies. My food processor is my sous chef in the kitchen and allows me to do a variety of things that my little hands could not, like finely grate 2 lb.s of potatoes. When I found my chopping blade I screamed, then quickly realized there is something I am seriously lacking in life if I got that excited over a food processor. Anyways, if you don't have such a device, a regular box grater will work just as well (just a little more work).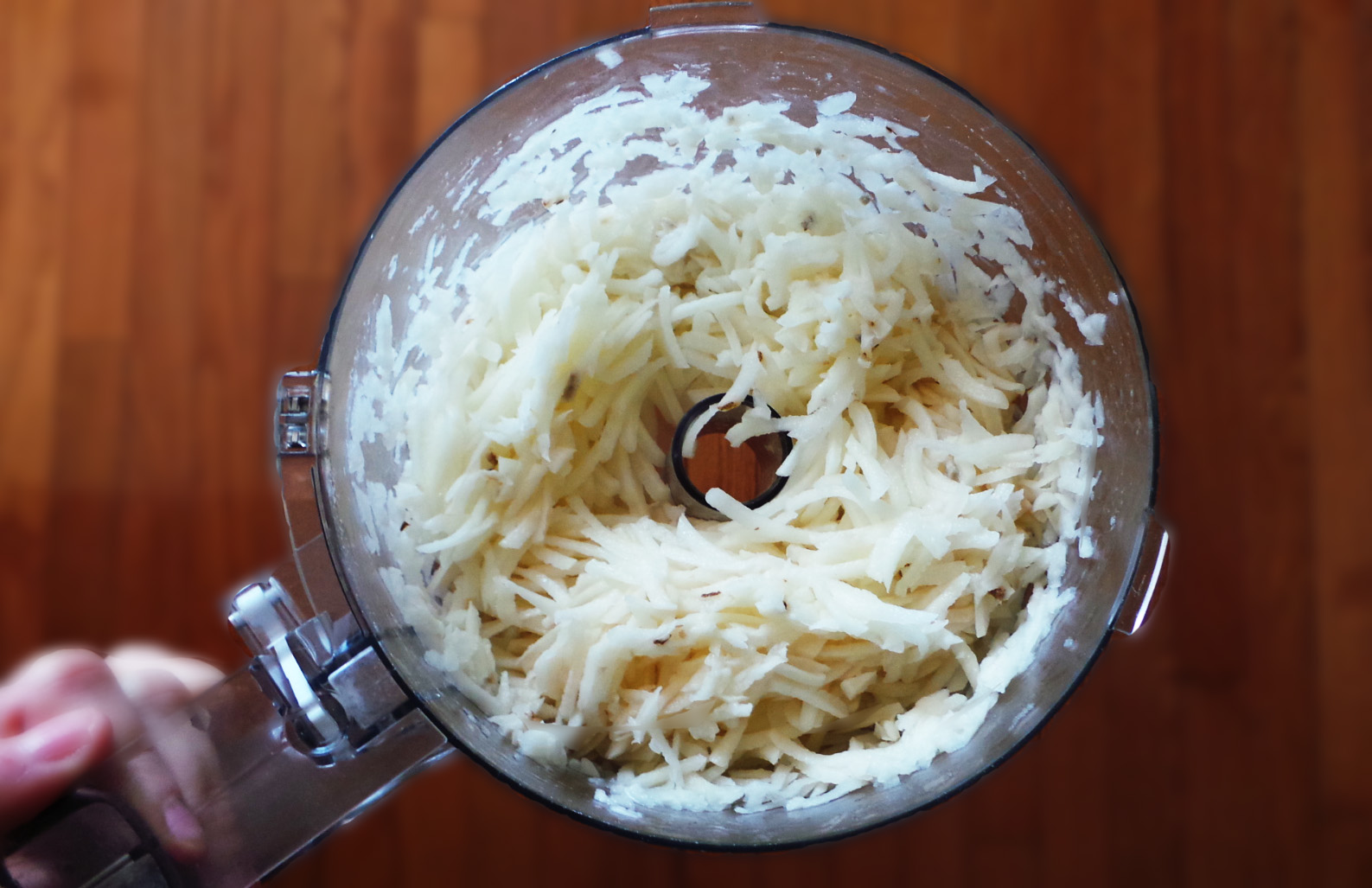 Once you have your grated potatoes and onion, all you need is a little salt, pepper, baking powder, an egg, and matzo meal. The heck?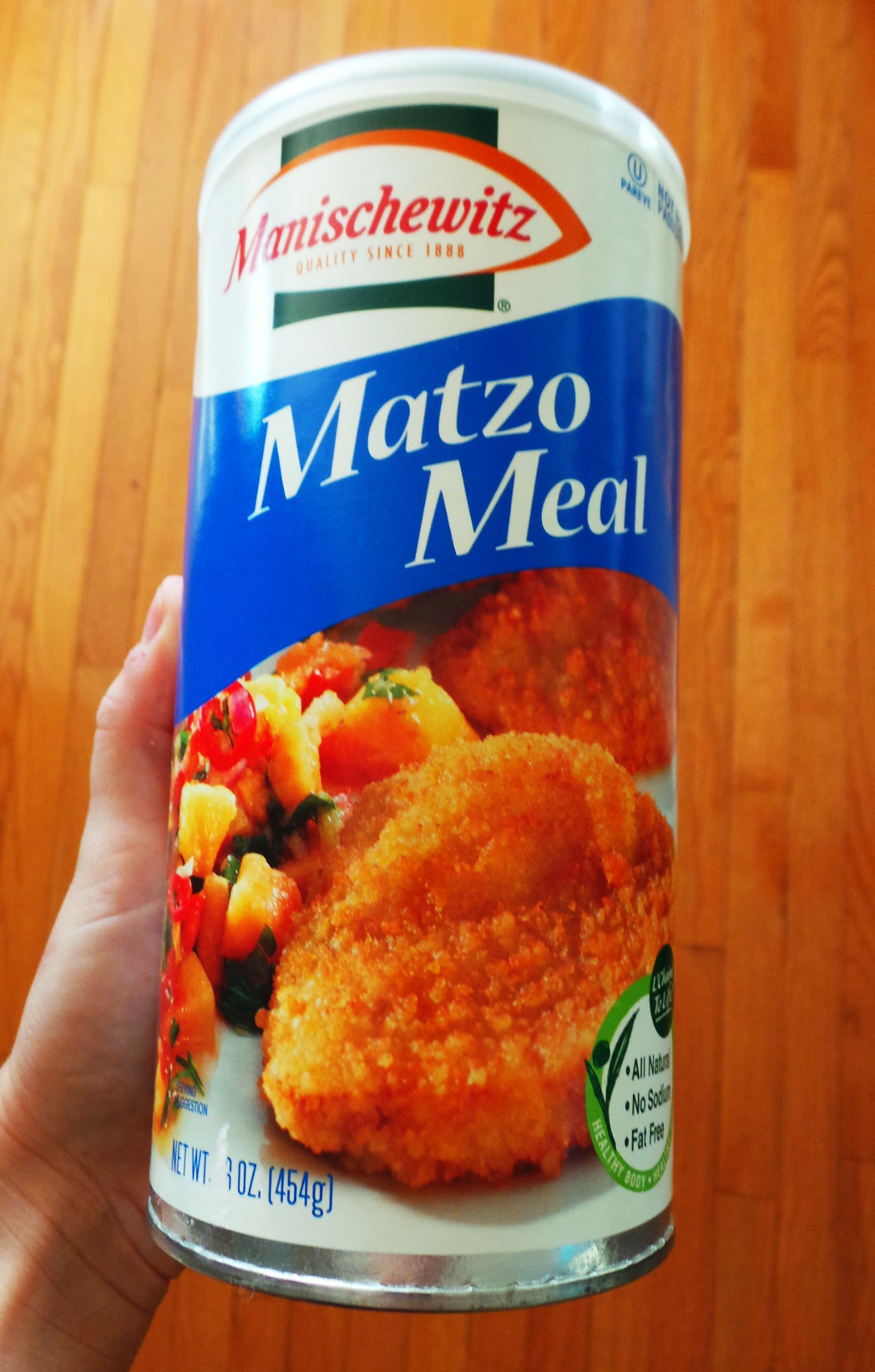 For 8 oz. of mazo meal you pay about $3-4. Not too bad! Your local grocery store will carry it in the baking isle near the cornmeal. If you go down the International isle searching near the mazo ball soup mix, you'll be searching for a good 5 minutes. Trust me. Once you mix everything together, let them crisp in a shallow fry, you'll get a delicious stack of potato pancakes.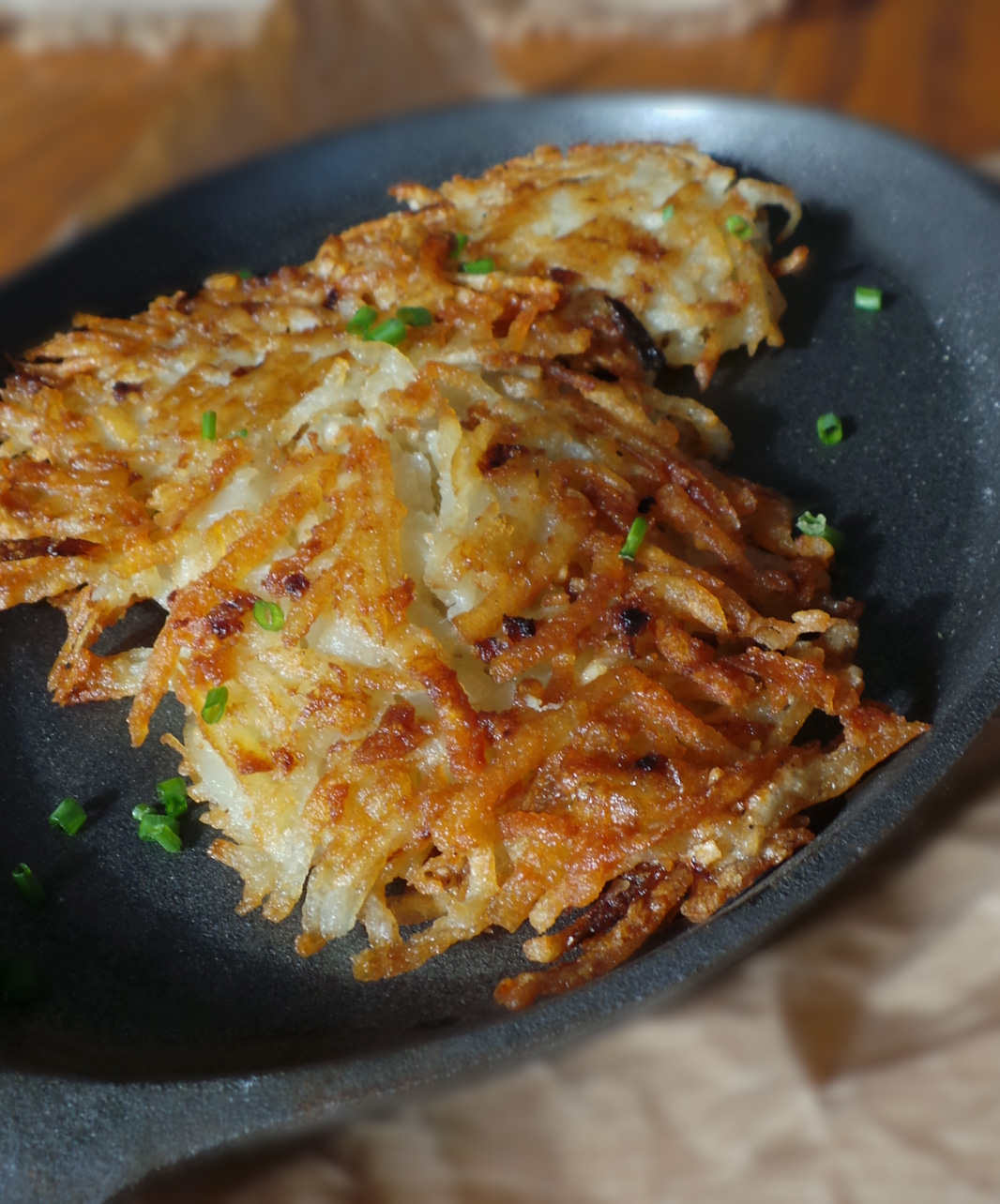 There is no wrong time of the day to eat these. They're great for breakfast with an apple-pear sauce topping (UM YUM), or with a dollop of sour cream and a sprinkle of chives.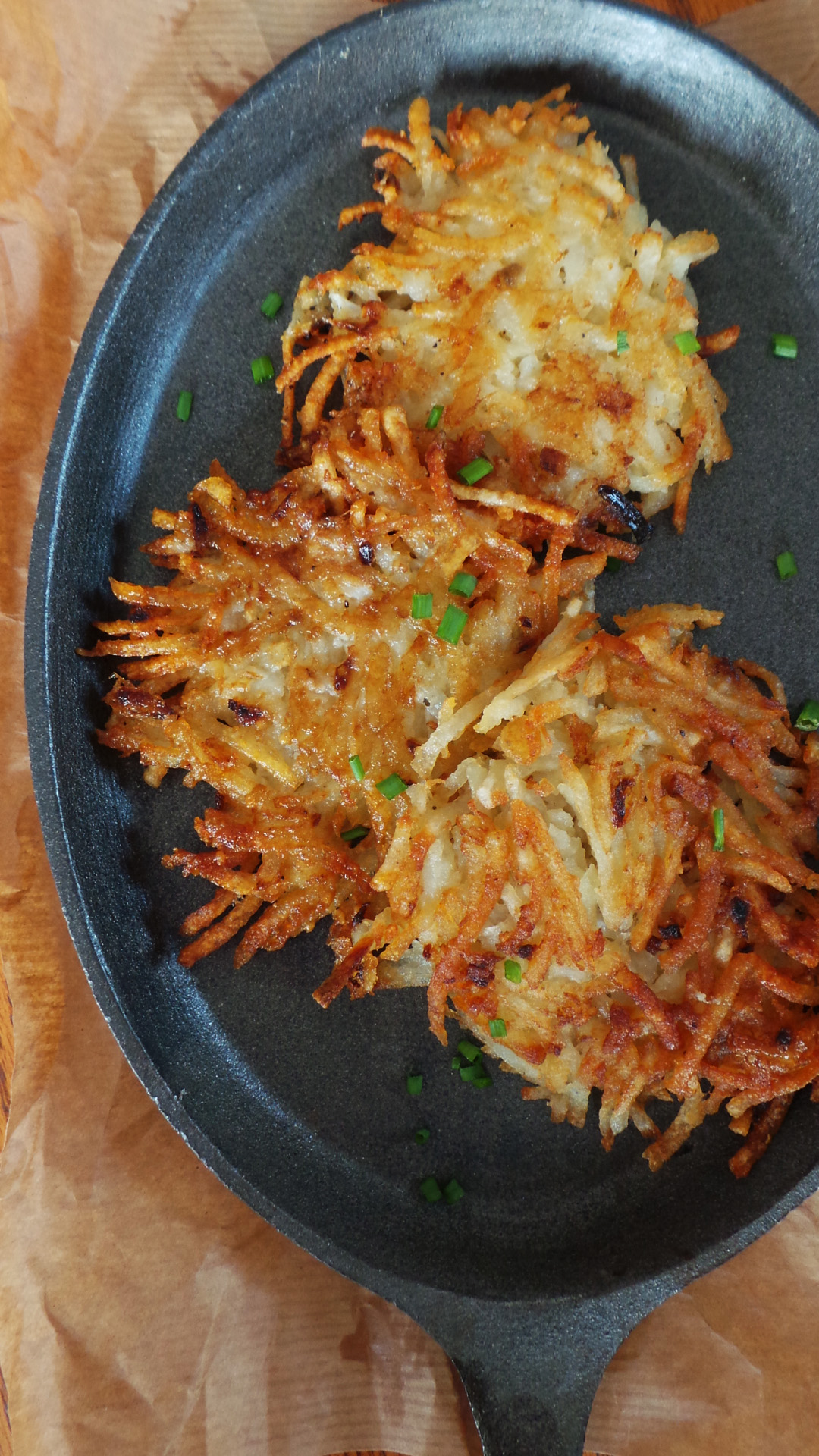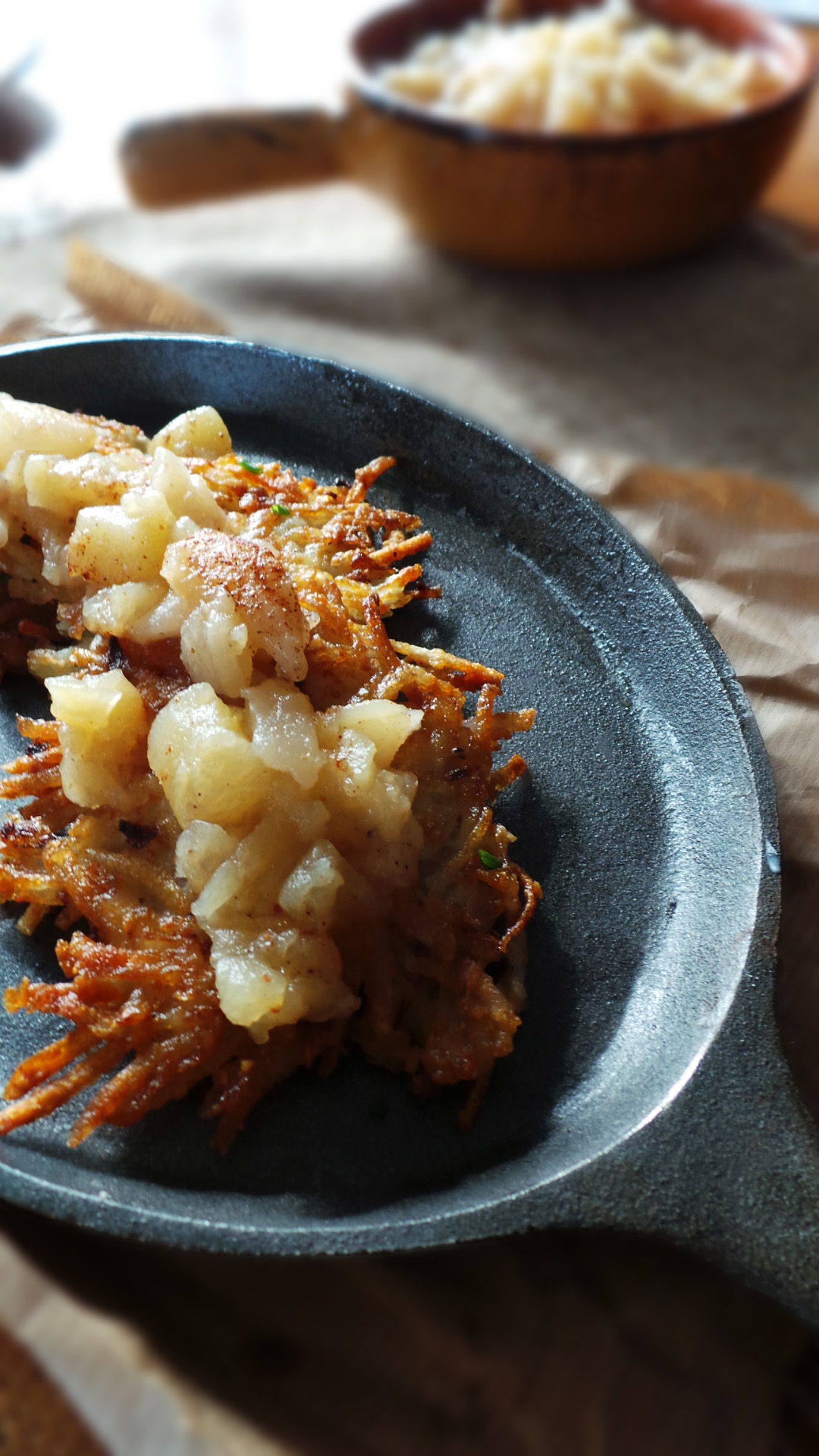 Rustic Potato Latkes
2013-12-12 18:52:22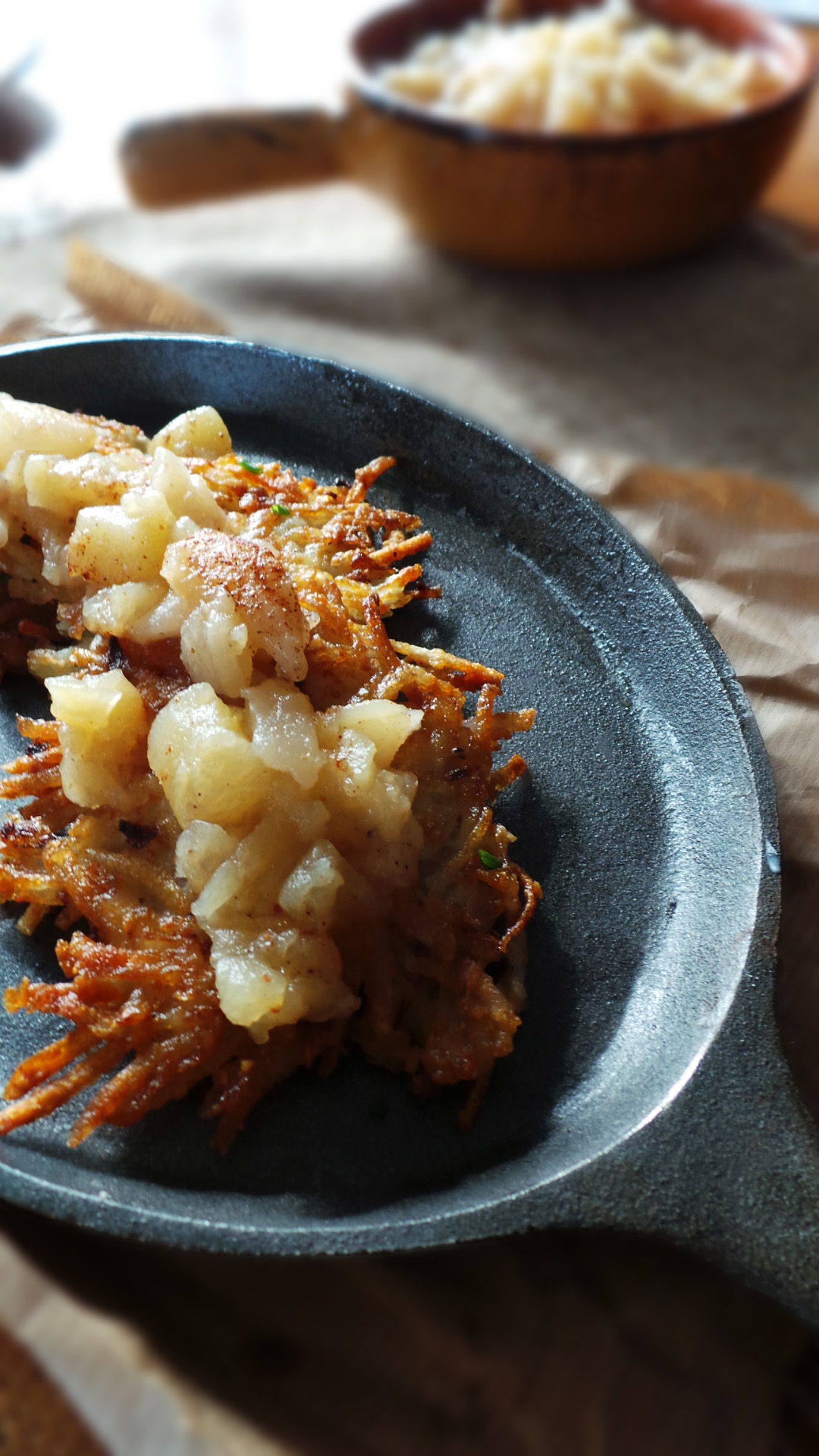 A traditional Jewish dish that can be sweetened with apple-pear sauce or savored with sour cream a chives. This is a personal favorite dish of mine!
Nutrition Facts
Amount Per Serving
* Percent Daily Values are based on a 2,000 calorie diet. Your Daily Values may be higher or lower depending on your calorie needs.
Ingredients
2 lbs. potatoes
1 small onion
1 egg
3 T. mazo meal
1/4 t. baking powder
s&p to taste
1/4 c. canola oil
Instructions
Peel and grate potatoes with food processor (chopping disc attached) or box grater. Set in colander to drain.
Peel onion and grate the same way in step 1.
Mix the onion, potatoes, and egg together in a large bowl.
In a separate bowl mix the mazo meal, baking powder, salt, and pepper. Add to the potatoes and combine.
Over medium heat, heat the oil in a large skillet (to check if it's hot, throw in a small piece of potato, if it sizzles it's hot)
Using the 1/4 cup, portion the potatoes and lay into the skillet. Flatten with a spatula. Cook 1-2 minutes on each side, or until each side is golden brown. (Make 4 latkes at a time).
Transfer to a plate layered with paper towels. Allow to drain before serving.
Serve with sour cream and chives or Apple-pear sauce.
Vodka & Biscuits http://www.vodkaandbiscuits.com/
[shopeat_button]