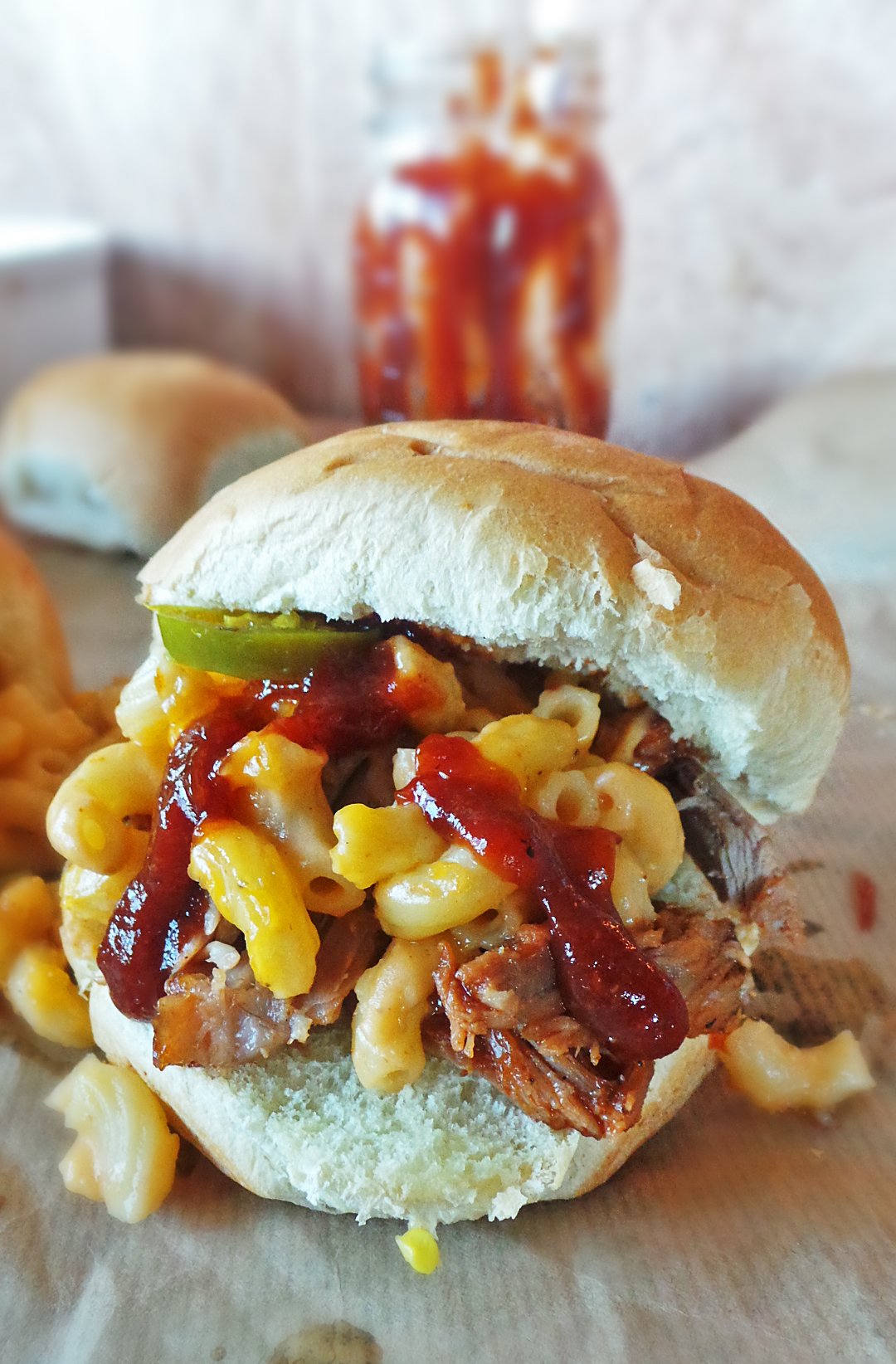 I often tell people my dad's confidence in my culinary career roots back to this pulled pork.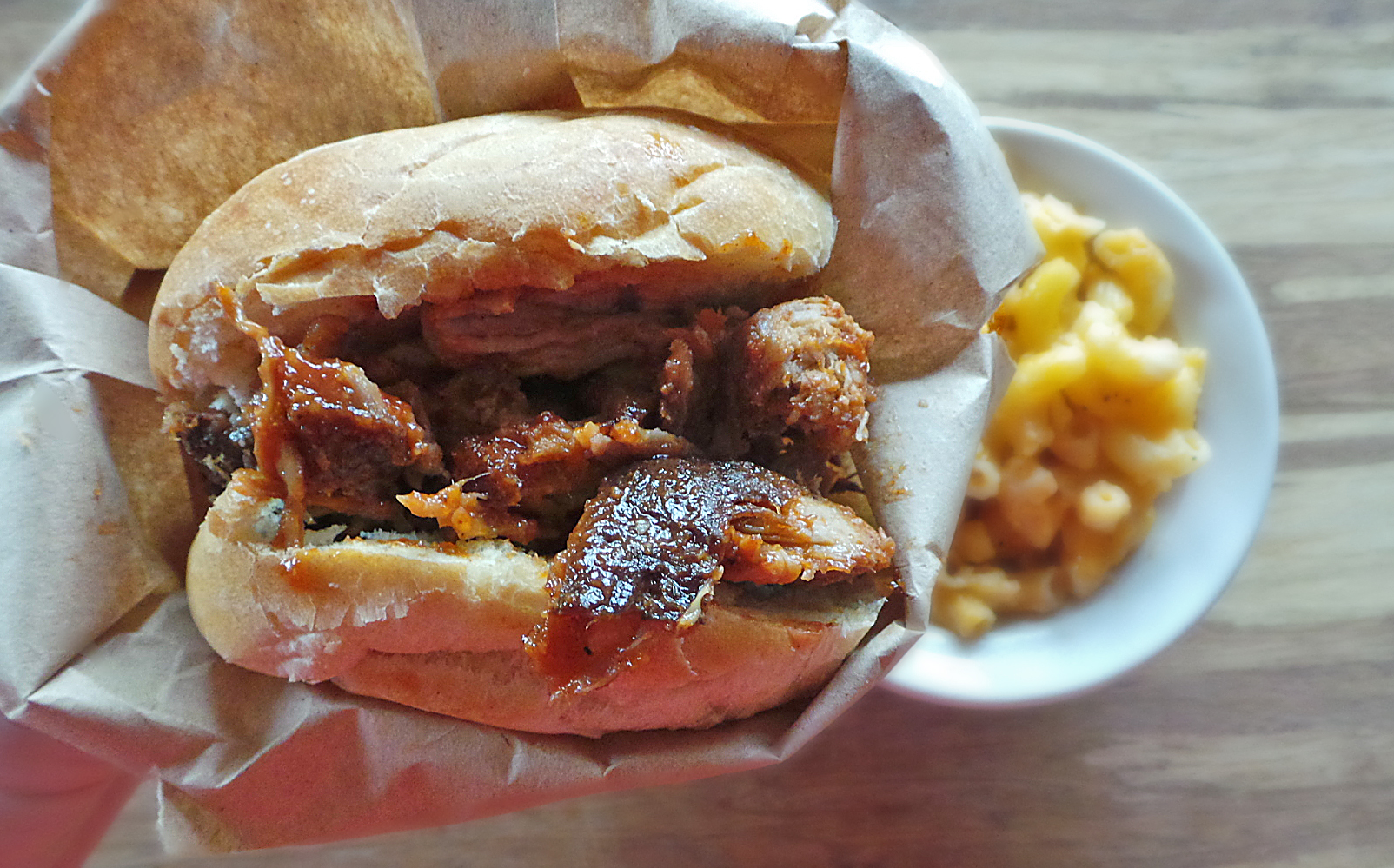 Delicious, easy, and left overs for days. Let's jump in this because you need this NOW.
The best thing about this recipe is there is very little prep. Make the spice blend, rub the meat, let it hang out in the fridge, then roast it all day. About an hour before the pork is done, I make my Sweet & Tangy Barbecue Sauce, which is also nothing but combining everything together and letting it cook. Around the time the sauce is done, I give the pork a good coating and let it roast another 20 or so minutes. Ideally you can use your favorite bottled barbecue, but I've altered both the rub and the sauce to compliment each other.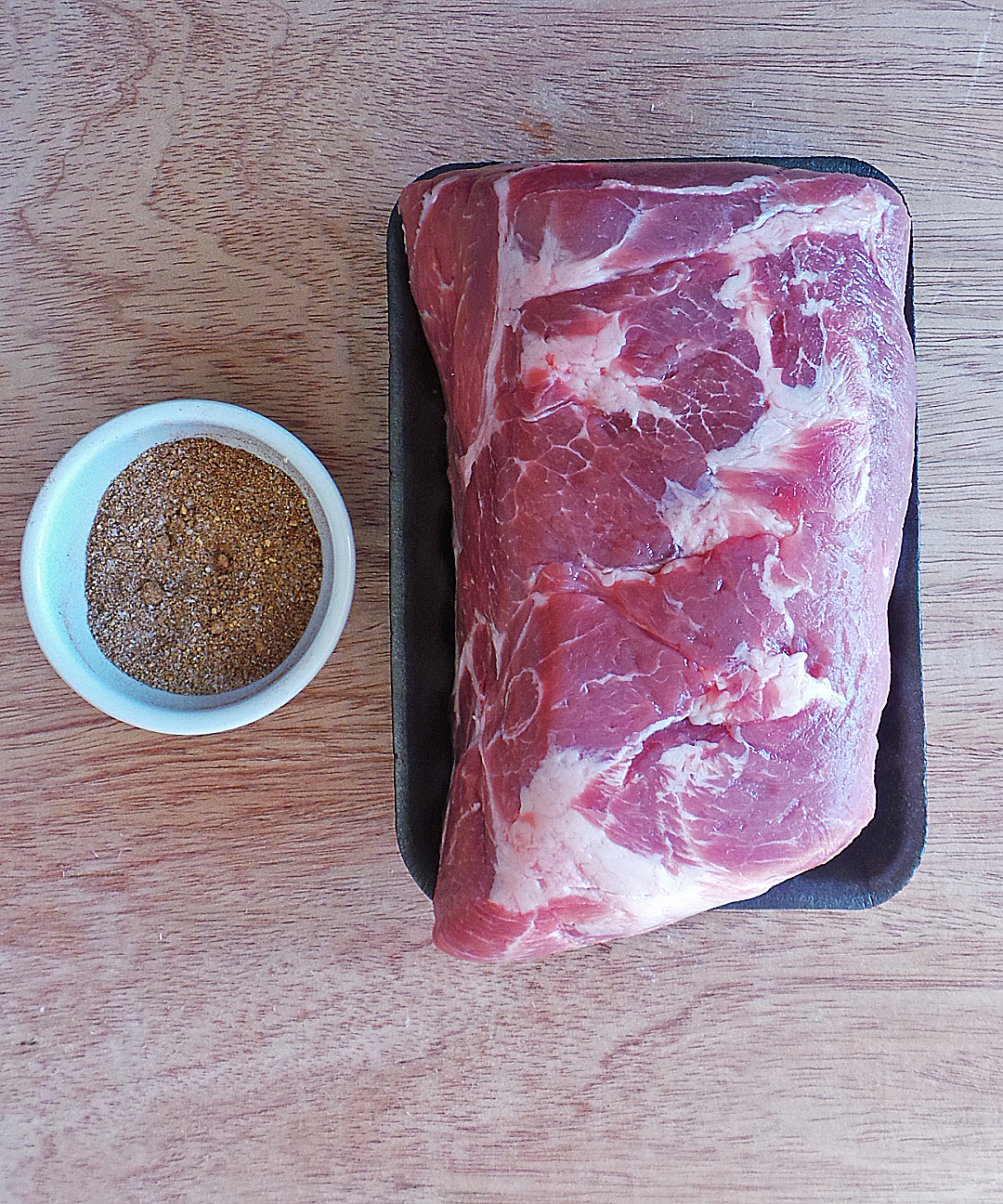 If you're new to pulled pork, the best cut of meat is the butt, which is actually located in the shoulder. Weird, right? I don't know why they call it the butt or "Boston butt," I probably don't even want to know. Almost always when buying my butt I go up to the butcher and ask if there's any 5 lb. butts in the back. We laugh and share the puns and jokes that I aimlessly live for, which is fun because befriending the butcher means good cuts of meat. Sometimes I find the labels are easy to misread, considering there's a picnic shoulder which is the thinner part of the shoulder – not good for pulled pork – so if you're unsure of the displayed meat, ask your butcher!
Also, scope out a few grocery stores because prices can heavily vary. I've bought a pork butt from $7 to $15. Crazy! For a family of four, I buy 5 lbs. Everyone has a full belly and there's extra for lunches the next day. You can get them up to 7 + lbs., so think about how much you want before buying.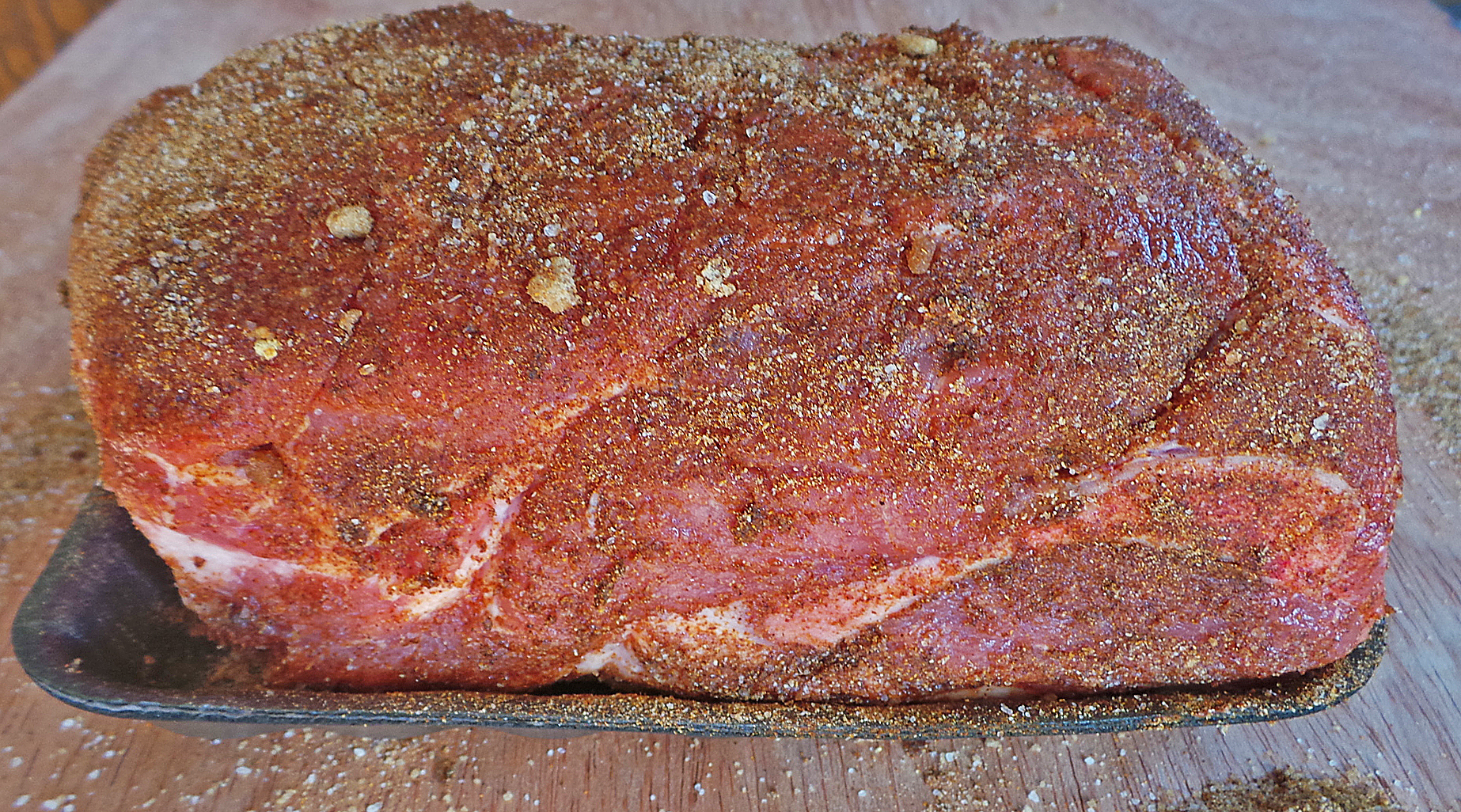 The spice rub is simply sea salt, garlic sea salt, paprika, dark brown sugar, and dry mustard. If you don't have garlic sea salt, just use garlic powder and bump up the amount of kosher salt. You want to rub this good on all four sides. This is the most I'd be willing to rub any butt. Once it's all rubbed down,wrap it in plastic wrap and let it hang out in the fridge for 2-3 hours. I like to do this first in the morning!
Now I must say, if you're cringing because I used salt in my dry rub, easily apply the rub just before poppin' the pig in the oven. If we wanted to follow good ol' culinary rules, salt shouldn't be in the spice rub because it will draw out moisture. I find that instead it leaves a nice bark on the pork which is tooooo die for. Plus my butt gets a good coating of some barbecue sauce, so really I've never had any problems with dry meat.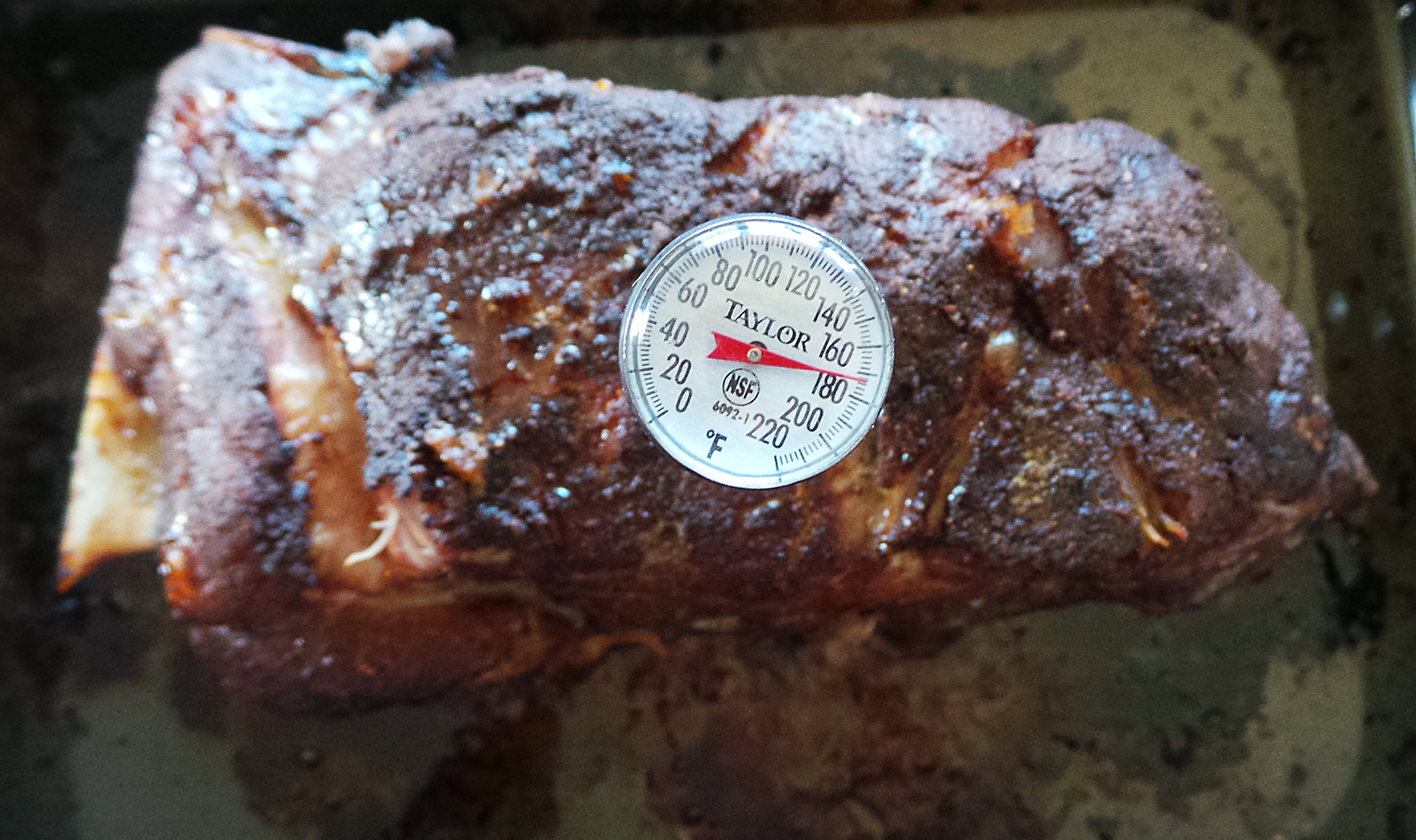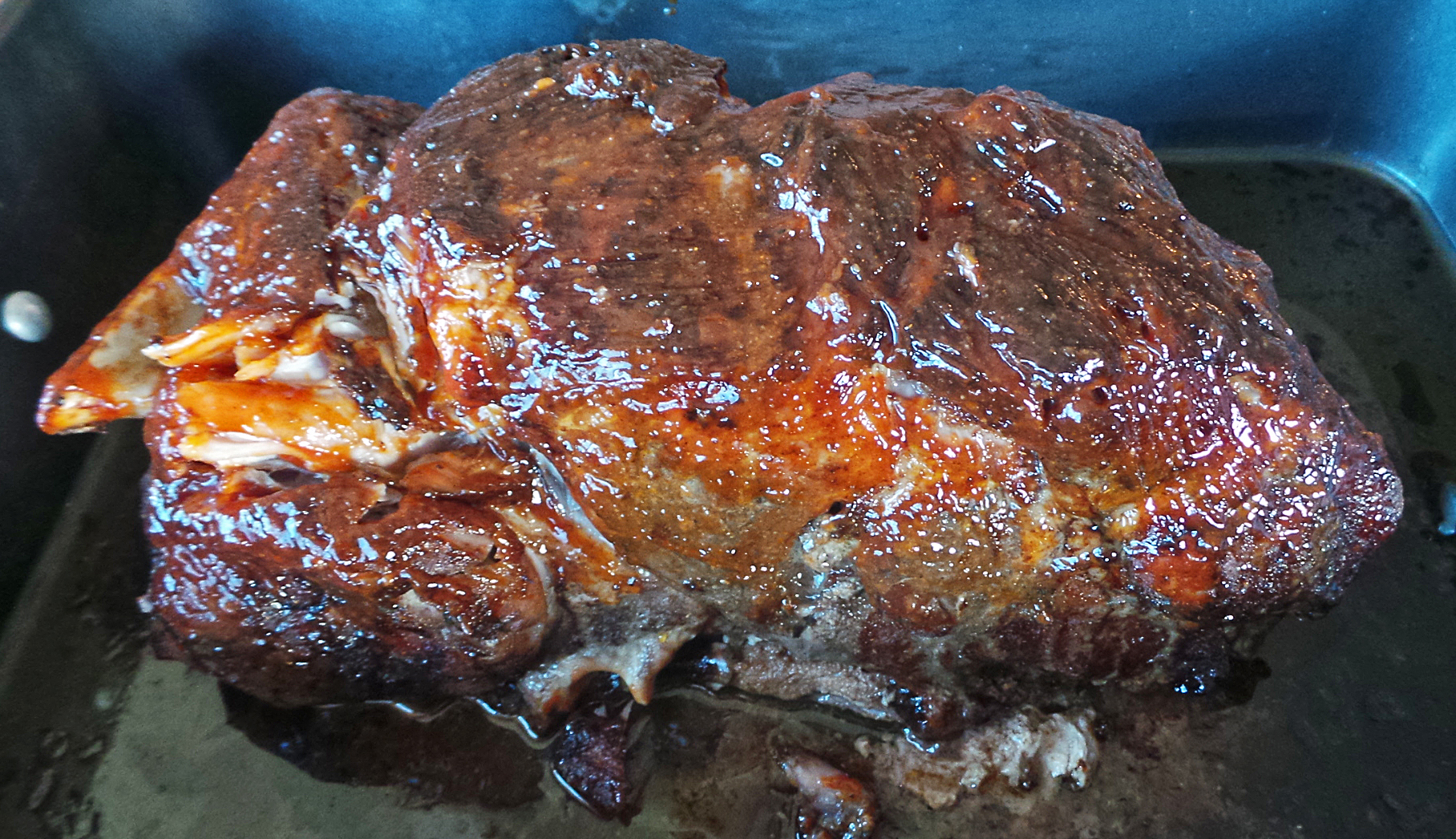 When you're ready to roast, pre-heat the oven to a low 300 degrees. This cut of meat needs a low and slow cooking method (5-6 hours). After about five hours I make the barbecue sauce, which here you can open your windows and make your neighbors jealous. Your whole street will smell delicious.
At minimum the pork should be served at 170, but it won't be fork tender. Around 170 I take the roast out and give it a good coating in the sauce, then continue to roast until it hits about 190-200. Honestly the best way to check is to test out with your fork. If it "pulls" easily it's ready!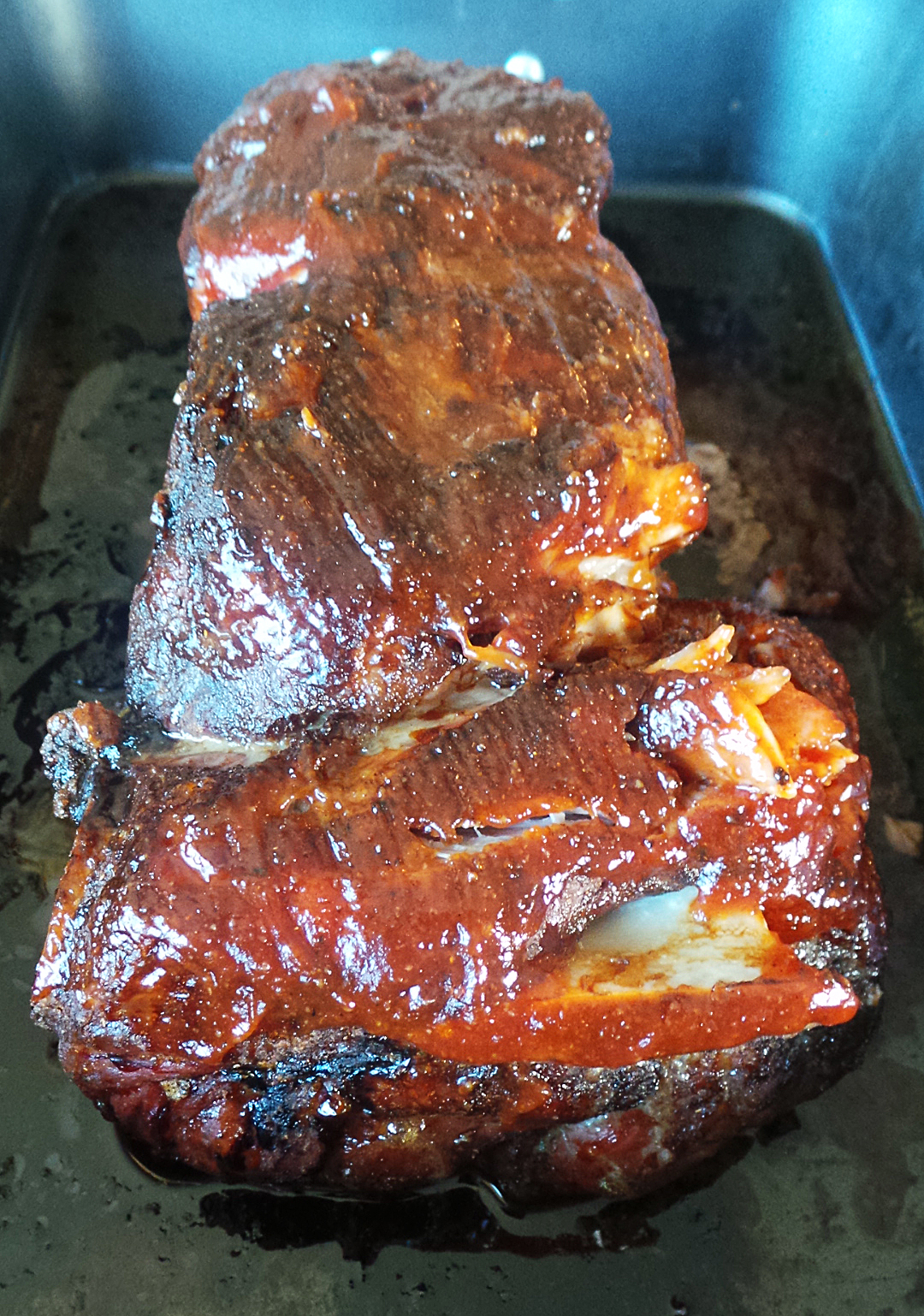 After the pork is finished let it rest about 15 minutes before pulling it apart – you wouldn't want to sacrifice any of those juices. Place the shredded pork into a bowl, toss with barbecue, and serve in a fresh warm hamburger roll.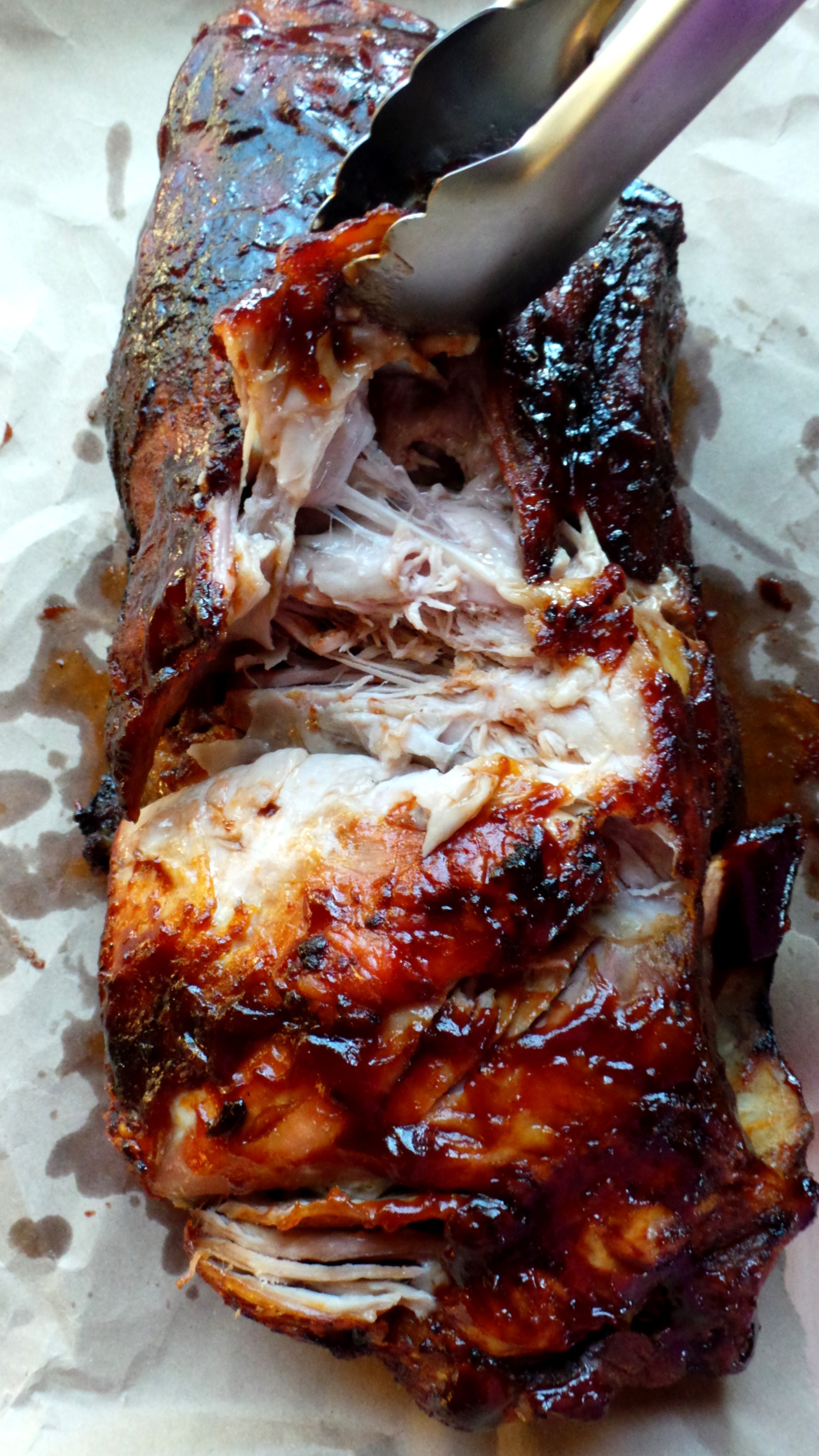 But wait. Let's be real. Who doesn't want mac-n-cheese with pulled pork?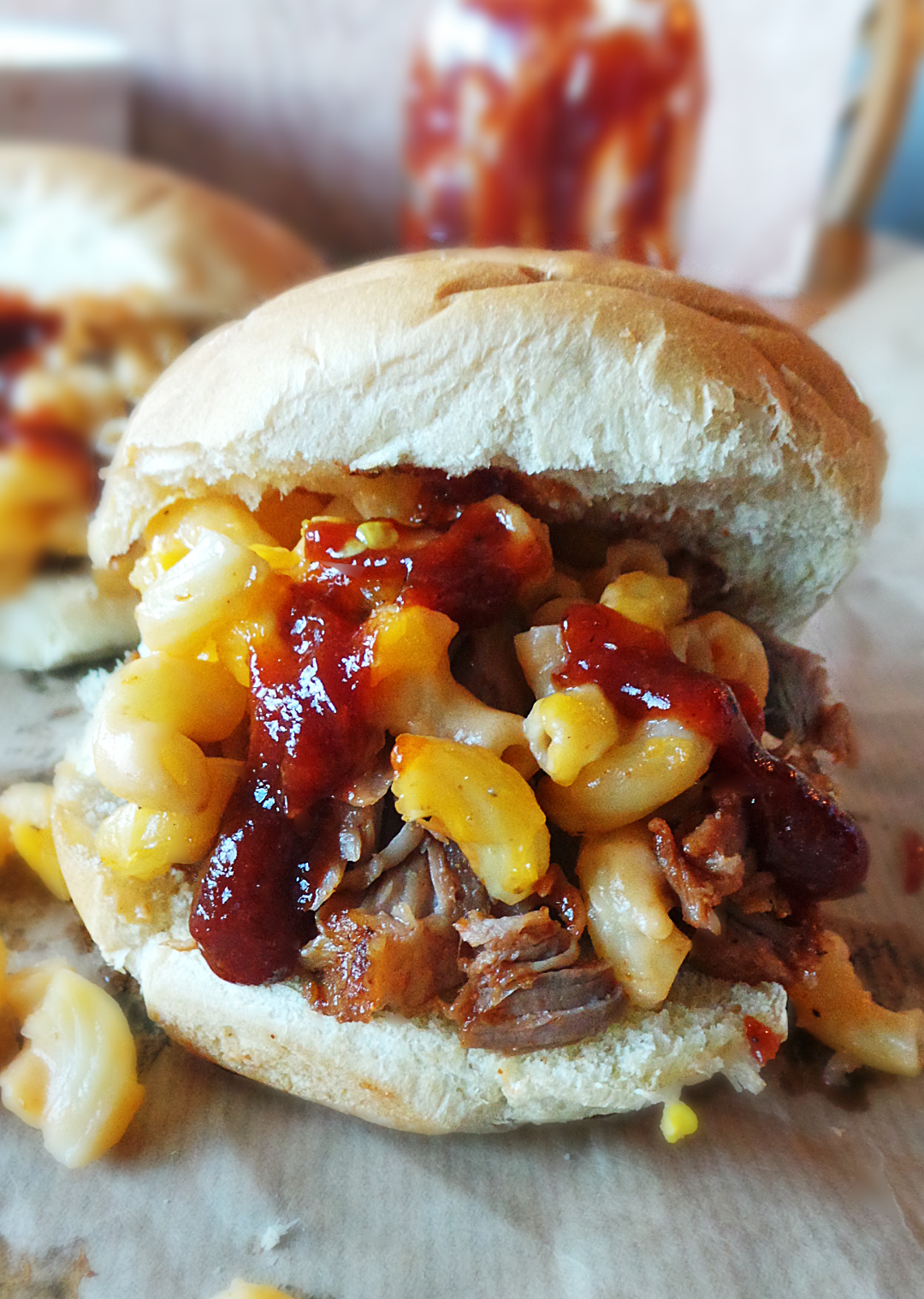 I made my go-to mac-n-cheese to top off each sandwich. Serious drools guys. It's elbow noodles tossed with a Béchamel cheddar cheese sauce and it's reallllly easy! Never ever ever make mac-n-cheese from a box. Ever. I'll give you step by step instructions. I added some barbecue sauce with the cheese to keep the BBQ vibe going. Depending on why I'm making mac-n-cheese, I'll switch up the cheeses and toppings. One time I baked this with a crab chip crumble and found the key to happiness.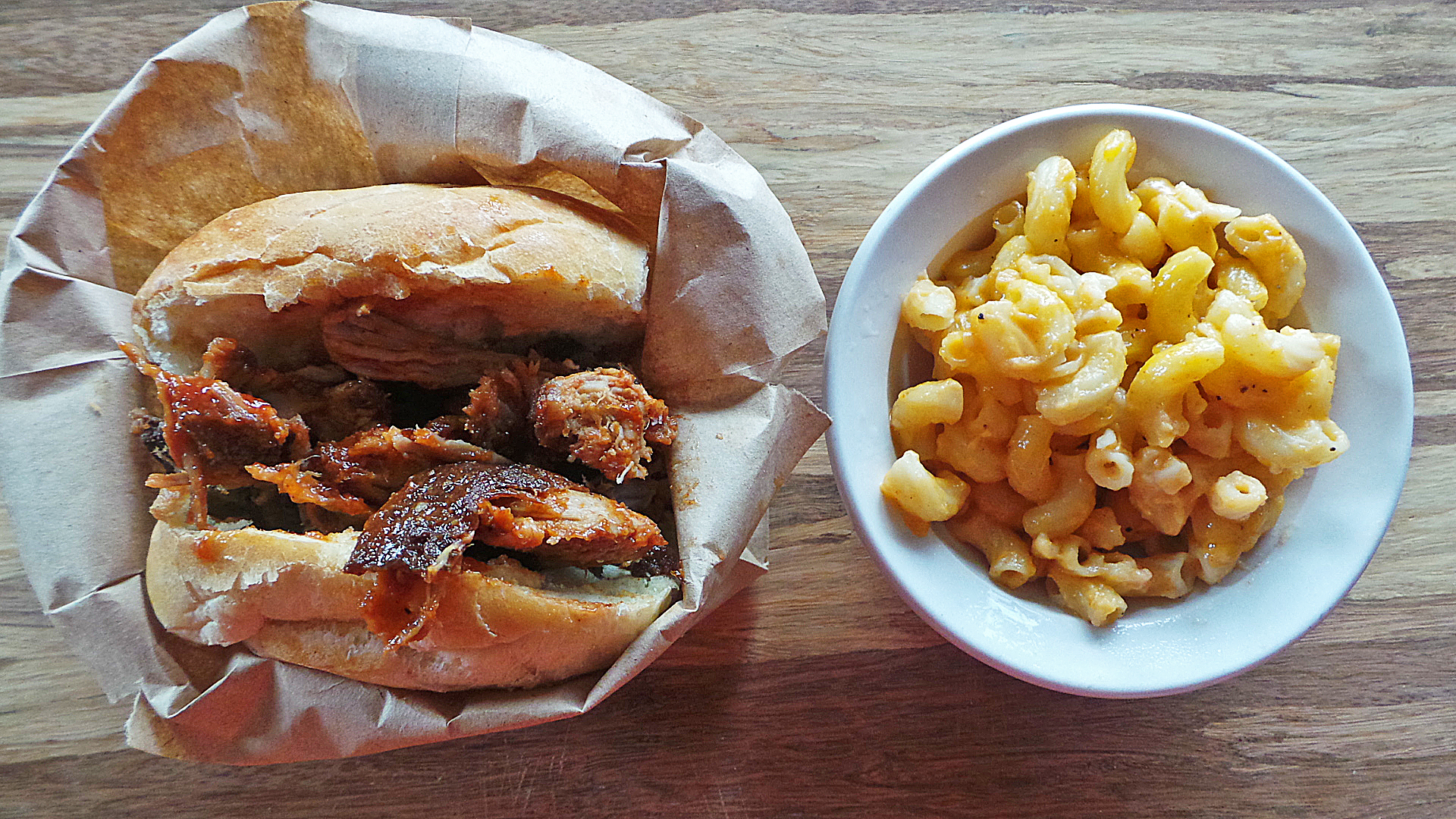 So maybe this is a $15+ cut of meat, and maybe it does take 6+ hours to roast, but the look on people's faces after their first bite is priceless. I think you're going to love this.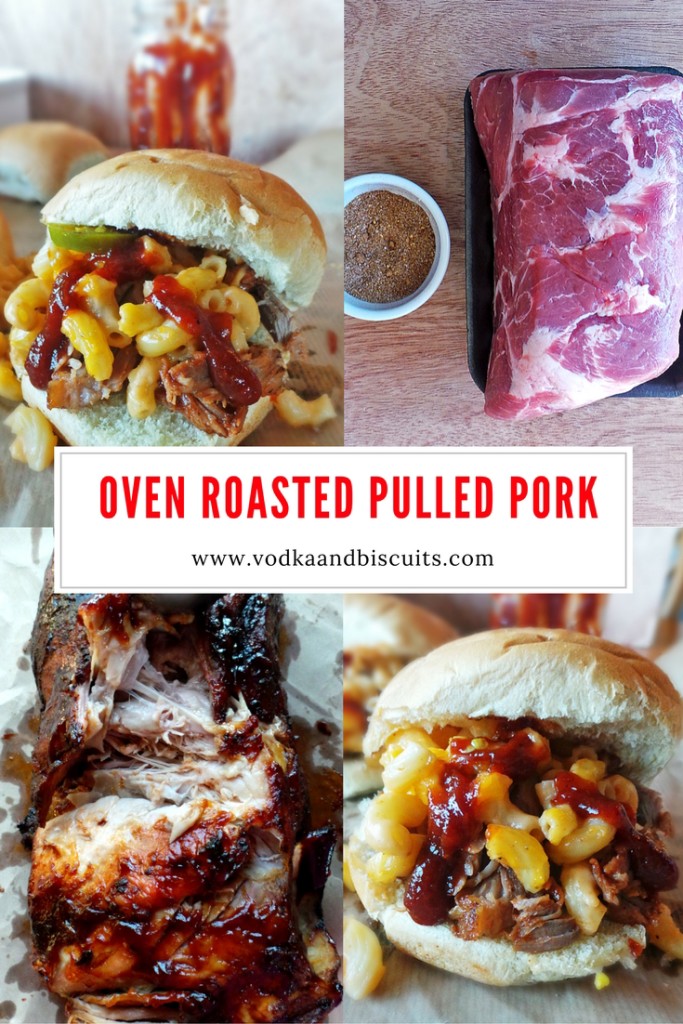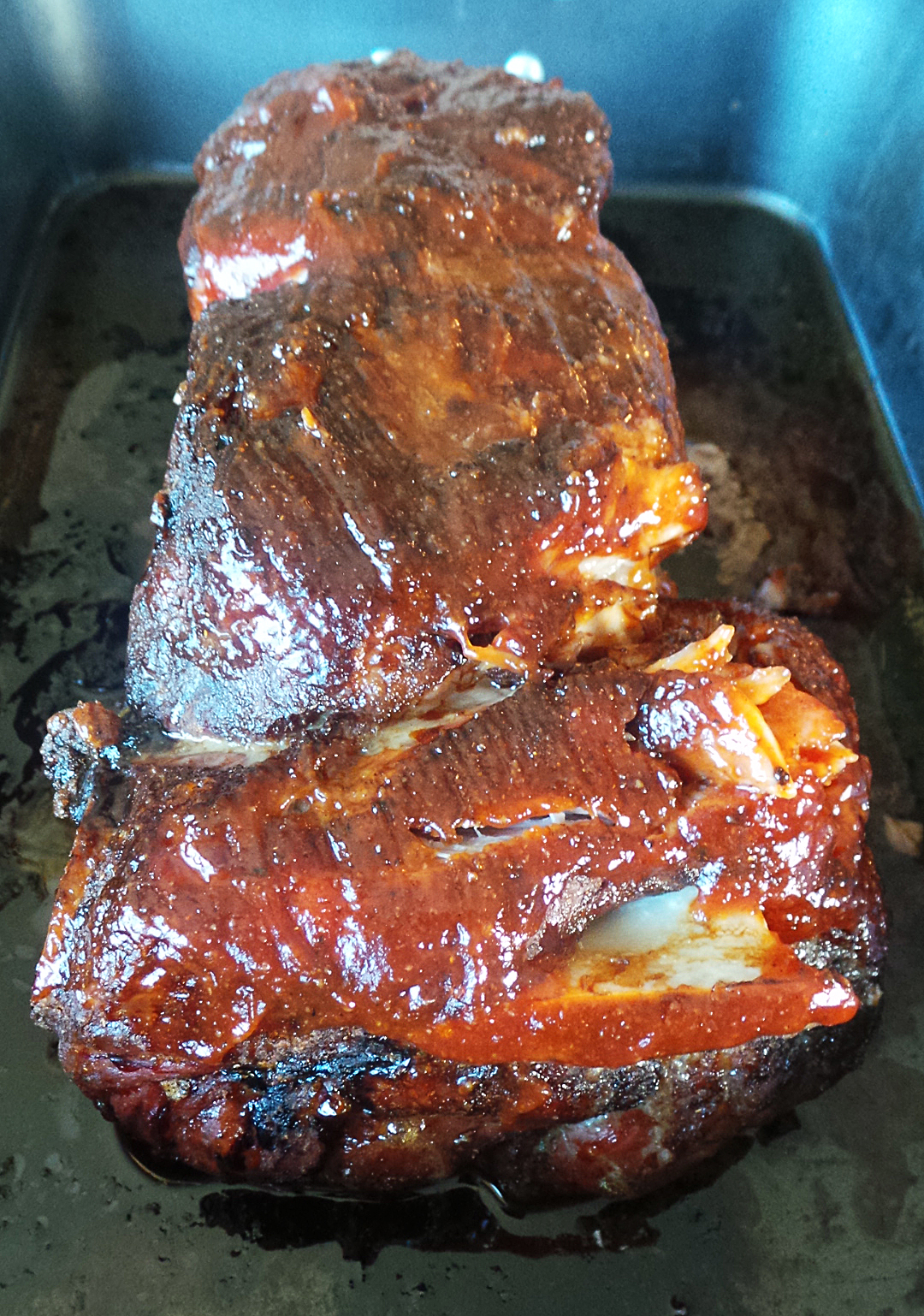 Delectable Roasted Pulled Pork
2014-03-14 08:42:11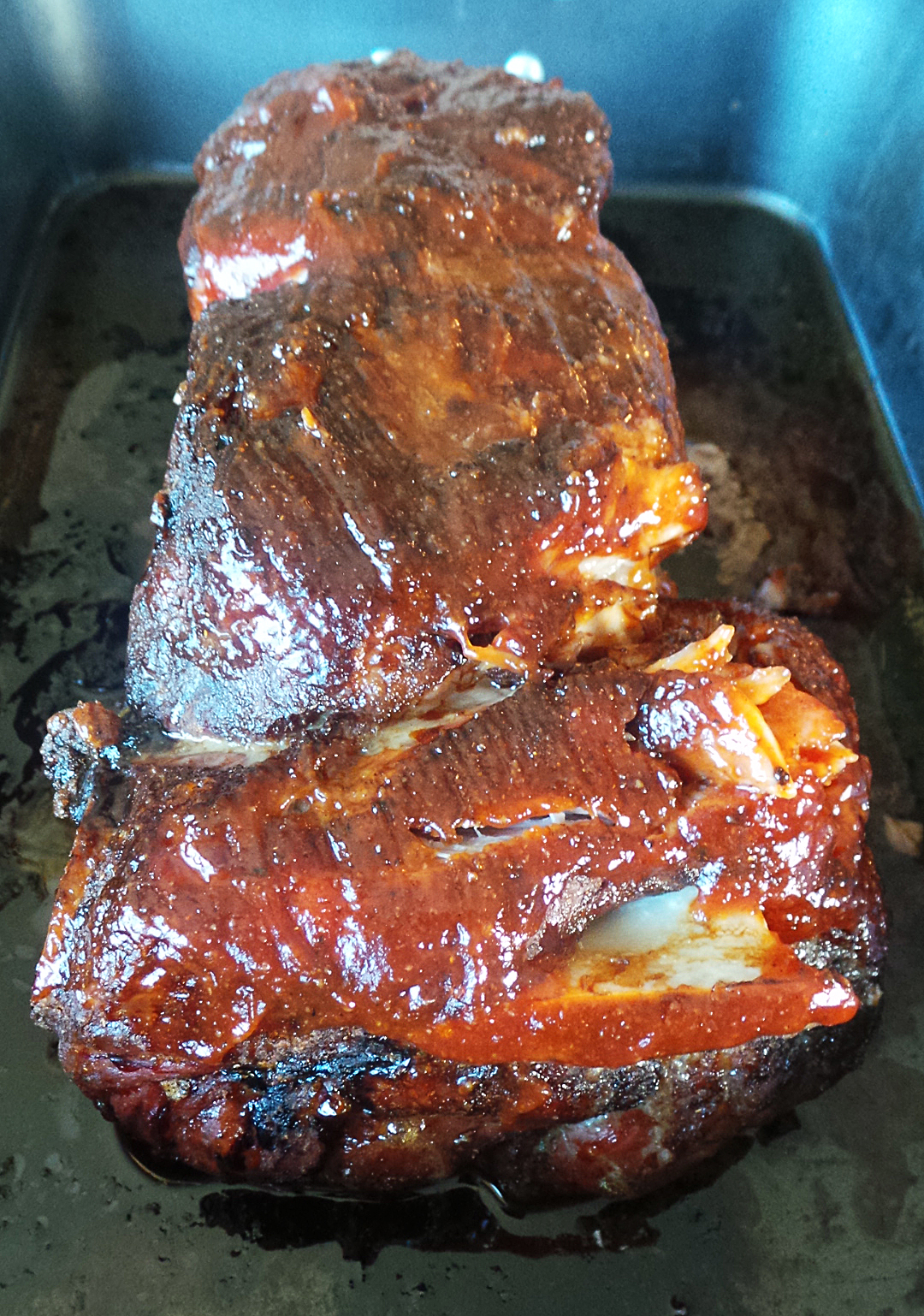 Serves 8
Ingredients
5-7 lb. pork butt/shoulder
1 T. sea salt
1 T. garlic sea salt (if using garlic powder, add a little extra sea salt)
1 T. mustard powder
1 T. dark brown sugar
3 T. sweet smoky paprika
Instructions
Combine all the seasonings. Rub all over the pork - don't be shy, rub it good!
Wrap with plastic wrap and let it sit in the fridge for a minimum 1 hour. I find it best to keep the plastic tray that comes with the pork, it's like a disposable plate.
Preheat the oven to 300 and place the pork in a roasting pan.
Roast for 5-6 hours.
After 5 hours, baste with barbecue sauce. I like to add the sauce when the pork is at 170 and take it out at 190-200 (around 6 hours).
The best way to check to see if it's ready is check with your fork - if it falls apart it's ready!
Notes
Serve with Finger-Lickin-Good BBQ sauce (link in post)
http://www.vodkaandbiscuits.com/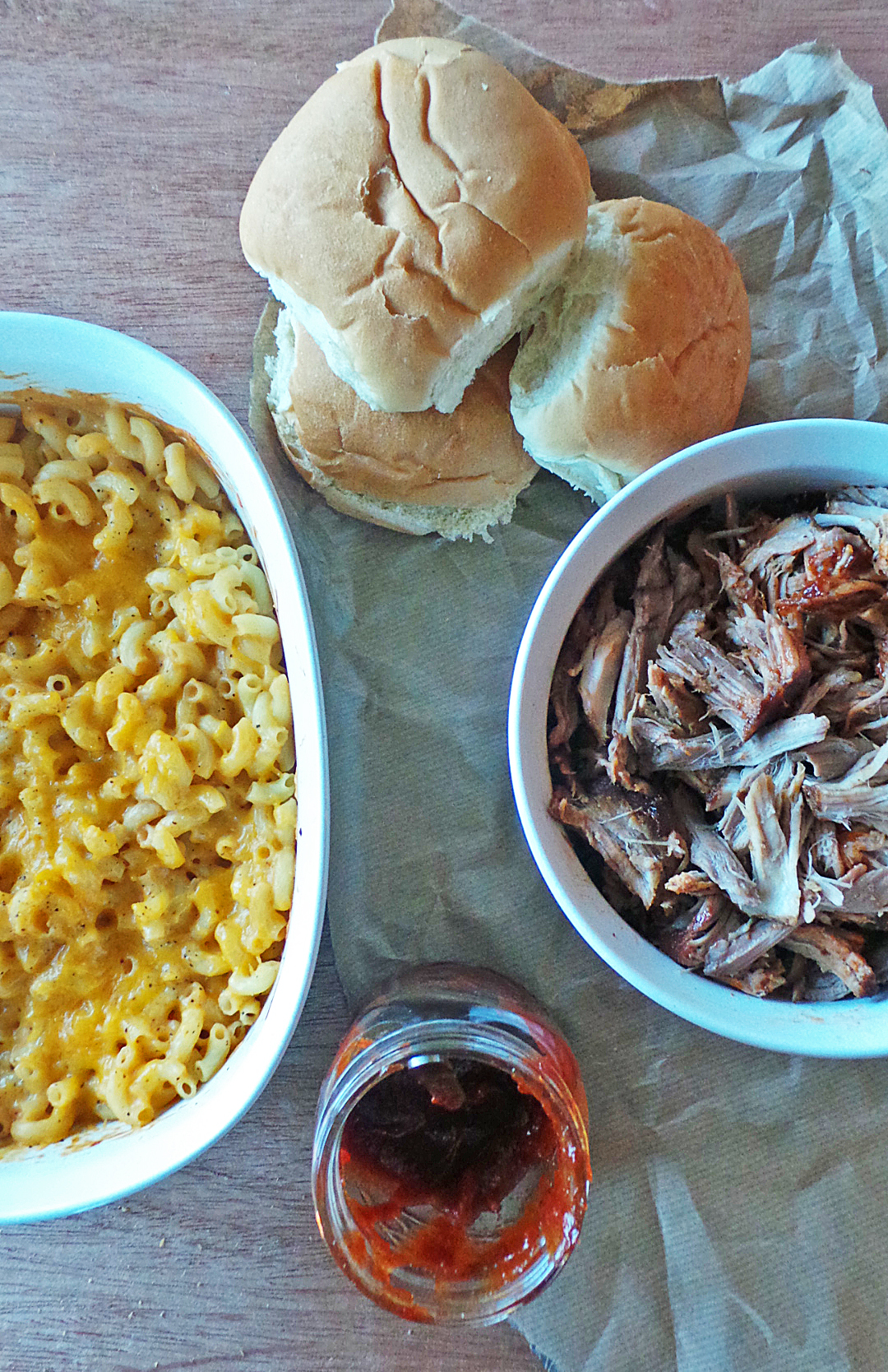 BBQ Mac-n-Cheese
2014-03-14 08:45:03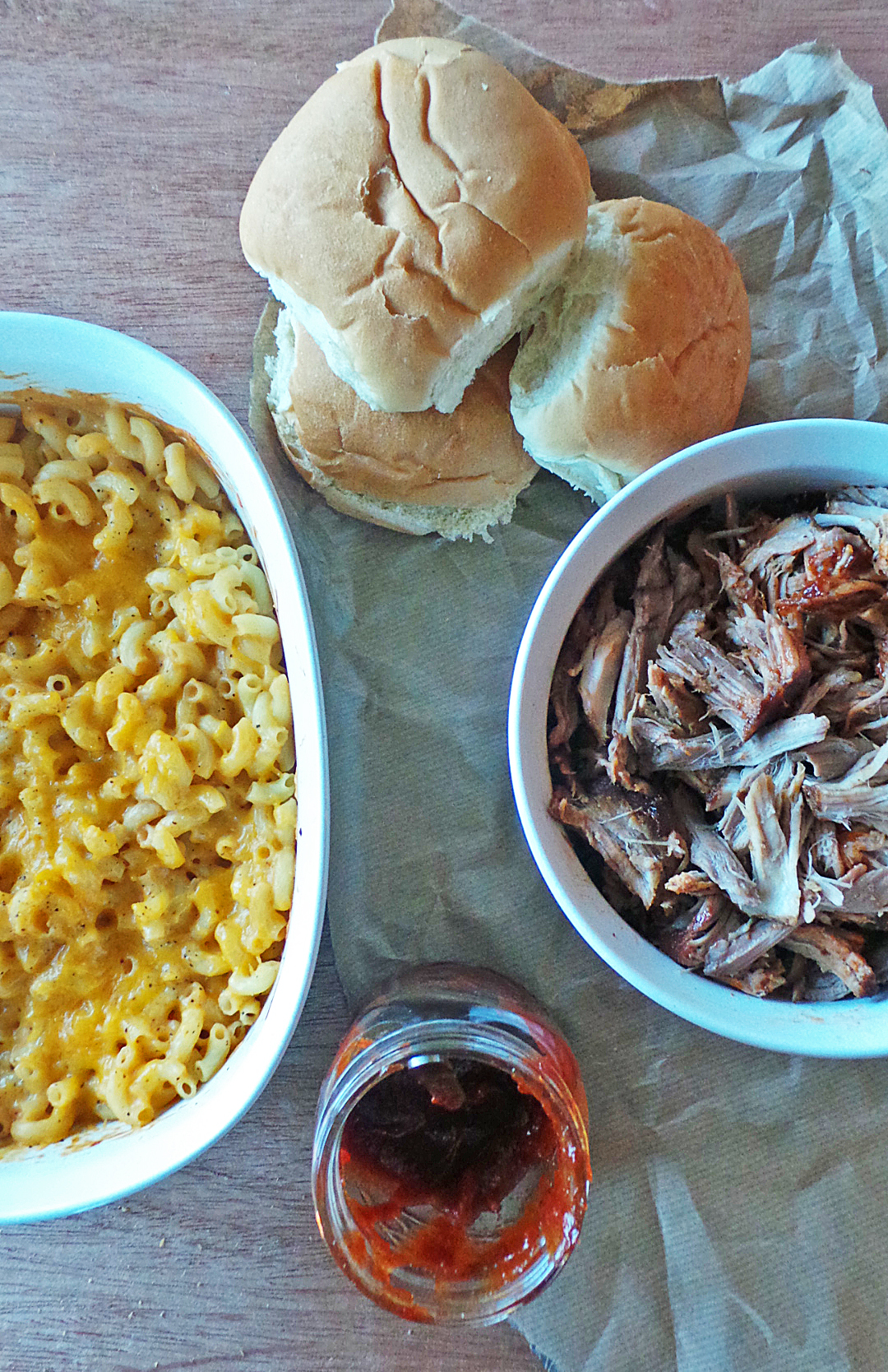 Serves 8
Ingredients
1 lb. elbow noodles
1 oz. flour
1 oz. butter
1 pint low-fat milk, cold
2 c. low-fat cheddar cheese
2 T. BBQ sauce
salt
pepper
nutmeg
Instructions
Prior to making, make sure you have equal amounts of flour and butter for the roux. Measurement is important - for accuracy measure in weight NOT volume.
Melt the butter in a sauce pan. Whisk in the flour until combined. Should be consistent to wet sand.
Stir in the cold milk, whisking to break up any lumps. Bring to a gentle simmer for 10 minutes, stirring often to thicken.
In the meantime, cook elbow noodles.
Once bechamel is thickened, season with salt, pepper, and a pinch of nutmeg.
Strain through a fine strainer or chinos. Return to heat.
On low, stir in the cheese until incorporated. Leave some cheese behind for topping. Remove from the heat and stir in the BBQ sauce.
Strain the noodles and transfer to a oven safe dish. Ladle the cheese sauce over the noodles and stir to combine. Top with remaining cheese and bake in oven with pork for 20 minutes until cheese is melted.
Eat as is or stuff in pulled pork sandwich - yum!
http://www.vodkaandbiscuits.com/
[shopeat_button]