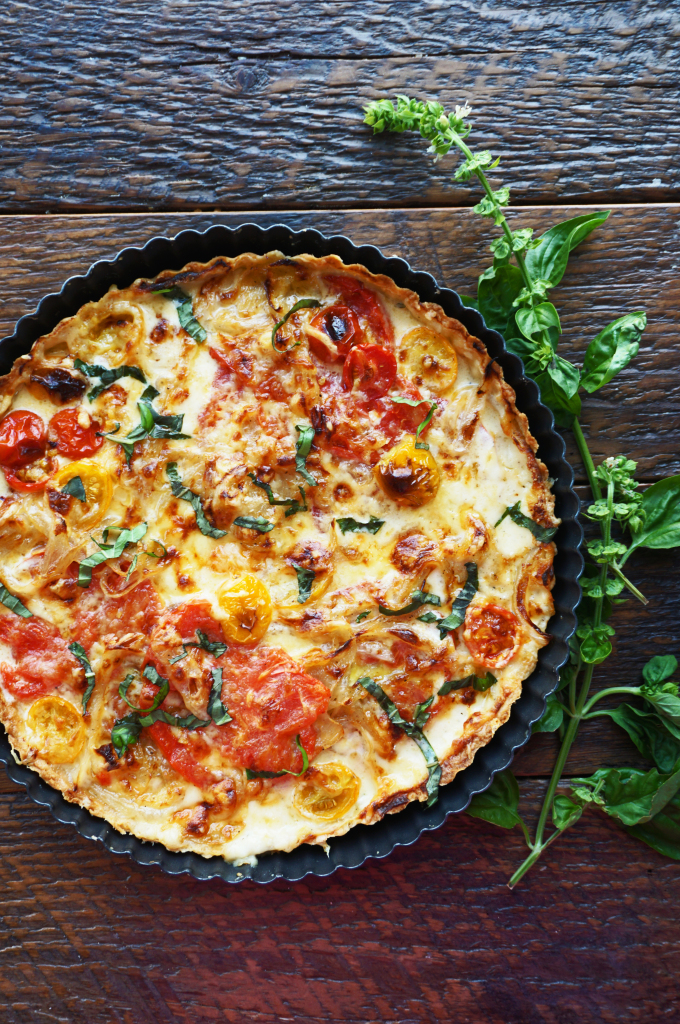 AKA the best thing I've made this summer.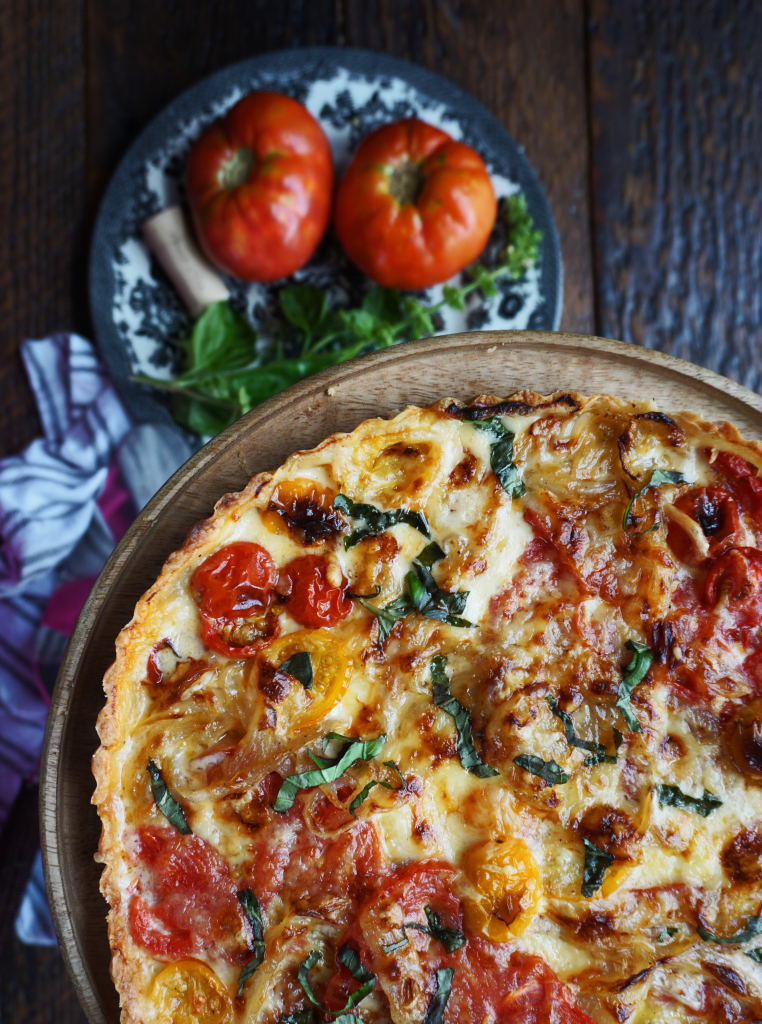 Think if pizza met tart. Think cheese and tomatoes. Picture that with a buttery flaky crust. It's like the true definition of a pizza pie.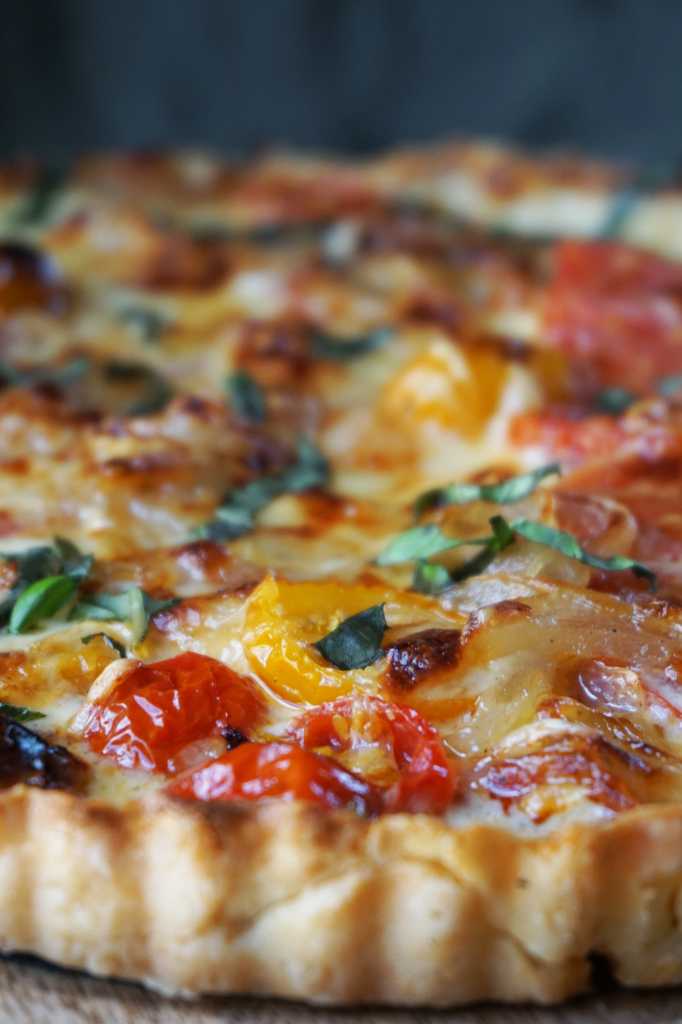 A few weeks back we were ridding the office of our surplus of magazines that dates back to the late 80's. Before they officially landed in the trash pile, I briefly flipped through the pages to find any recipe inspiration. I was nearly taken away when I stumbled upon Oprah's 2007 September issue of O' and was staring eye to eye with a cheesy, charred tomato, and caramelized onion tart. I was drooling. And hungry. And soon enough, craving.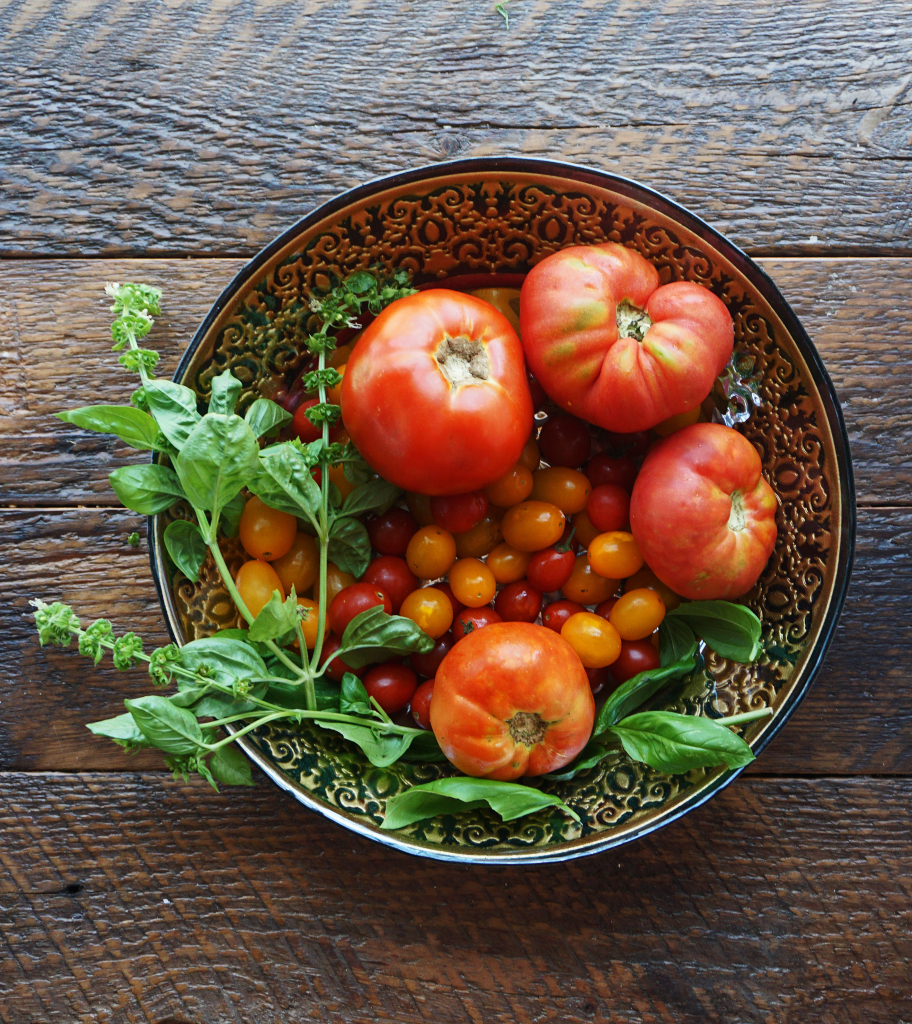 It just so happened the night before the magazine discovery my neighbor brought over an assortment of homegrown tomatoes and basil. His tomatoes were the size of softballs, giving them their name beefsteak. He also gave me an assortment of grape red, yellow, and orange tomatoes that were good enough to replace candy. I decided for my tart I would use an assortment of sliced beefsteak (or large) tomatoes, and halved grape tomatoes.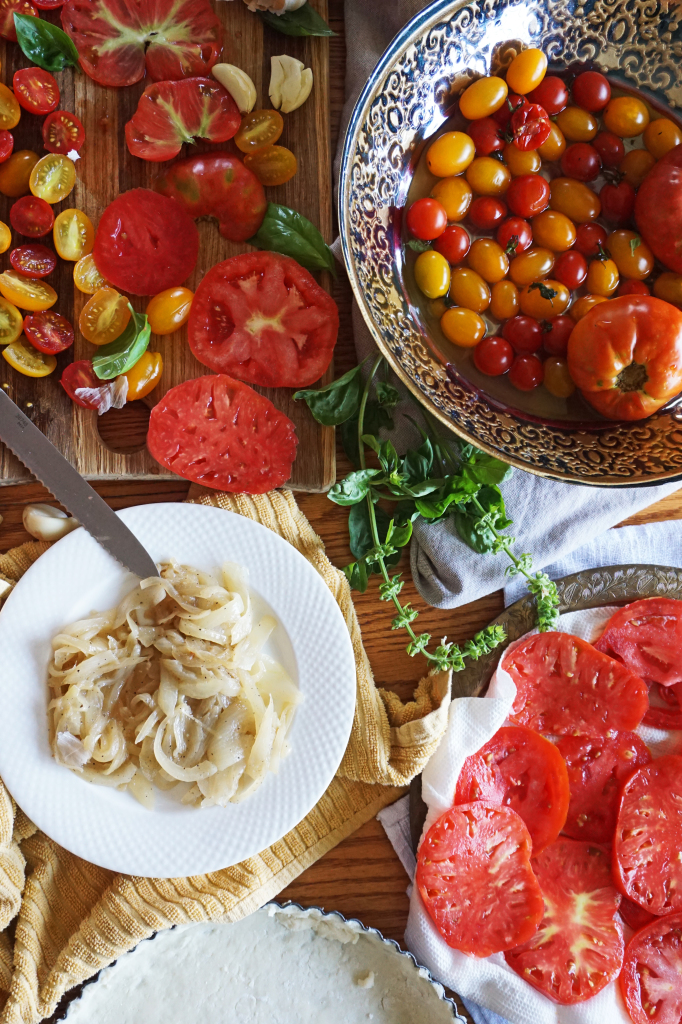 It also just so happened the night my neighbor gifted me tomatoes was turkey burger night in my house. We all know I can't eat my burgers without some caramelized onions. I made enough onions to last me for days, so I ended up using those left overs for the tart. Basically, you can make your onions the night or a few days before! Same with the crust.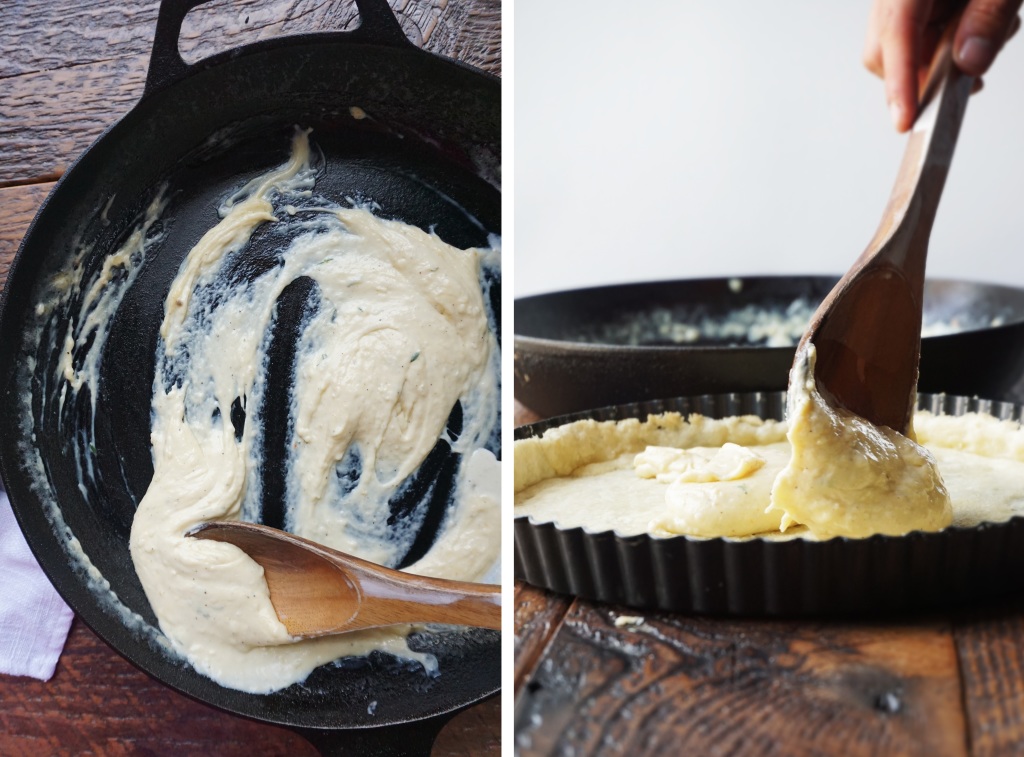 I remember last Thanksgiving calling my cousin,
uh, since I'm like the food blogger and cook of the family do you think I'll get judged if I buy a pre-made pie crust?
Of course she answered obviously "don't tell anyone," then the first thing I do when I arrive to her house is blurt out anxious as ever OKAY I MADE THE PIE I DIDN'T MAKE THE CRUST, when really I could have carried on and nobody would have known. Let's just say I loose sleep over pie crust. The crust in this recipe was easy to make and since it didn't fail me, it wont fail you. It'll actually turn out even better for you.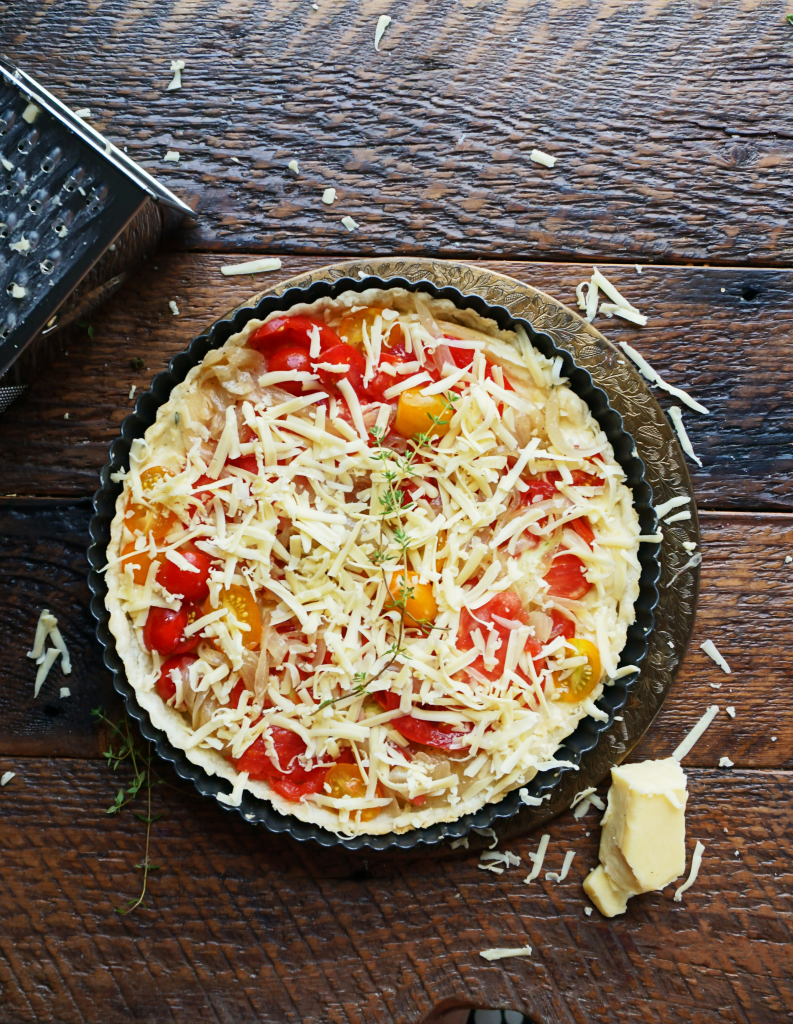 The recipe called for a cheese sauce made with heavy cream reduced with a little garlic and thyme, then Asiago cheese melted in. As you can see above, it was thick and almost resembled a soft pizza dough. Ironic. The sauce gets added to the blind-baked tart dough, the tomatoes and onions gets mixed in, then the tart gets one last sprinkle of cheese before hitting the oven.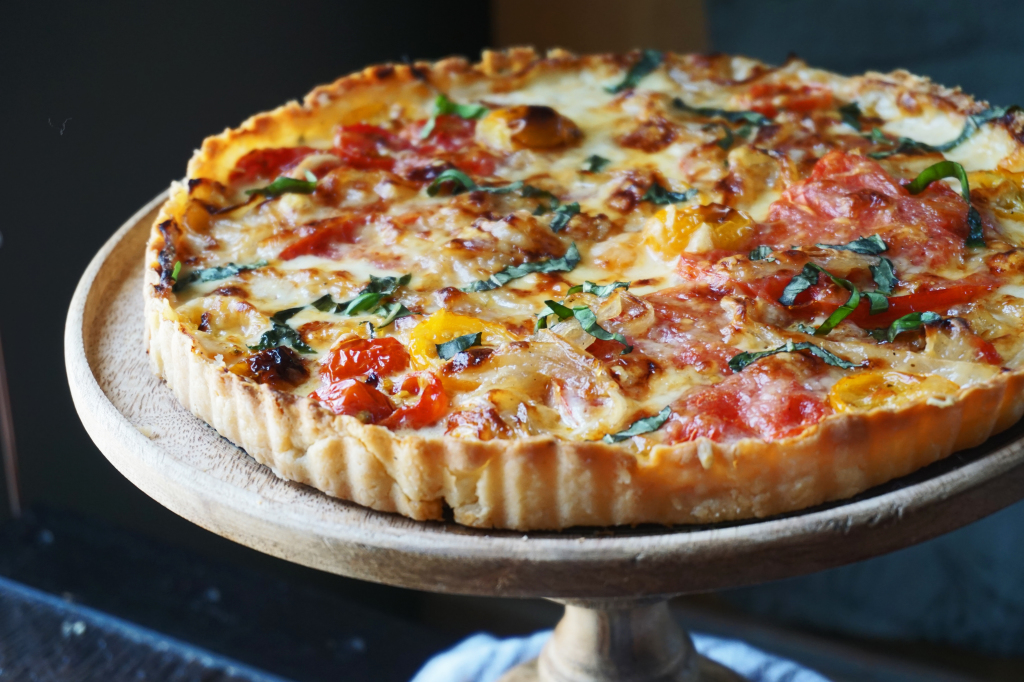 We blind bake the tart crust before adding the yums or else the crust would never been finished cooking. All you have to do is poke holes in the dough, cover with foil, add some pie weights (or rice and beans), and bake for 15 minutes.
The original recipe called for Asiago cheese, however I had a combination of Gouda and Gruyere so I just used that. Use whatever white cheese ya want.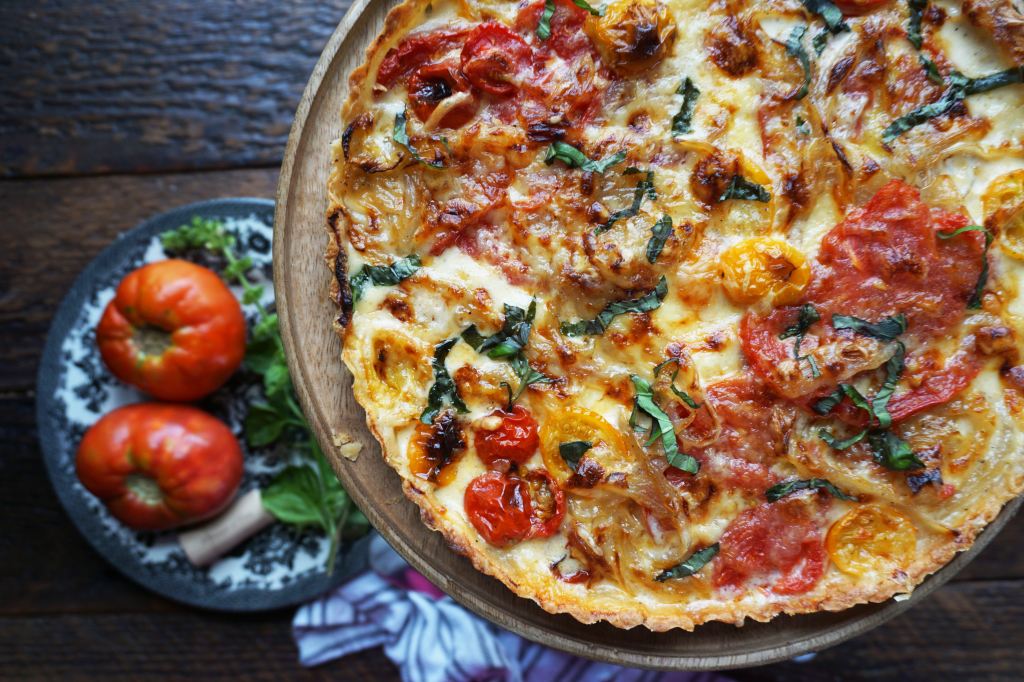 The tart only takes about 15 minuets before the cheese gets melted and bubbly, however I let mine sit under the broiler for 5 just to give it that color.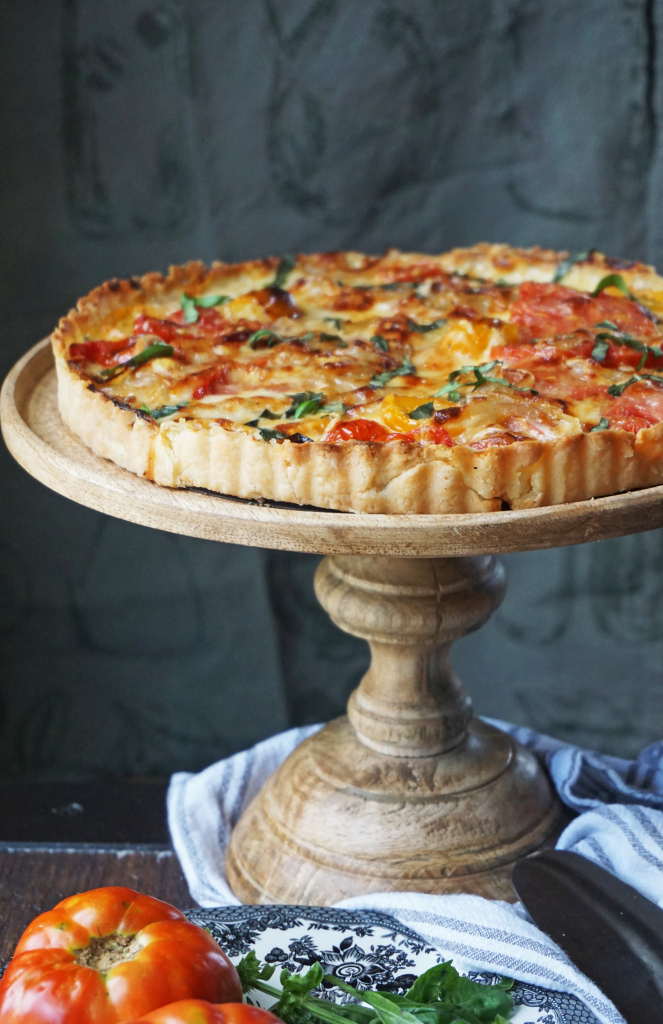 I presented this on my NEW wood cake stand (ily Home Goods) with a garnish of basil. As I carried this around my house trying to find the perfect lighting for a picture, I had my family parading behind me. If technology ever allows you to smell a recipe through the computer, let this be your first try.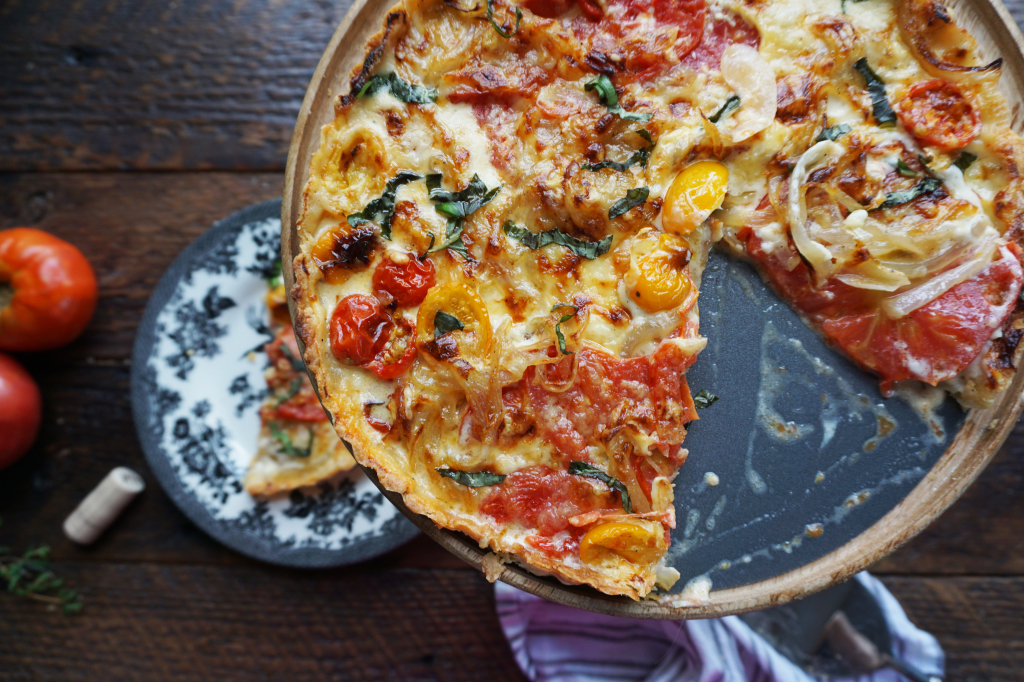 Sweet caramelized onions, juicy charred tomatoes, a cheese sauce with thyme and garlic that needs no justice, combined with the bite of a buttery flaky pie tart filled the house and our bellies with greatness that I am now making my summer tradition. Enjoy!
Ps: In hind sight I would have made a Bechamel opposed to reducing the heavy cream. In this case, melt 1 T. of butter. Add the minced garlic and thyme, cook 30 seconds. Stir in 1 T. of flour for your roux. Let that cook until it no longer smells like raw flour. Whisk in 1/2 c. non-fat milk. Bring to a simmer, while whisking, until thick. Add your cheese and proceed with recipe. Also, I modified the recipe a bit. Check the original here.
Beefsteak Tomato Tart with Caramelized Onions & Thyme
2015-08-18 06:15:15
Serves 6
For the Pie Crust
1 1/4 cups all-purpose flour
8 tablespoons (1 stick) unsalted butter, cubed then thrown into the freezer for 15 mins.
1/2 teaspoon salt
1 teaspoon sugar
5-6 tablespoons nonfat milk , very cold
For the Filling
1/2 pounds beefsteak tomatoes , sliced 1/4 inch thick
3 tablespoons olive oil
1 small onion , peeled and sliced into thin slices
1/2 cup heavy cream*
2 teaspoons fresh thyme leaves
2 cloves garlic , minced
1 teaspoon kosher salt
1/2 teaspoon freshly ground black pepper
1 cup grated cheese, I used Gruyere and Gouda* (about 4 ounces)
For the Pie Crust
Add the flour, salt, and sugar to a food processor. Add the cold cubed butter and pulse until the butter is distributed into pea-size pieces.
Add the milk one tablespoon at a time, pulsing as you go, until the mix forms a rustic ball.
On a lightly floured surface, shape into a 5" disk. I had to use a tablespoon more of milk.
Wrap in plastic and refrigerate for one hour.
Preheat oven to 400°. On a floured board, allow dough to sit, unwrapped, until just pliable, about 15 minutes. With a floured rolling pin, roll dough into a large circle, moving it a quarter turn with every roll to make sure it's not sticking underneath (dough should be 1/4" thick.)
Ease dough round into a 9-inch tart pan with a removable bottom. Press tightly into the sides of the pan (dough should exceed the edge by 1/2 inch). Using the rolling pin, cut excess dough against the tart pan to create a perfectly even edge. Chill 30 minutes before cooking.
With the tines of a fork, poke holes throughout the bottom of the crust. Cover with foil; top with pie weights or uncooked beans or rice. Bake 15 to 20 minutes, or until edge of crust is light golden. Remove crust from oven and carefully remove weights and foil. Return to oven to bake 5 to 10 minutes more. Cool on rack. Keep oven on at 400°.
For the Filling
Add 2 T. of oil to a saute pan and heat to medium-low heat. Add the onions and cook, tossing around every few minutes. Once the onions become translucent reduce the heat to low. Cook 20-25 minutes until caramelized. Season the onions with salt and pepper. I always add a tablespoon of butter and brown sugar because I'm bad. Your choice! Set aside until needed.
Add the remaining oil to a separate small saute pan. Cook the garlic and thyme until fragrant, about 30 seconds. Add the cream. Increase the heat until mixture is reduced by half. Stir in 3/4 c. of the cheese.
Pour reduced liquid into prepared pie shell. Top with onions and tomatoes; sprinkle with remaining cheese. Cook until tart is hot and cheese is melted, 10 to 15 minutes. Place under the broiler for 5 minutes before serving.
Garnish with fresh basil.
Notes
*Make the onions and pie dough the night before to make this recipe a breeze.
*See post on how to lighten this bad boy up!
*You can also use Asiago cheese as the original recipe states.
http://www.vodkaandbiscuits.com/