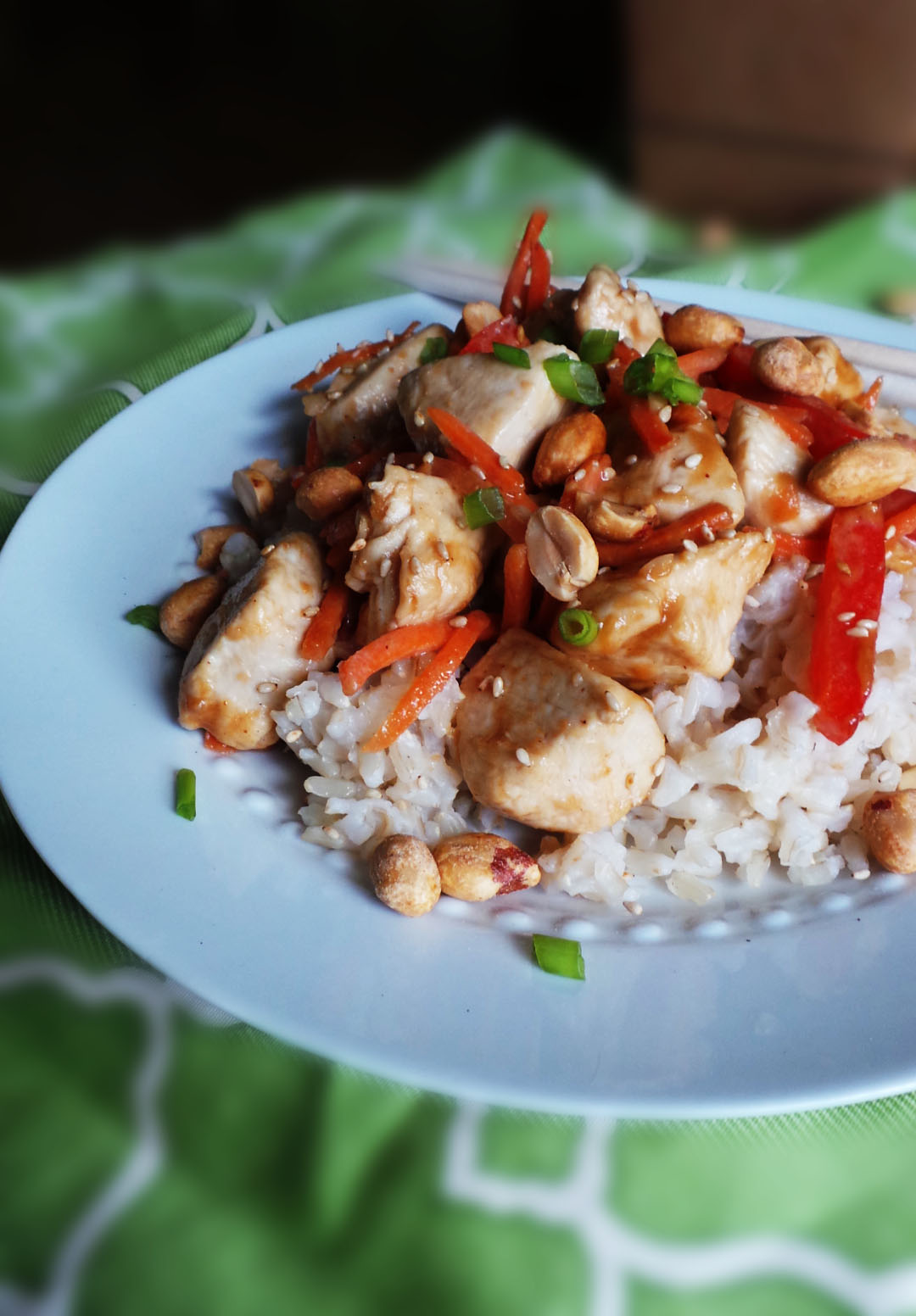 "Do this"
That was my mom's demand as she handed me a small take-out souffle cup of her Thai salad dressing. After tasting it I realize why she was in ever-so-desperate need of that dressing. It was peanut-y, enriched with a deep sesame flavor, yet still had tang. So I did a little research, talked to a few chefs, and wrote down what could possibly be in this tiny sample of dressing. Then that's when it hit me.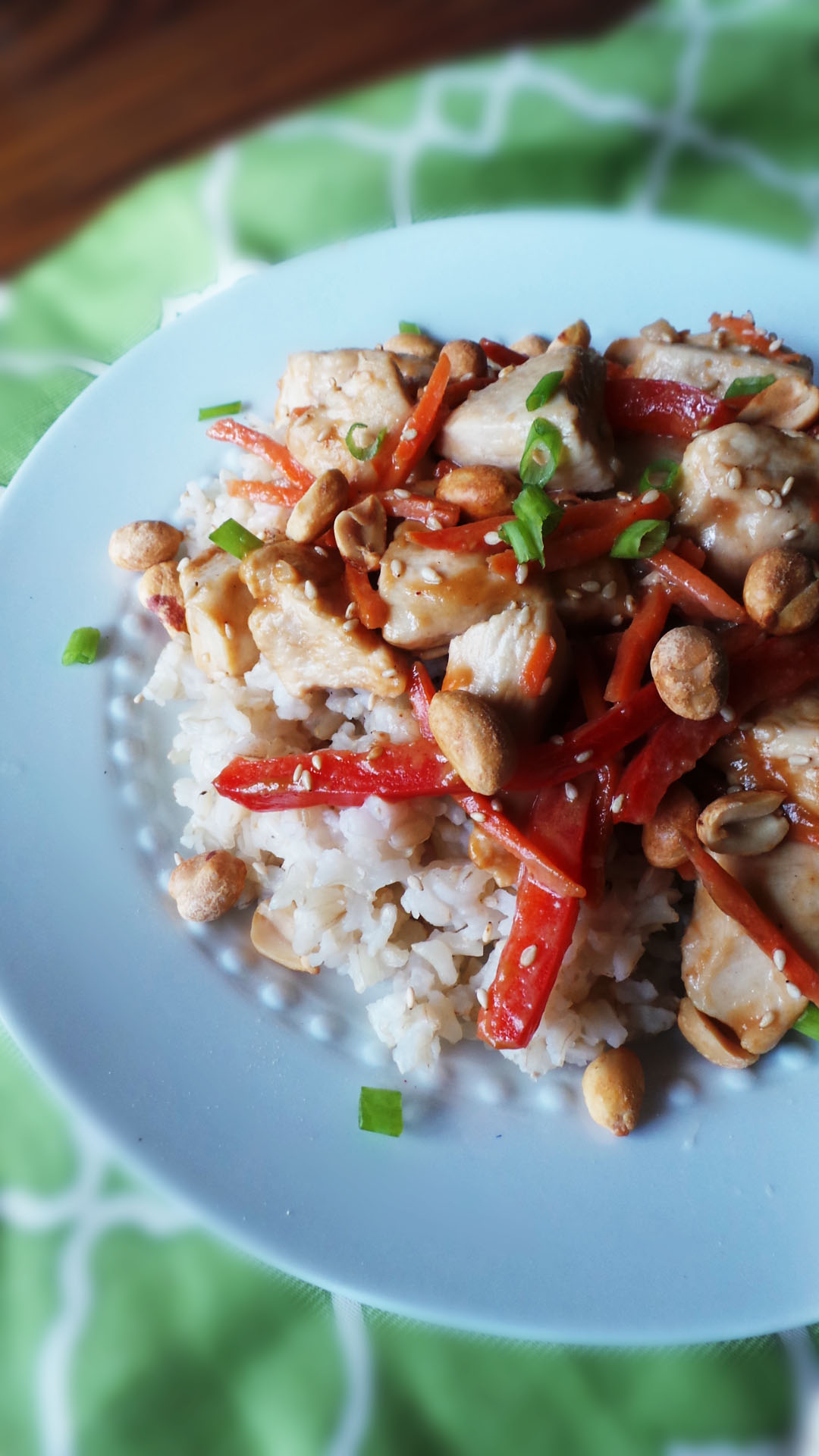 Thai Chicken Peanut Stir-fry.
The more I thought about it, the more I needed it. So here you go. A few test rounds for the perfect peanut sauce, several army crawls under the kitchen table chasing rolling peanuts, and a plentiful amount of stir-fry later and I have for you my light edition of Thai Chicken Peanut Stir-fry.
Btw, how much stir-fry is too much stir-fry? I don't think I want to know.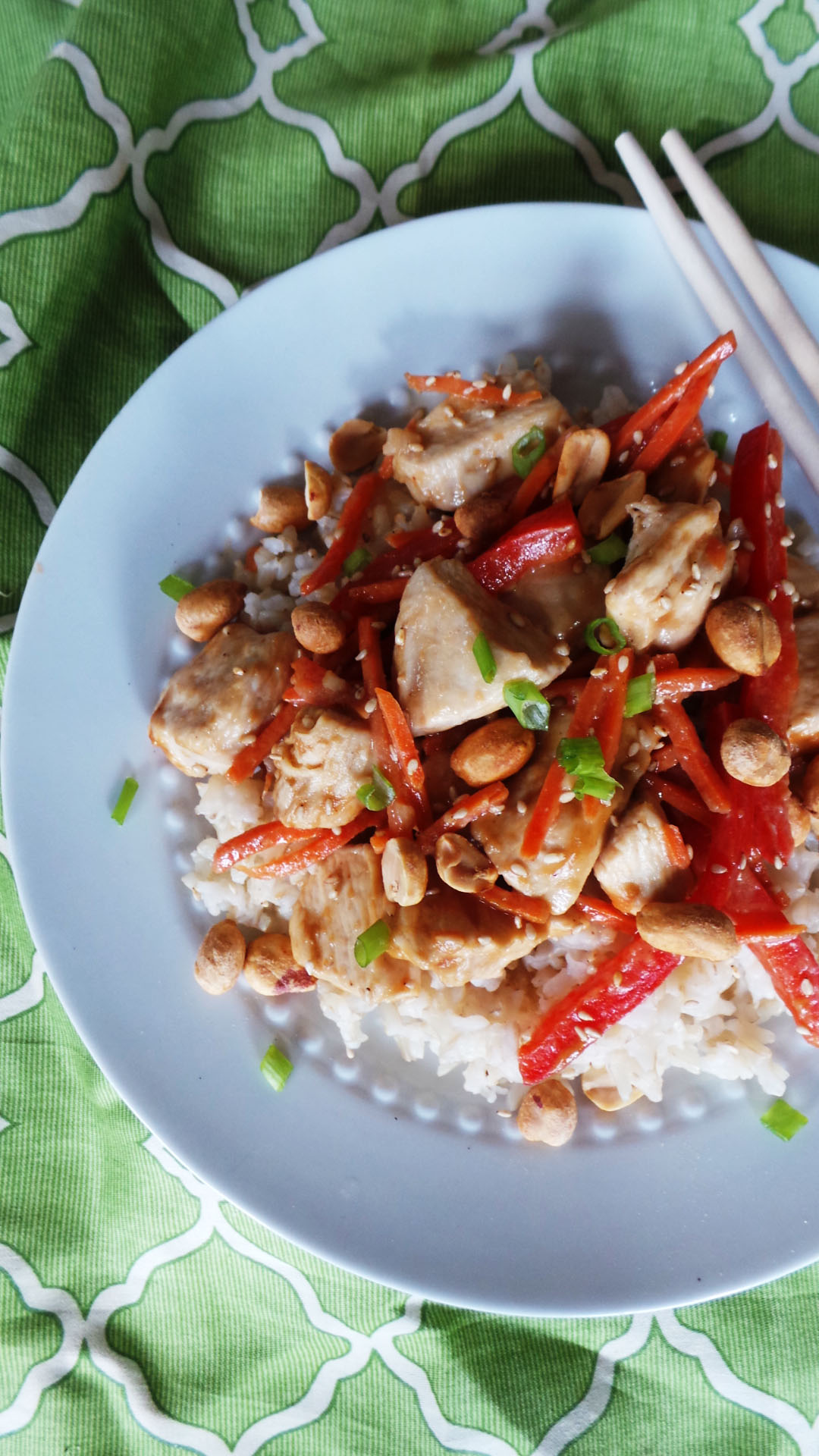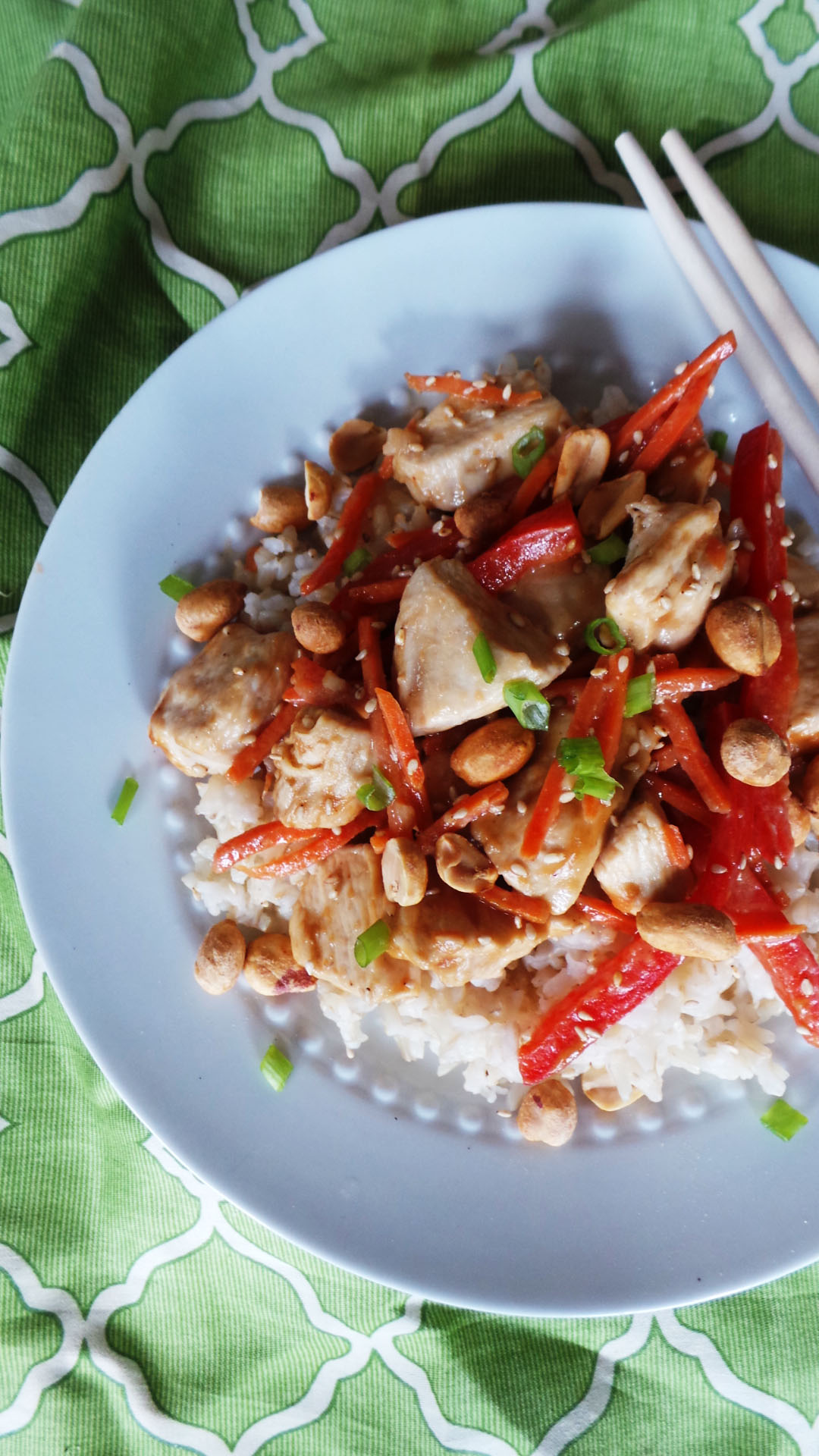 Thai Chicken Peanut Stir-fry
2013-11-08 12:35:04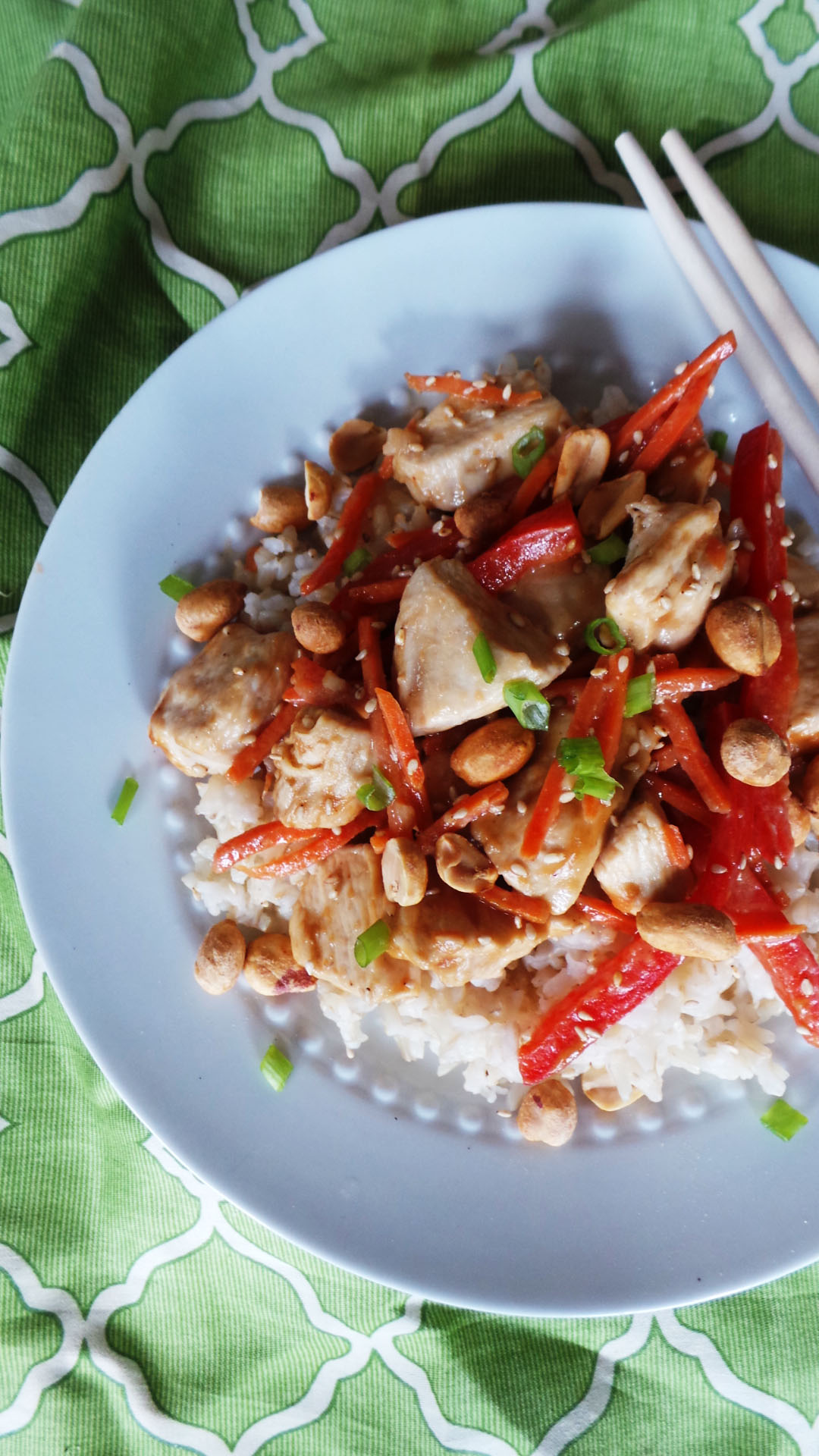 Serves 4
For the sauce
1 T. natural creamy peanut butter
1 T. light soy sauce
1 T. light or regular brown sugar
1 T. sesame oil
water as needed
For the stir fry
1 lb. cubed chicken breast (about 3-4 breasts)
1 red bell pepper - cut into thin strips
1/2 c. carrots - cut julienne*
1 t. minced garlic (about 2 cloves)
1 t. minced ginger
1/4 c. vegetable oil
1 c. cooked brown rice
For garnish (optional)
sesame seeds
scallions
peanuts
For the sauce
Whisk the peanut butter, soy sauce, sugar, and oil together until a creamy sauce forms. Add water, a teaspoon at a time, to thin as desired.
Set aside
For the stir fry
In a large saute pan or wok, heat the oil over medium heat.
Once hot, stir in the garlic and ginger for about 10-15 seconds. You don't want the garlic to burn!
Add the chicken and cook until no longer pink, about 3-4 minutes.
Add the peppers and carrots. Stir and cook until tender, about 5 minutes (you still want a little crunch).
Add the sauce and toss until everything is fully combined. If available, squeeze the juice of 1/2 an orange or lime to enhance the flavor.
Serve over brown rice and garnish as desired.
Notes
Pre-cut julienne carrots are sold at the grocery store - very convenient!
Add red pepper flakes to the sauce for heat.
The easiest way to mince the ginger is to zest with zester.
http://www.vodkaandbiscuits.com/
[shopeat_button]