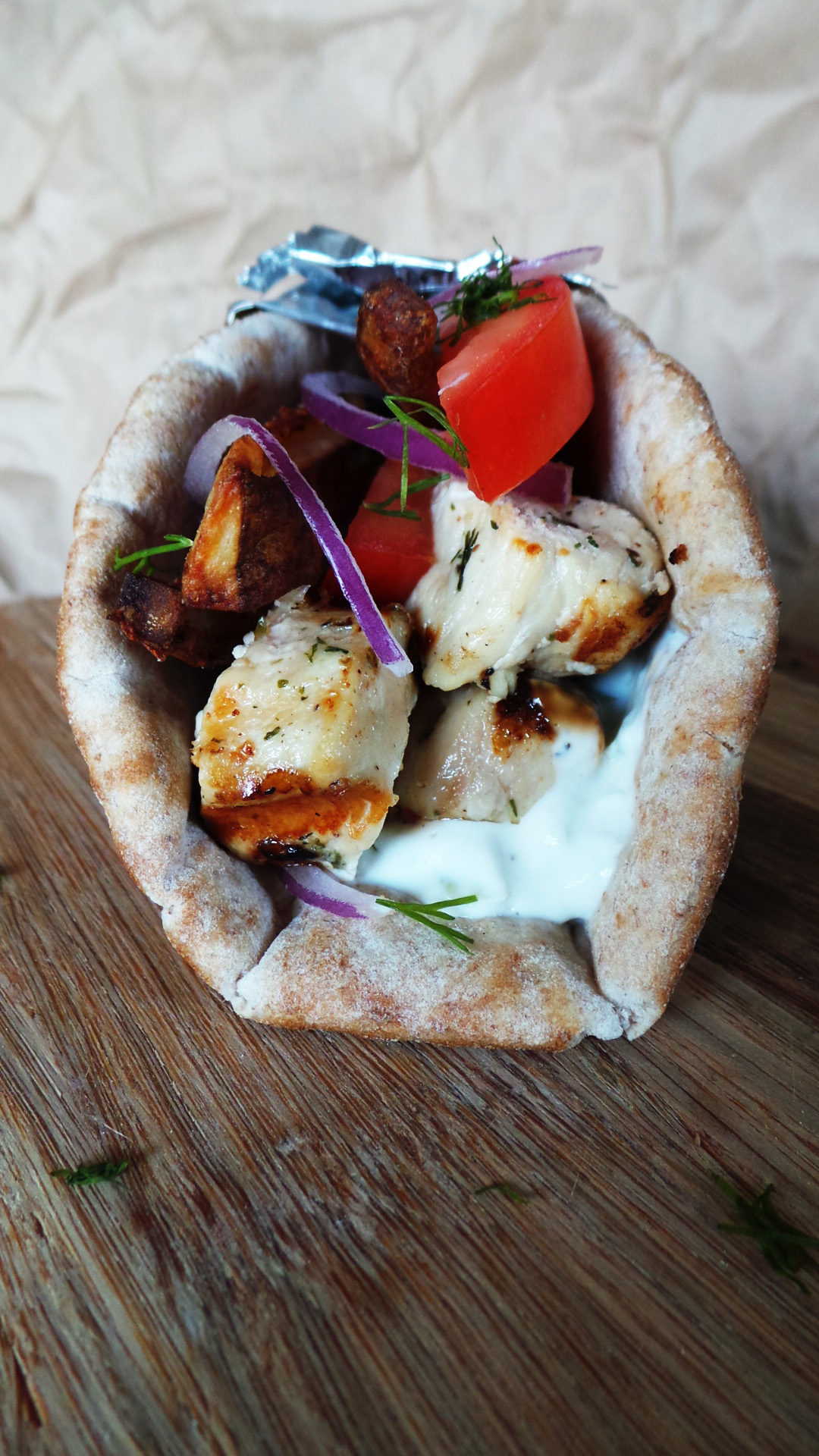 The only thing this baby is missing is homemade pita bread. I actually intended on making some, I even got up early for it. Homemade pita bread is so0o0o simple. Warm water, yeast, flour, and salt is basically all you need. You know what else you need? A rolling pin. This morning I got up, opened my packet of yeast and filled my cup up with warm water. I continued on with my mice en place and you know what I realized was missing? My rolling pin. Of course. How does a rolling pin go missing? I tore apart two closets, all of the kitchen drawers, and looked in the refrigerator? When I took a minute to bring myself out of panic (who panics over a rolling pin), I realized I had some store bought pita bread. Phew. It's not uncommon for me to have, since one of my favorite late night treats is a pita pizza (pita, sauce, ricotta, mozzarella), which by the way kills frozen pizza, so that's what I resorted to.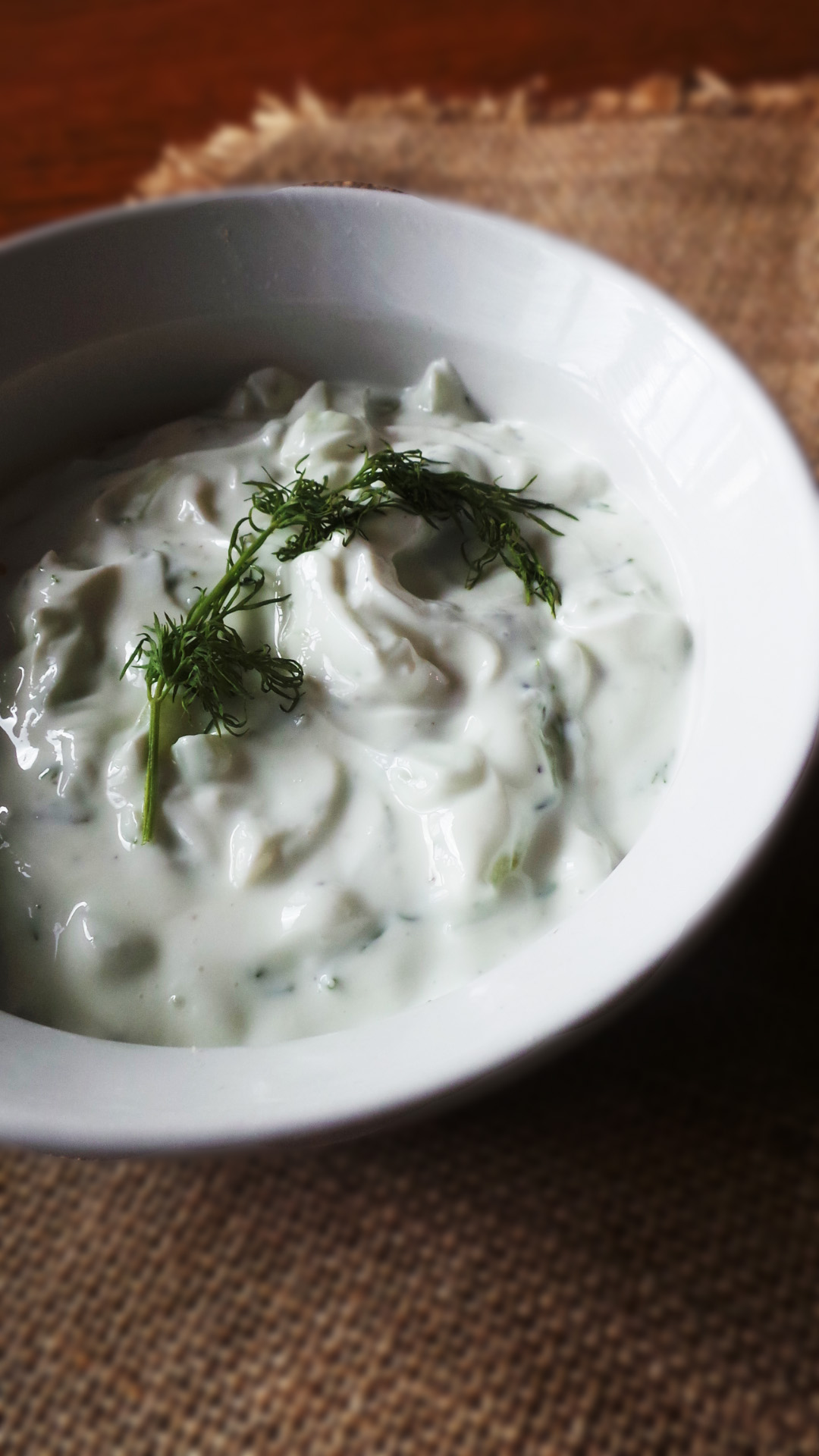 Originally this post was supposed to be Chicken Souvlaki with a Tzatiki sauce. Souvlaki is a traditional Greek fast food, nicknamed "meat on a stick." You can find lamb (most common), pork, or chicken. It is often served with a Tzatiki dipping sauce, which is a Greek yogurt based dip with yums like cucumber and lemon. The ingredients for both the sauce and marinade are pretty similar, which is why I love to make this. It's also healthy so eating these two would make a bangin' meal….or you could add a few more things and make…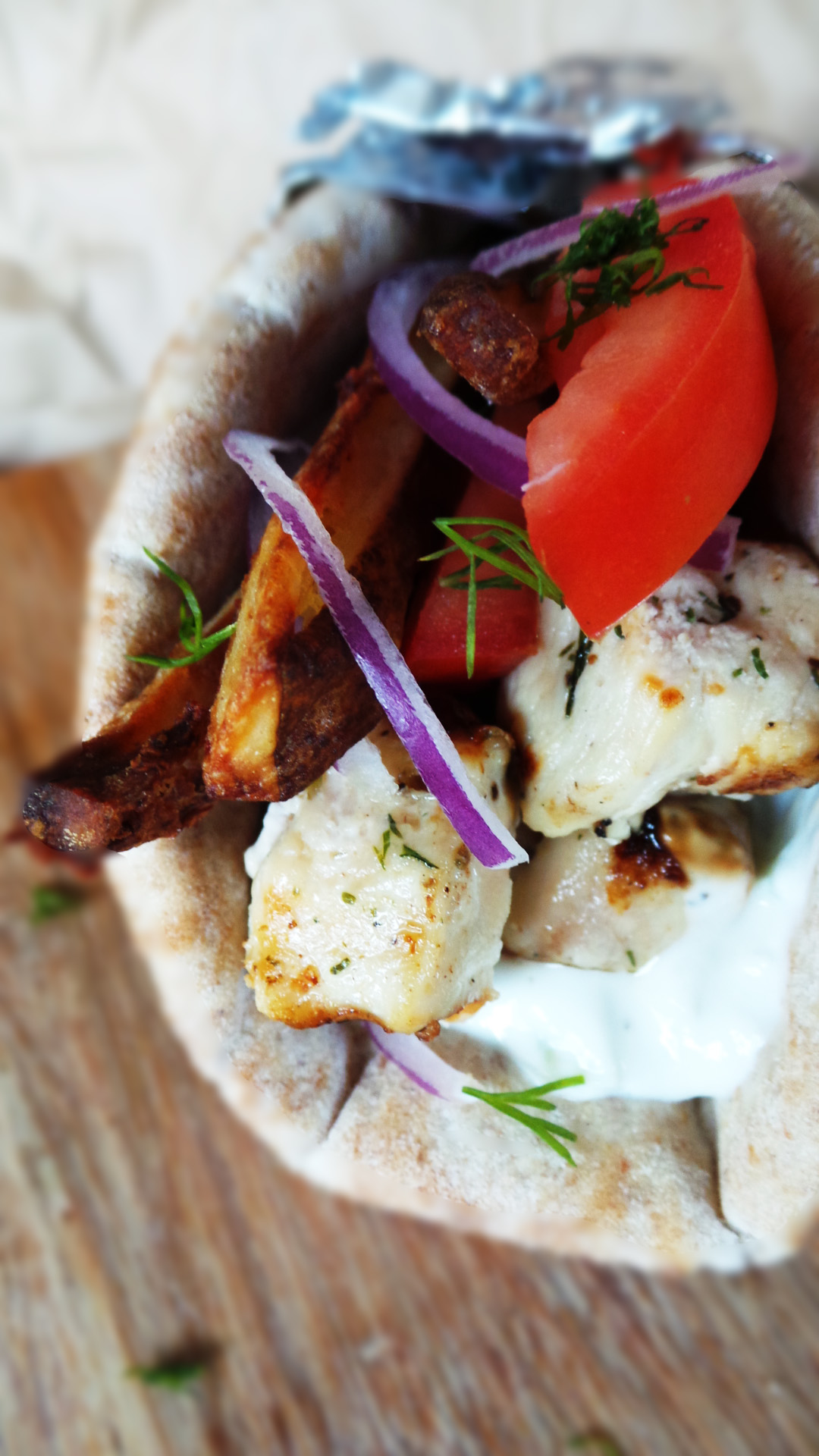 …a bangin'-er gyro. You could add whatever you'd like to yours, which I encourage to do with all of my recipes. The recipe I'm giving you today has thinly sliced red onion, tomato, and freakin' french fries. Nothing bad happens when french fries are involved. I do want to say please read the recipe before making. This can be lengthy. Draining the cucumber, baking the potatoes, marinating the chicken, all takes time. What I did was marinade the chicken and prepare the tzatiki sauce last night. Today all I had to do was bake the potatoes, soak my skewers, grill the chicken, and cut my onions and tomatoes. Puhlease, plan accordingly.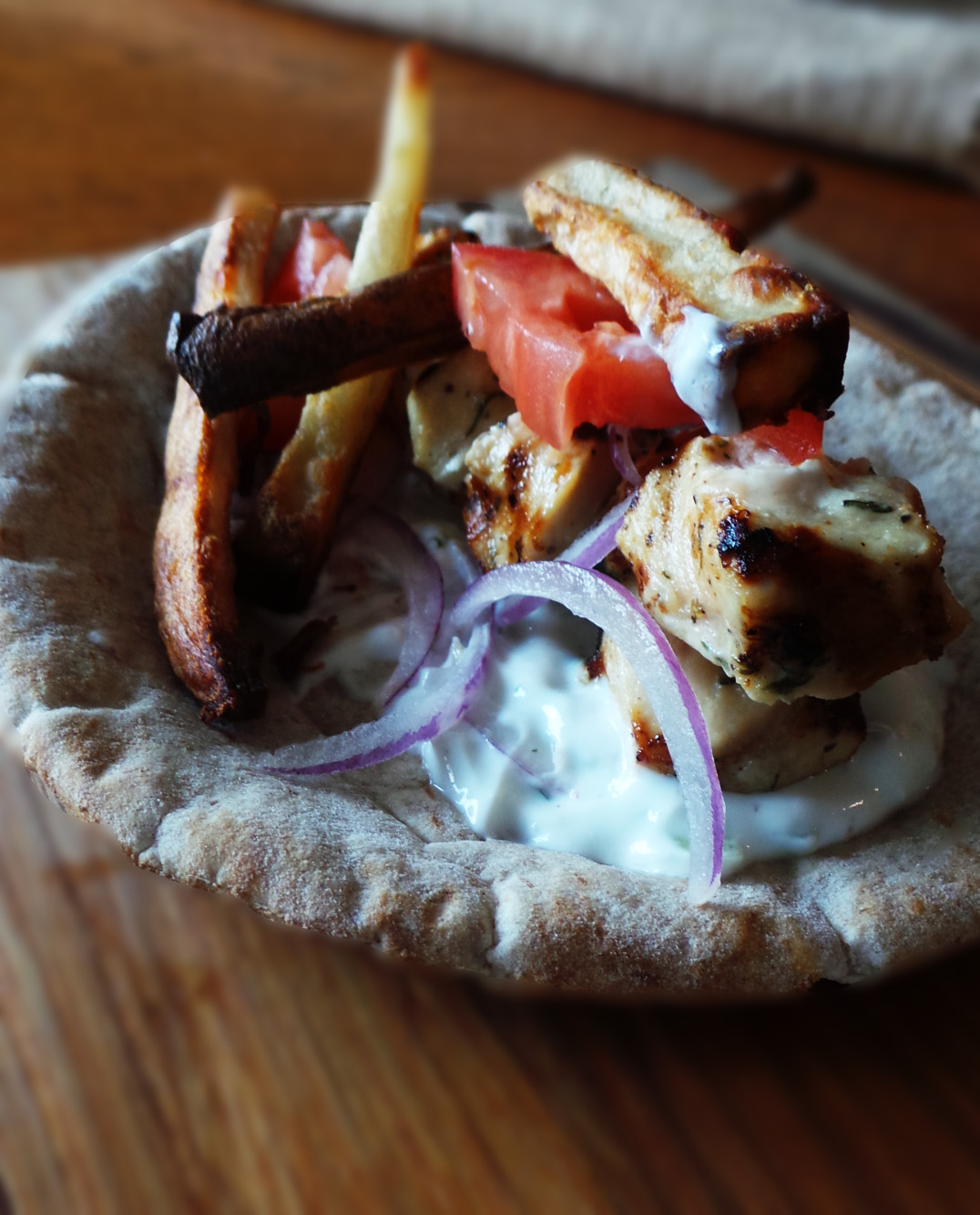 …it'll be oh so worth it.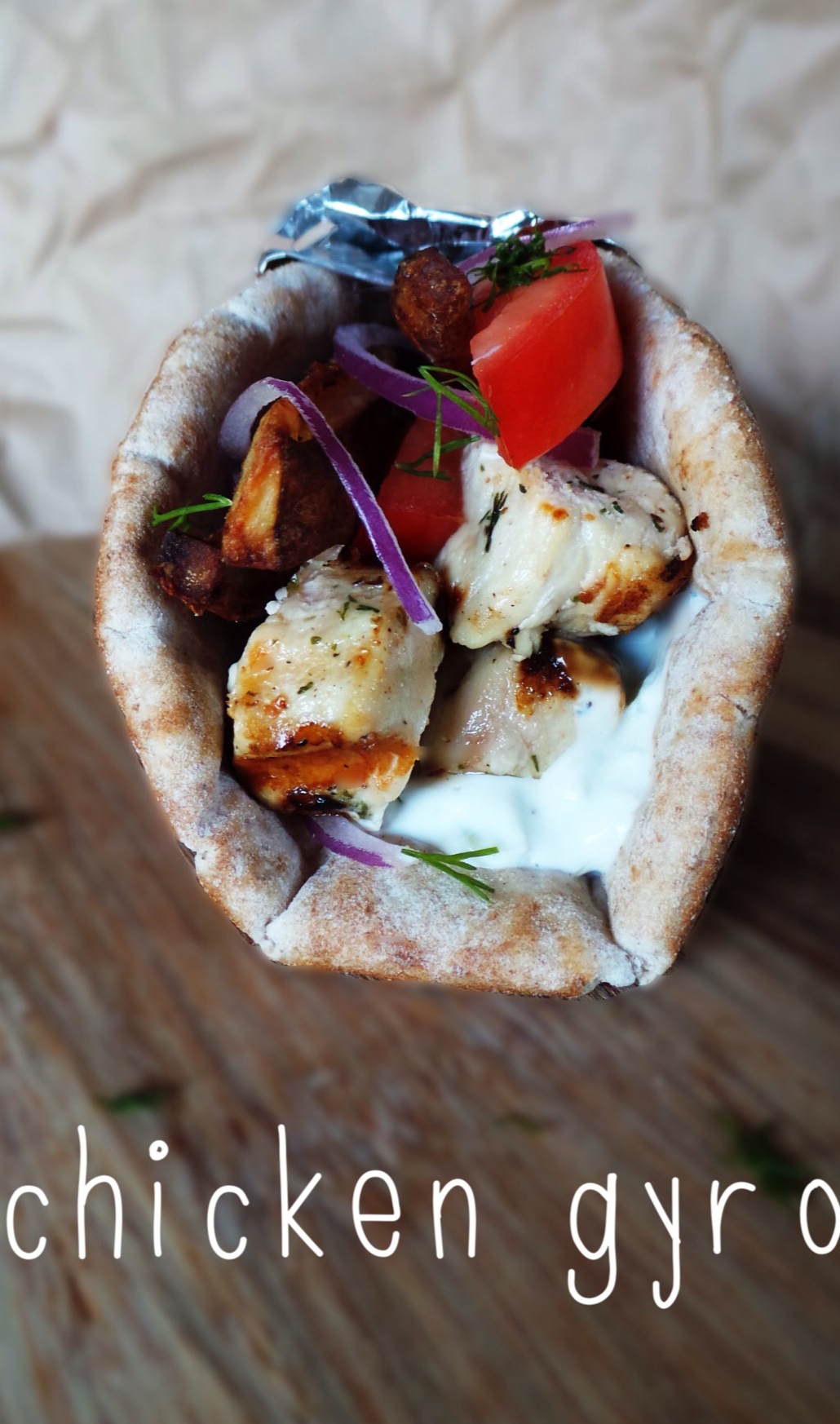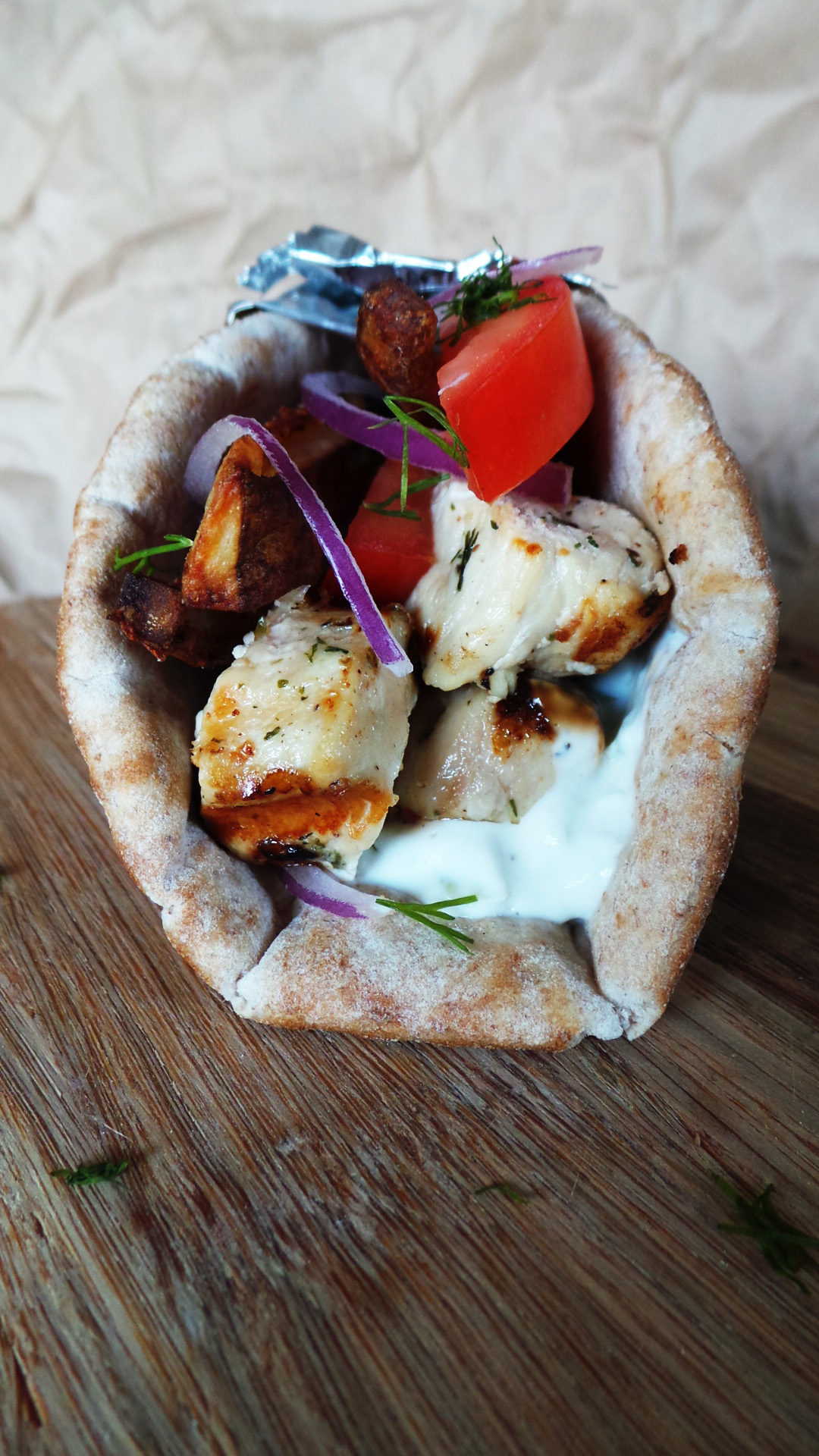 Chicken Gyro w. Tzatiki
2013-12-07 13:10:54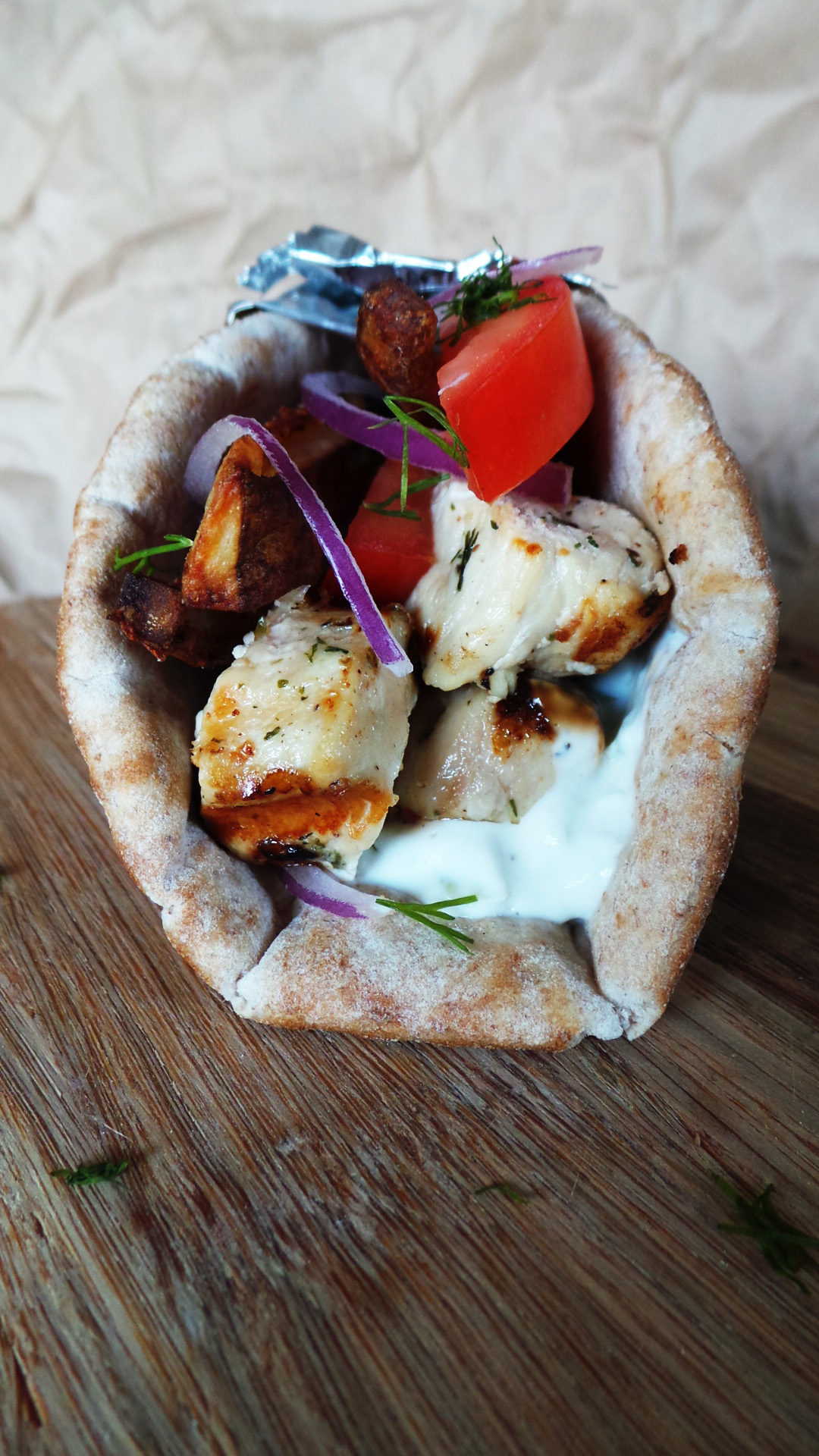 Serves 4
A delicious gyro made with Chicken Souvlaki and Tzatiki sauce. Omit the pita bread and toppings for a light chicken dish!
For the Chicken Marinade
1 lb. chicken breast,cut into cubes
1/4 cup olive oil
1 lemon, juiced
2 teaspoons chopped fresh dill
2 garlic cloves, minced
1/2-1 teaspoon dried oregeno
salt and pepper to taste
wooden or metal skewers
For the Tzatiki
1 small cucumber
1 tablespoon chopped fresh dill
2 garlic cloves, minced
2 tablespoons fresh lemon juice
salt and pepper to taste
1 cup plain Greek yogurt
Optional Gyro Toppings
1 baking potato
1 small red onion, thinly sliced (julienne)
1 roma tomato,chopped
4 rounds pita bread
For the chicken
Mix the oil, juice of the lemon, herbs, garlic, and seasonings. Taste and adjust seasonings as necessary.
Add the marinade to the chicken and marinade in the fridge for a minimum 1 hour (I let mine marinade overnight). If you do decide to marinade it overnight, add some extra oil!
If using wood skewers, soak for thirty minutes.
Place chicken on skewers. Rub grill grate or grill pan with canola or vegetable oil and heat to medium high.
Grill chicken 3-4 minutes on each side, rotating the skewers, until the chicken pieces are no longer pink in the center and fully cooked. This can easily work in your saute pan without skewers!
For the Tzatiki sauce
Peel cucumber, cut in half, and sprinkle with kosher salt. Let it sit in a colander for 30 minutes. Rinse and pat dry with paper towel.
Cut the cucumber lengthwise and remove the seeds with a spoon. From there, cut long vertical strips, then cut into a small dice.
Combine the yogurt, cucumber, garlic, lemon juice, and dill. Mix. Season with salt and pepper. Taste and adjust seasonings as needed. Refrigerate until use.
For the Gyro
Preheat oven to 450
Wash potato and dry with paper towel. Cut off ends and the two long sides. From there, cut 1/4" matchsticks.
Drizzle the fries with oil then generously rub until each fry is fully coated. Season with salt and pepper (or seasoned salt!).
Line baking sheet with nonstick foil and lightly drizzle with olive oil. Use your hands to rub the oil in to evenly distribute! Bake 25-30 minutes until golden brown, flipping half way through. You can easily deep fry french fries too.
To ensemble, spread a spoonful of tzatiki on the enter of a pita. Top with chicken and remaining toppings. Enjoy!
Notes
I marinade the chicken and prepare the tzatiki the night before making my gyro. That way all I have to do is grill the chicken and make the french fries the next day! Read directions carefully so you can prepare this accordingly.
Make a little extra marinade and set aside to toss in the chicken after it's been cooked for more flavor!
http://www.vodkaandbiscuits.com/
[shopeat_button]