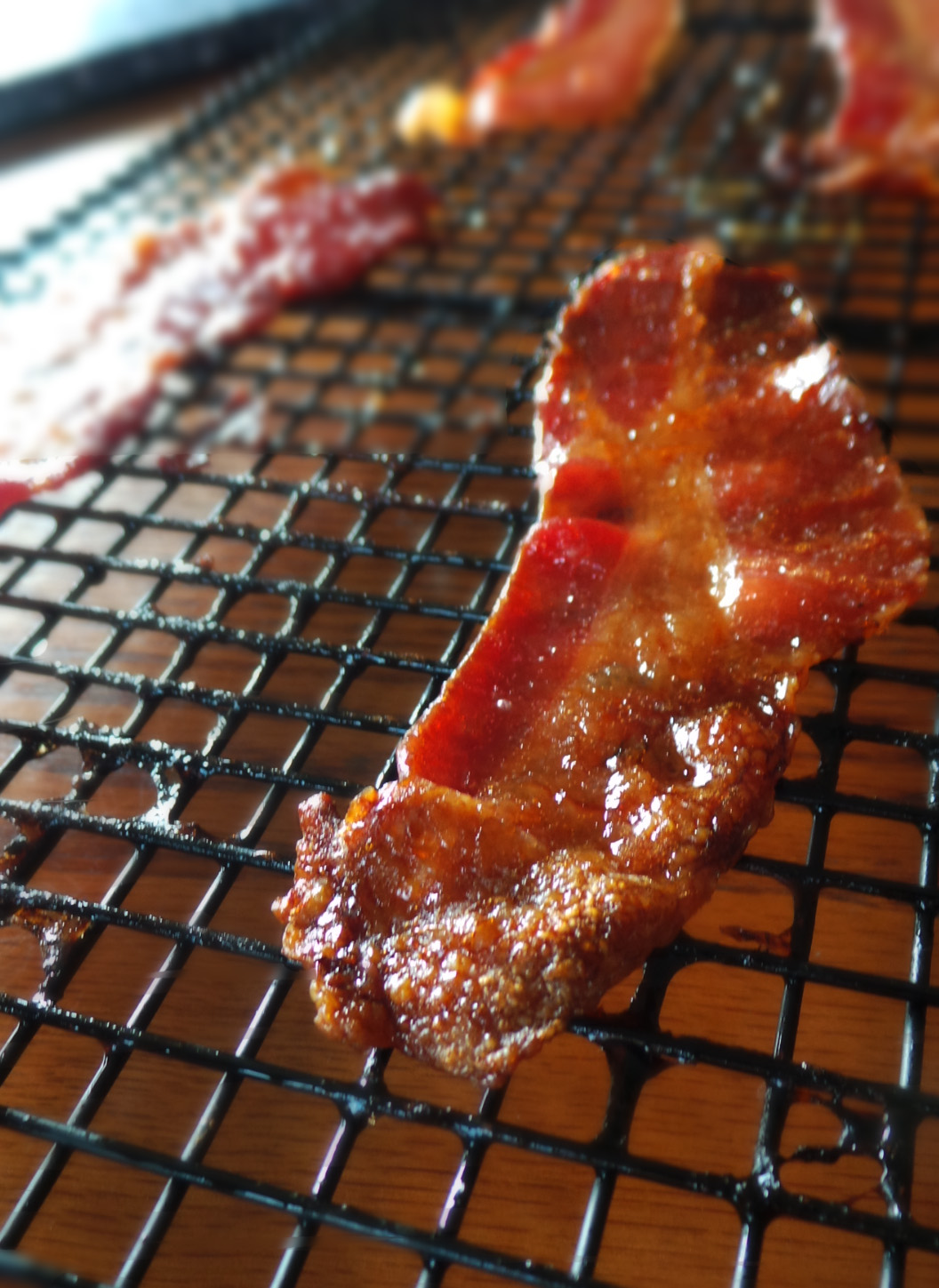 Quick question, where's all the hype for maple glazed bacon? I don't understand bacon flavored candles, but I think I'd be able to grasp the concept of maple bacon candles. It's that much different. It's that much better. I'll be the first American to admit I am not that big on bacon. I've never been a part of the hype, although I did stand in line for a sample of bacon ice-cream once. I woke up feeling bold one morning. I wanted to combine everybody's favorite (bacon) with my favorite (maple syrup). Yes you could easily go buy it at the store, but what's the fun in that?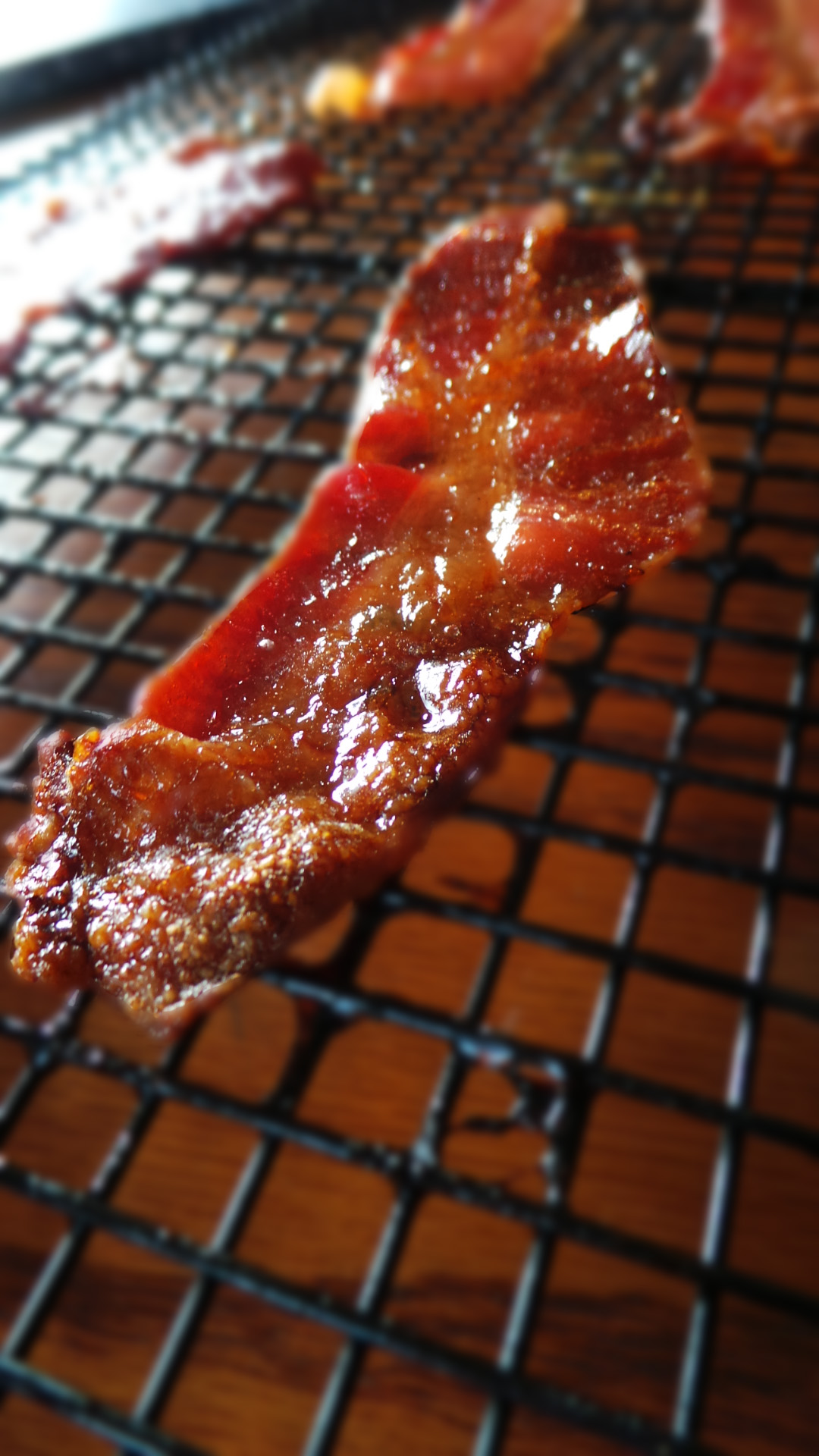 This is simply bacon baked in the oven at 400 with a coating of maple syrup twice throughout the process. It takes about 20 minutes to get crispy, yet 20 seconds for your mouth to water. Pure maple syrup is something everybody should have on hand. There are so many recipes that use pure syrup, and if you look in the right place, you could get some gooood syrup for a goooood price, so far Williams-Sonoma is my go-to! I think you get the idea of this sugar-coated deliciousness. If you're feeling extra bold, melt some chocolate, dip the bacon in it, refrigerate on parchment paper, and make the man in your house cry.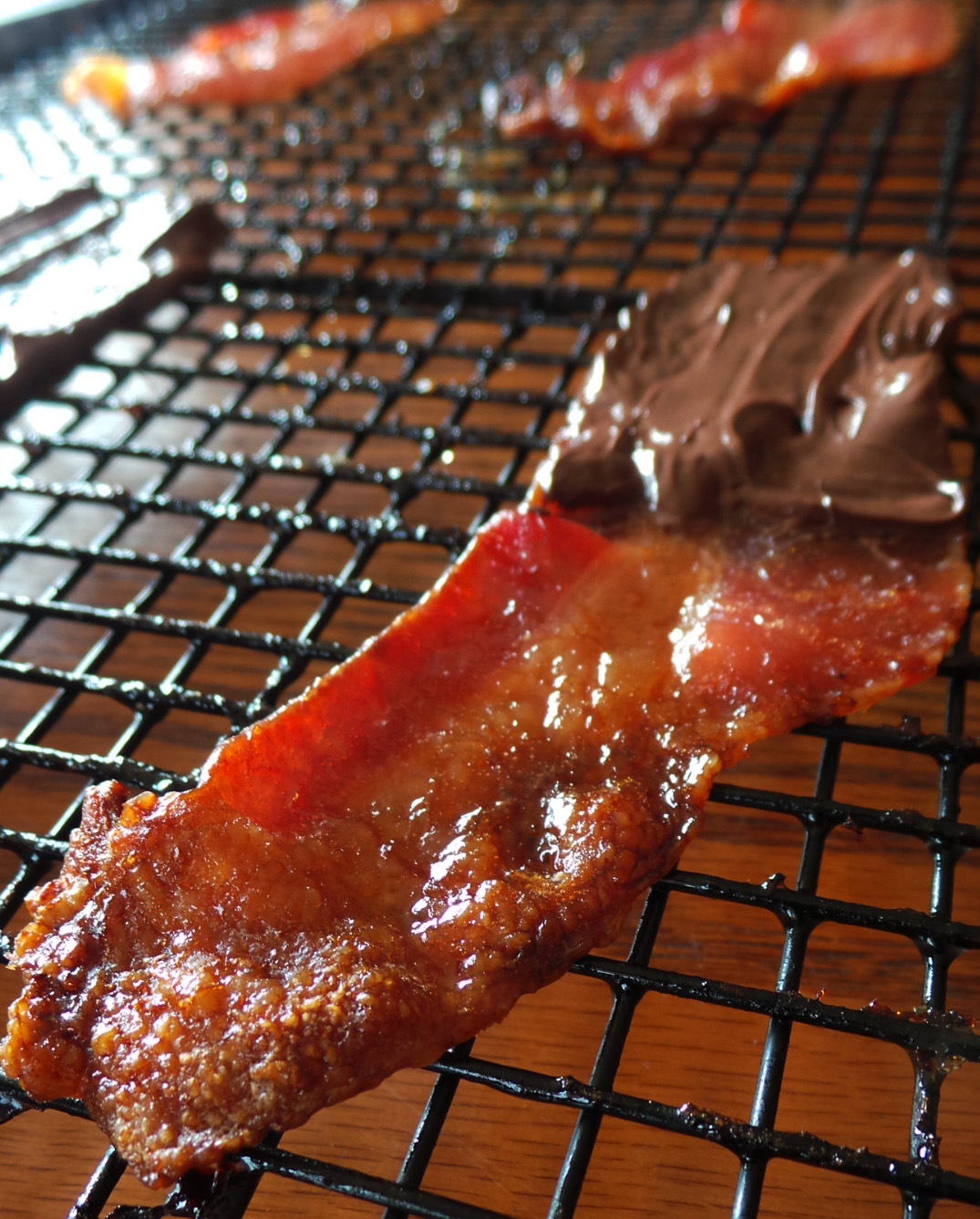 Ugh. Why do I do this to myself?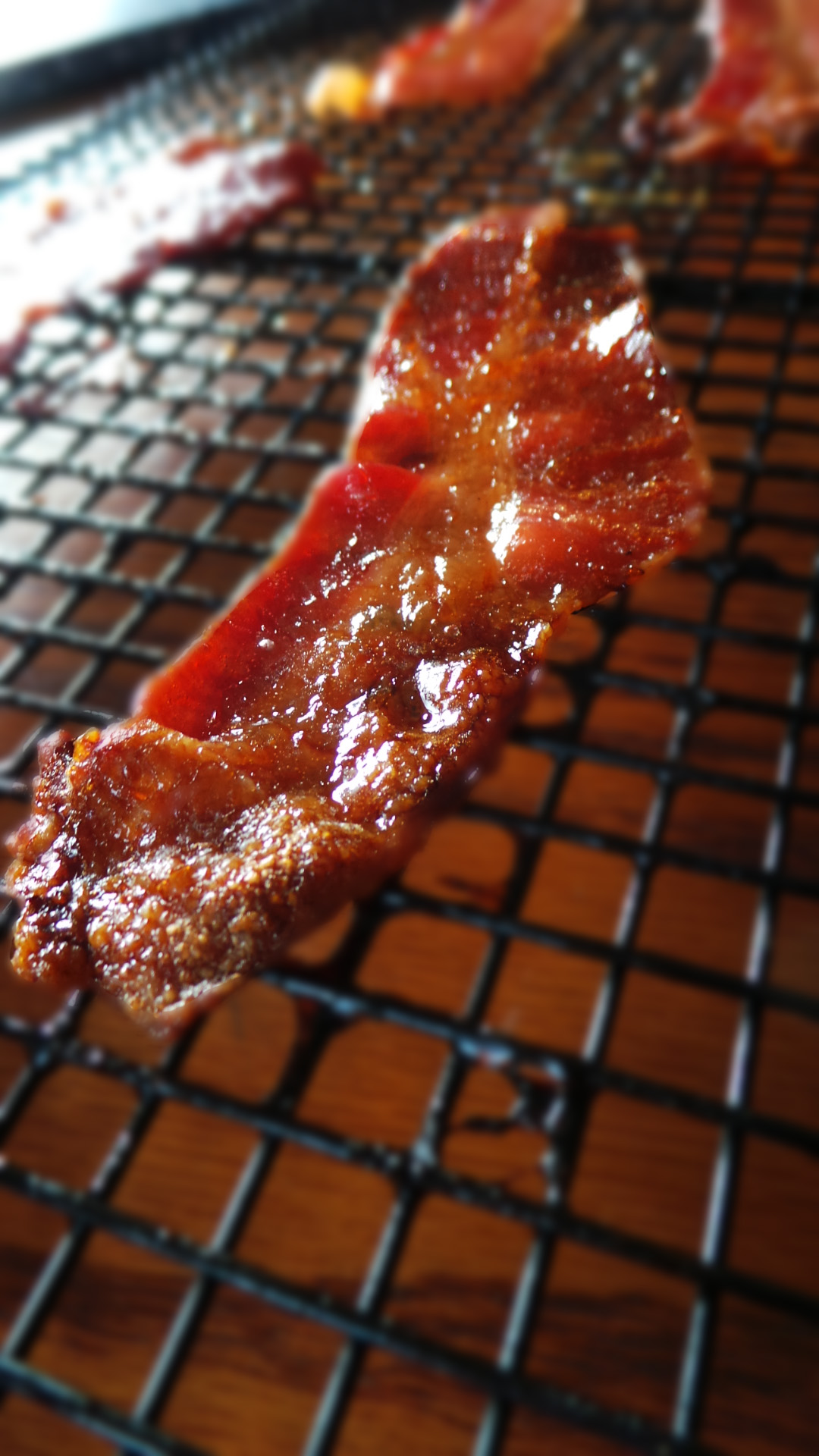 Maple Glazed Bacon
2013-12-26 09:22:22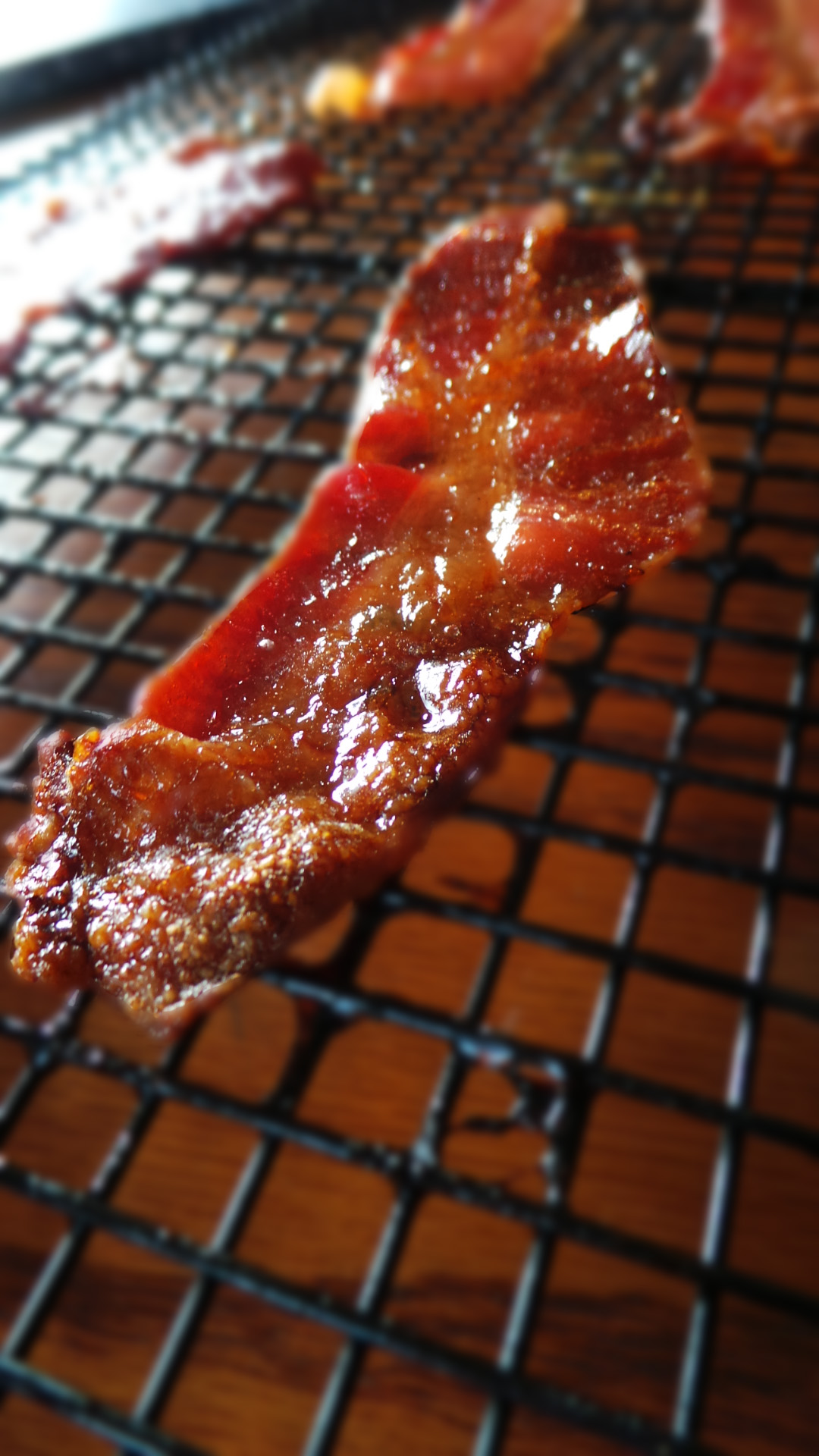 Bacon with a glaze of maple syrup. It's sweet. It's crunchy. It's delicious.
Ingredients
6 slices of bacon
2 T. maple syrup
Instructions
Lay the bacon on a wire rack and place the wire rack over a baking sheet. Using a pastry brush, brush a layer of maple syrup over each slice of bacon.
Place in the oven and turn the oven to 400.
After 10 minutes, take the bacon out, flip, and brush the other side with maple syrup. Return to the oven and cook for another 10 minutes or until crispy.
Notes
My oven is brand spankin' new, so mine finished in roughly 20 minutes. Every oven is different so keep your eye out!
Don't pre-heat your oven!
Sprinkle with some pepper for a little kick.
http://www.vodkaandbiscuits.com/
[shopeat_button]