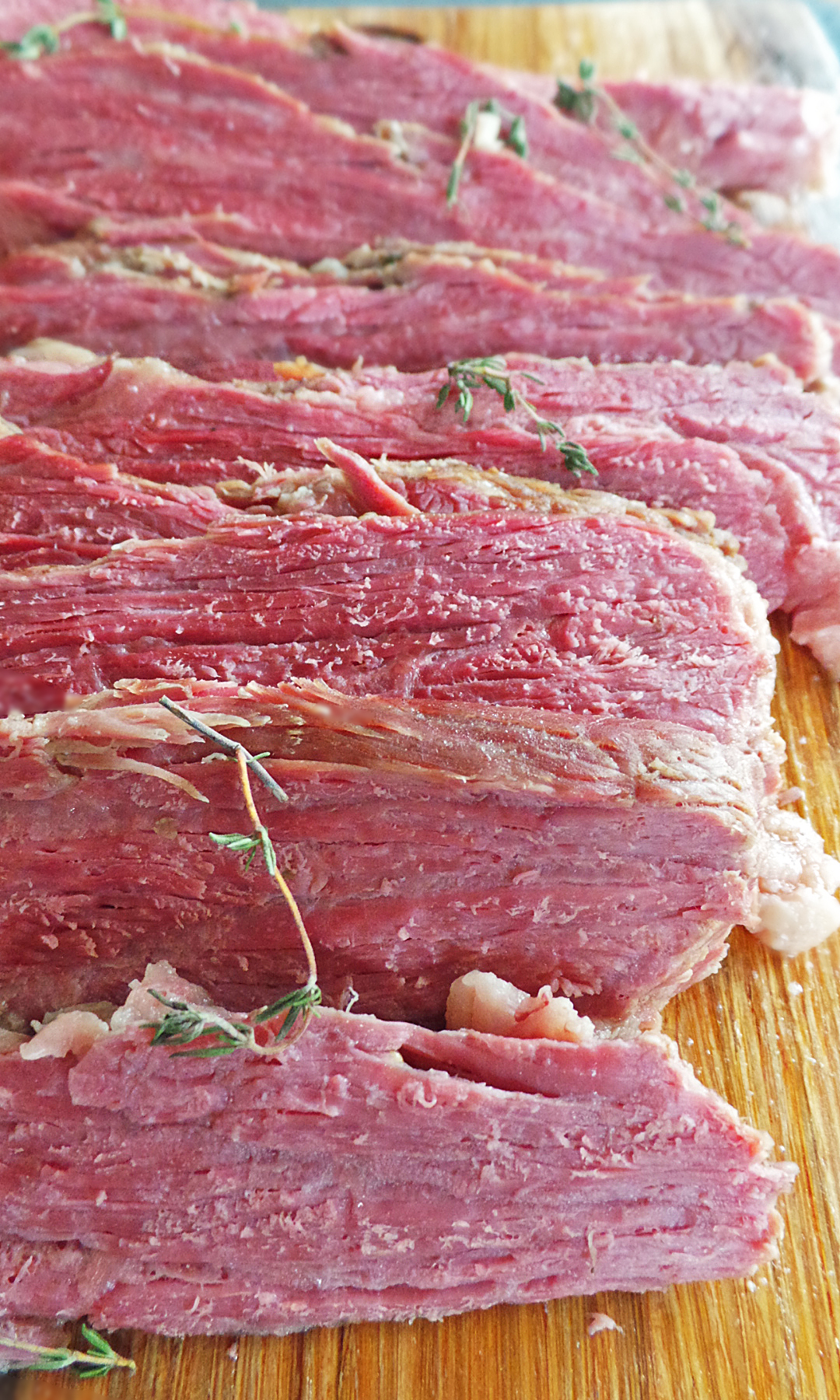 Happy almost St. Patrick's Day! Between the kick off to spring break, green beer, witty drinking shirts, and Irish soda bread, this is one of my favorite times of the year (I say that every holiday, don't listen to me). This is also the final weeks of winter (LAWD THANK YOU) and I wish I could say I was ready. With this weekend's glimpse of warm weather, I realized me, my body, and my wardrobe are so unprepared for spring. I don't even want to think about summer. Let's just say I hope I take advantage of the few months we have until bathing suits start coming out. Before I start preparing for a spring cleanse, I do want to take advantage of all the yums St. Patrick's Day has to offer. One of those yums, being my favorite, is corned beef & cabbage.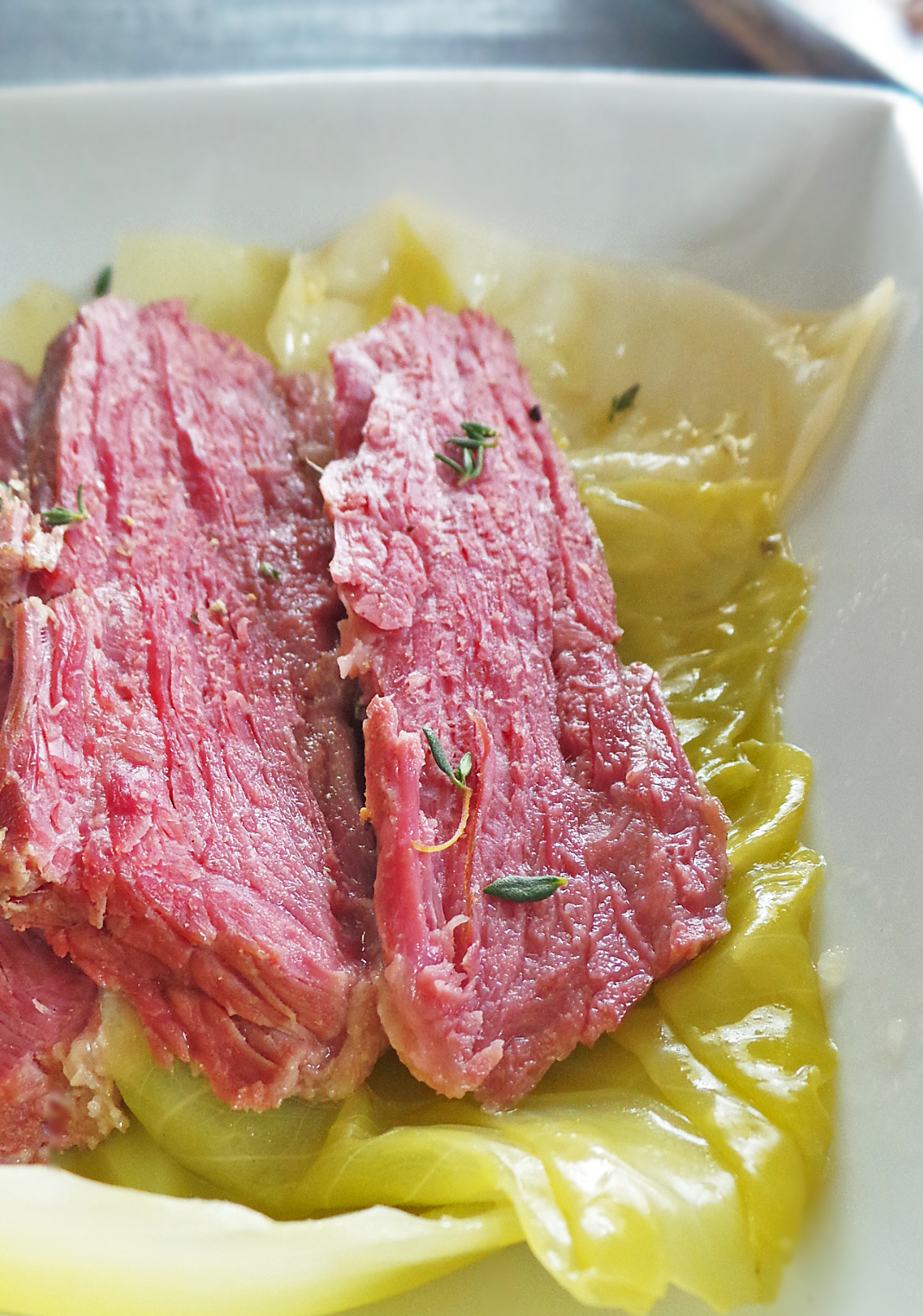 Corned beef and cabbage is a treat that I look forward to every year and with the hundreds of recipes floating around the internet, I take it everyone else does too. It's a very simple dish to make with barely any prep time. This is one of those throw-together-do-something-productive kinda things. Productivity? What's that?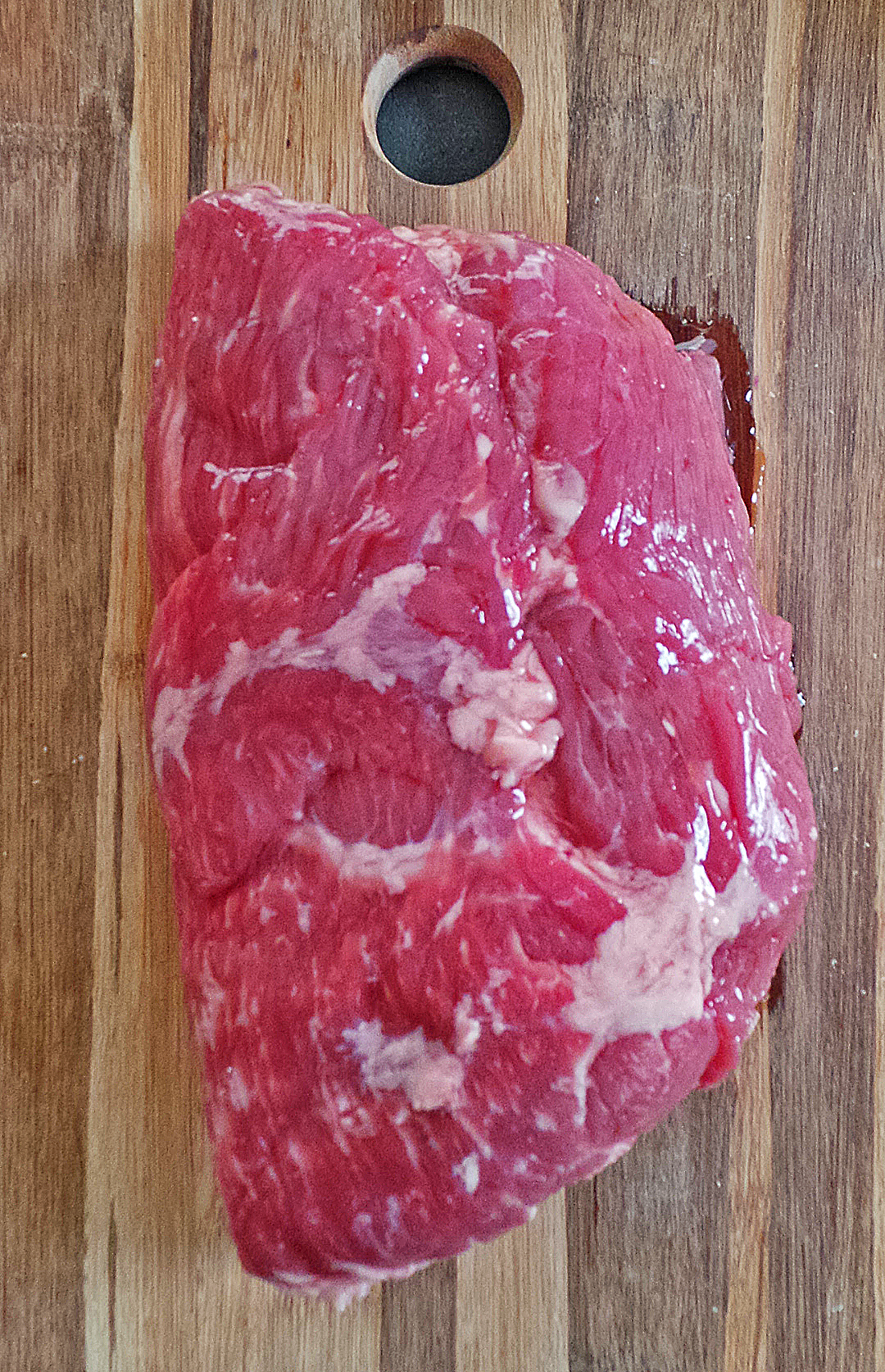 Now about this corned beef. If you're anything like me, when you go to the store you'll probably stand there staring at all the briskets with a concerned look on your face wondering what the heck you are doing. I had no idea how many cuts of brisket there were nor did I know any of the differences. That's when my friendly butcher came over and saved the day. Here's the thing:
Flat or thin cut is leaner, not as tender, more expensive
Point cut is fattier, resulting in more flavor and also less expensive
If you plan on using your leftovers for sandwiches, I would recommend the flat. You'll be able to get some really nice thin cuts, which will also go good with a few left-over recipes. If all goes as planned, I'll be giving you a few of my ideas later in the week!
For me however, I used point cut. Yeah, yeah, more fatty, but c'mon it's once a year. Plus you really can't beat the flavor.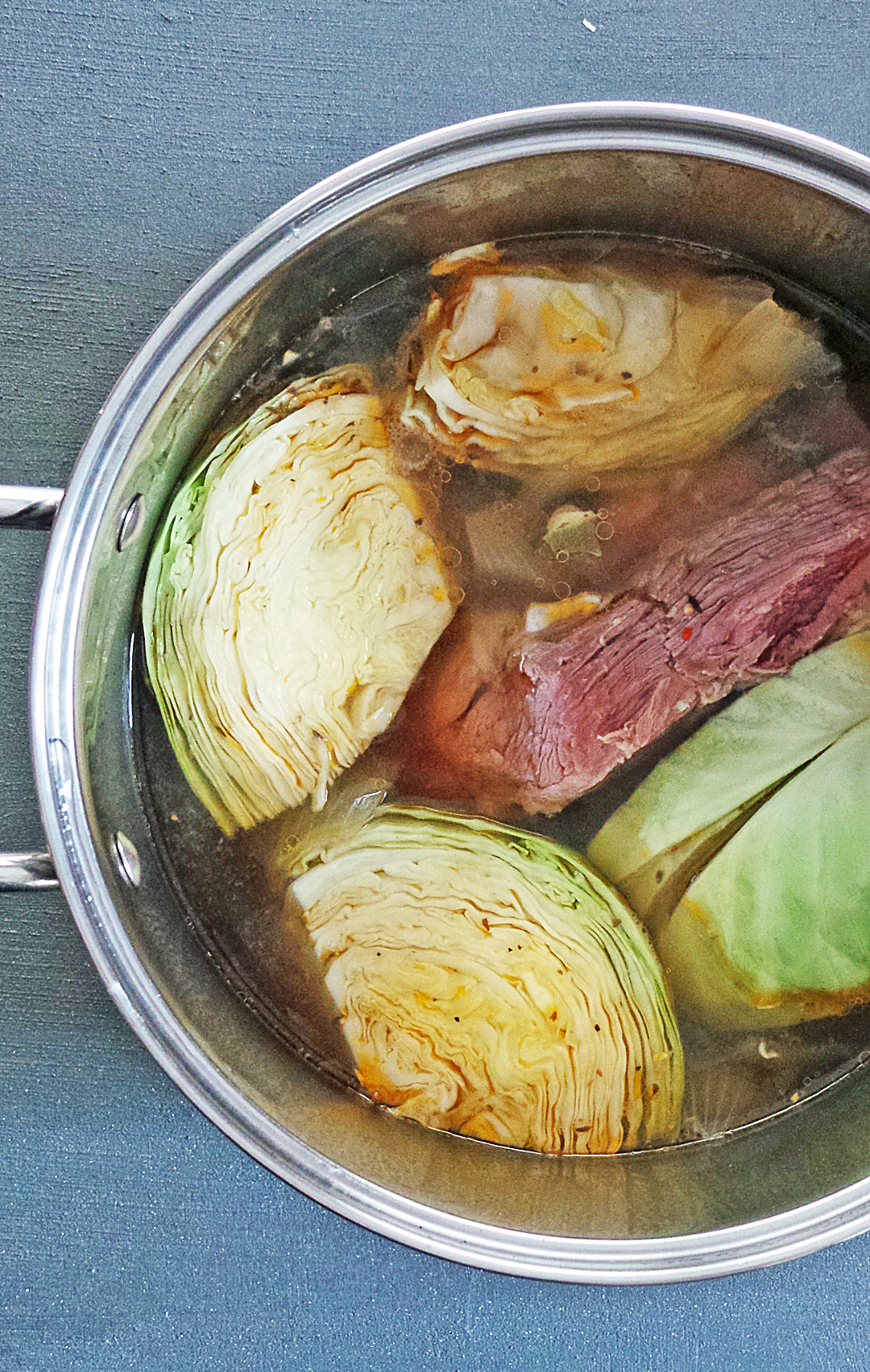 I cooked mine the traditional boiling method, which is also how mom prepares her and mom's brisket is the best. The general rule with boiling brisket is 50 minutes per pound, generally around 4 hours. You can easily throw this in a crock pot before work – just remember 4 hours high, 8 hours low. I've also read that baking is another option, but you'd want to boil out the curing salts prior to baking. Almost always there's a spice packet that comes with the brisket. Definitely take advantage of that. On top of that, I like to throw in a few smashed cloves of garlic, onion for sweetness, and fresh sprigs of thyme. If your brisket does not have a spice packet, use some pickling spices!
To bump up the flavor I added a cup of beef stock to the water. Uhm, about this beef stock –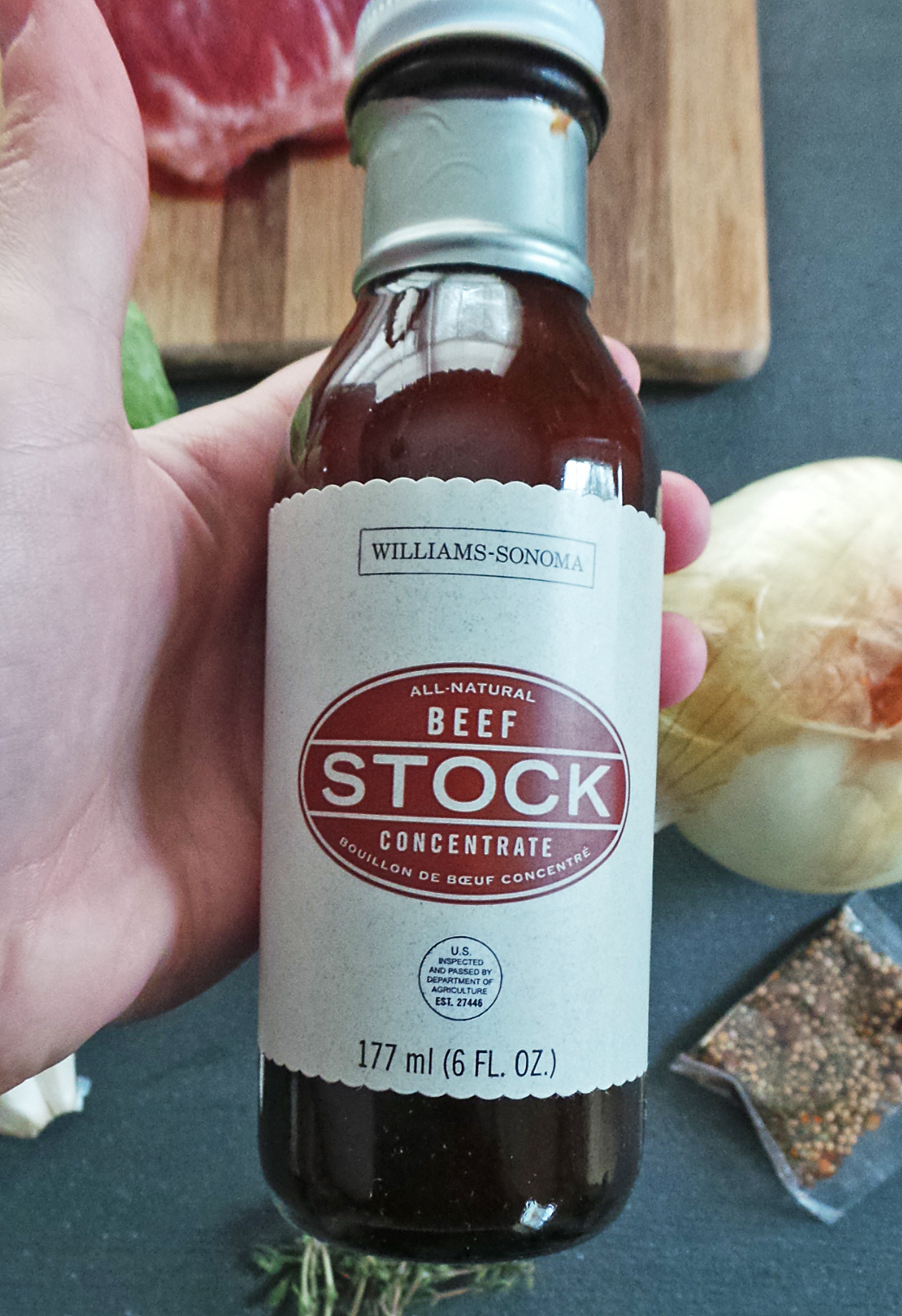 This concentrated stock only requires 2 teaspoons per cup of water. HOW CONVENIENT? Do you know how annoying buying a pint of stock just to watch the rest of it dilute away in the back of the fridge is? This stuff is great, definitely look into it. For even more flavor, pour in a dark stout. Since it's St. Patrick's Day why not add in Guinness? I am a huge fan of cooking with beer – I just didn't happen to have any.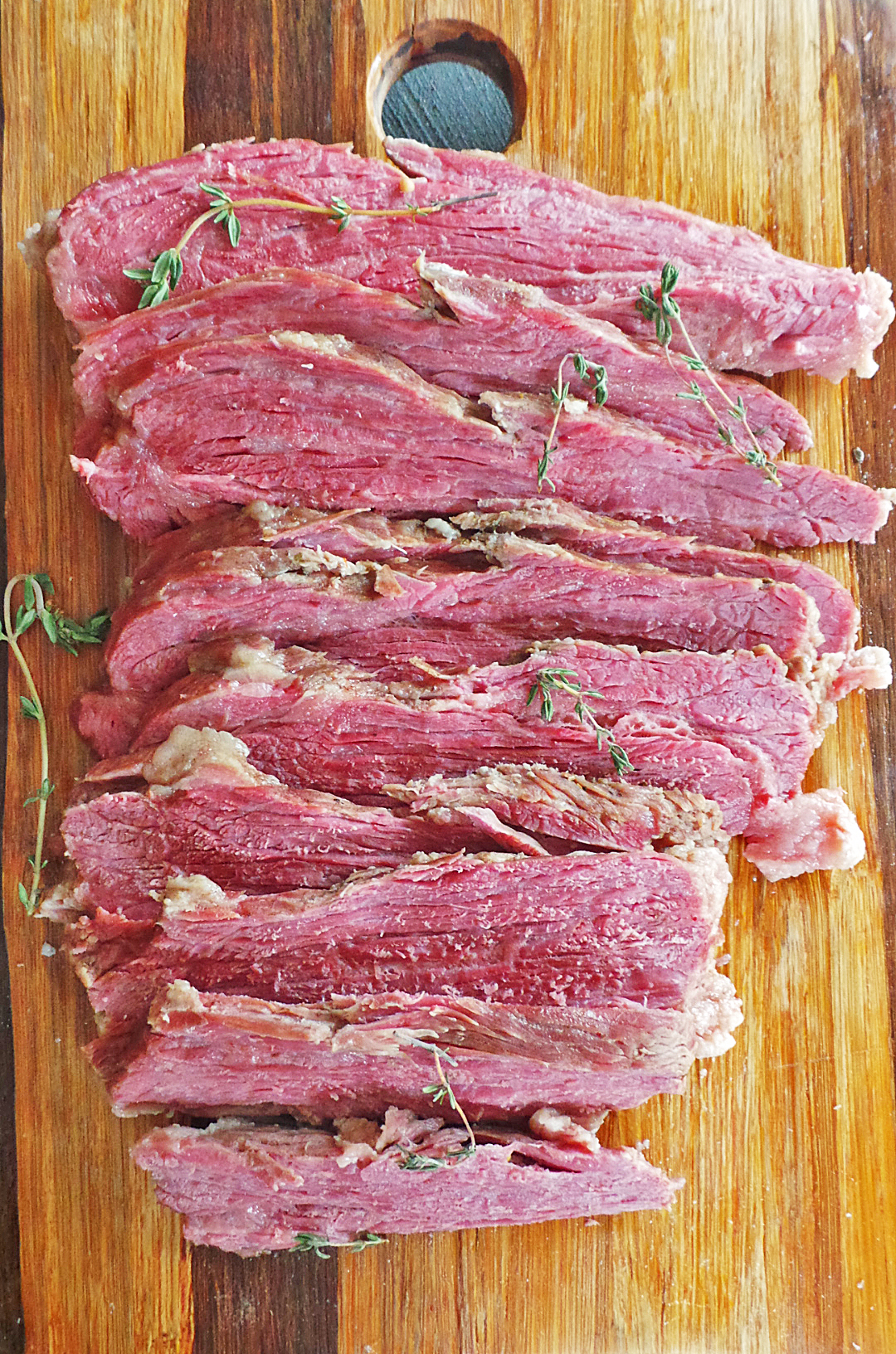 Towards the end of the cooking process, I added in potatoes and cabbage. Cabbage is easy to prepare, just remove any outer damaged leaves, quarter, and core. You could also add in parsnips or carrots! At this point the onions that were added earlier are extremely tender. I added those for extra sweetness. Easily leave those in or add more with the other vegetables. The new onions will be a little more stable.
I removed the brisket after 3 1/2 hours and while that was resting, I let the cabbage finish doing its thing. There is something I love about vinegar and cabbage, so I added in a shot of apple cider vinegar. I'll throw that into the notes!
I plan on using the leftovers for some creative dishes, so stay tuned! ***Also, please disregard the nutritional information. My program generates the info electronically, so this does not specify the cut of meat. Refer to the meat package for nutritional info.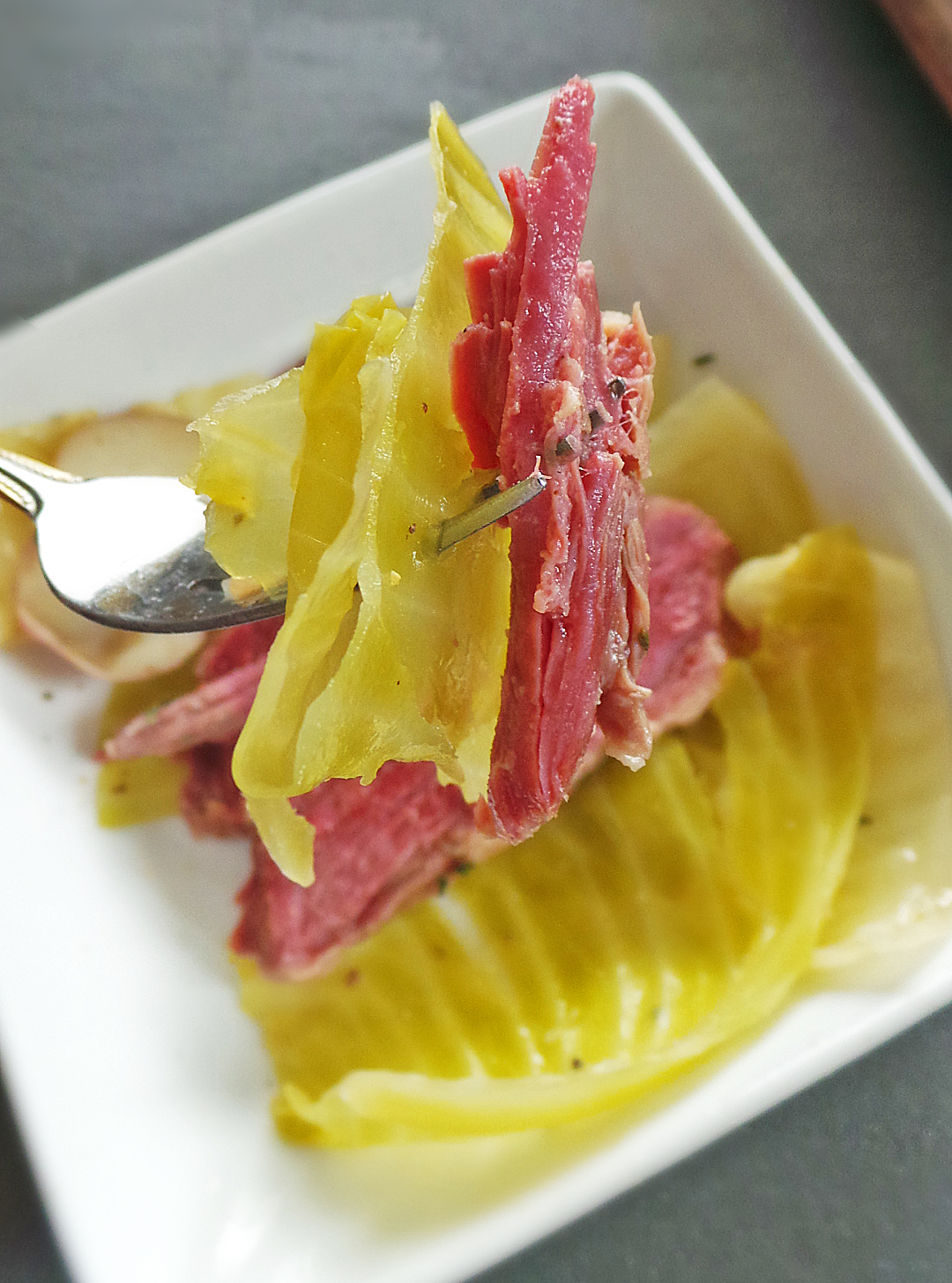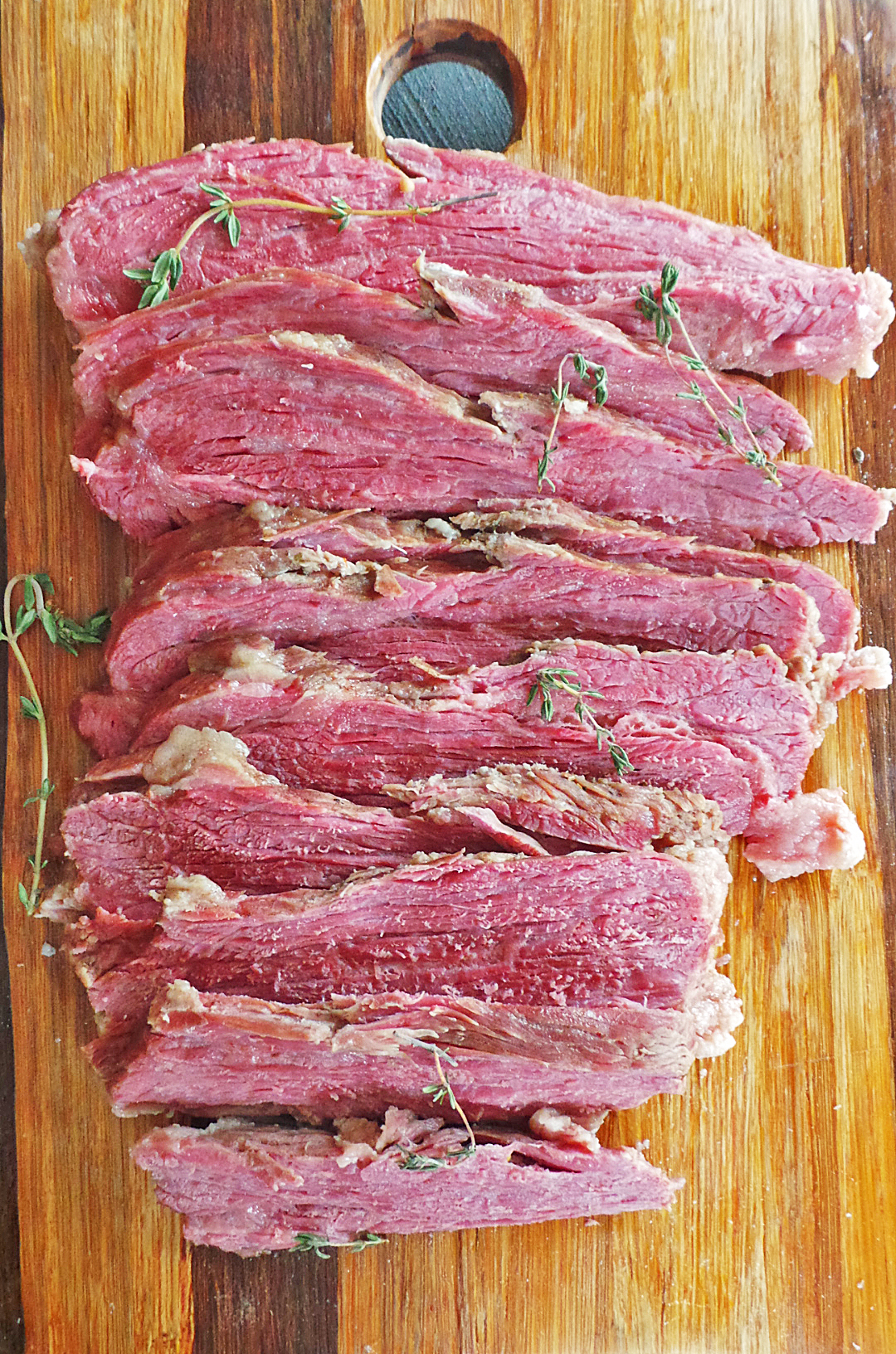 Corned Beef & Cabbage
2014-03-10 10:16:33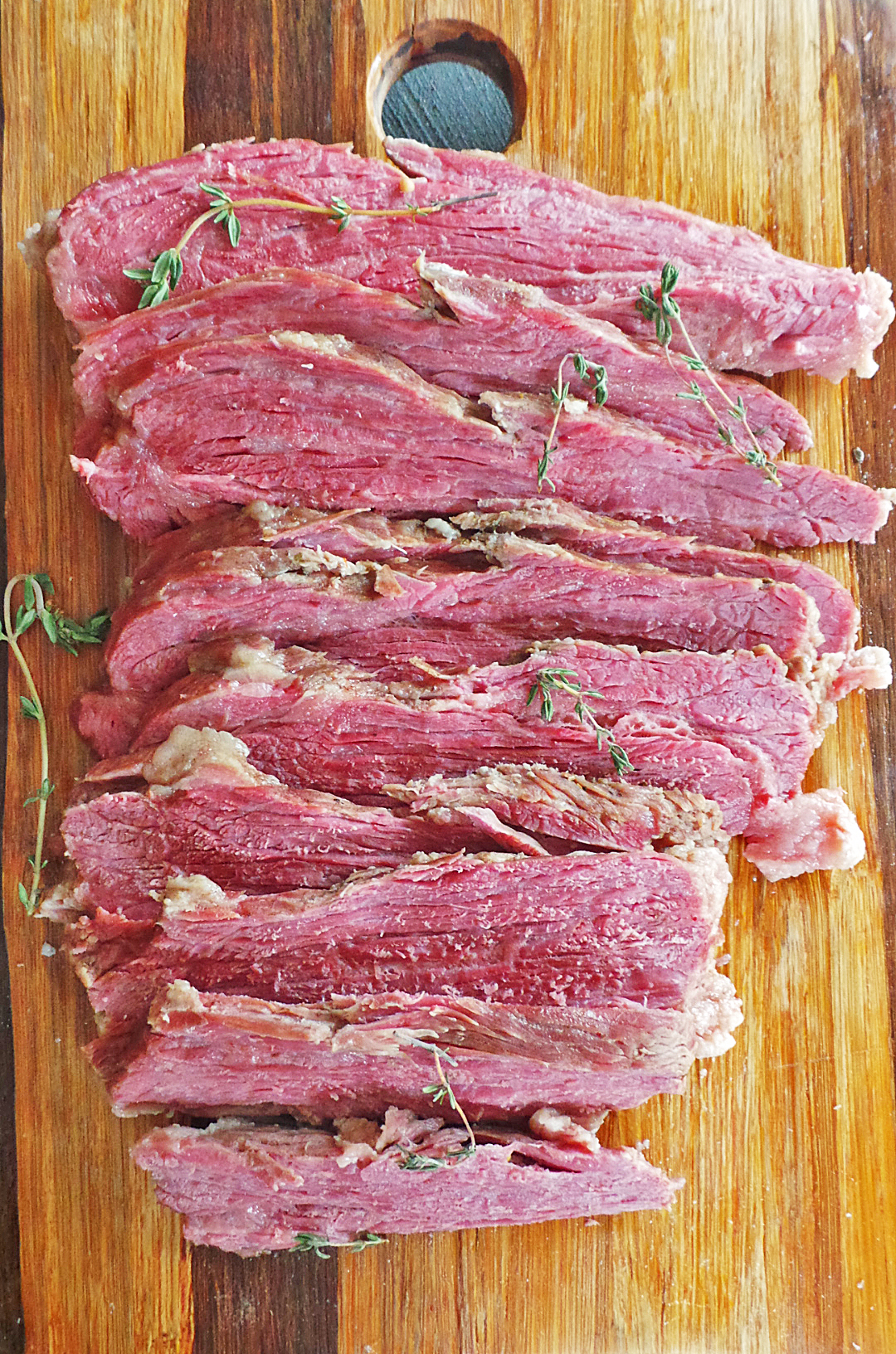 Serves 6
Delicious tender corned beef cooked in a flavorful seasoned water/stock combination complimented with fork tender cabbage and vegetables - a St. Patty's delight!
Ingredients
4 lbs. beef brisket
complimentary seasoning packet (see notes below)
3 fresh sprigs of thyme
2 garlic cloves - smashed
1 onion - quartered
1 head cabbage - outer leaves removed, quartered, cored
water as needed
1 c. beef stock
Instructions
Add the corned beef to the bottom of a heavy stock pot. Add the stock and water until the brisket is covered by 1".
Add the seasonings, thyme, garlic, and HALF of the onions. Bring to a boil, then reduce to a simmer and cover for 3-4 hours.
After three hours, add the rest of the onions, cabbage, and other desired vegetables or potatoes. Cook for 20-30 minutes until tender. Keep an eye out, you don't want mushy potatoes!
Once the brisket is fork tender, remove and allow to rest. If the vegetables still have longer to cook, leave them in. This point I add a shot of apple cider vinegar- I love the flavor it adds to cabbage (completely optional).
Remove the vegetables and begin to slice the meat (against the grain).
Serve the meat over the vegetables and garnish with fresh thyme. I like to dip mine in Dijon mustard - yum!
Notes
Disregard nutritional info - all varies on the cut of meat.
Add in a stout of dark beer with the water/stock to enhance flavor.
If brisket does not contain spice packet, use pickling spices and 2 bay leaves.
Once the brisket is removed, pour in a little apple cider vinegar to the vegetables for more flavor.
Taste vegetables for salt/pepper.
A rule of thumb for boiling is 50 minutes per pound
https://www.vodkaandbiscuits.com/
[shopeat_button]