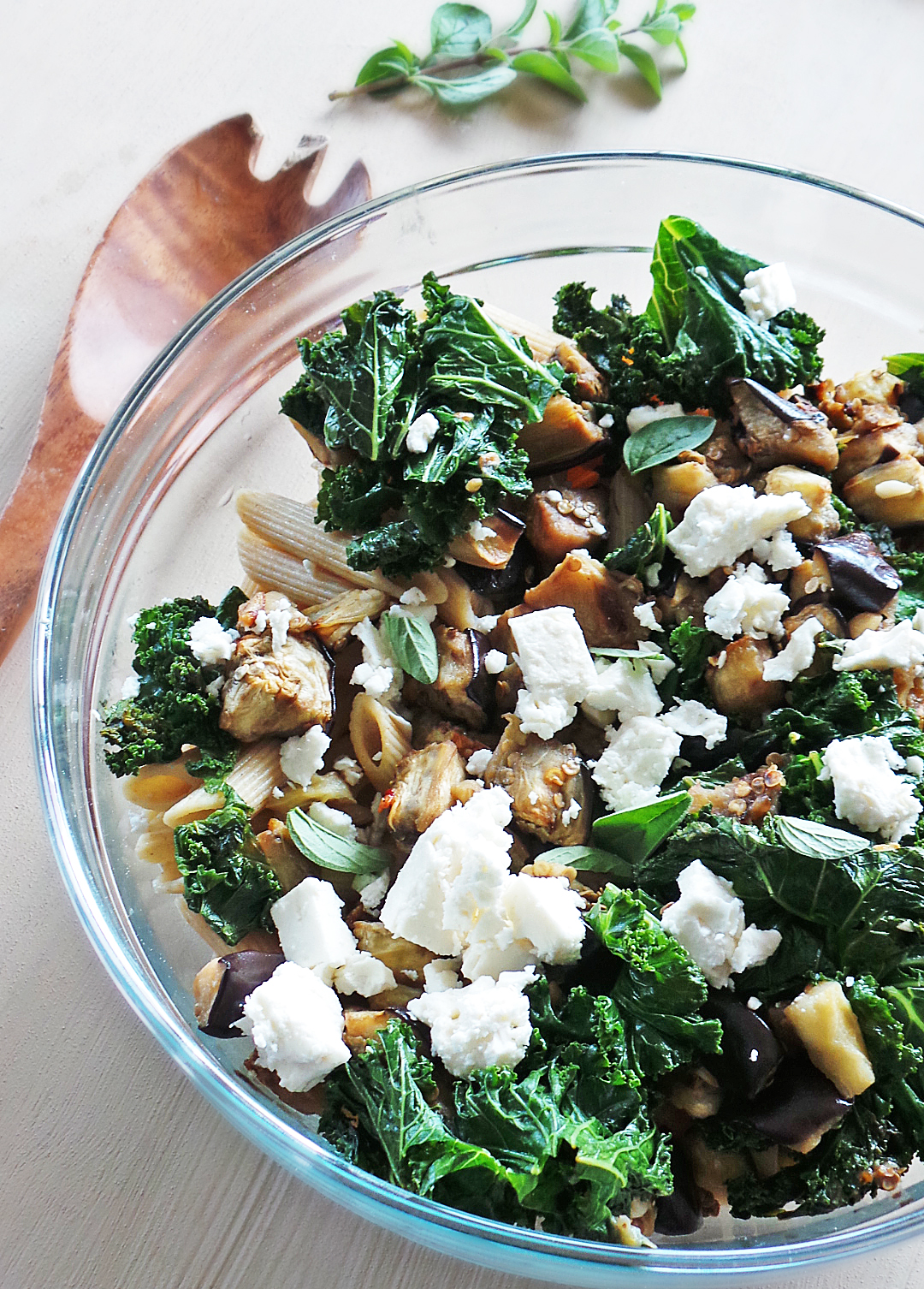 When I think pasta I think of an overwhelming (yet delicious) plate of warm Parmesan, or maybe a filling bowl of fettuccine, you know the stuff that we want to avoid when it's hot and muggy outside. Don't get me wrong, I'm always down for pasta – I mean who can resist – but the last thing I want on a warm summer evening is that big bowl of fettuccine. The difference between my winter pastas and summer pastas simply has to do with how I prep my vegetables. Instead of turning my tomatoes into a sauce, I'll use them fresh and chopped. Not only are summer pastas light and fresh, they're simple and quick. Exactly what I need with this new hectic schedule of mine.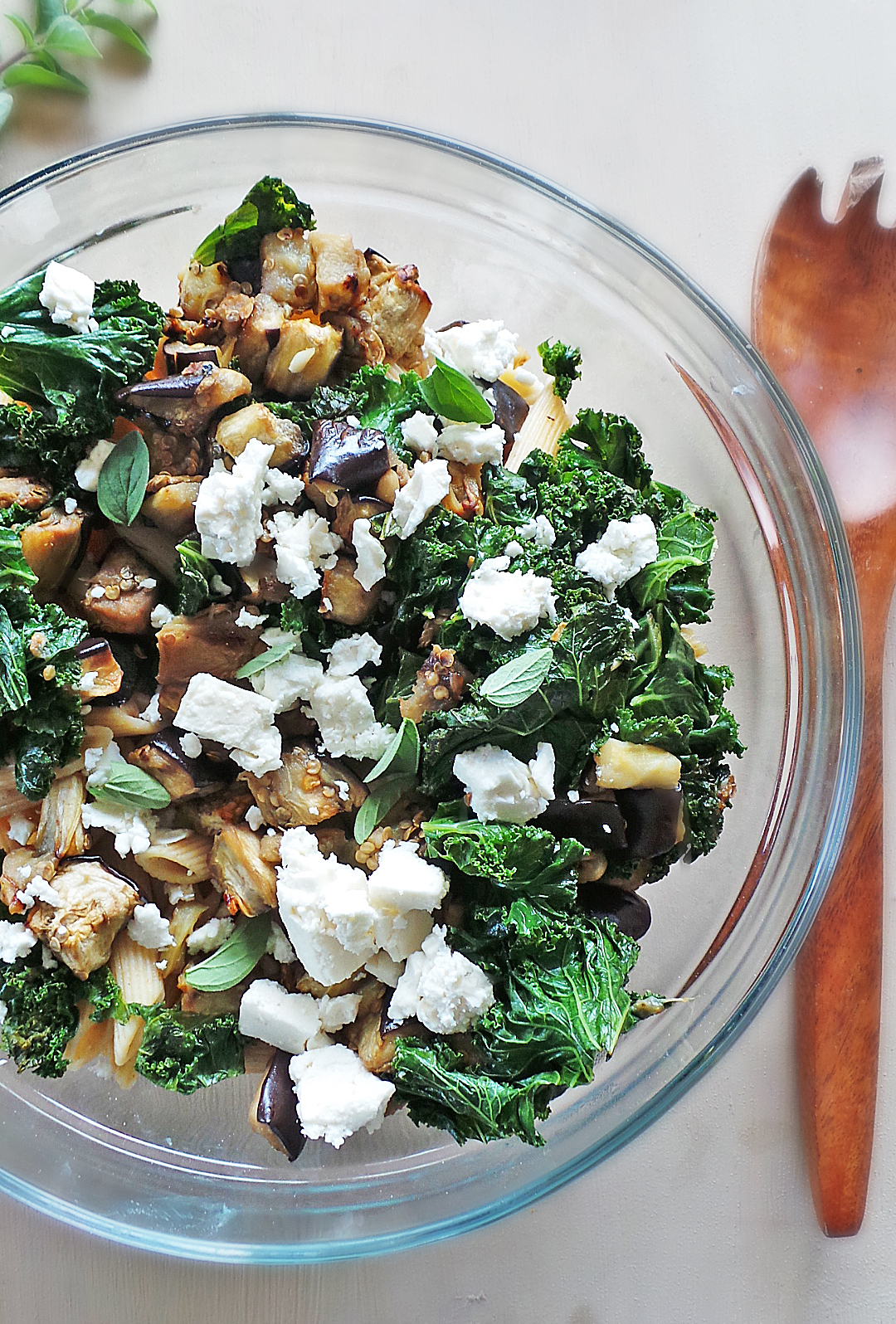 This is a recipe I had on my old blog and I've been waiting until the appropriate time to re-create. It's filled with nutritional yums that turn this bowl of pasta into a bowl of healthy. What's even better is this can be served warm, cold, or room temp. Memorial Day cookouts are coming up…just sayin'.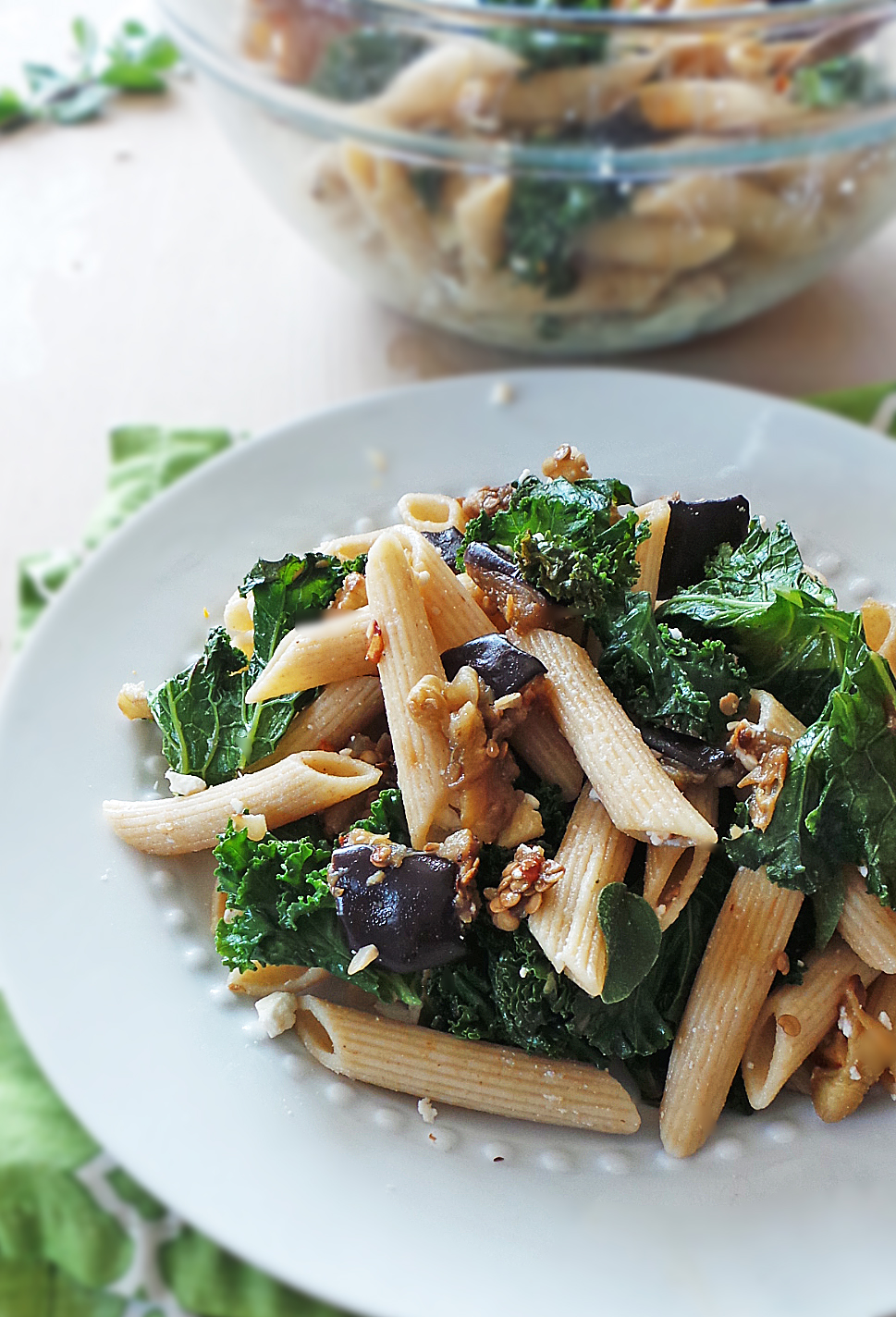 I went from being able to home-cook on a daily basis, to maybe two days a week (if I'm lucky) and I'm horribly sad about it. With meals like this, I can have dinner one day and lunch the next. Winning.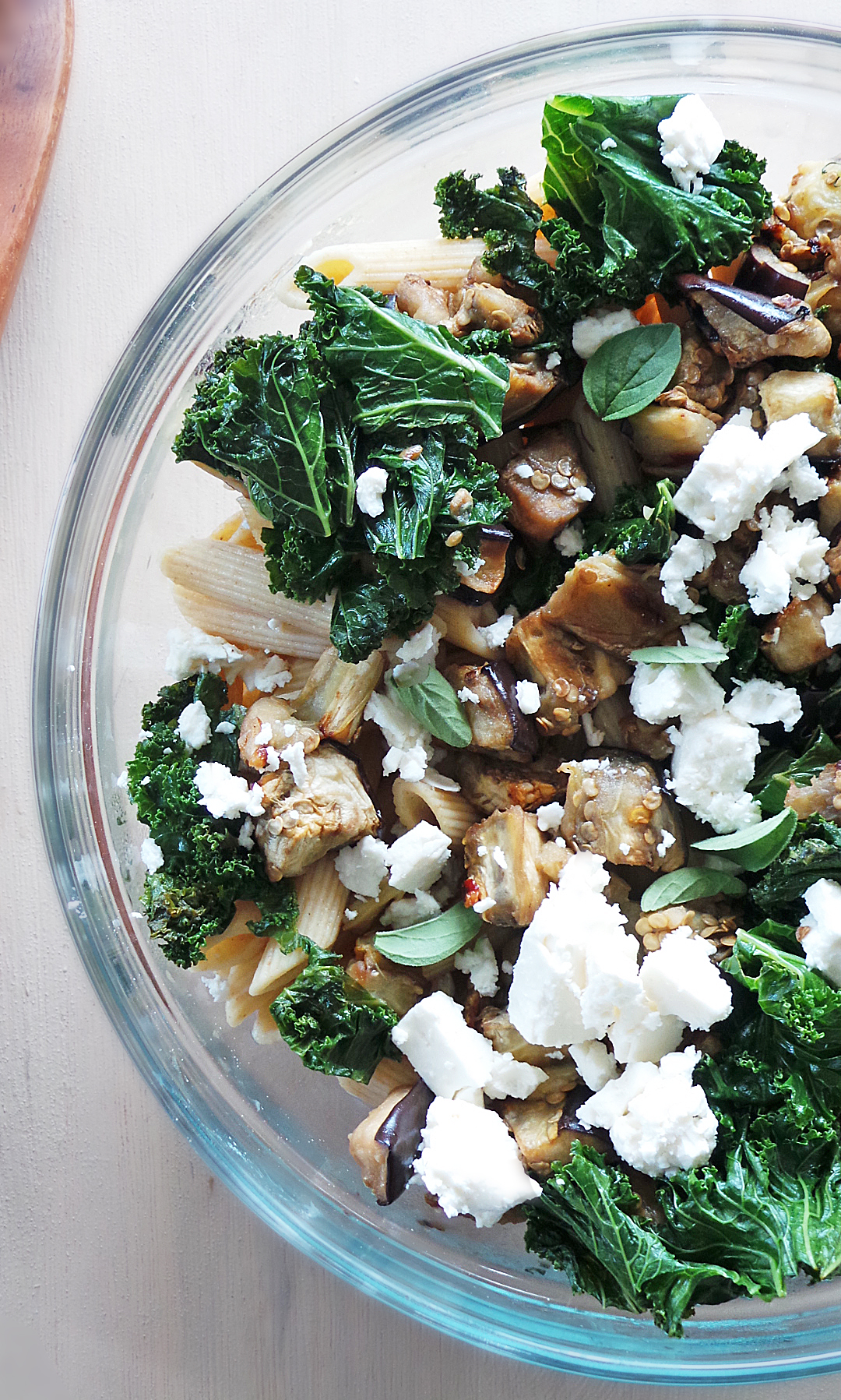 This summer pasta has spicy wilted kale and garlic, salty roasted eggplant, feta crumble, a splash of lemon, and al dente whole wheat penne. If you have any, toss in some toasted pine nuts! The first thing I did was cook my noodles and roast my eggplant. The eggplant takes the longest, considering it has to sit for 5-10 minutes with a sprinkle of salt.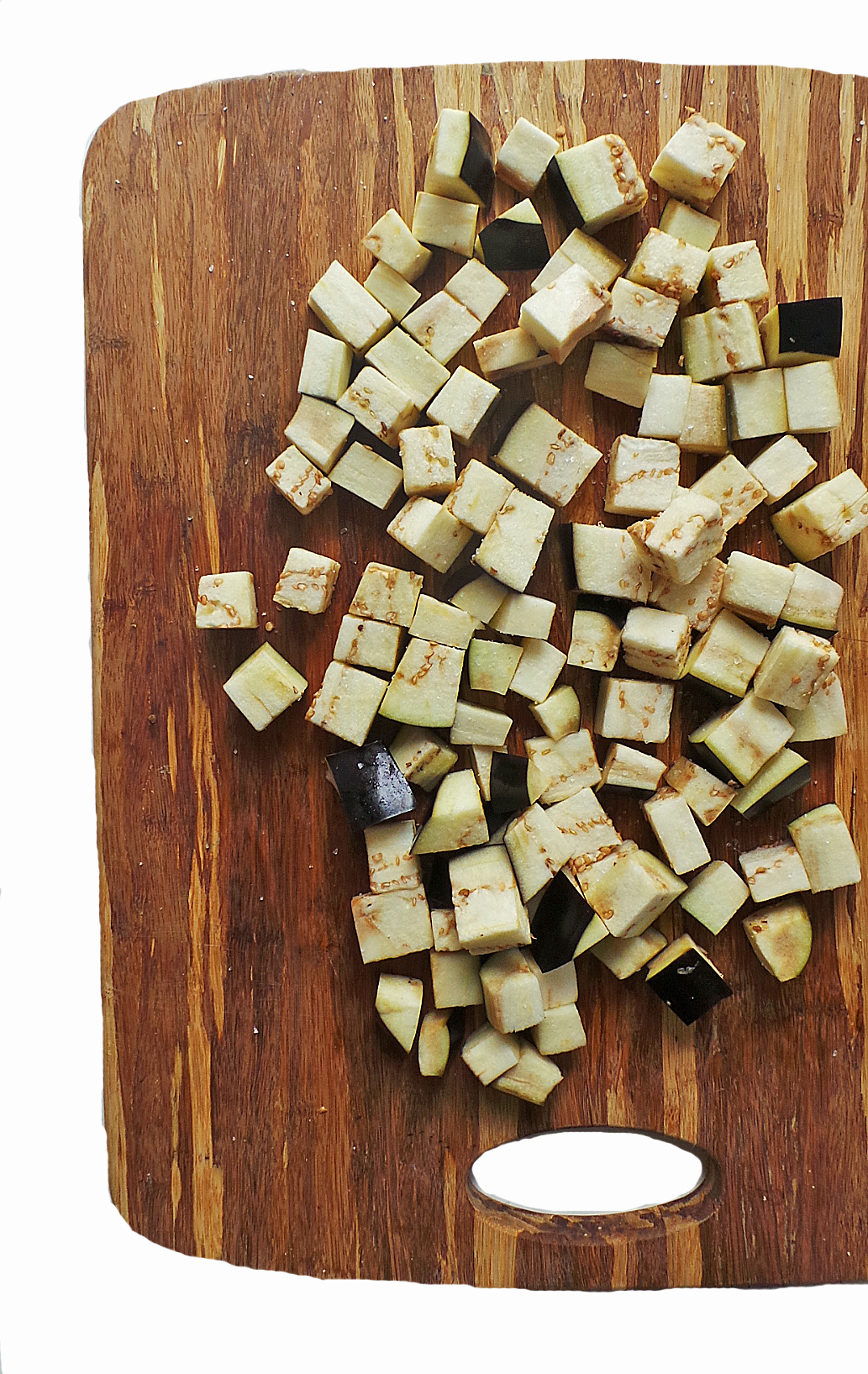 Before cooking eggplant it's important to give it a good sprinkle to let the excess moisture sweat out- it'll just ensure the eggplant cooks better. As soon as they're "sweaty" toss em' in olive oil and throw them in a pre-heated oven for 20 minutes until they're tender. In the meantime, the rest is just cooking up your noodles, and sauteeing the garlic/kale. It's fast. It's easy. It's so dang good.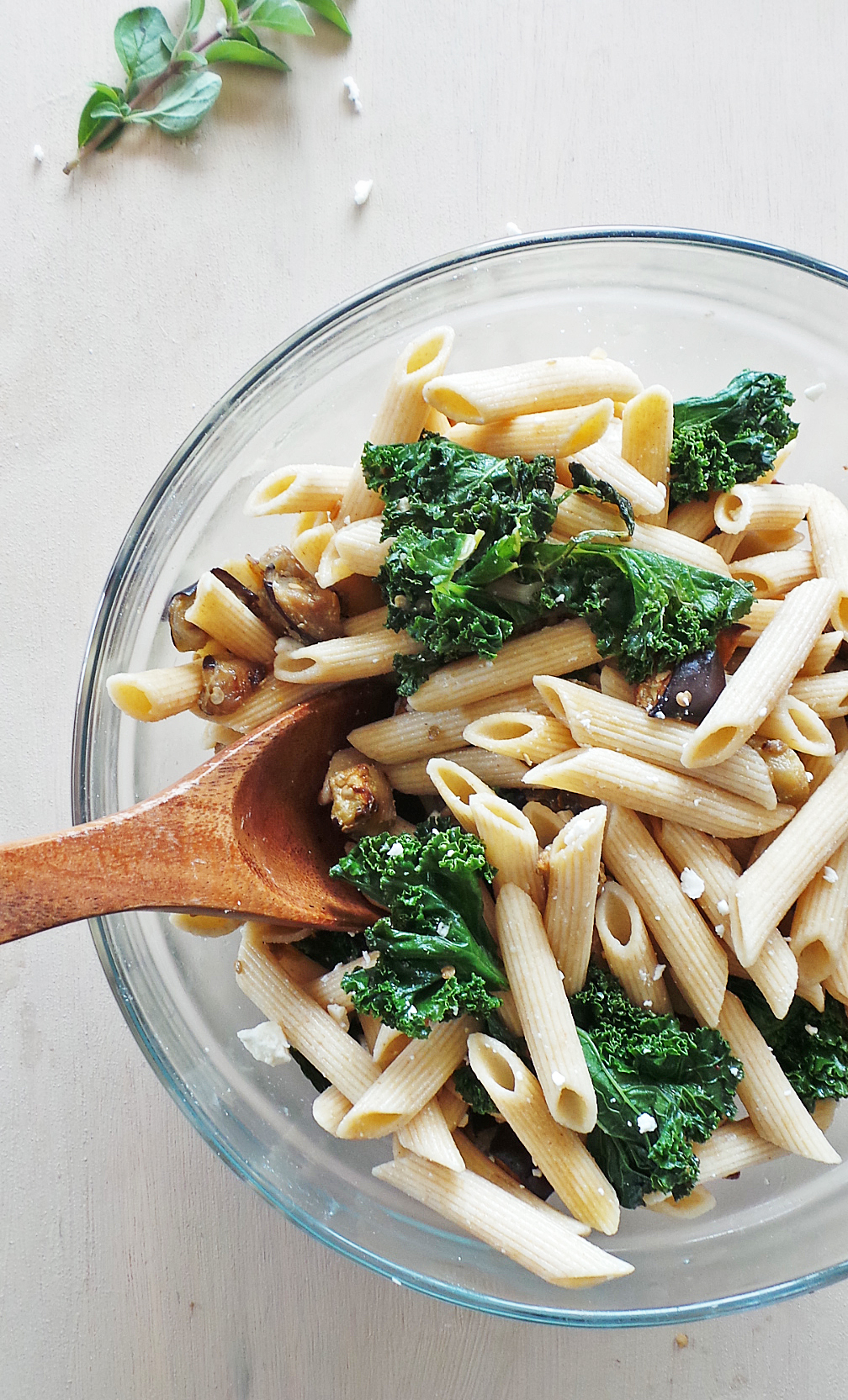 Once everything is finished, toss it all together and sprinkle with feta cheese and a squeeze of lemon. I like to wait until the last minute with the lemon because I've found that adding acid while cooking greens firms up the walls and adds cooking time. Science stuff. You see how nerdy I am with food?
But really, if you're in a hurry for fresh and delicious food this is screaming your name.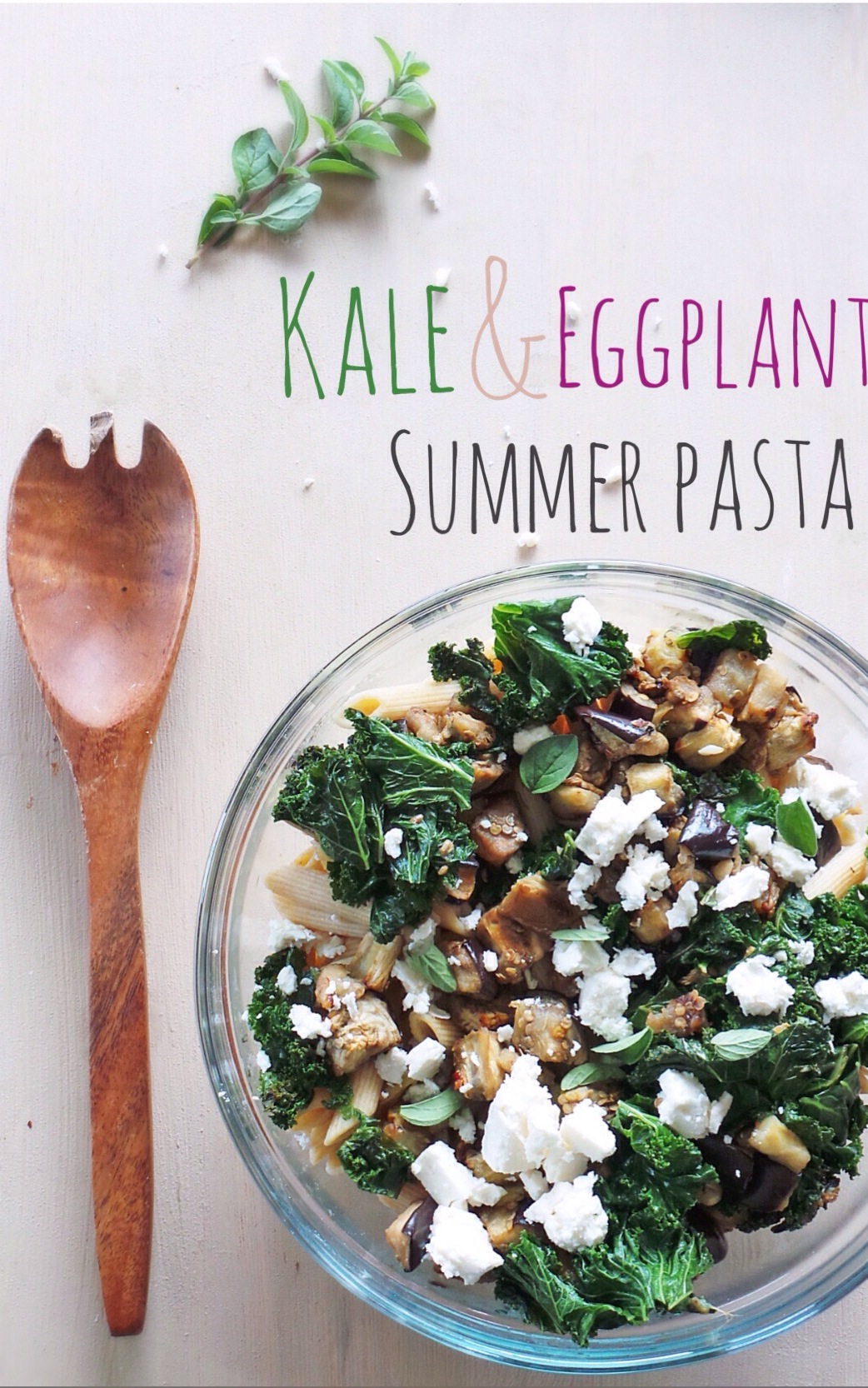 Kale & Eggplant Summer Pasta
2014-04-18 11:56:03
Serves 4
A light and refreshing pasta perfect for a warm summer night!
Ingredients
1 eggplant
2 cup fresh kale leaves, stems removed and roughly chopped
2 garlic cloves, minced
1/4 teaspoon red pepper flakes (less for less spicy)
8 oz. whole wheat penne pasta
1 lemon
1/4 cup. pine nuts, toasted
feta cheese, as needed
olive oil,as needed
sale and pepper, as needed
Instructions
Preheat oven to 400 degrees.
Remove both ends of the eggplant, then cut in half lengthwise (optional: remove the skin).Generously sprinkle with salt and allow to sit for 20-30 minutes until it starts to sweat. Gross eggplant, gross.
Rinse and pat the eggplant dry. Cut into cubes and give a good sprinkle of olive oil and black pepper (to taste) and bake for 20 minutes, flipping half way through. They're done when they are tender!
In the meantime, boil a pot of salted water and cook the pasta. I find 8-9 minutes is perfect texture. Reserve about a cup of pasta water and drain the rest. Set aside.
Heat a saute pan over medium heat with 2 counts of olive oil. Add the garlic and red pepper flakes and cook for a minute until fragrant.
Add the kale, a bundle at a time and coat in the oil. To speed up the wilting process, add in a splash of that pasta water and cover with a lid. Do so until all the kale has been cooked down.
Once everything's finished, toss the kale/garlic, eggplant, and pasta in a large bowl. Sprinkle with feta, pine nuts, and squeeze over some fresh lemon.
Serve and enjoy!
Notes
Garnish with fresh basil or oregano for presentation.
http://www.vodkaandbiscuits.com/
[shopeat_button]