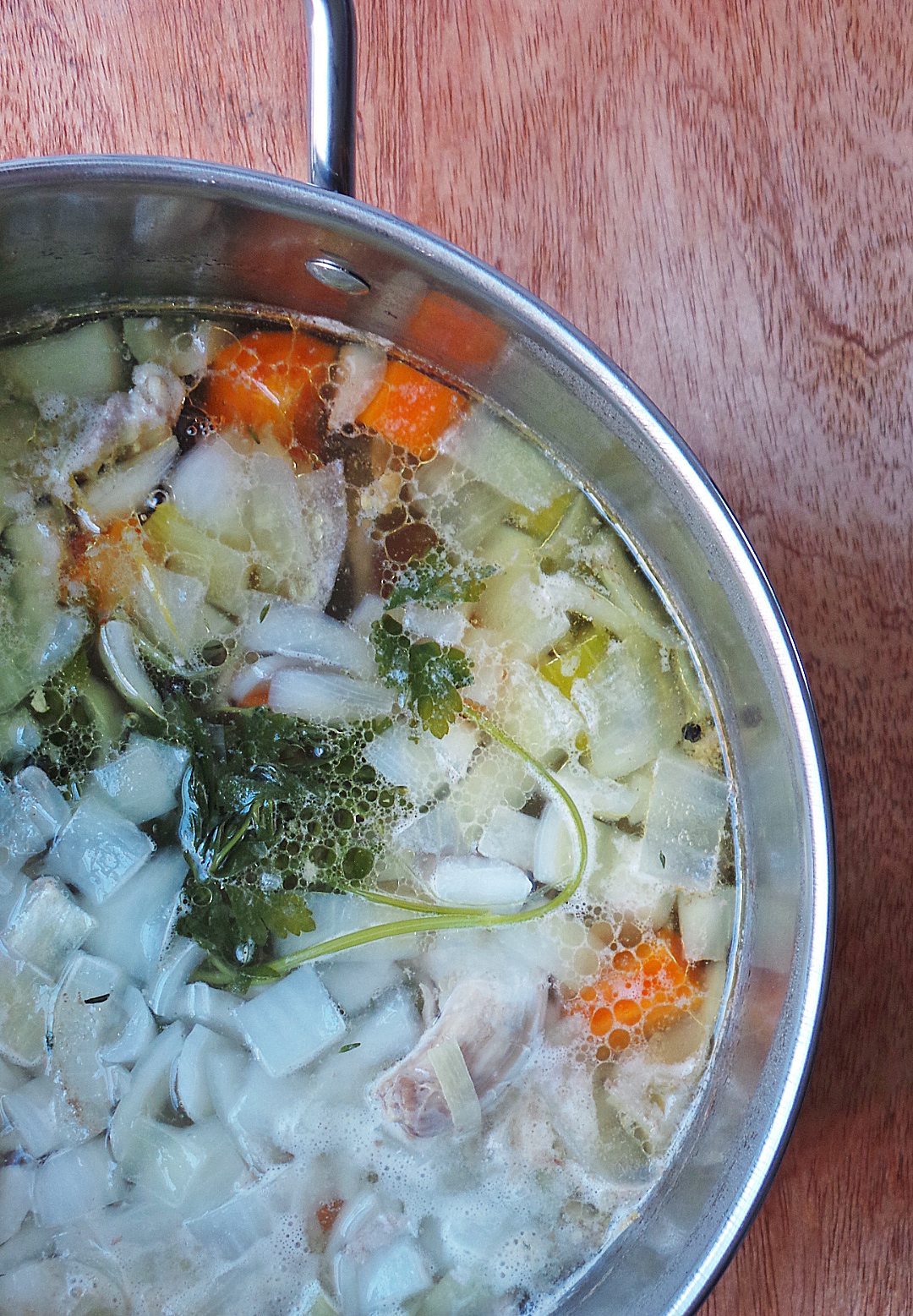 Mmm, chicken stock. Whether you've watched mom or grandma make a stock, tackle the task on your own, or have no idea what I'm talking about, you're in for a treat. A treat so good because no matter the experience you've had in the kitchen, a stock is so easy to prepare that anyone can do it. Call over your girls and turn the next rainy day into a stock day because after this post you'll be one step closer to making a down right good homemade culinary treasure: chicken stock.
If you've made stock before, you know how exciting this journey can be. On your end, there really is minimal cooking done for something that requires a lengthy commitment. There are a few important components to a chicken stock and they're pretty basic.
Let's start with the vegetables: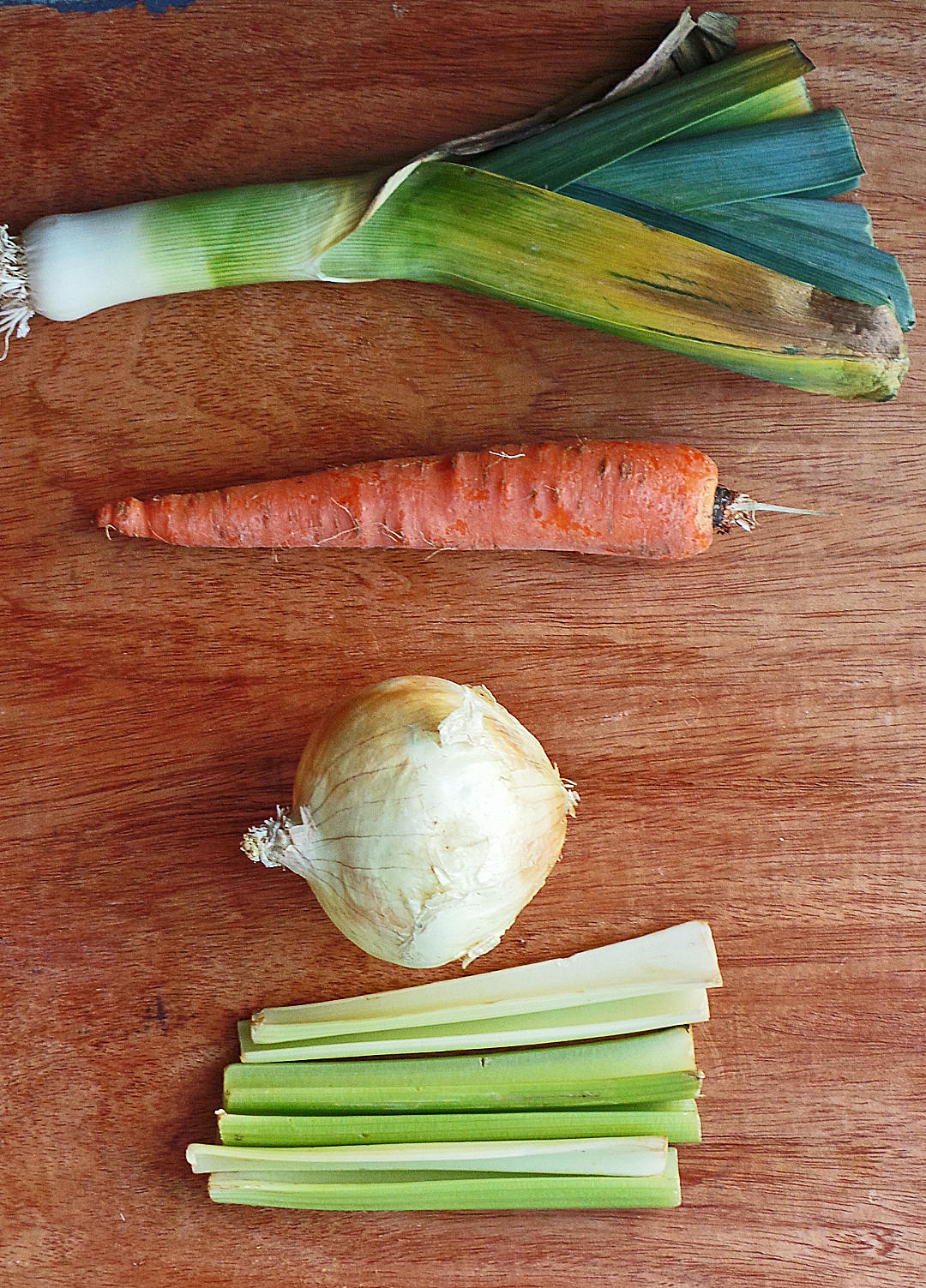 I use the common leeks, carrots, onion, and celery. They all are essential in developing your stock's flavor and they do a darn good job. Leeks are fun because they do a little magic. They contain a protein that has the ability to clarify the stock by coagulating with the impurities. You'll see I have the leeks added in before the rest of the vegetables, that's because the protein is only soluble in cold water and you'll also see that the water must be cold. We'll get to that. The carrots, onion, & celery (also known as mirepoix) should always be added in the same ratio: 50% onion, 25% carrot, 25% celery, no matter the amount. I'm writing my recipe based on 5 lbs. of chicken bones which yields a little more than 1 gallon of stock. In this recipe I used 1 lb. of onion and a half pound of celery/carrot. Don't have a scale? Your grocery store does!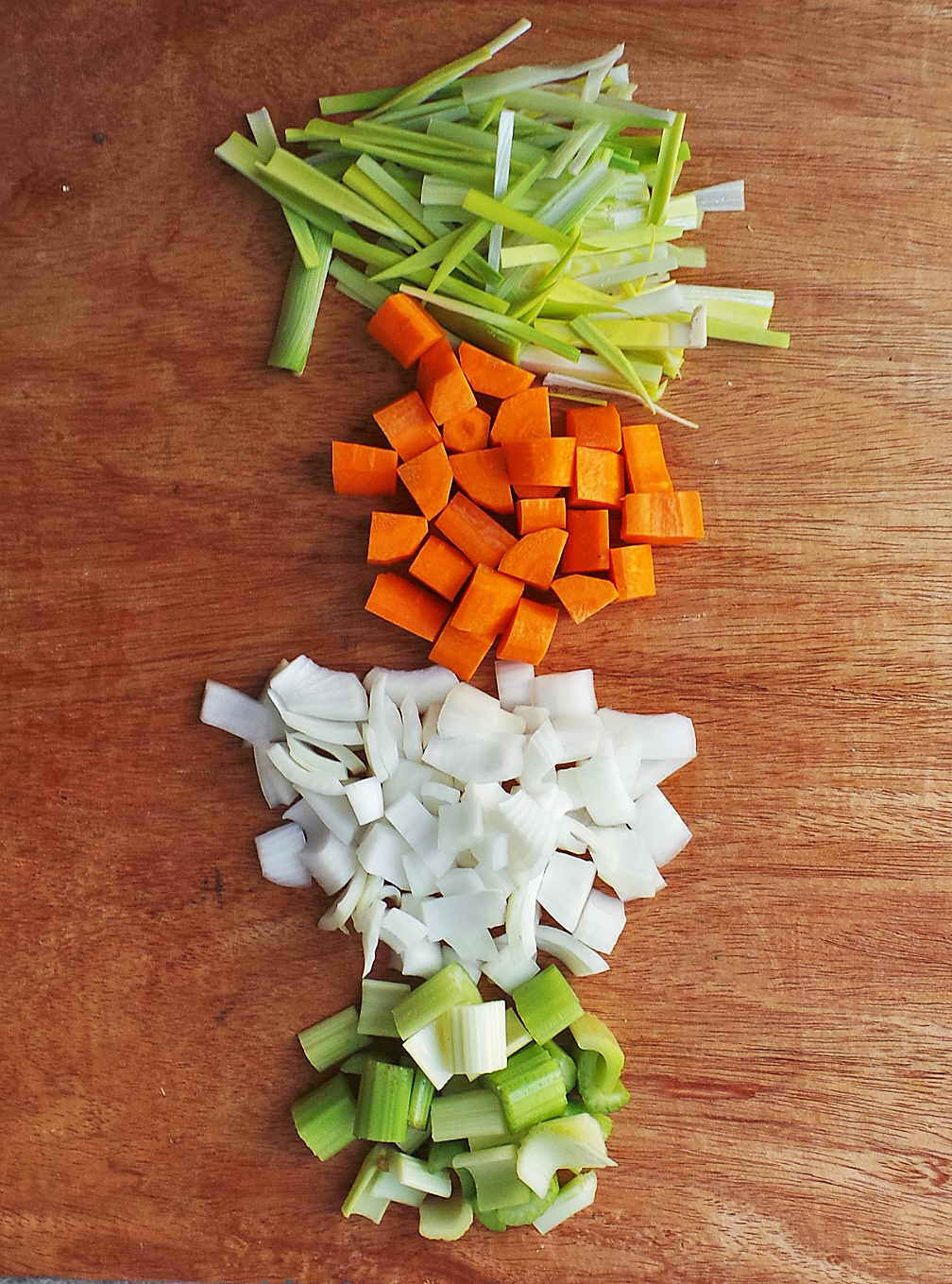 I gave those a rough 1″ chop. Any smaller they'll "dissolve" while cooking and any bigger you may not suck out all of their flavor. Since this is a rough chop, cutting will be a breeze which is nice because it's the toughest part of the recipe…really! As for the leeks, they're not required but as mentioned they make a little magic. Use one leek and cut them julienne or chopped! The next and most important part is the bones: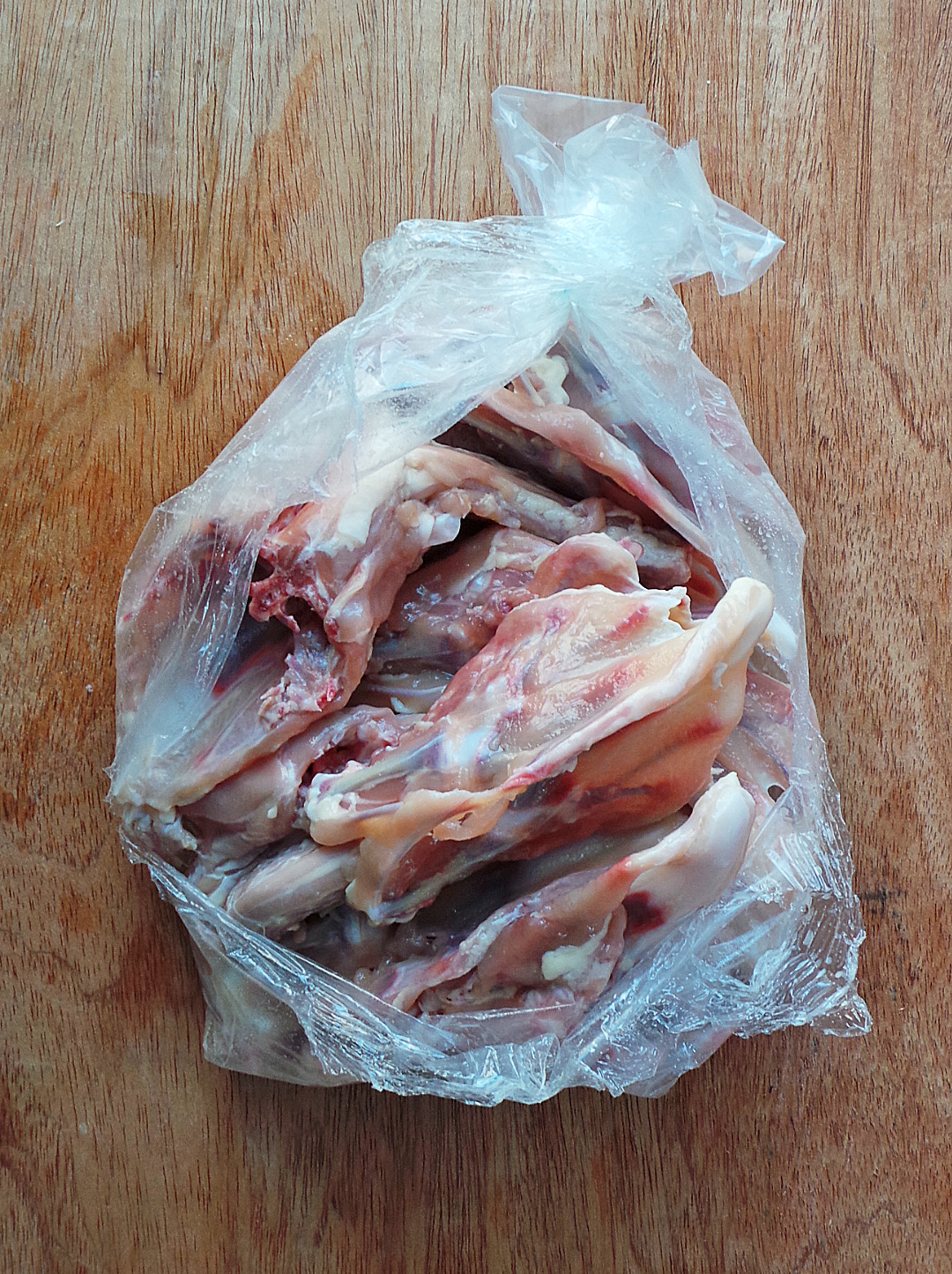 Find your area's local meat market and ask them for however many pounds of chicken bones. I went to my kosher market and the nice man gave me 5 lbs. for $9. You could also freeze up your bones from rotisserie chickens! The bones and the leeks will be the first things to go in the stock pot, but we'll get to that. Now you can't develop flavor without any herbs right?
PS: I also use this recipe with a whole chicken or chicken pieces. Just replace for the bones and use the meat for soup!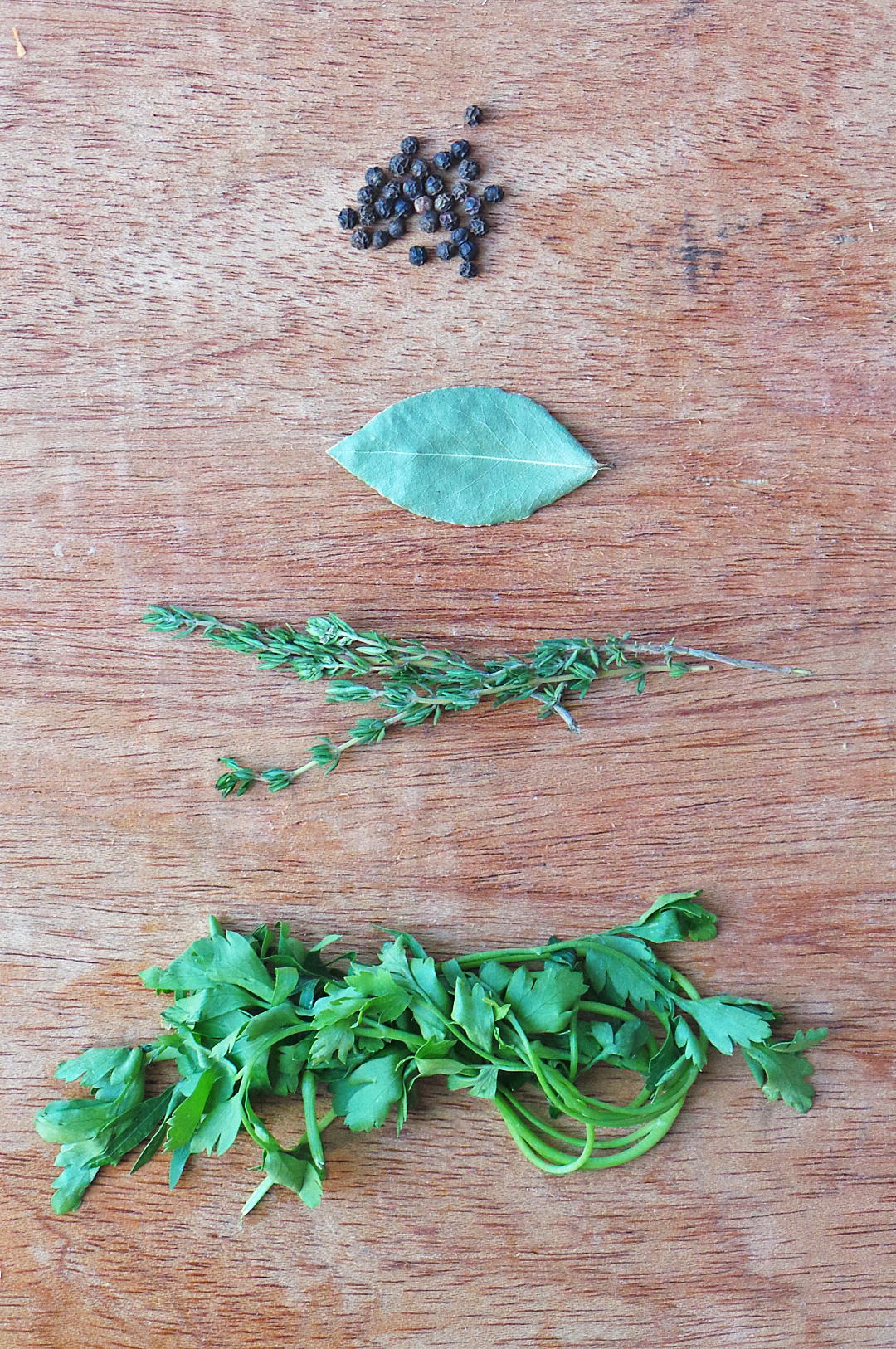 I never thought I'd hear my chef tell us to put our salt away, let alone on stock day. The basics for a stock are parsley, thyme, black peppercorns, and bay leaf. Since a stock is almost always used in developing future recipes, it'll be properly salted then so hold off on it now. Simple! You can add these to a cheesecloth to make a sachet, or just throw them straight in with the vegetables like I do.
So. Vegetables, bones, and herbs. Those are really the three components of a stock – how painstakingly easy?! The next step is adding the bones and leeks to your stock pot, cover with COLD water, bring to a boil, skim, simmer, and hang out! It's important to use cold water because the temperature will help coagulate any blood and impurities on the bones. In fact that's what you'll be skimming once it hits a boil. A good rich chicken stock will take anywhere between 3-4 hours, so pop in Titanic or rearrange your bedroom, just don't leave the house.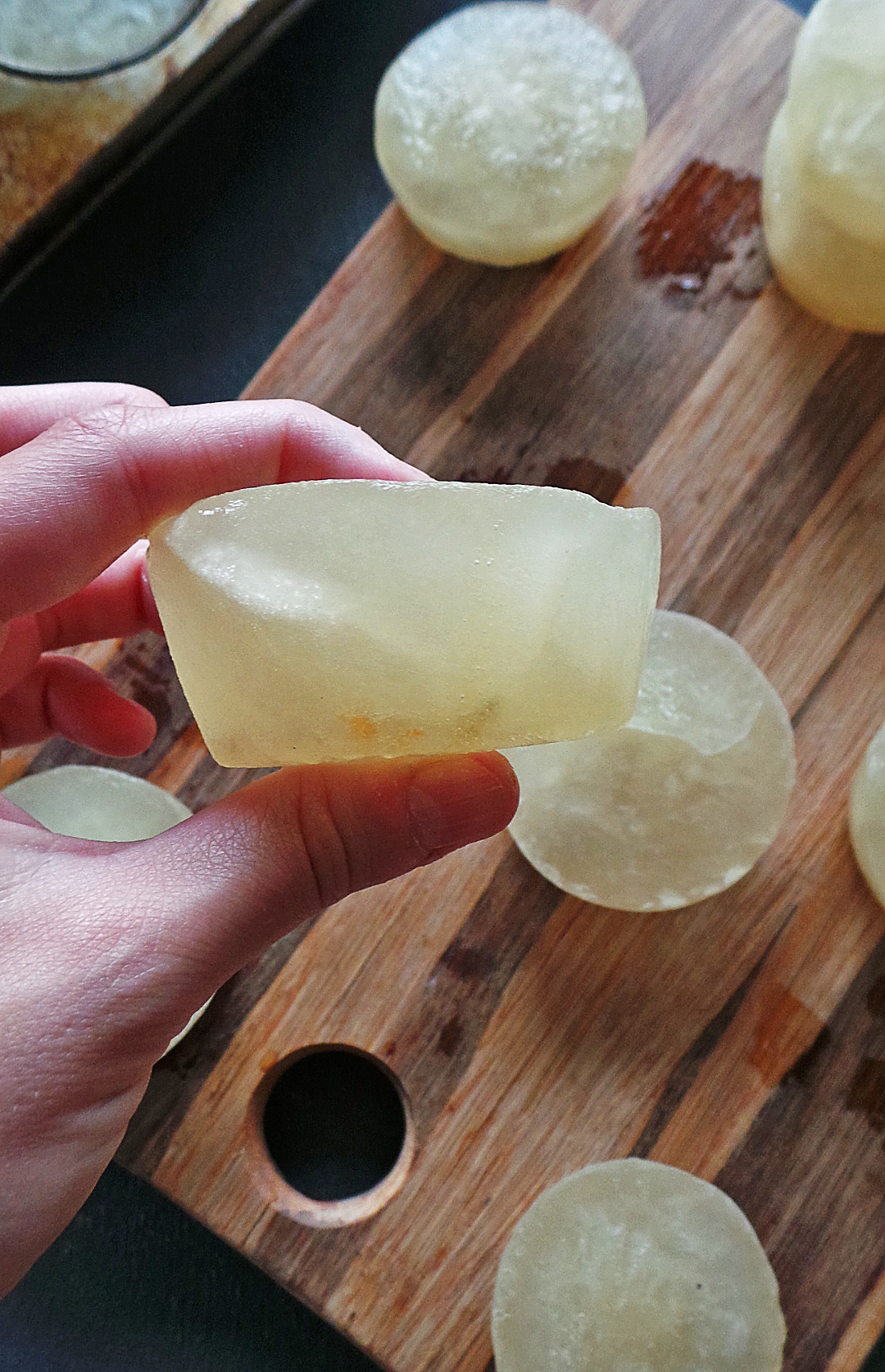 After your stock is ready you just have to strain and chill. Unfortunately this is the most boring part to read about, but it's probably most important. When the stock is strained it's incredibly hot. You know not to refrigerate it right away because that's just asking for bacteria. The goal is to get it down to 40 degrees right away, then store as needed.The easiest way for me to do this is throw a few bags of ice or frozen water bottles in the stock, place the container in the sink, then fill up the sink with cold water and ice. Every few minutes I'll stir the stock and check the temperature. Basically I know it's ready when it's not hot anymore. You can refrigerate or fill up muffin tins and freeze! My tins are about 1/2 c. each so I pop em' out, bag em' out, and take a long deep sigh because I won't be buying store made chicken stock for a very long time – or ever.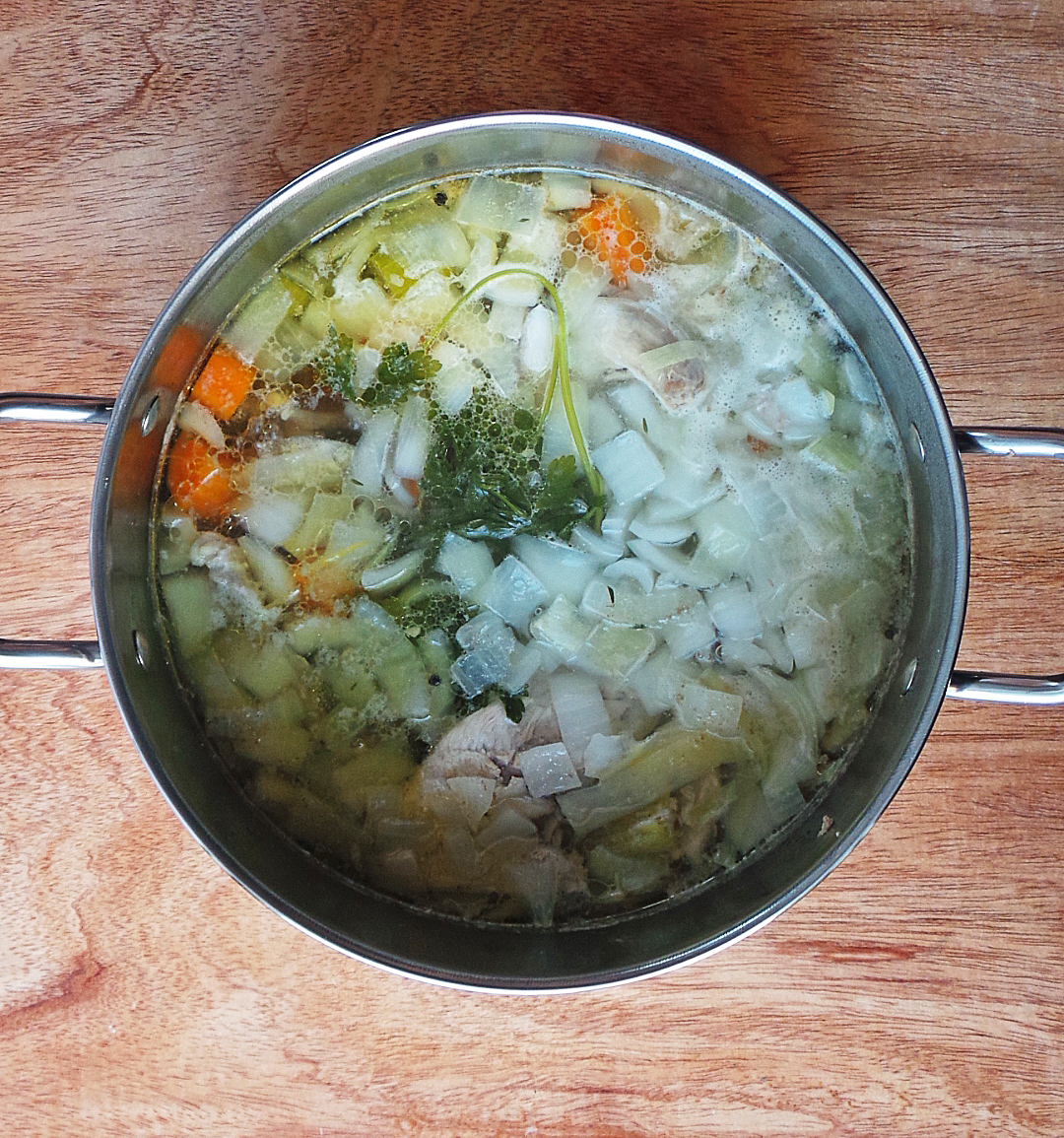 If you know that you'll be making stock, make sure you think ahead about chilling. You don't want to find out you're out of ice just as you begin to chill. Leaving the stock in room temperature to cool down will take long enough for your stock to become a pool of bacteria. The only special equipment you need is a stock pot. For my 5lbs. of bones I used a 16 Qt. and could have definitely gotten away with a smaller one. Now that we've covered the ins and outs, I feel confident that you will master your next recipe because you know how to make a deliciously rich homemade stock. Enjoy!
Simple Homemade Chicken Stock
2014-07-09 17:59:58
Serves 20
Ingredients
5 lbs. chicken bones (ask your butcher for carcasses)
1 large leek
1 lb. onion - rough 1" chop
1/2 lb. carrots - rough 1" chop
1/2 lb. celery - rough 1" chop
4 parsley stems
3 thyme sprigs
1 t. black peppercorns
1 bay leaf
COLD water as needed
Instructions
Peel away any bad layers of the leek. Chop of the rough green ends and the stem. Cut in half lengthwise then continue to cut thin strips.
Rinse the bones and add to a large enough stock pot (I used 16 qt.) Add the leeks. Add enough water to cover the bones by 3".
Bring to a boil. Skim all that nasty funk off, then reduce to a gentle simmer.
Add the vegetables and herbs and continue to simmer for 3-4 hours, skimming as needed.
Strain and discard all the bones, herbs, and veggies.
To chill, place in a large enough container to hold all of the stock. Place the container in the sink and add enough ice and cold water to cover the container half way. If you have a few frozen water bottles, throw those in the stock! Stir the stock every few minutes until it's no longer hot and reaches 40 degrees.
Store and refrigerate as needed. I like to keep mine in the refrigerator over night, discard the surface fat, then freeze!
Notes
You can also use bone-in, skin-on chicken pieces opposed to the bones and save the meat for chicken soup!
http://www.vodkaandbiscuits.com/