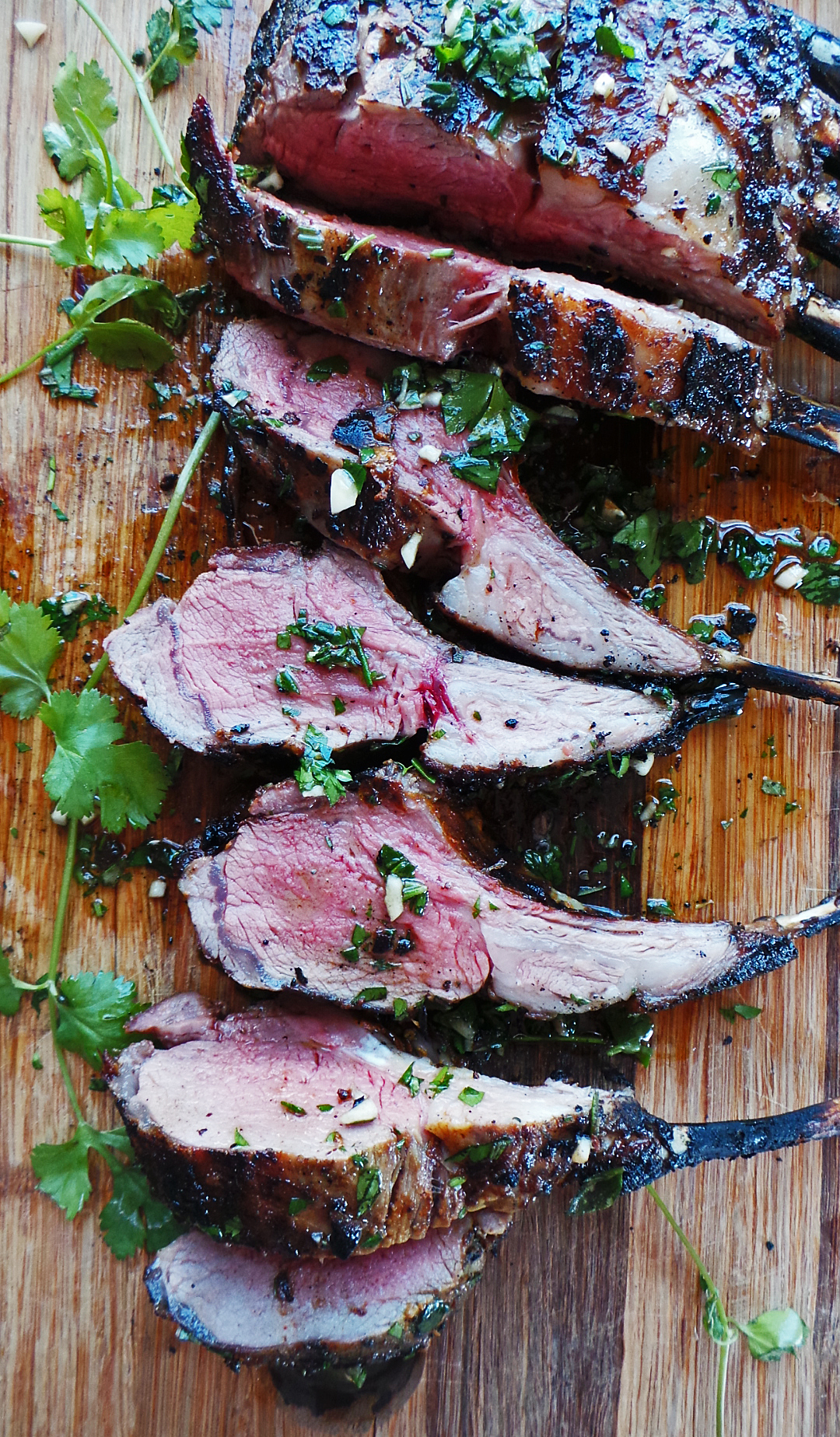 Halle-freakin'-lujah is all I have to say.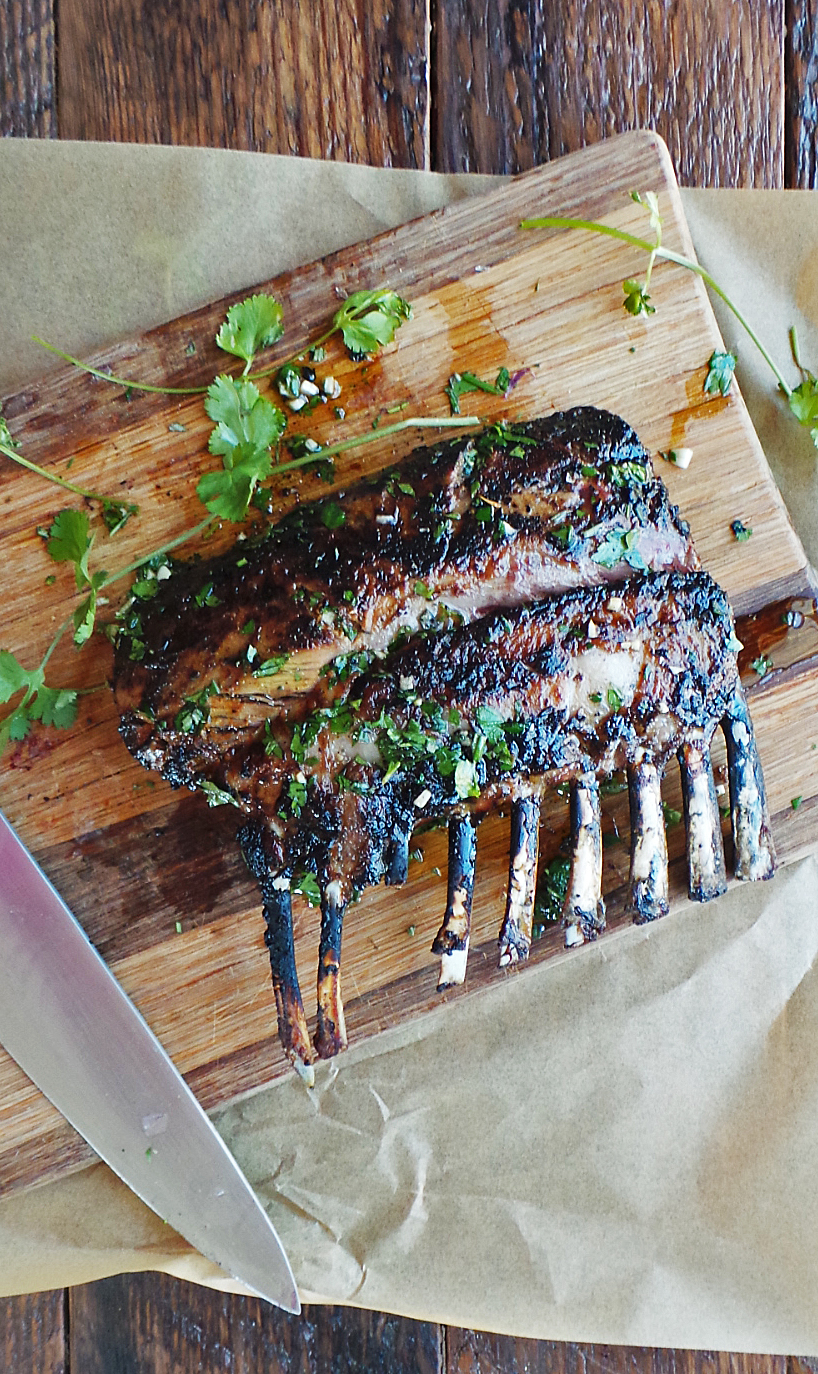 It's about time I get this recipe up on the blog for various reasons. I've been developing – changing my mind – and endlessly debating recipes for a rack of lamb since late JANUARY.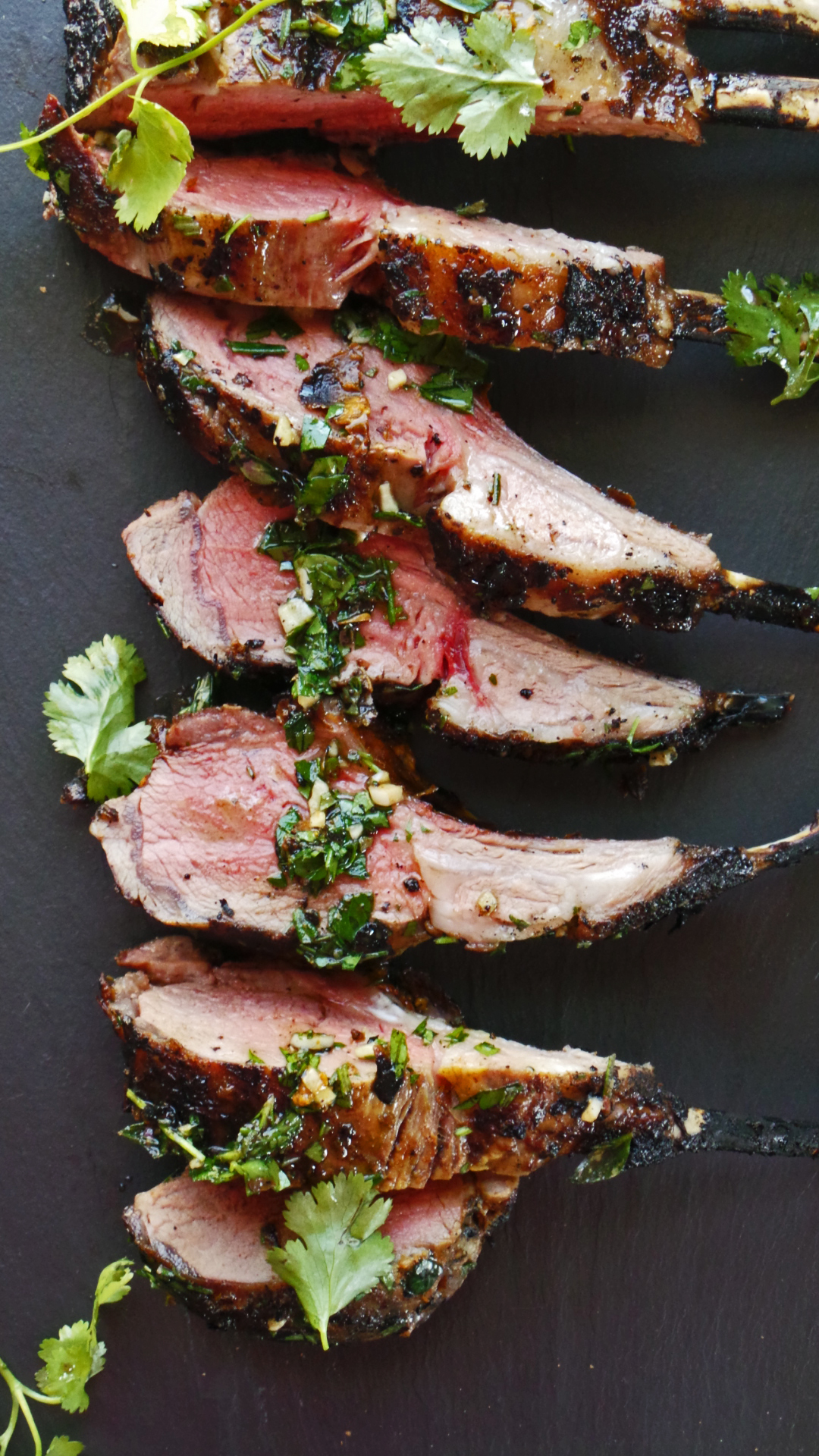 I wanted to post a lamb recipe that is unique and delicious. In the past few months I've debated on doing a Moroccan lamb with a sweet-cumin spiced barbecue sauce, a warm and comforting lamb with cinnamon and fig chutney, or the super common breadcrumb and herb crusted lamb chop. Of course I went with none of them.
Instead what I did was something less complicated and so intense in flavor. Lamb rubbed with a paste made with a homemade spice blend, then grilled using Adam Perry Lang's reverse sear method, and served sliced with a board sauce. I can say in confidence that this will be the best lamb chops you ever make. Let me break it down:
The Paste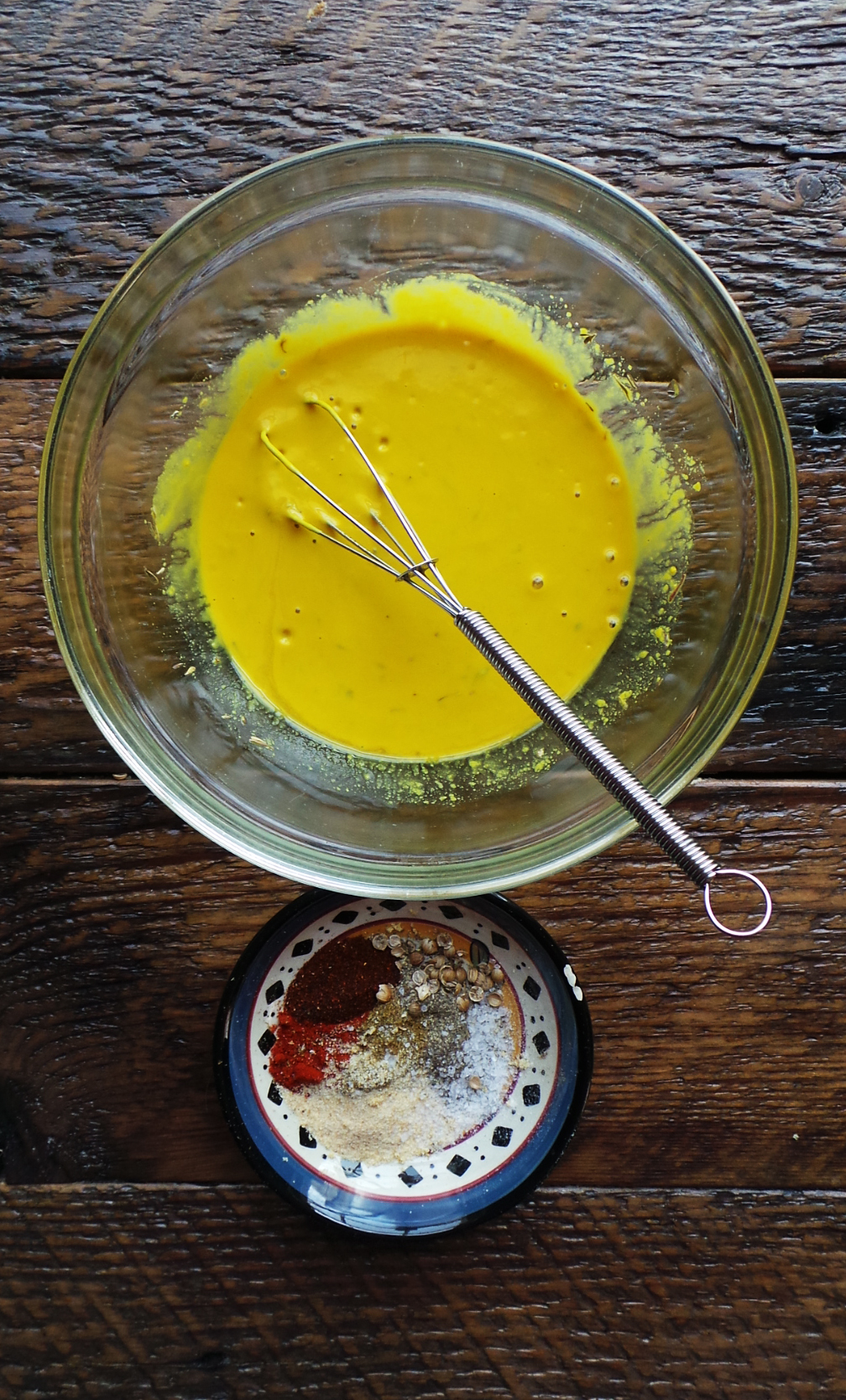 The only complicated part of the paste is the spice rub and really it's not that bad. It's made with ground coriander, chipotle pepper, paprika, garlic, and cumin. I can't stress the Amish Market enough for inexpensive spices! I added that to a bowl of yellow mustard, Worcestershire, thyme, and a splash of water. That's it.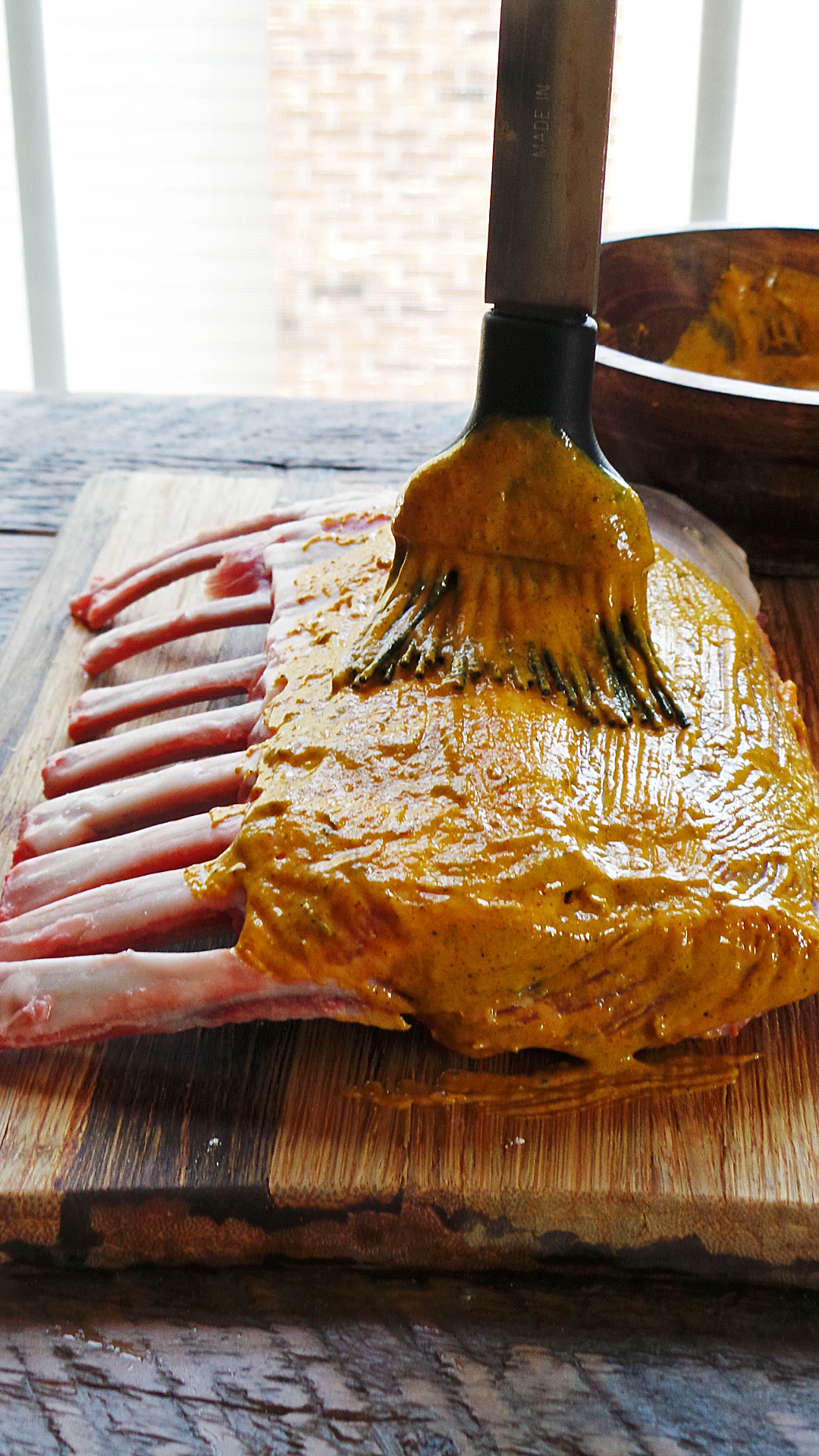 Before I jump in even more, let me talk about the meat. Rack of lamb tends to be a little more expensive, I bought one rack for $12 bucks. Hence why you see more ham and less lamb at the Easter dinner table. One rack comes with around 10 chops, so I serve it as a meal for 2 OR an appetizer for 4. This has special occasion written all over it.
When buying the rack it almost always comes frenched, meaning the fat and meat that is attached to the individual rib bones is removed making a clean and elegant appearance. If your rack is not frenched, your butcher should be able to do it in minutes. Other than scoring the fat side of the rack, there's not much prep to do. Scoring is recommended to ensure even cooking time and help the meat absorb some flavor. Just take your knife and cut diagonal"X marks" on the thick white fat- simple!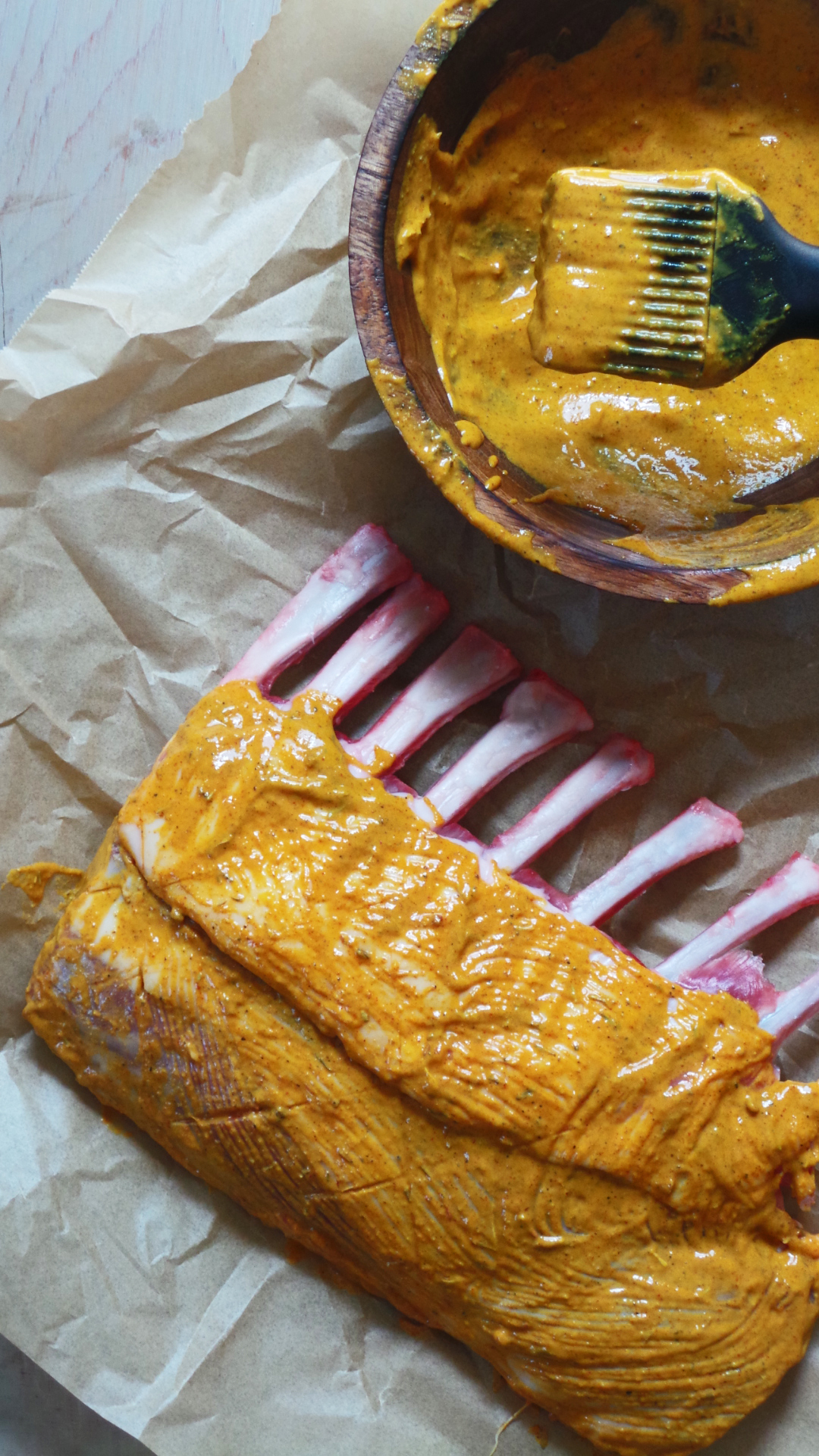 Ps: you can see some of my score marks above if you look closely.
I sprinkled the lamb with a few pinches of the spice rub before giving it a good flavor bath in the paste. There's no need to do this hours before but you most certainly can. I add my paste just minutes before firing up the grill. Speaking of.
Cooking Method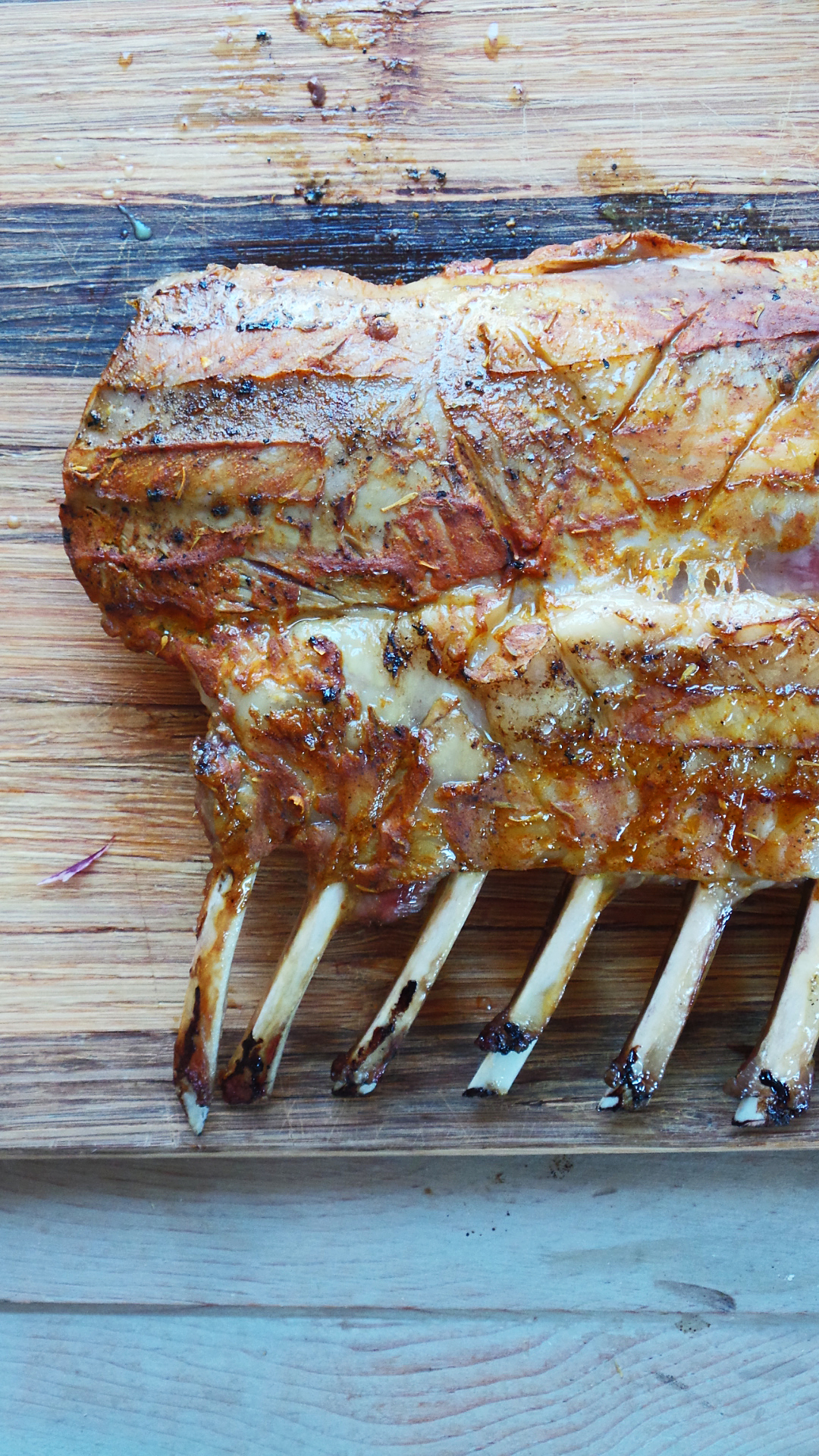 I did a little research on cooking methods before making mine. I resorted to Chef Adam Perry Lang and his reverse sear method noted in his AMAZING book Charred and Scruffed. This method can be used on various cuts of meat and I have a feeling you are going to love it.
The basis is cooking the meat over indirect heat to a few degrees under desired doneness, then char it over direct heat until the outside is charred and the inside is cooked to preference. Before making this, definitely invest in a meat thermometer!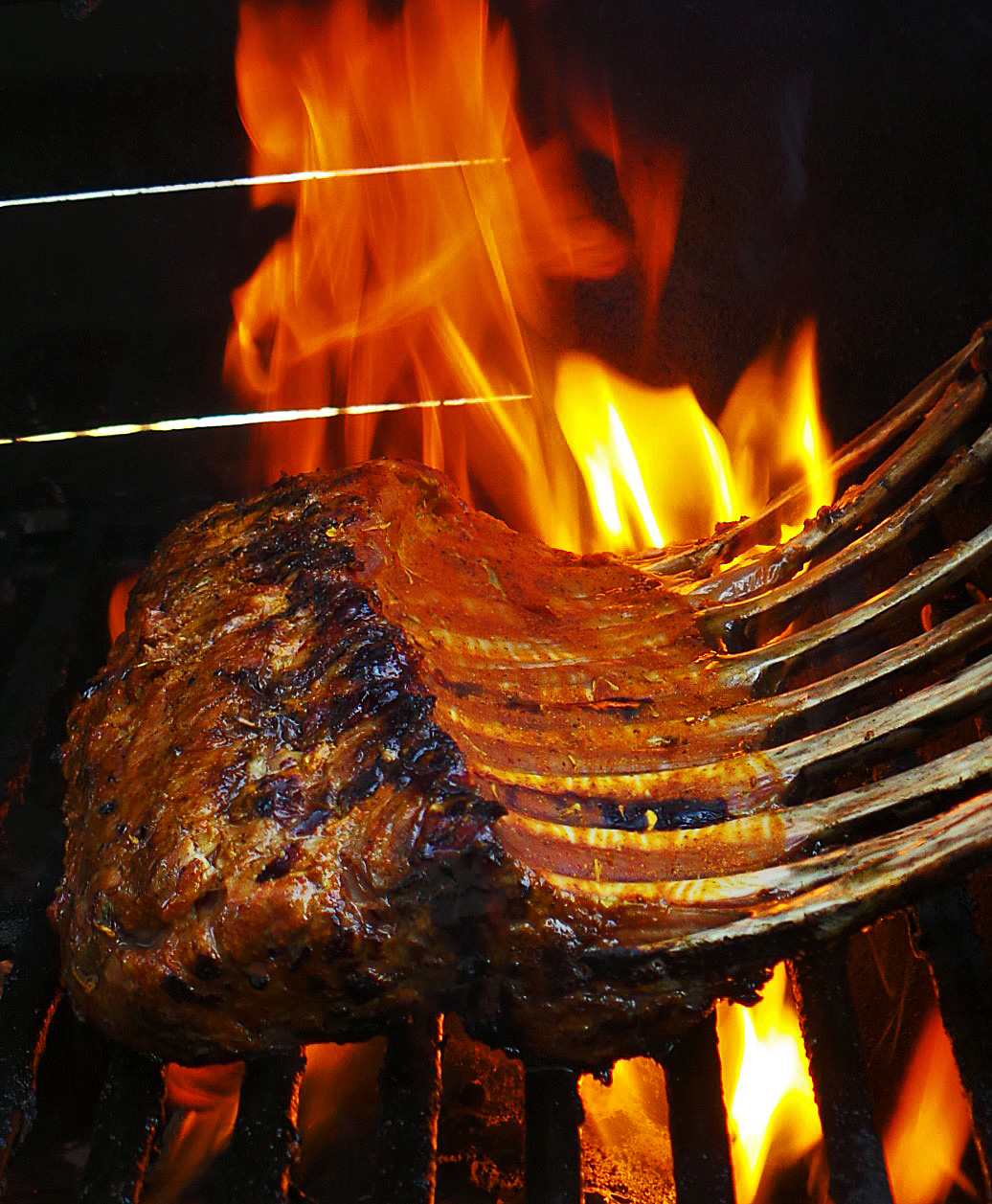 I set the right side of my grill to a high flame, leaving the left side untouched. I cooked the rack on the indirect (no flame) for 35 minutes or until the lamb just reached 125 degrees. Find out how you want to cook your lamb (medium rare, medium, etc.), and cook it INDIRECT until it reaches 10 degrees under your desired doneness. This is step 1. I hope that makes sense.

Once it reached 125, I let it rest for 5 minutes before putting it over the direct heat (flame) for a few minutes on each side. I wanted a beautiful char on both sides and the lamb to reach medium rare which is about 135.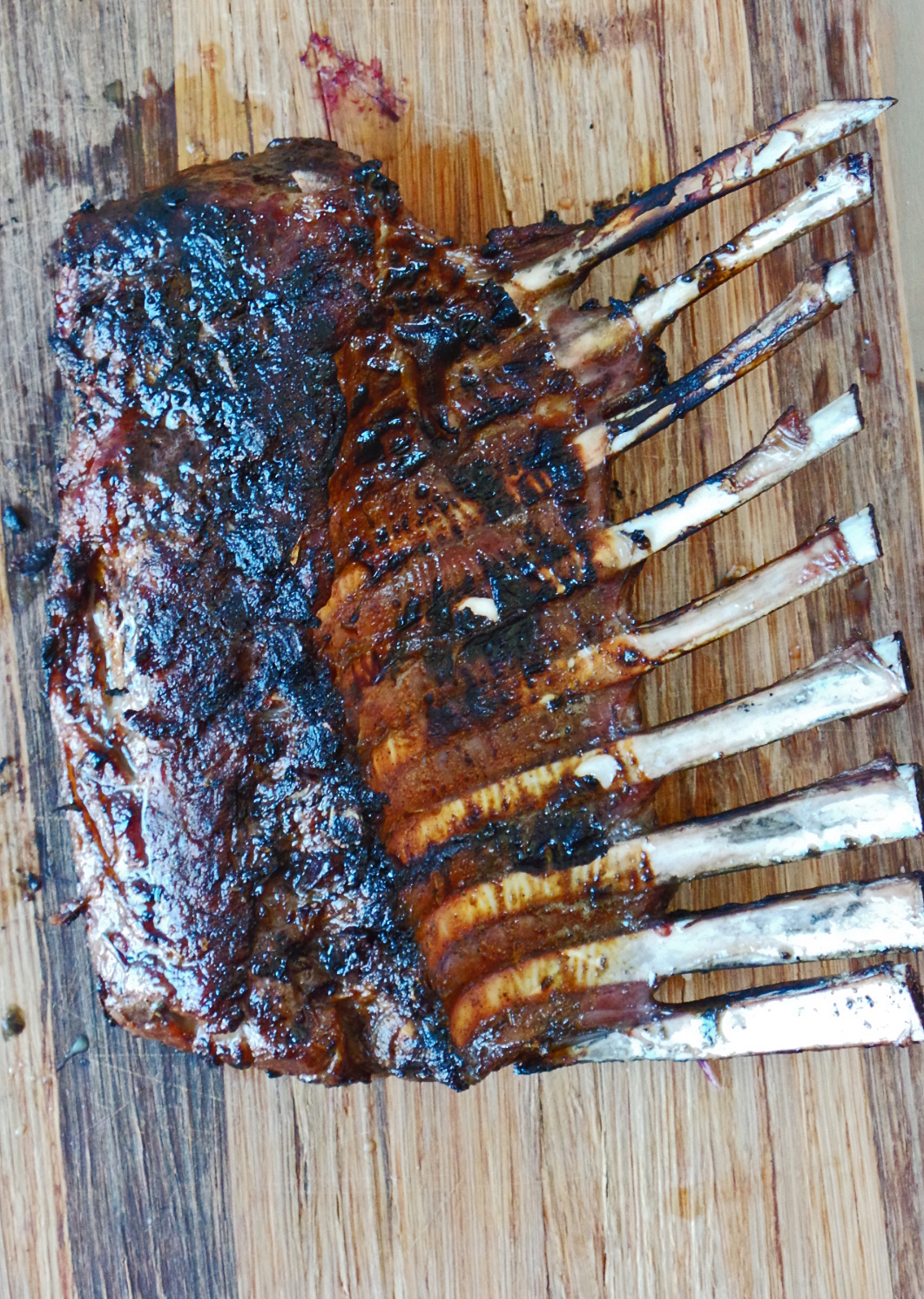 *Gasp*Talk about a beautiful char.
As soon as the lamb comes off the grill, transfer it to a cutting board prepared with a board sauce. A-what? Lemme explain.
The Board Sauce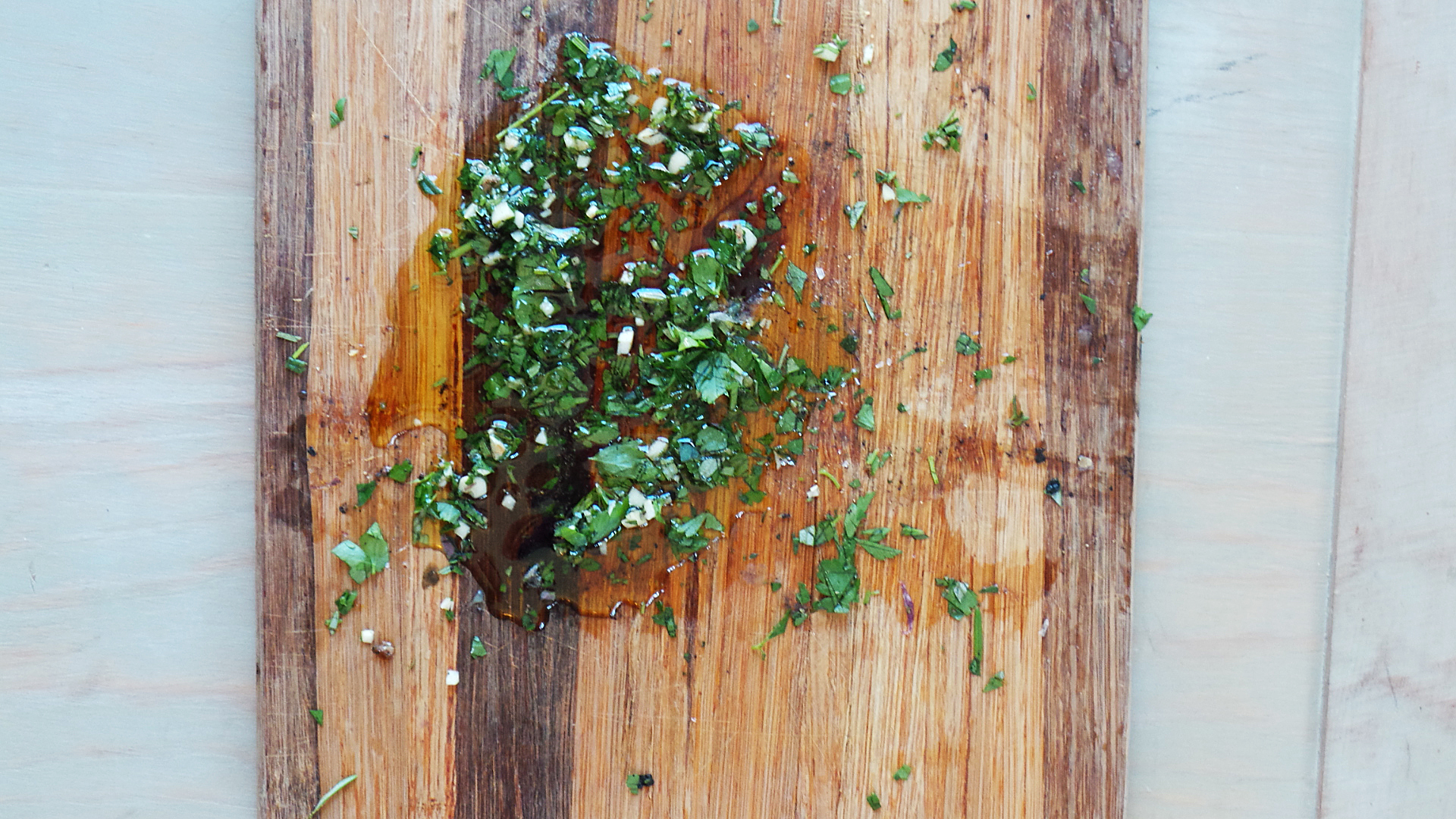 Board Sauce is also adapted from Adam Perry Lang, it won't be long until everything in my life is adapted from him. A board sauce is made up of olive oil, chopped herbs, and a splash of vinegar. Ideally you want 6 tablespoons of oil to 2 tablespoons of herbs. Use WHATEVER herbs you want.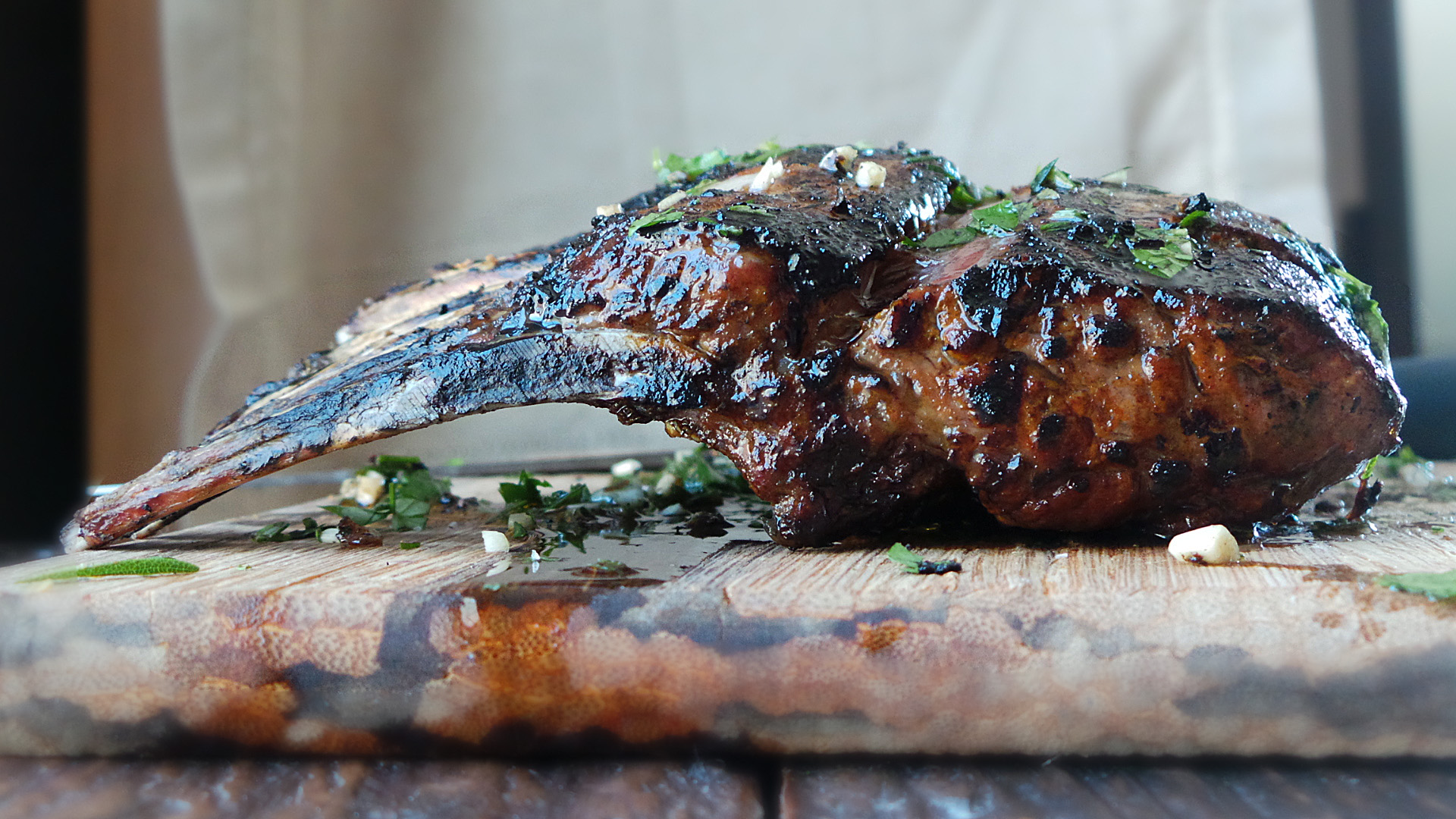 The meat gets transferred to the board sauce and sliced immediately. The juices from the lamb mix with the savory acidic sauce and makes a mouth-gasing bite to die for.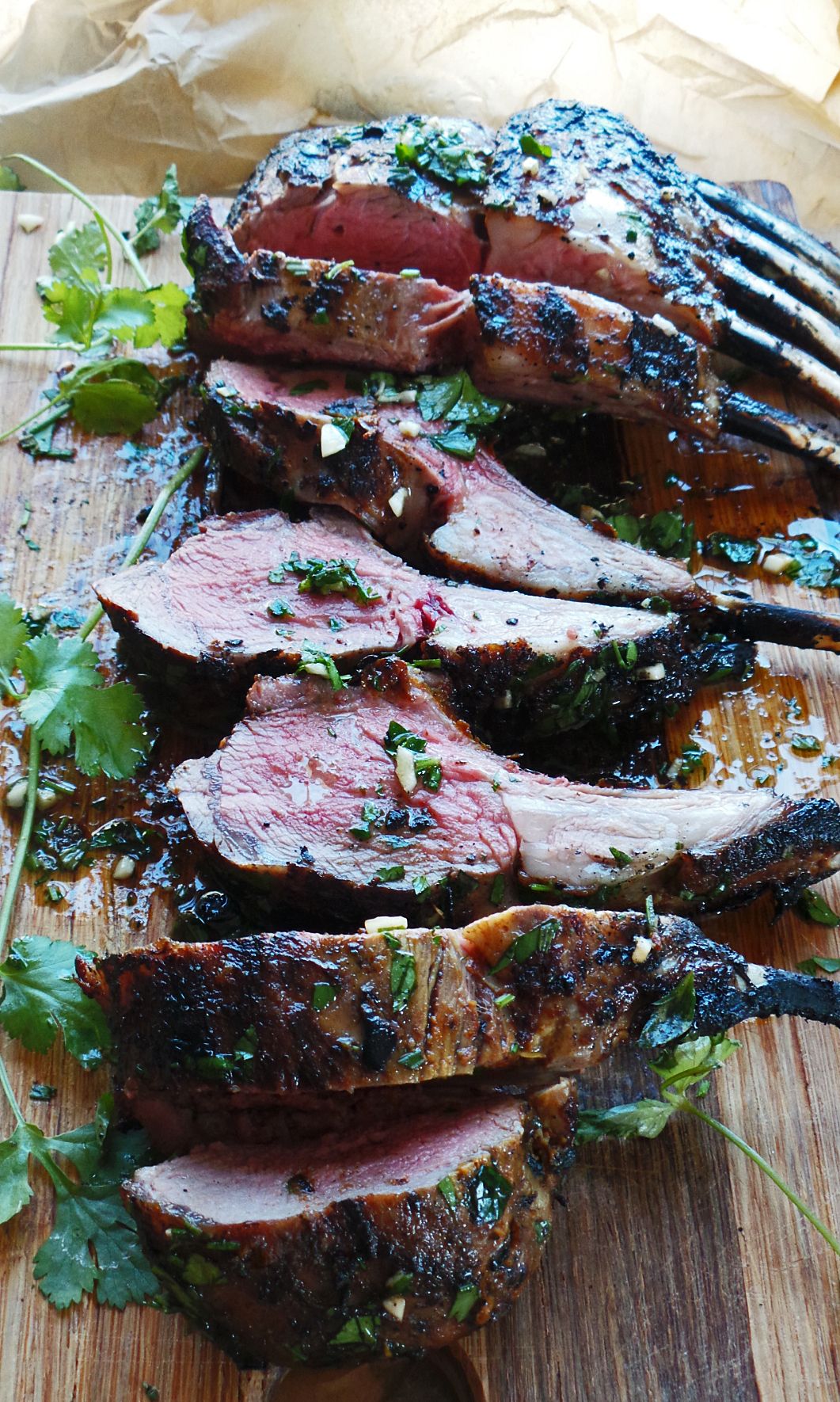 After your first bite you're going to be hooked. The smoky char, the tender meat, the spices and board sauce all make this the best lamb I've ever had. I CAN'T WAIT for you to make this. Thanks Adam!
Spiced Grilled Rack of Lamb
2015-05-21 12:24:48
Serves 4
For the Paste
2 t. Cumin
2 t. Paprika
1/2 t. garlic powder
1/2 t. black pepper
1/2 t. sea salt
1/4 t. chipotle pepper
1 T. finely chopped thyme
1/2 c. mustard
1 T. Worcestershire
1/4 c. water
1 rack lamb - frenched
For the Board Sauce
6 T. olive oil
2 T. chopped assorted herbs (cilantro, parsley, chives, thyme)
Balsamic Vinegar as Needed
Instructions
First mix together all of the ingredients for the paste.
Score the fat side of the lamb, see pictures above as a reference!
Rub the rack of lamb all over with the paste and allow to sit until grill is fired up.
Set your grill for indirect and direct cooking. Whether it's gas or charcoal, only heat one side to high while the other side is not lit at all. I light the right side.
Add the rack to the indirect (away from the fire) side of the grill. Close the lid and cook 35 minutes or until a thermometer reaches exactly 125 degrees (or ten degrees under your desired doneness, 135 is medium rare which is what i made mine). While this is cooking whip up the board sauce!
On a cutting board chop your assorted herbs and drizzle over the oil and a splash of the vinegar.
When the lamb reaches10 degrees under desired doneness, take off the grill and rest for 5 minutes. Add to the direct (flame) and scorch a minute on each side until you have a beautiful charred color. I let mine cook for 3-5 minutes until it reached 135.
Immediately transfer to the cutting board with board sauce. Slice between the rib bones to make chops. Use the board sauce and the juices from the lamb as a serving sauce.
Enjoy!
Notes
This makes a medium rare lamb, increase the temperature for more well-done.
You can also use vinegar or lemon juice for the board sauce.
Adapted from Adam Perry Lang
Adapted from Adam Perry Lang
http://www.vodkaandbiscuits.com/