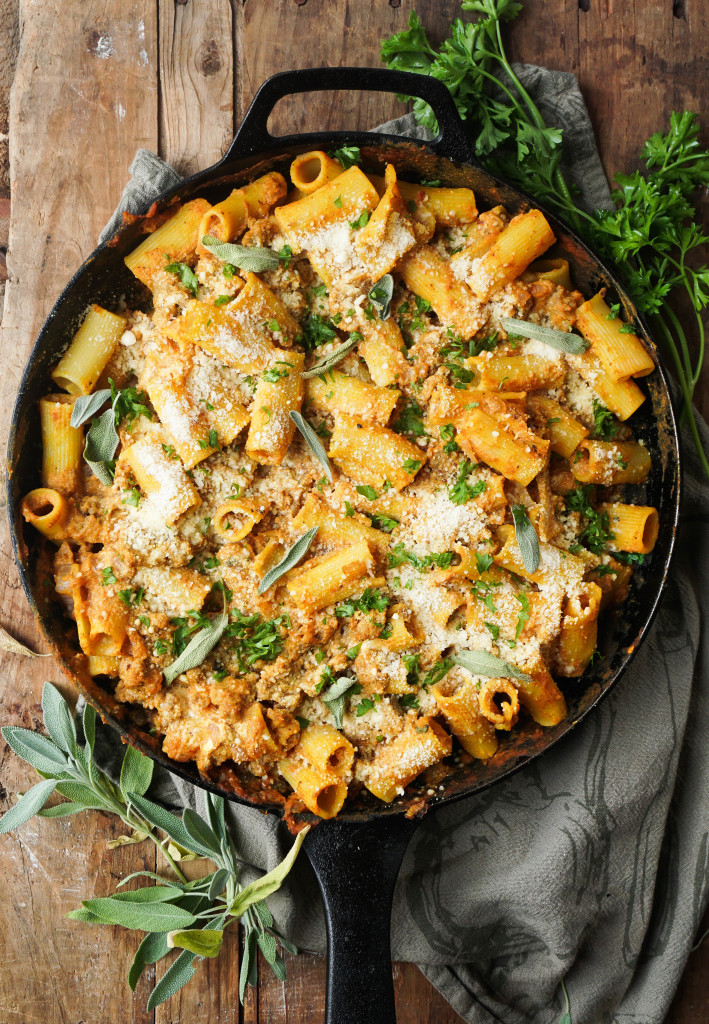 Thanks to a little pasta, sausage, and sage, the pumpkin game has now been changed.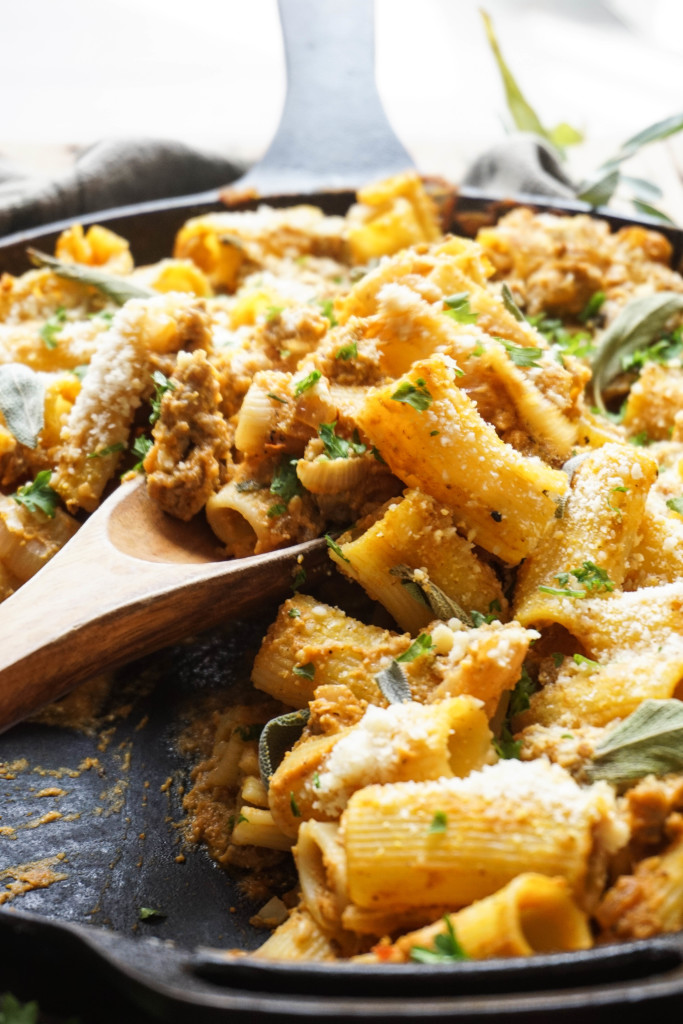 I've seen pumpkin used in every sweet way possible, so I think the internet needs a little convincing on using it in savory dishes. What better way to introduce it than baked ziti. I mean let's be real, baked ziti on its worst of days is even good. Kind of like this cold leftover pizza I'm eating right now.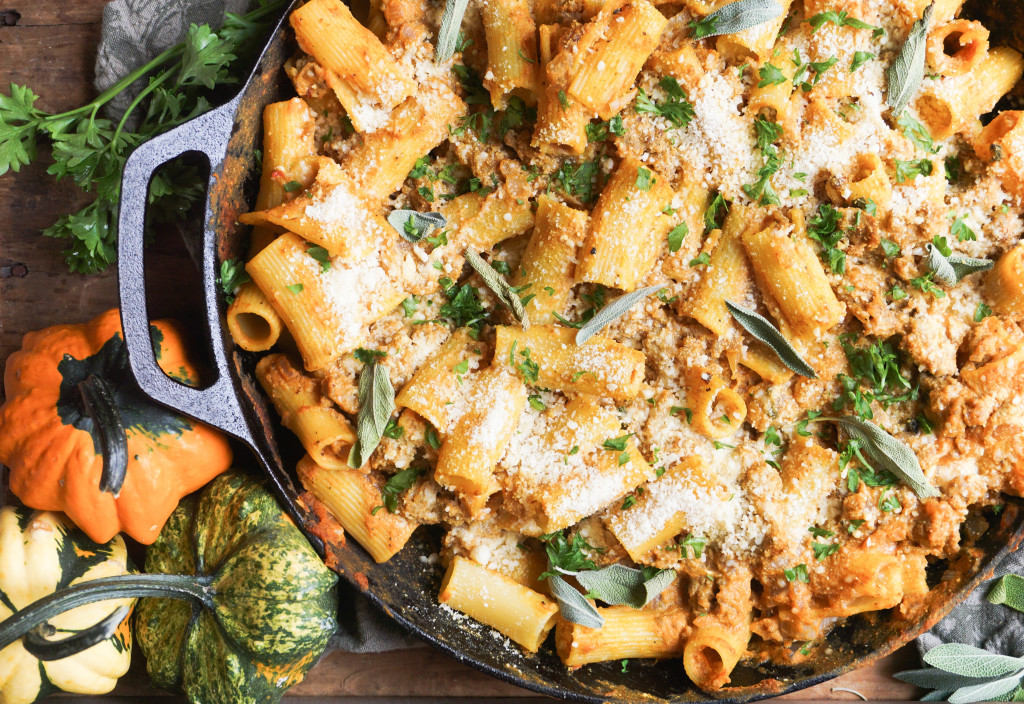 So, probably like you, I was a little skeptical at first. I've had pumpkin stuffed inside ravioli with a brown butter sauce, but never have I had a pasta sauce made of pumpkin. I'm so glad I tried this out because it's not only different, but delicious.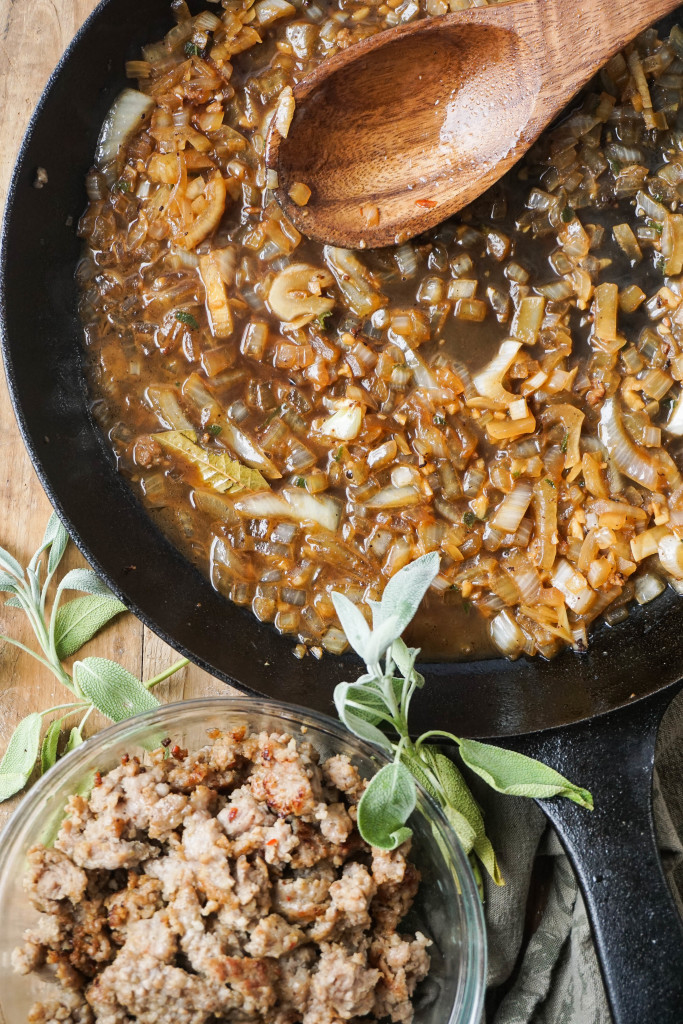 The sausage adds a level of flavor and texture, which makes the ziti or rigatoni noodles ideal. You can omit the sausage and use a thinner noodle, but what's the fun in that? I scoped out a few local grocery stores and was surprised how easy sage sausage is to find. If you can't find it, check out a specialty grocery store like Whole Foods or Wegmans where they have different types of sausage displayed. BTW, has anybody ever seen the blueberry sausage at Whole Foods? Totally eyed that up.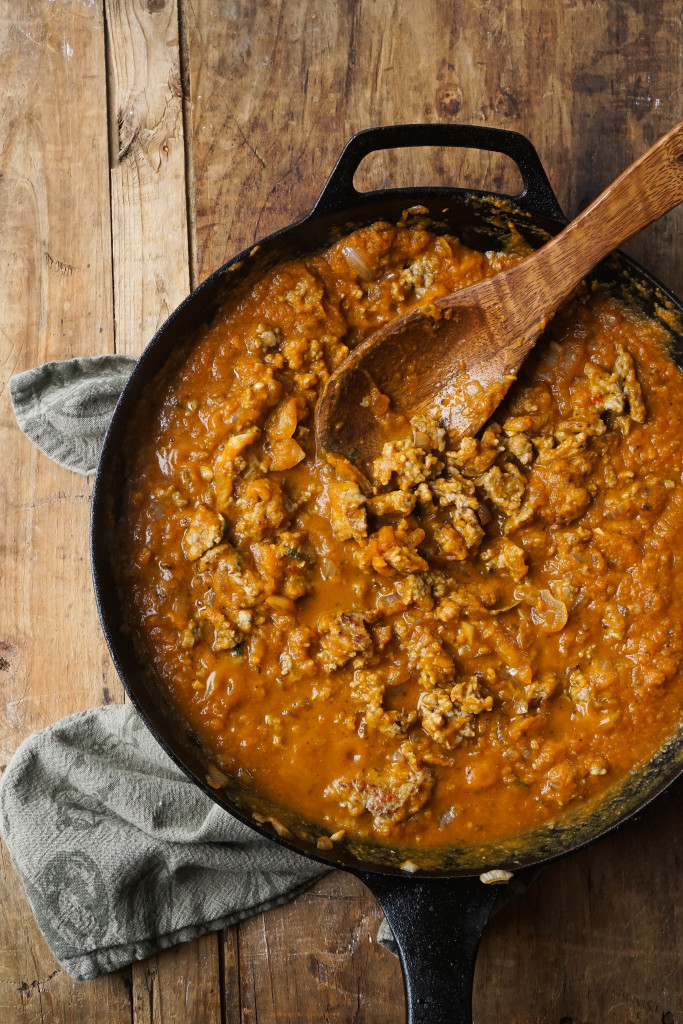 I made the sauce from start to finish in my cast iron skillet. The first thing to do is brown the sausage, then in the rendered fat cook onions and garlic with sage, bay leaf, and seasonings like salt, pepper, red pepper flakes, and nutmeg. Add half a cup of DRINKABLE and DRY wine (like a Chardonnay) and reduce, then add vegetable stock and pumpkin Um, easy right?
I picked up some cream because I was worried the pumpkin wouldn't thicken the way I hoped, but it turned out the cream wasn't needed at all. In fact I didn't even have to reduce the sauce. Pumpkin, ily. The sausage, sauce, and pasta get tossed together in a large bowl then goes back into the skillet with a sprinkle of Parmesan cheese and sage, then gets baked to crispy perfection.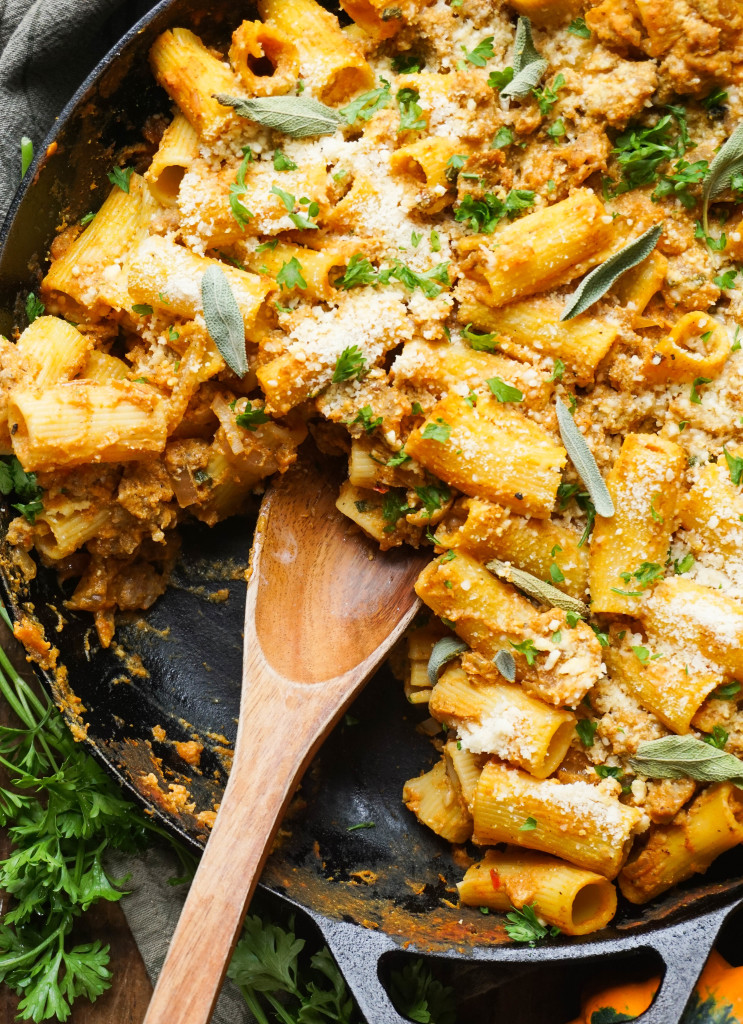 Everyone in the house agreed this wasn't overwhelming with pumpkin. In fact I think what I liked the most was the sage and hint of nutmeg, flavors we don't really associate pasta with.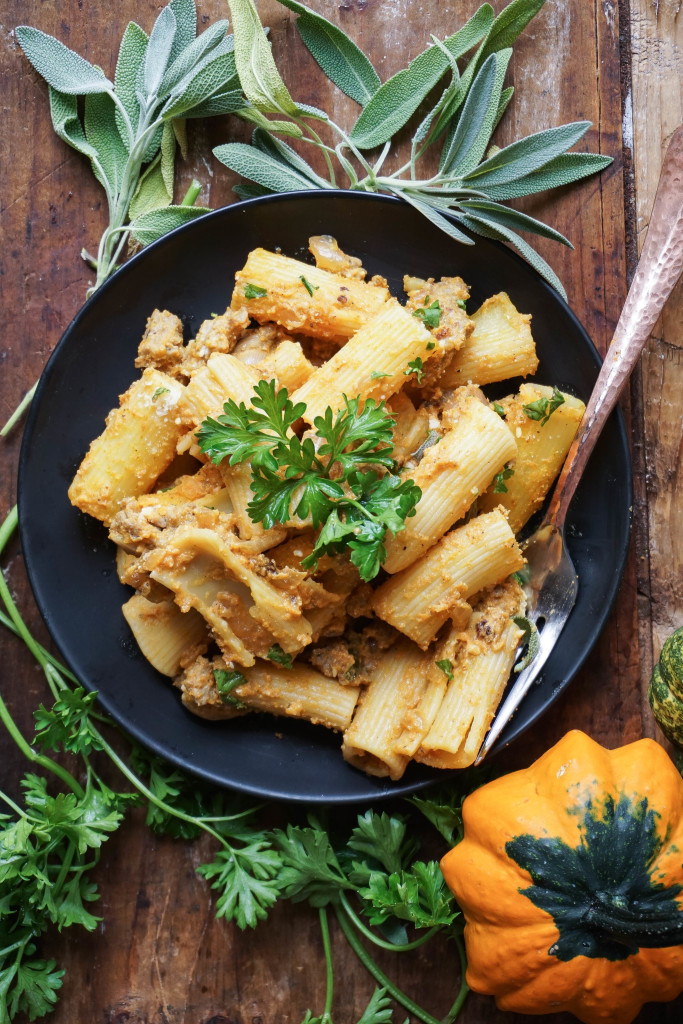 This dish is creamy, comforting, and the perfect meal for a chilly fall evening. Go buy some pumpkin and make this. OH and while you're at the store, pick up another can of pumpkin and try out this mouth watering Pumpkin Bread with Toffee Streusel. Bon Appetite!
Pumpkin Baked Ziti with Sage Sausage
2015-10-04 19:16:14
Serves 8
Ingredients
1 pound ziti or rigatoni noodles, cooked to al dente
1 pound sage sausage (can substitute for sweet Italian)
1/2 onion, diced
2 cloves garlic, minced
1 bay leaf
4 sage leaves, chopped
1/2 teaspoon nutmeg
1/4 teaspoon red pepper flakes
pinch of cinnamon
1/2 cup dry white wine (like chardonnay)
1 cup vegetable stock
15 oz can pumpkin puree
salt and pepper to taste
1/4 cup finely grated Parmesan cheese
Instructions
Preheat the oven to 350
Brown the sausage in a skillet (preferably cast iron) over medium high heat until the fat is rendered and the sausage is no longer pink. Transfer to a bowl and reserve.
In the same skillet, add the onion, garlic, and bay leaf. Cook until the onion is translucent, about 3 minutes. Add the sage leaves, red pepper flakes, cinnamon, nutmeg, and salt / pepper to taste. Cook one more minute.
Add the wine and cook until reduced by half. The heat should remain to medium high. Add the stock and stir in the pumpkin puree. Mix until everything is incorporated. The pumpkin will thicken the sauce.
Stir in the sausage and transfer to a large bowl with the pasta. Mix until combined.
Transfer back to your cast iron skillet (or a baking dish) and top with Parmesan cheese. Bake for 25-35 minutes until bubbly.
Garnish with sage and parsley. Fried sage is good too! Enjoy this with a nice glass of white wine, preferably the one you used earlier 😉
http://www.vodkaandbiscuits.com/