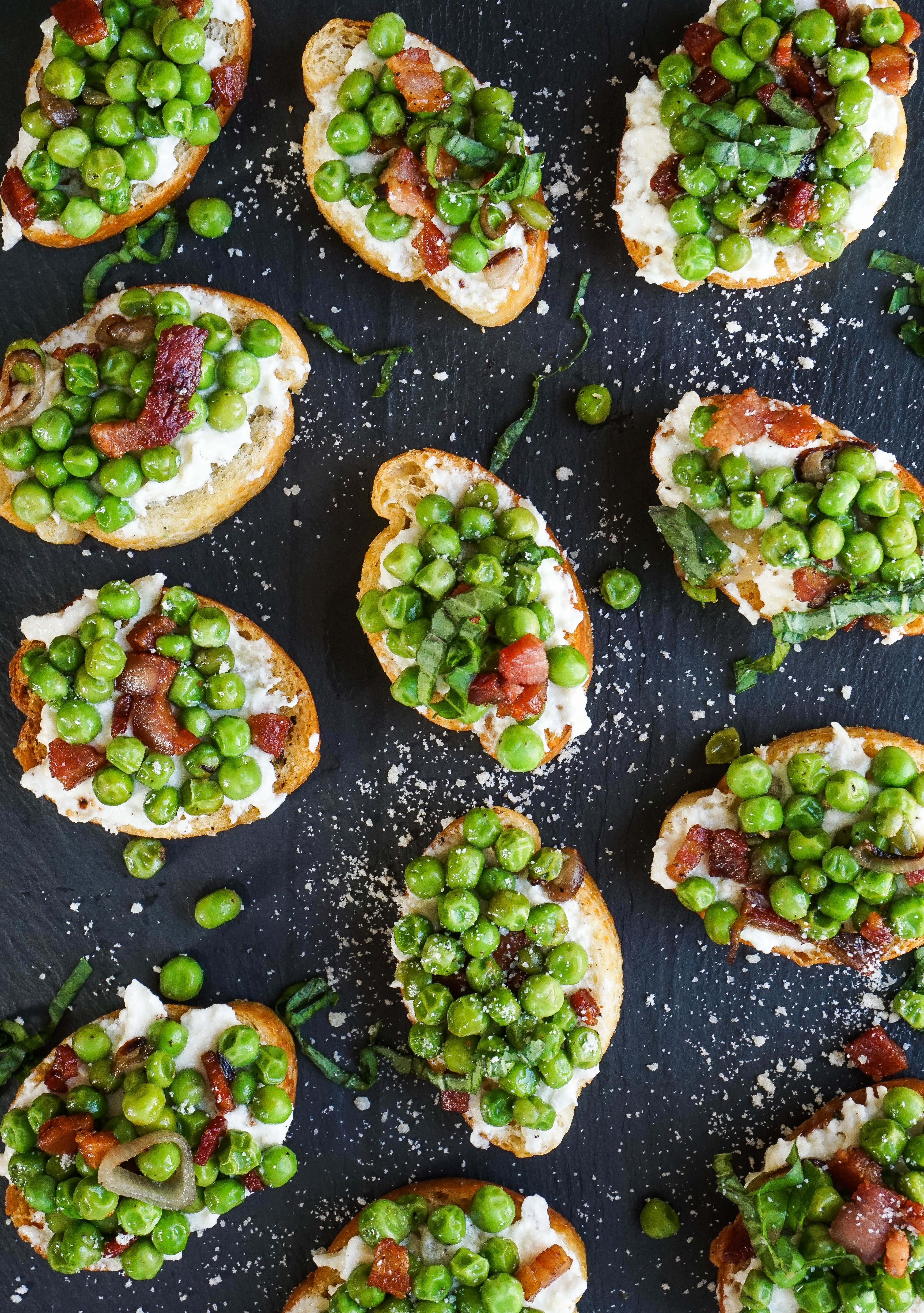 We're in the home stretch for Christmas and it doesn't even feel real. Like why did I just break a sweat going to get the mail?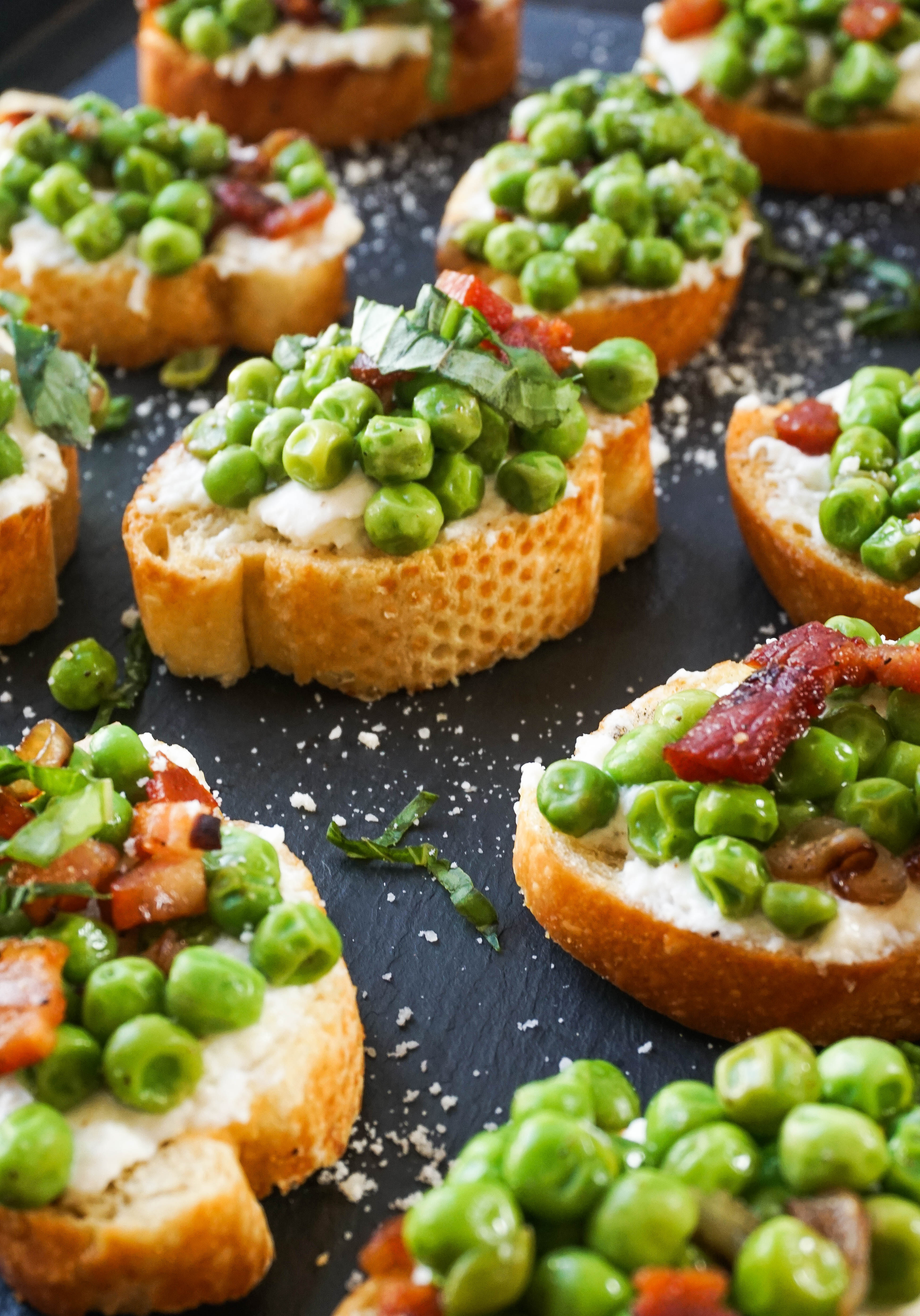 You know one thing I'm NOT sweating? Our Christmas menu because mom and I have that down to a T! I've been writing a lot this month about our menu and sharing recipes that may or may not make an appearance. I'm debating if I'll have enough time to bake Ina's Chocolate Mocha Cake, and I'm still waiting to hear back if somebody's bringing shrimp cocktail because if not this Roasted Scampi Shrimp WILL make it's way to the menu and my mouth.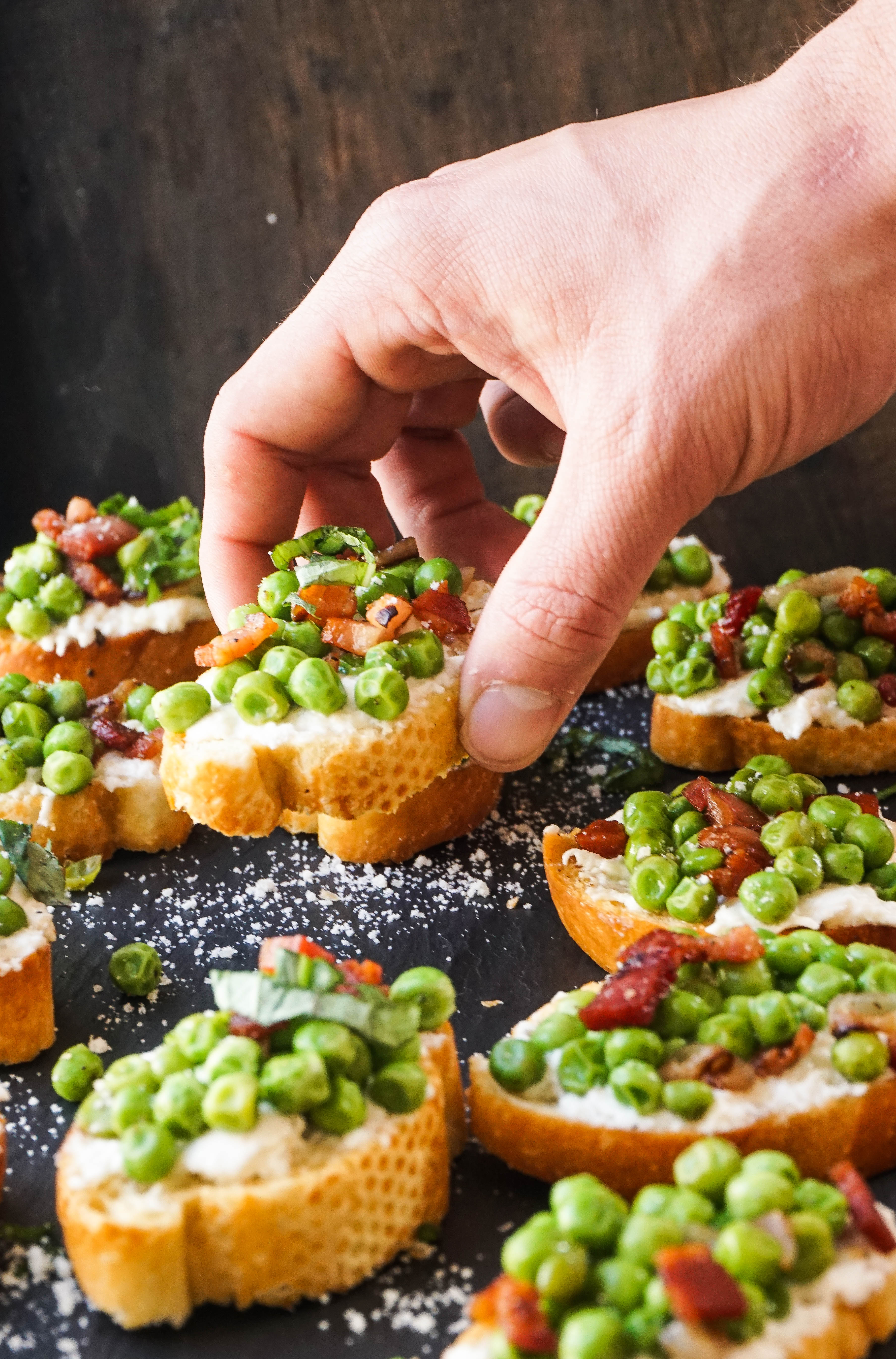 If one thing's for sure, these Pea & Pancetta Crostinis are totally happening. I'm going to break the recipe down for you and if you do decide to whip this one up, give the entire post a read. I'll share what I'll be doing differently when I make this next week and helpful hints to how you can make this ahead. Let's start with the bread.
The Crostini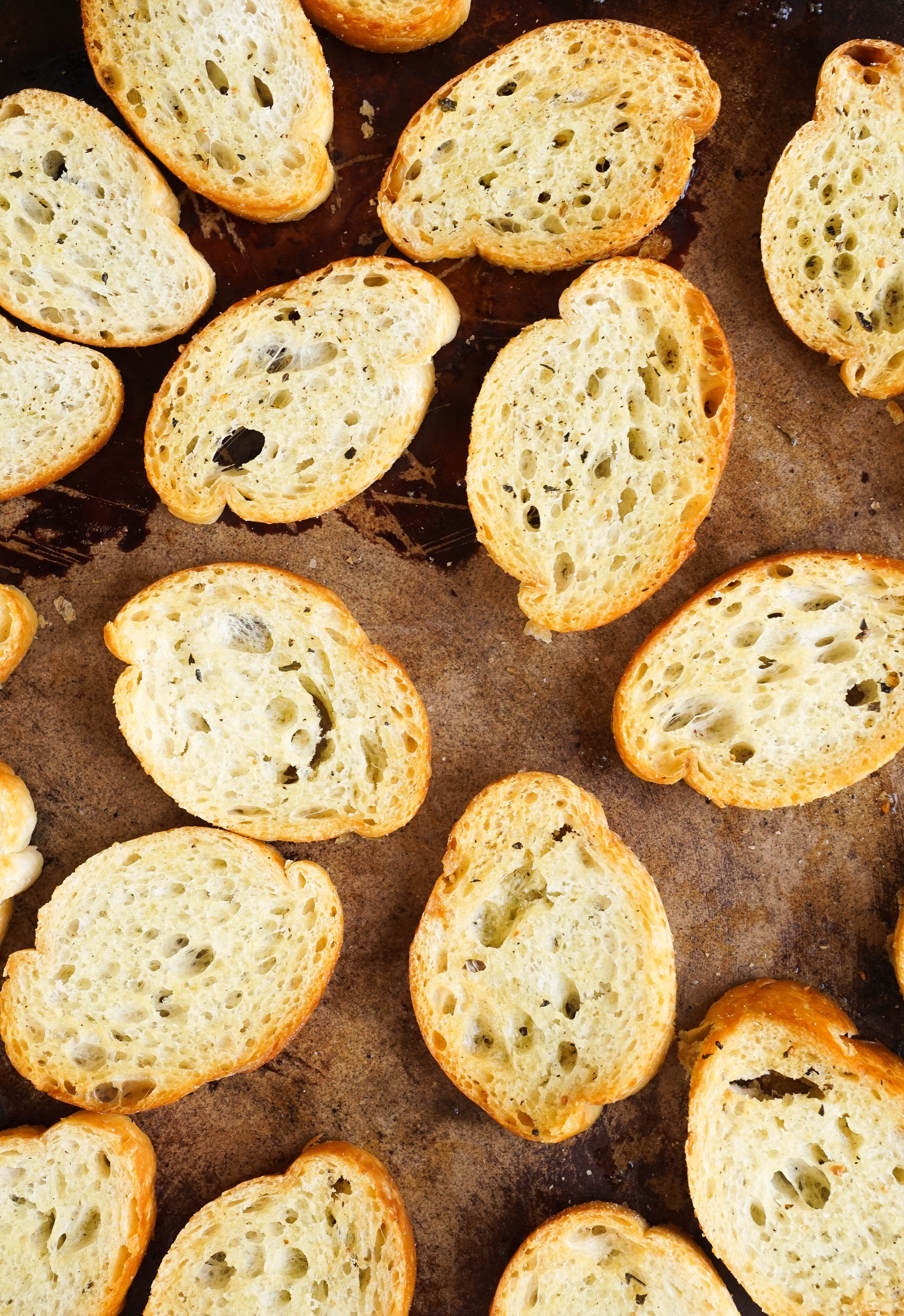 Crostini is super simple to make! Sure, you can buy the pre-sliced pieces of bread to save you some time, but I've found buying a loaf is less expensive and barely takes up time. For this recipe I used a skinny french loaf, but any Italian, baguette, or ciabatta bread will work! Slice the bread into 1/4″ rounds, then brush on each side with a little olive oil that's been generously seasoned. I kept my seasonings throughout this recipe the same: salt, pepper, garlic, and dried basil. YUM! This bakes in the oven for a quick 15-20 minutes until nice and toasty. Perfect time to get started on the cheese!
The Spread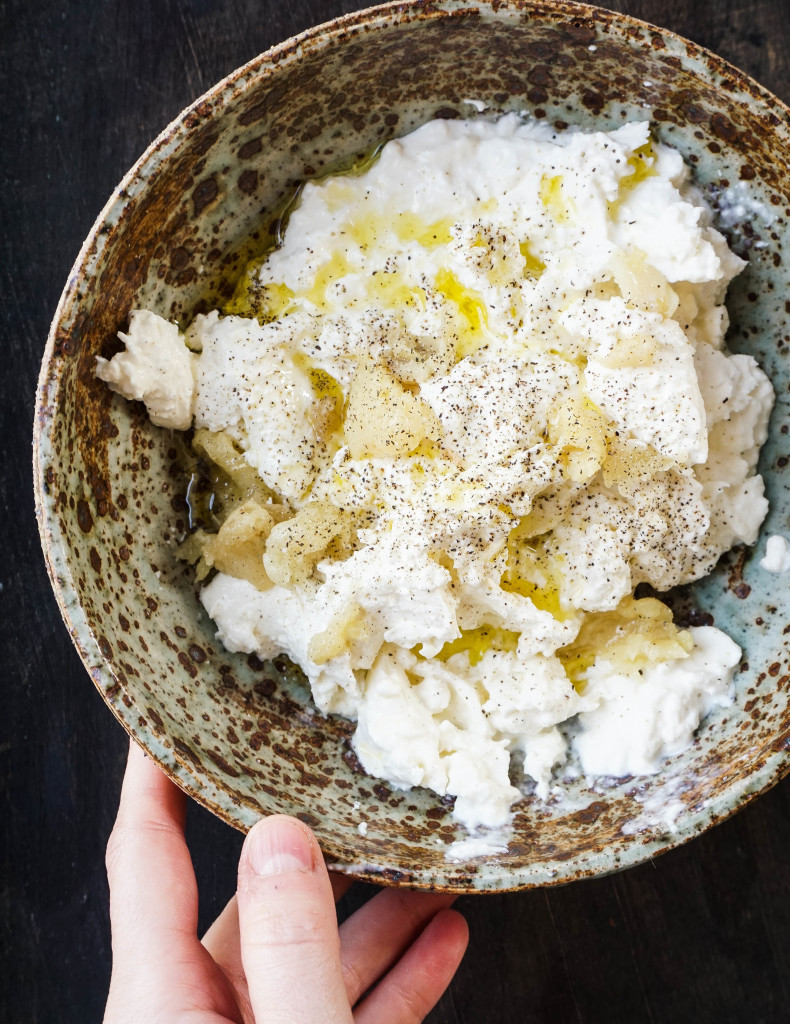 The cheese is what acts as glue for the crostini and pretty much any mild spreadable cheese will work! I happened to have Burrata cheese on hand which is a creamy form of mozzarella shaped in a ball. The outside casing is mozzarella and the inside is mozzarella with cream giving it the most amazing texture *ever*. Burrata is sometimes hard to find, so when I make this for Christmas I'm using Ricotta instead. You can also use cream cheese!
The cheese usually is flavorless so it's super important to jazz it up. I added a heaping tablespoon of roasted garlic, olive oil, and the same seasonings mentioned above. Do the bread and the cheese the night before!
The Topping
So as you know I've been on a binge with Ina's new cookbook. When I stumbled upon her Pea & Pancetta side dish, I knew I had to do something with it. We already have the vegetables on our menu, so what better way than to turn it into an appetizer?! This is nothing more than peas sauteed with diced pancetta and shallots and seasoned simply with salt and pepper.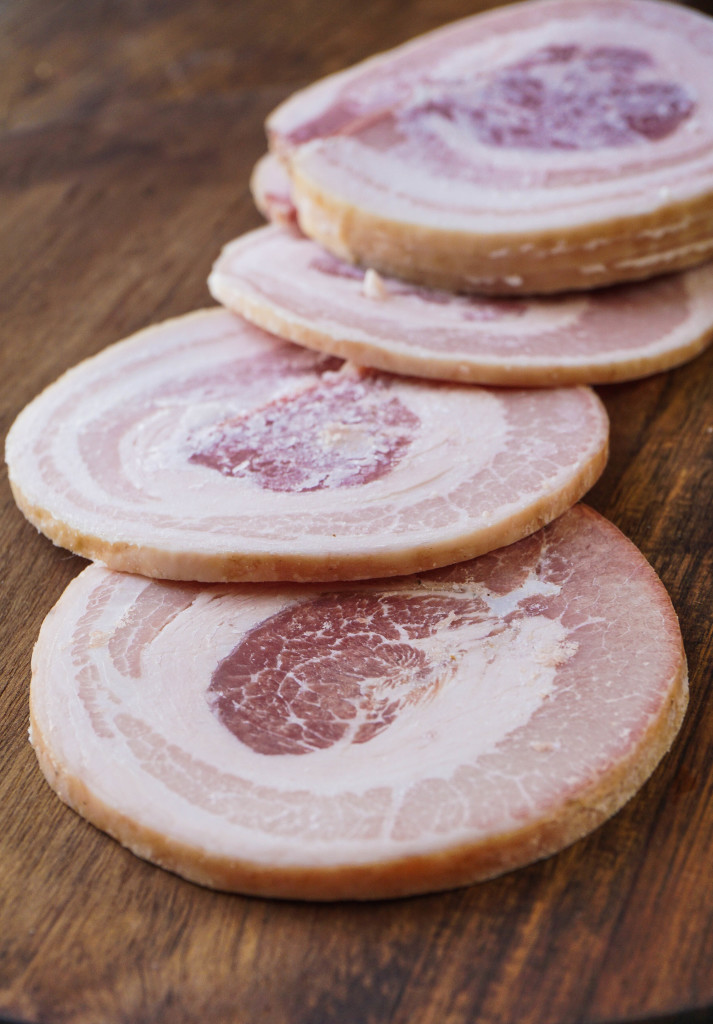 Pancetta is like bacon's cousin so if you're having a hard time finding it just substitute! The difference between the two are the shapes, curing process, and bacon is smoked while pancetta is not. If you are going to use pancetta, make sure you buy it from the butcher in 1/4″ slices making it easier to cube.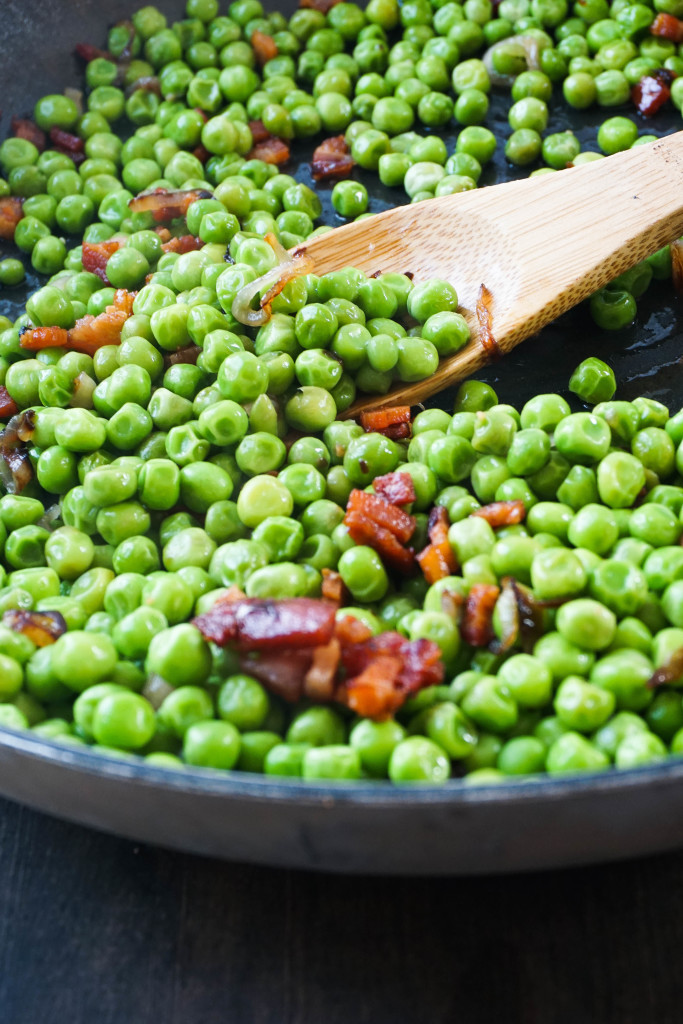 The pancetta gets rendered then the shallots and peas are tossed in to cook through. Once that's finished getting yummy, it gets topped on the crostini and garnished with fresh basil and Parmesan cheese.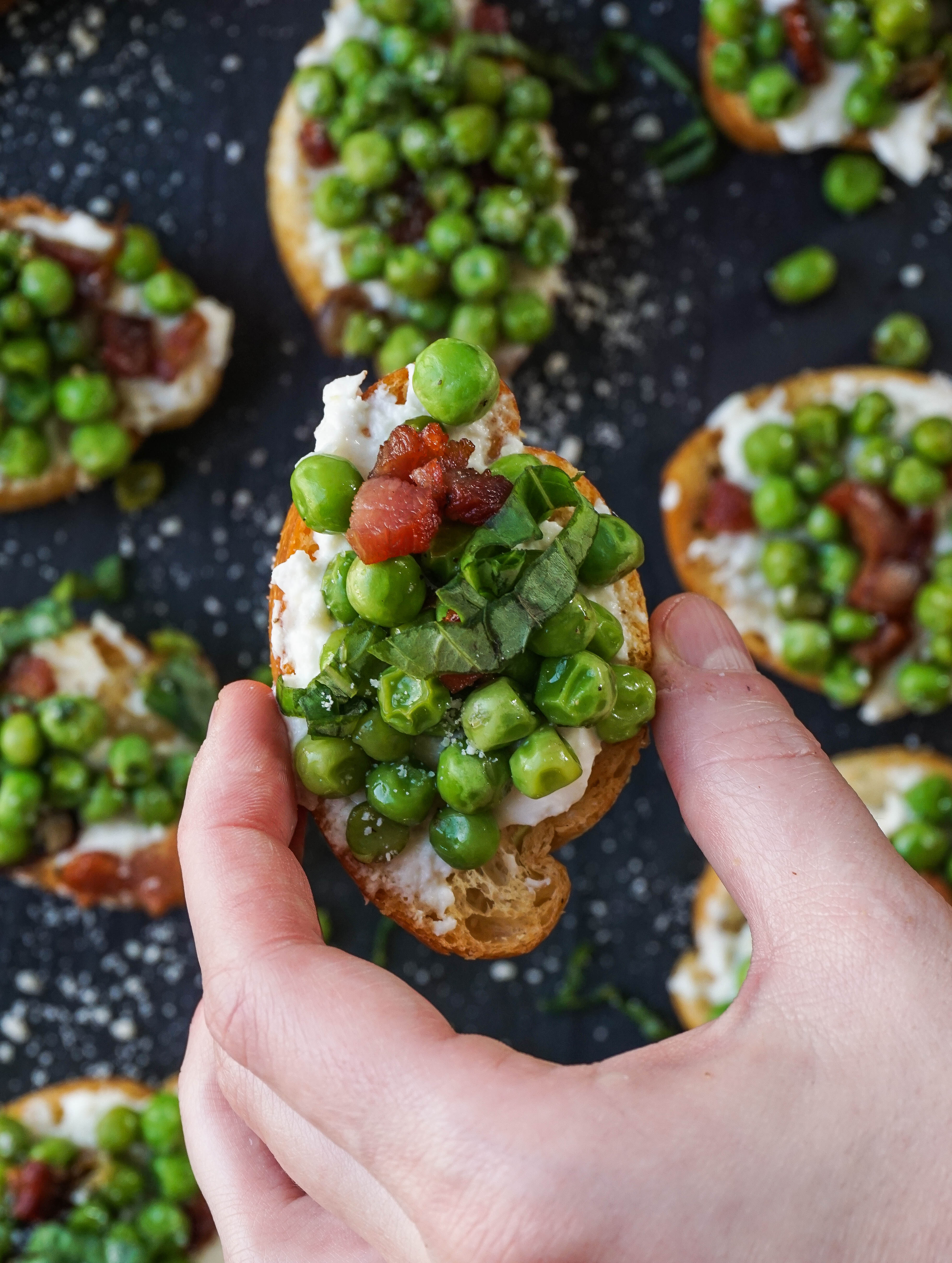 This is salty, garlicky, creamy, crunchy, and comforting. You have to like peas in order to enjoy this and since my family always have peas on the holiday dinner table, I know they're going to enjoy this. I am SO excited to make these again. And eat 12 of them. Again.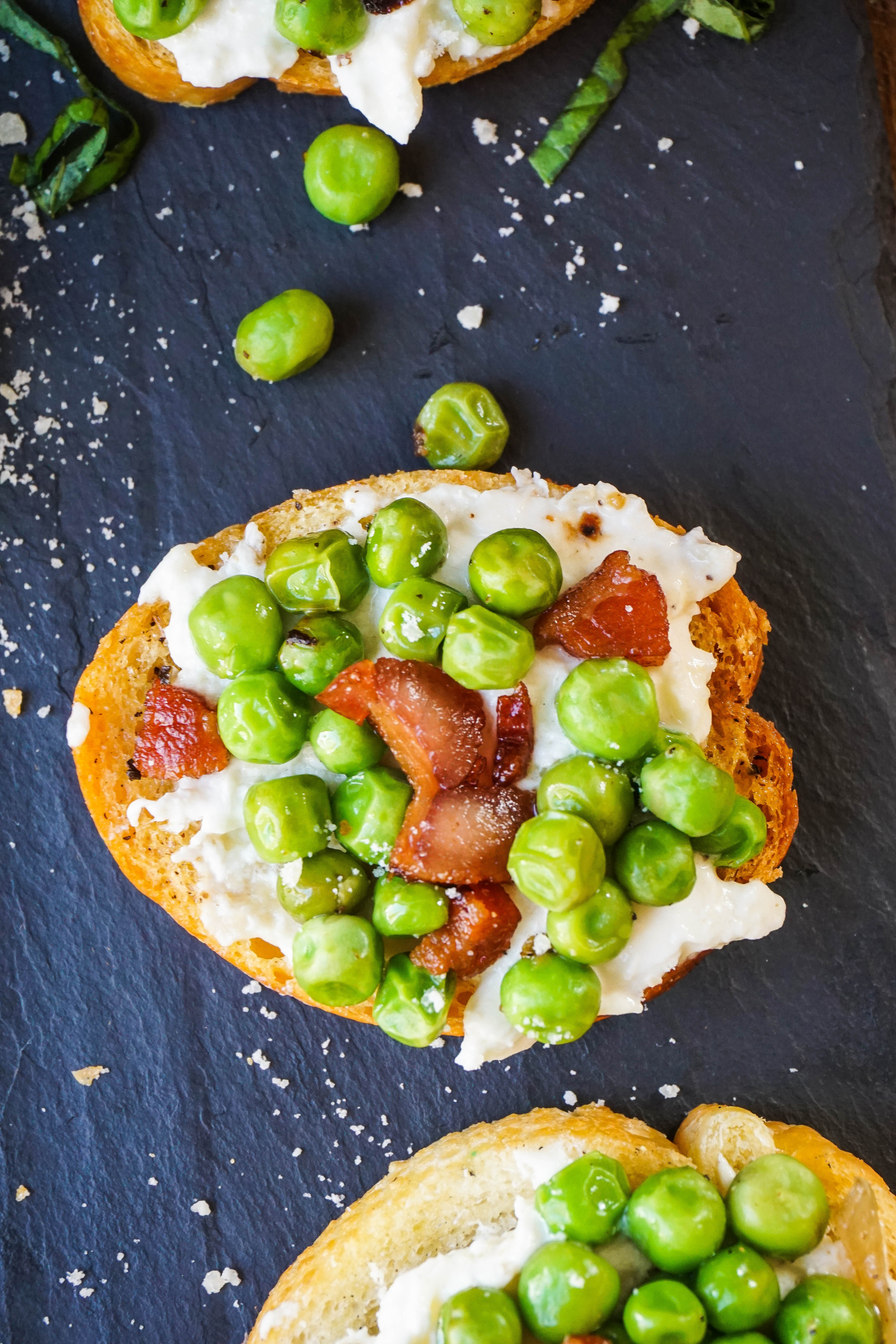 So if you're going to make these…
Here's what I recommend:
If you're making these for the holiday, def knock out the crostini and cheese the night before that way the next day all you're doing is sauteing the peas and ensemble-ing the crositni. Is that a word? I wouldn't do the peas the day before because then it'll lose its integrity – that's just my opinion though.
Here's what I'm going to do differently next week when I remake these: instead of sauteing the shallots, I'm adding in caramelized onions. I'll do those the night before too! I'm also probably leaving out the basil and adding in crispy sage, which will crisp in the pan with the pancetta. Oh, I'm also using Ricotta instead of Burrata and in fact I'll even recommend that in the recipe.
Enjoy!
Pea & Pancetta Crostini
2015-12-16 07:21:01
Serves 12
For the Crostini
1/2 loaf of French bread or baguette, sliced into 1/4" rounds (yields 30)
1/4 cup olive oil, plus more if needed
Seasonings such as dried basil, garlic sea salt, black pepper, dried parsley
For the Cheese
8 ounces whole milk ricotta cheese (can use burratta or any spreadable mild cheese)
1 tablespoon roasted garlic
1 tablespoon olive oil
Seasonings such as: dried basil, garlic sea salt, black pepper
For the Peas
6 ounces pancetta, diced in 1/4" cubes (can substitute for bacon)
1 large shallot, sliced thin (can substitute for caramelized onions)
14 ounces frozen peas (1 bag), defrosted
Salt and Pepper
1/4 cup grated Parmesan cheese for garnish
6 basil leaves, cut into ribbons or chiffonade for garnish
Instructions
Preheat the oven to 350
Season the 1/4 cup olive oil with a pinch of dried basil, dried parsley, black pepper, and garlic sea salt. If you do not have garlic sea salt, use equal parts sea salt/garlic powder (tiny pinch of each).
Brush the flavored oil on each side of the sliced bread. Bake for 15-20 minutes flipping half way through until each side is toasted.
Combine and mix the ricotta, roasted garlic, olive oil, and seasonings. Taste to see if it needs any more garlic or seasoning. I used the same seasonings I used for the olive oil above! Spread a spoonful on each toasted crostini.
Heat a large skillet over medium high heat. When hot, add the cubed pancetta and saute until brown and crispy and the fat has rendered.
Lower the heat to medium and with the pancetta in the pan, add the shallots. Saute until wilted and tender, 3-5 minutes.
Add the peas and toss to coat in the pancetta and onion. Season with salt and pepper. Cook for 3-5 minutes until the peas are heated all the way through. Taste and adjust seasonings as necessary.
To ensemble, add the pea mixture atop each crostini. The ricotta will act like glue, however you can smash the peas to have it stick better. Repeat until finished. Sprinkle the Parmesan cheese and basil over each crostini. You can substitute the basil for crispy sage - YUM!
Notes
I usually Freeze the other half of bread. To yield 60 crostini (serves 30), use the entire loaf of bread and double the recipe.
To roast garlic, preheat an oven to 375. Add the entire bulb in the oven and roast until extremely tender, about 30 minutes. You can also cut off the head, drizzle with oil, and wrap in foil. Either way works! Do this while the crostini bakes!
You can omit the shallots for caramelized onions. Just skip the shallot step and add in the already-caramelized onions with the peas.
http://www.vodkaandbiscuits.com/