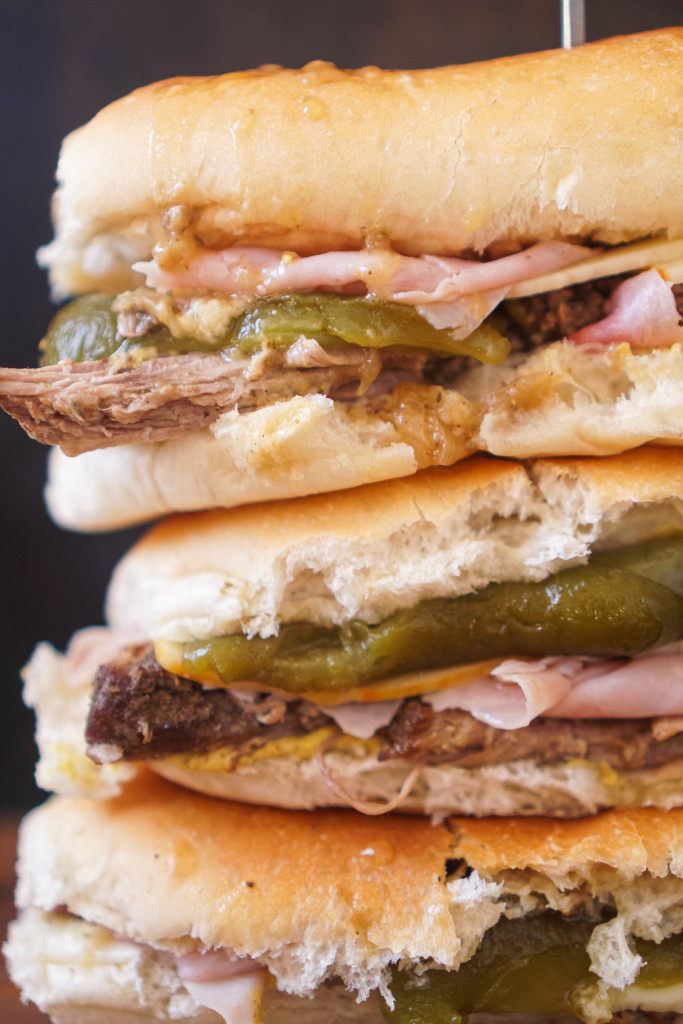 Post-order regret is a thing and it totally happened last weekend at the Gaia Bistro in Denver, Colorado.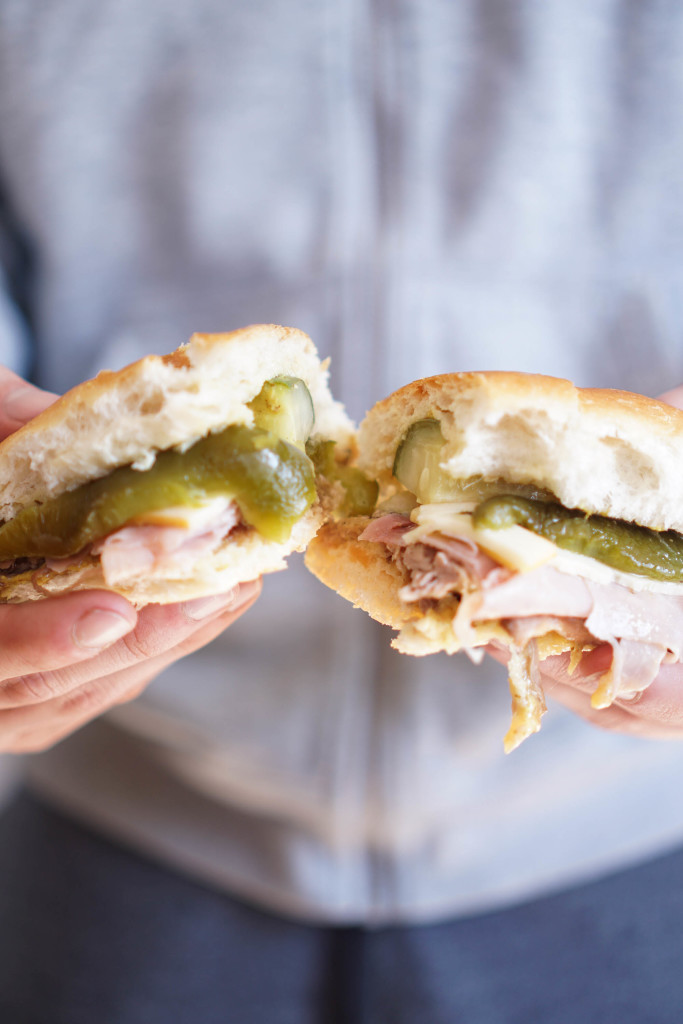 Scott and I had breakfast at the most ADORABLE bistro ever. When they serve you orange juice in a decanter for Mimosas and they straight up give you the French press (not to mention you can pick which size press you want), you know you found a winner. I didn't hesitate to order the Huevos Rancheros, and kinda gave a "pssh" when Scott ordered the Colorado Cuban from the brunch menu. "My breakfast game is way above his breakfast game" I thought.
Then, moments later, this thing approached our table…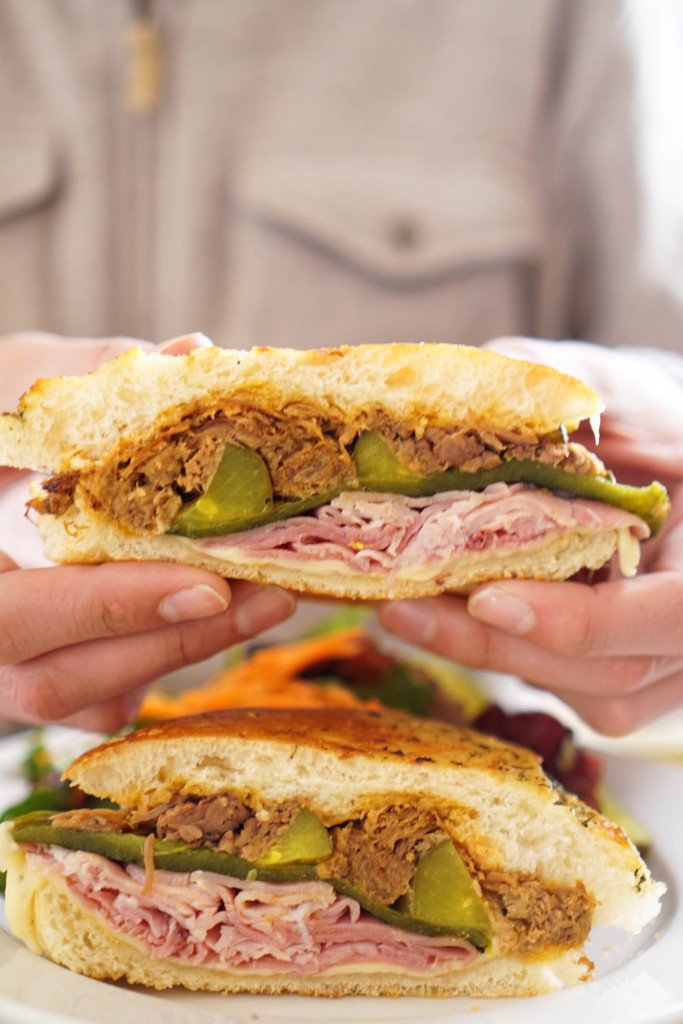 How the hell was I supposed to enjoy my plate of spicy beans when I had to stare across the table at the most beautiful sandwich I've ever seen? I knew at that moment it wouldn't be long before I recreated this heaven sent sandwich. AND HERE WE ARE.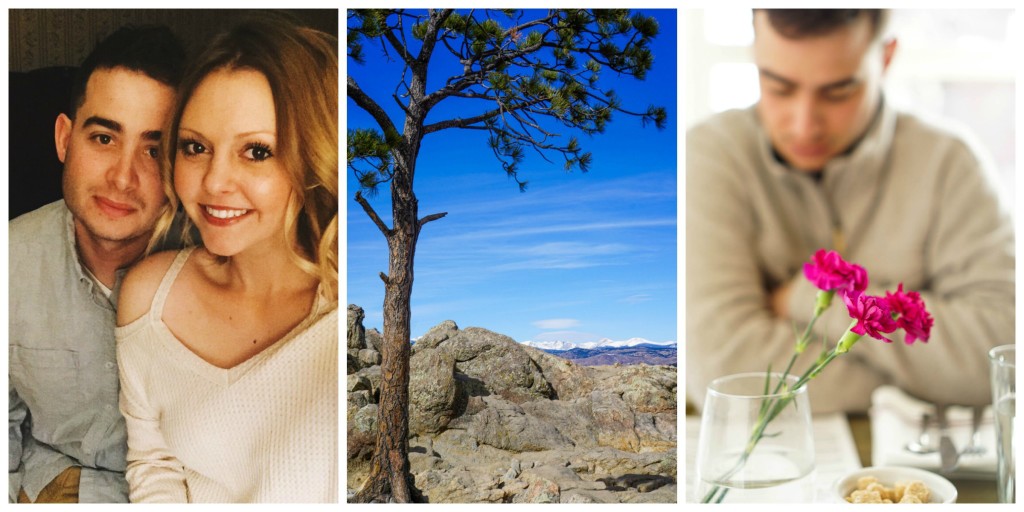 If you're wondering who Scott is and why we were in Denver, check out the cutie above. Scott and I have known each other for years but we recently hit if off and started dating. Yes, I'm in Baltimore catering and planning weddings and he's in Denver doing great things for our country, and people are probably wondering how we make it work, but I promise you we do.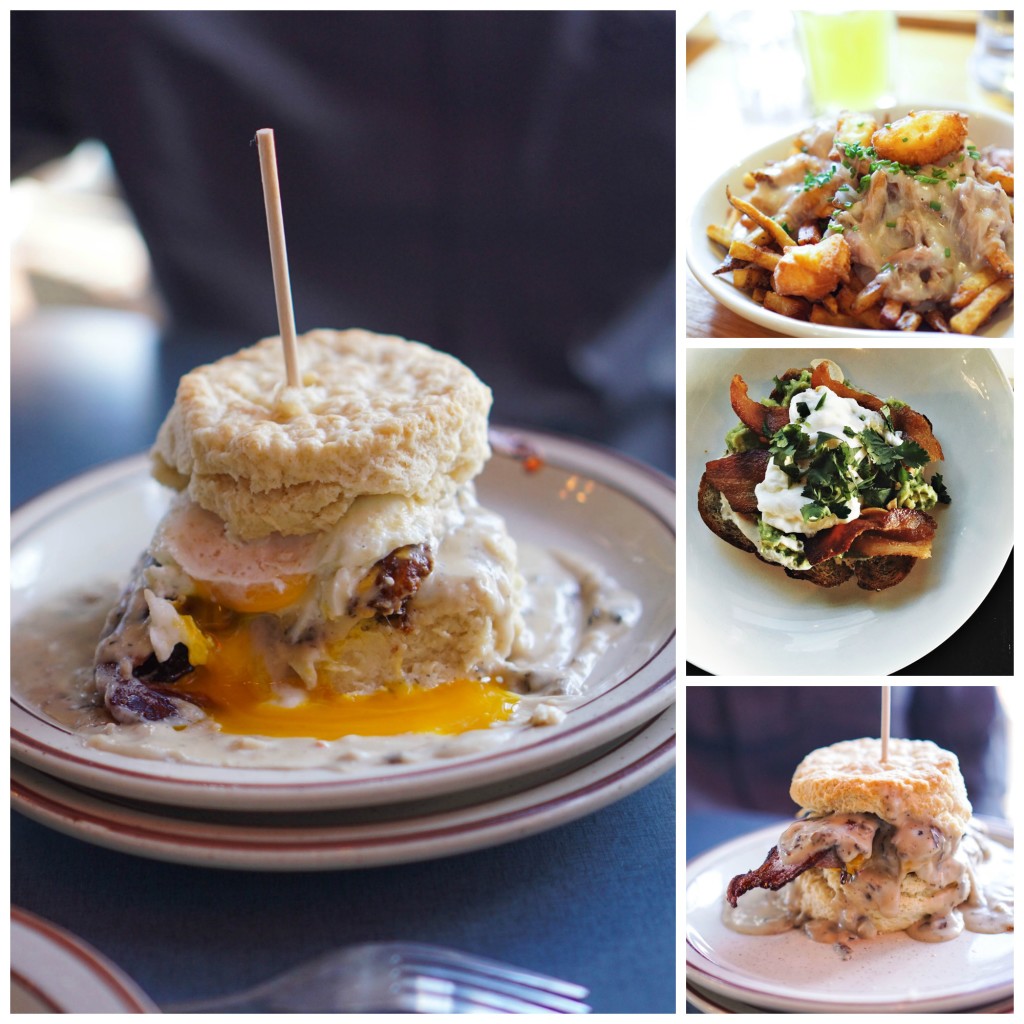 Scott is so supportive, he makes me laugh, and has the biggest heart of anyone I know. And not to mention he lights my face JUST how that Colorado Cuban did approaching our table. He's a winner and he's not going anywhere (see end of post, omg). He even understands what it's like dating a food blogger, as I over heard him tell a friend "some people wait to pray to eat, i have to wait for pictures."
Yup, keeper. Let's also not forget to mention his food-ordering game is much better than mine. The entire flight home I'm thinking about this Cuban sandwich. It just so happens it's something my mom frequently makes in her house. This is such a versatile recipe and I think you'll get a lot from it. Let's start with this:
Why Cuban Sandwiches are perfect for serving 1, 2, or 15 people: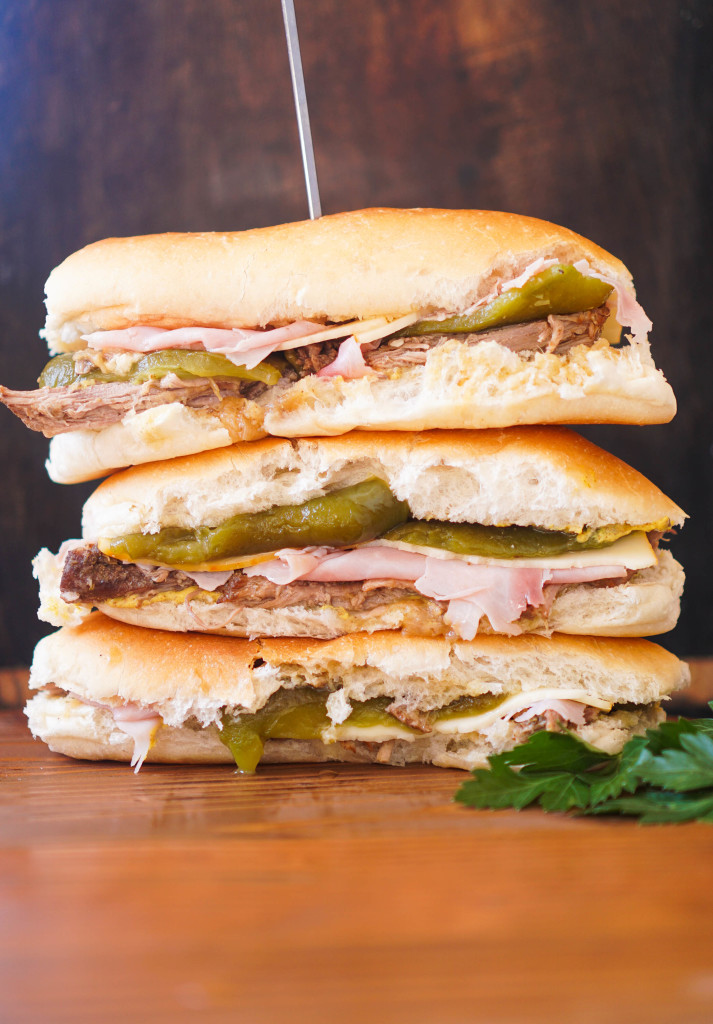 Cuban Sandwiches are made with pulled pork, ham, cheese, pickles, and mustard. Typically ingredients that you'd think you need to buy in bulk, right? Wrong.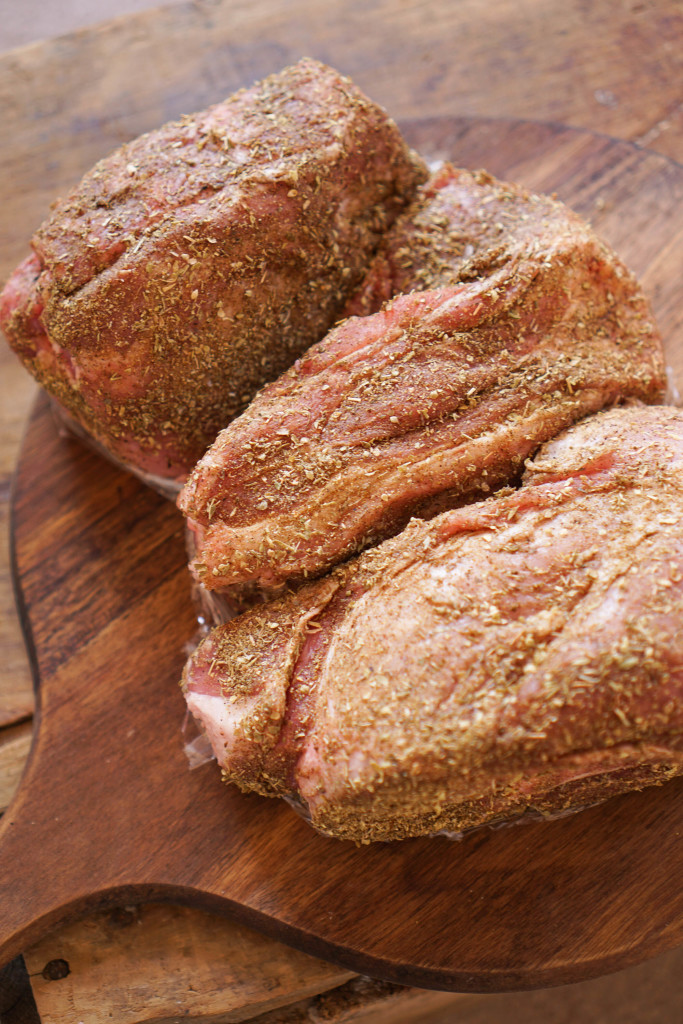 Here's the thing. Every grocery store has a butcher, bread box, and deli. You can ask the meat man to give you ANY size pork shoulder you want. Here I used 3 lbs. of pork shoulder (Boston Butt) which is the perfect amount for 4-5 sandwiches. I would recommend this size if you're serving 5-or less people. Pulled pork freezes BEAUTIFULLY, so any leftovers plop in the freezer. In fact, I always have pulled pork hiding in the freezer somewhere.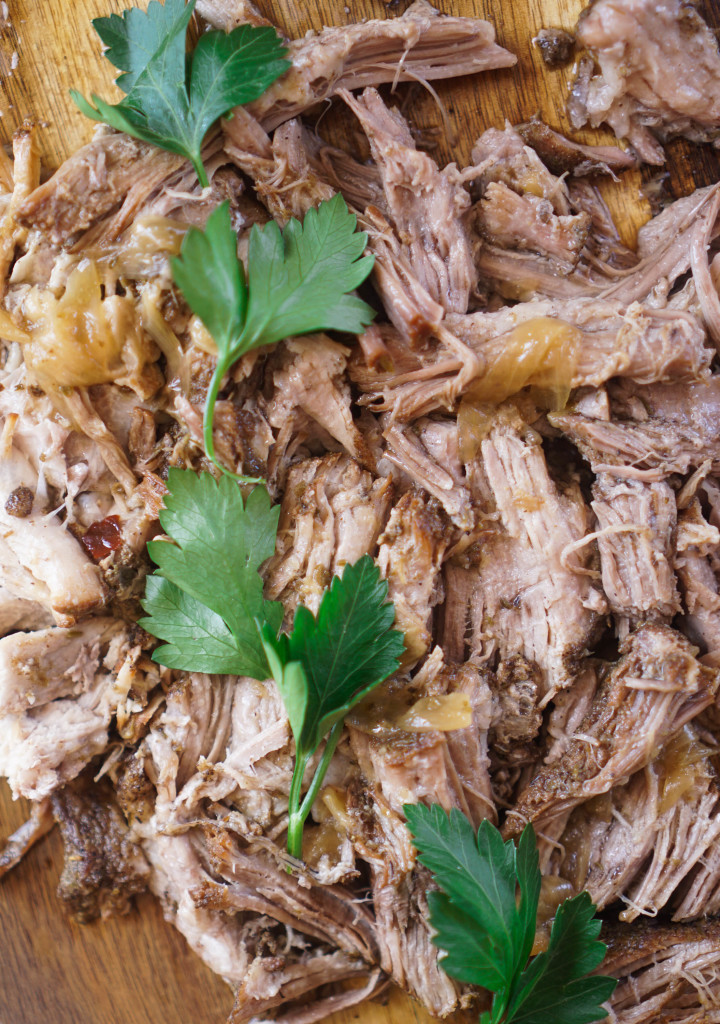 Here's the other thing. I'm not going to buy a whole pack of cheese, bread, and ham for just one or two sandwiches. That's why I LOVE how you can order single slices of cheese at the deli and/or however much ham you like. For me blogging this recipe, I bought 1/4 lb. of ham and 5 slices of cheese (cost me $3). Same for the bread box. If I'm driving home for work and craving a Cuban sandwich, I'll use those ham & cheese tricks, pull the pulled pork out of the freezer, and pick out a few rolls of bread from the bakery's bread box. As for the pickles and mustard, every fridge needs those anyways right?!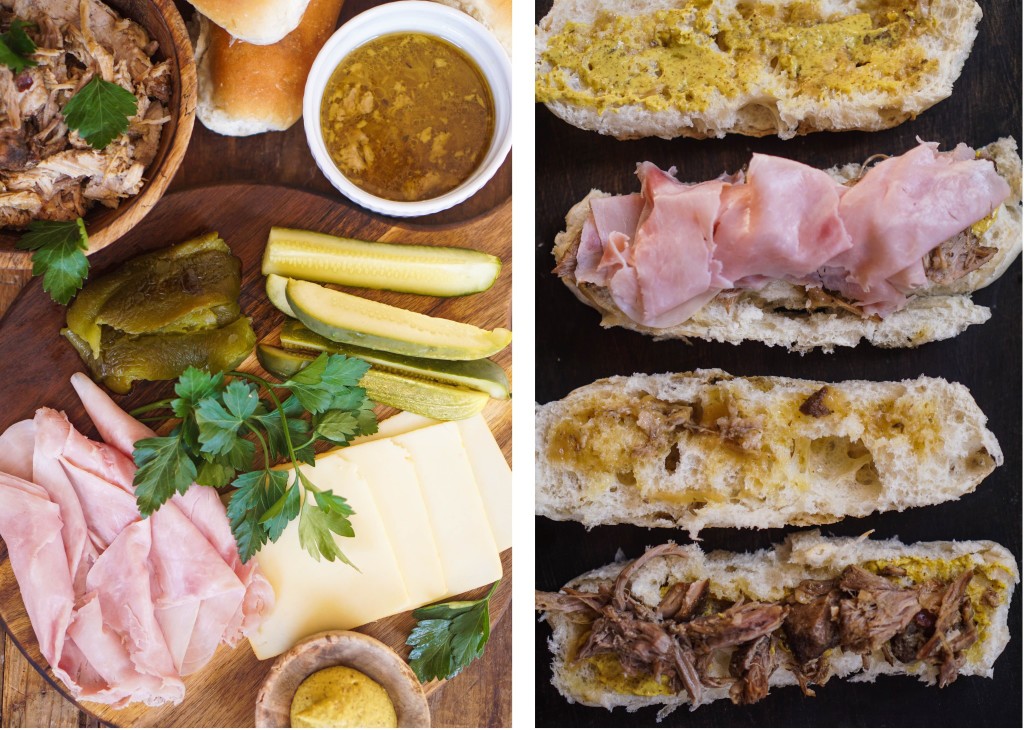 When entertaining, this is perfect because I'll just get a bigger pork shoulder, a large loaf of French bread, and the pound of cheese/ham. It's SO versatile I love it. By the way, check out my post here regarding how big of a pork shoulder to buy vs. how many people you want to feed!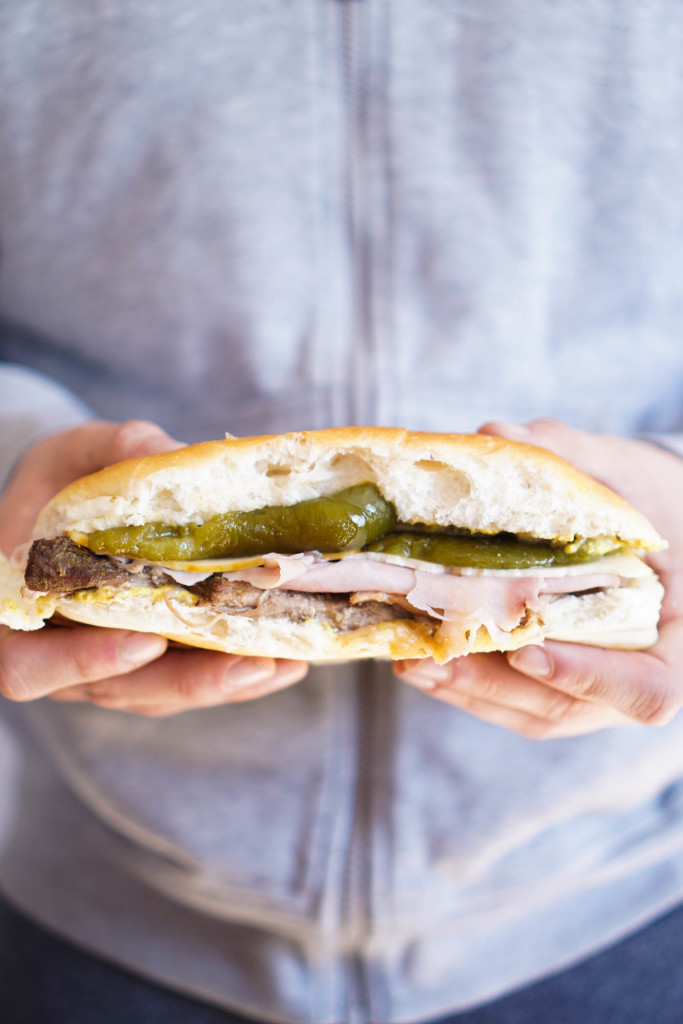 The recipe itself is pretty easy. The ingredients for the pulled pork are really simple and minimal since it's not the only component of the sandwich. I used Tyler Florence's Mojo pulled pork with oregano, cumin, orange juice, garlic, onion, and a few other ingredients. You can stick this all right into the crock pot, or pressure cook it (just make sure to sear the meat first).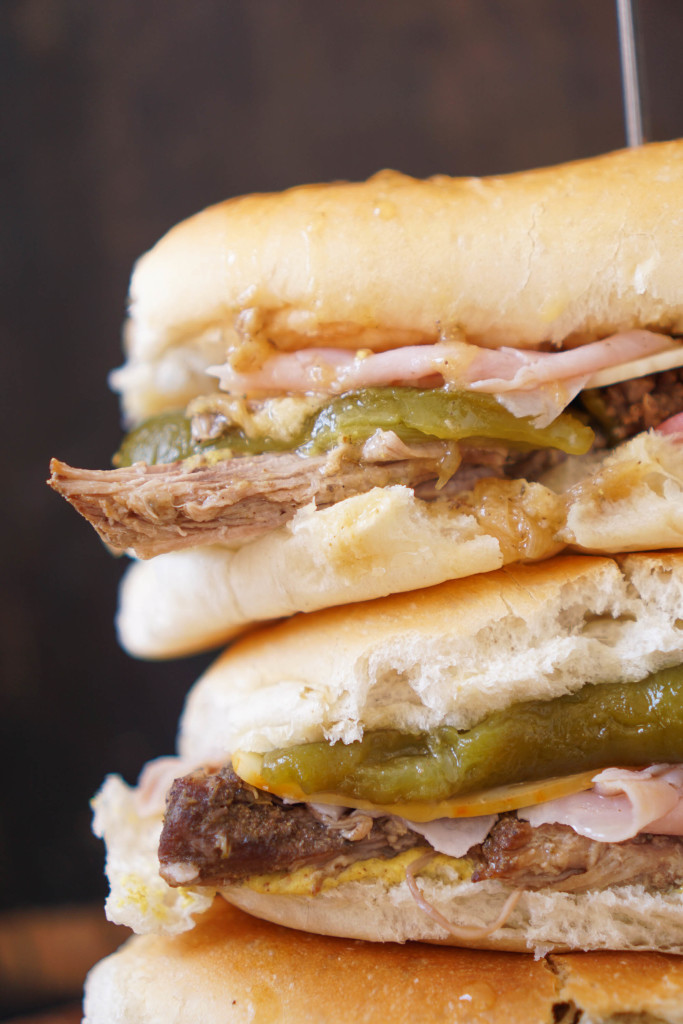 The Colorado twist is the addition of the roasted green chili. It's DELICIOUS and I wouldn't recommend skipping! You can char a poblano or green pepper on the grill, gas stove, or broiler, or just buy a can of whole green chilis. Anything works! I kept mine on a soft steak roll, but potato rolls work too. You can also get a sandwich size French or Italian loaf and make this into a panini, I just prefer soft bread.
The combination of the sharp cheese, ham, the zing of the spicy mustard, the sour bite of pickle, sweetness of pepper, and the meaty pork that's been covered in it's own au jus makes this into an ADDICTING sandwich.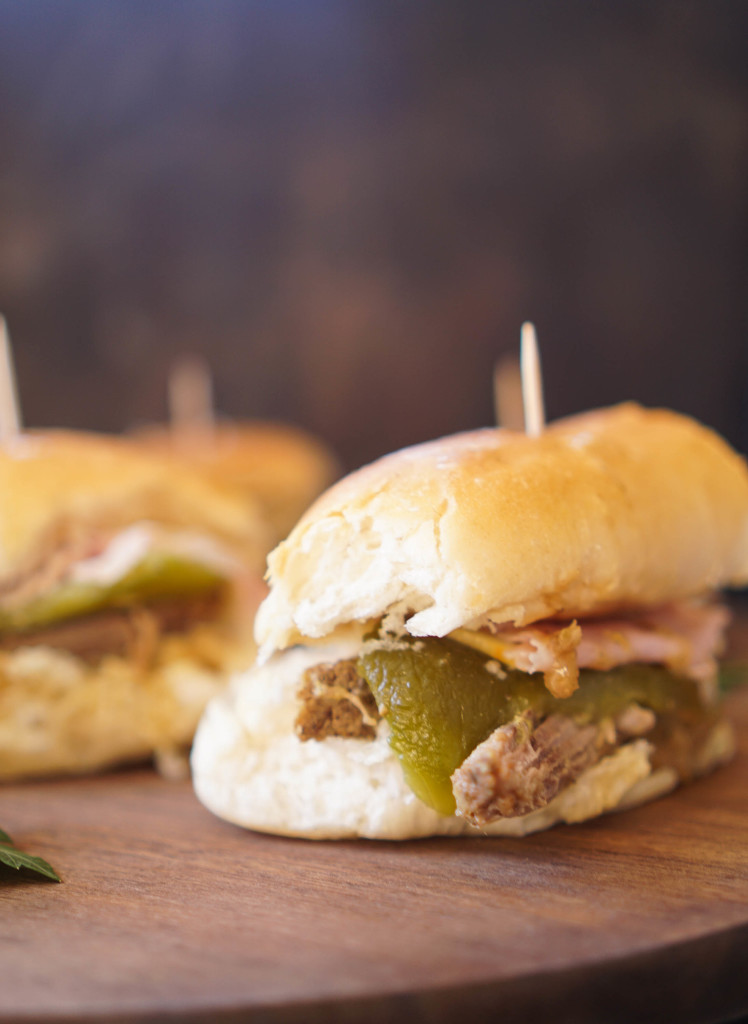 Eat as it, or cut your steak rolls into thirds and use serve for entertaining. It's something I HAD to try out because as of this past Friday, Scott found out he is COMING HOME! That means by the summer I get to hug and kiss my boyfriend whenever I want AND make him all the Cuban sandwiches in the world. Time to go get sappy again. Enjoy!
The Colorado Cuban Sandwich with Roasted Green Chilies
2016-02-29 07:28:09
Serves 6
For the Pulled Pork
3 lbs. boneless pork shoulder (Boston Butt)
1 tablespoon dried oregano
1 tablespoon ground cumin
1/4 teaspoon black pepper
3 teaspoons kosher salt
1 onion, thinly sliced
2 cloves garlic, sliced
1 cup orange juice
1 cup chicken stock
For the Sandwich
Pulled pork (above)
Pulled pork au jus (above)
1/2 lb. deli ham
6 slices Swiss or Munster cheese
2 cans whole green chilies, drained
4-6 Dill pickle spears
Spicy Dijon mustard as needed
4-6 sub, steak, or potato rolls
For the Pulled Pork
Trim any excess fat off of the pork shoulder. Some fat is OK, I just like to rid of any thick pieces.
Combine the seasonings and season the pork all over.
IF using a crockpot, add the pork, onions, and garlic to the slow cooker. Add the liquid. Cook on low for 6 hours until it shreds easily.
IF using a pressure cooker, add 2 tablespoons of oil to the cooker and heat over medium high heat. Add the garlic slices and cook 45 seconds. Add and sear the pork on all sides until browned, about 4-5 minutes on each side. Add the onion and liquid. Secure the lid, and allow the pressure to build. Maintain the heat so the pressure regulator maintains a gentle rocking motion. Cook 55 minutes.
Remove pork and shred. Transfer au jus to a bowl and reserve.
For the Sandwich
Cut your rolls in half. Spoon the pork juices (au jus) over one half of the roll, and spread the spicy mustard over the other half.
Build your sandwich in this order: pork, ham, pepper, cheese, pickle - or however you want!
Eat as is, or stick under the broiler until toasted. Use the extra au jus for dipping if preferred.
Notes
Substitute the canned chili with a roasted green chili. Rub the pepper with oil, place over the flame of a grill or gas stove, until the skin on each side is black. Transfer to a bowl, cover with plastic wrap, and allow to steam 15 minutes. Remove charred skin, and remove the flesh of the pepper. Discard the seeds/gut of the pepper. This can also be done in an oven under the broiler, just takes longer. I would cook 2 peppers.
http://www.vodkaandbiscuits.com/