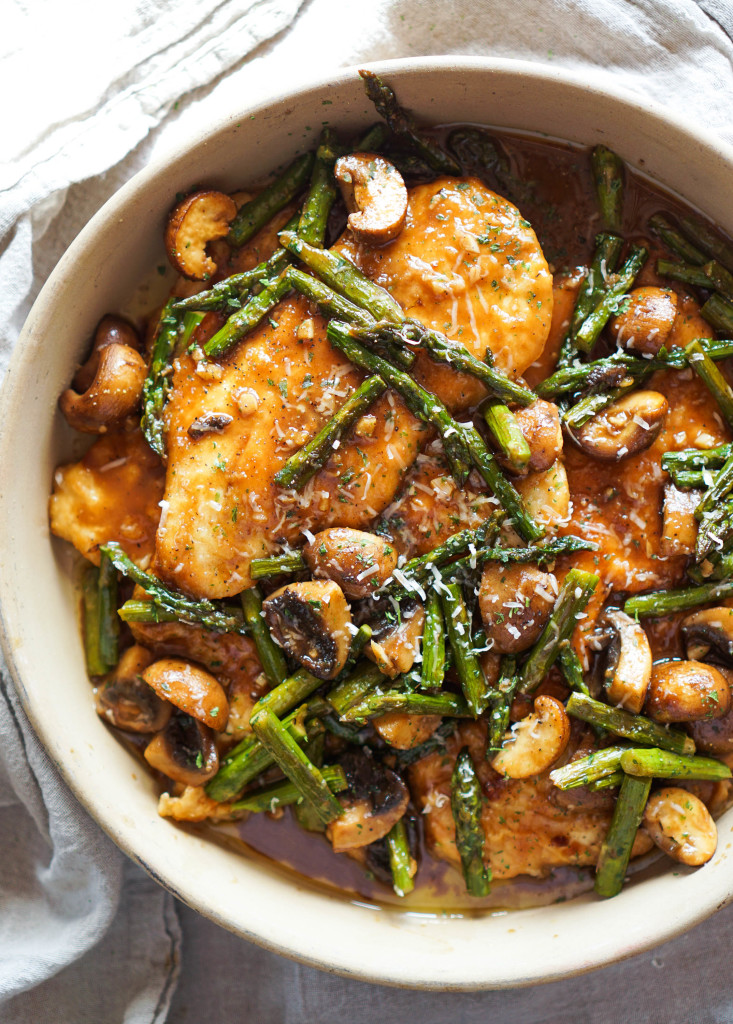 Can we all just agree recipes with wine are the best recipes?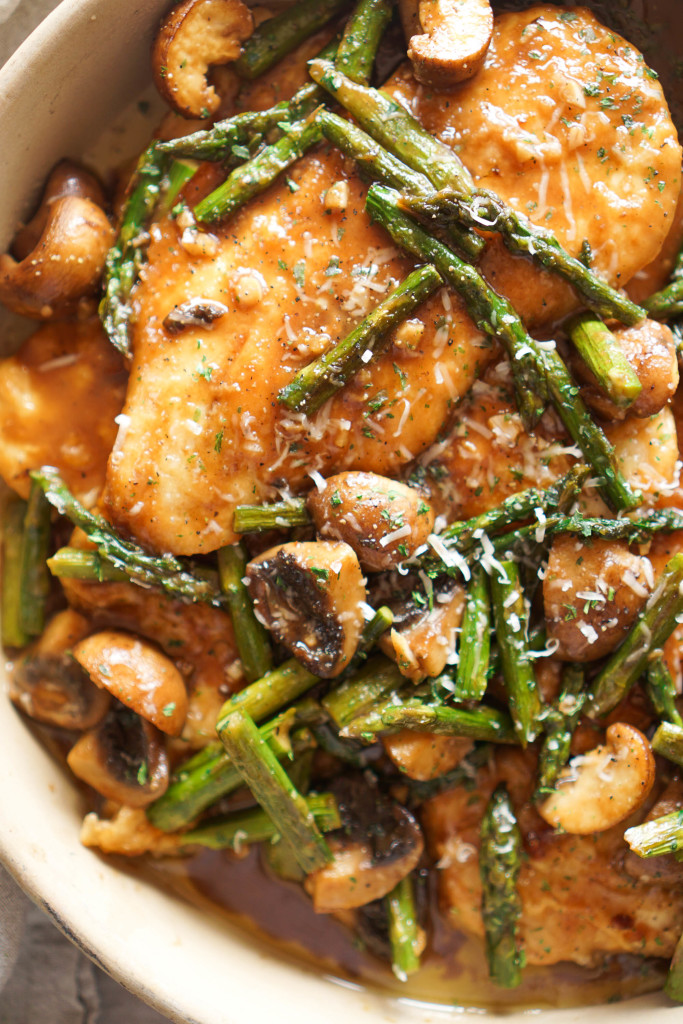 If you're in a rut for what to make for dinner this week, I have the PERFECT meal for you.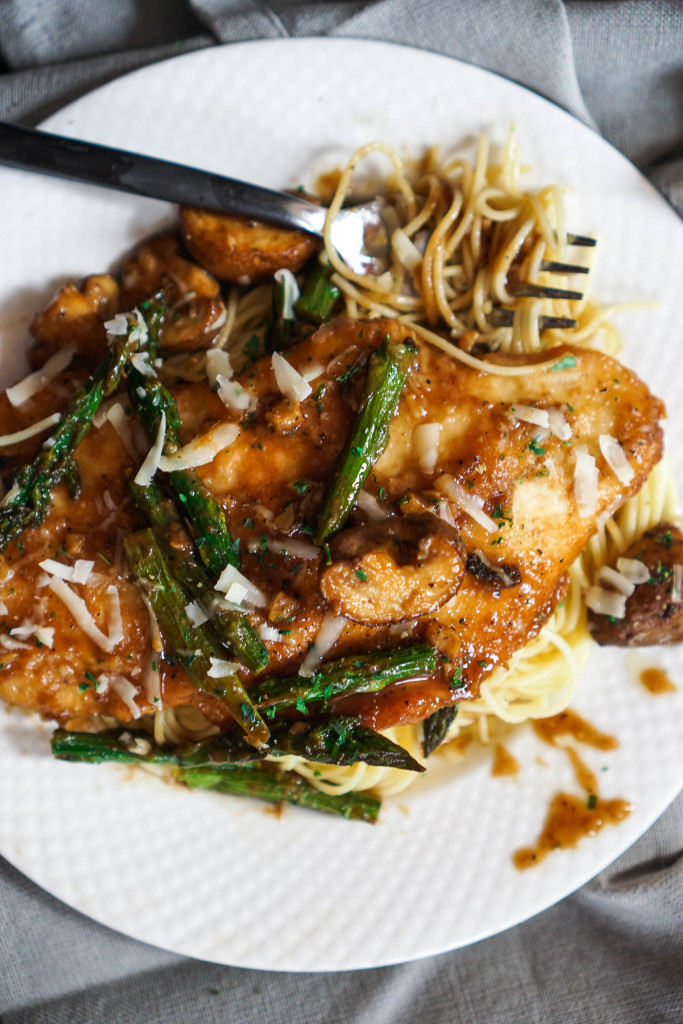 Sweet Marsala wine reduced with rich chicken broth, buttery mushrooms, seared chicken, roasted asparagus, and Parmesan cheese all on top of buttery herbed noodles. Chicken Marsala is a classic and it doesn't need much convincing. At first glance this dish may seem like it has a lot of components, but really it's super simple. I'll walk you through it. Let's get cooking.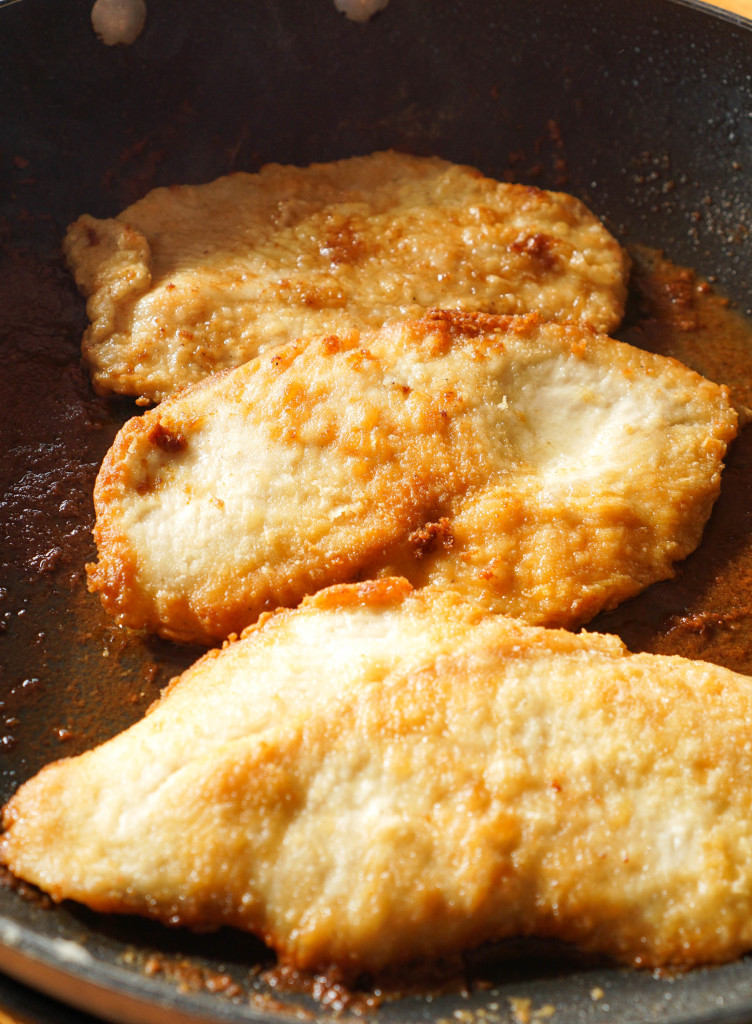 This is my THIRD time making this dish in the past two weeks. The first time was just a typical Wednesday evening dinner that I was making for mom and I. This is a frequent dinner being that it's simple to make, feeds enough for four people with leftovers, and outrageously delicious. My mom usually makes this heavy with sauce, almost like a gravy, so when I made mine more on the light side she convinced me to share this with you all. Thanks mom!
I've made this twice with chicken thighs and once (pictured) with breasts. I'm a thigh girl but either cut of chicken works. If you do decide to make this with breasts you want to make sure you have thin slices AKA "cutlets". Basically, butterfly your chicken then pound it out until it's nice and uniform (click here for tutorial). You can also buy the breasts "thinly sliced," which I see at almost every grocery store! Thighs are uniform as is, so no need to do any pounding.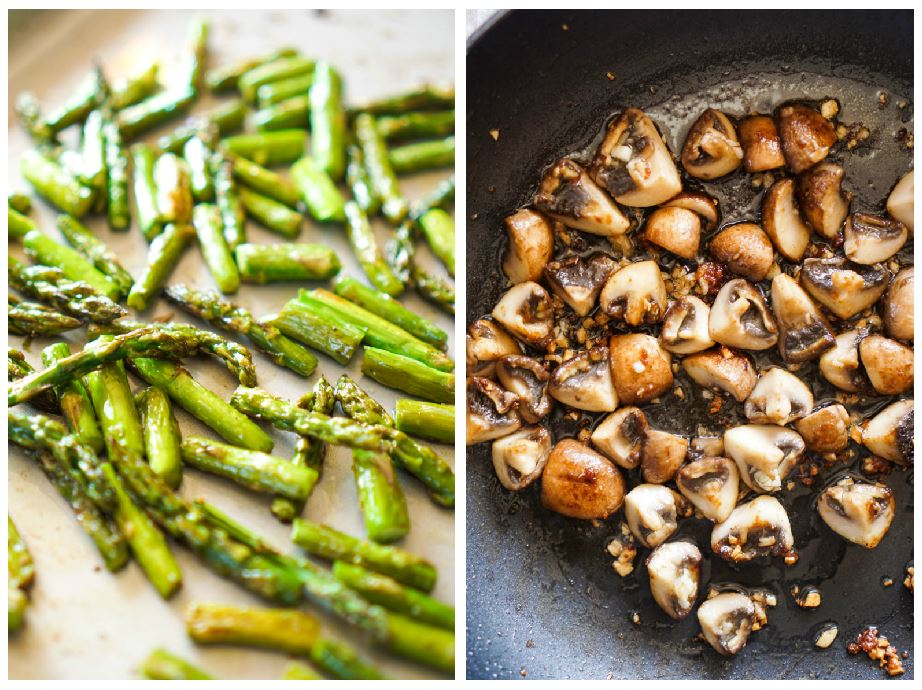 The chicken gets floured then seared in a hot skillet. Your pan probably won't be big enough to sear the chicken all at once so work in batches. Since the chicken is nice and thin, it'll be fully cooked by the time it's done searing – about 5-7 minutes on each side. Just before you start searing your chicken, start to roast your asparagus. This is something totally optional, but I love me some asparagus especially once it's been mixed in with this heavenly sauce we are about to create. I cut my stalks into 1″ pieces to make it easier to eat. I recommend this!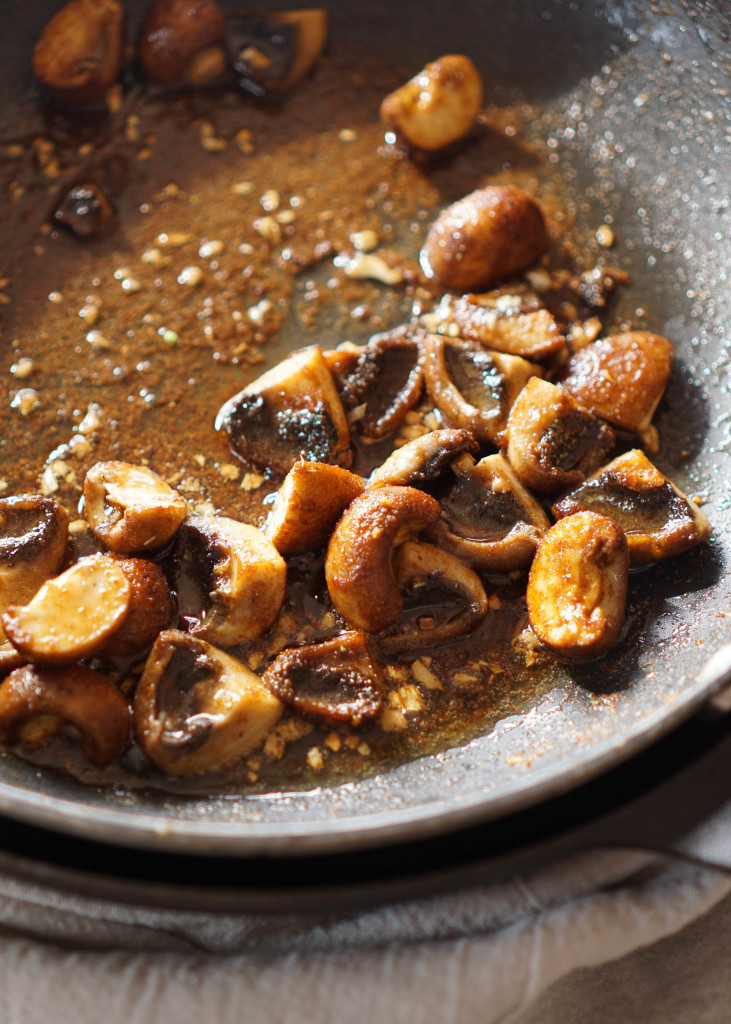 After the chicken is done searing lots of brown bits will be at the bottom of the skillet. Brown bits are the leftover yums and is exactly what we want. The mushrooms get added and caramelized for a few minutes before garlic is added. Things are starting to get good.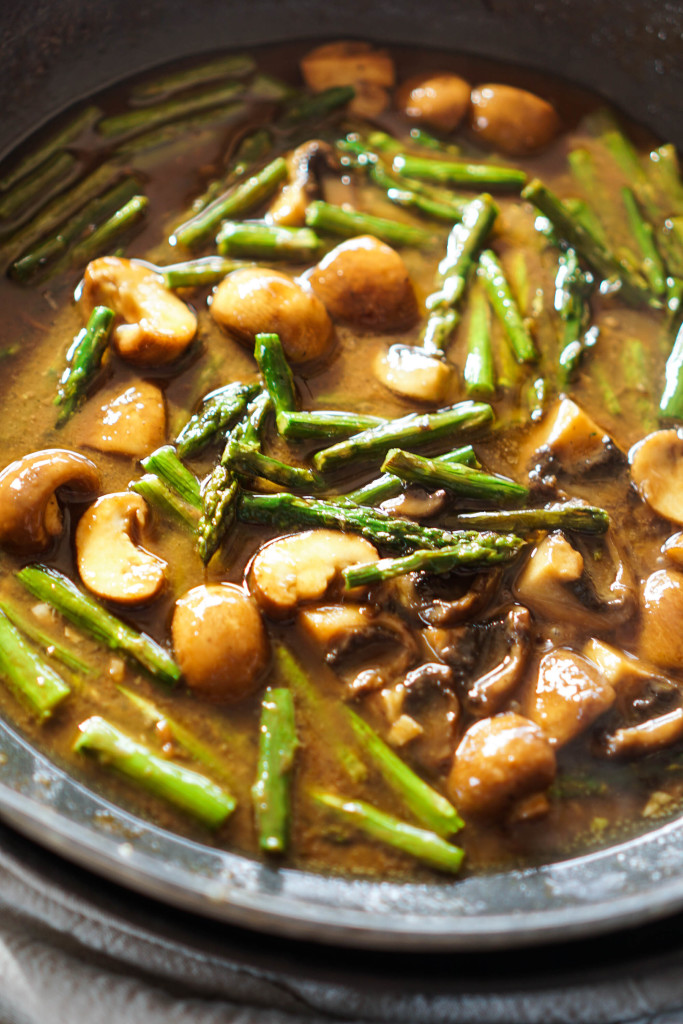 Once the mushrooms are soft and browned, 1 cup of Marsala wine and 1 cup of chicken broth is added. Crank the heat to bring it to a simmer and allow the sauce to reduce for a good ten minutes. My first time making this I was pacing around the kitchen after three minutes wondering why I don't have a magically thicken sauce – don't do that. Be patient. Don't be me.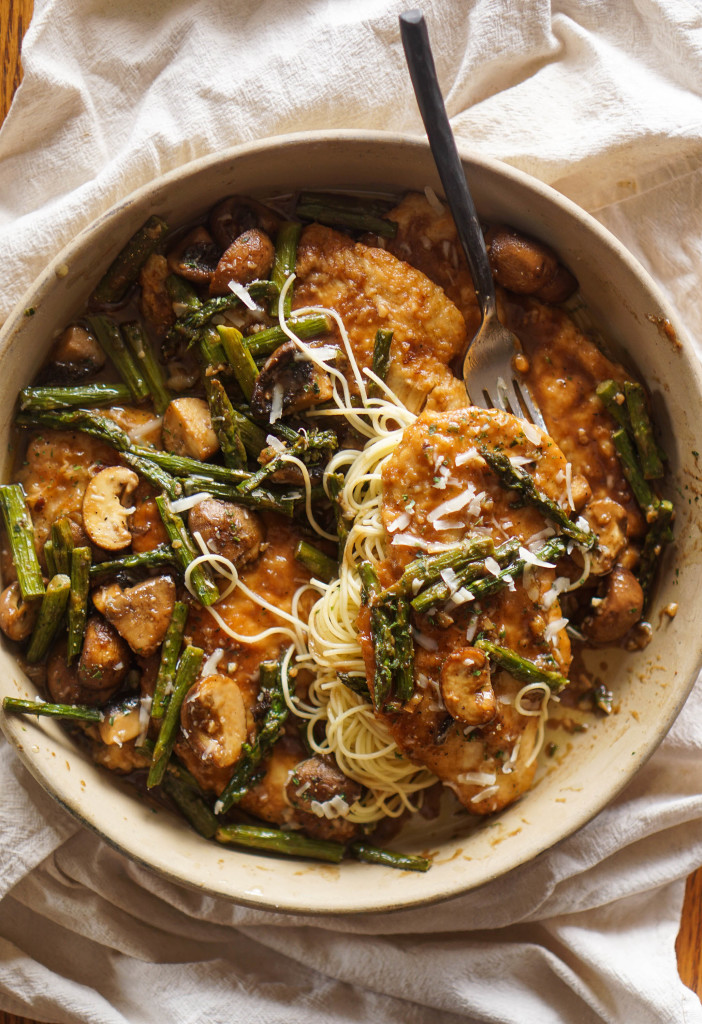 As soon as the sauce thickens I toss in my roasted asparagus. The asparagus will take about 20 minutes so from step one to now, it's perfect timing. Just before plating you want to taste the sauce and adjust with salt and pepper as needed. I added a good sprinkle of both.
There's a few things you can do before serving -you can snug the chicken back into the pan to reheat OR keep the chicken warm in the oven in a baking dish, then pour the sauce right over. I would do that if I am entertaining for 6+ people.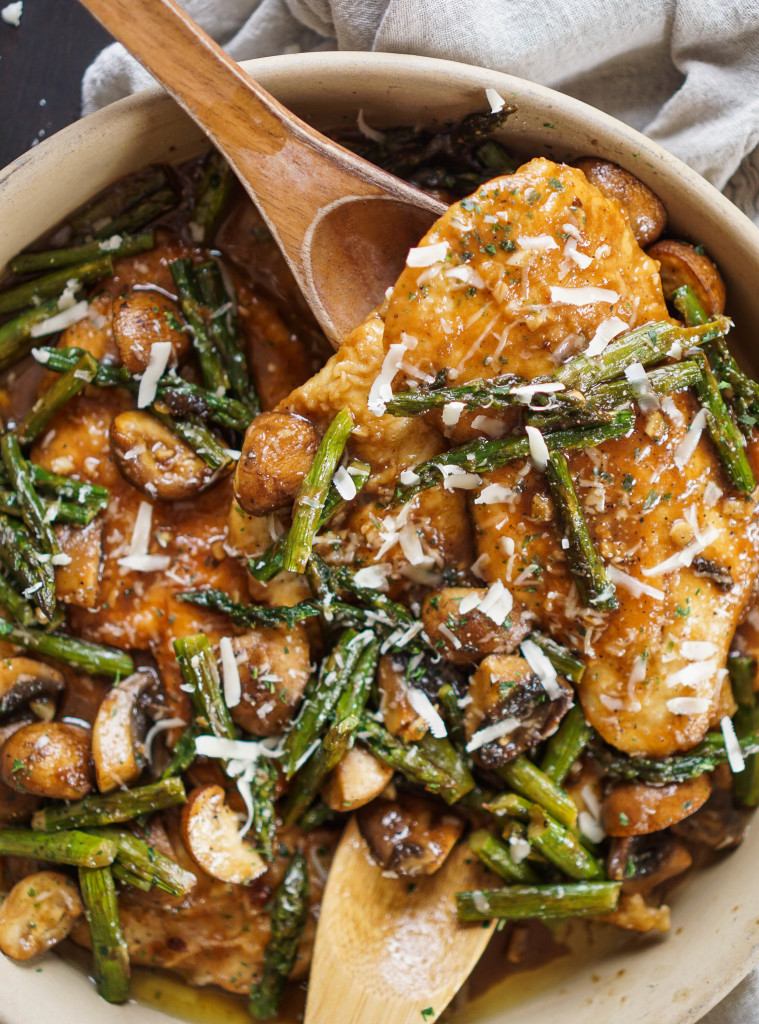 You have your entree and vegetables all in one so the only thing the dish is lacking is a starch. You can serve this with mashed potatoes, rice, or my favorite – pasta. I like angel hair pasta and since we are serving this as a size, I like to jazz mine up. As you may know from my recipes I always keep a log of Maitre D' butter in my freezer. It's nothing more than butter mixed with herbs, lemon, and pepper. I cut off a tablespoon or two to toss in the hot pasta and sprinkle it with Parmesan cheese. You want it to taste good enough to eat on it's own to really round out the meal!
((see how to make the butter here!))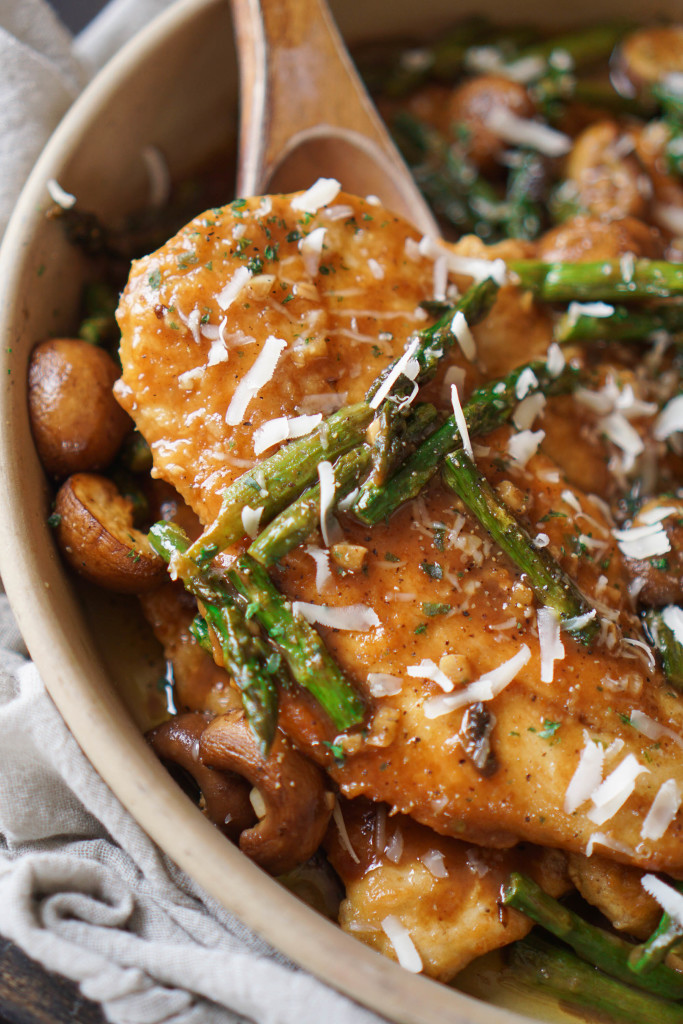 I hope after this you're craving chicken marsala because I have a great feeling this recipe will become a staple in your house….even you, anti-mushroomers.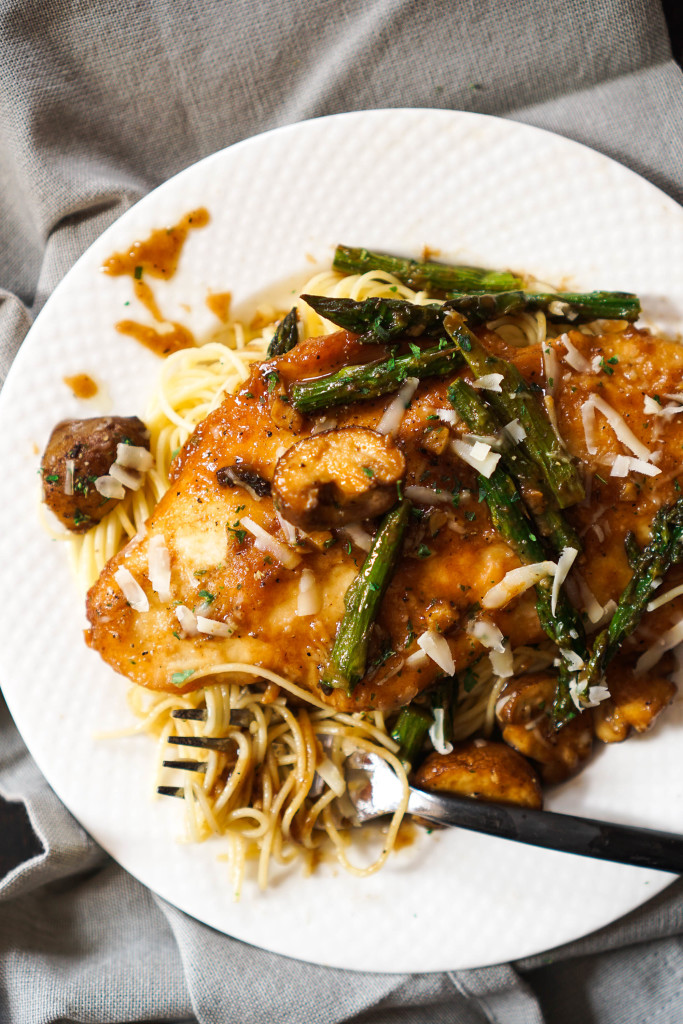 ENJOY!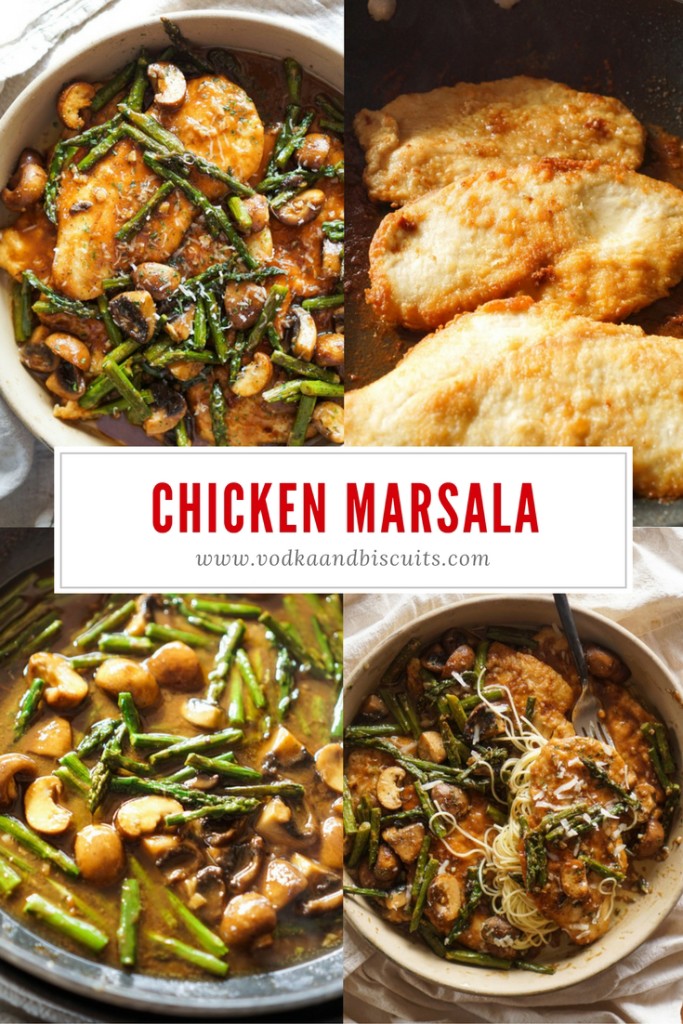 Chicken Marsala with Mushrooms and Asparagus
2016-03-04 05:28:12
Serves 4
Ingredients
1 bundle asparagus
4-5 boneless skinless chicken thighs (or 4 thinly sliced breasts*)
All-purpose flour for dredging
Olive oil as needed
Sea salt and black pepper as needed
8 oz. baby bella mushrooms, quartered
2 cloves garlic, minced
3/4 cup Marsala wine
3/4 cup low sodium chicken broth
fresh parsley to garnish
Parmesan Cheese to garnish
2 tablespoons Maitre d'hotel Butter, for the pasta if preferred (see post for recipe)
8 oz. angel hair pasta, preferably Buitoni brand
Instructions
Preheat the oven to 400
First prepare the asparagus. Snap the ends off the asparagus and discard. Cut the stalks into thirds or fourths, depending on the size, to create 1" pieces. Add to a baking sheet, drizzle with two tablespoons of olive oil, and season with salt and pepper. Bake 15-20 minutes, checking often, until tender and the ends are crisp. Set aside until needed. I do this step just as I begin browning the chicken.
Heat a skillet over medium high heat with 3-counts of olive oil (literally count 1-2-3!) You want enough to coat the bottom of the skillet.
Add about 1/2 cup of flour to a plate. Season with salt and pepper for flavor. Dredge each chicken piece in flour.
When the skillet is hot, add 2 pieces of chicken at a time. Sear 5-7 minutes on each side in batches until nice and brown and fully cooked through. Add a drizzle of oil if needed. Transfer to a plate. The skillet should have bits of brown which is good!
Add the mushrooms to the same skillet. Depending on how much oil is left in the pan, you may want to add some more. I added 1 tablespoon. Reduce the heat to medium and cook the mushrooms 3 minutes until soft and caramelized. Scrape all that goodness from the bottom of the pan to incorporate with the mushrooms.
Add the garlic and cook 45 seconds until fragrant.
Add the Marsala wine, increase the heat, and boil down for a minute to release some of the alcohol.
Add the chicken stock, lower the heat down to a simmer and cook for ten minutes. The sauce will reduce and thicken on its own, just be patient with it. See notes below for hints!
Stir in the roasted asparagus once the sauce forms. Taste and add salt and pepper as needed.
Snug the chicken pieces into the sauce, and allow to re-heat for 2-3 minutes. Add chopped parsley for garnish.
Cook pasta according to directions. Fresh pasta (such as Buitoni) only takes 2 minutes to cook. If you are using dried pasta, just cook earlier in the recipe. Toss pasta with 3-4 tablespoons of the Maitre d'hotel Butter (see post).
Serve with a side of herbed pasta and lots of Parmesan cheese!
Notes
I prefer chicken thighs, but easily substitute with breasts. Butterfly the breasts, cover with plastic wrap, then pound so the chicken pieces are uniform. This will create chicken cutlets. You can also buy this already prepared, labeled "thinly sliced chicken breasts".
The Maitre d' butter is totally optional. See posts for suggestions.
I use the Taylor brand of Marsala wine - found at all liquor stores for like $8!
The sauce will not be as thick as gravy, but it shouldn't be runny. If yours has not thickened after 10 minutes, stir in some flour and simmer for 3 more minutes!
http://www.vodkaandbiscuits.com/