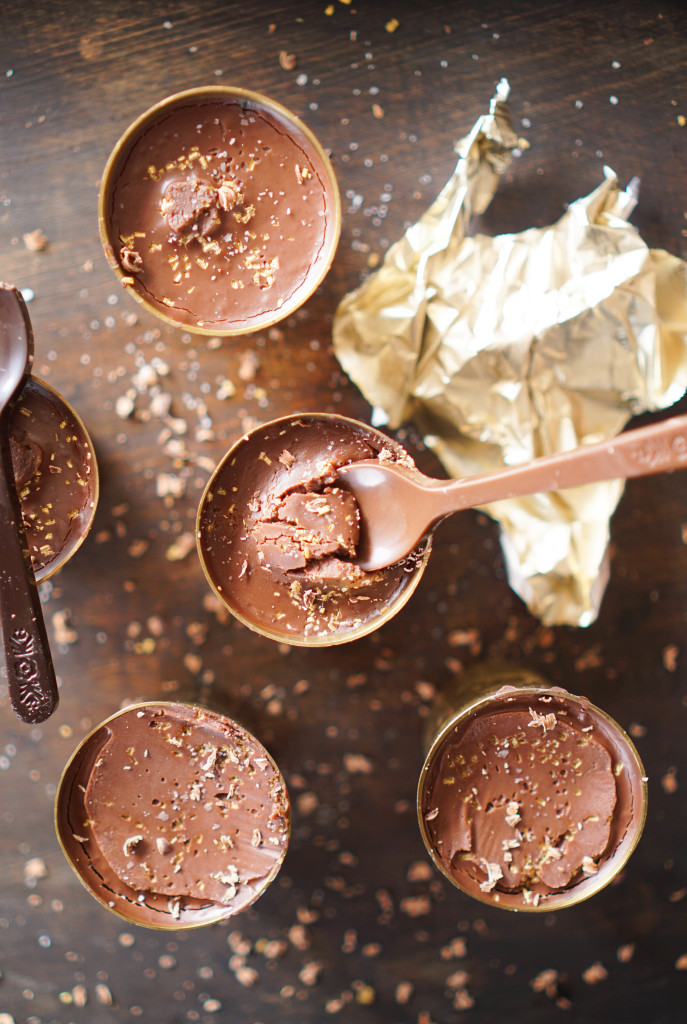 You ever drink Bailey's from a shoe?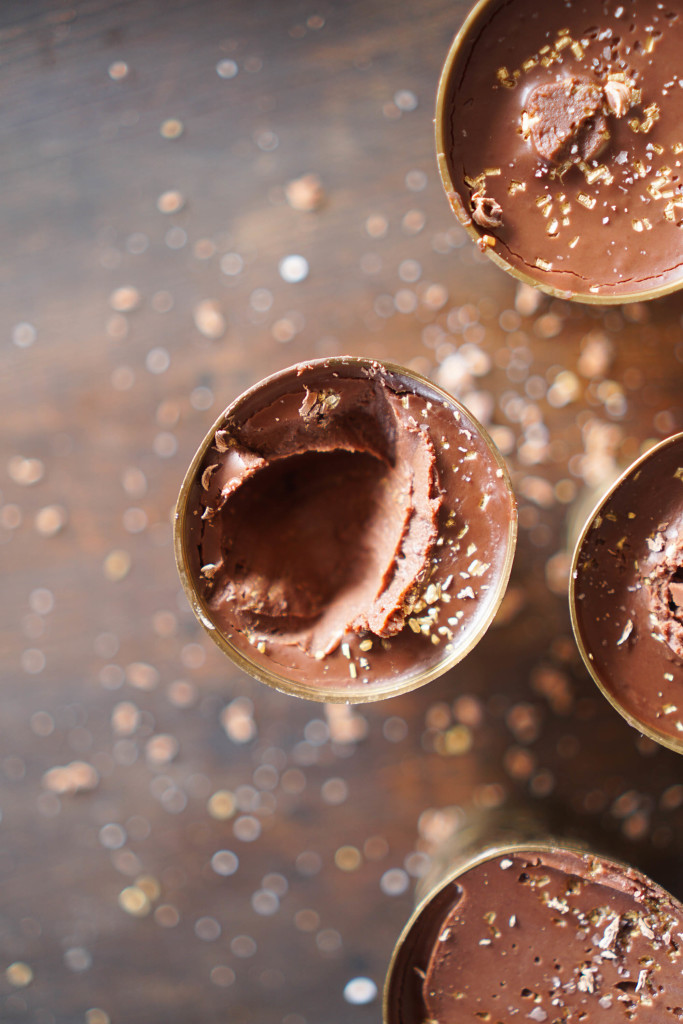 Name that reference and I will personally come to your house and make you all the Bailey's chocolate espresso pots you want.
My next few recipes will be inspired by my recent trip to Colorado. Almost every time I travel I pick up a few overly priced magazines at the airport. Almost always these magazines are Bon Appetite, Epicurious, or Savur…the best of the best. I think this time one of my favorite pick-ups was an hors d'oeuvres cook book that I'm reading as inspiration for catering.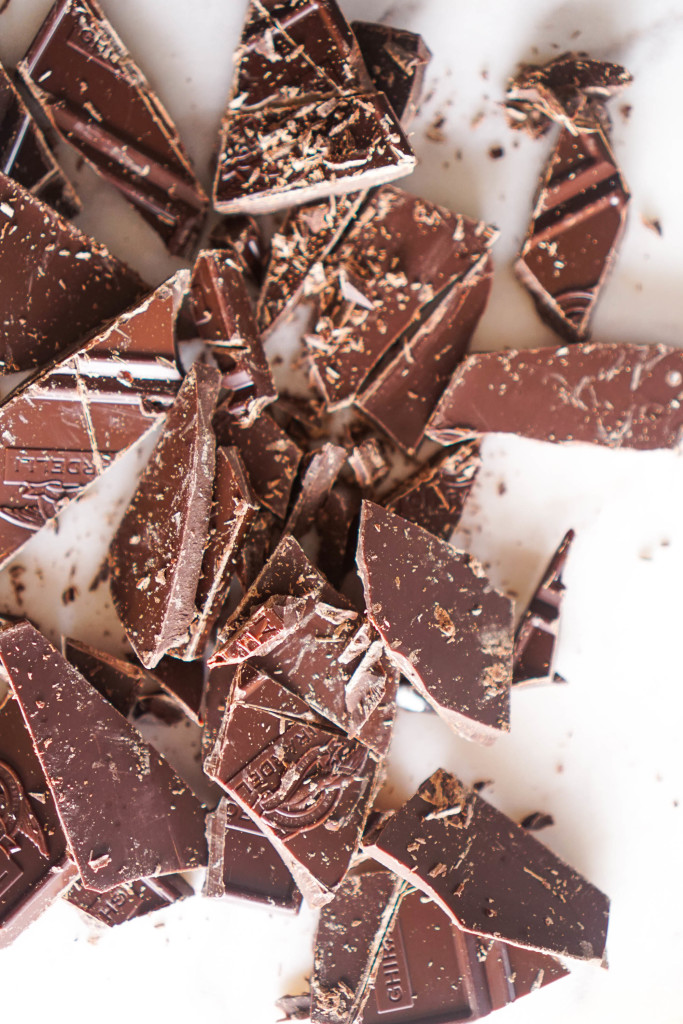 The last chapter is desserts that are meant to be utilized as a passed hors d'oeuvres. You've never seen a face light up the way a drunk man at a wedding has when he sees a tray of homemade ice-cream sandwiches coming his way, trust me.
I saw these Chocolate & Espresso Pots and knew instantly I had to recreate these for my readers with a touch of St. Patrick's Day. I instantly thought of my friend Chelsea who every year brings a little boozey chocolate treat to our St. Paddy's pub crawl. If you are like Chelsea and likes to feed her friends chocolate surprises, this recipe is for you.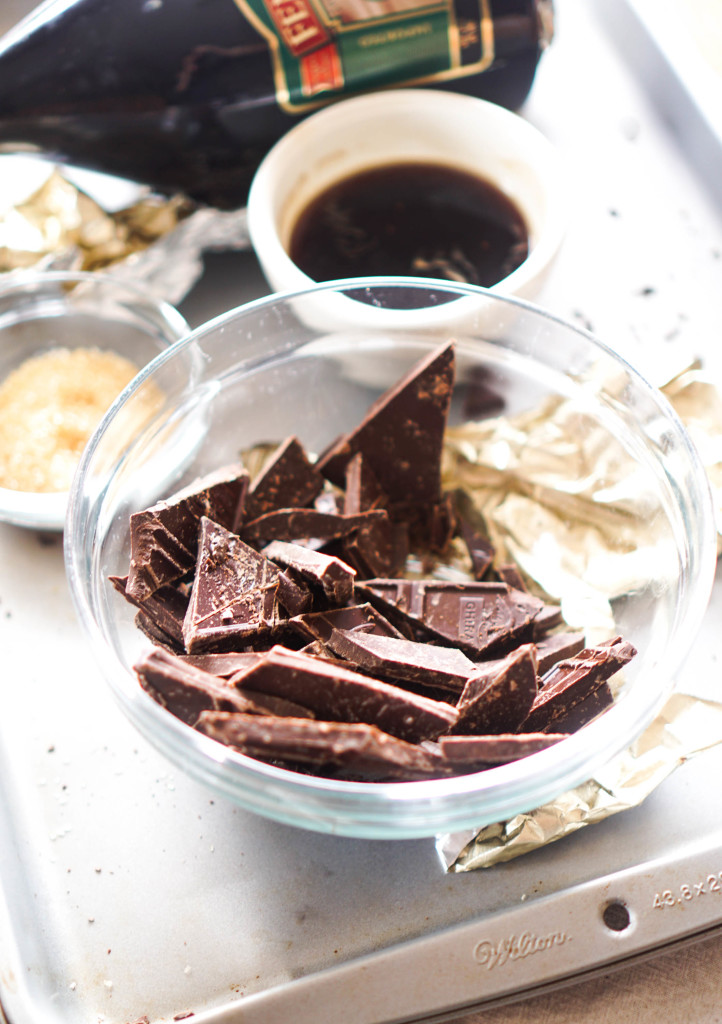 It's NOTHING more than heated heavy cream, Bailey's, espresso, vanilla, and sugar, that's poured over chopped chocolate. I think this took me a whopping 10 minutes from start to finish. Don't have an espresso machine? You can buy instant espresso in the coffee isle or just get a shot at Dunkin' Donuts…seriously.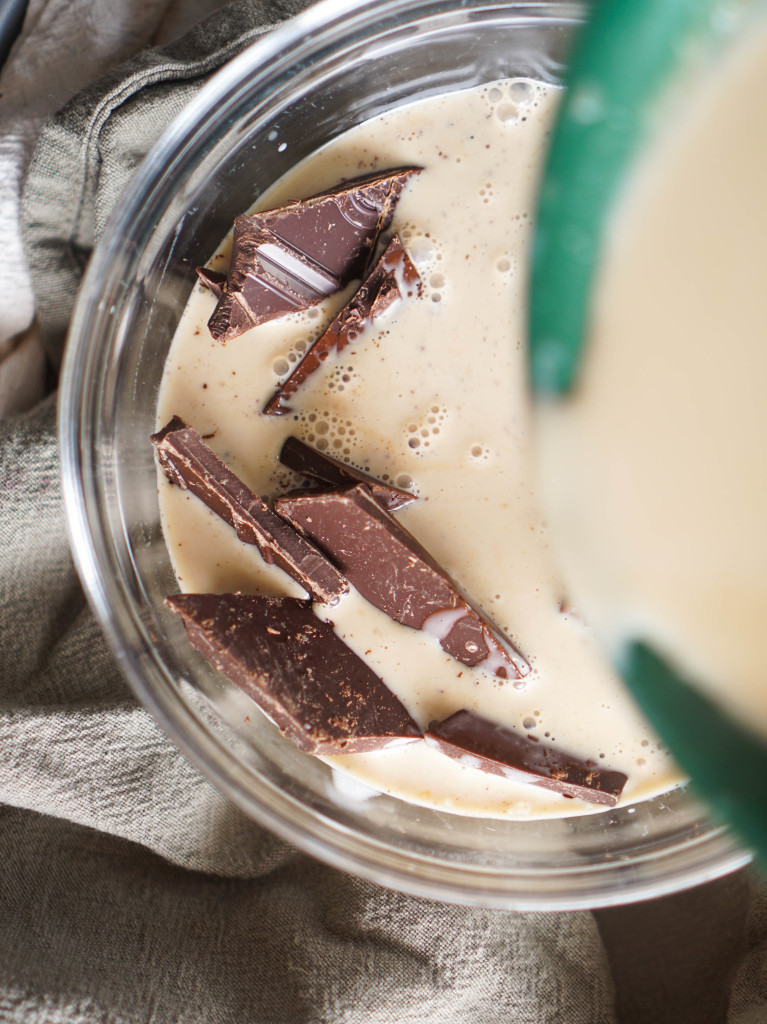 You do, however, have to let these sit in the fridge for 2 hours or overnight, so just plan accordingly! I filled mine into shot glasses and just before refrigerating I sprinkled them with a pinch of gold decorating sugar and sea salt. The sea salt is a MUST.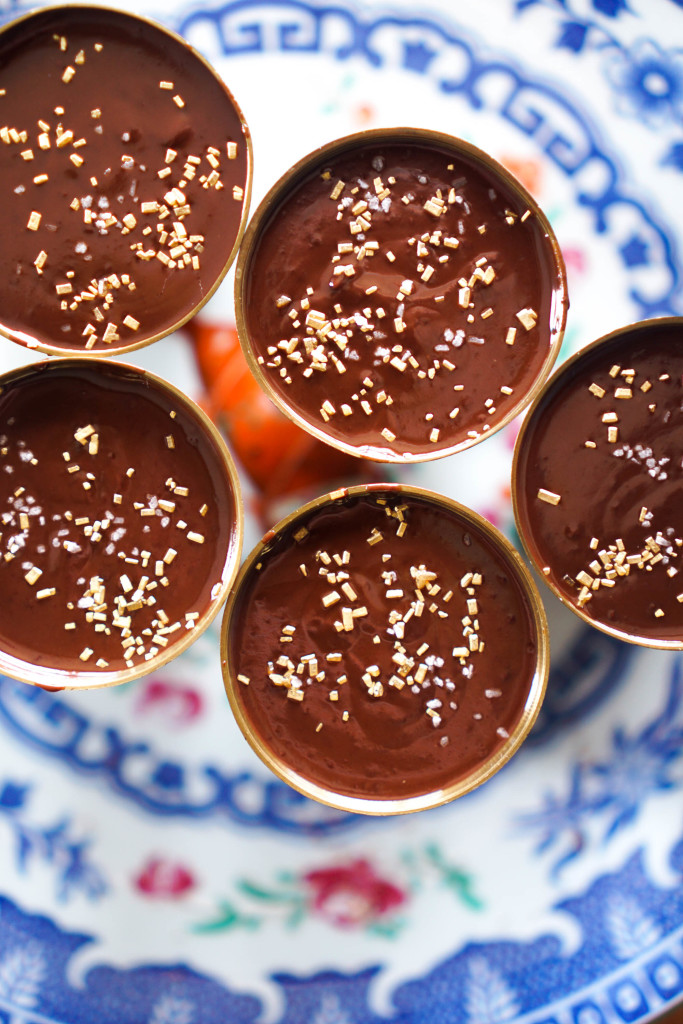 It's pretty much a ganache that's been hardened so it's like you're eating the inside of a truffle, just with a kick of Bailey's and a touch of salt. YUM. Now I'm not going to lie, this is super rich and I couldn't even finish one shot.
So if you're really going to make this…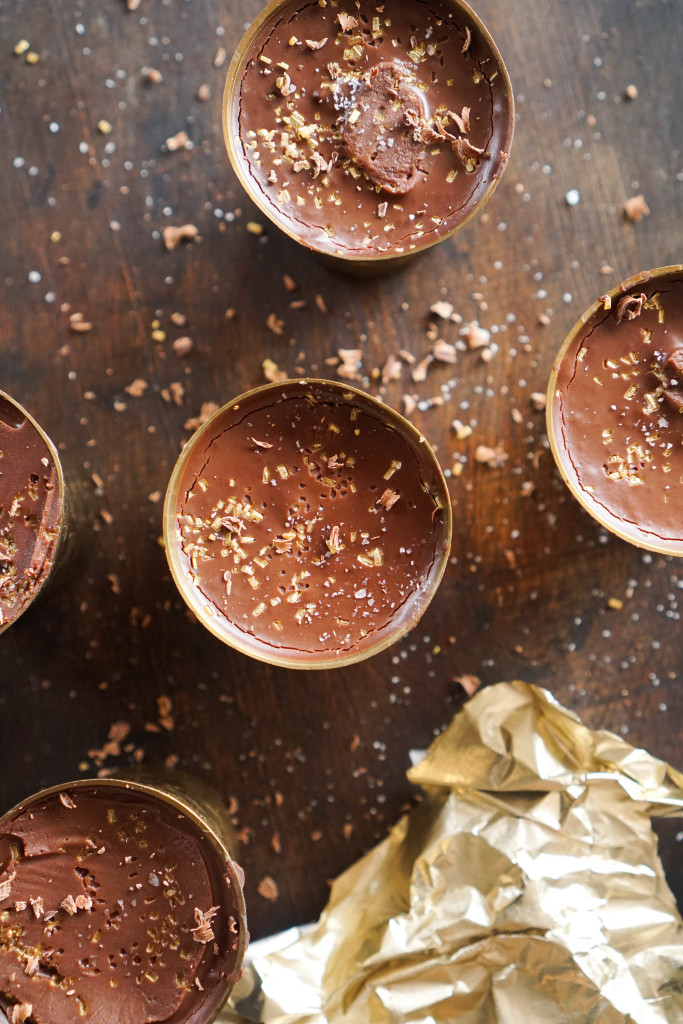 I would fill your shot glasses HALF WAY (which will yield you more), refrigerate, then when ready to serve, top with some whipped cream, caramel, chocolate sauce, chocolate shavings, green sprinkles, or whatever your little chocolate boozey hearts desires. I know this isn't how I made it, but it is how I'm going to write the recipe.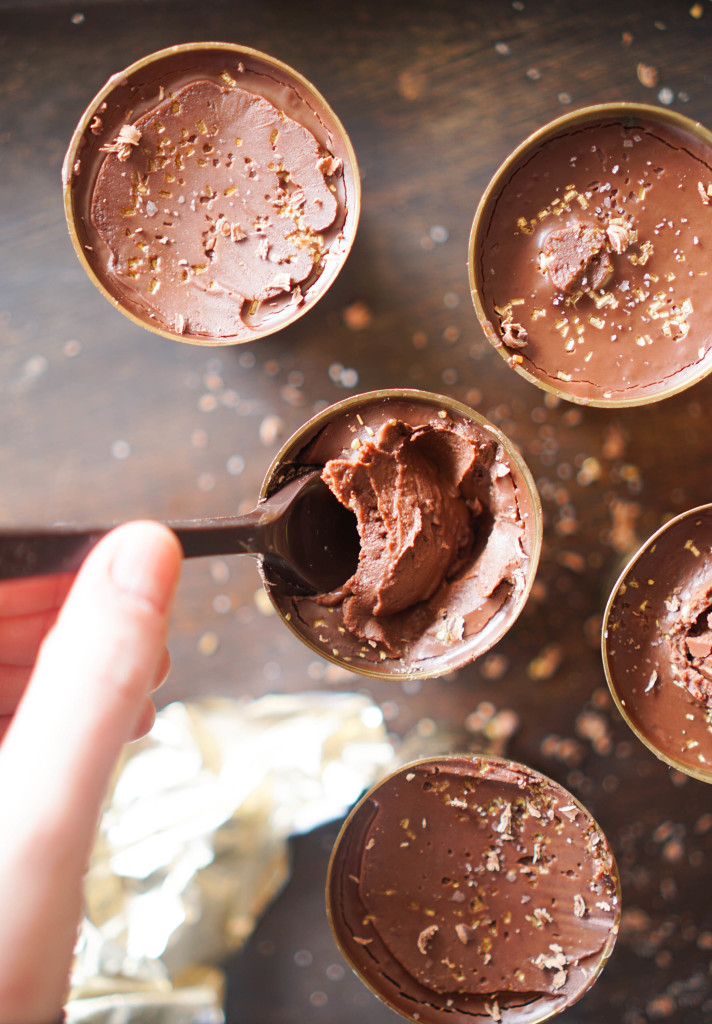 Happy St. Paddy's Day and ENJOY!
Ps: yes those are chocolate spoons and yes you NEED them 😉
Chocolate Espresso Pots with Bailey's
2016-03-10 06:56:34
Serves 12
Ingredients
8 ounces chocolate, half semi-sweet and half dark*, plus more for garnish
1 cup heavy cream
1/4 cup Bailey's, or more if you're risky
3 tablespoons espresso*
2 teaspoons vanilla extract
2 tablespoons turbino sugar (sugar in the raw)
pinch of sea salt
1 tube whipped cream
6-12 shot glasses
Optional garnishes: sea salt, chocolate shavings, green sprinkles, gold decorative sugar.
Instructions
Chop up the chocolate and put in a heat-proof bowl.
Heat the cream, Bailey's, espresso, vanilla, sugar, and a tiny pinch of salt in a small pot or saute pan until the cream just starts to simmer (you will see bubbles start to form).
Once the cream is hot to the touch, pour over the chocolate. Use a rubber spatula to fold together until a smooth chocolate ganache forms.
There's two options. You can either fill 5-6 shot glasses completely with the chocolate ganache, garnish with a tiny pinch of sea salt and/or decorate sprinkles, loosely cover with plastic wrap, and refrigerate 2 hours or overnight...
OR fill 10-12 shot glasses half way with ganache, garnish as desired, cover with plastic wrap, and refrigerate 2 hours or overnight, then before serving fill the remaining glass with whipped cream and more garnish. I like this way.
Whatever you do, I recommend buying some edible chocolate spoons. YUM!
Notes
You can find the chocolate bars in the baking isle. One bar is usually 4 ounces. I bought three to use my third as garnish and for nibbling on throughout the week, yum!
If you don't have an espresso machine, just buy instant espresso at the store. If you don't think you'll ever use espresso again, just buy a shot at Dunkin' Donuts.
http://www.vodkaandbiscuits.com/