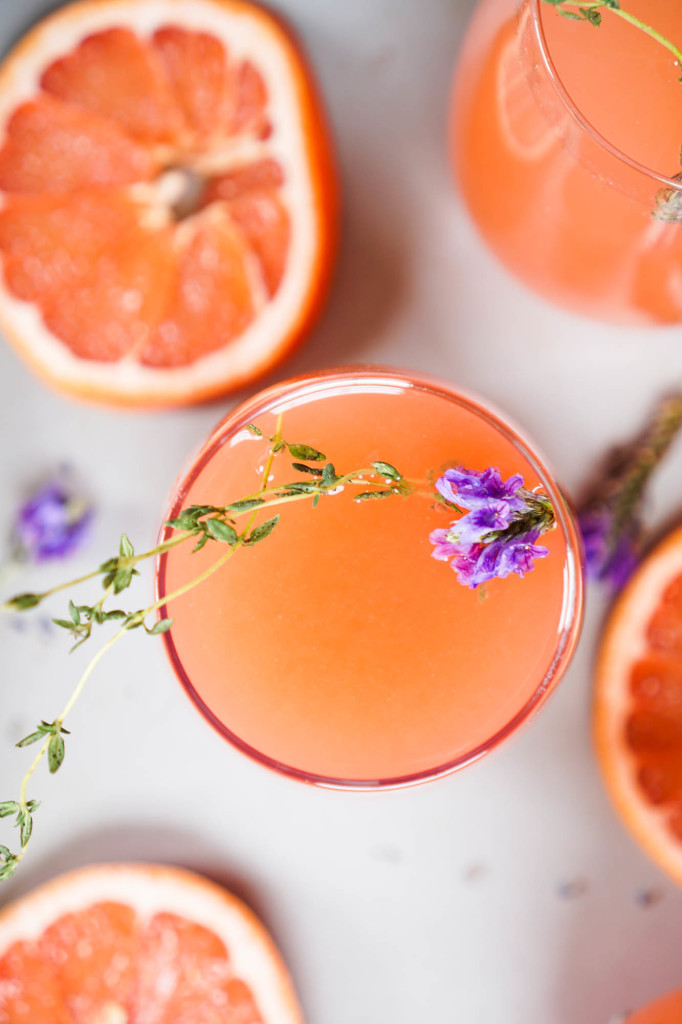 The cocktail that I have not stopped sippin' on and talking about ALL week is finally here and better yet, it's Friday. You know what that means? You deserve it.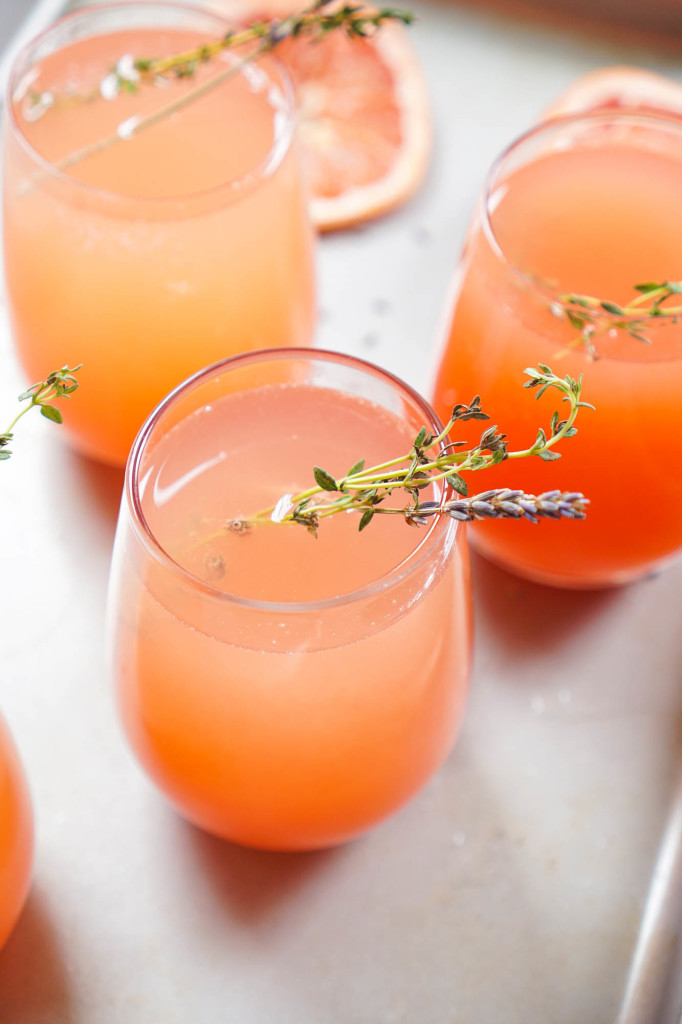 White wine mixed with guava juice and simple syrup that's infused with lavender, ginger, and lemon, poured over ice with a splash of club soda and a sprig of thyme. Yup, you're only a few ingredients away from this one.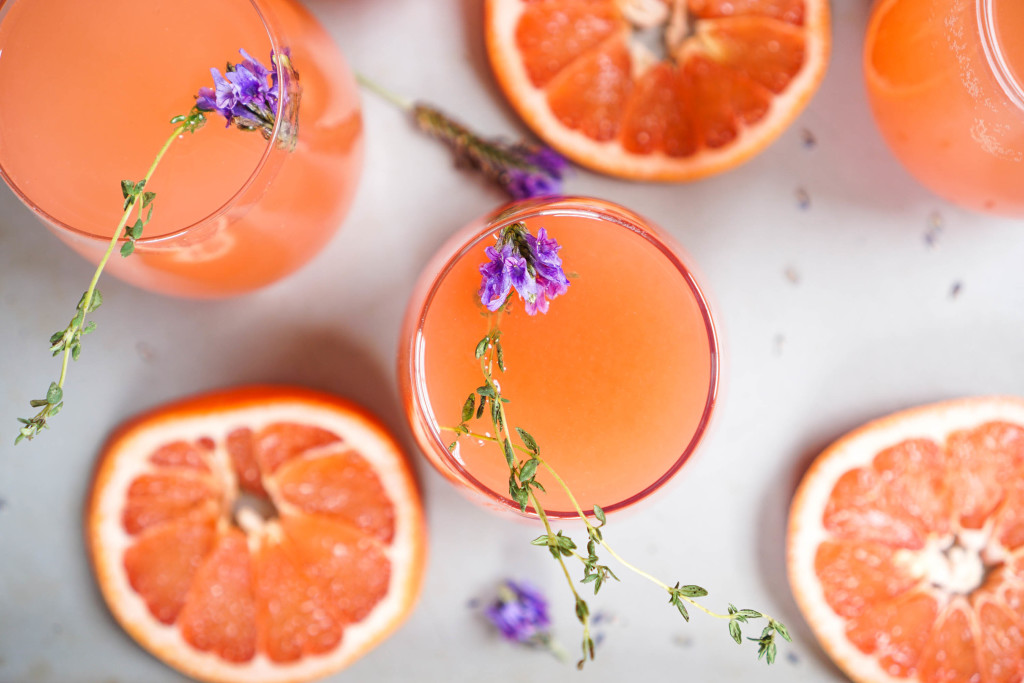 A few weeks ago we catered a brunch-inspired wedding at the Corradetti Glass Blowing Studio in Clipper Mill, Baltimore. The bride wanted a mimosa bar that went beyond champagne and orange juice, so we had glass carafes filled with champagne, white wine, peach nectar, fresh grapefruit juice, and guava juice with of course endless garnishes for the guests to choose from. Since then I've been mildly obsessed with guava juice.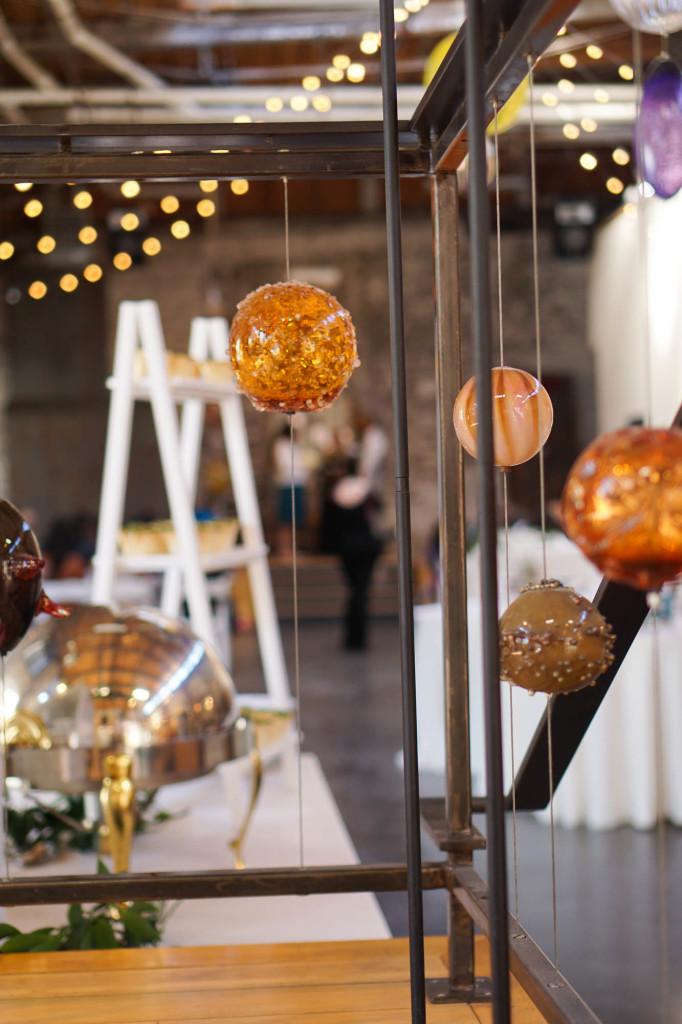 As you may know from my last post I've been surfing through Sharon Shipley's Lavender Cookbook lately. When I came across her Lavender Guava Wine Cooler it was like it was meant to be. I could hear angels singing from the page, Lindsay stop what you're doing and go make this.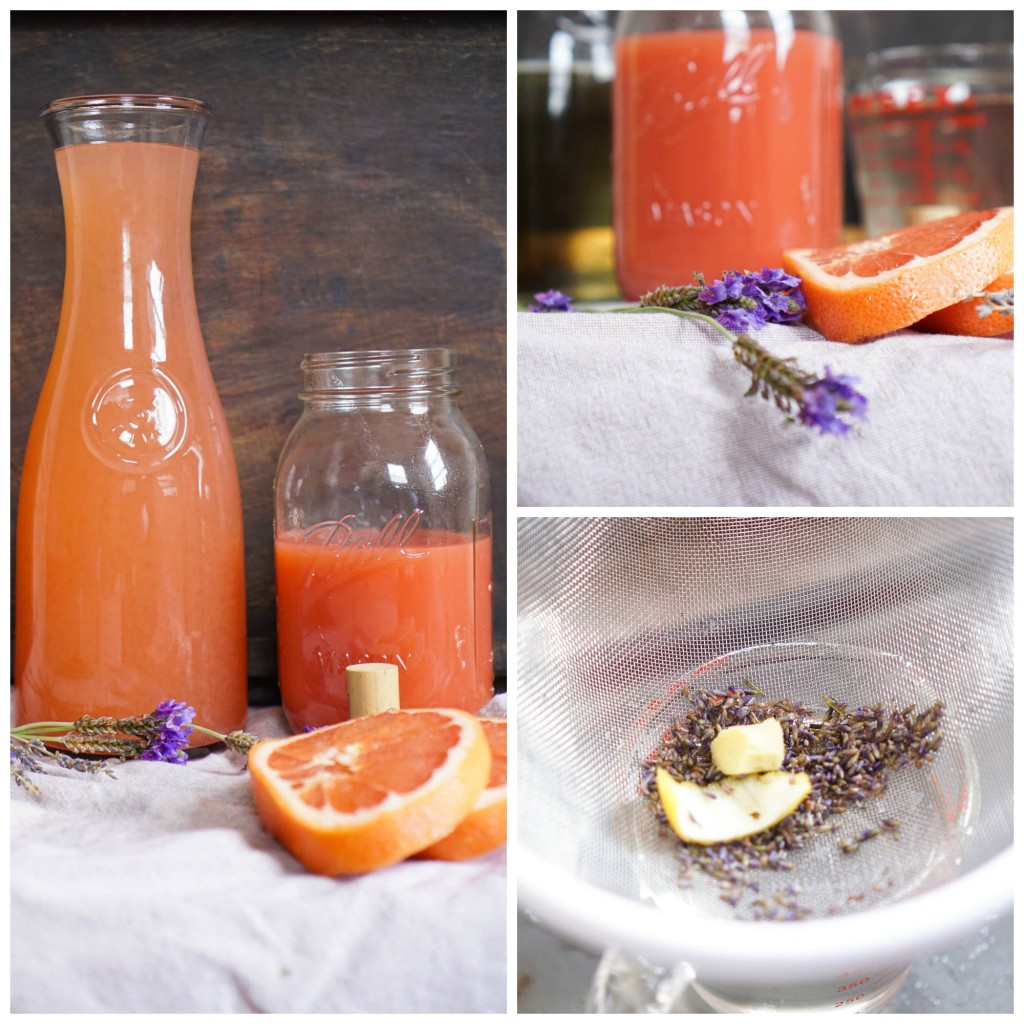 Annnnd that's exactly what I did.
The first step is to make some simple syrup – which is nothing more than heating sugar & water over the stove, and adding a slice of ginger, peel of lemon, and two tablespoons of dried lavender bulbs to give it some flavor. You can do this the day before, morning of, or an hour-or two before making the cocktail!
After the syrup is done, the next is whippin' up the cocktail. It's nothing more than mixing a bottle of chilled white wine, as much of the simple syrup you like, and guava juice. I didn't add ALL of the juice or ALL of the syrup, I tasted as I poured and adjusted as needed.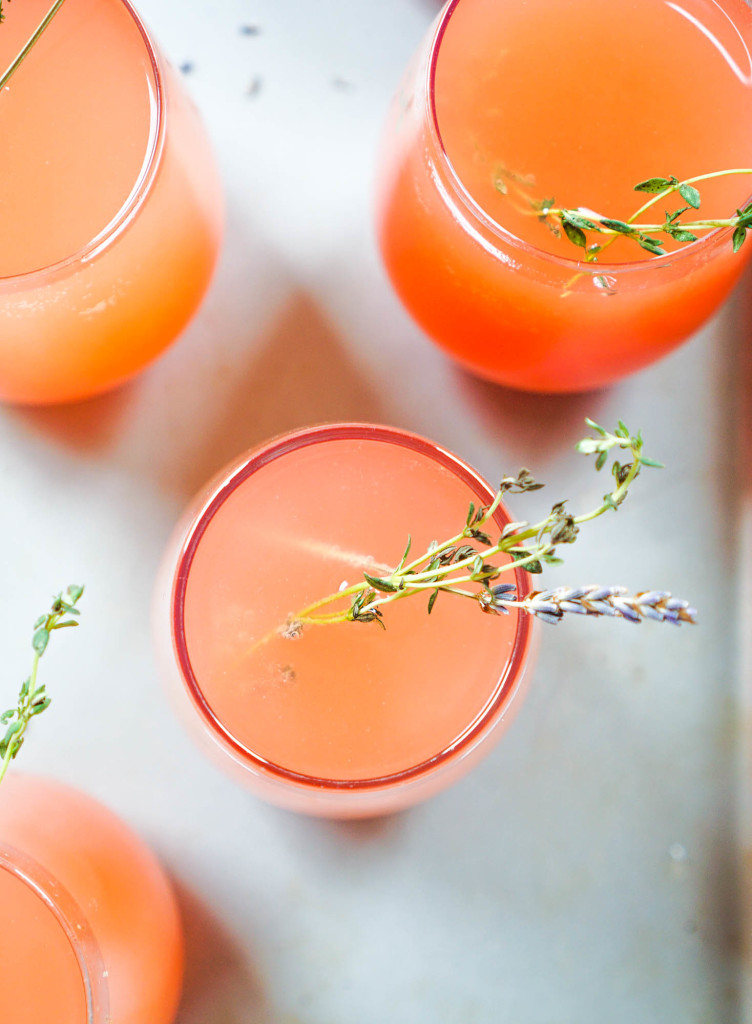 K so when you go to serve this DO serve this over ice. I'm so new to this cocktail-making thing that I didn't even think to put ice in my pictures. I get so excited when I make a drink that tastes good that I'm like, "uh ice? what's ice?" Really because I forgot and wasn't even thinking. Carry on folks.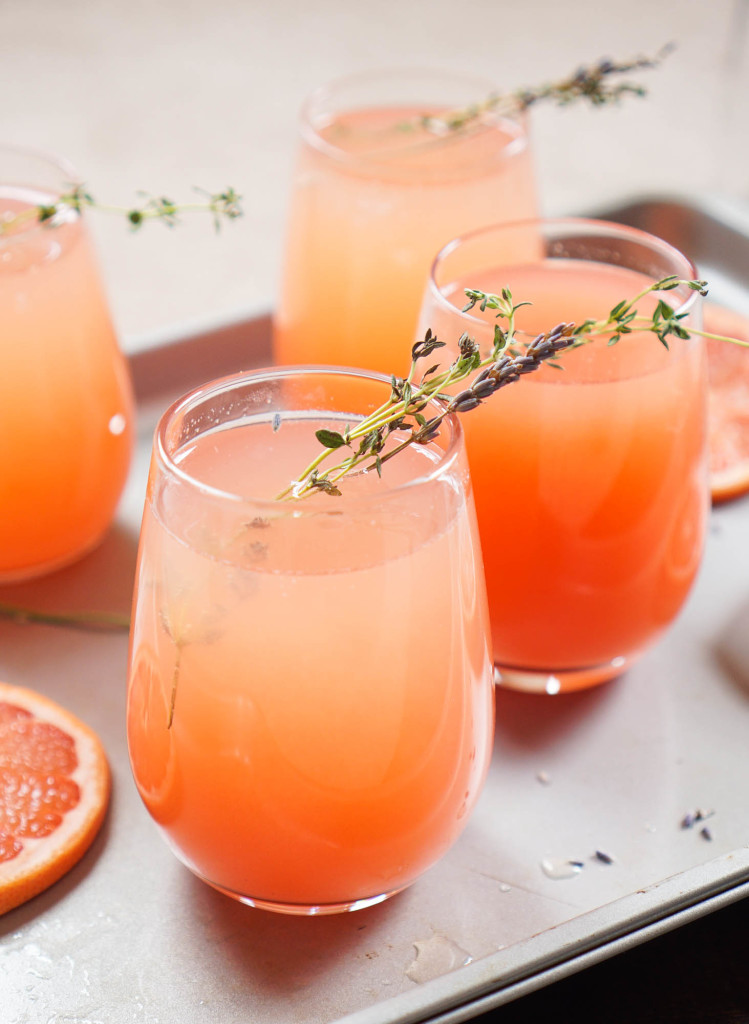 So. If you're on the hunt for a refreshing cocktail that screams warm weather and sunshine, this is it. I've had this Sunday morning for brunch, Monday evening with dinner, and Tuesday evening wrapping up a long work day with an industry friend. The longer it sits the better it gets so go ahead and make yourself a little more. Enjoy!
***NOTES***
Lavender can be tricky to find. You have to either go to a specialty food store (like Whole Foods), or buy some on Amazon like I did, just make sure you don't buy 2 lbs. because now I'm literally drowning in lavender that I don't know what to do with.
You might not use all of the simple syrup which is fine! I'd rather you end up with more than you need than not enough. If so, use the extra to make lemonade or to sweeten your tea. It's delicious!
Guava juice can be found in any international isle where the Spanish products are, specfically Goya products.
The cocktail can be storred in the fridge up to three-days.
Lavender Guava Wine Cooler
2016-04-29 06:20:12
Serves 12
A refreshing cocktail perfect for a warm spring day! Made with white wine, guava juice, and infused simple syrup. This is simple and perfect for any occasion!
For the Simple Syrup
1 cup sugar
2 cups water
2" peel of lemon
1" knob of ginger, peeled and sliced
2 tablespoons dried lavender bulbs
For the Wine Cooler
1 (750-milliliter) bottle of Moscato white wine, chilled
3 cups canned Guava juice
1-2 cups lavender simple syrup
1 bottle sparking water or club soda (flavored if preferred)
Ice as needed
Optional garnish: fresh thyme, blood orange slice for color, fresh mint, fresh lavender, crystallized ginger, lime slice, lemon slice.
For the Simple Syrup
Add the sugar and water to a small sauce pan and heat over medium heat, stirring until the sugar is dissolved.
Add the lemon peel, ginger, and lavender. Remove from the heat and infuse for one hour at room temperature, or in the fridge once cooled. Strain, discarding the solids.
For the Wine Cooler
Add the chilled wine to a 3-quart pitcher. Pour in two cups of the guava juice, and 1/2 cup of the simple syrup. Stir and taste. Add in more guava juice and simple syrup as desired. Shake before serving.
Pour over an ice-filled glass. Top with a splash of sparkling water. Garnish as desired.
Store the remaining cocktail in the fridge with two sprigs of either mint or thyme to infuse with flavor. Cocktail is good up to three days.
Adapted from The Lavender Cookbook
Adapted from The Lavender Cookbook
http://www.vodkaandbiscuits.com/