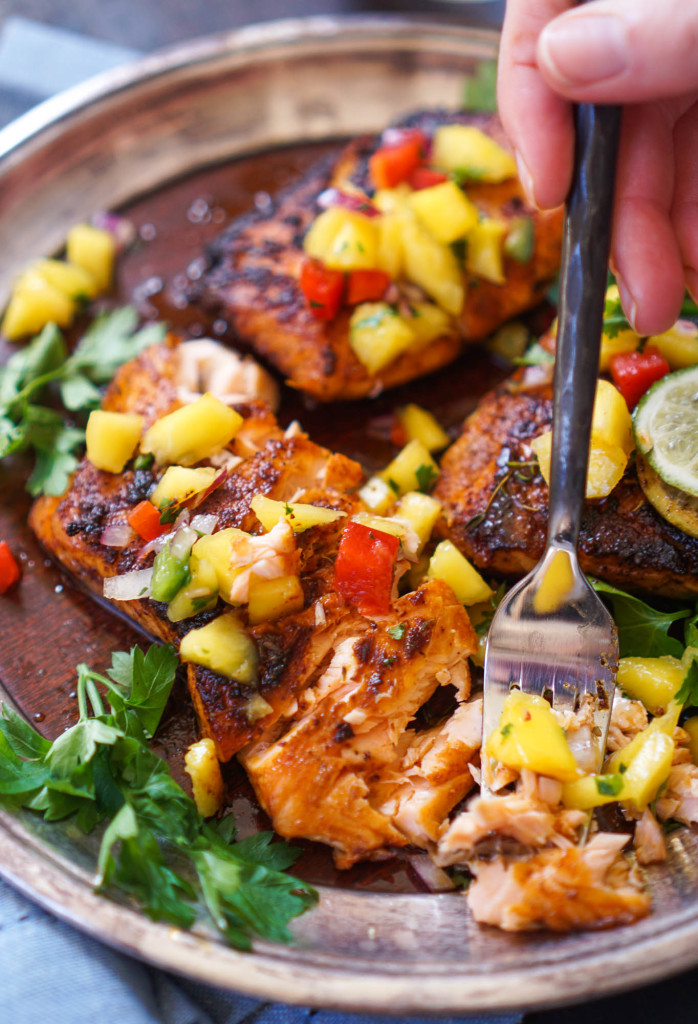 OK confession time.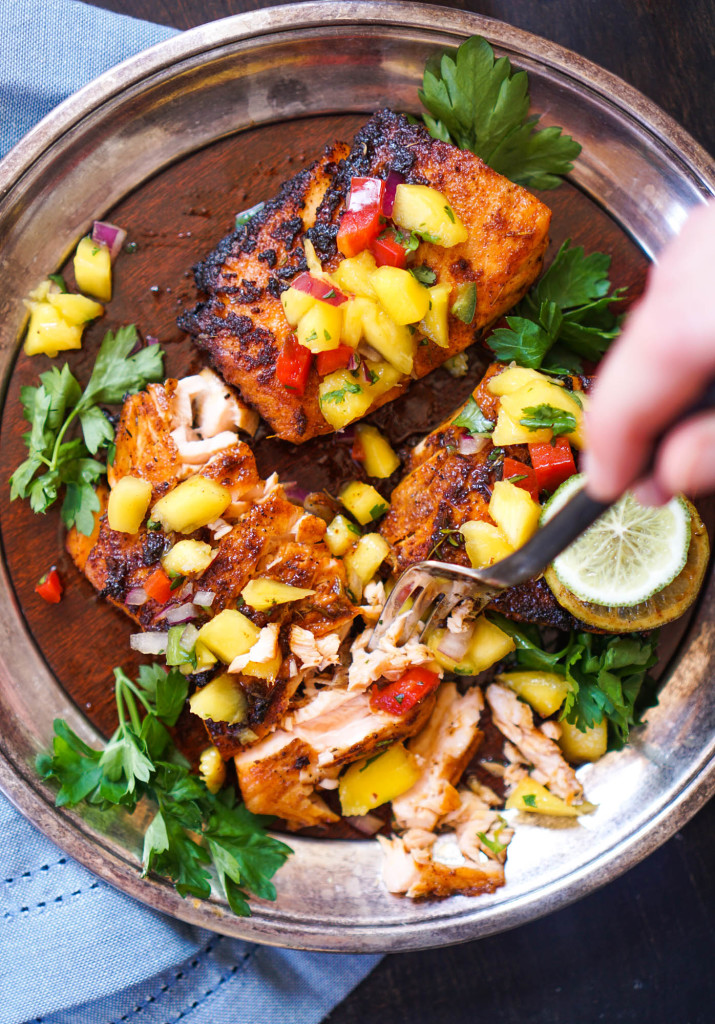 I'm not a picky eater what-so-ever but there are two foods I try reallllllllly hard to like and have a hard time accepting the fact that I don't like these foods, because needless to say, I'm the only one in the world. If you don't see where this is going – I don't like salmon. Hold the front door.
Or hot dogs.
Like, who am I?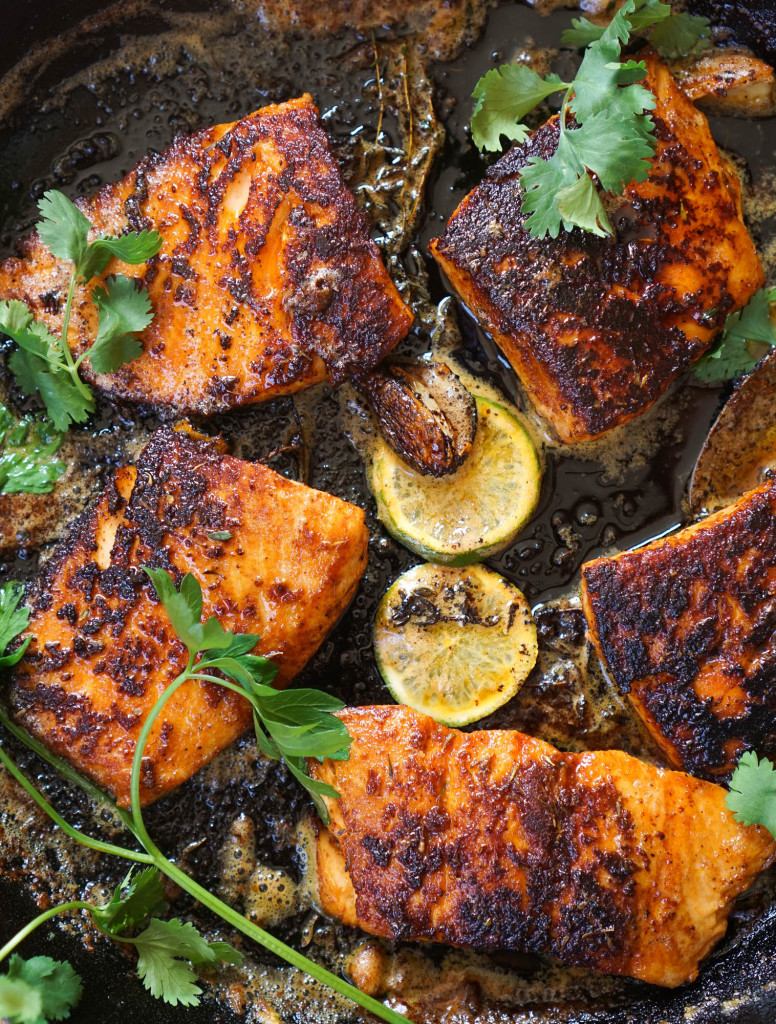 I remember at one of my birthday parties, I was probably 10 years old, looking at my plate of a hot dog thinking to myself "you're going to eat this and you're going to like this." Fifteen years later I'm okay with not eating a hot dog, but salmon? Really? Even my friends who hate fish like salmon. Every time my mom makes salmon I have a bite every time she reminds me, "Lindsay it's okay not to like something" and I guess she's right. Maybe one day guys.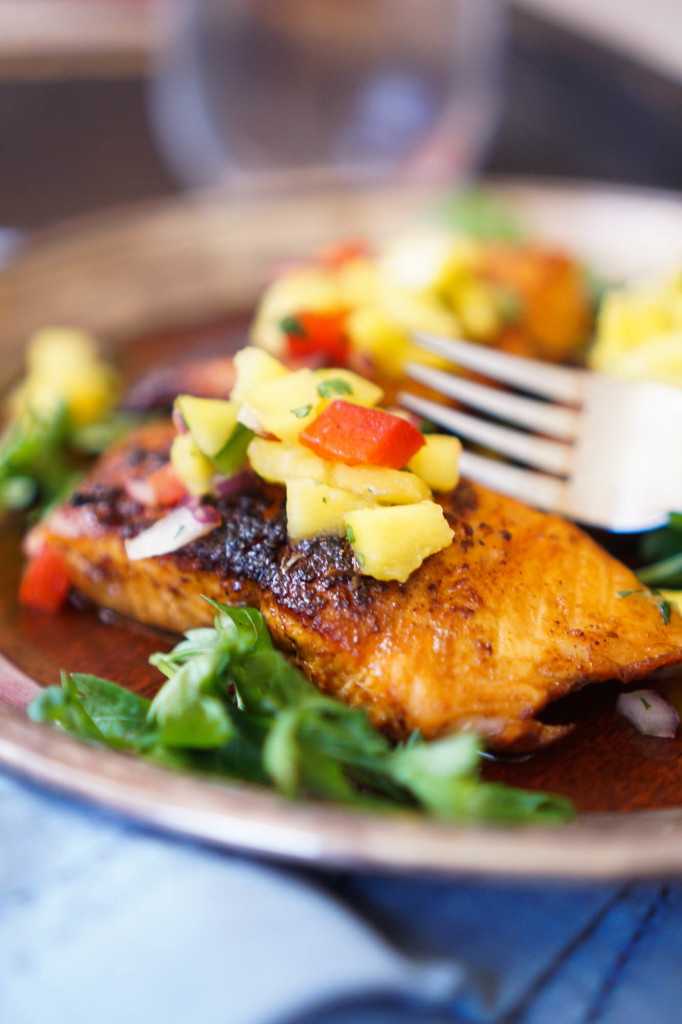 Anyways you're probably like "why you posting salmon then? Is it even good?" Psh. I'm sharing this recipe because 1) I get salmon recipe request all.the.time, and 2) you can blacken any fish so this recipe is a delicious keeper. I had my cousin over to help me whip (and eat) this one up. Megan loves salmon and she can confirm that yes this recipe is a delicious keeper. Let's cook!
The Seasoning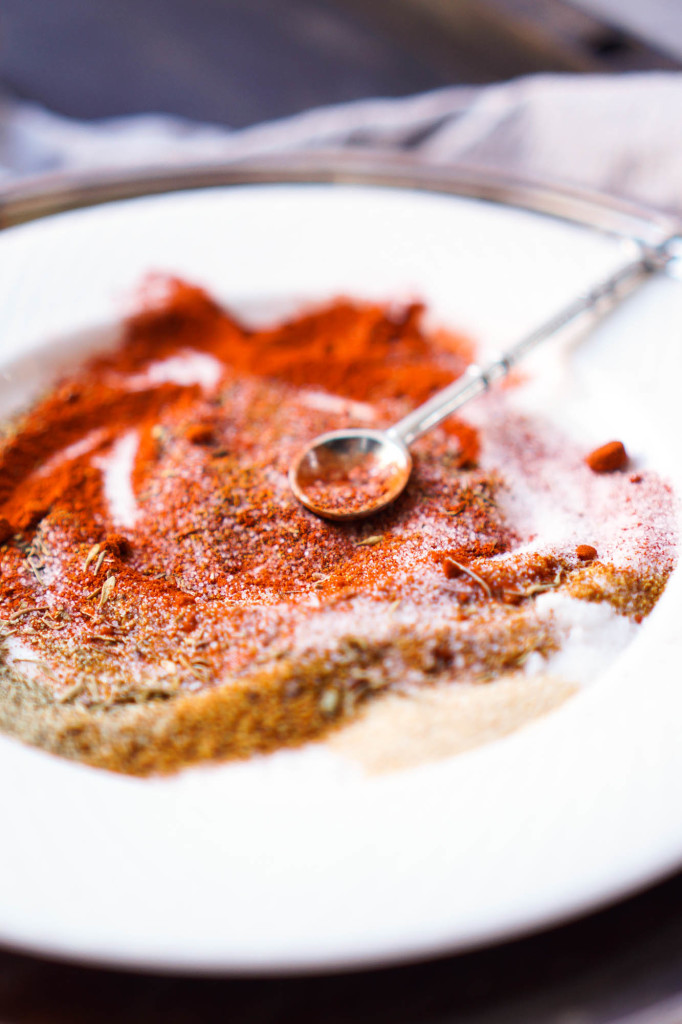 Assuming you love salmon and cook with it often, you're probably familiar with purchasing fresh salmon fillets. If you want to switch it up, I'd make this with some halibut or cod (my preference). One of the things that makes this recipe special is the homemade blackening seasoning. I'd SO recommend whipping this up at home, but sure you can use pre-made. Paprika, garlic powder, cayenne pepper, salt, pepper, a little thyme, and oregano – nothin' you can't handle.
The Blacken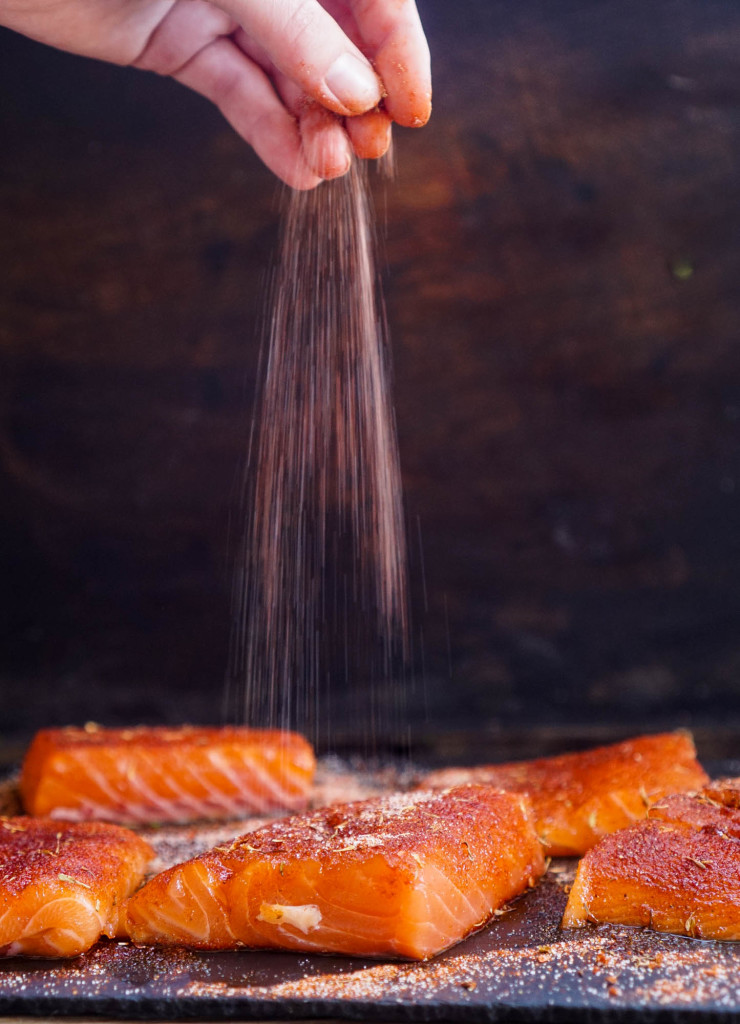 Blackening fish is REALLY simple and doesn't take much time at all. There are a few ingredients needed like butter, garlic, thyme, and a squeeze of fresh lime. The fish sizzles away in the flavored butter for about 3-4 minutes on each side while getting basted. That'll make more sense in the recipe! Regarding the pan, I prefer a cast-iron skillet but any non-stick skillet or saute pan will do!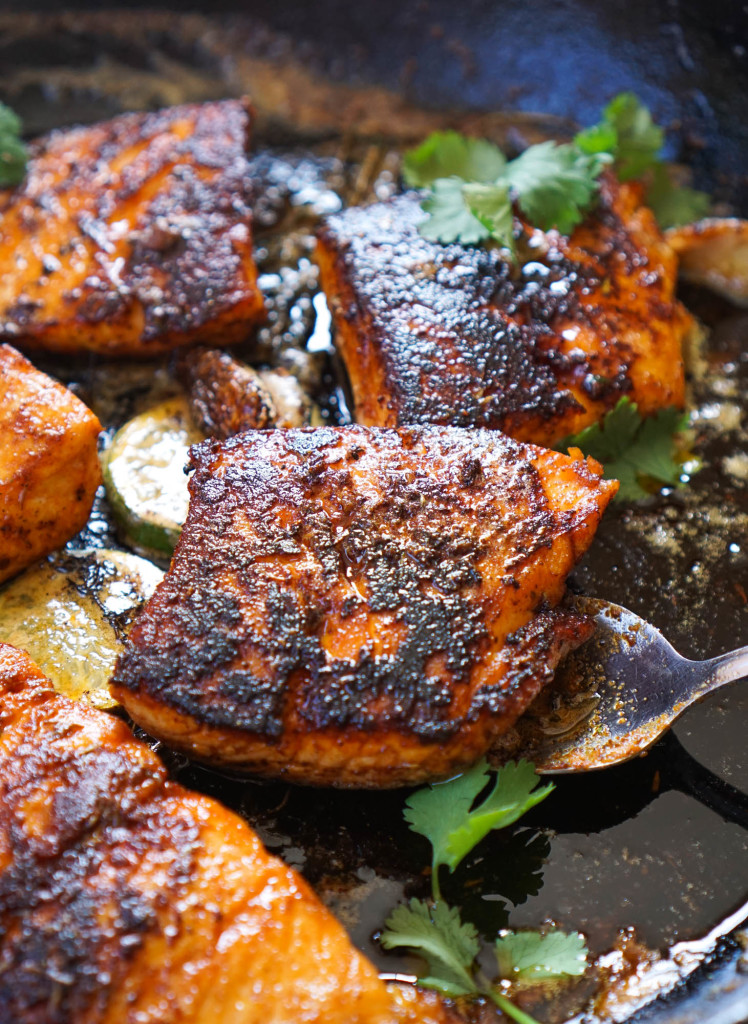 The Salsa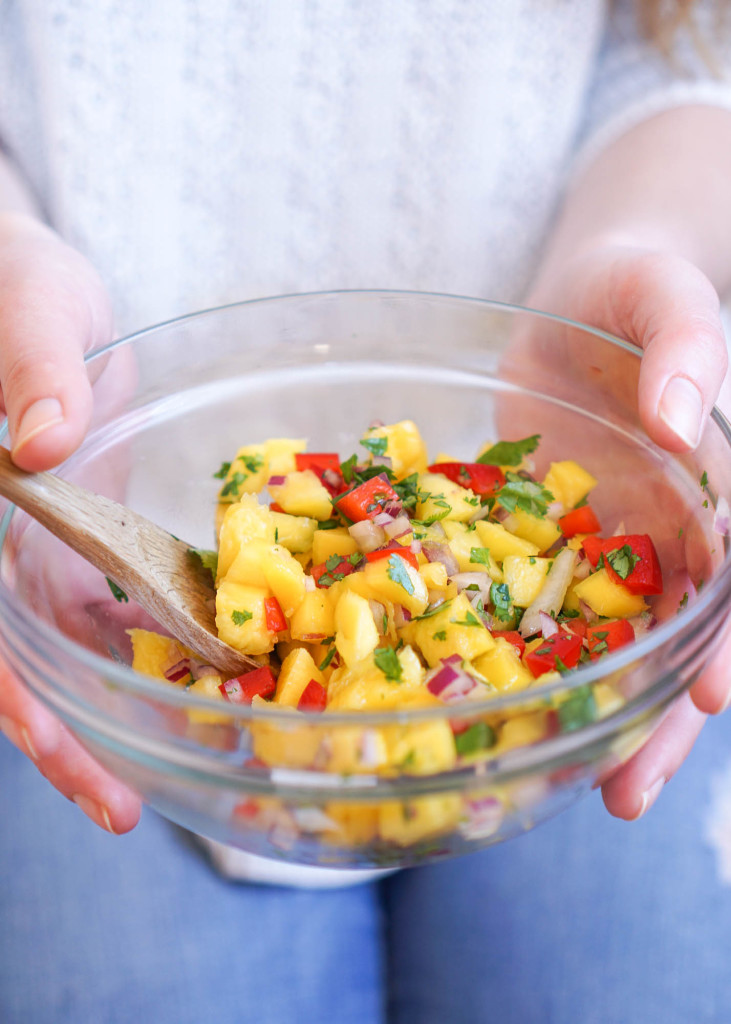 Blackened fish is usually on the spicy side so serving it with a refreshing garnish is a must! Nothing compares to cilantro mango salsa, but you can also whip up a slaw (maybe with jicama & cilantro) or any other salsa you're thinking.
Whenever I make a salsa or let's say a guacamole I always mix up the "flavorings" then add a little at a time to the main ingredient. In this case I mixed up red onion, pepper, jalapeno, and cilantro, and spooned a little at a time into the mango until I was happy with the amount. The squeeze of a lime and a sprig or two more of cilantro you're ready to go!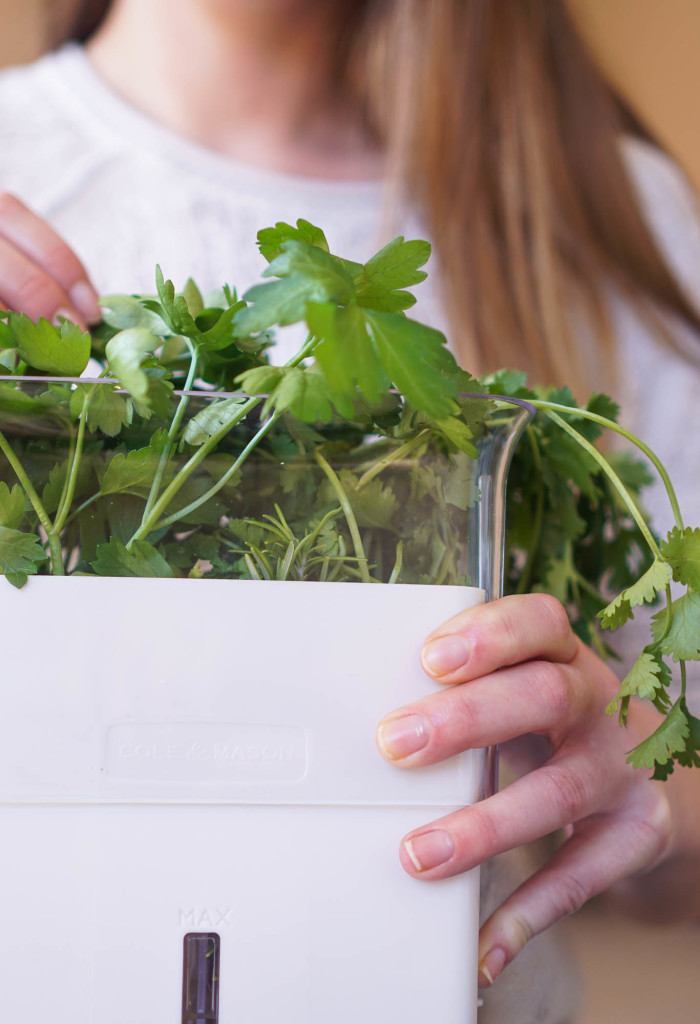 Speaking of, you guys know I love my herbs and you know I love sharing my cooking tools with you. I was recently introduced to this fresh herb keeper from Cole & Mason and now I can finally sleep at night knowing my herbs are safe. Wink.
But really, in the picture above the parsley on the LEFT was kept in the fridge in my fresh herb keeper for two days and the cilantro on the RIGHT (slumped over) was purchased at the store an hour before the picture. Pretty sad I buy cilantro that looks fresh at the store, then take it home and compared to herbs I already have and realize it's pathetic. I've always had a hard time storing and maintaining leftover herbs and SO glad this company recognizes this problem. Check out their product here!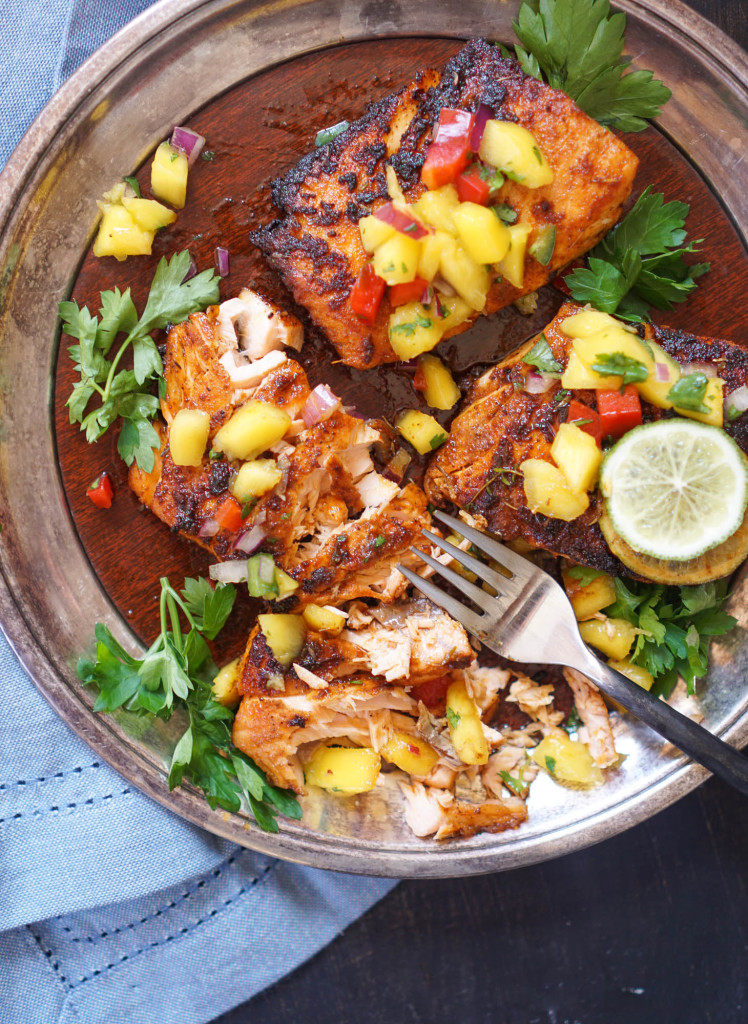 Everything from the spicy homemade seasoning, to the flavored butter, to the refreshing mango salsa makes this recipe a winner. Pair this with some brown rice or black beans and a glass of white wine and you have yourself a quick and healthy weekday meal. Enjoy everyone!
Ps: I am currently working on using the self-watering herb keeper,
check that out here!
Yup, herb nerd alert.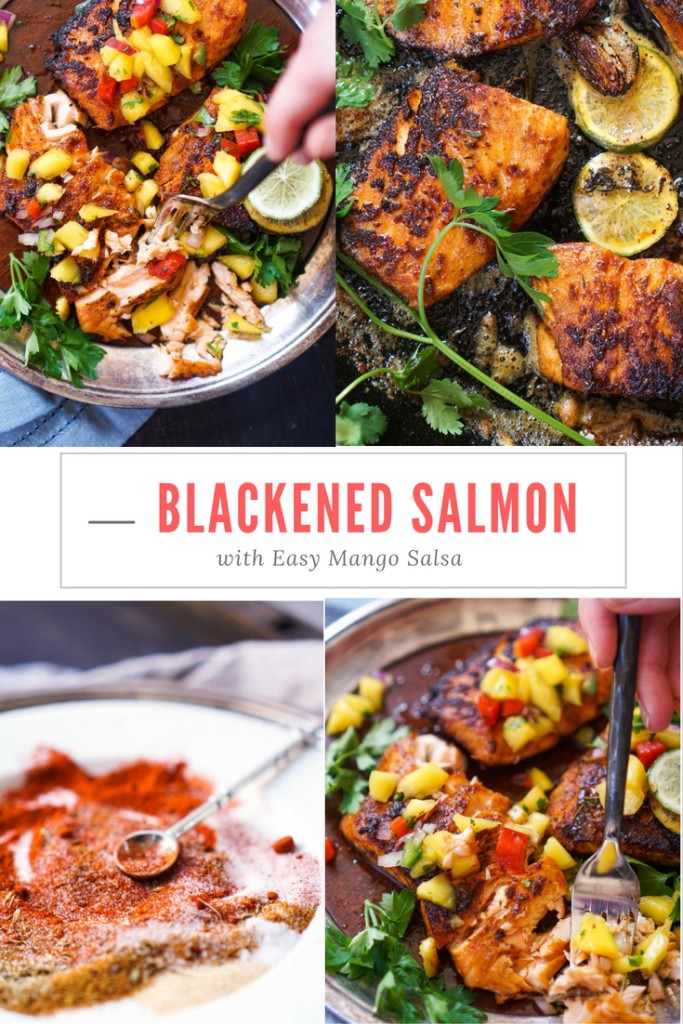 Blackened Salmon with Mango Salsa
2016-05-17 06:36:48
Serves 4
Homemade spicy blackening season that can be used for fish, chicken, or shrimp! Pair this with a refreshing mango salsa for a healthy weekday dinner.
For the Salmon
1 tablespoon sweet smoky paprika (or regular paprika)
1 tablespoon sugar (omit for Whole30)
2 teaspoons salt
1 teaspoon garlic powder
3/4 teaspoon black pepper
1/2 teaspoon cayenne pepper
1/2 teaspoon dried thyme
1/2 teaspoon dried oregano
4 fresh salmon fillets (4-6 oz)
2 tablespoons butter (substitute ghee for Whole30)
2 sprigs thyme
1 lime
1 garlic clove, smashed
olive oil as needed
For the Mango Salsa
3 mangos, peeled and diced
1/2 red onion, diced (about 1/4 cup)
1/2 red bell pepper, diced (about 1/4 cup)
1/4 cup chopped cilantro
1/2 jalapeno, diced (about 2 tablespoons)
salt as needed
1 lime
For the Salmon
Mix together the spices to create the blacken seasoning.
Brush the fillets on both sides with olive oil. Dredge the fillets in the seasoning. Use your fingers to rub excess seasoning on all sides of the fillets.
Melt the butter in a cast iron or large skillet over medium-high heat. Add a splash of olive oil to prevent the butter from burning.
Add the fillets, then the spring of thyme and garlic. The thyme should sizzle! Cook the fillets 3-4 minutes until blackened, spooning the butter over the top of each fillet (basting).
Carefully flip and cook another 3-4 minutes, while basting, until the fish can easily flake with a fork. Cooking times with vary depending on the size of your fillet. When finished, squeeze over the juice from a fresh lime. Keep the salmon warm in the butter until serving. Serve with mango salsa (below).
For the Mango Salsa
Add the mango to a bowl and set aside.
Combine the red pepper, red onion, jalapeno, and cilantro in a bowl and mix. Add a spoonful at a time to mango, mixing, and adding more as needed. I use about 3 spoonfuls!
Add the juice of 1 lime to the salsa and a sprinkle of sea salt. Mix, taste, and adjust ingredients as desired. This is best if made in advance to let the flavors mingle.
Notes
Side note: any pepper-mix left over can be enjoyed over chicken or even with scrambled eggs!
http://www.vodkaandbiscuits.com/