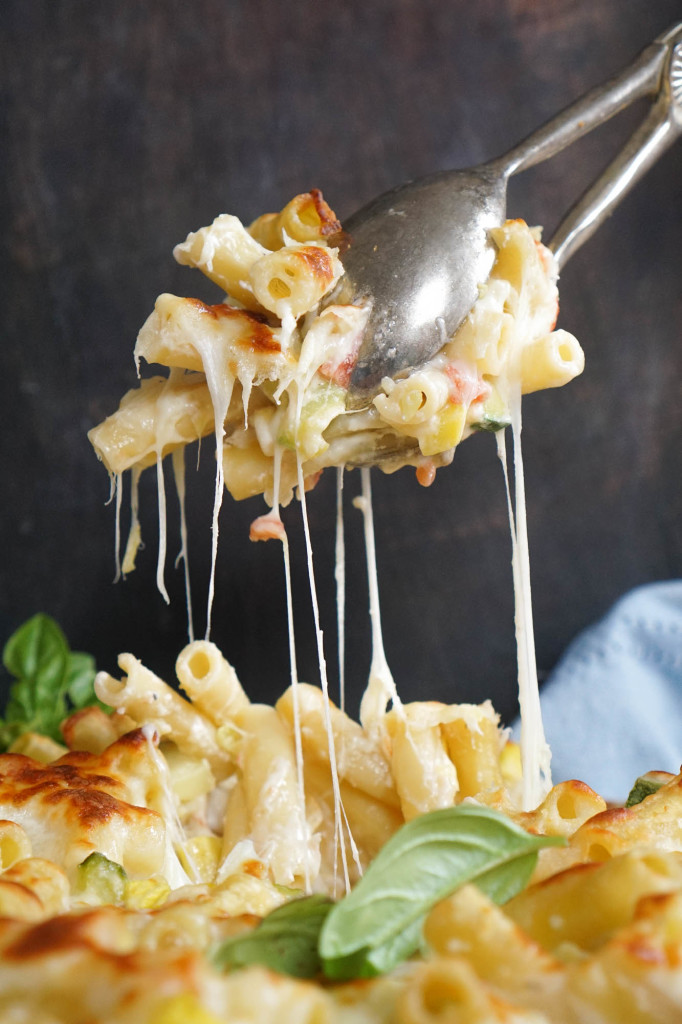 Hey guys, quick one here today!
AKA I have an amazing recipe to share with you with half-decent pictures due to hangry friends who do not care that you run a food blog and need to take pictures of your food (see Rachel below).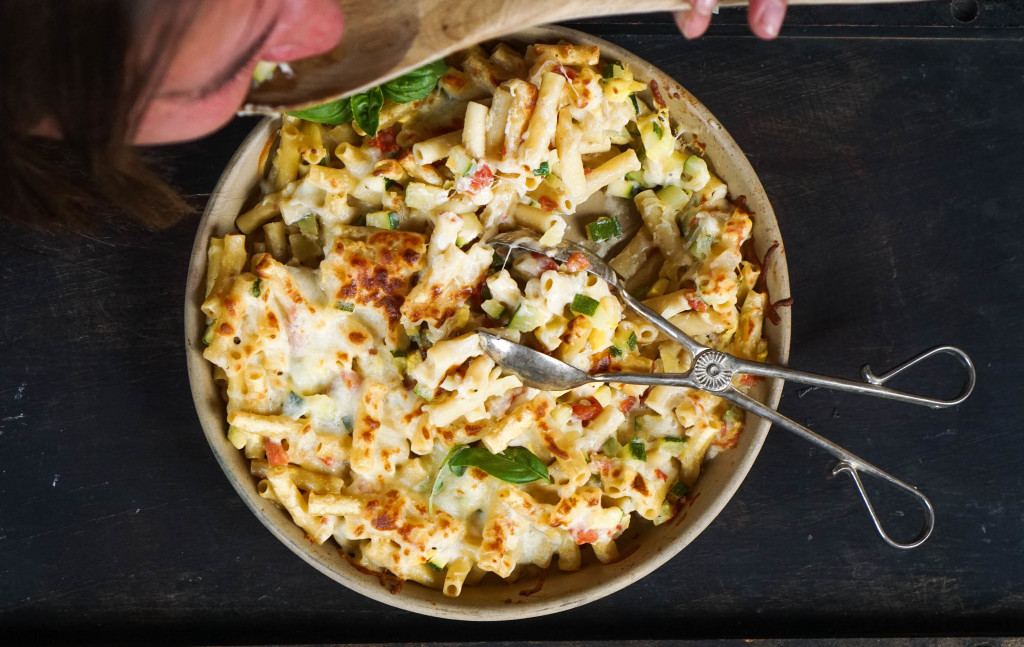 But really, now that it's light out during dinner I can whip out my camera and share more recipes with you even if I have to rush through them because of my hungry family. I can't really blame them though, especially when it comes to this pasta bake.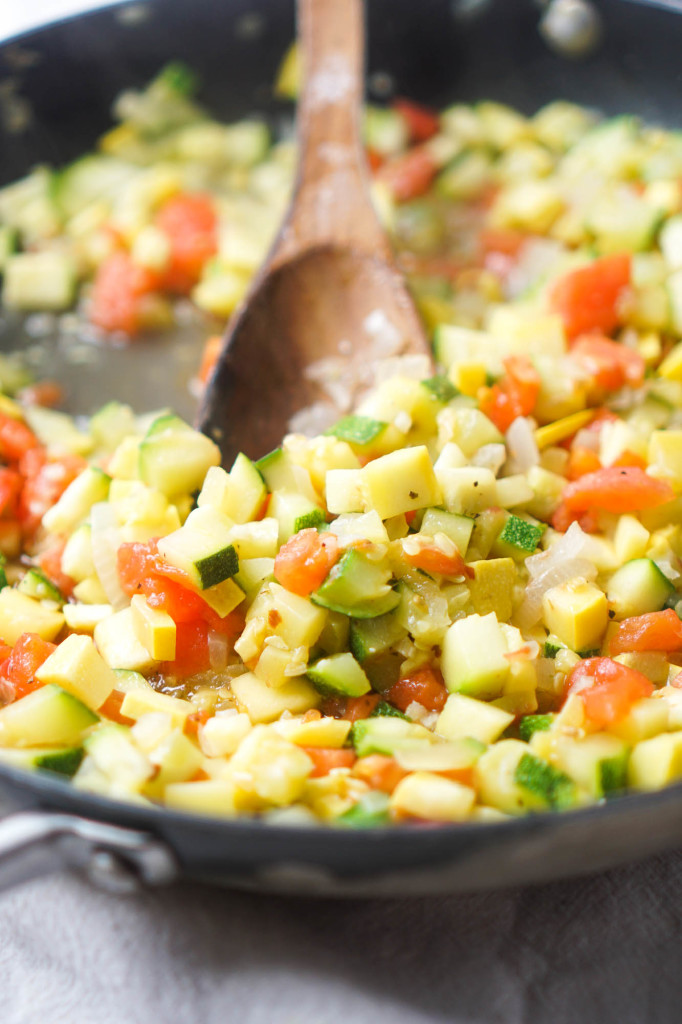 Sauteed seasonal vegetables with aromatics and herbs baked with pasta, creamy ricotta, and mozzarella cheese. It's as creamy as a mac & cheese with the bonus of fresh vegetables. This recipe is one of my favorites and I can promise you your family and friends will be hovering over the pan too.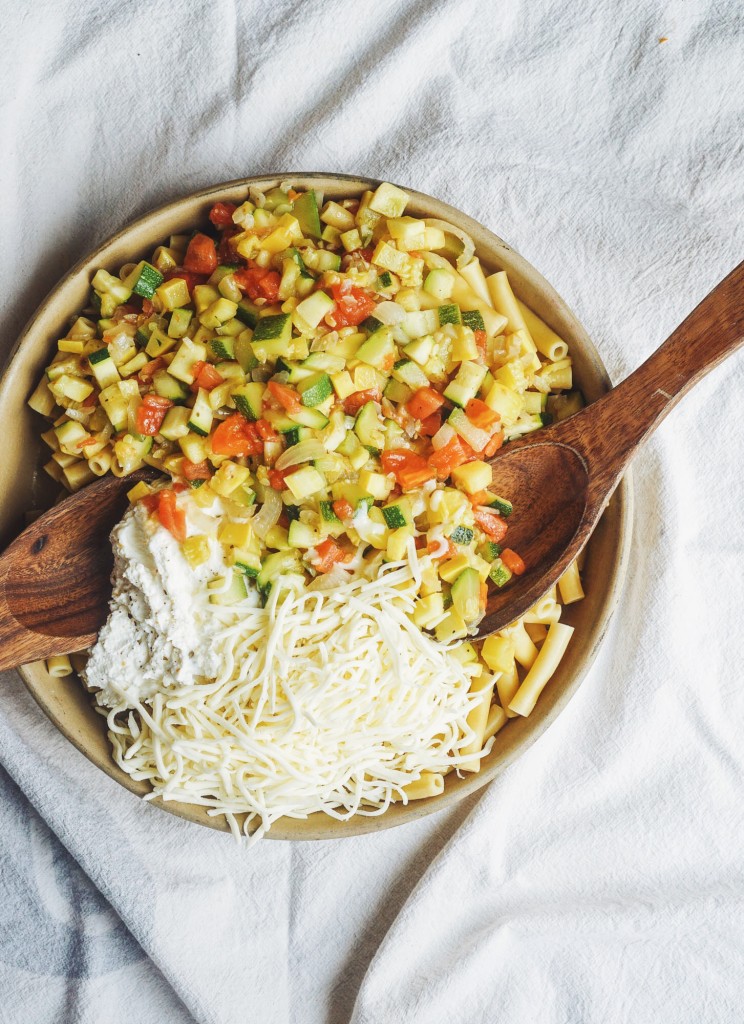 The only time-consumer in this recipe is chopping up all the veggies. Zucchini tends to be larger than yellow squash so I use one large zucchini and two summer squash. I cook up some chopped onion, minced garlic, add the squash, and tomato concasse. Conca-wha?
When sauteing the vegetables, you don't want to cook the squash too long as it will finish cooking in the oven.
Not trying to get all fancy with you but this is a SIMPLE method to remove the skin of a tomato (and even works for peaches!). Basically score the tomato by carving an X , plop it in boiling water for 45-seconds, transfer to an ice-bath, and peel & chop away. You can do this right in the boiling water you're about to cook your pasta in.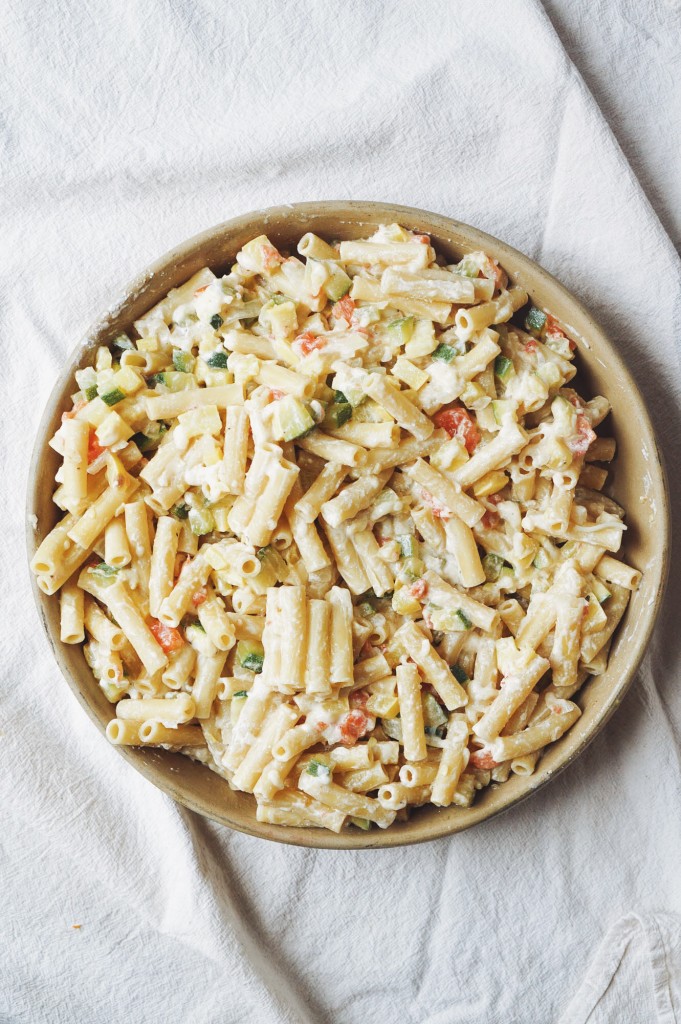 The veggies get added to a baking dish with the pasta, a big dollop of ricotta cheese, and shredded mozzarella. Stir it up and try REAL hard not to eat it as it. Seriously, look at that.
Add two tablespoons of basil pesto to the ricotta for a different flavor profile.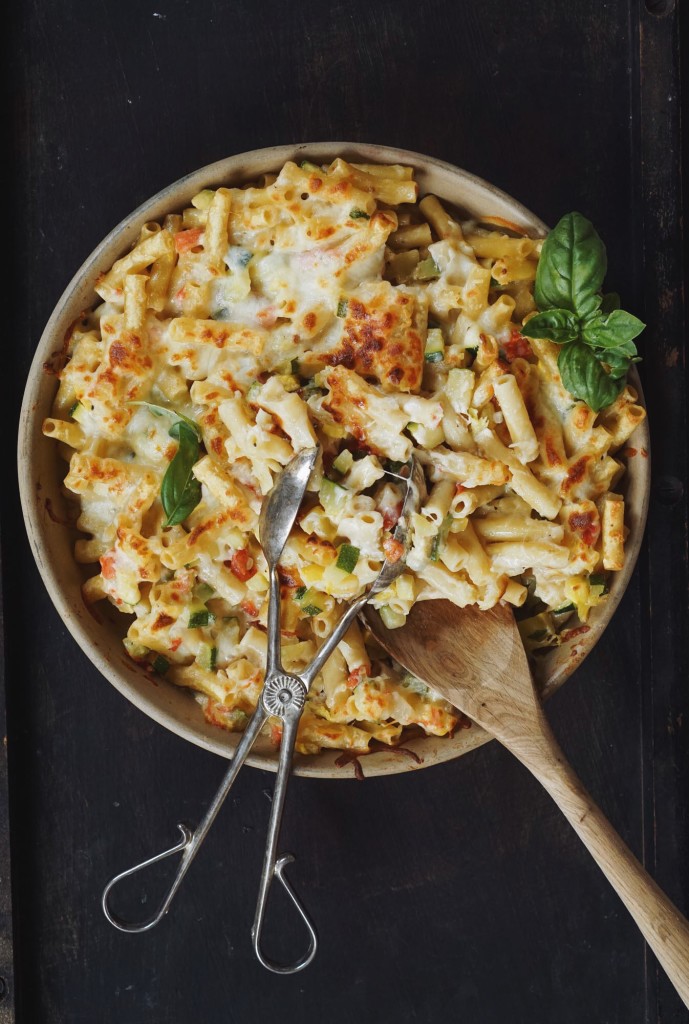 Top it with more cheese, bake it for 25-minutes, and get ready to INDULGE. I'd make this on a weeknight with some grilled chicken, bring it as a dish to your next cook-out, or have a big batch to eat throughout the week. I promise this won't let you down guys. Enjoy!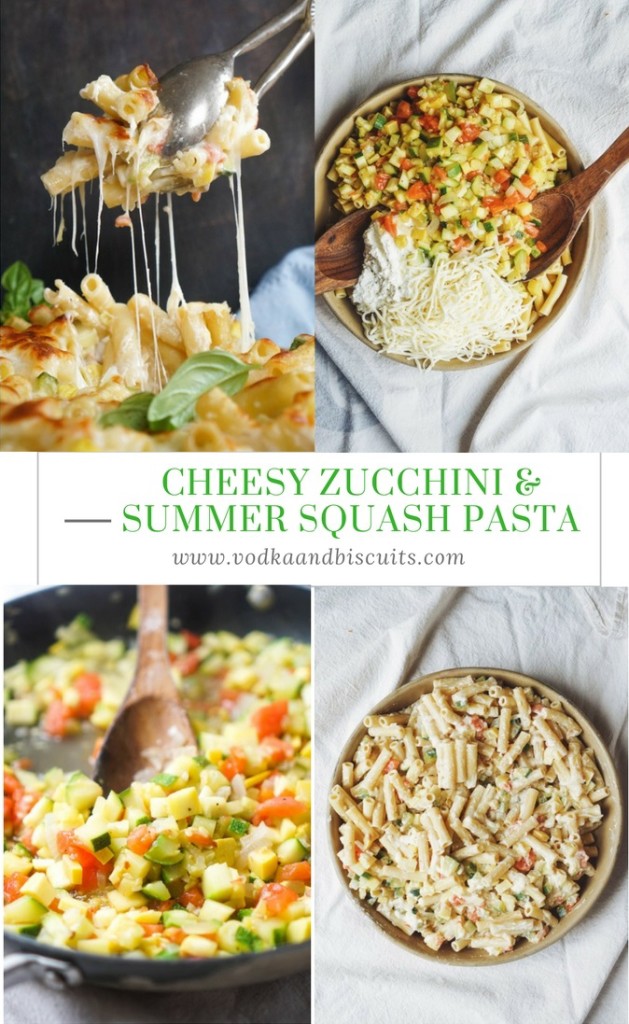 Cheesy Zucchini & Summer Squash Pasta Bake
2016-05-19 06:38:47
Serves 5
Sauteed zucchini, squash, and tomatoes seasoned with oregano, garlic, and red pepper tossed with pasta, ricotta, and mozzarella to make a DELICIOUS summer pasta bake!
Ingredients
8 oz. Ziti pasta noodles
2 Roma tomatoes, concasse (see recipe)
2 medium zucchinis, small dice
1 large yellow squash, small dice
1 small yellow onion, small dice
2 cloves garlic, minced
2 tablespoons of olive oil, plus more as needed
salt and pepper as needed
dried oregano as needed
red pepper flakes as needed
1/2 cup part skim Ricotta cheese
2 cups low-fat mozzarella cheese, shredded
Instructions
Preheat the oven to 375.
Bring a large pot of water to a boil. This is for the pasta, however you're going to first use it for the tomatoes! Have a small bowl of ice-water next to the boiling pot of water.
Using a pairing knife, carve a large "X" on the surface of each tomato. Place in the boiling water for 45-seconds to one minute until the skin of the tomatoes starts to peel. Immediately transfer to the ice-water to shock the tomato. Peel and discard the skin, then chop the tomato into a small dice (scooping out the seeds prior if desired). Add to a bowl.
In the same boiling water, cook the pasta noodles in salted water according to package directions. Drain and transfer to a large baking dish. Drizzle the noodles with olive oil to ensure they do not stick.
Before you are ready to saute the vegetables, have your seasonings next to the stove. I recommend dried oregano, red pepper flakes, garlic salt, and black pepper.
Heat the olive oil in a large saute pan over medium heat. Once hot, add the onion and cook until soft, about 3 minutes. Add the garlic and cook until fragrant, about 45 seconds. Season with a sprinkle of salt and pepper.
Mix in the squash and zucchini, adding a tablespoon more of olive oil if needed. Cook while stirring until the vegetables, about 3-4 minutes. Throughout the cooking process add the dried oregano, salt, pepper, and pepper flakes one pinch at a time until desired taste is achieved. I ended up with two large pinches of oregano, one of red pepper flakes, and lots of pepper!
Add the tomatoes and cook for a further 2-minutes. Taste for seasoning then transfer to the baking dish with the pasta.
Add the ricotta cheese, 1 cup of the shredded mozzarella, and mix to combine. Once the pasta is combined well, sprinkle the top once more with a pinch of black pepper (optional). Top with the remaining mozzarella and bake until cheese is melted and golden, about 25-minutes.
Serve with a fresh green salad or grilled chicken.
Notes
The whole tomato process is called "concasse" (CONK-A-SAY) and is the easiest way to remove the skin of the tomato.
http://www.vodkaandbiscuits.com/