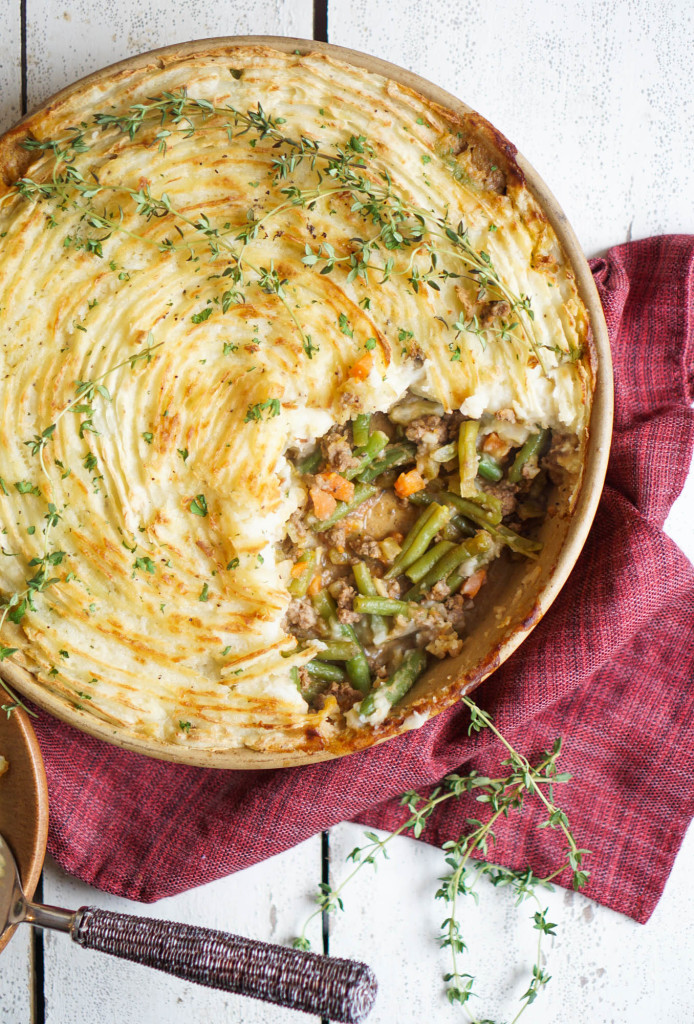 THIS is the meal you need to make to convince your family and friends Whole30 isn't that bad after all (because believe me our family and friends think we are torturing ourselves).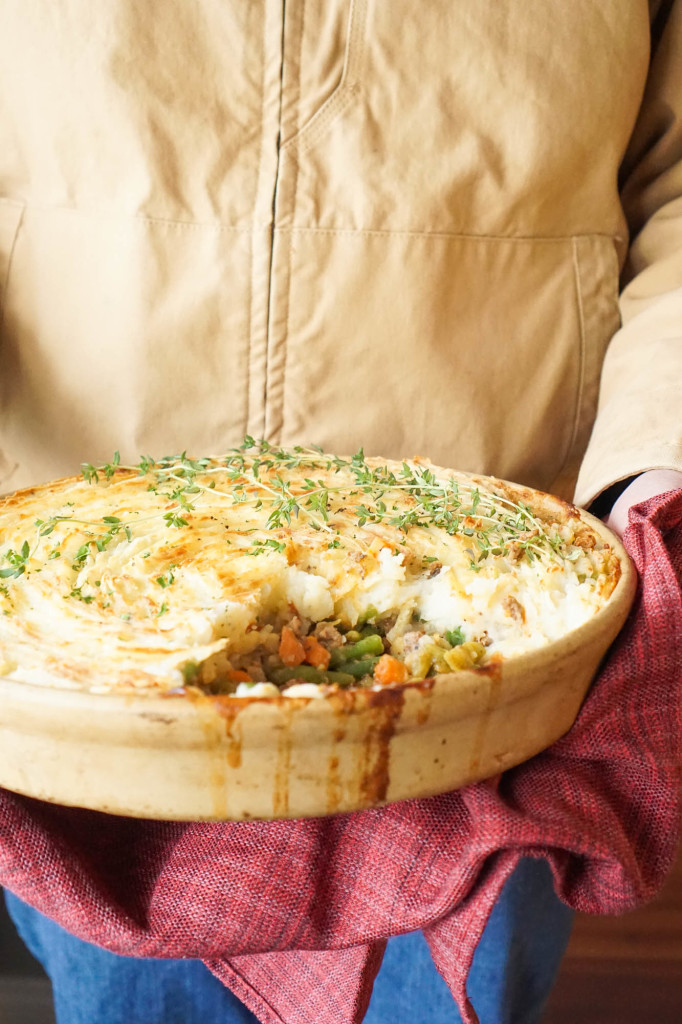 I just published my first introduction to Whole30 (see here!) and how we prepared our kitchen, fridge, and meals for the week. I'll soon be posting our week 1 recap with recipes and a grocery list (whaaa!), which features this compliant Shepherd's Pie.
A filling and comforting meal made with lots of veggies and ground beef topped with creamy garlicky mashed potatoes. All made with Whole30 approved ingredients, giving you one filling and healthy meal. Let's get into this because now my stomach is growling.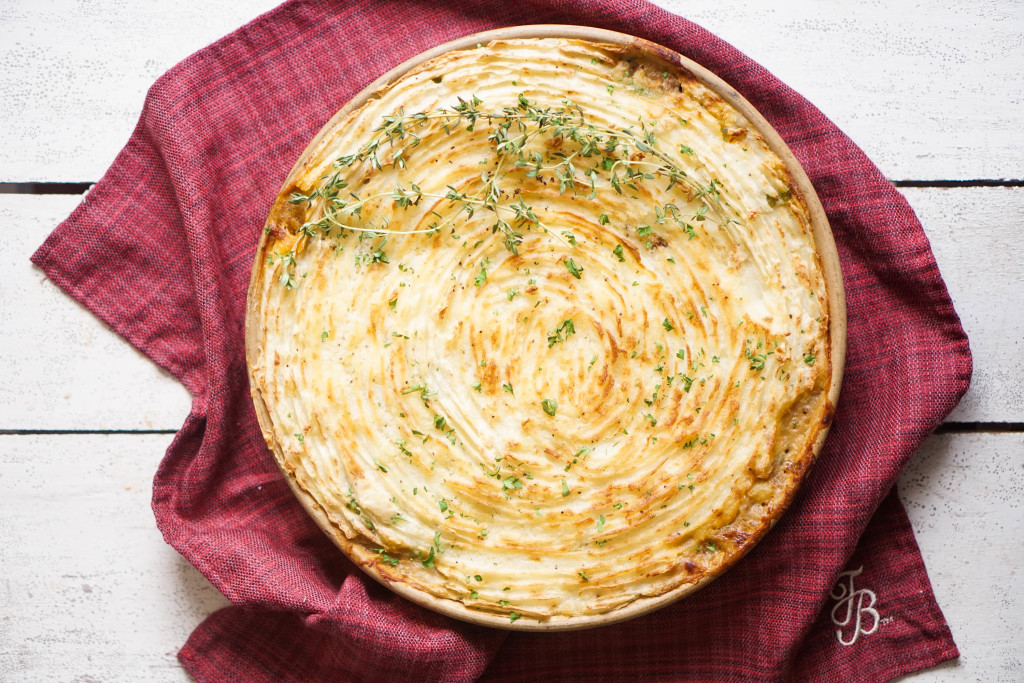 Shepherd's pie is a well-known Whole30 recipe, as it should be. What's not to love about anything dolloped with mashed potatoes especially when you're desperate enough to eat a chair leg? Kidding guys, I'm really proud of how not-hungry, less-craving I've been since starting this journey. I'm hoping after these recipes and posts I'll inspire at least someone to join along.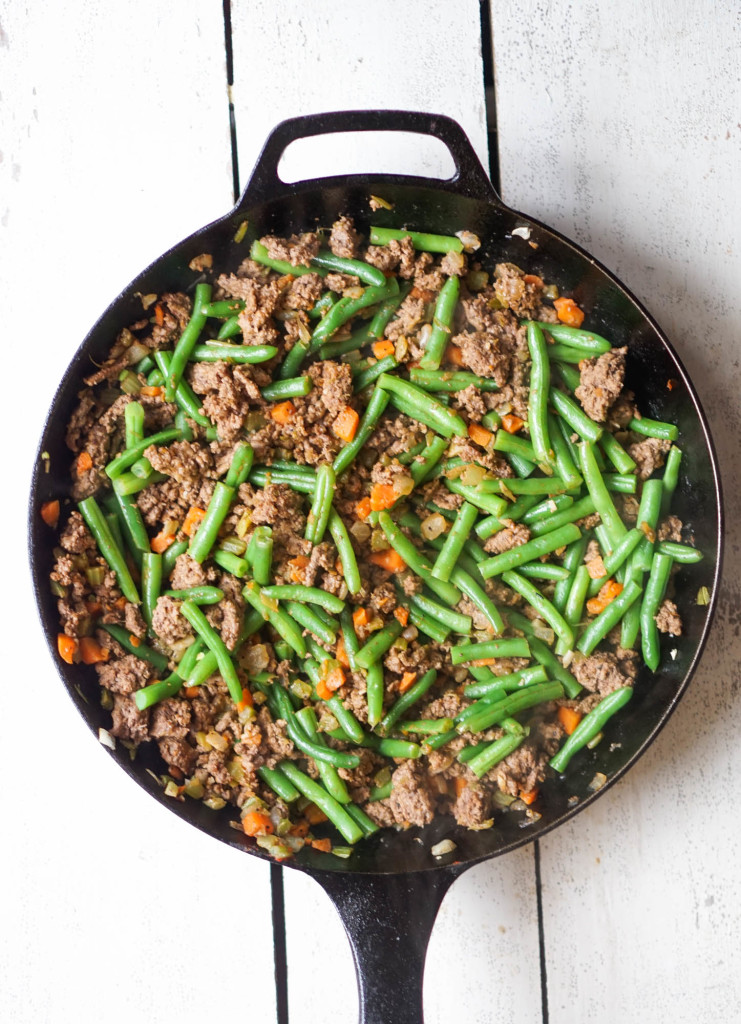 Anyways, this dish comes together quickly as it's nothing more than ground beef and vegetables. I seasoned mine with lots of garlic, thyme, spicy pepper flakes, and paprika. The paprika just made sense to me and the thyme is exactly what it needed. I added a spoonful of tomato paste, and gradually added chicken stock throughout cooking.
Note: As Shepherd's Pie is traditionally made with ground lamb, this recipe is technically Cottage Pie. Thank you for all of my readers who have corrected me!
The stock reduced giving the dish more flavor, but also adding it last minute gave it that "gravy-ness" we associate with Shepherd's pie.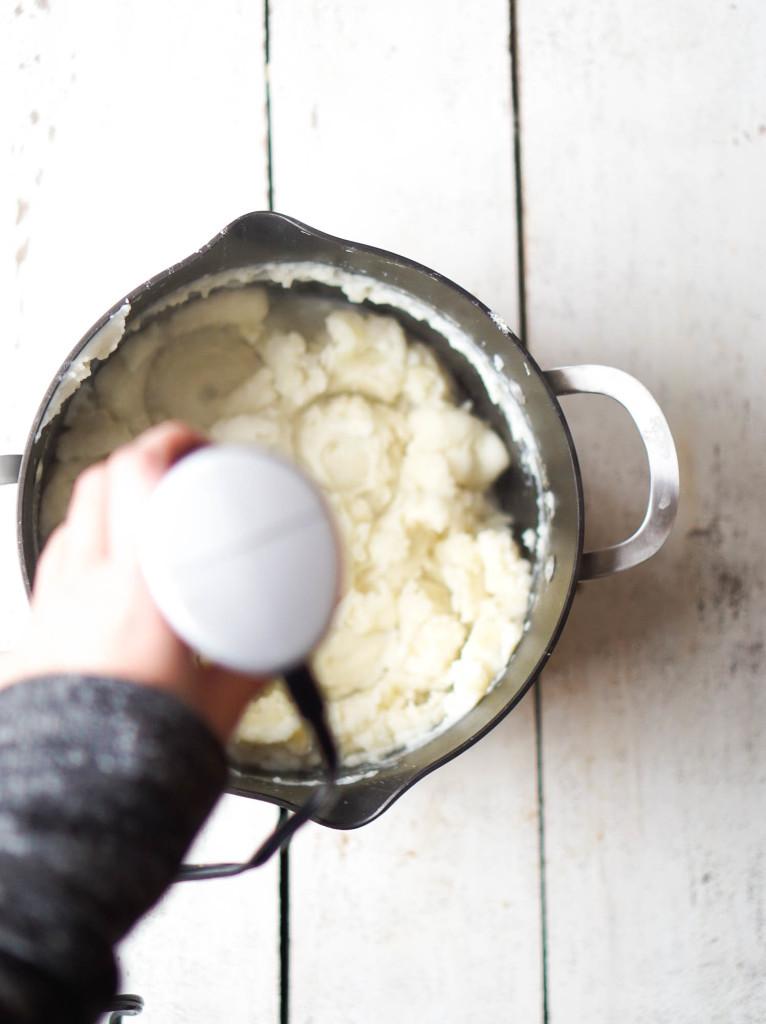 While the filling is doing it's thang I whipped up the potatoes. It's your common mashed potato recipe except while the potatoes are boiling, I steeped almond milk with butter, thyme, and garlic. YUM. That gets poured into your cooked potatoes and mashed to a creamy perfection.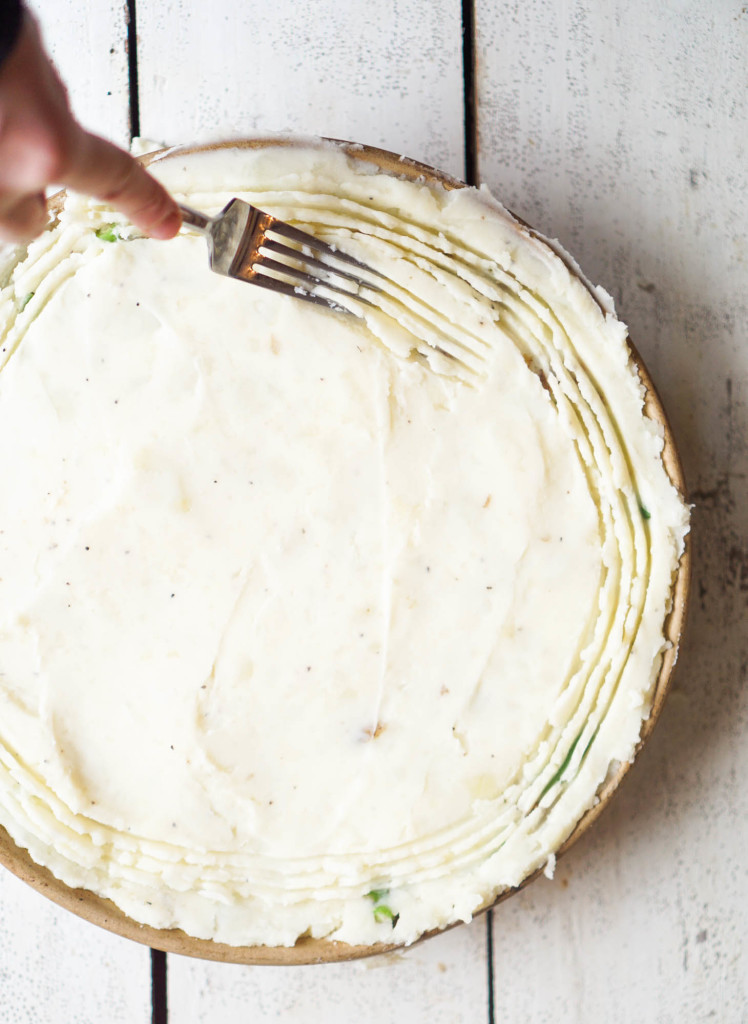 It all gets thrown together and if you're feeling fancy you can give your potatoes a design. My design was nothing but swirling a fork around the dish and it actually turned out good! I totally recommend this as the grooves crisped up in the oven and almost mimicked cheese (or maybe that's just my conscience).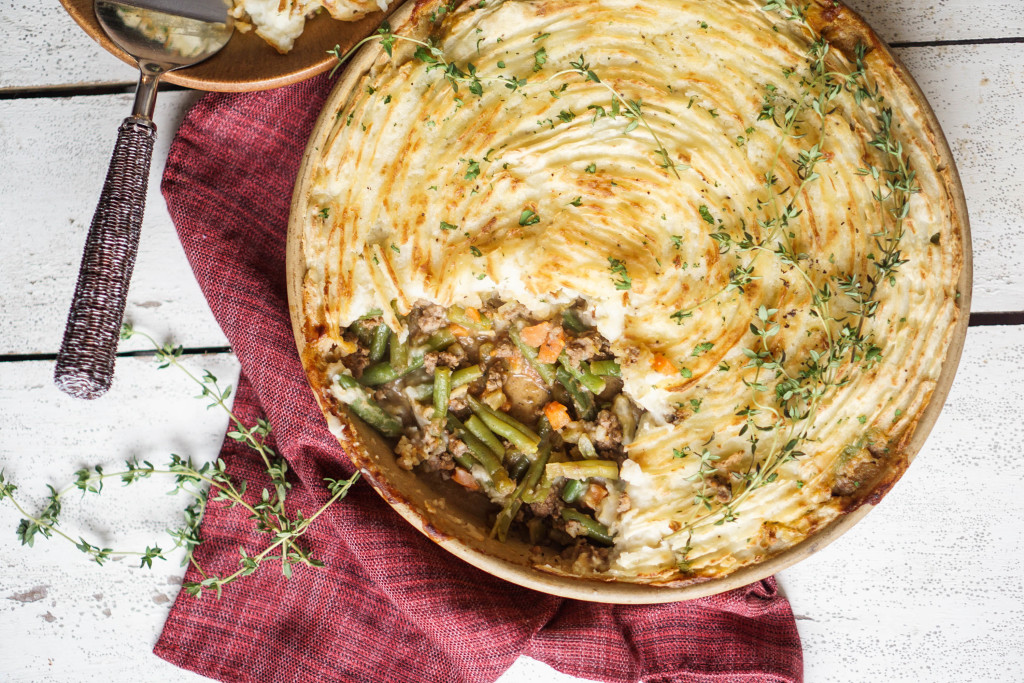 NOW.
Lemme speak.
I am saying "Whole30" everywhere because this is a recipe I designed for someone who is following Whole30. In March if I make this dish I probably will make a gravy with the filling, add corn, and lotsss of cheese, But that's not this month nor this recipe, so if you're NOT eating Whole30 don't tell me this is a boring recipe because to you it probably is. To me and all the other Whole30-ers, this is everything we want.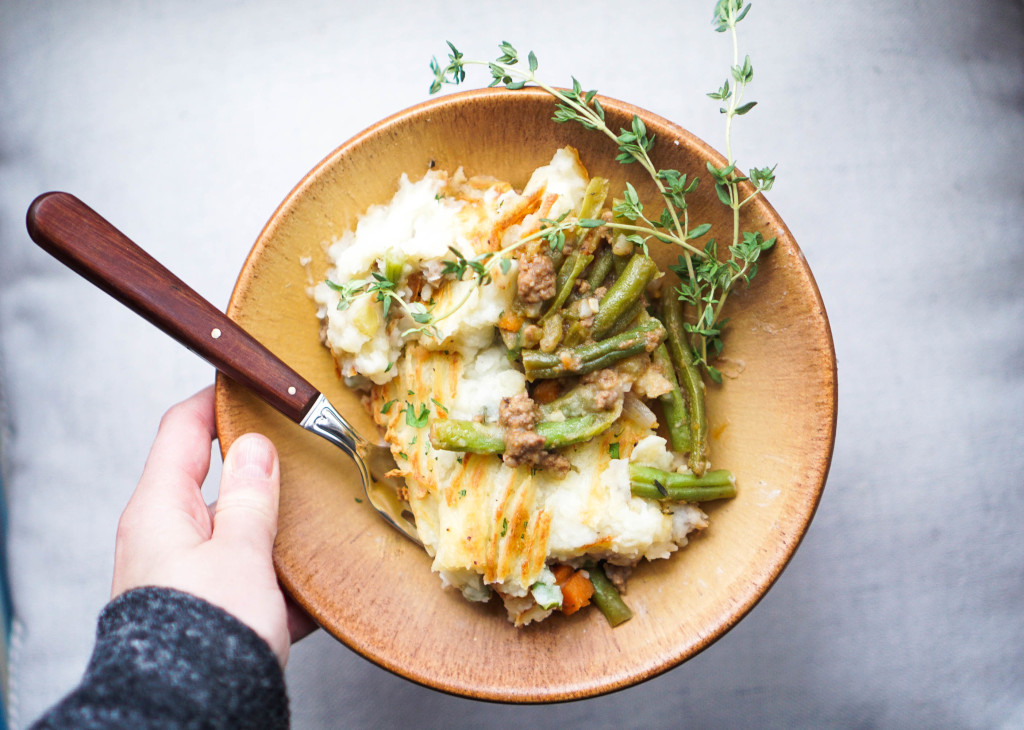 ENJOY!
PS: that awesome round pan is my super sturdy Pampered Chef 10″ Stoneware pie pan!
Shepherd's Pie (Whole30)
2017-01-09 11:16:19
Serves 6
A healthy and Whole30 compliant shepherd's pie. The perfect comfort meal for either entertaining or a meal with plenty of leftovers.
For the Filling
1 ½ lbs. ground beef or lamb, preferably grass-fed
1 onion, diced
2 large carrots, diced
3 stalks celery, diced
2 cloves garlic, minced
6 oz. green beans, blanched and cut into half or thirds*
1 tablespoon tomato paste
¼ teaspoon ground or fresh thyme
½ teaspoon paprika
¾ cup to 1 cup chicken stock*
Pinch of red pepper flakes
Salt and pepper as needed
For the Mashed potatoes
3 large New or Russet potatoes, peeled and cubed
Cold water as needed
1 cup almond milk*
1 clove garlic, minced
1 sprig fresh thyme (optional)
Salt and pepper as needed
2 tablespoons clarified butter or ghee, plus more if desired
Instructions
Preheat oven to 400 degrees
Heat a sauté pan over medium high heat. Add the ground beef and cook 3-4 minutes until fat has begun to render and the beef is starting to brown. If needed, drain excess fat.
Add the onions, celery, and carrots. Season with salt, pepper, paprika, thyme, and red pepper flakes. Cook 4-5 minutes until the vegetables are soft and the beef is completely browned. Add the tomato paste, distributing throughout the pan.
Reduce the heat to medium, add the garlic and cook until fragrant (about 45 seconds). Add the green beans and ¼ cup of the stock, stir to combine. Keep on low-heat, while adding more stock until the filling is "moist" (sorry people). Taste and adjust seasonings as needed.
Begin to cook the potatoes. Add the potatoes to a large pot and cover with cold water by 2". Add a generous pinch of salt and boil for 10-12 minutes until the potatoes are fork tender. As the potatoes are cooking, add the almond milk, garlic, ghee, and thyme (if using) to a small sauce pan. Heat until the butter has melted and it is hot to the touch.
Drain the potatoes and return to the pot. Remove the thyme from the almond milk. Mash the potatoes while slowing adding the milk. Mash until desired consistency achieved.
When ready to ensemble, transfer the filling to a 9x9 baking dish or 12" round dish (it can also be cooked and baked in a cast-iron skillet). Spoon over the mashed potatoes and spread evenly, smoothing the top with the back of a spatula or spoon. If desired, use a fork to create a swirl pattern in the potatoes. Dot with more ghee (if desired) and bake 30 minutes. Broil for 5 minutes until the potatoes are golden brown.
Notes
To blanch fresh green beans, boil them in salted water for 2 minutes until vibrant green. Transfer immediately to ice water to stop cooking. You may also use thawed green beans.
To be Whole30 compliant, make sure all ingredients (almond milk, chicken stock) are Whole30 approved.
Potatoes and/or filling can be made a day ahead!
http://www.vodkaandbiscuits.com/