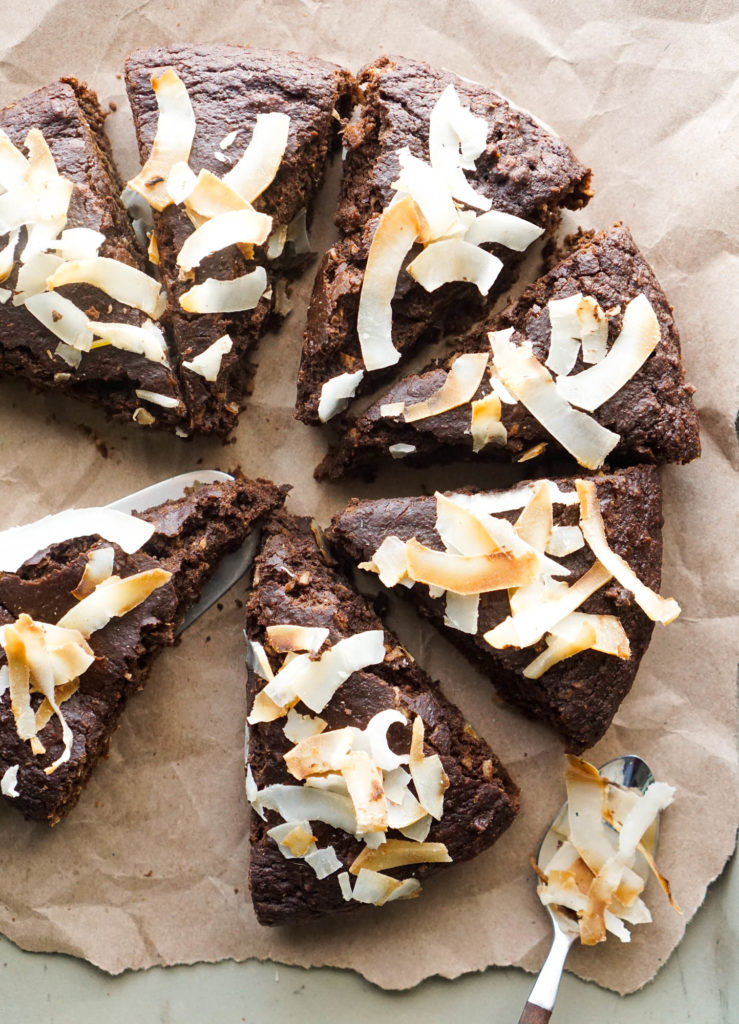 Not mentioned in the title is naturally sweetened, guilt-free, fudgy, less than 200 calorie piece of cake 👏🏼👏🏼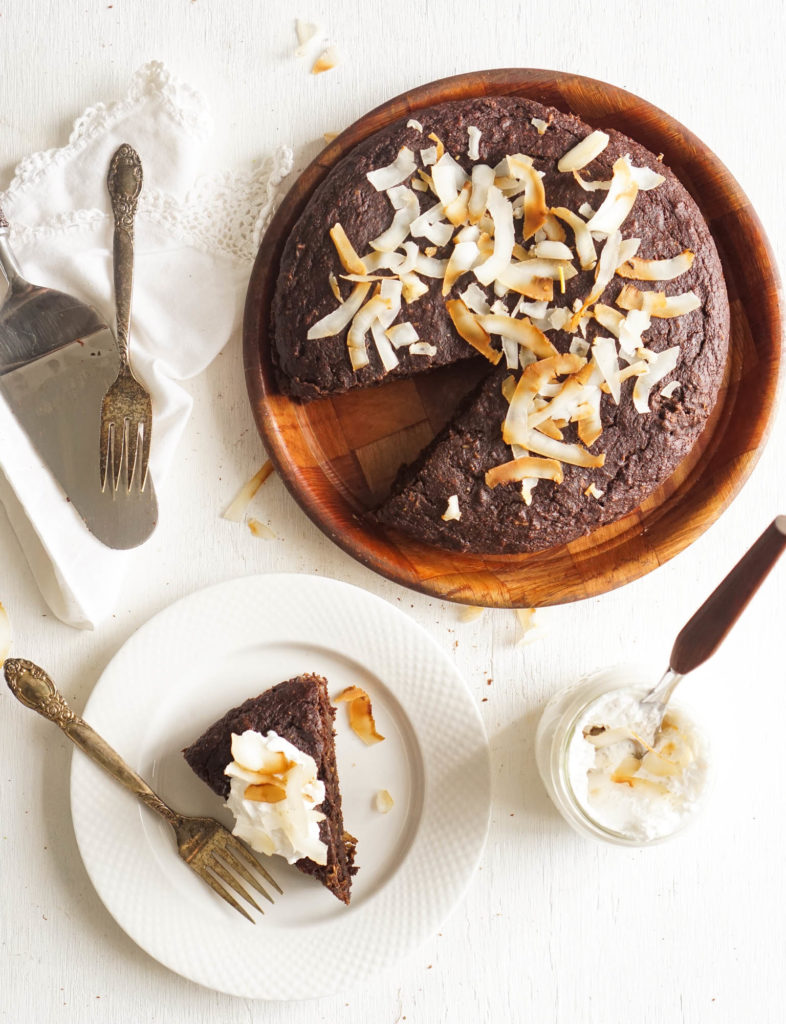 I'm going to be honest, this cake has a lot of ingredients which typically scares me away. It was the main reason it took me so long to get around to this recipe from an old college Clean Eating Cookbook I have. However, the page has been folded for what seems like forever and when I recently reopened the book I realized the recipe and ingredients are rather simple.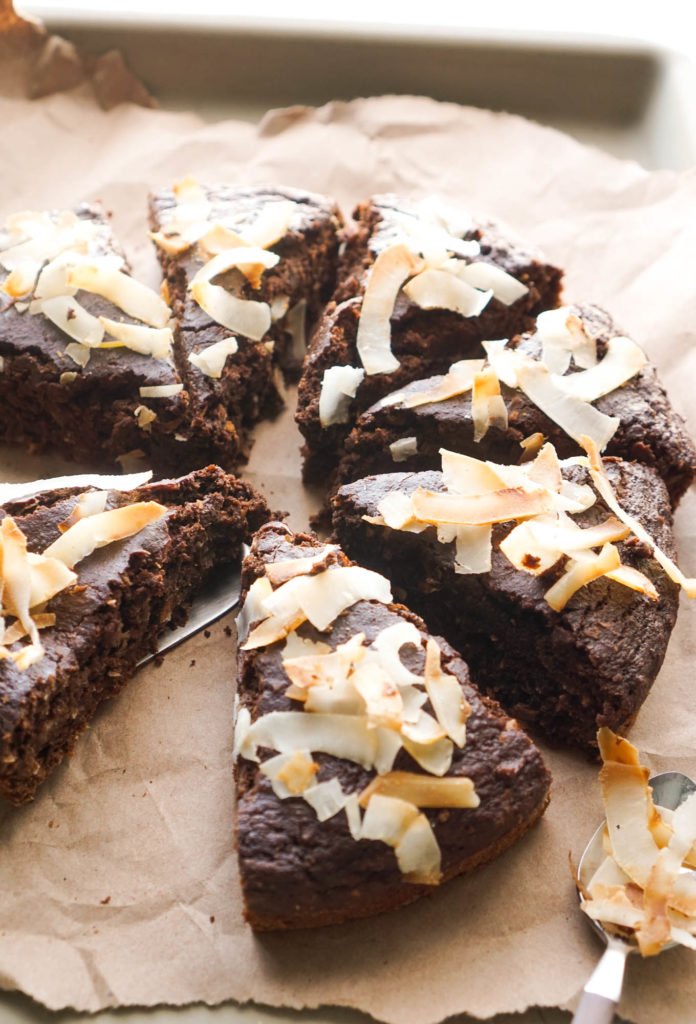 I've been keeping our desserts nice and light lately so I had almost all of the ingredients – think unsweetened applesauce, dates, coconut oil, whole wheat flour, etc.
If you do need some of the ingredients, check out Aldi's or Trader Joe's for a little bang to your buck!
The only ingredient I had to buy was the coconut extract, which I found along all the extracts in my go-to local grocery store – woot woot! After falling in love with the scent, I read there's tooooo much you can do with coconut extract. Here I come coconut coffee lattes and pina coladas.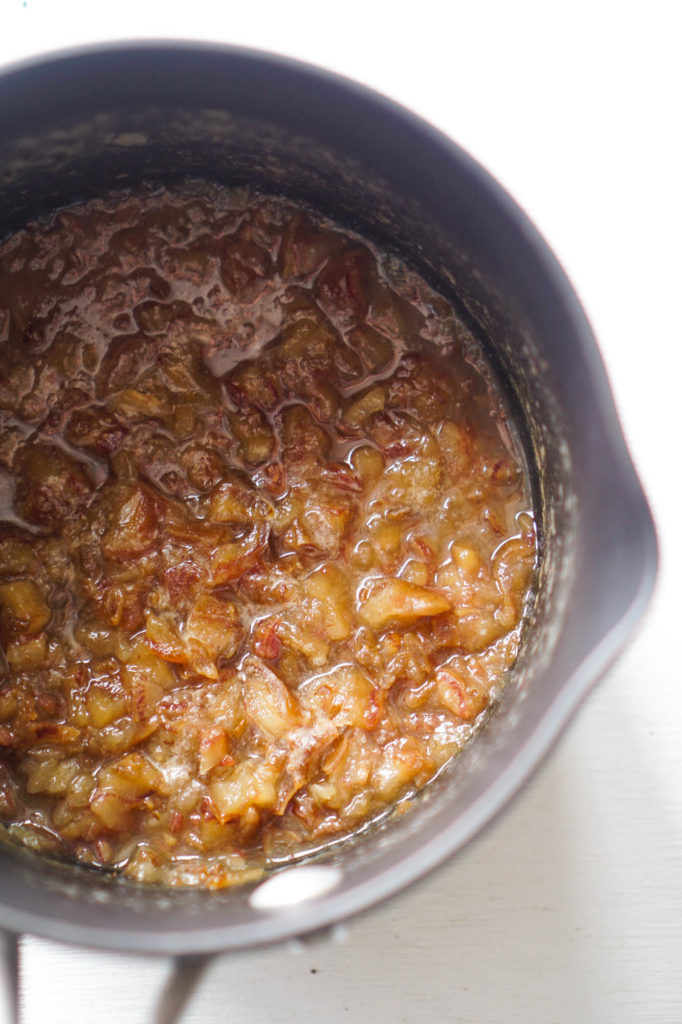 My favorite part of the cake is the chai spices involved (think cardamom, nutmeg, etc.) and now I'm obsessed with all things chai, coconut, and chocolate related.
Once you have all the ingredients the cake comes together & bakes rather fast. The only real prep you have to do is combine chopped dates and water on the stove which will not only sweeten but help moisten the cake.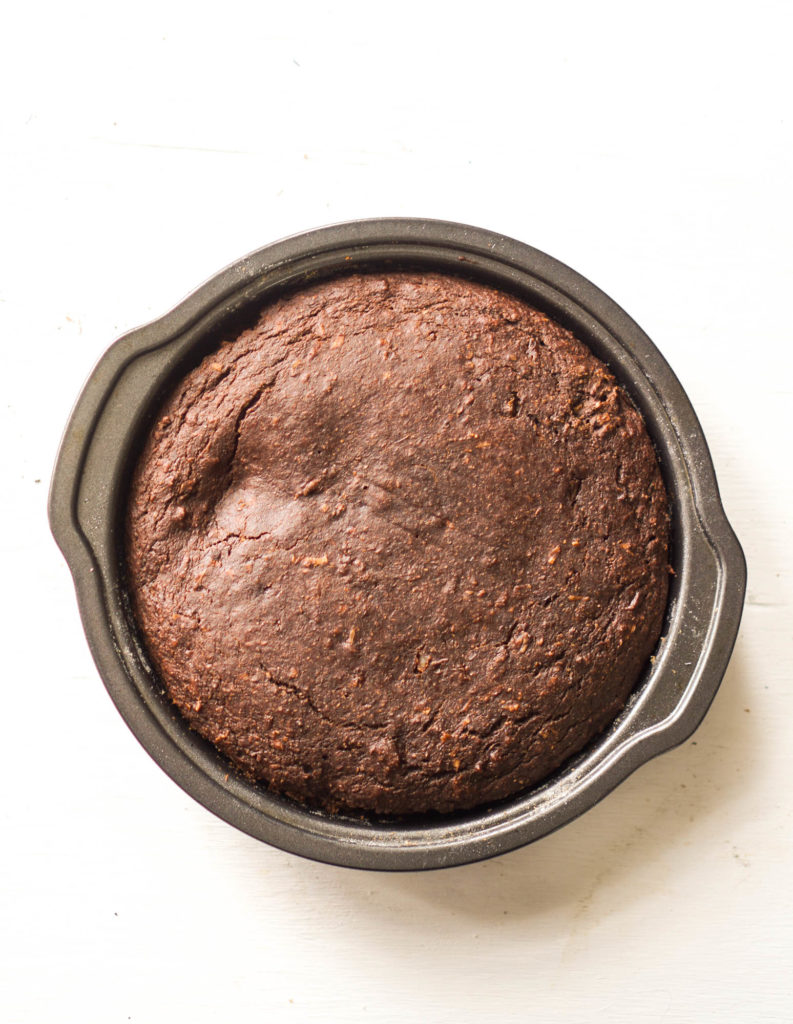 Post bake I garnished mine with some toasted coconut flakes that I somehow managed to do myself. I woke up with this urge to cook with a fresh coconut and can I just say not only did I break a sweat, but totally chipped off the stone in my drive way trying to crack that thing. Never again 🤣.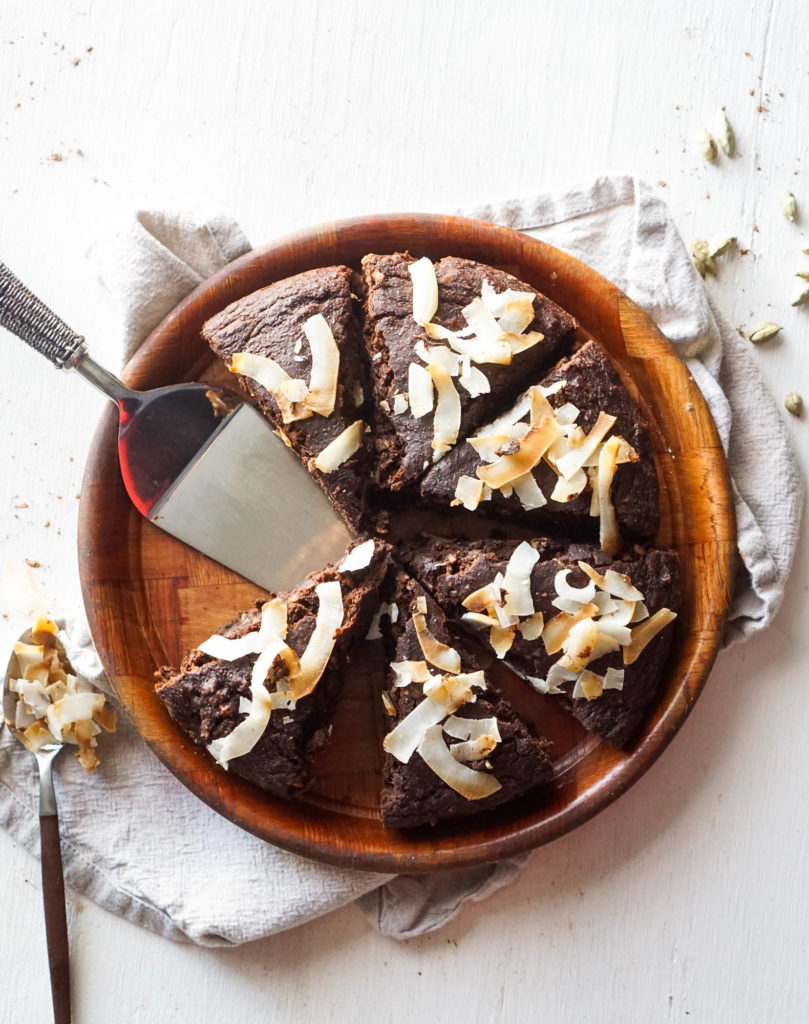 I also whipped up some coconut whipped cream using full fat coconut milk and vanilla, but any type of whipped cream will work!
The cake is fudgy (drool) with hints of coconut and cardamom giving this the most unique indulging cake ever. I couldn't stop after my first bite, then reminded myself of all the natural goodness involved and didn't feel so bad.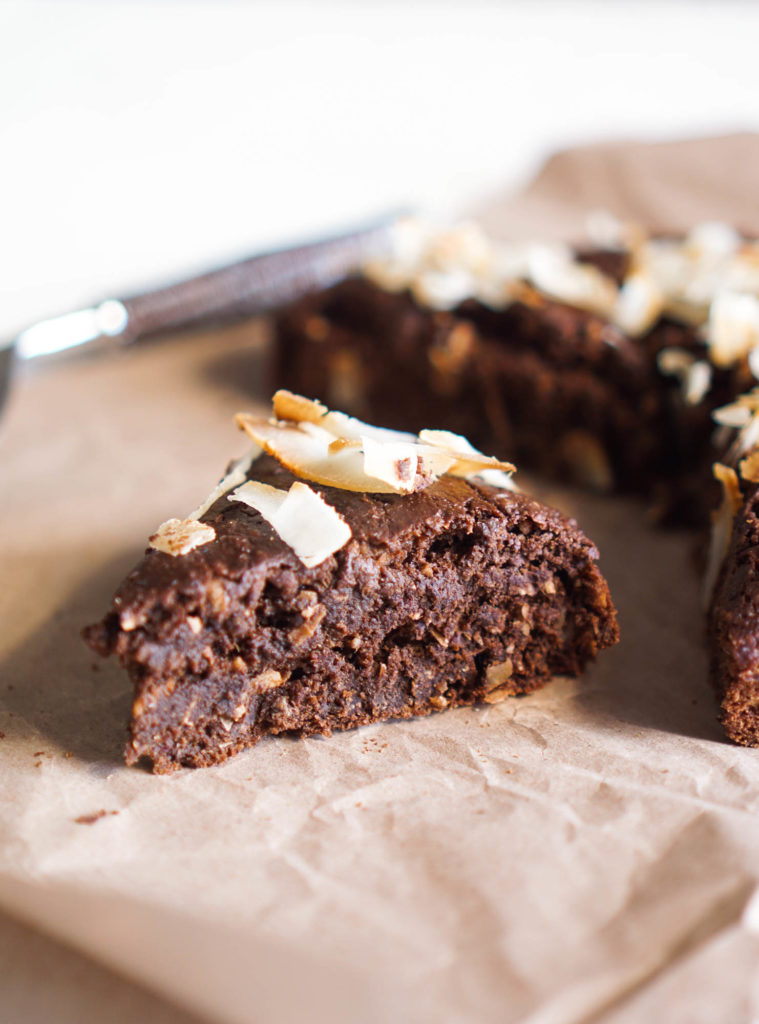 Scott doesn't like chocolate or coconut (or sweets for that matter) so I brought half the cake to my mom and froze the rest. Earlier this week I defrosted a slice in the oven and was so surprised at still how fudgy it was. YAY for frozen leftovers!
I think you should make this cake if 1) the combination intrigues you or 2) if you have a majority of the ingredients on hand and interested in "healthier" baking. I would never want to have you get ingredients you'll never use, so perhaps this cake can be bookmarked and made once you wiggle dates or cardamom into your diet.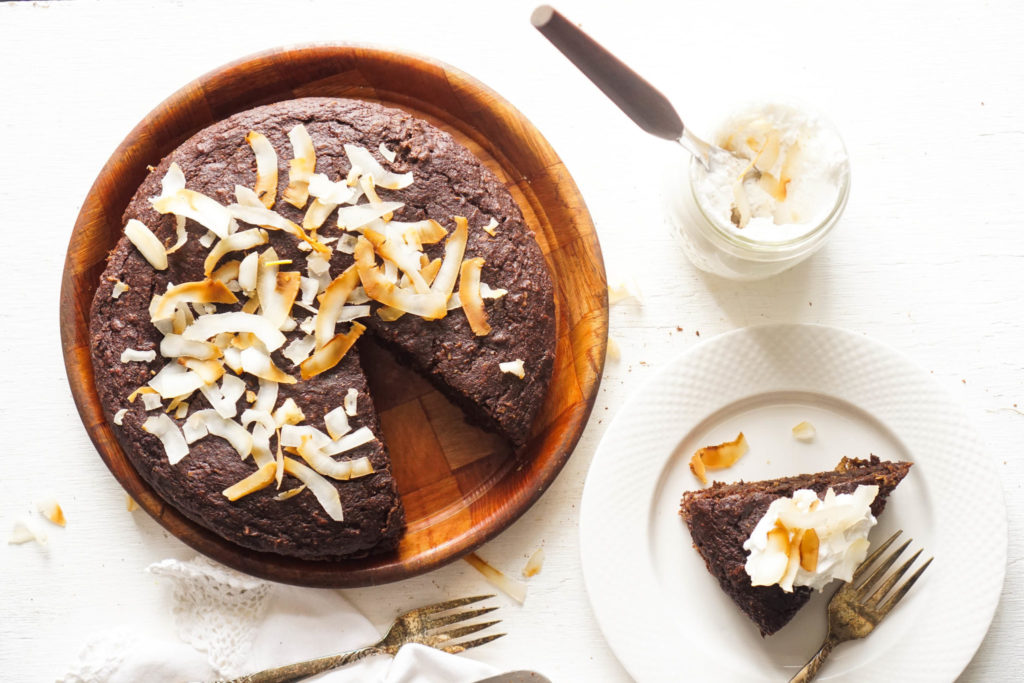 I am confident that when and if you decide to make this, you will love it just as much as I do. Enjoy!
NOTE: in the pictures I made 8 large (and uneven) slices. This cake yields 12 smaller slices, which is what is recommended for portion sizes. The nutrition label refers to 12 slices!
Coconut Chai Chocolate Cake
2017-04-14 06:00:30
Serves 12
Fudgy coconut chocolate cake spiced with chai-like spices (think cardamom, ginger, nutmeg) naturally sweetened with healthy ingredients.
Ingredients
10 unsweetened dates, pitted and finely chopped
1 cup water
1 1/4 cup whole-wheat flour, plus 1 tablespoon
1/2 cup unsweetened cocoa powder
1 teaspoon baking powder
1 teaspoon baking soda
1/2 teaspoon cinnamon
1/2 teaspoon sea salt
pinch ground ginger
pinch ground cardamom
pinch ground nutmeg
1 egg plus 1 egg white
1/2 cup almond milk
1/3 cup unsweetened applesauce
1/4 cup honey
1 teaspoon orange zest, finely grated
2 tablespoons coconut oil, melted
1/2 teaspoon coconut extract
1/4 cup unsweetened flaked coconut, plus more if desired for garnish
Optional garnish: toasted coconut flakes, whipped cream
Instructions
Preheat oven to 350. Grease a 9-inch round baking pan with baking spray and coat with 1 tablespoon of whole wheat flour, discarding any that does not stick.
Add the dates and water to a small sauce pan and bring to a boil. Reduce the heat to medium-low, and simmer for 10 minutes until the dates have absorbed almost all of the water.
In a large bowl combine the 1 1/4 cup of flour, cocoa powder, baking powder/soda, spices, and salt. Mix.
Add the egg, egg white, milk, applesauce, honey, zest, and coconut oil and extract to another bowl and mix until combined. Add to the dry ingredients and mix until batter forms.
Fold in the date/water mixture and the coconut flakes and mix until incorporated.
Pour into prepared pan and bake until a toothpick comes out clean, about 30-35 minutes. Cool for ten minutes.
Slice into 10-12 pieces and top with toasted coconut flakes and whipped cream, if desired.
Notes
When coating the pan with grease/flour, I like to just throw the flour on all sides of the pan then beat the back of the pan to rid of any excess. It's less of a mess if you do this outside!
This makes 8 larger slices or 12 small. I vote small!
Adapted from Clean Eating Cookbook
Adapted from Clean Eating Cookbook
https://www.vodkaandbiscuits.com/