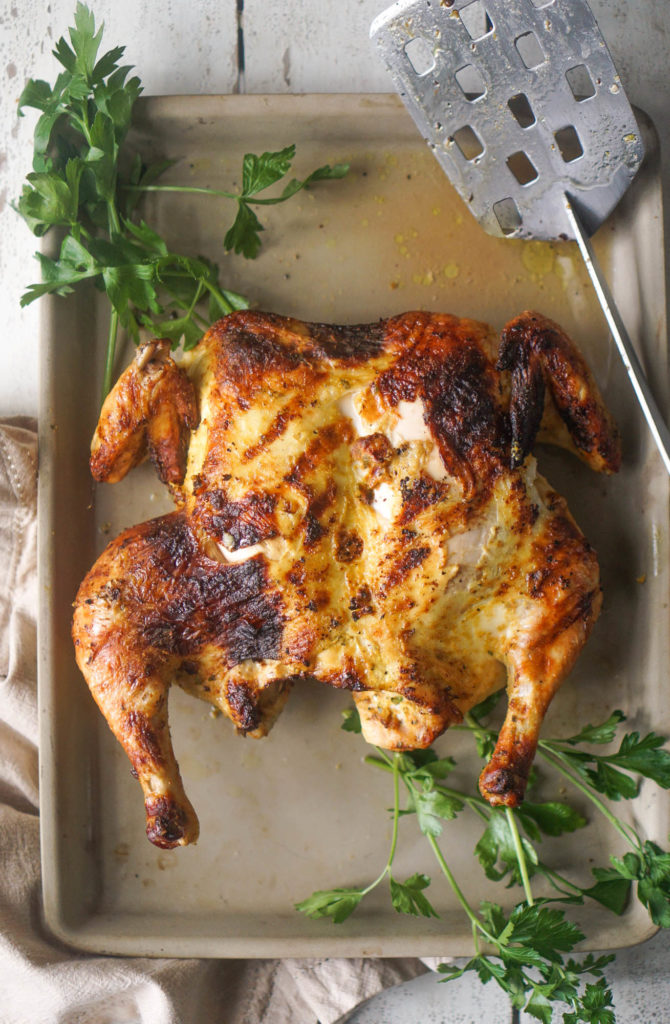 Spatch-what?
That was Scott's reaction after he asked what I was doing over the sink cutting the chicken. And yelling a few bad words because our kitchen shears SUCK, but that's a story for a different time.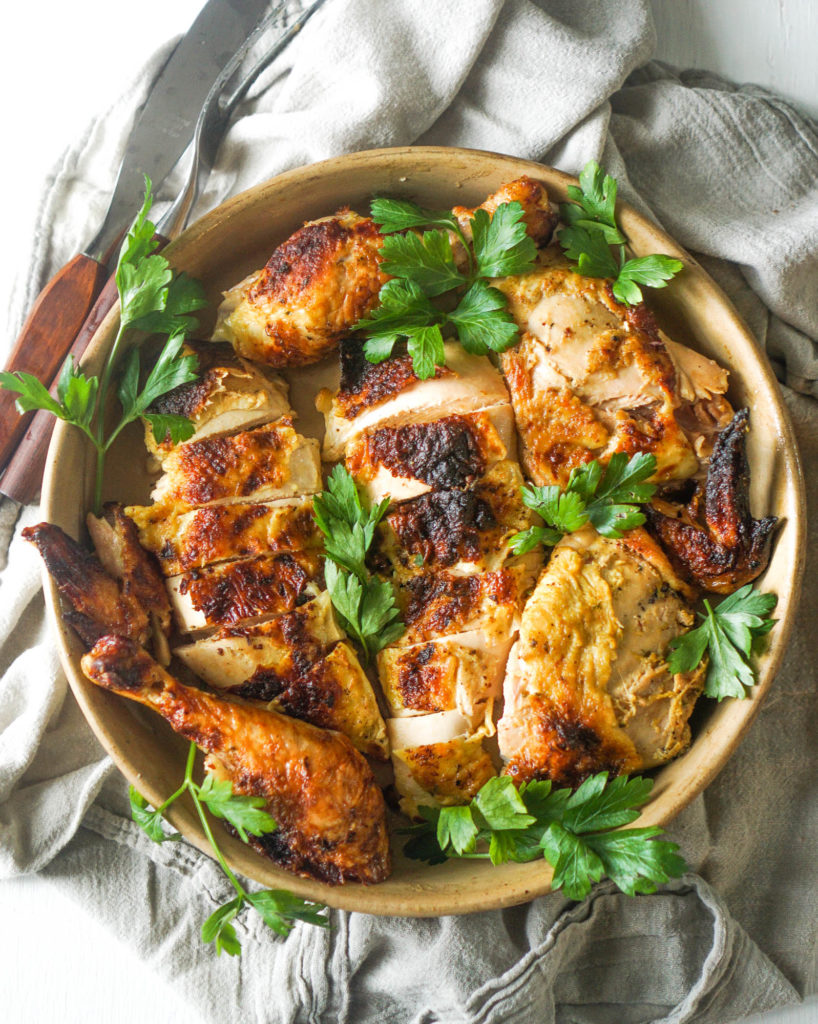 If you're in the same boat as Scott, spatchcock is nothing more than splitting open a chicken. In my opinion it's the best way to grill a whole chicken and although it may seem intimidating, it's actually SO simple.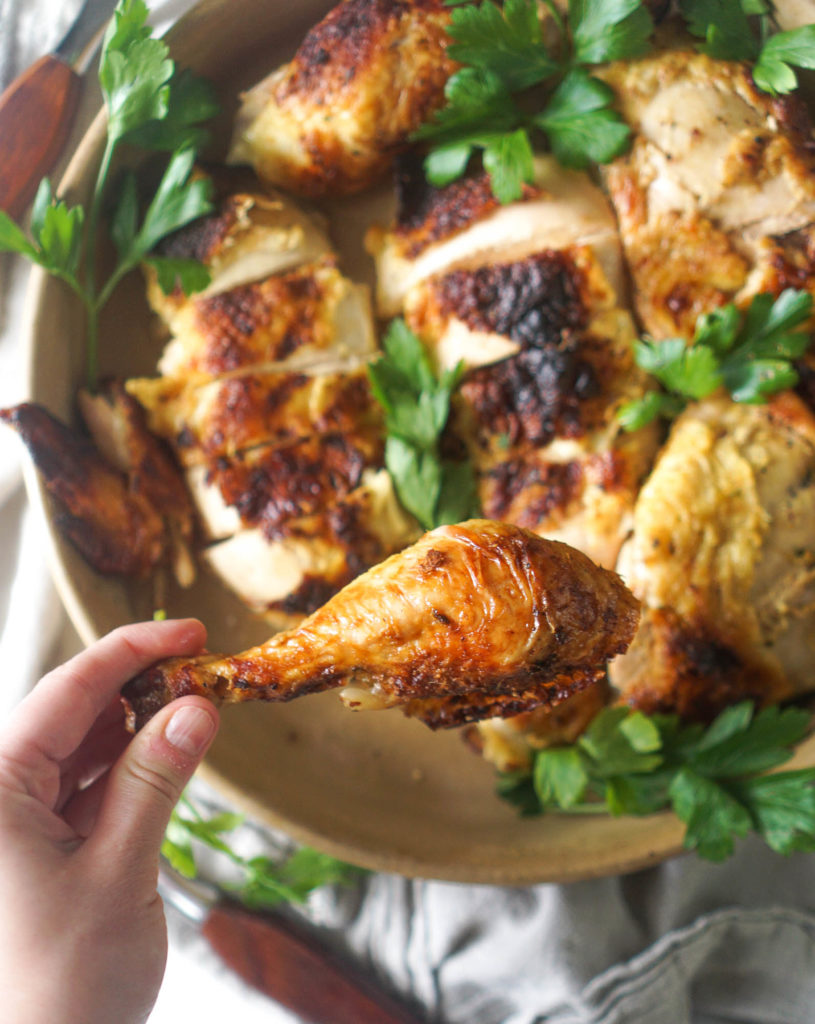 I've grilled a spatchcock chicken a few times already this season and the best part of this recipe is you can take this method and run with it. I'm showing you a simple honey mustard chicken for reasons that I can't wait to share, but I've also done this with barbecue sauce and a favorite, a wet rub made with olive oil, vinegar, cilantro, parsley, red chilies, dried basil, paprika, garlic, and sambal oelek. PHEW. You can use any dry rub, marinade, or store bought sauce you'd like for this!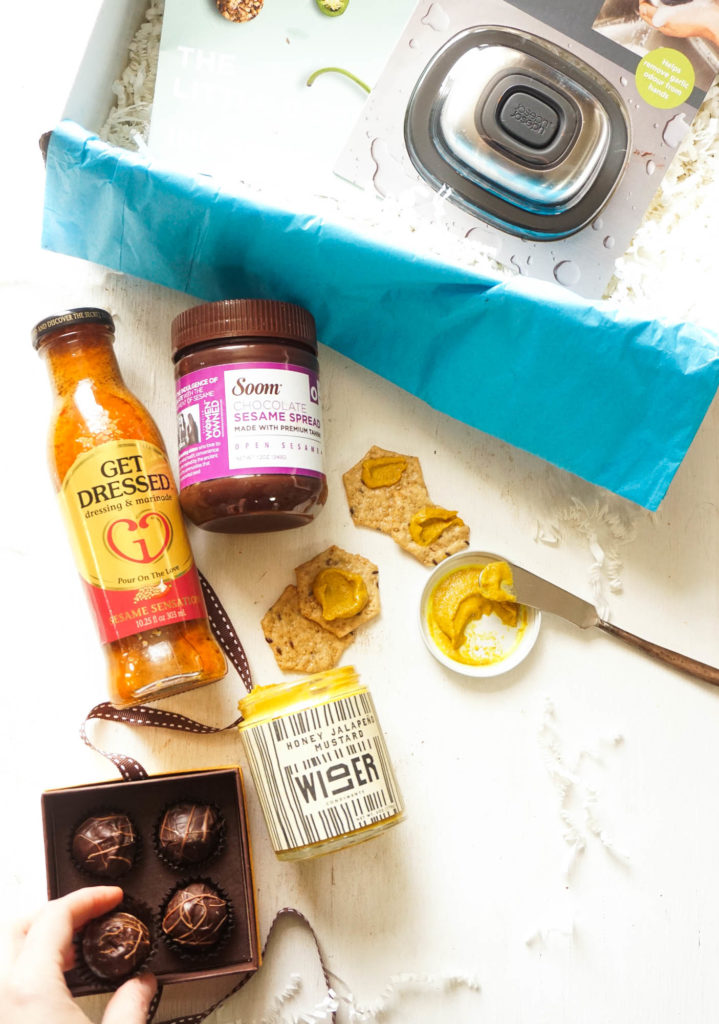 I was introduced to this amazing Honey Jalapeno Mustard via Mary's Secret Ingredients which inspired this recipe. You can buy one box at a time or subscribe monthly. Regardless, you receive a beautifully packaged box filled with organic and natural goodies (and a surprise kitchen tool!). Did I mention they're a supporter of Feed the Children? We all know global hunger needs to come to an end, and as a food blogger I will do anything possible to raise awareness.
I love surprises and there's nothing better when the surprise involves food and is delivered right to your door and that's why I'm excited to share that YOU can get 20% your first order with the code TRYMSI.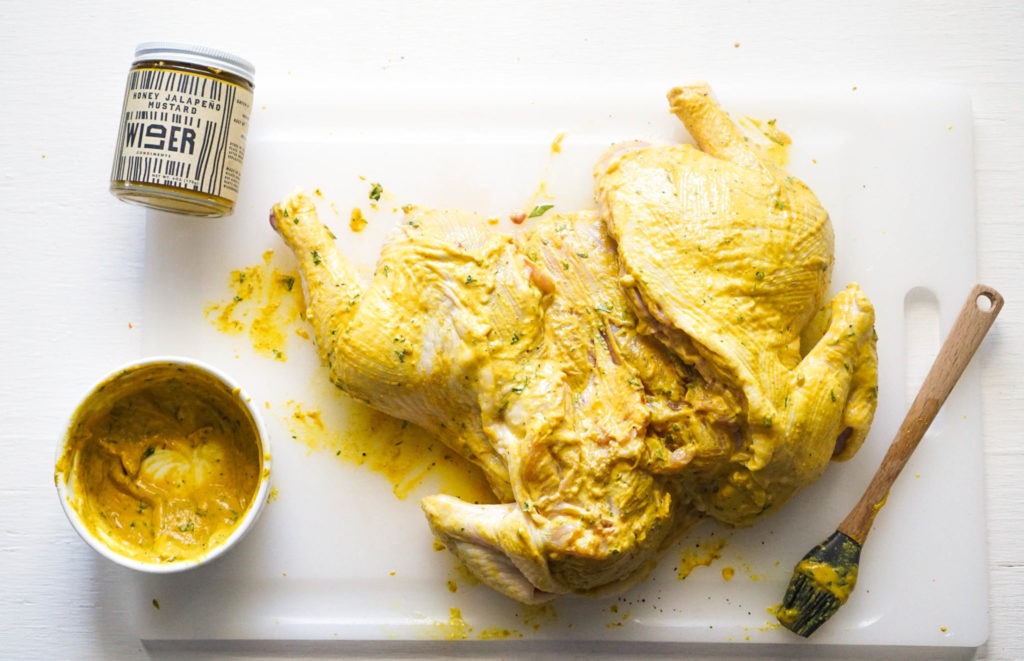 Before whipping up the marinade you want to spatchcock the chicken. There are a ton of videos and step-by-step pictures online of how to do so, but I break it down for you in the recipe. It's nothing more than removing the backbone then pressing on the chicken to flatten. This helps the chicken to cook evenly which makes it ideal for the grill. Keep this method in your back pocket!
I mixed the mustard with lemon, herbs, and garlic for a simple marinade. I recommend marinating the chicken for a minimum of six hours or overnight. You can use your favorite mustard or jazz up what you have at home!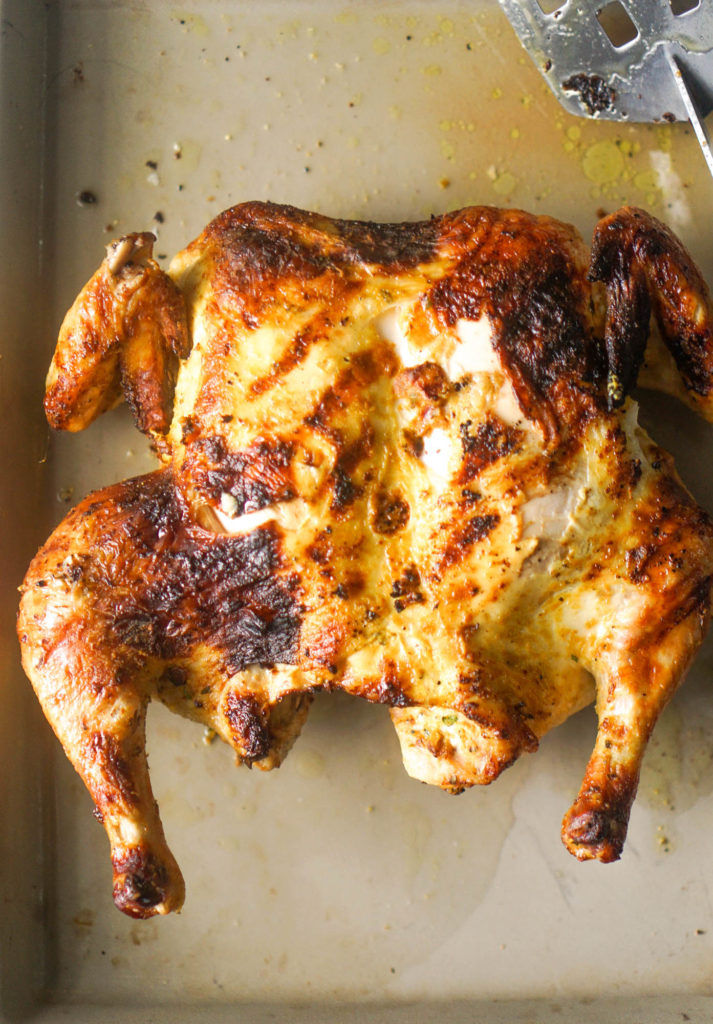 Grilling is simple. I use my all-time favorite method: the reverse sear. The chicken grills until almost done on the indirect side of the grill (away from the flame). Once the chicken is ten degrees under the desired temperature it rests off the grill for ten minutes before charring over the flame. We're using two tricks in the recipe to ensure a perfectly cooked chicken, therefore this recipe is foolproof.
I highly recommend using your meat thermometer for this recipe. I recommend a thermometer with a probe like this one, Wireless Remote Digital Kitchen Cooking Meat Thermometer
.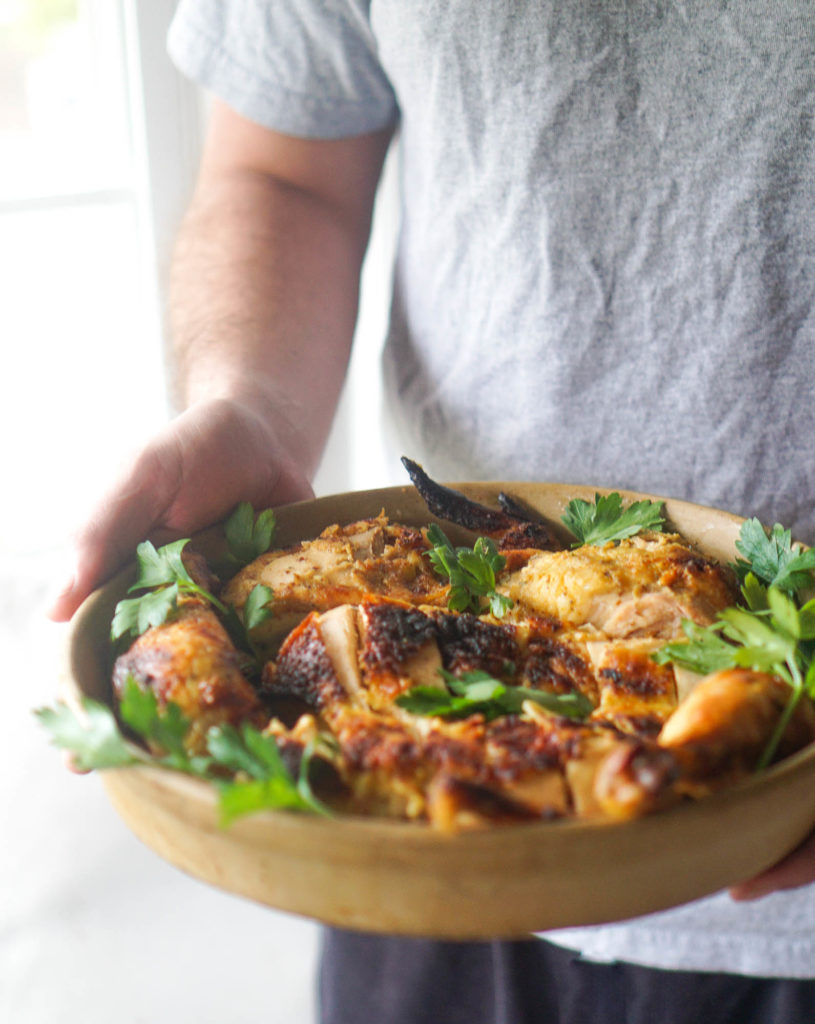 You'll be amazed at how crispy the skin gets and because of the spatchcock, the meat is juicy as ever. I like to serve this with Pinch of Yum's Magic Green Sauce (I literally use this on everything), but a honey mustard vinaigrette will also work. There's nothing like pulling apart grilled chicken and having a dipping sauce. Make this chicken for a weeknight dinner, or invite some friends over and have a dinner outside by the grill. If you haven't worked with a whole chicken on the grill, now is the time.
Enjoy 🙂
Grilled Honey Mustard Spatchcock Chicken
2017-04-27 06:41:12
Serves 4
An easy fool-proof grilling method for a juicy and crispy whole chicken. Use this method with any type of dry rub or marinade you prefer! I recommend serving your chicken along side a delicious vinaigrette or sauce for dipping.
Ingredients
3-5 pound whole chicken
1/2 cup honey mustard*
1 lemon, juiced
3 cloves garlic, smashed and roughly chopped
2 tablespoons chopped fresh parsley
1/2 teaspoon black pepper
olive oil as needed
sea salt as needed
Optional: board sauce, honey mustard vinaigrette, or magic green sauce*
Instructions
Remove any innards from the chicken and prepare to spatchcock (I use kitchen shears and a boning or utility knife). Lay the bird breast side down on your work surface. Locate the back bone. Starting at the thigh end, cut along both sides of the back bone to remove it, cutting through the ribs. I start with my kitchen shears then use my boning knife to get through the bones. Once removed, lay the bird breast side up. Press down to flatten (you will hear a crack).
In a small bowl, mix the honey mustard, lemon, garlic, parsley, and pepper. Add a splash of olive oil if your mixture is too thick. Brush the marinade on both sides of the chicken until fully covered, making sure to get under the skin. Marinate covered in the fridge for 6 hours or overnight.
Before grilling, allow the chicken to come to room temperature for at least 30 minutes to 1 hour.
Set the grill for indirect grilling. For a gas grill, heat one side of the grill to high while the other side remains off. For a charcoal grill, move the hot coals to one side of the grate.
Once hot, glisten both sides of the chicken with olive oil and season with sea salt. Tuck in the wings and place the chicken breast side up on the indirect side of the grill (the side that is not turned on or lit). Cover and grill for 45 minutes or until the temperature reaches 155.
Take the chicken off of the grill and rest for 10 minutes. Transfer breast side down to the direct side of the grill (over the flame) and allow to char for a few minutes, or until temperature reaches 165. If you're not comfortable moving the chicken without piercing the crispy skin, you can continue to cook indirect until the temperature hits 165.
Rest for a few more minutes, then serve along side a honey mustard vinaigrette or Pinch of Yum's magic green sauce.
Notes
I used a sweet and spicy honey jalapeno mustard. Use your favorite brand of mustard, or jazz up the one you have at home. Hot sauce, jalapeno, or red chilies, and honey can be added to equal parts dijon mustard to prepared mustard - yum!
There are a TON of videos and pictures online to walk you through removing the back bone. I freeze my backbone to collect for stock!
I recommend this cooking method for any grilled whole chicken. You can use any type of dry rub or marinade that you prefer, this is just one of several ideas.
http://www.vodkaandbiscuits.com/