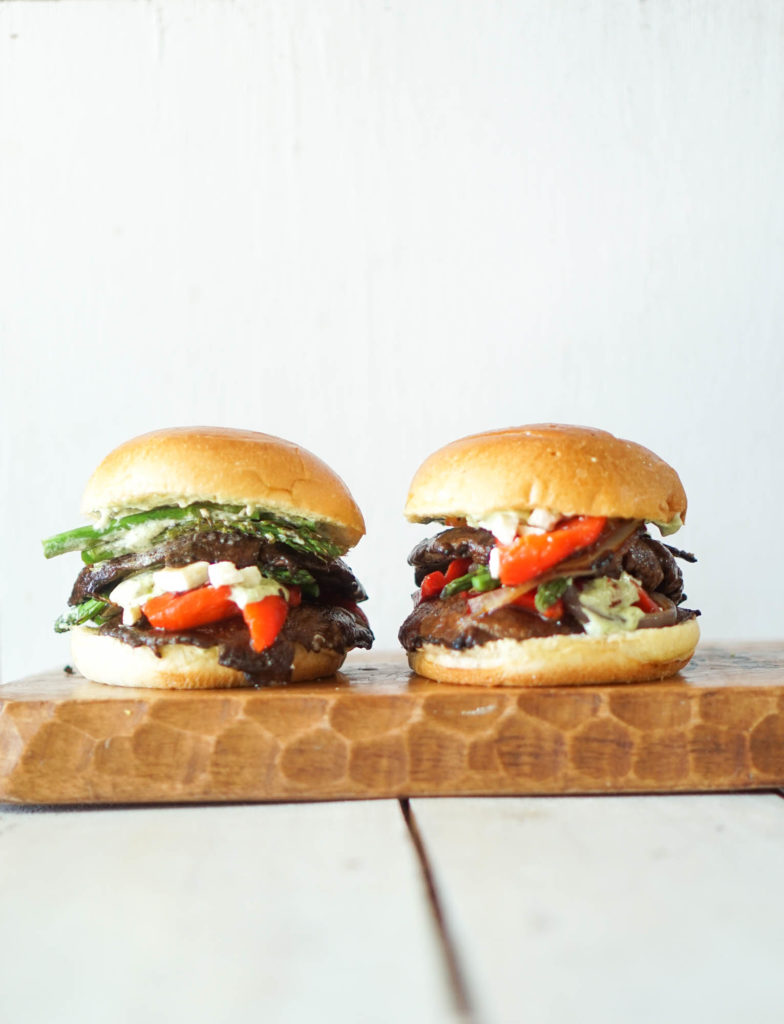 I don't even know if Goddess justifies my love for these things.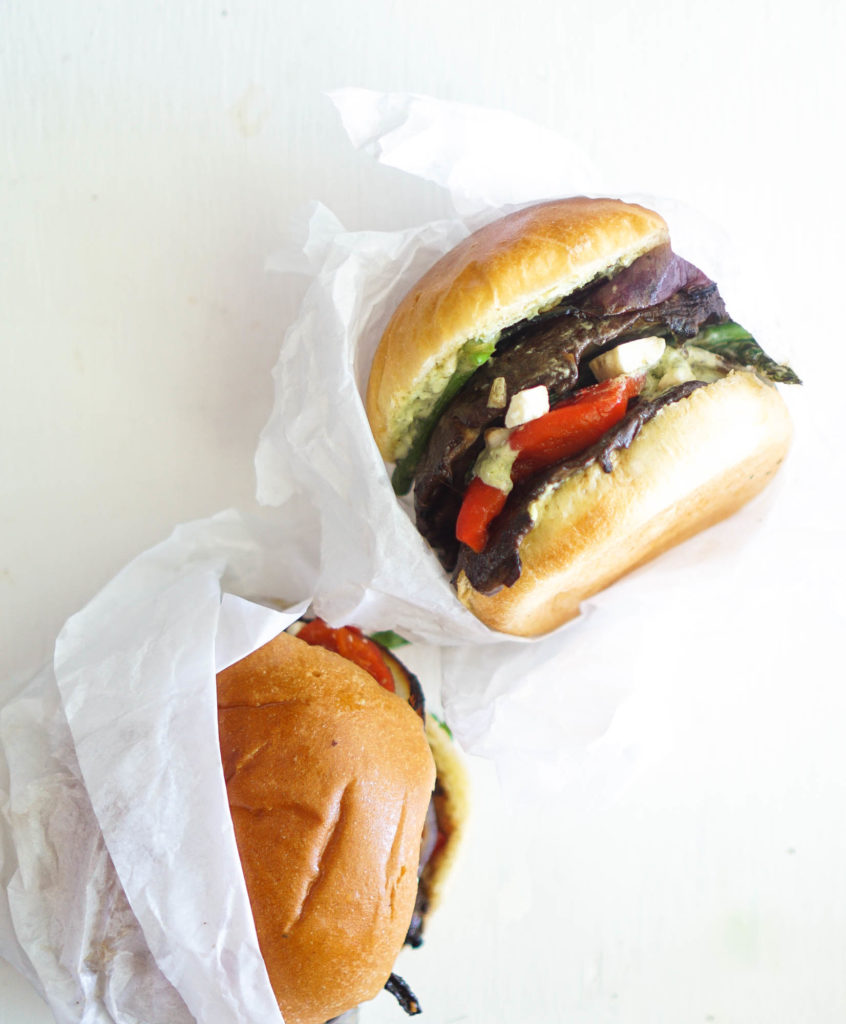 Marinated portobello mushrooms grilled along side onion, red pepper, and asparagus, thrown between butter brioche rolls with creamy goat cheese and pesto mayo. Am I writing a love poem or a recipe?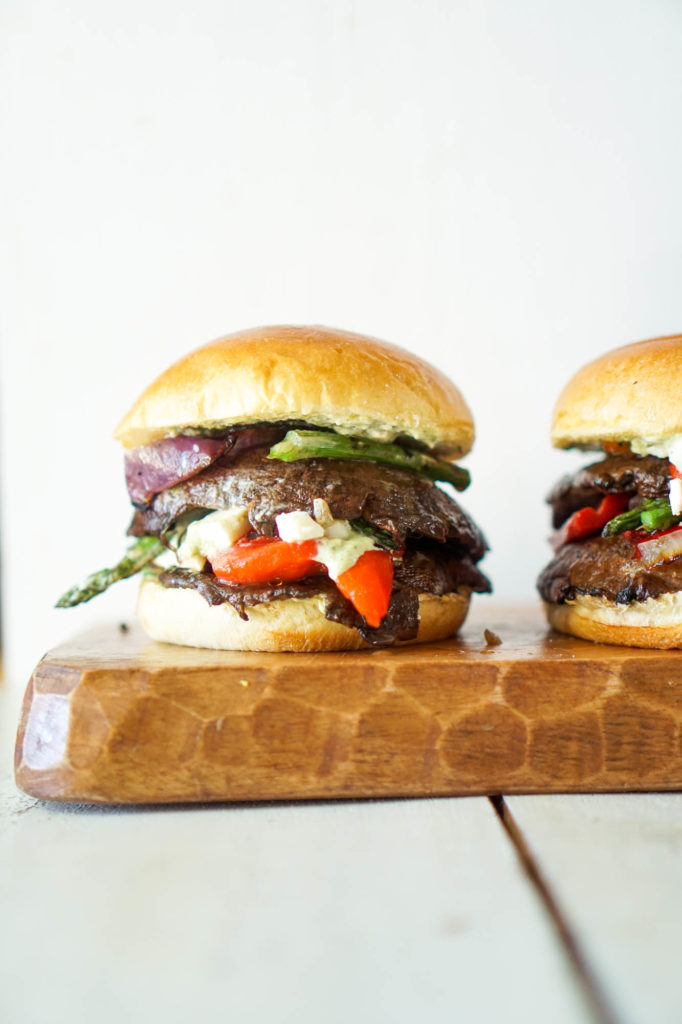 For whatever reason portobello burgers never spoke to me, until last year when I whipped up these babies (ps: this recipe has been on the blog for a while, I just re-did the pics!). The trick is getting the mushrooms nice and flavorful. After all, portobello mushrooms are such a big bite of mushroom that it HAS to be kicking with some flavor. These get a simple bath in a balsamic and roasted garlic marinade.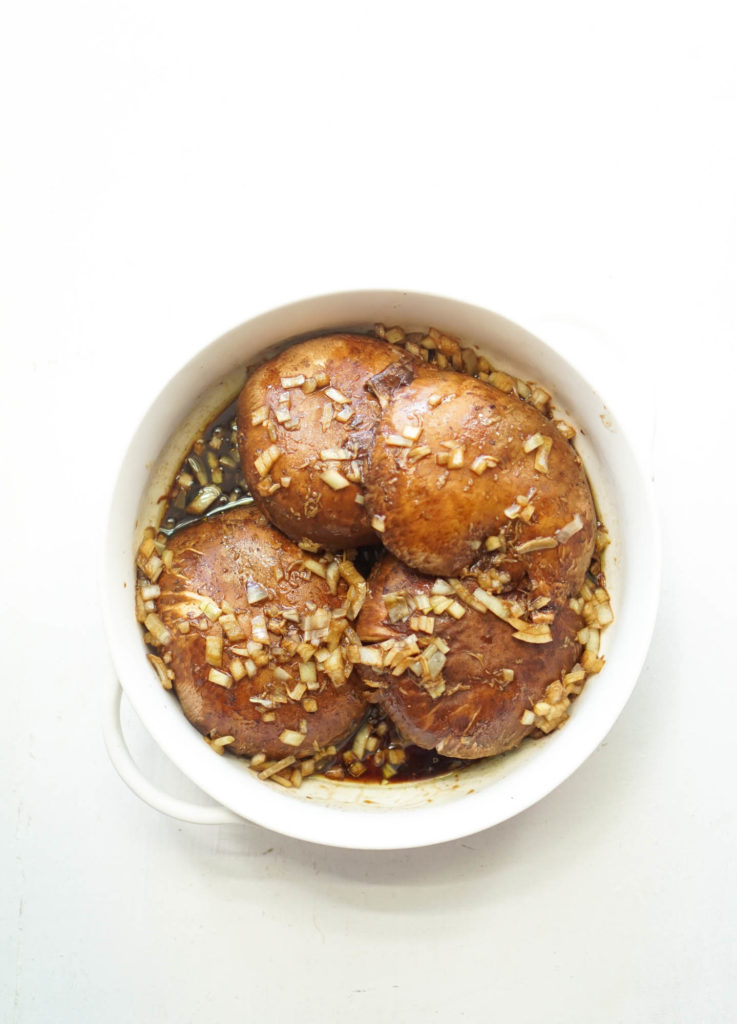 It's important to clean the 'bellos before cooking otherwise the gills will leave your food with a musty taste and can change the color to dirt brown. Before marinating, remove the stems then gently hold the mushroom in your hand, scrape the gills away with a spoon, and trim the fragile ends that curl over the cap. That's it!
By the way, make sure to not leave any gills behind because someone in your family will think it's chocolate and soon will overreact dramatically in disgust (cough cough dad).
The cleaned mushrooms then get a flavor bath of olive oil, balsamic, roasted garlic, and chopped onion. If you don't already have roasted garlic on hand it will be the first thing you prep. If not, it only takes 30 minutes and requires nothing but throwing a whole bulb in the oven. I talk about it more in the recipe!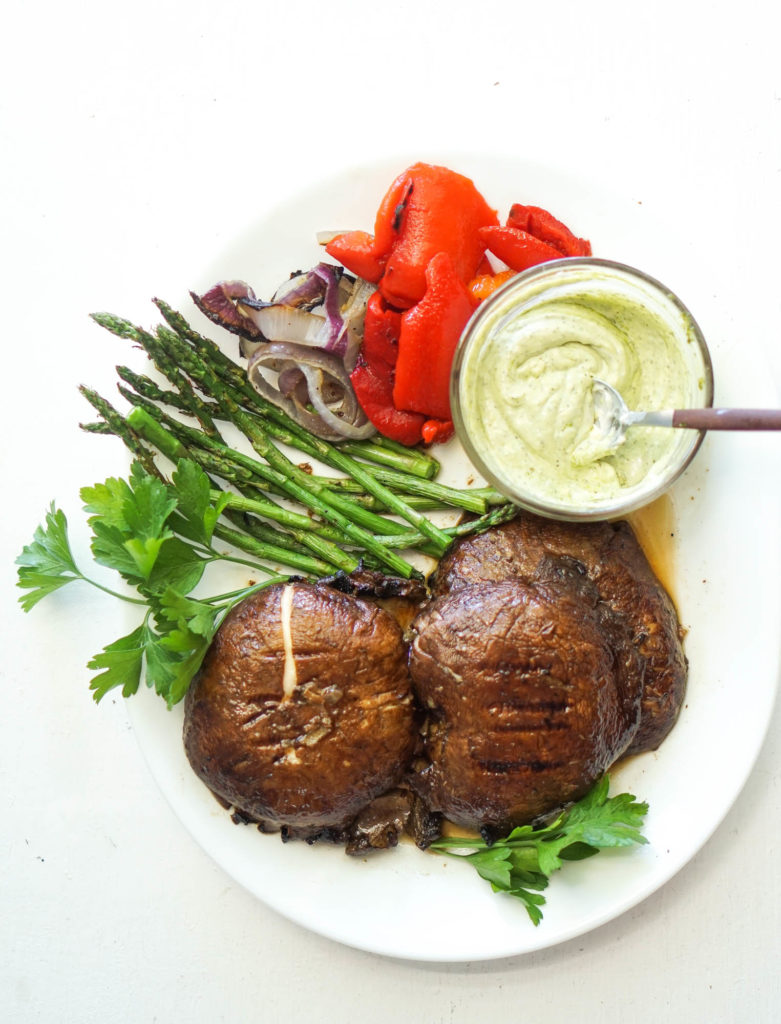 I let my mushrooms marinade for a couple hours before throwing them on the grill which only takes a couple minutes on each side. You can't really under cook them so grilling is a breeze.
Before you whip up the burgers, decide what you want to put on yours. Sure you can melt over a piece of cheese and call it a day but nothing screams goddess portobello burger to me like getting topped with assorted grilled veggies. I used red onion, jarred roasted red pepper, and asparagus. I'll share the tips and more in the recipe, but do add whatever you want! This also would be perfect for leftover grilled (or roasted) vegetables.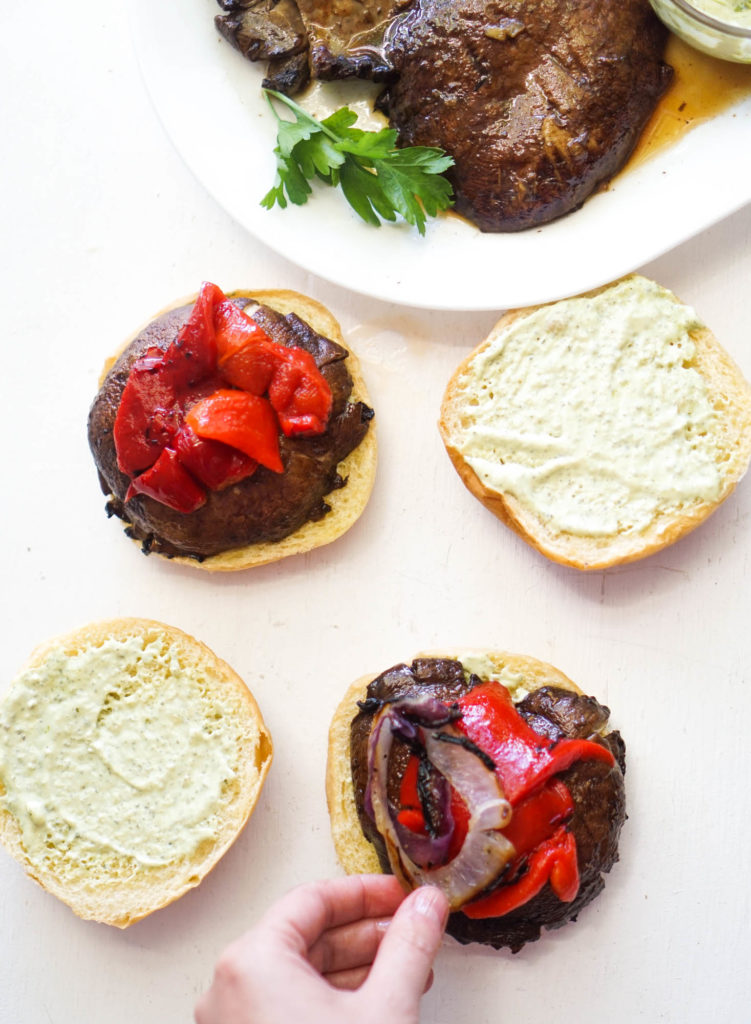 To complete the burger I toasted brioche buns and whipped up a pesto mayonnaise that is nothing more than – you guessed it – pesto and mayonnaise. You can make your own pesto or buy store bought. I actually keep a big ol' container in the freezer! I threw on some goat cheese crumbles, but feta would also be delicious. I so recommend this.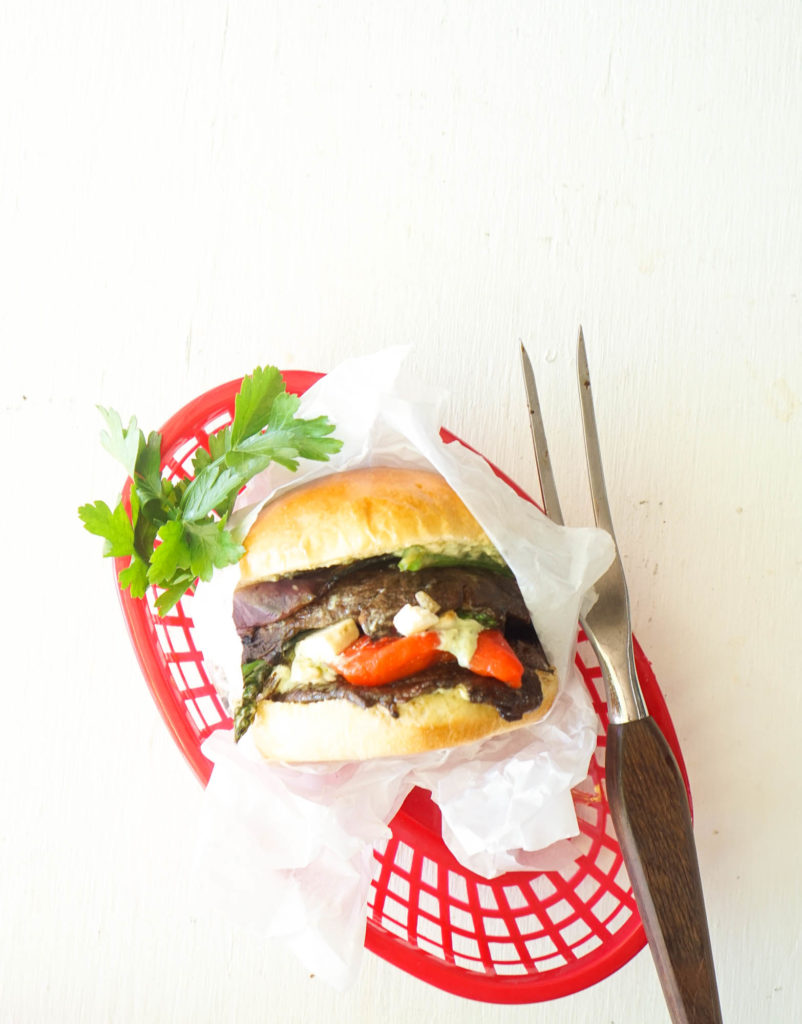 I hate that I hated the thought of portobello burgers. This is perfect for a weekend lunch, weeknight dinner, or for when you just need to feel like a grilled vegetable goddess. I'd serve this with a tall glass of white wine, but then again what wouldn't I serve with a glass of wine? Enjoy!
Grilled Goddess Portobello Burgers
2015-06-09 07:04:12
Serves 4
A delicious vegetarian portobello burger topped with grilled vegetables and a killer pesto mayonnaise.
For the Portobello Mushrooms
4 portobello mushroom caps, stem and gills removed
1/2 cup olive oil
1/2 cup balsamic vinegar
1 bulb garlic, roasted*
1/2 white onion - chopped
For the Toppings
2 red peppers (or 1 jar roasted bell peppers)
1 bunch asparagus - ends snapped off
1 red onion - cut into rings
olive oil as needed
salt and pepper
2 tablespoons light mayo
2 tablespoons prepared basil pesto
Goat cheese or feta cheese, if desired
4 brioche rolls
For the Marinade
Combine the oil and vinegar and mix. Cut off the stem of the garlic bulb, then squeeze the roasted garlic into the oil/vinegar. Add the onions and mix. Pour over the mushrooms and marinade for 1-2 hours.
For the Burgers
Heat the grill over high heat.
Rub the pepper with oil. Char over the flame until totally black. Add to a bowl, cover with plastic wrap, and allow to sit for 10-15 minutes (this creates steam to help remove the charred skin easily).
Remove and discard the charred skin, stem, and seeds of the pepper. Chop up the soft, sweet, oh so delicious red flesh. This can also be done in a broiler or over a gas stove! Alternately, you can use roasted red pepper from a jar.
Add the asparagus and onion to a grill pan (or wrapped in foil). Drizzle two tablespoons of olive oil and a generous sprinkle of salt and pepper. Reduce the grill to medium high and grill until tender, about 15 minutes. When finished, cut the asparagus in half or thirds (depending on the size) to make it easy to eat on the burger.
Transfer the mushrooms to the grill and cook 5 minutes on each side or until charred and tender. Finish the mushrooms with a sprinkle of garlic sea salt and black pepper for flavor.
Mix the pesto and mayonnaise. Taste and adjust salt/pepper if needed.
Toast the brioche buns, if desired, then ensemble sandwich with the pesto mayo, portobello, grilled vegetables, and crumbled goat cheese (or feta) if desired.
Enjoy!
Notes
To roast a bulb of garlic, place the entire bulb (no cutting, foil, or olive oil needed), in a 350 degree oven. Bake for 35 minutes or until your house if filled with garlic aroma and the bulb is tender. Remove the stem, then squeeze to release the roasted cloves.
This is also a great way to use up leftover grilled/roasted vegetables. Get creative with whatever vegetable you want, just try to get something crunchy in there for texture.
Aldi's sells a delicious brioche roll. Always get fresh, delicious bread!
http://www.vodkaandbiscuits.com/