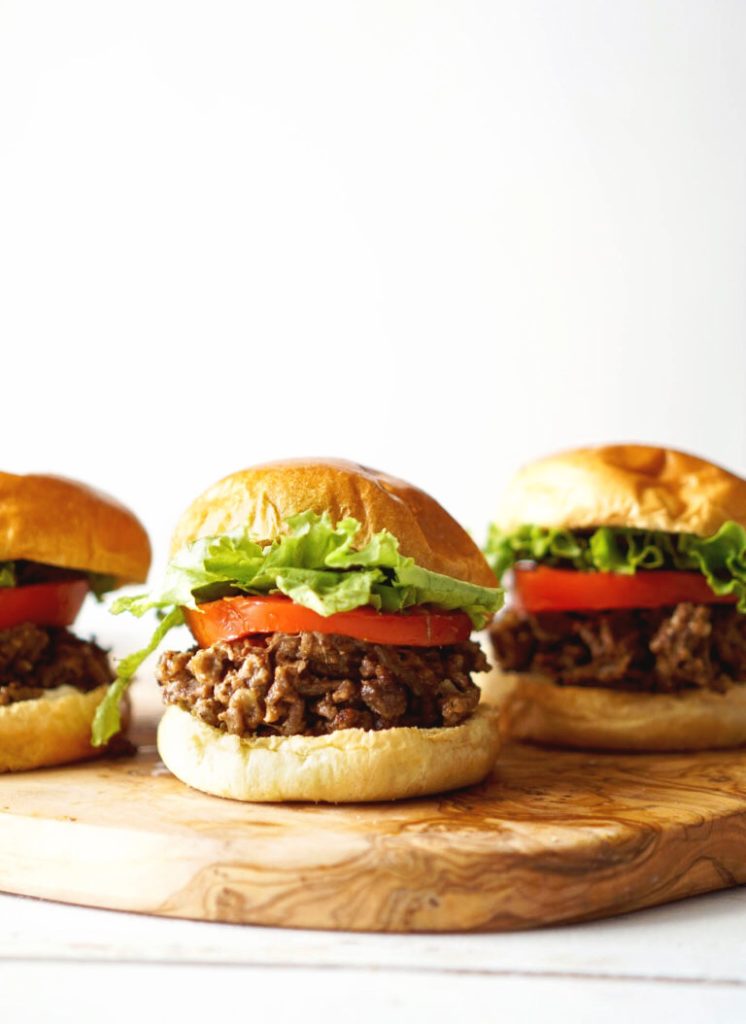 Chopped cheese sandwich is the perfect mix of a cheesesteak and cheeseburger and needless to say, I'm obsessed.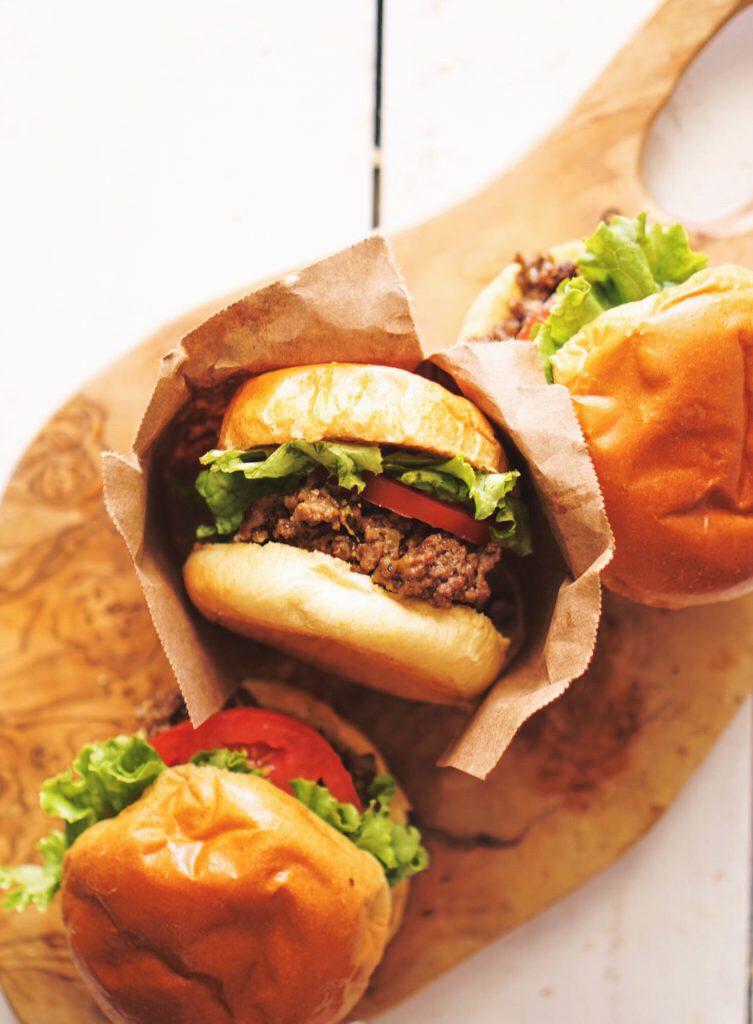 Earlier this summer Jane got a call from her dad, "Jane, have you heard of these chopped cheese sandwiches taking over New York City?"
Jane calls me up, "LINDSAY! Google chopped cheese sandwiches NOW." Within an hour we both were in our kitchens making chopped cheese sandwiches, sending pictures, and going back and forth with recipes. We both were in agreement that these sandwiches NEED to happen at the cafe.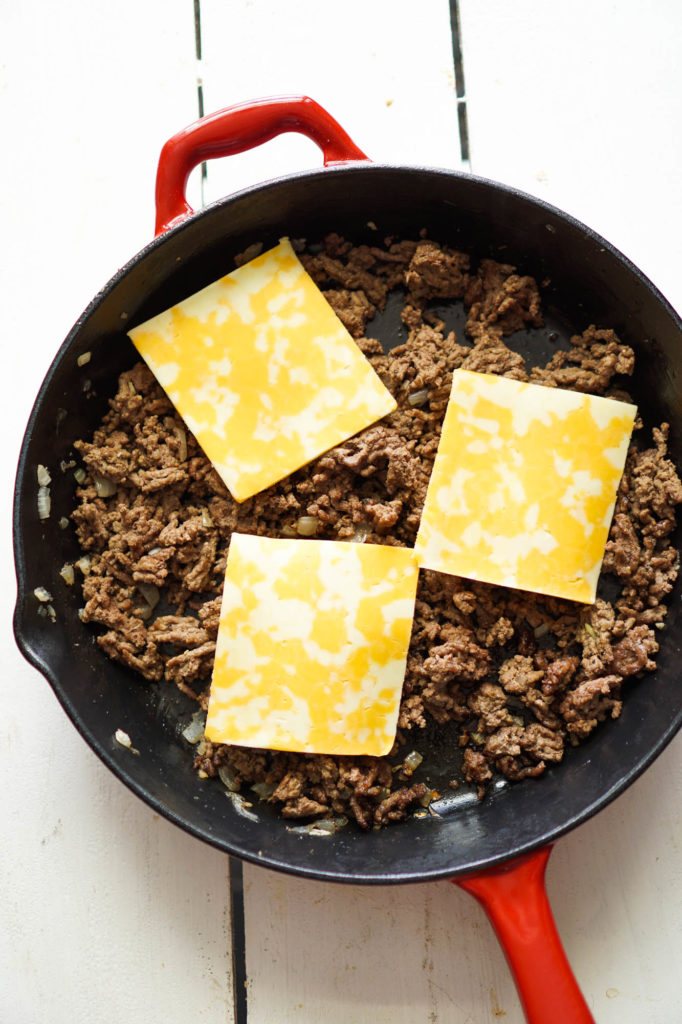 Here's the thing. There's nothing crazy special
about these sandwiches, it's literally a chopped cheeseburger. It's the simplicity of this recipe that gets me all excited and has me wondering, why did I never think of this before?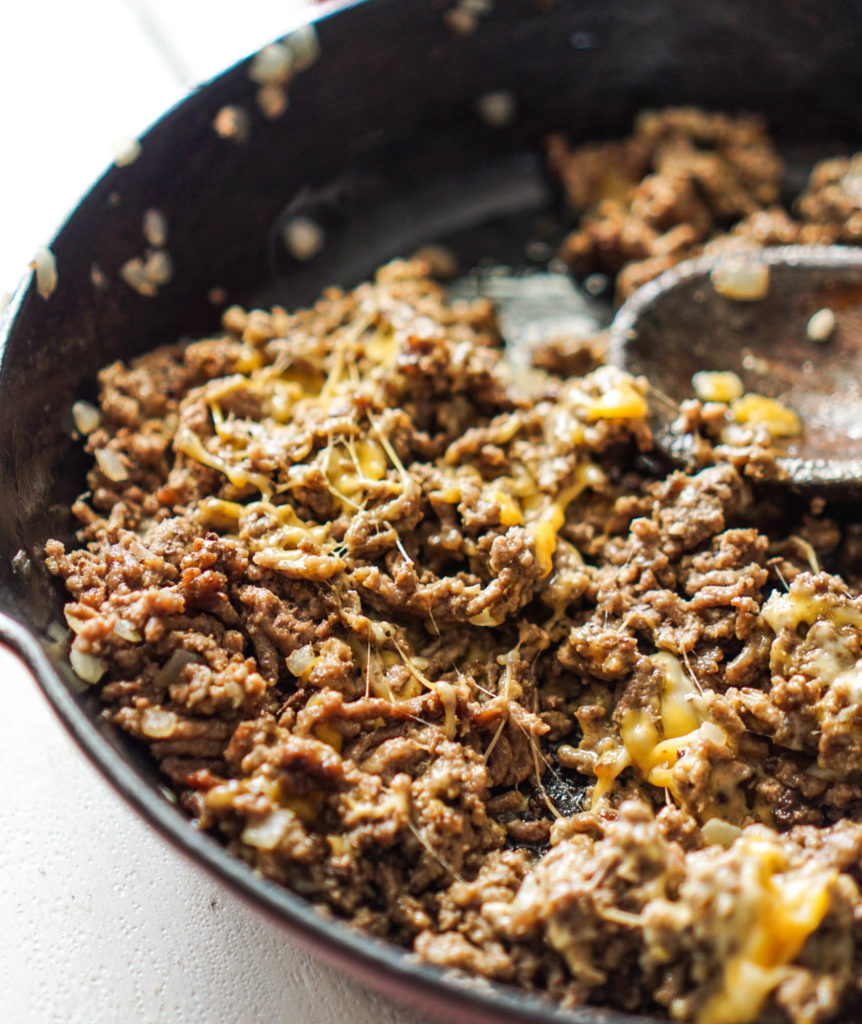 Although chopping up a cooked cheeseburger sounds pretty easy, this recipe is even simpler. All you do is cook and season onion, garlic, and ground beef, before adding slices of cheese to melt into the meat.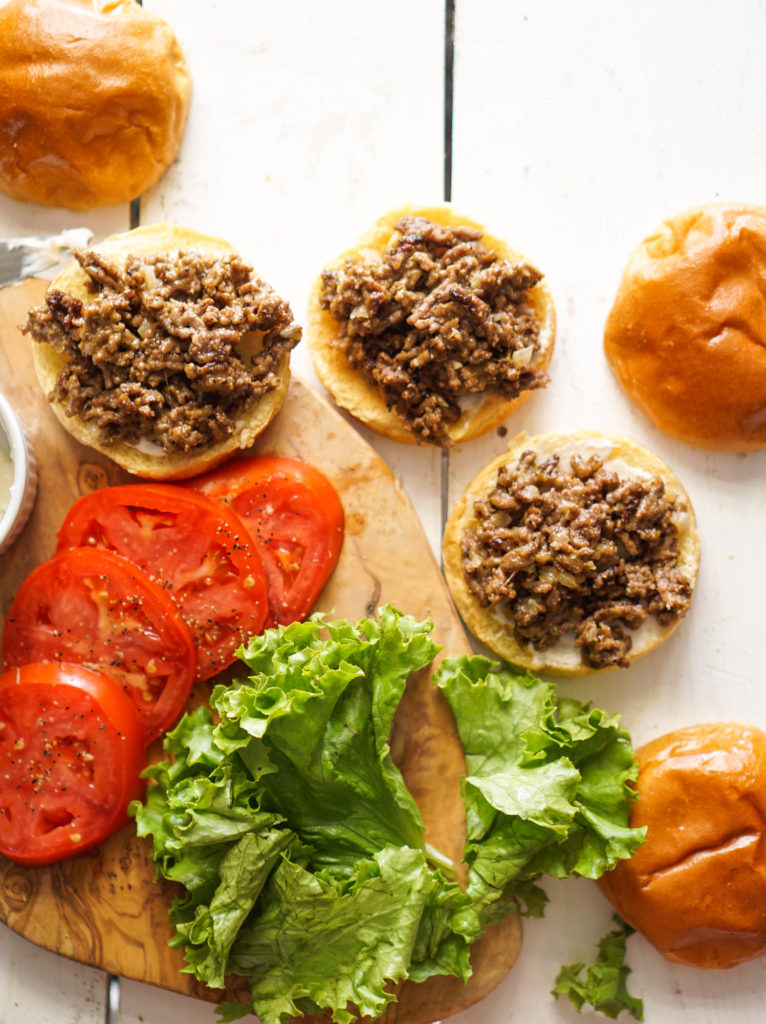 From there, it's tossed between toasted buns with all the classic cheeseburger toppings.
Whether it's weeknight dinner for Scott and I or made in bulk for a party, these are perfect for serving 2, 12, or beyond.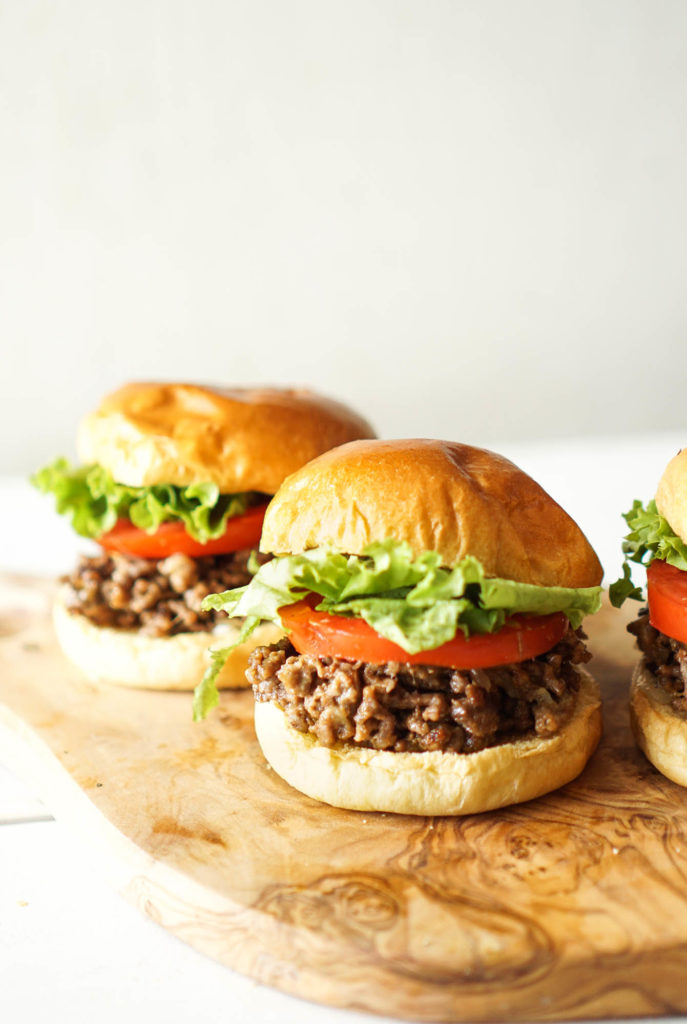 I'm thinking next time of turning these into subs with provolone cheese and sauted peppers or even having a build-your-own chopped cheese sandwich bar for upcoming football parties. Now THAT is the kind of party I want to go to.
So. Next time you're planning on cheeseburgers, switch it up a bit. Or should I say, chop it up a bit. I'm getting out of here with my corny jokes. Everyone thank Jane's dad for introducing us to this greatness!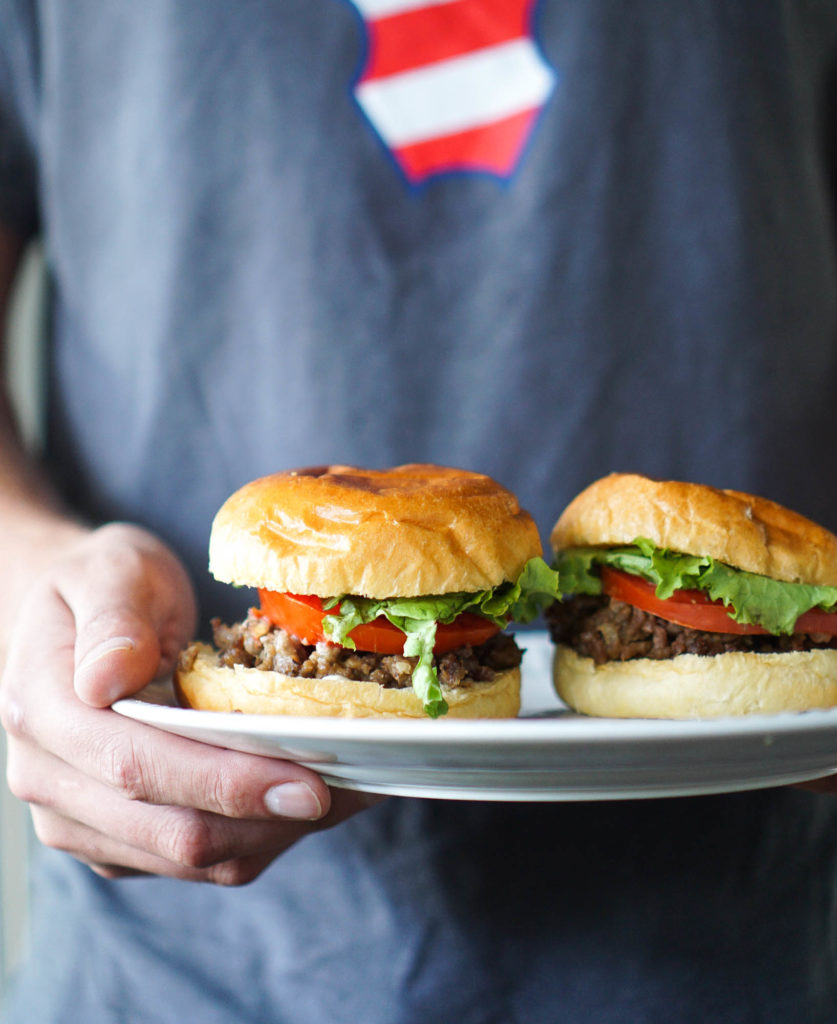 Enjoy!
Chopped Cheese Sandwich
2017-08-15 12:47:12
Serves 4
Chopped cheese is the perfect combination of a cheesesteak and cheese burger. What's not to love there? These are great for serving 2 or 12 and beyond.
Ingredients
1 small yellow onion, diced
2 cloves garlic, minced
1 pound ground beef (preferbly 80/20 and grass-fed)
4 or more slices of American cheese
4 buns, toasted (preferably Brioche)
olive oil as needed
sea salt and pepper as needed
Optional toppings: tomato slices, lettuce, mayo, fried onions, etc.
Instructions
Heat 2-counts of olive-oil in a large skillet over medium-high heat.
Add the diced onions and cook until soft and translucent, about 3-4 minutes. Add the garlic and cook until fragrant, about 45 seconds. Sprinkle with sea salt and pepper to season,
Add the ground beef, crumbling with your cooking tool, and cook until browned and cooked through, about 6-7 minutes. Season once more with sea salt and pepper to taste. Drain excess fat if needed.
Add at least four slices of cheese to cover the ground beef. Allow to melt for a minute, then stir to incorporate into the ground beef. Now, no one is going to judge if you add a few more slices of cheese here.
Serve the chopped cheese between toasted buns with toppings of choice. I like a spread of Hellman's mayonnaise, peppered tomato slice, and crisp lettuce.
Notes
I love making these for a large crowd, especially setting up a "build your own chopped cheese bar".
Adapted from Adapted from NYC food trends!
Adapted from Adapted from NYC food trends!
http://www.vodkaandbiscuits.com/