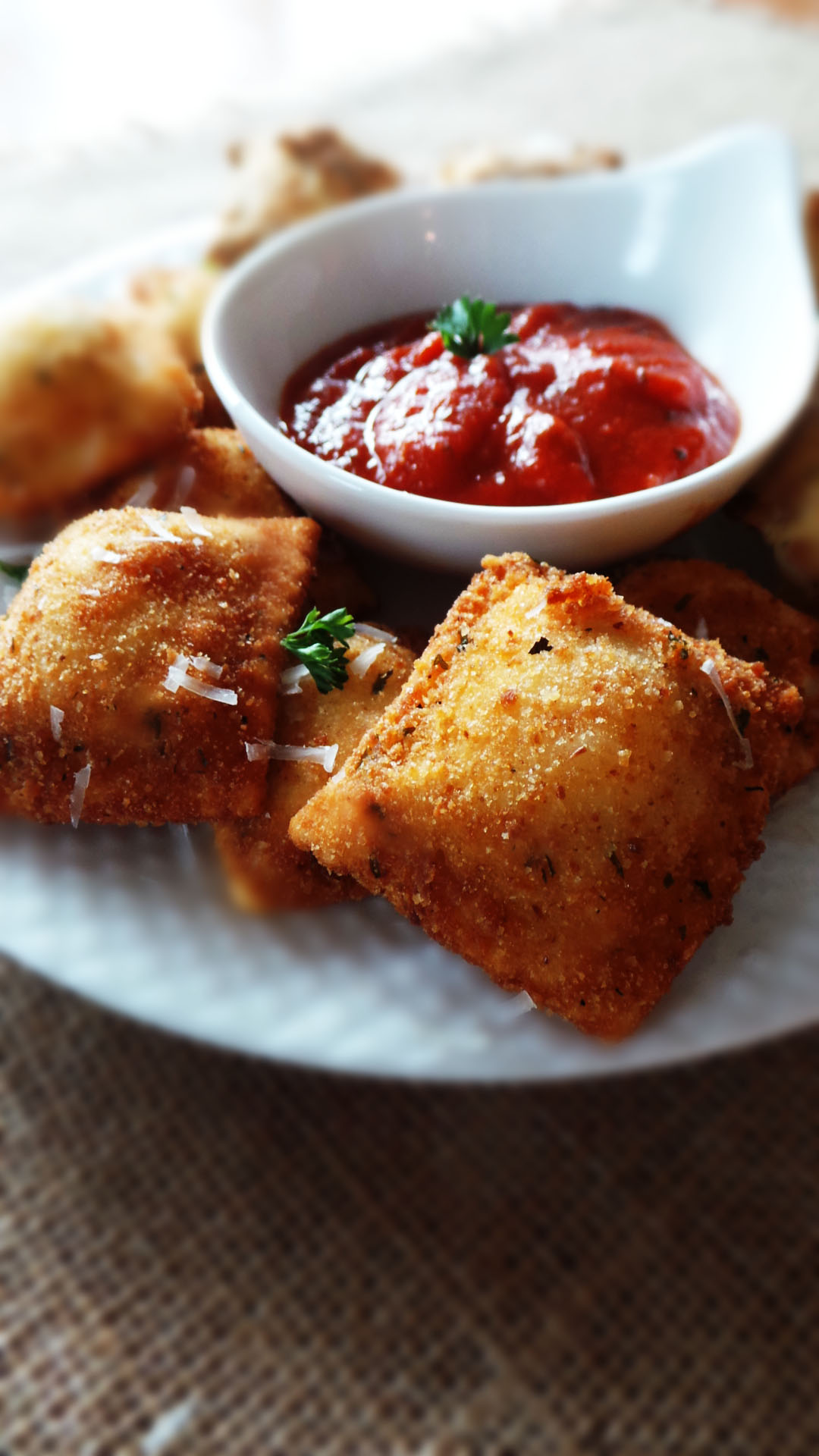 …because crispy sounds so much better than fried.
Where do I even start? I have a fried ravioli recipe saved in my "to-do recipe" list, but I never came around to it…until now. We're having a party on Sunday and expecting over fifty people. You know what that means? Booze. Lots of it. You know what booze means? Food. Lots and lots of food. I was torn between making a Pineapple Upside Down cake (because baked goods are so much easier to prepare for a big party) and these ravioli. I mean, I've never made fried raviolis and I wouldn't want to wait until the day of the party, right? That's why I dedicated this morning, three days before the party, to tweak this recipe until I have the perfect crispy raviolis.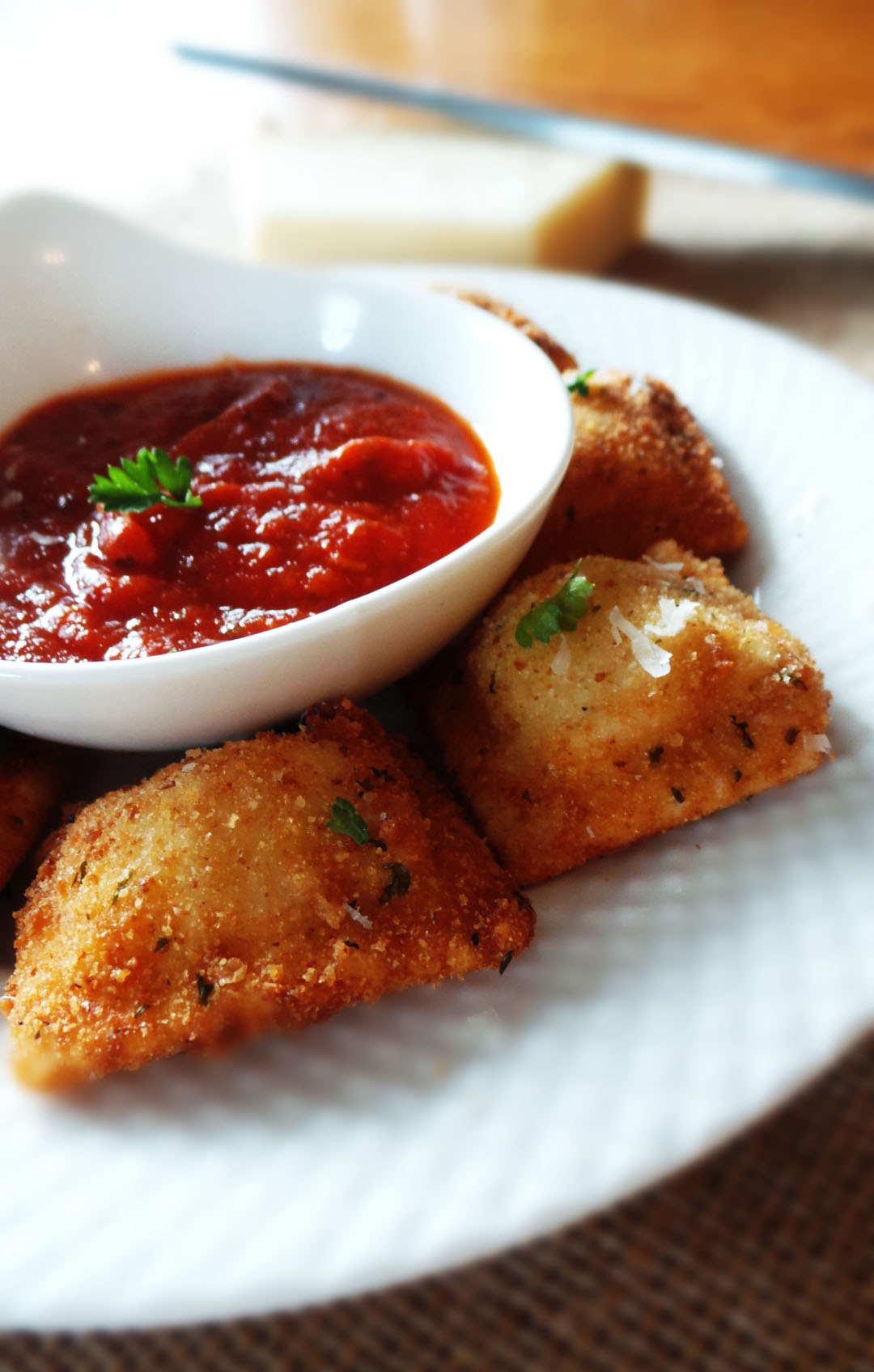 Aside from drooling over the thought of a fried ravioli, you may be thinking about doing a baked version instead. So did I. That's when I decided to test out "fried vs. baked."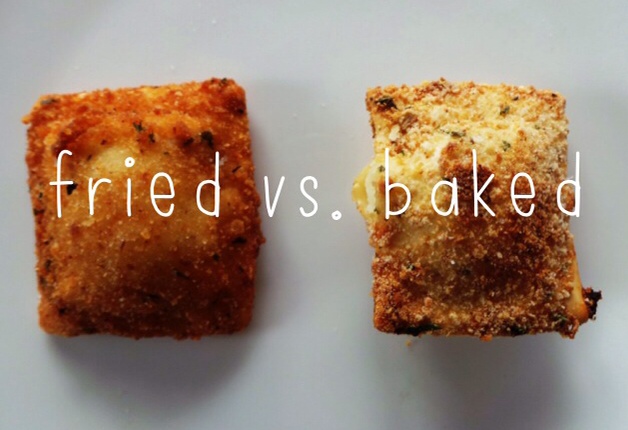 As you may see fried conquers all.
*sigh*
The baked ravioli are not as crispy and golden as the fried. They also require a little patience given they'll take a little longer to cook in the oven. Although the fried does require oil (may be pricey)(I used canola), and special attention, they only take about 3-4 minutes to cook. You decide what's best for you, but in my case, the fried not only looked better, but tasted ah-maz-ing.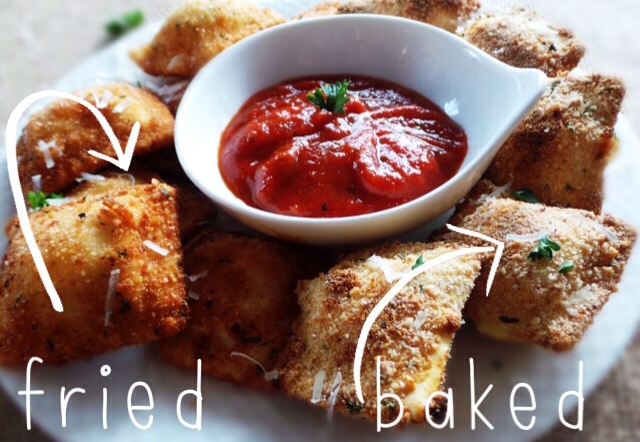 You know what else I love about these? You can bread these a few days in advance and refrigerate until needed. Time saving shiz. I fried mine up an hour before the party and kept warm in a low oven. Instead of rewarming the ravioli throughout, I just kept the dipping sauce warm.
*I used 1/2 c. (fat free) evaporated milk for my egg wash. You can use milk or buttermilk, whatever you have on hand. Also, frozen raviolis are much cheaper than the ones you can get packaged by the prepared foods. I bought two bags (1 lb. each) for $5. Also, I would use homemade marinara sauce if I had more time to make some. If you have plain breadcrumbs, add Italian seasonings, garlic powder, and parsley to turn into Italian breadcrumbs.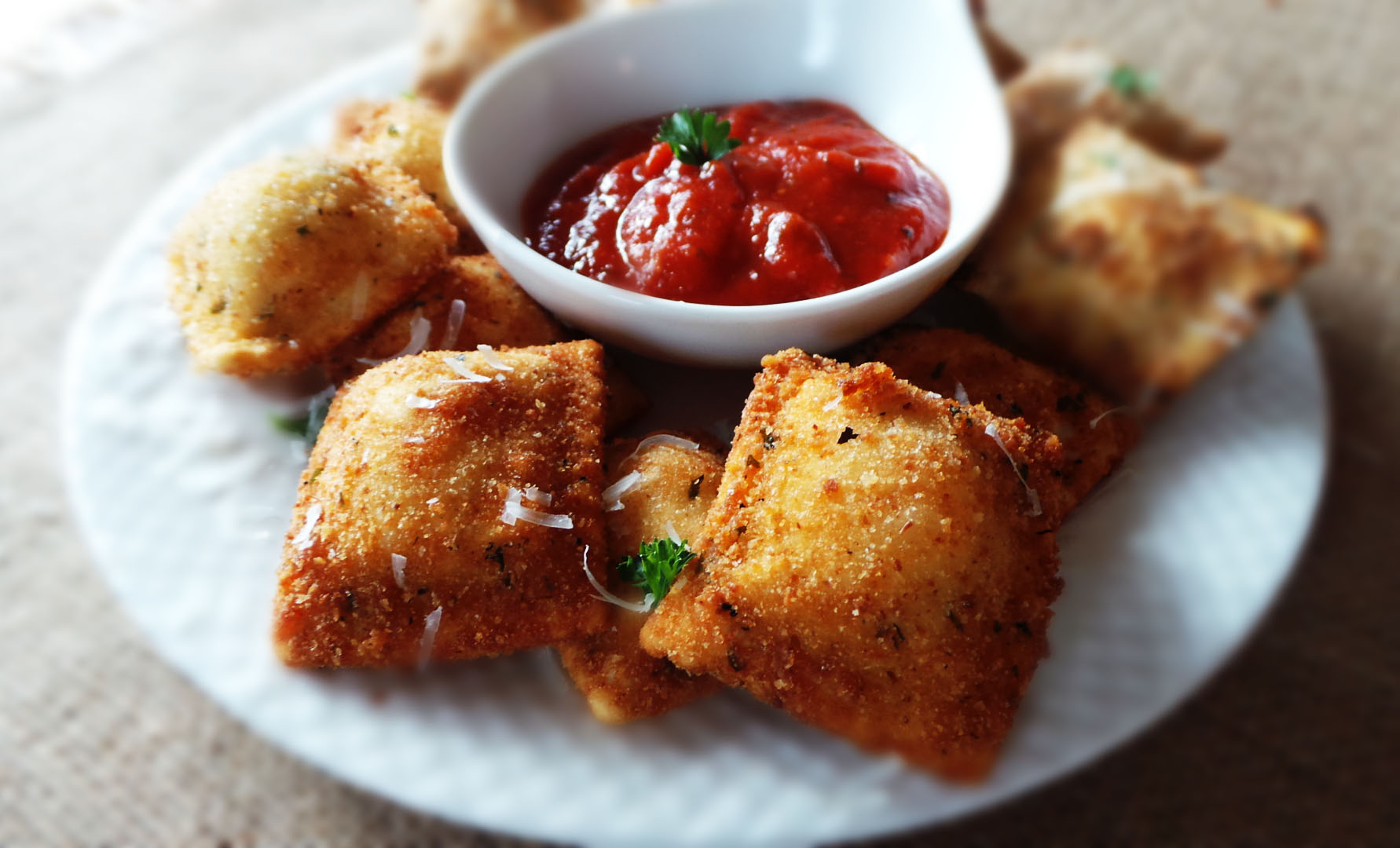 If your guests are anything like mine, they'll be incredibly happy. Enjoy!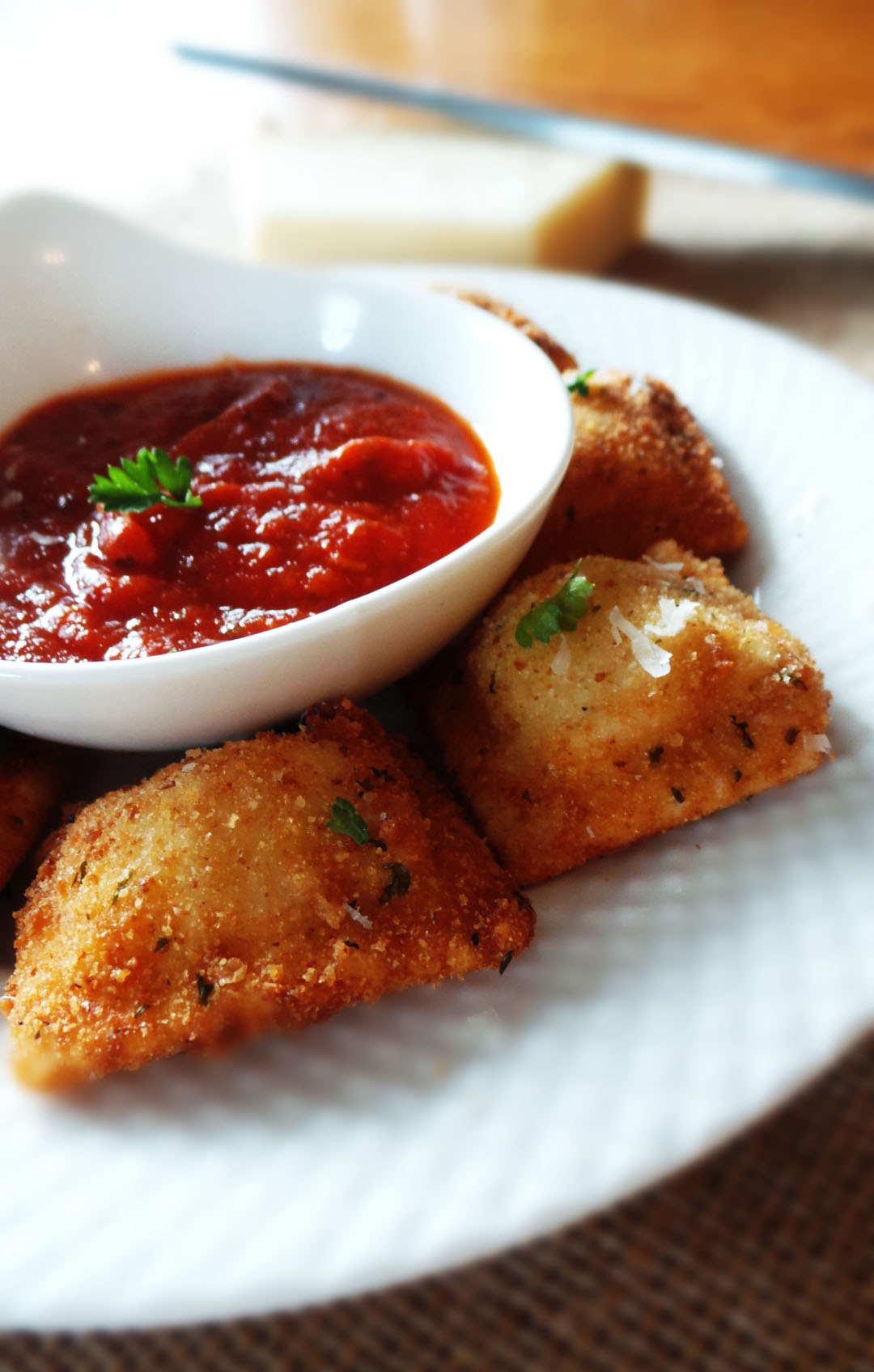 Crispy Ravioli
2013-11-21 09:28:09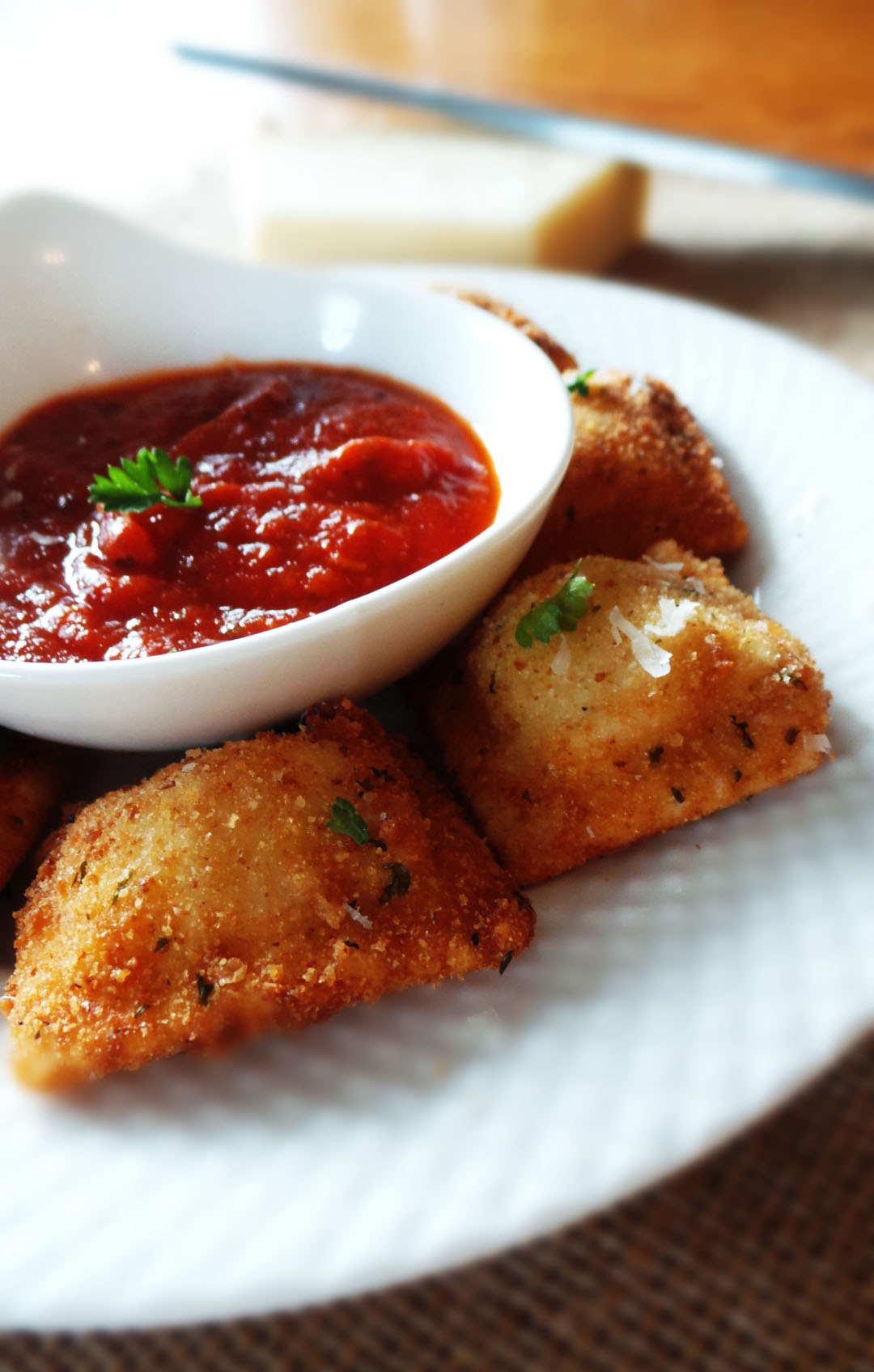 Crunchy, toasty, crispy ravioli fried to a golden brown and dipped in warm marinara sauce. Perfect for a party dish or for a quick dinner appetizer!
Ingredients
25 frozen ravioli- thawed
1 c. Italian breadcrumbs
2 eggs
1/2 c. fat-free evaporated milk (or milk/buttermilk)
Canola oil as needed
1 jar marina or pizza sauce for dipping
Fresh parsley & Parmesan cheese for garnish
Instructions
Beat the eggs and milk together until combined.
Lay the breadcrumbs on a plate and shake to even out. Set up your dipping station with the egg mixture and the breadcrumbs next to each other.
Prepare a baking sheet lined with foil next to the dipping station.
Add enough oil to a large pot to reach depth of 2 inches. Heat to 325 degrees, or test by throwing in a few breadcrumbs. If the breadcrumbs sizzle right away, your oil is hot and ready. Oh baby.
While your oil is heating up, dip the thawed raviolis in the egg wash then breadcrumbs. Shake off any excess crumb and lay on baking sheet.
Fry raviolis in batches about 2 minutes on each side until golden brown.
Remove from oil and drain on paper towel.
Garnish with fresh parsley and grated Parmesan cheese. Dip in warm marinara sauce!
Notes
Adjust recipe to the amount of raviolis serving (this is for a family-size appetizer. If I'm hosting a big party, I'll use 2 bags of ravioli, which means more breadcrumbs as well!)
Make sure oil is hot before adding ravioli, or else your breadcrumbs will become soggy and flake off, oh no!
http://www.vodkaandbiscuits.com/