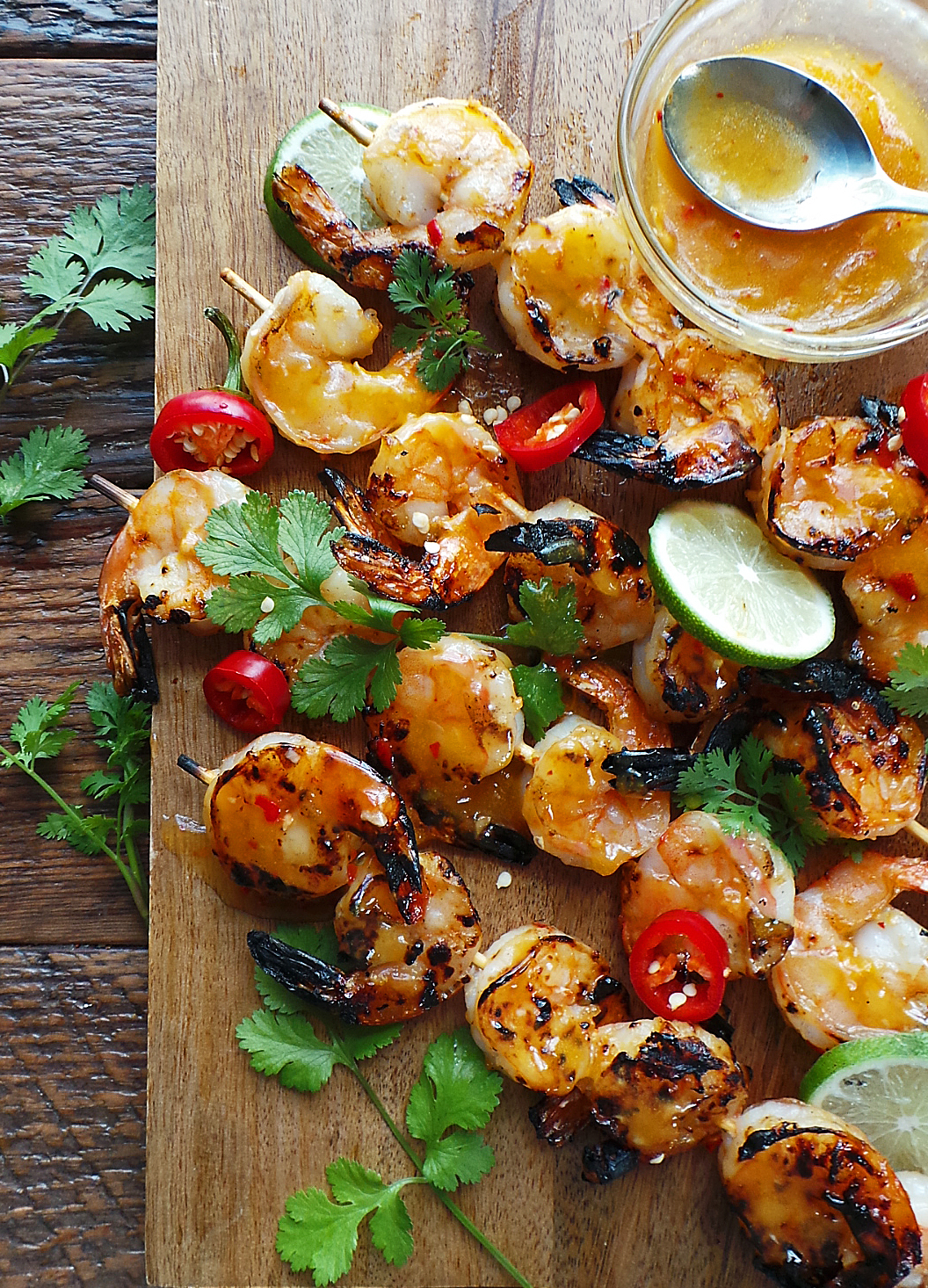 Sorry I haven't been posting much, I've been elbow deep in wedding season and for any one else in the industry you know how wedding season gets. Aside from menus, floor plans, and linen samples, you know what else I've been elbow deep in?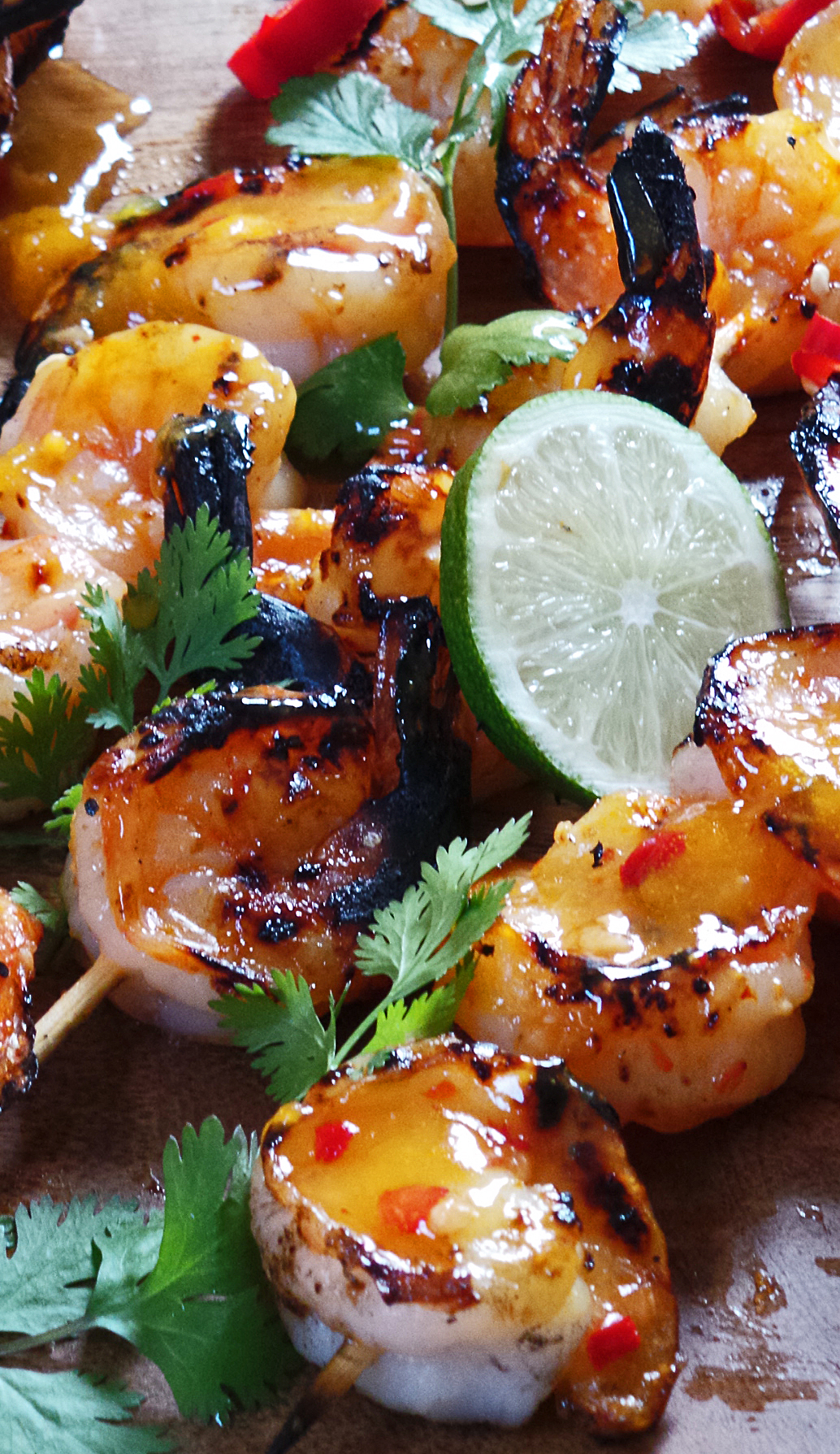 Jams. All sorts of jams. Savory or sweet, I'm a girl all about her jam. I can't wait for you to leave this recipe with not only one of my favorite uses for jams, but all of the other things you can do with them that goes beyond smearing on a piece of bread.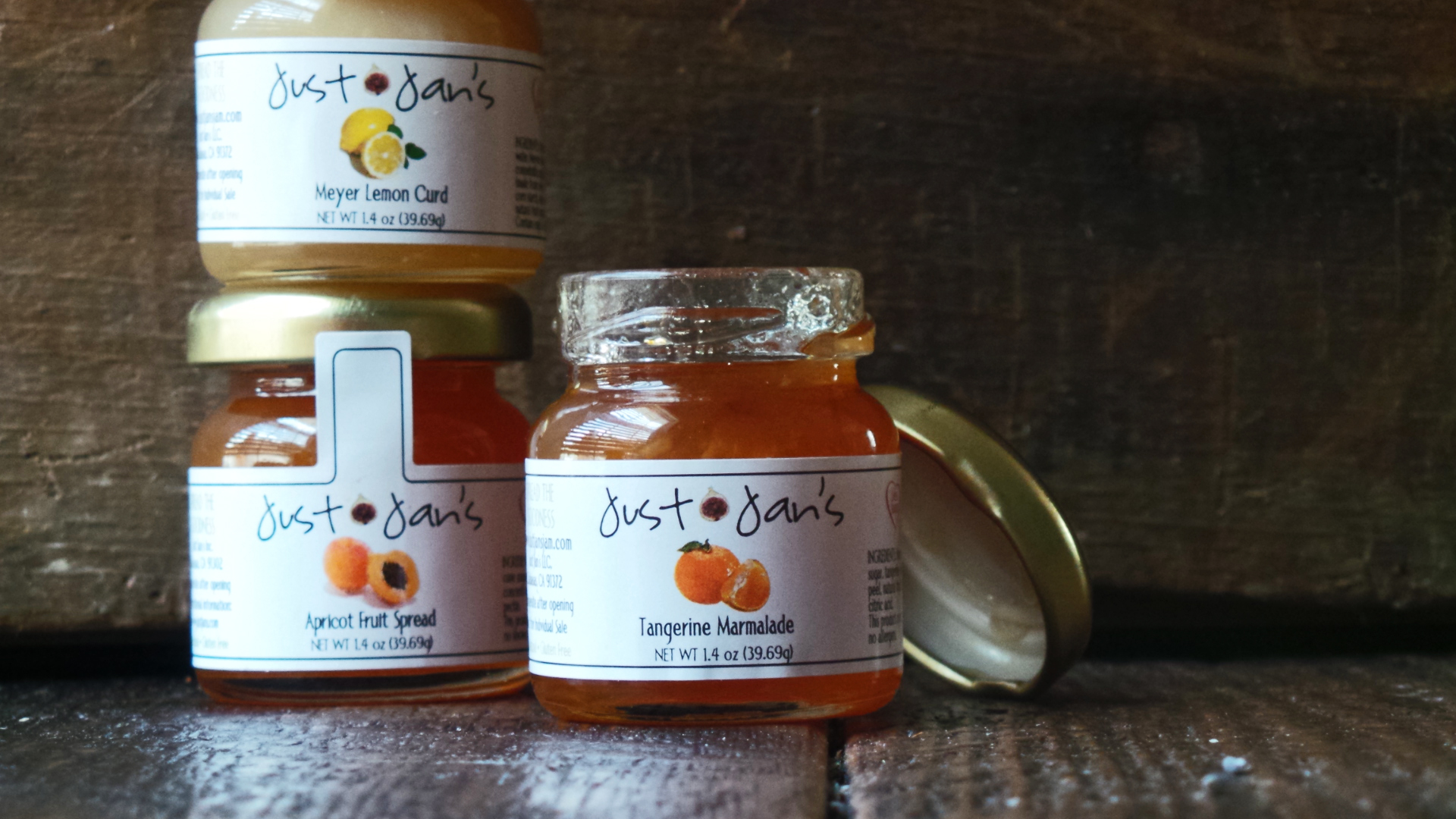 I recently stumbled upon Just Jan's Jams and was not only intrigued by her creative combinations, but her uses for them. Soon enough I had a sample package Jan generously sent me with an array of options. I was squeeling.
Balsamic Onion jam (perfect for chicken in a slow cooker), Apricot Pepper (perfect in a quesadilla), Kadota Fig (screaming pizza's name), Pomegranate (delicious in cottage cheese, yes I eat that stuff), and my all time favorite sample: Tangerine Marmalade. With my hectic schedule sometimes cooking isn't an option. When I have a late night I know I could also have a quesadilla as a worst case scenario or turn a piece of pita bread into a pizza. Lemme just say these jams have been life savors in turning an 8pm "I'm starving and I don't feel like cooking" dinner into an awesome one.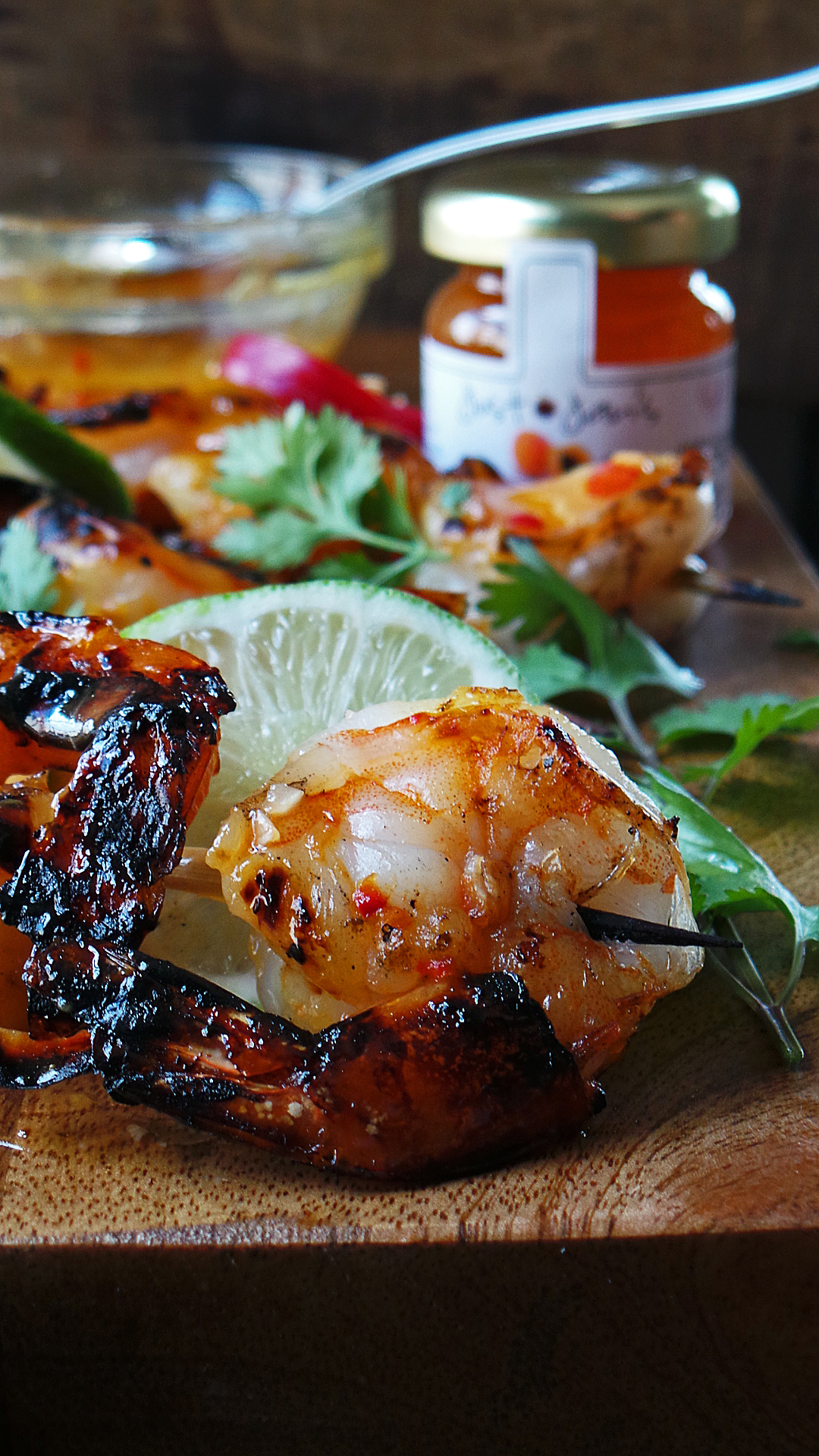 I decided to use that Tangerine Marmalade into a Thai Chili baste sauce for grilled shrimp. If you're not keen on shrimp, this sauce is good enough by the spoonful let alone any type of fish or chicken. If you're familiar with my recipes, this sauce may not be something new to you. I've used this sauce as a base for a condiment with tempura green beans, a dip for coconut chicken, and now a sauce for grilled shrimp. Let's jump in this.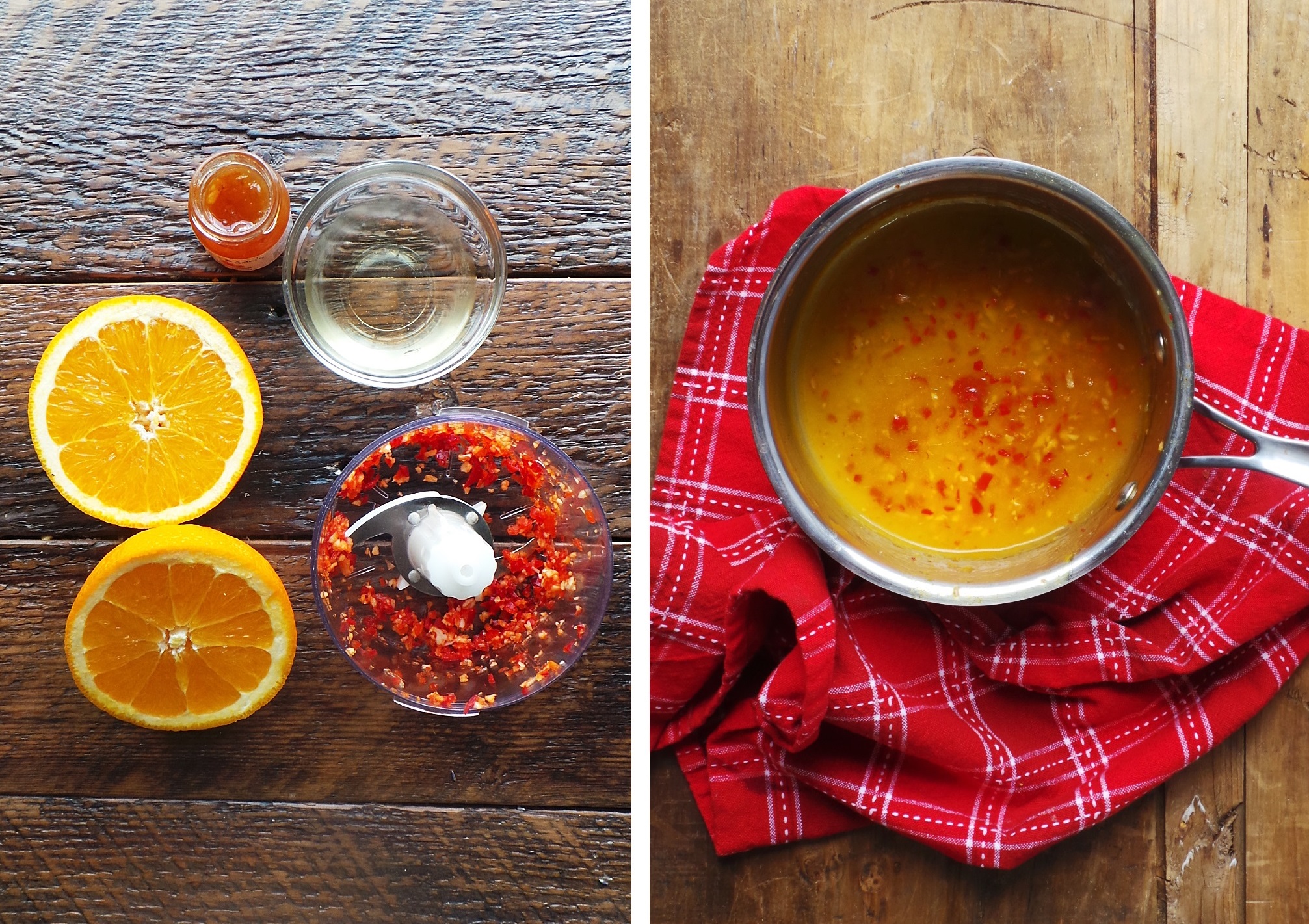 This sauce is so easy it hurts. In fact I had a friend make this once and she was stunned at how simple it came together. All you do is finely mince some garlic and a red chili pepper – I recommend using a food processor. You can find red chilies in almost any market, but if you're having a hard time just use a scotch bonnet which tends to be even more common (at least around me). That gets added to a small sauce pan and cooked in oil for about 30 seconds until well, you smell garlic and your eyes start to burn.
To that gets some rice wine vinegar, orange jam, and a slurry made with cornstarch and water (or orange juice) to thicken everything up.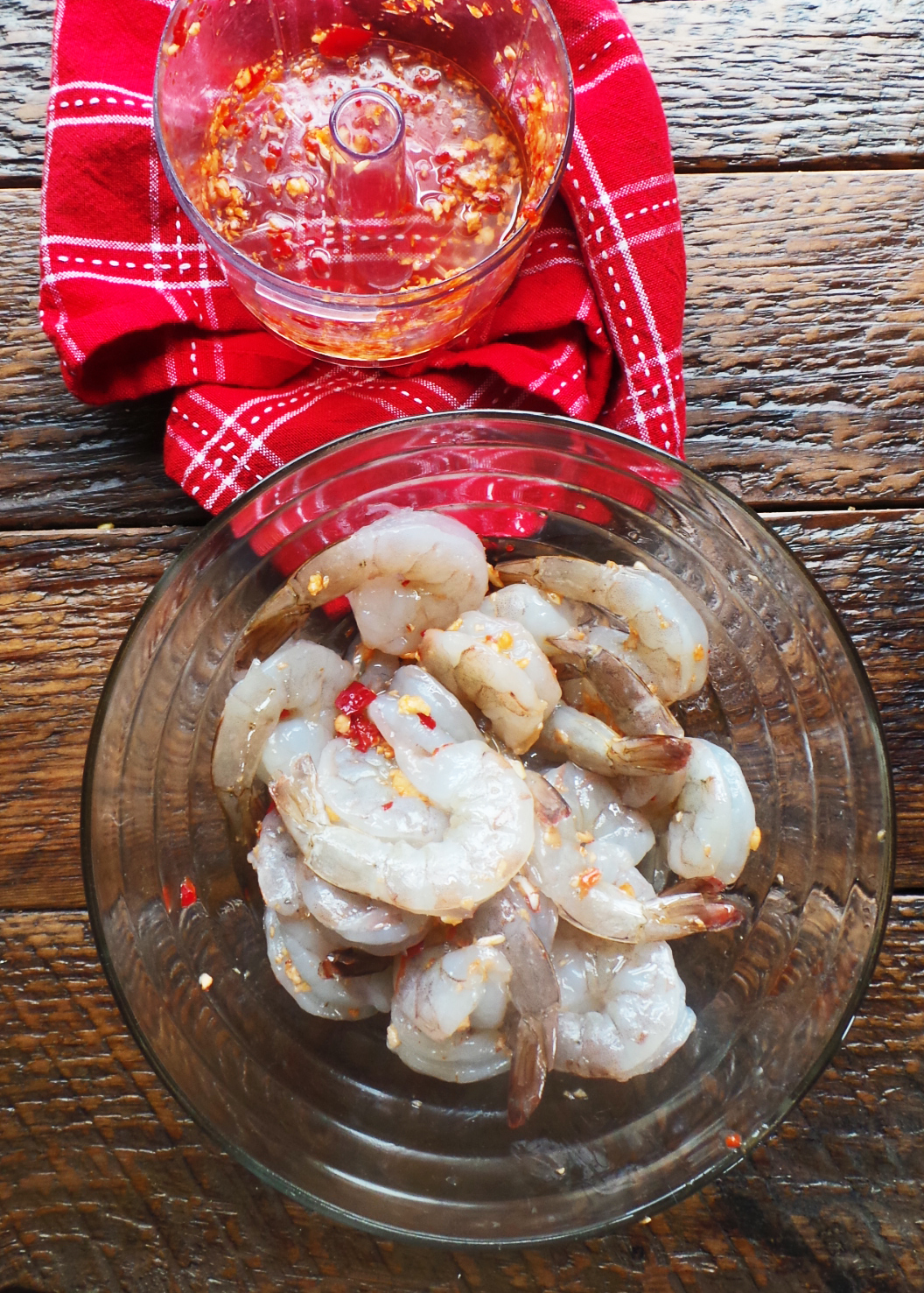 Cornstarch thickens the sauce as soon as it hits a boil so it takes only a few minutes. Before I start making the sauce I let the shrimp take a little flavor bath in some of that minced chili and garlic with a little oil and orange zest. Can't go wrong with a flavor bath.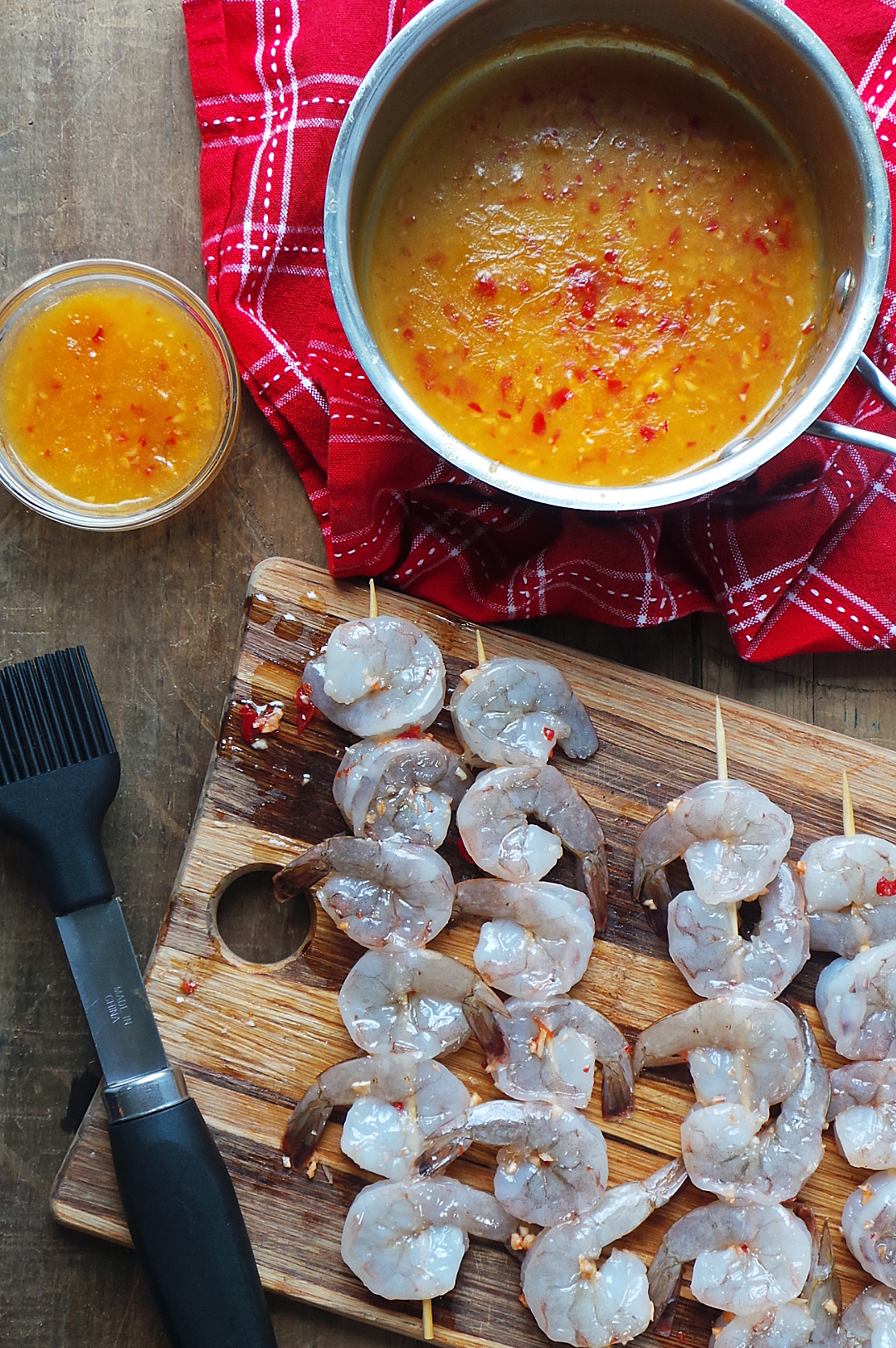 Regardless the size shrimp you buy they tend to be on the small size so grilling can be challenging. Skewering the shrimp makes handling easier and grilling an ease. Always remember to soak your skewers for at least a half hour so you're not putting out fires. When it comes time to grill, fire it up to medium heat and have your basting sauce ready. Be sure to save a bowl aside for dipping later!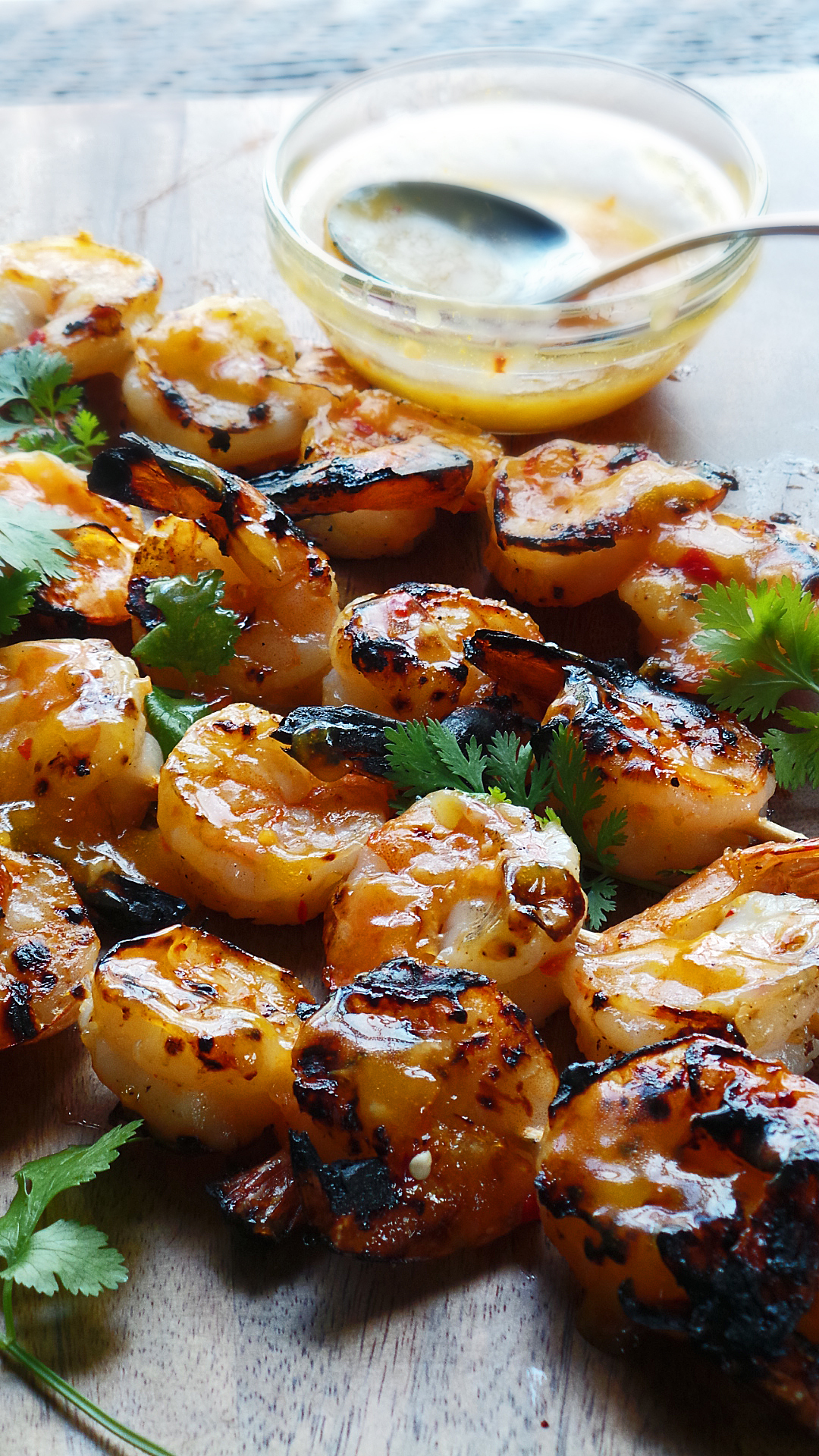 Grill the skewers three minutes on each side or until the shrimps are pink indicating they're cooked through, while brushing with sauce throughout.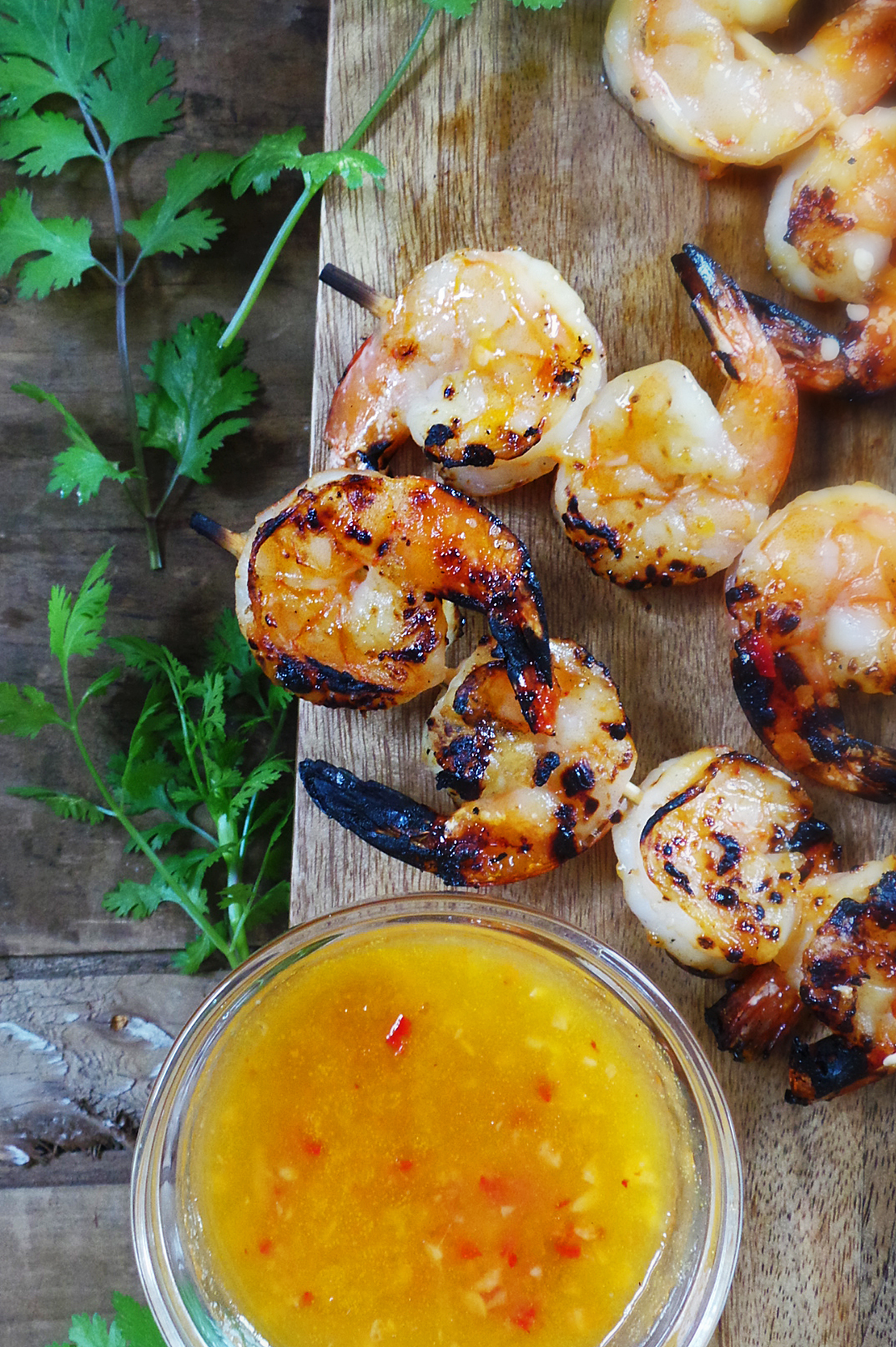 Soon enough you're going to have garlicky, slightly spicy, moderately sweet, charred to perfection shrimp. You can serve this along side more of the reserved sauce which you can eat plain or jazz it up with a little mayo, cilantro, and Sriracha – or whip up a raita with cilantro lime rice. Whatever you do, it's gonna be delicious. Enjoy!
Orange Chili Grilled Shrimp
2015-06-04 11:58:24
Serves 4
For the Orange Chili Sauce
2 garlic cloves
1 red chili
2 T. olive oil
1/4 c. Tangerine marmalade (preferably Just Jan's)
1/4 c. rice wine vinegar
2/3 c. water (or fresh squeezed orange juice)
2 t. cornstarch
For the shrimp
1 pound raw shrimp (I used 16/20 tail on)
Heaping teaspoon of chopped chili/garlic (see recipe)
2 T. olive oil
2 t. orange zest
Tools Needed
Wooden Skewers that have been soaked 30 mins
To make the Orange Chili Sauce
Prepare your pepper by removing the stem, cutting in half, and discarding the seeds and the ribs of the pepper. If you like things extra spicy, keep some seeds!
Add to a food processor with the garlic. Pulse until finely minced. Reserve a heaping spoonful to marinade the shrimp with.
Heat the oil in a small sauce pan over medium high heat. Add the garlic/chili and cook for 30 seconds or until fragrant. Stir in the marmalade and vinegar and cook until the marmalade starts to "melt."
In a small bowl, whisk together the water (or orange juice) and corn starch until the starch is dissolved. Add to the sauce pan and bring to a boil. Stir frequently until sauce is thickened.
When ready, transfer to a bowl. Set some aside to use a dipping sauce for later!
For the Shrimp
Add the reserved garlic/chili, oil, and a pinch of orange zest to the shrimp. Toss and sit for 15 minutes. This can be done before making up the sauce!
Skewer the shrimp and fire up the grill to medium heat.
Set yourself up for grilling with the Orange Chili Sauce and an oven-safe basting brush.
Add the skewers and cook 3-4 minutes on each side, basting with chili sauce. The shrimp is done once pink.
Serve with reserved sauce for dipping. I recommend making a cilantro-lime rice and a raita with grilled pita bread. Um yum!
Notes
I left the tail on for presentation, you don't have to.
If you are buying shelled shrimp, remember to save and freeze your shells for stock!
You can use any flavor preservative or jam you'd like - I love doing this with peach or apricot!
http://www.vodkaandbiscuits.com/