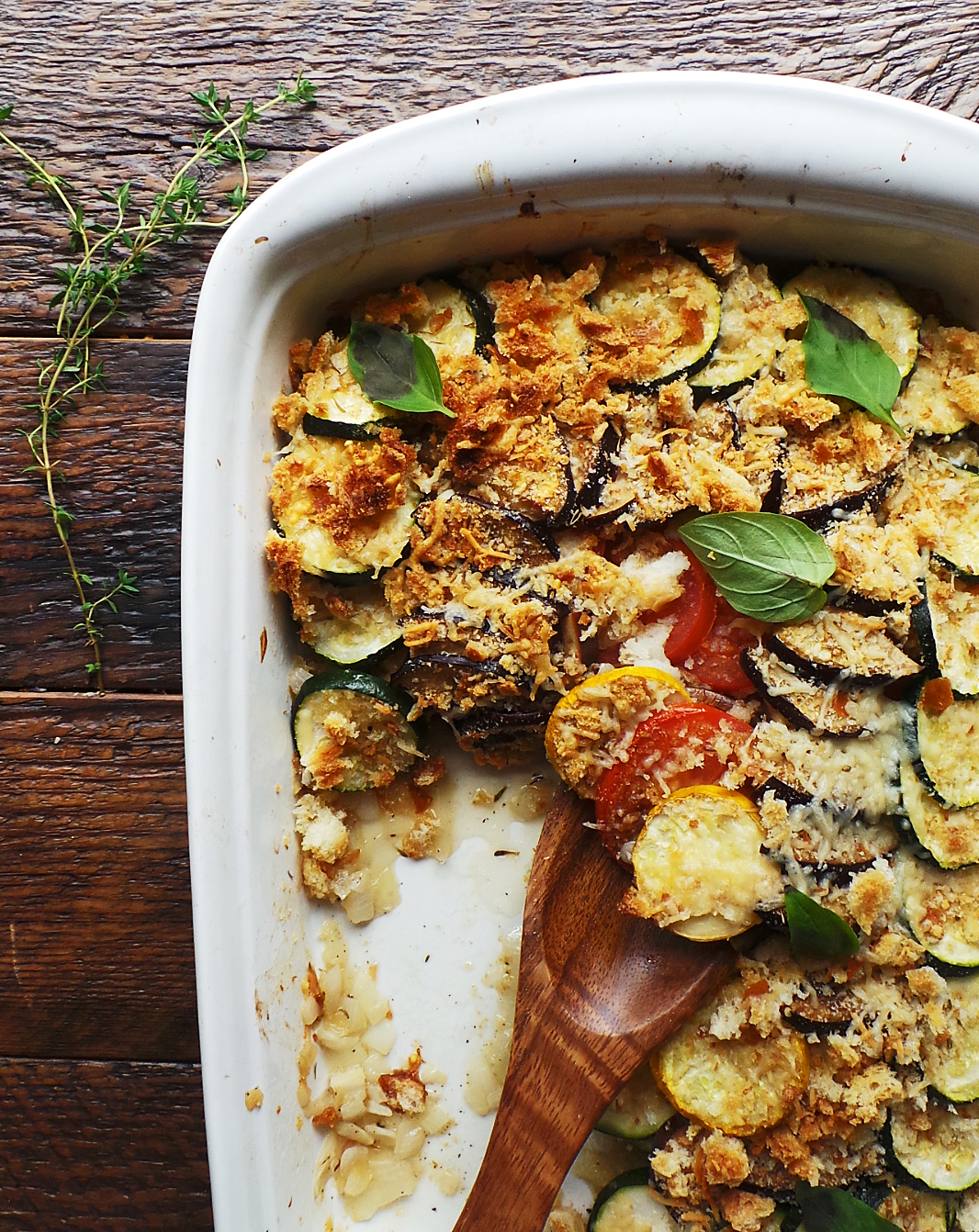 Okay here's another one straight from Ad Hoc at Home because I'm on a Thomas Keller kick and slowly trying to convince you to join me.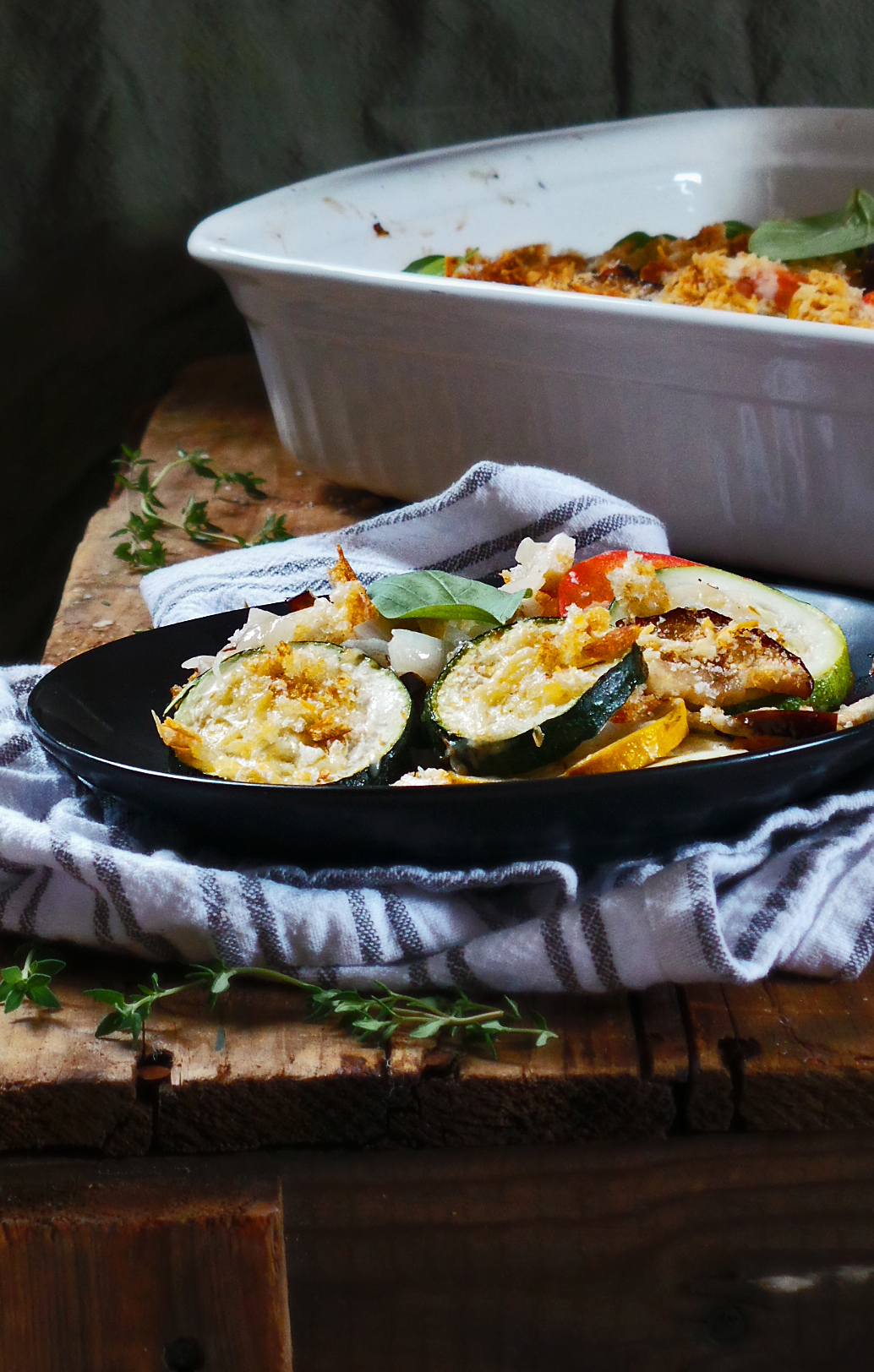 Last week I posted a twist on his Blueberry Cobbler in hopes it may inspire you for a Fourth of July recipe, so this week I wanted to switch it up to something savory. Not just something savory, but something savory that screams summer entertaining. What does that better than a HEALTHY and EASY Summr Au Gratin? Beats me.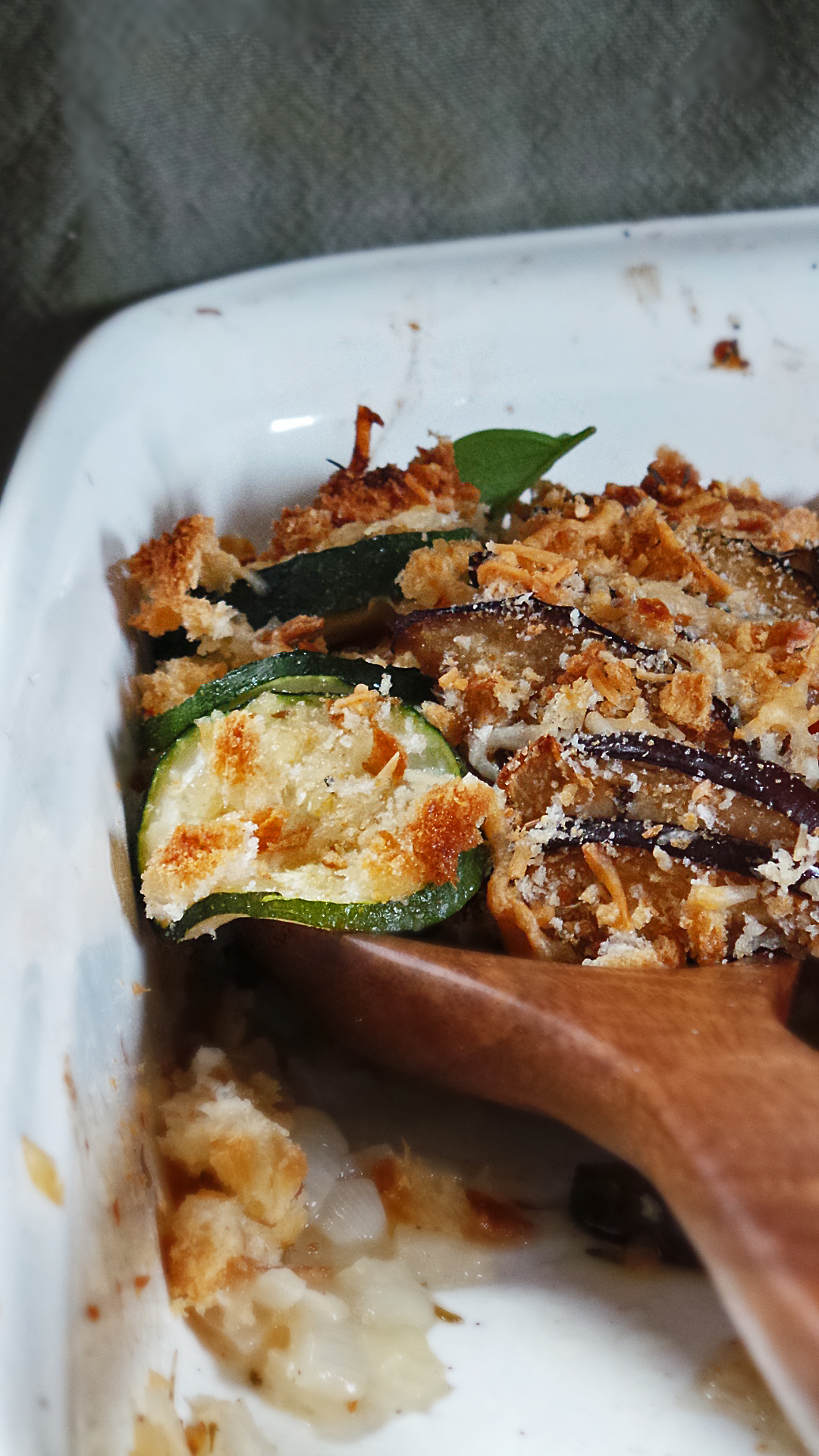 Seasonal vegetables atop sweet onions, baked to tender perfection with a homemade bread crumb. Let's talk about those onions and breadcrumbs.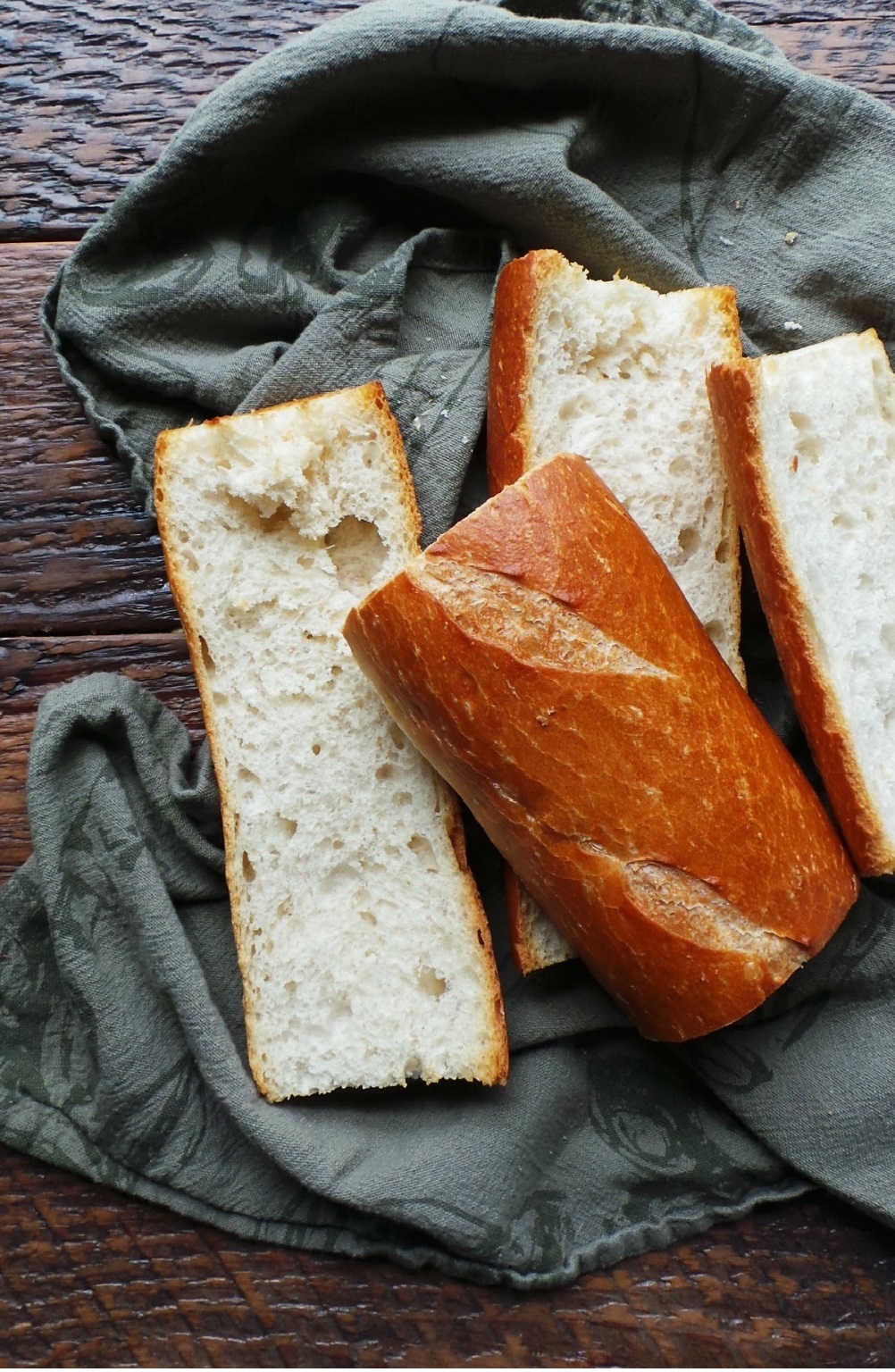 I'm a fan of homemade bread crumbs for so many reasons. For one, they taste much better than store bought. Buy a loaf of French or Italian bread, butterfly it like pictured above, cut into smaller pieces, and toast for about 10 minutes until crispy. Throw that in your food processor with WHATEVER seasonings you want. In this recipe I used Parmesan cheese, thyme, salt, and pepper. Throw a little garlic salt in if you have any! By making them yourself you can control the size of your crumbs, I like keeping a few bigger pieces to switch up the textures in each bite.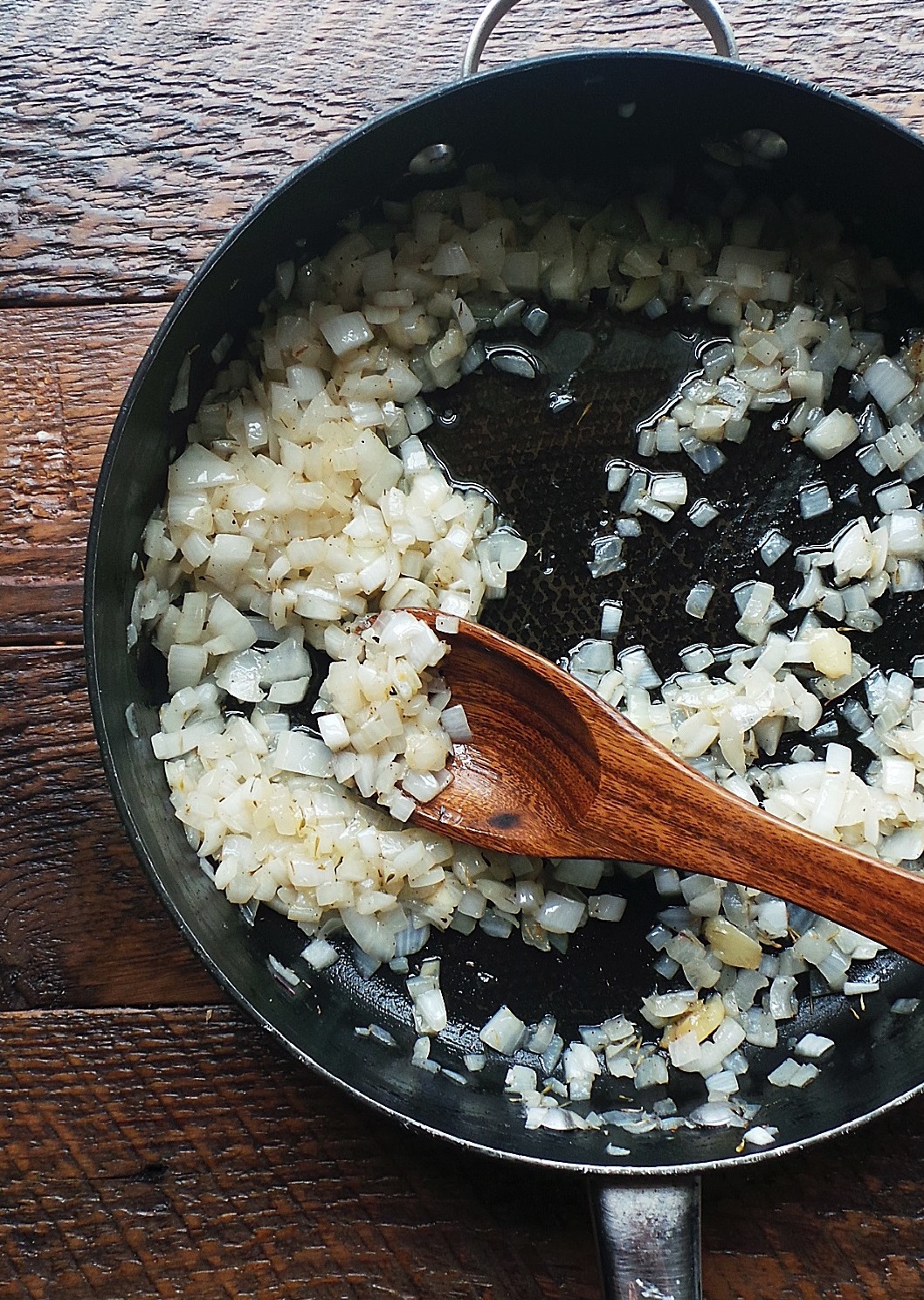 These onions are simply my favorite. I originally made these with TWO onions, however I wish I had more so I wrote three in the recipe. If you have any left over, add some stewed tomatoes and throw it over some chicken, or use it as a dip for left over bread. These onions are so sweet and delicious you'll probably eat them by the spoonful. Saute them over medium heat in a combination of butter and olive oil until wilted, which takes about 7 or so minutes while seasoning with salt (or garlic salt), pepper, thyme, and roasted garlic. Make sure you read my note at the bottom of the post about seasoning! Once the onions are wilted, add some brown sugar and cook another 7-8 minutes. Juices will start extracting from the onions and they will slowly start to caramelize. I didn't let them get super brown, I just took them off when they tasted good – so be sure to keep tastin'!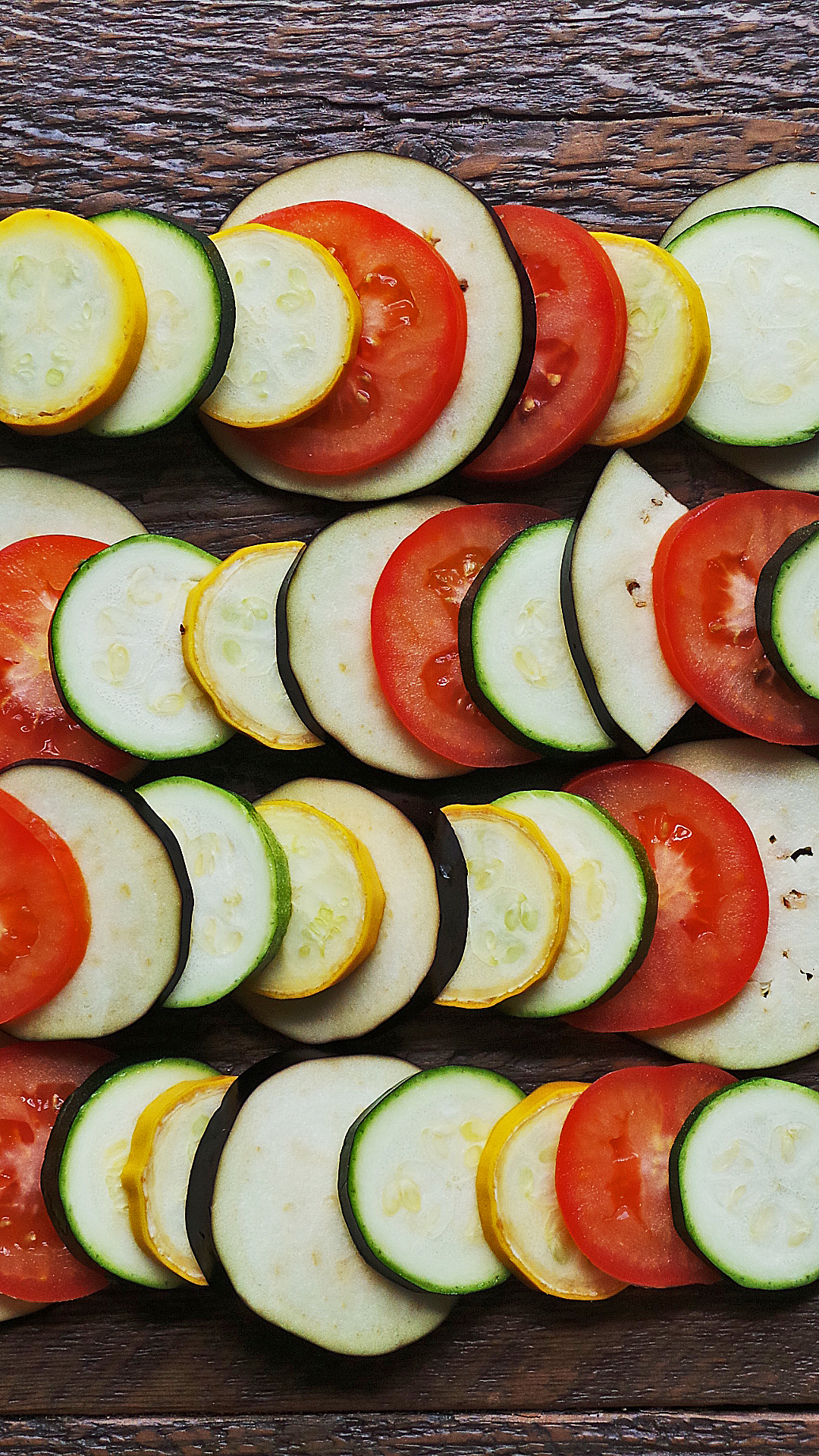 For the vegetables I used zucchini, yellow squash, eggplant, and Roma tomatoes and cut them into 1/4″ rounds. If you can put your hands on a Japanese eggplant which is the size of a zucchini or yellow squash, do it! If not, you can cut the large eggplant rounds into quarters, you'll see some in the picture above. I bought two squash/zucchini/tomatoes and one large eggplant. If you're getting a Japanese eggplant, buy two just in case. You always want to make sure you have plenty for an Au Gratin. If you have leftovers, make a saute!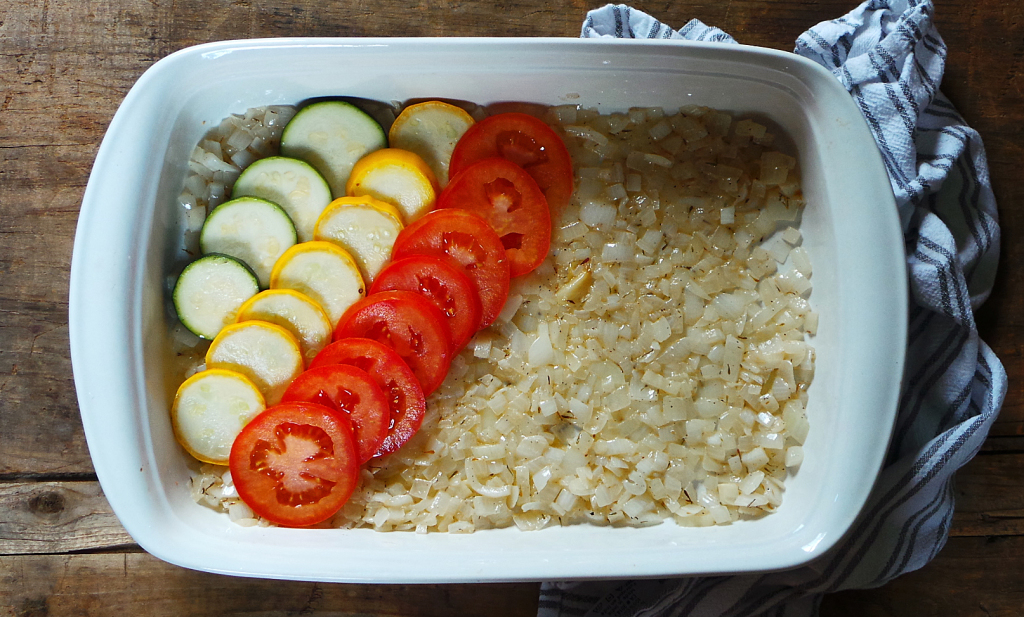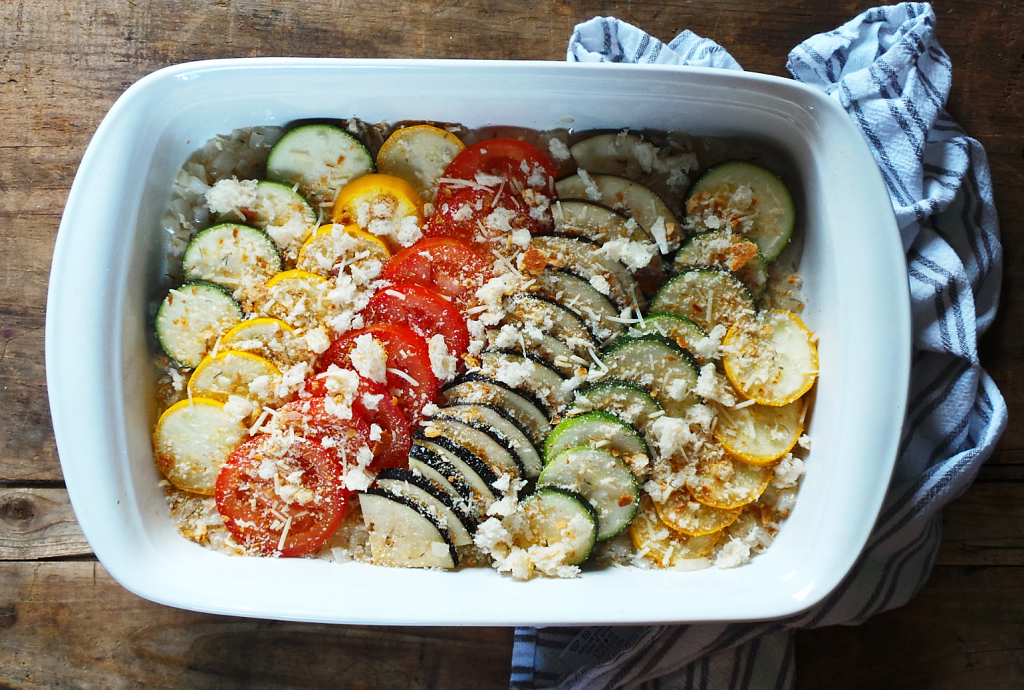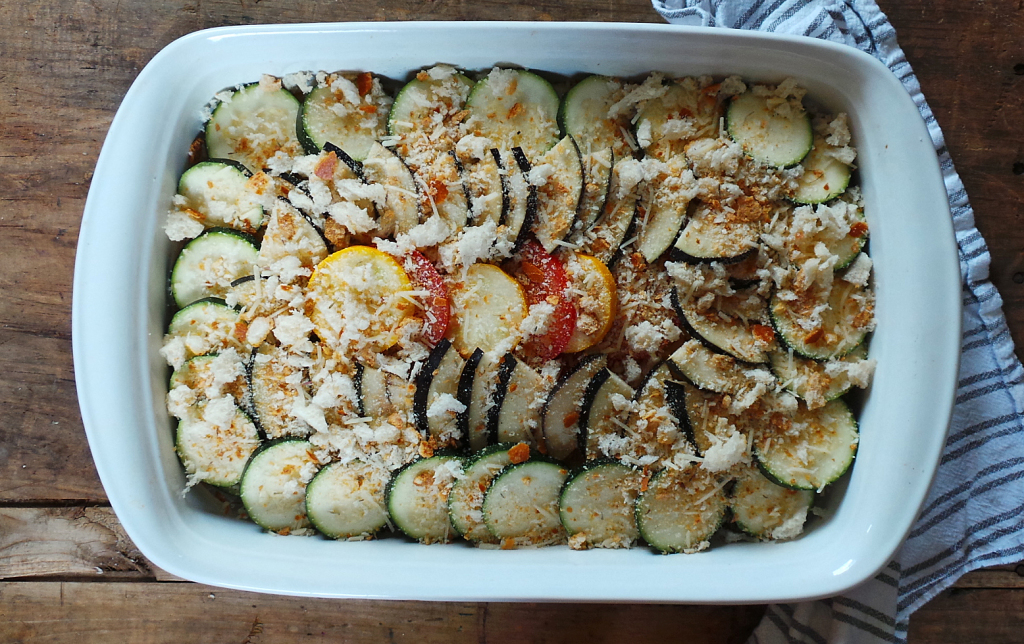 When you're ready to ensemble, spread your onions in the bottom of an Au Gratin or 9×13 baking dish. Start by creating a row of each vegetable on a diagonal (like picture number 1). When that's done, sprinkle with a few tablespoons of the bread crumbs (can you see the different size crumbs? YUM). For the top layer, start with whatever you have the most of (in my case it was zucchini), and start going around the edge of the dish slightly overlapping each other (like picture number 3). My second layer was eggplant and final layer was the squash and tomatoes because that's that I had least of. Sprinkle with more breadcrumbs, a little more cheese, and olive oil and it's oven time.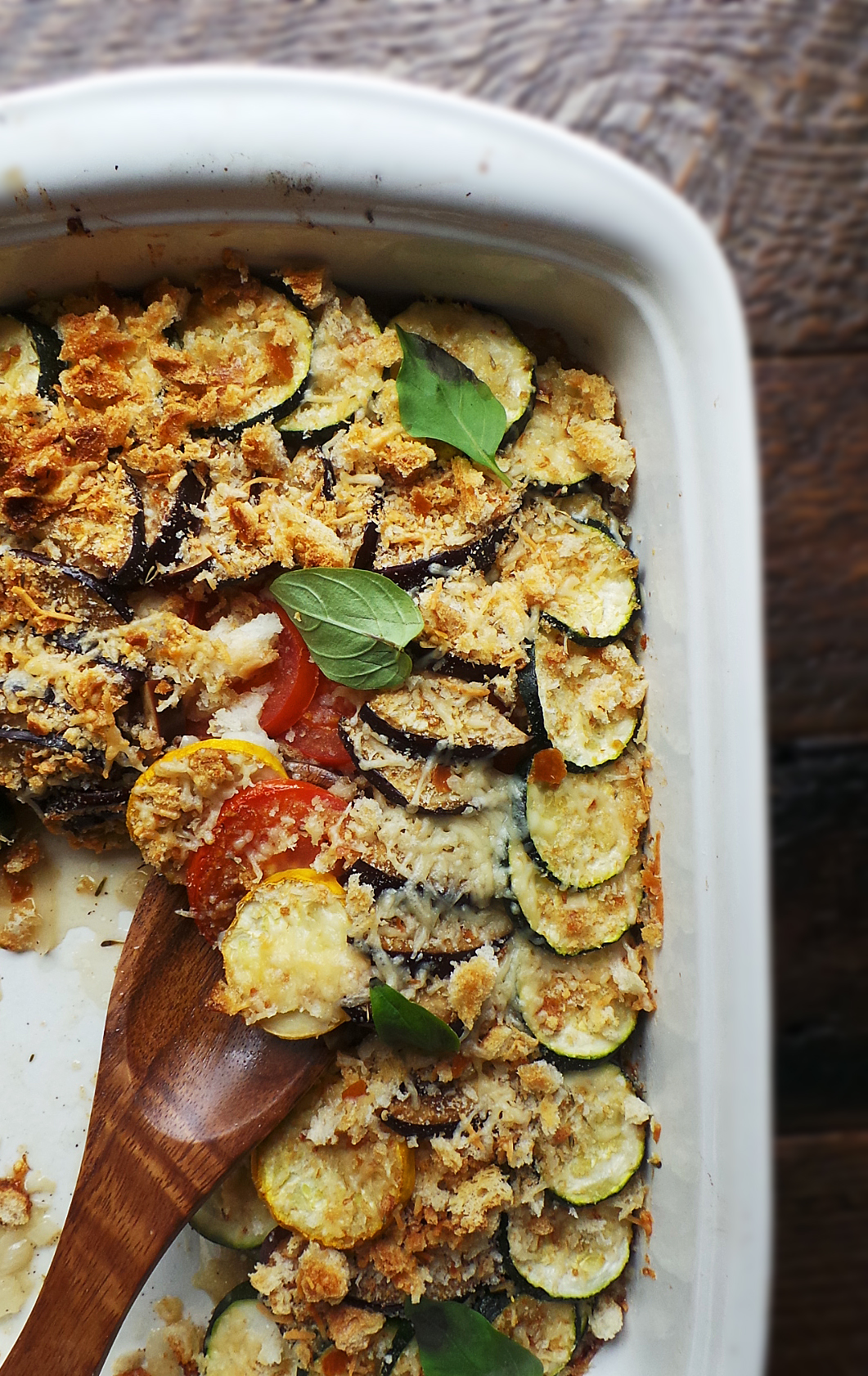 The only bummer is it does take about an hour to bake, but that hour is well worth it.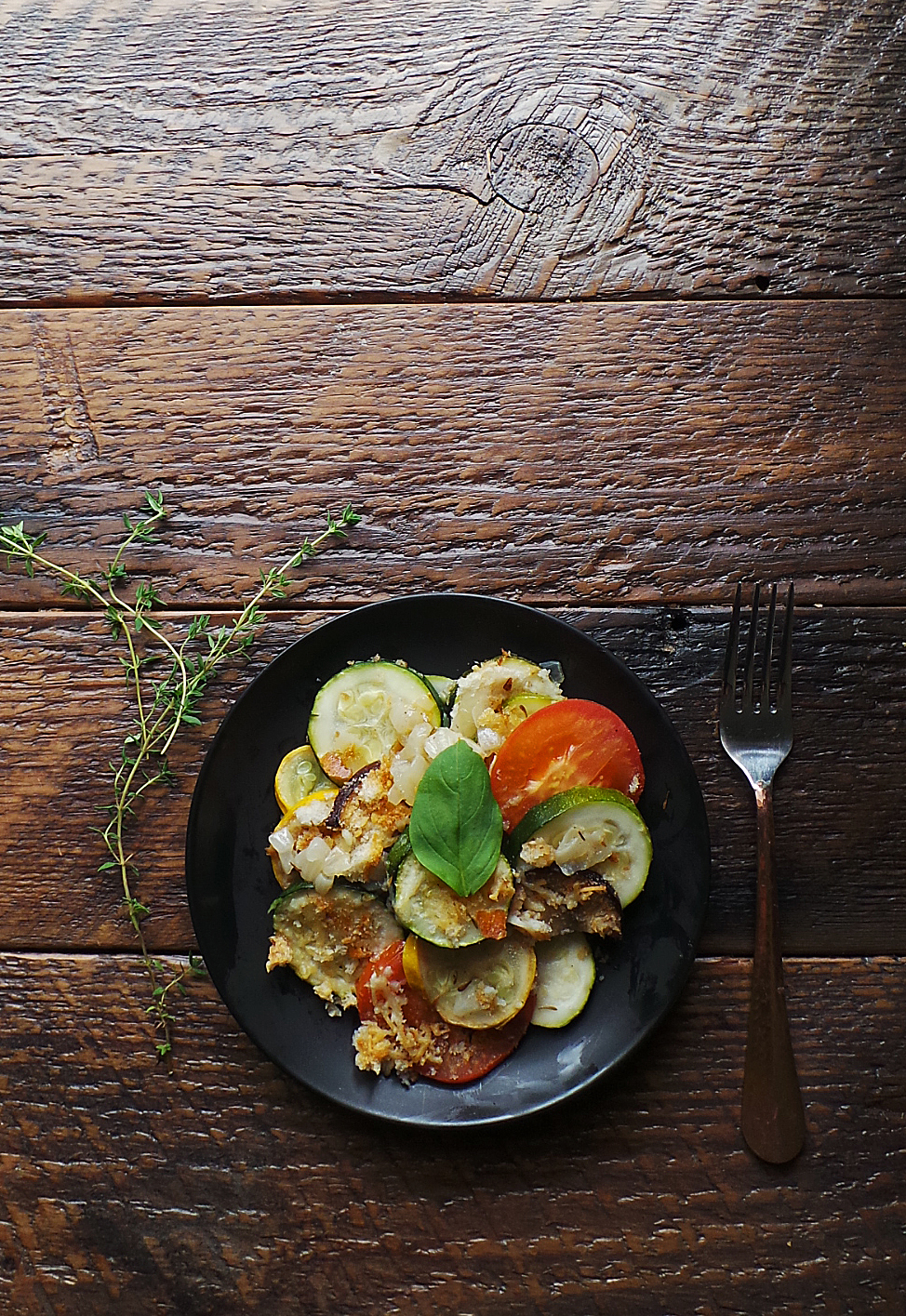 The sweet onions are melt in your mouth delicious, the vegetables are tasty on their own and now perfectly tender, and that crunchy bread crumb? Psh, anything with bread, cheese, and garlic is a winner in my book. I think this dish is ideal for summer entertaining and your guests will agree so too. Enjoy and happy Fourth of July!
Summer Veggie Au Gratin
2015-06-30 07:43:08
Serves 6
Ingredients
3 large onions - small dice
1 T. roasted garlic - see notes below
2 medium yellow squash
2 medium zucchini
2 Japanese eggplant
2 large roma tomatoes
1/2 loaf French Bread
olive oil as needed
2 T. butter
1 T. brown sugar
salt and pepper as needed
dried thyme as needed
1/2 c. Parmesan cheese
Instructions
Preheat oven to 350
First make the bread crumbs, butterfly the French bread and cut into smaller cubes. Lay the bread (soft side up) on a baking sheet and bake until crispy, about 10 minutes.
Transfer to a food processor with salt, pepper, thyme, and Parmesan cheese. Pulse a few times until crumby - I like to leave a few bigger pieces in there. Taste for seasonings and adjust as needed.
To prep the vegetables cut the squash, zucchini, eggplant, and tomatoes into 1/4" rounds, discarding the stem ends of each vegetable. If you cannot find a Japanese eggplant, use a regular one. Cut the rounds into quarters for pizza-slice lookin' wedges. Set aside until needed.
Heat two tablespoons of oil and the butter in a large skillet over medium heat. Add the onions and cook until wilted, about 7 minutes. Season with salt, pepper, roasted garlic, and thyme (start with 1/2 teaspoon of thyme and increase as desired).
Add the brown sugar, reduce the heat, and allow the onions to cook further for another 7-8 minutes. They will start to caramelize and smell delicioussss.
To ensemble, layer a 9x13" baking dish or au gratin pan with the onions. Working on a diagonal, make an overlapping row of each vegetable until the entire surface is covered (see photos above). Sprinkle with 2-3 tablespoons of the bread crumb.
Starting with the vegetable you have most of (I had the most zucchini left), create an overlapping layer around the edges of the dish. Start with your next vegetable (I used eggplant) and do a second layer around the edges of the dish, slightly overlapping the zucchini or whatever vegetable you used first.
Continue until all of your vegetables have been used (see photos above). Sprinkle with 2-3 tablespoons of breadcrumb and drizzle with olive oil.
Bake for 1 hour or until vegetables are tender. Crank up the broiler and broil for a minute until breadcrumbs are crispy.
Enjoy!
Notes
When seasoning for taste, always start with a sprinkle of salt and pepper, and a 1/2 t. of thyme (big pinch). Start off small and add more as needed. Let your taste buds dictate what it needs!
When caramelizing onions I always have a a stick of butter next to the stove so I can add in a tablespoon extra at a time. If they look dry, add a little butter!
I first made this with 2 onions and wish I had a little extra. If you have a ton left over from three onions, read the post for ideas on what to do with them.
To roast garlic add an entire head of garlic in a 375 oven and cook until soft, about 25 minutes. If you don't feel like it, you can also add two cloves of minced fresh garlic to the onions.
Adapted from Thomas Keller
Adapted from Thomas Keller
http://www.vodkaandbiscuits.com/