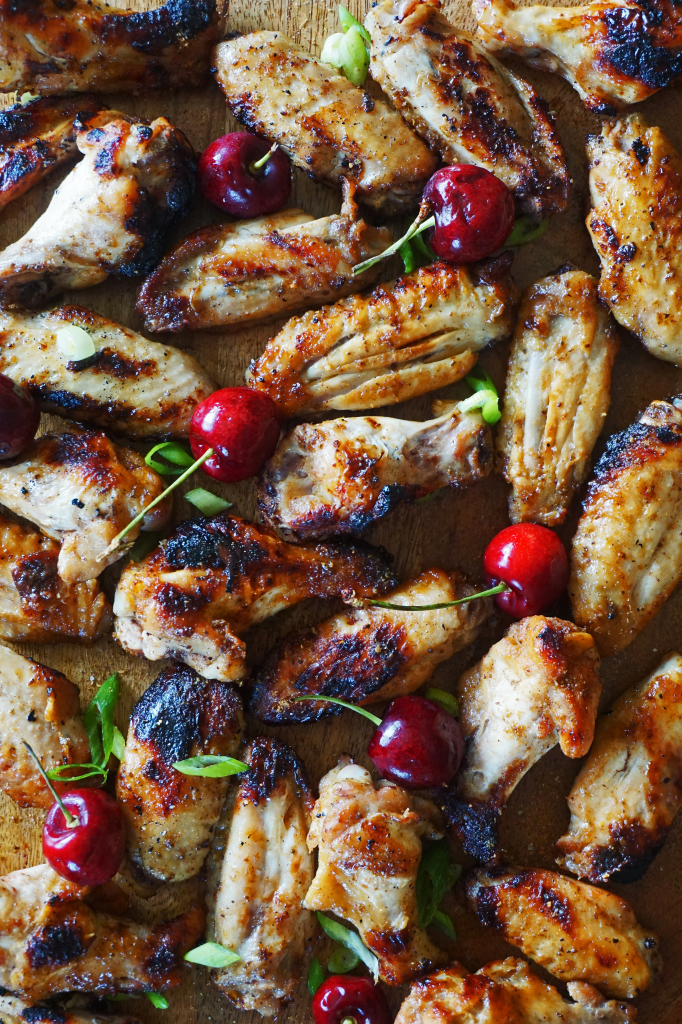 Cherries are delicious. Cherries used as a garnish with chicken wings are NOT delicious. Disclaimer.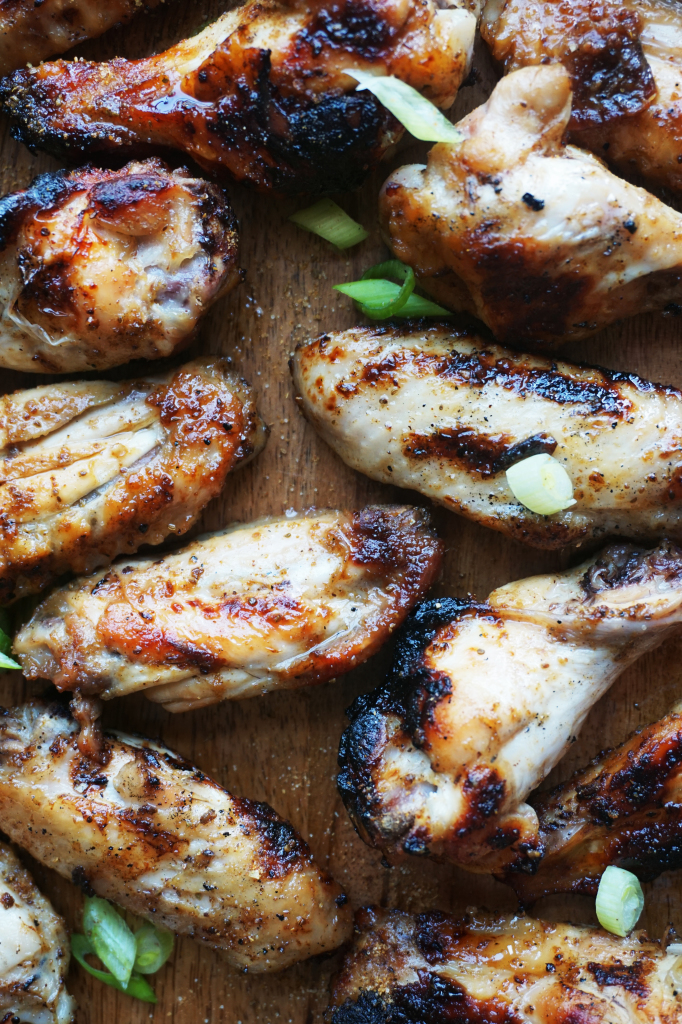 Maybe the chicken flavored cherry is what it will take to stop depending on my very undependable mental grocery list, so when I forget to pick up my intended red chili garnish, I won't have to use cherries. And then eat the cherries. And then question why I would do that. Then continue to question the many other decisions I make in my life.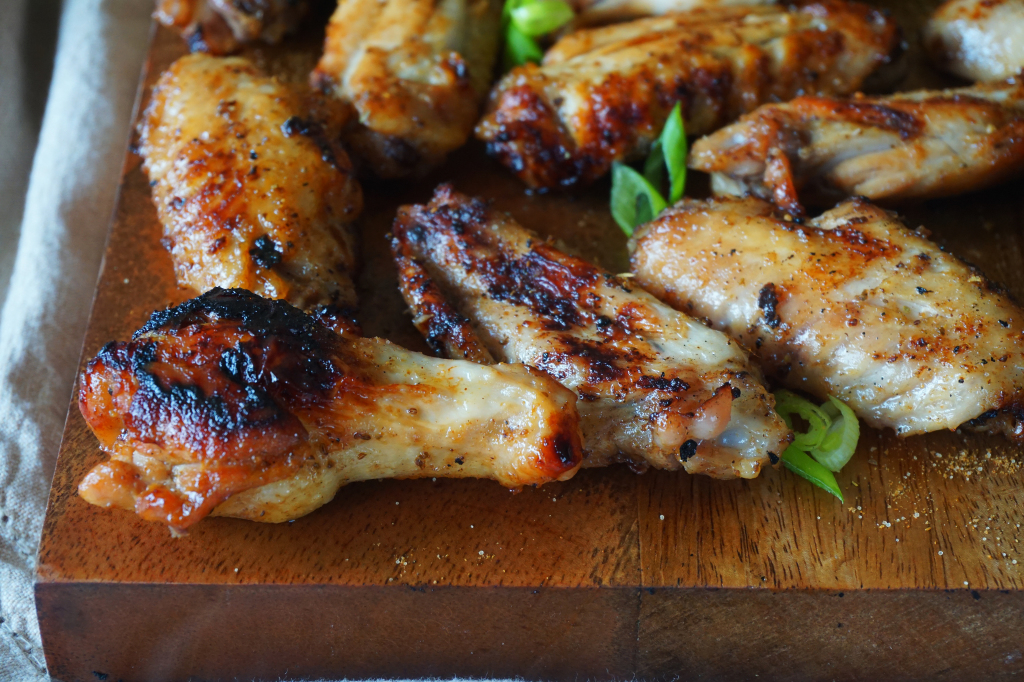 Anyways.
My mom recently had a dinner party and I swung by just in time to help hold the fort down at the grill. One of the many delicious things my mom makes is her grilled chicken, whether it's the legs on her drumstick rack or an abundance of chicken wings. It was that dinner party where I not only scarfed down an uncomfortable amount of chicken wings, but also got inspired for a recipe. Thanks, mom!
I'm excited for this one for so many reasons. Let's just say after this post you'll know how to make an insane amount of chicken wings with a fool-proof technique that takes little effort and even less time. You'll want to immediately throw a cook out or host the first up-coming football party and keep this recipe on file forevs.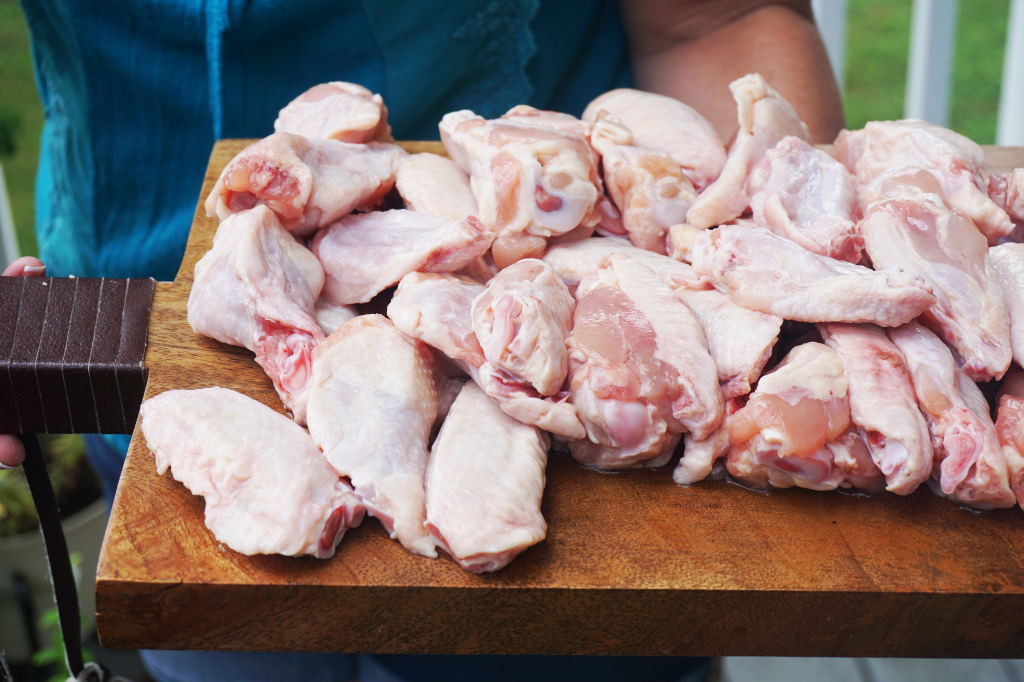 I call these "Party Wings," but really they're just chicken wings cut into thirds: a drumette which looks like a little leg, the flat part, and the tip. You won't find the tip in the pack you buy at stores. If you cut your own chicken wings, just save the tips in your freeze for stock! I love making these when entertaining (and so does mom) because they're inexpensive and feed an army.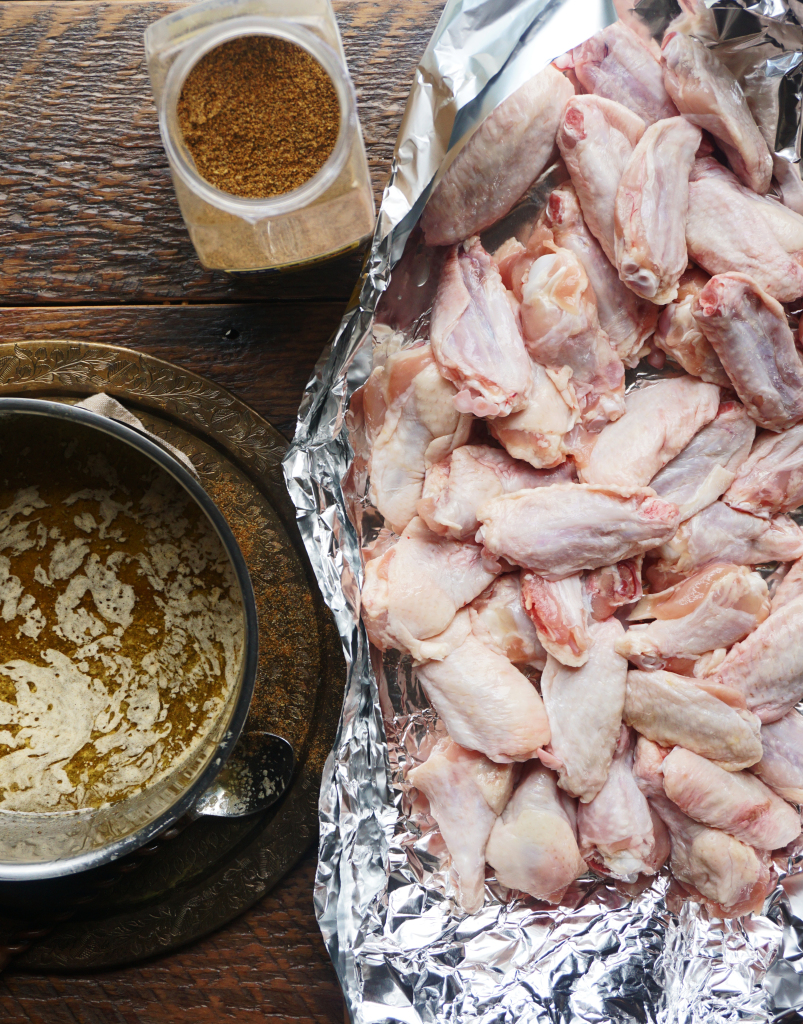 Once you've rinsed and dried the wings, add them to heavy duty foil. I have a grill pan but I don't like to use it for these just because I use the "sauce" to help cook and since my grill pan has holes it wouldn't help with anything other than flare ups. Regardless of the flavor profile I'm going with I always start with a sauce made of melted butter and a little honey. In this case I added a ton of Old Bay (because Maryland), but you can do WHATEVER. Heck, add some garlic, lemon, and parsley or spice it up with a Jerk seasoning, or your favorite barbecue rub.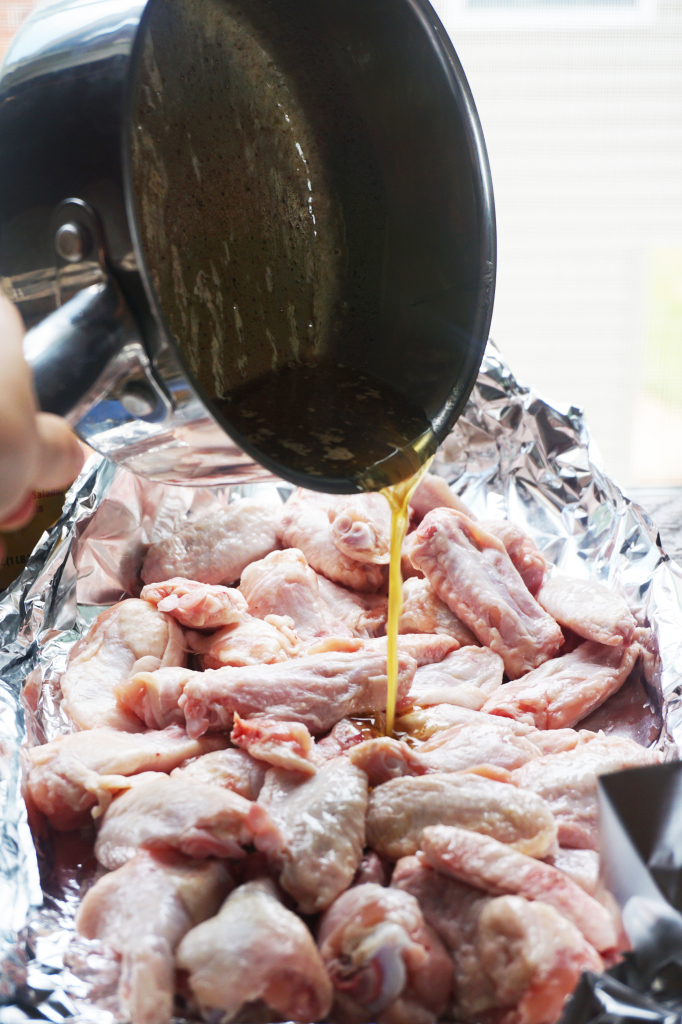 The seasonings get mixed with the butter and then the chicken wings get covered in a buttery bath. YAS BUTTERY BATH.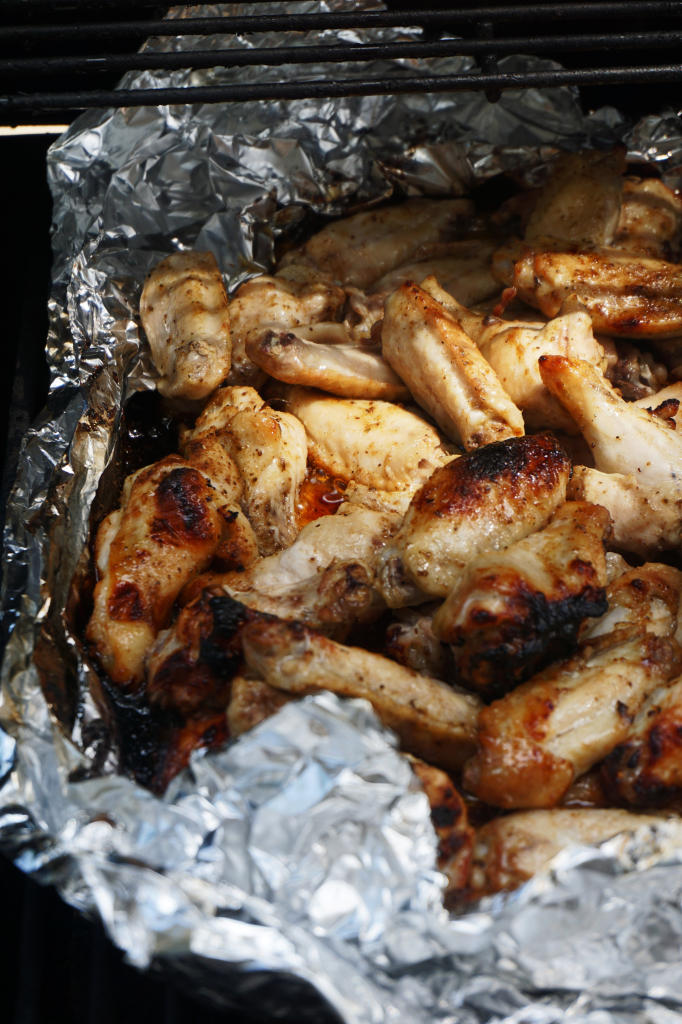 The next step is grilling. I crank up two of my burners high and the other two low and place the foil over the low flame. I let that do its thing for about twenty minutes, which then the chicken will start to char. The low heat combined with the liquid help cook the chicken keeping it juicy without drying it out. If you're using a charcoal grill, set the lit charcoals on one side of your grill and keep the foil on the unlit side. If you want to smother your chicken pieces in a sauce, go ahead and do it now!
As soon as the chickens are cooked through (which takes about 25 minutes), I transfer them out of the foil over the hot flame just to let it finish charring. Nothing compares to these things finished over the flame! Basically the foil helped to keep the chicken juicy without over cooking the outside, and the last minute char helps give the skin the crispiness we crave.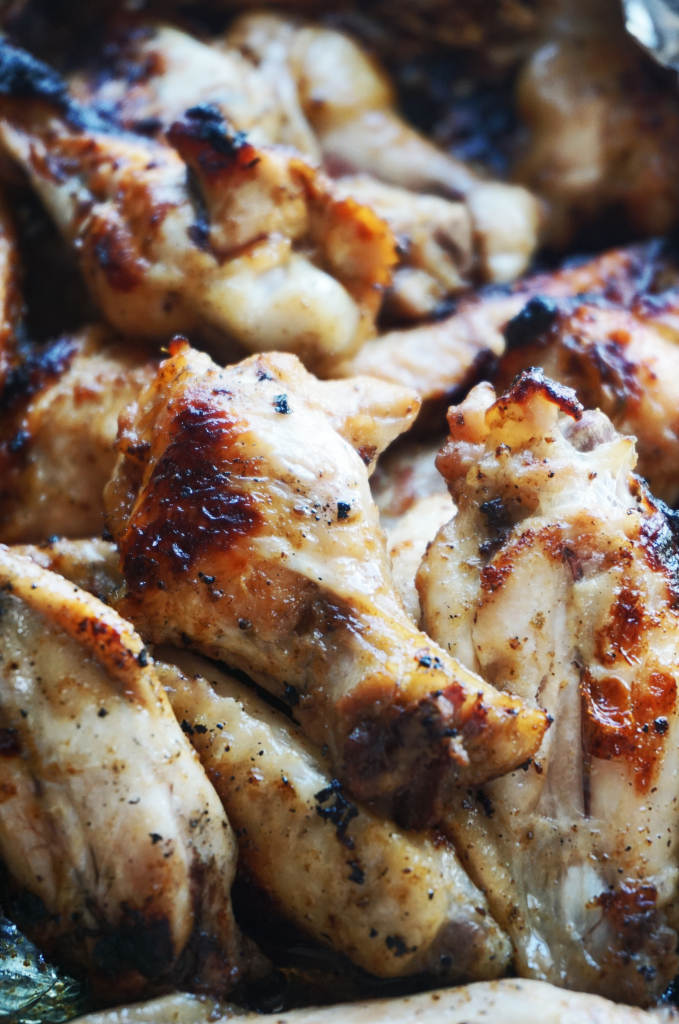 If you do want to finish these with a sauce you can brush it over just before transferring the chicken over the direct flame OR you can do it when it comes off the grill. Either way works! I think the honey-butter and seasonings do the job well, especially the combination of the butter and Old Bay. Drooling.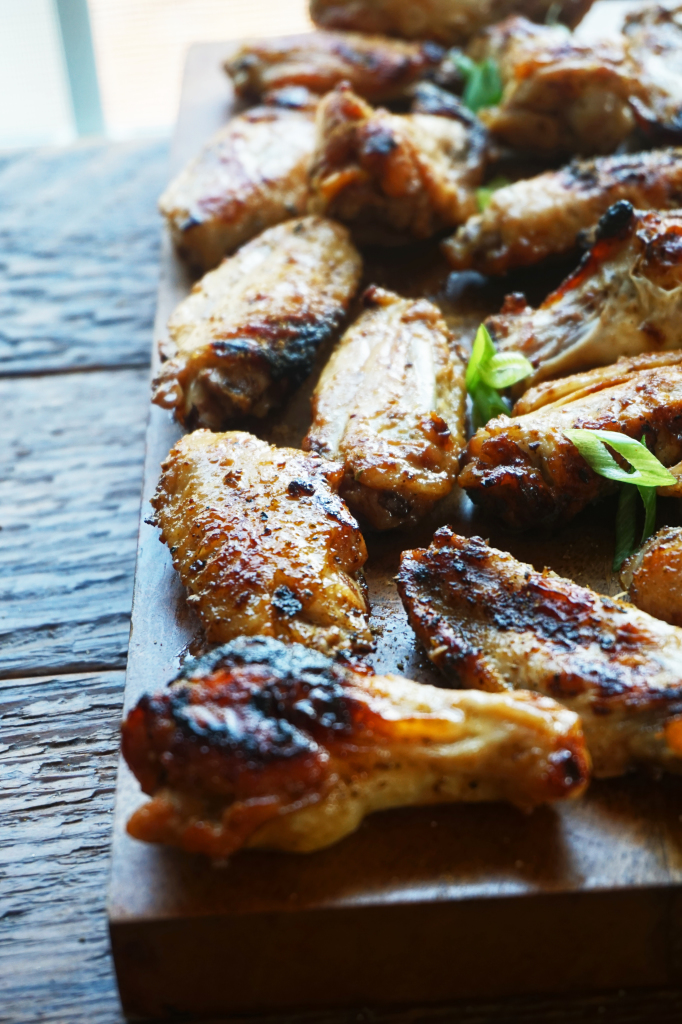 Before serving give it one last dust of whatever seasoning you used to start and soon enough your dinner party will come to a screeching silence because when there's chicken wings hot off the grill no body talks, everybody eats.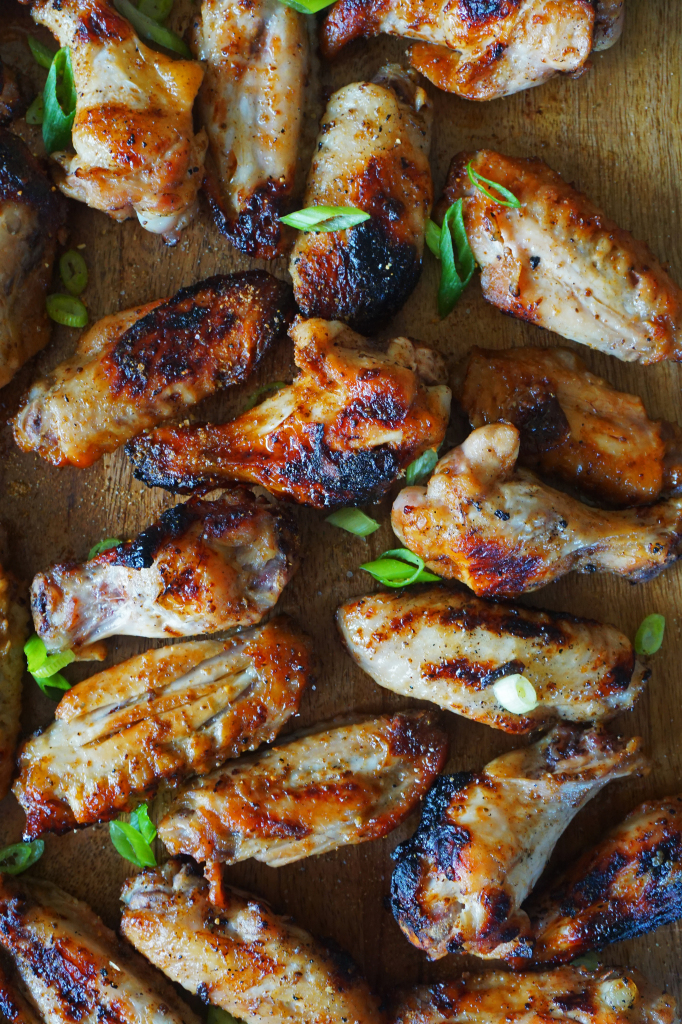 Enjoy!
Grilled Old Bay Chicken Wings
2015-08-10 19:26:21
Serves 8
Ingredients
24 cut chicken wings (aka party wings)
1/2 stick of butter
1/4 c. honey
1 T. Old Bay or seasoning of choice
Heavy Duty Foil
Instructions
First rinse and pat your chicken wings dry, then place over heavy duty foil big enough to hold all of the chicken wings. I used two layers of foil!
Melt the butter and honey in a small sauce pan and stir in the Old Bay. Drizzle over the wings and toss to coat each wing.
Set the right side of your grill over high heat and the left side on low.
Grill 25-30 minutes until the chicken pieces are cooked through. You can baste with some of the butter sauce and flip after ten minutes!
Just before taking off the grill use tongs to transfer each wing over the direct flame on the right side of the grill. Be careful of flare ups! Char the wings over the flame for 30 seconds on each side.
Transfer to a plate and discard the foil (you can save the sauce and use as a finisher).
Dust the wings once more with Old Bay before serving.
Enjoy!
http://www.vodkaandbiscuits.com/