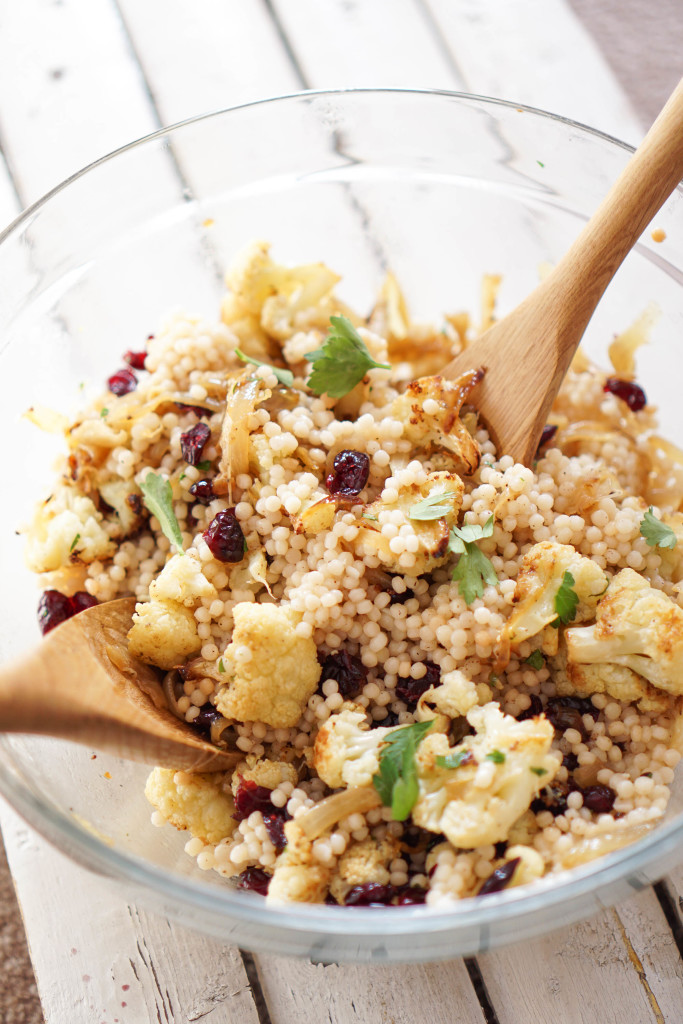 I can't believe wedding season is less than two months away. WHERE IS THE TIME GOING?
Wedding season = spring and I'm just not ready to let that sink in.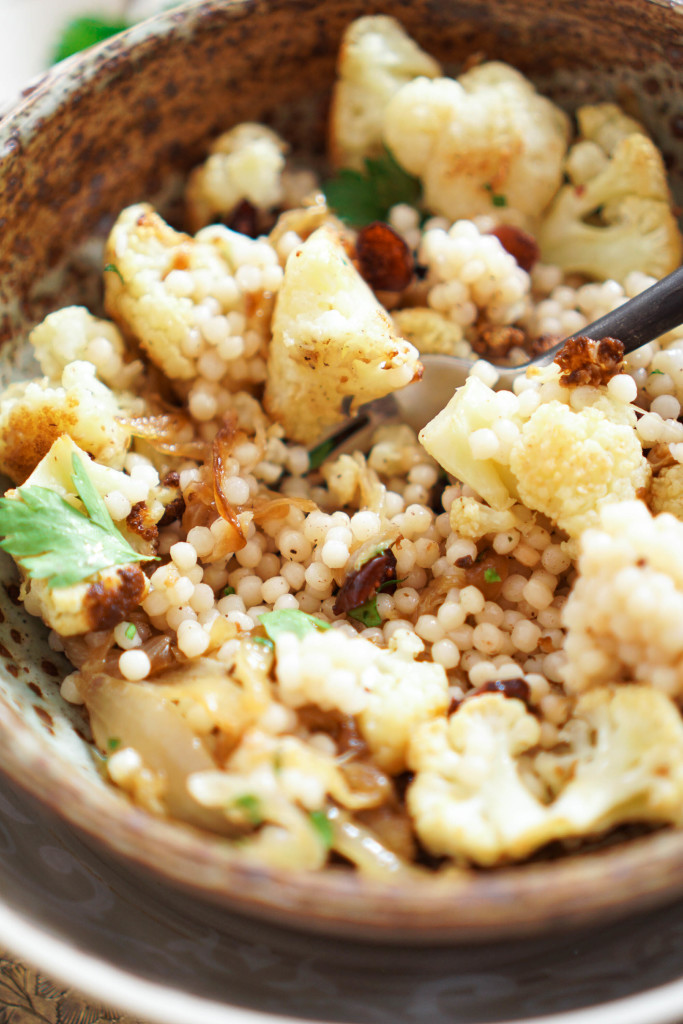 I'm constantly on the hunt for recipes that are healthy, easy to eat on the fly, and can be eaten at room temperature.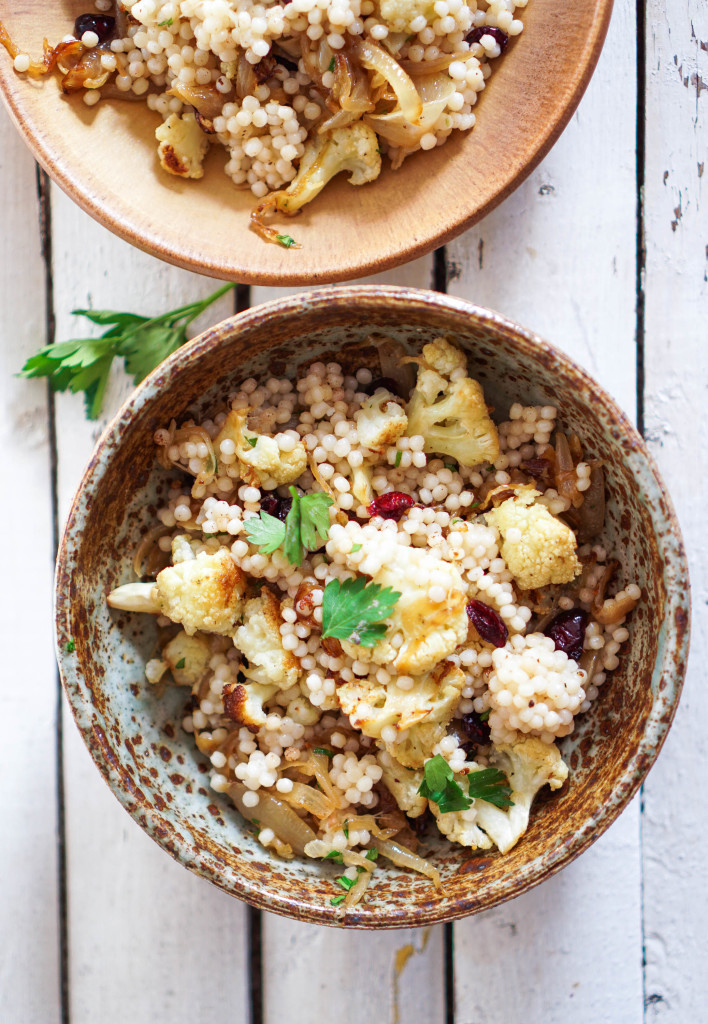 I'm sure any event professional can relate, but 5-6 hours deep in a wedding day you suddenly start to question what (if any) did you eat that day? Suddenly you're starving and the last thing you want is an unsatisfying granola bar or that banana that's wiggled it's way to the bottom of your purse (which when packed for a wedding is equivalent to a 3-day vacation), and has been squished since 6AM. Yum!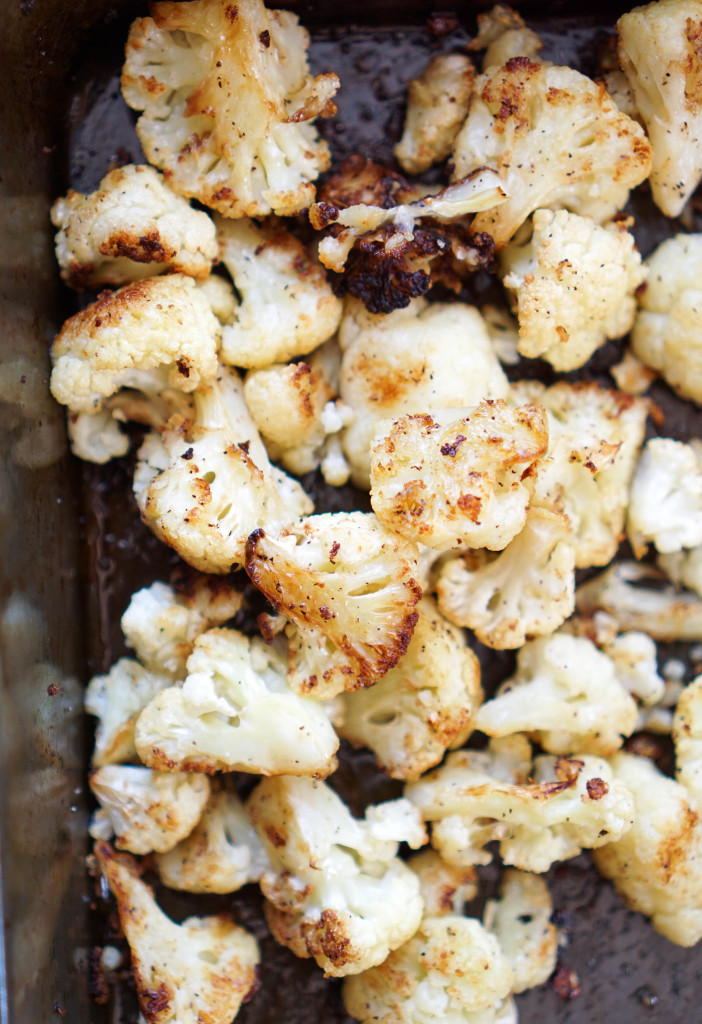 I stumbled upon this Cauliflower Couscous from Food Network and with a head of cauliflower in the fridge and a pantry stocked with all sorts of couscous I knew I had to try it out.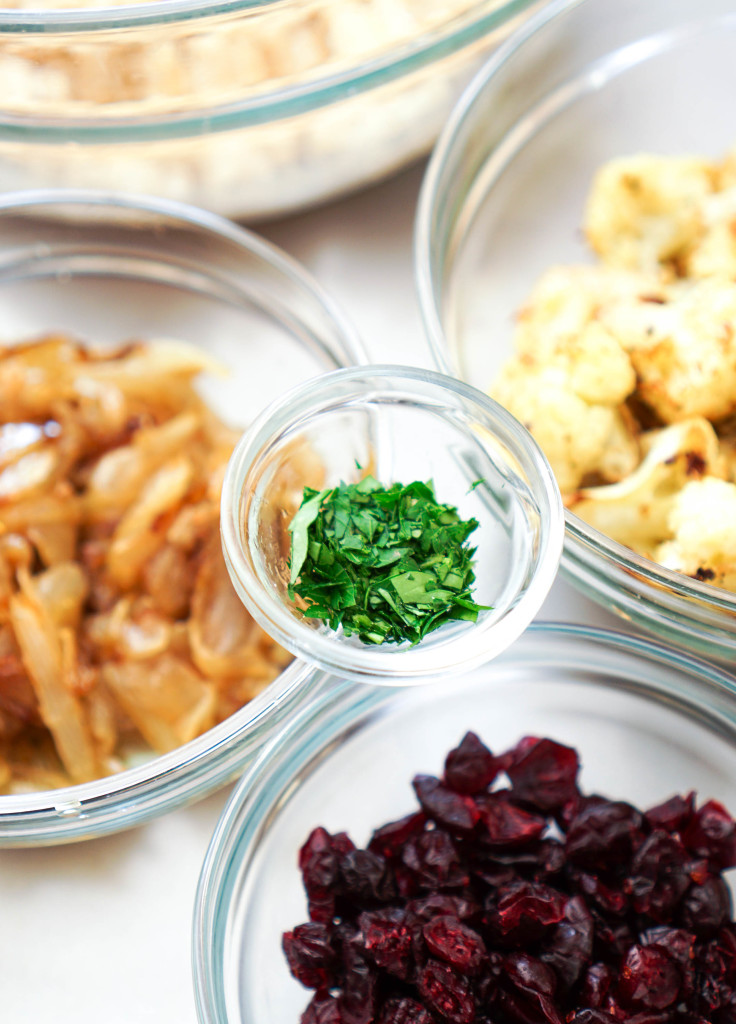 My recipe has a different cooking method and I switched up the ingredients a bit, but overall the flavor profile is the same. Israeli couscous tossed with crispy roasted cauliflower, sweet caramelized onions, tart dried cranberries, a splash of red wine vinegar, chopped parsley, and the secret ingredient: a dash of cinnamon.
The recipe does require a little prep with cooking the couscous, roasting the cauliflower and caramelizing the onions, but once that's done all you do is toss everything together. Israeli couscous is like little pearls of pasta and I love the texture it gives the salad. I think Israeli couscous gives this a little umph, but if you're skeptical you can substitute for regular couscous!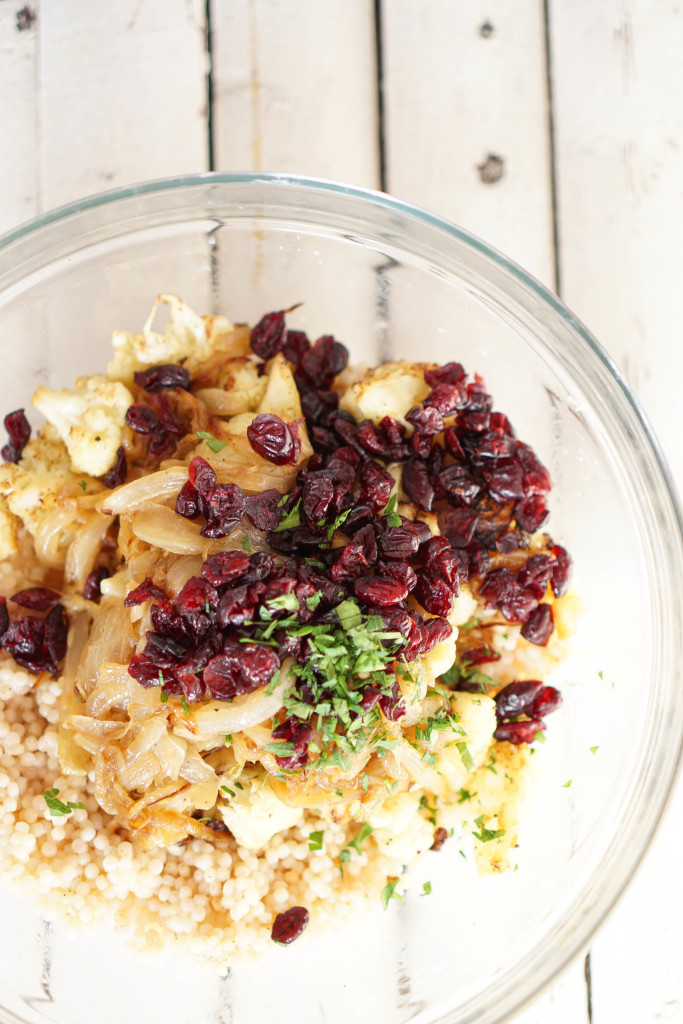 The salad can be served warm or room temperature making this IDEAL for wedding days. It also can be served for a side dish to any party, pot luck, or if you just want to keep some stored in the fridge for lunches.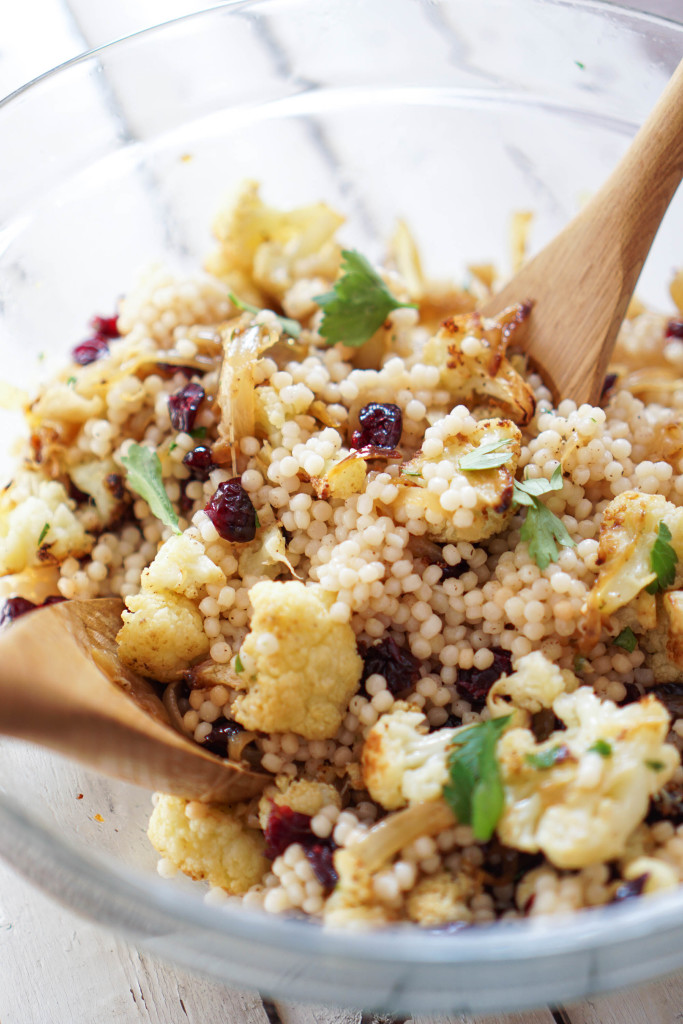 Roasted cauliflower is roasted cauliflower and does not need any justice, I could eat that stuff by the sheet pan. The cauliflower mixed with the sweet onion, tart berries, and the warmth of the cinnamon all brought together by the couscous is one heck of a salad. I'm confident you will like this. Enjoy!
Israeli Couscous with Roasted Cauliflower, Cranberries, & Caramelized Onions
2016-02-11 07:01:46
Serves 6
Ingredients
1 head cauliflower, cut into bite size florets
1 large yellow onion, sliced thin (julienne)
2 tablespoons butter
olive oil as needed
1 1/2 cups Israeli couscous
1/4 cup dried cranberries
1 tablespoon chopped parsley
2 tablespoons red wine vinegar
pinch of cinnamon
salt and pepper as needed
pinch red pepper flakes
Instructions
Preheat the oven to 375
Add the cauliflower florets to a baking sheet and drizzle with 2 tablespoons of olive oil. Sprinkle generously with salt and pepper and roast for 25-30 minutes or until tender and crispy, flipping the florets half way through. Set aside until needed.
To caramelize the onions, add the butter and a tablespoon of olive oil to a medium saute pan. Heat over medium heat. Once melted, add the onions and cook, stirring often, for 20-25 minutes until wilted and golden brown. You want to maintain the heat to medium preventing the onions from sauteing. Season with salt, pepper, and a pinch of red pepper. If making the onions hours before the salad, zap in the microwave to re-heat (sometimes they become hard to mix with cold/room-temp).
Cook the couscous according to package directions. Once cooked, rinse with water and toss with a drizzle of olive oil.
Combine the couscous, cauliflower, caramelized onions, cranberries, parsley, red wine vinegar, and a dash of cinnamon. Mix and taste for seasoning. Adjust ingredients according to taste.
Serve warm or room temp - enjoy!
http://www.vodkaandbiscuits.com/