It hasn't even been 24 hours since Easter dinner and I've already had more than enough servings of leftover ham & King's Hawaiian roll sandwiches and I may or may not have just had a slice of triple chocolate cake with my coffee. WHO AM I?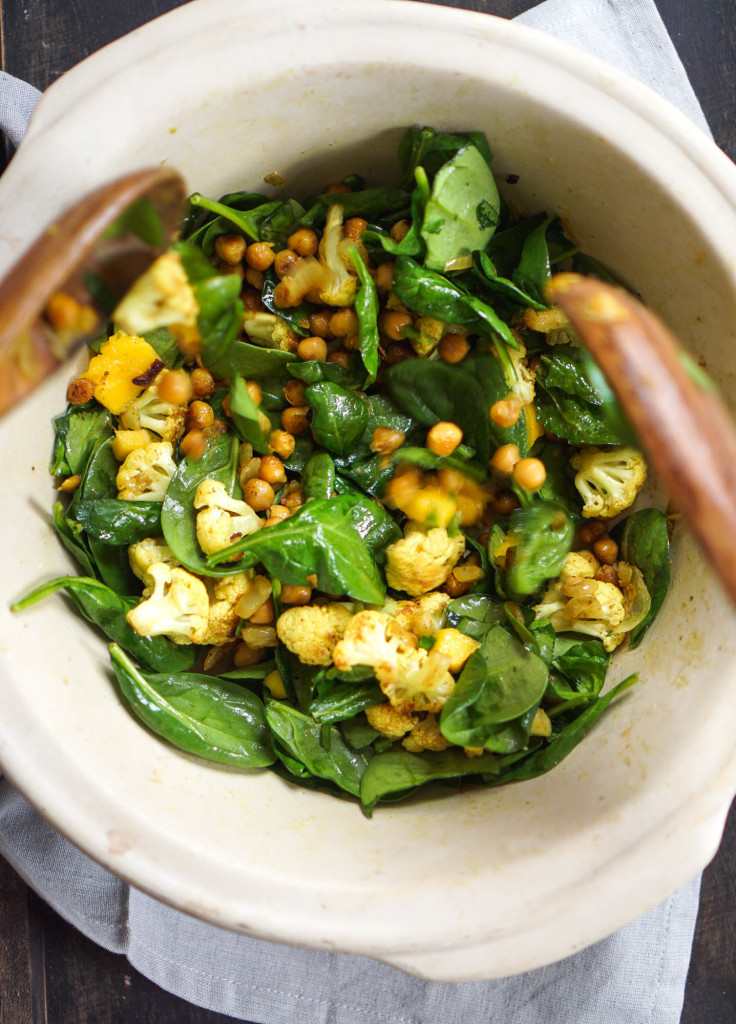 My name is Lindsay and I do not know how to control myself over holiday leftovers.
The good thing is I have a big family and by the time I get home from work today there will be nothing left. Which is why I've already whipped up the grocery list for what I'm making this week. You best believe this healthy deliciousness of a salad is on that list.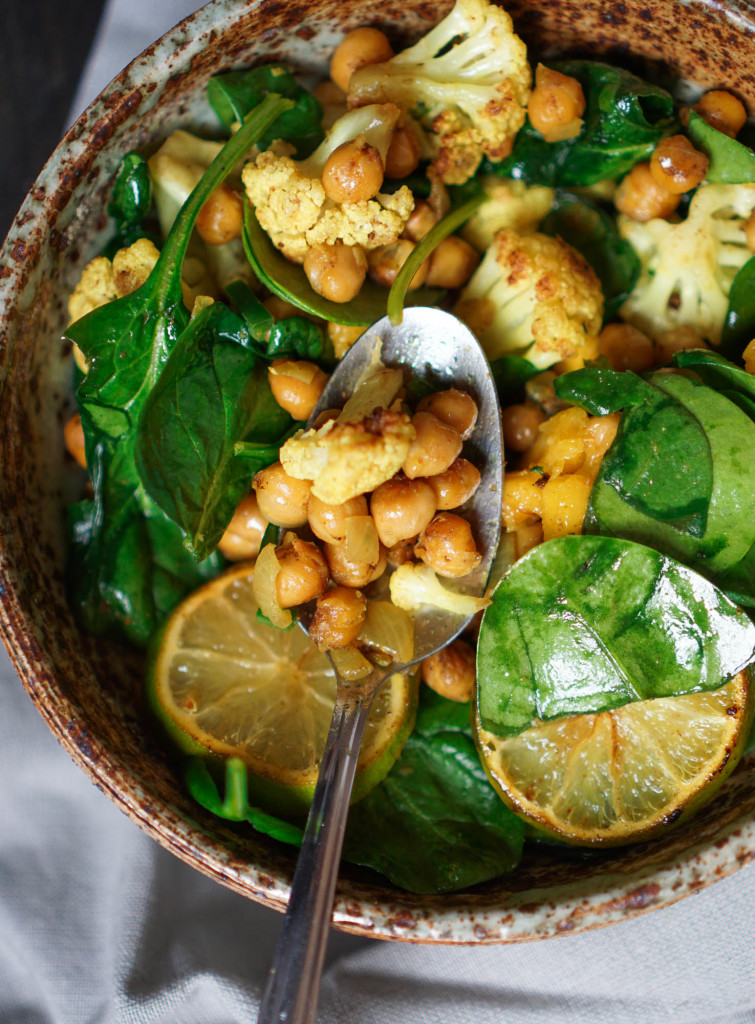 Mainly because it's amazing and I haven't stopped thinking about this since I last made it. Sweet onions, bite size pieces of charred cauliflower, and crispy chickpeas flavored with the most AMAZING spice mix.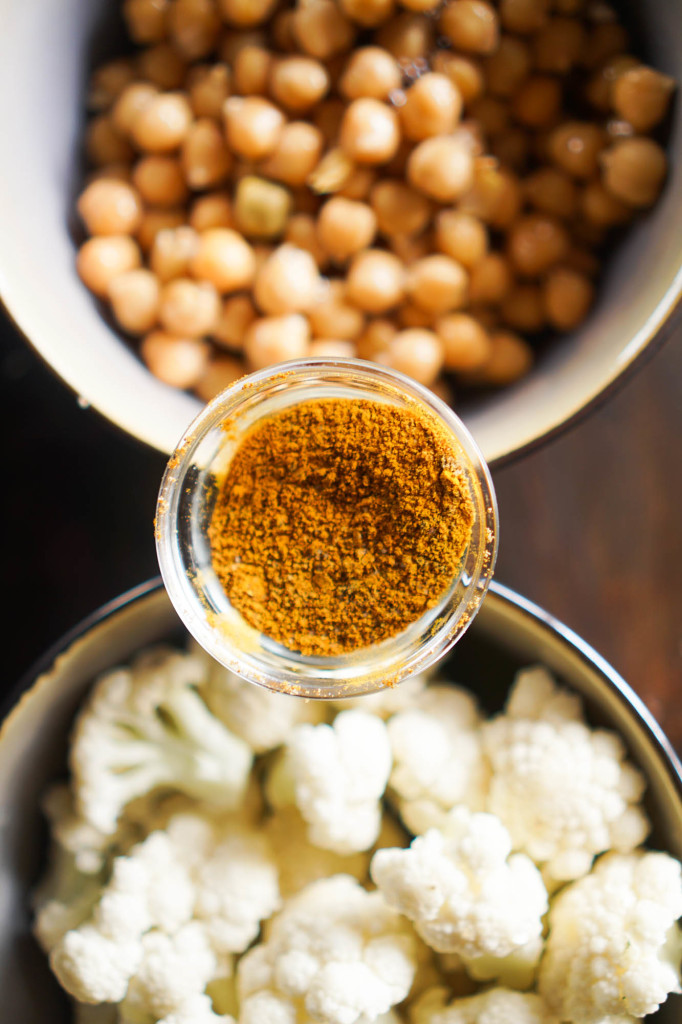 Curry powder, tumeric, cumin, cayenne pepper, and a touch of sugar sweetness. These seasonings create warmth and spice that compliment every single addition in this salad.
If you're reading this and you do not have any of these seasonings you probably don't cook with them often and do not want to buy a jar of each. I don't blame you. You can however hit up Whole Foods who does have a spice section where you can literally buy a tablespoon of whatever spice you need. This is for you.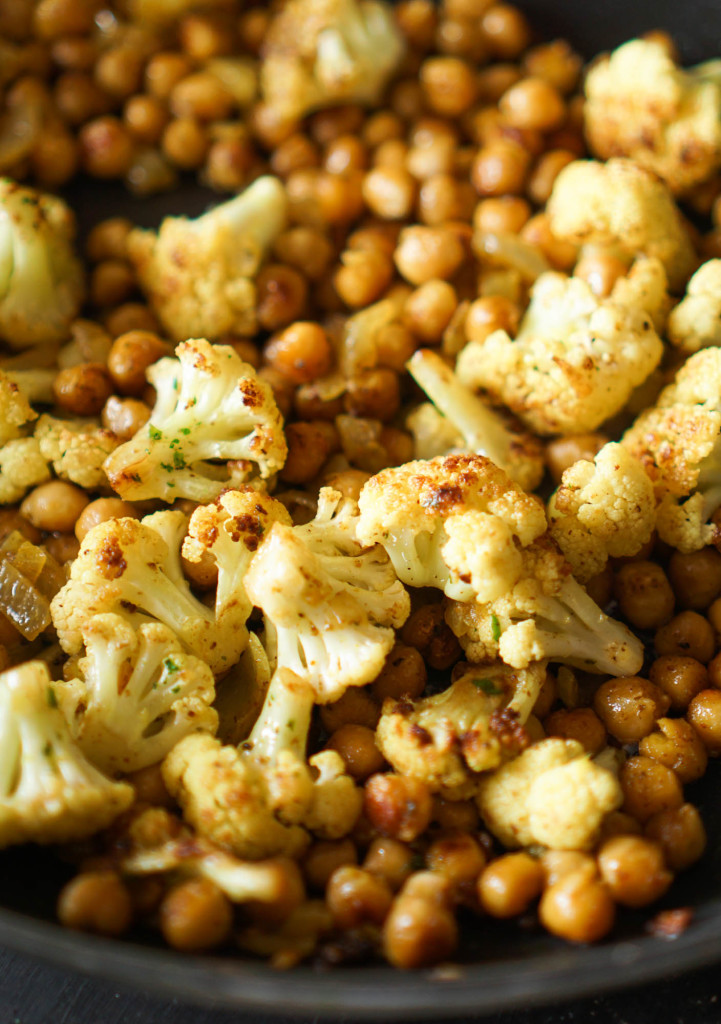 When cooking I recommend mixing all the spices in a bowl and having it next to the stove, seasoning throughout the recipe. This will not only make the dish truly your own but also control how much spice you want in your dish. I have guidelines in the recipe, but you do you!
The cooking process is SO simple. Really the only hassle in this recipe is chopping up the cauliflower or getting the can of chickpeas open, assuming you also have a screwed up can opener. I do cook the onion, cauliflower, and chickpeas in the same skillet but in different batches. This helps each vegetable hold their own integrity, as each vegetable has a different texture, size, and shape. I'd give the entire cooking process 15 minute tops.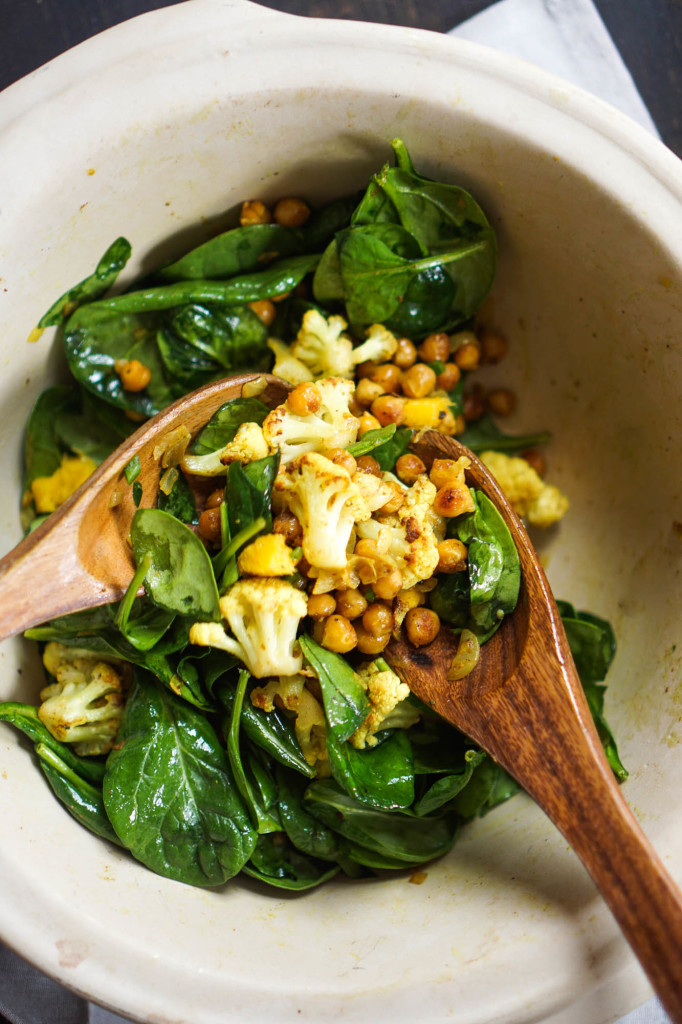 Since the veggies are warm some of the spinach will wilt but most if it will maintain its integrity. Here's when you can toss in WHATEVER you want. I added jalapeno and diced mango, inspired by a salad I saw on the cover of Plenty More, and it was delicious. The bite of juicy mango and spicy crunch of jalapeno worked perfectly.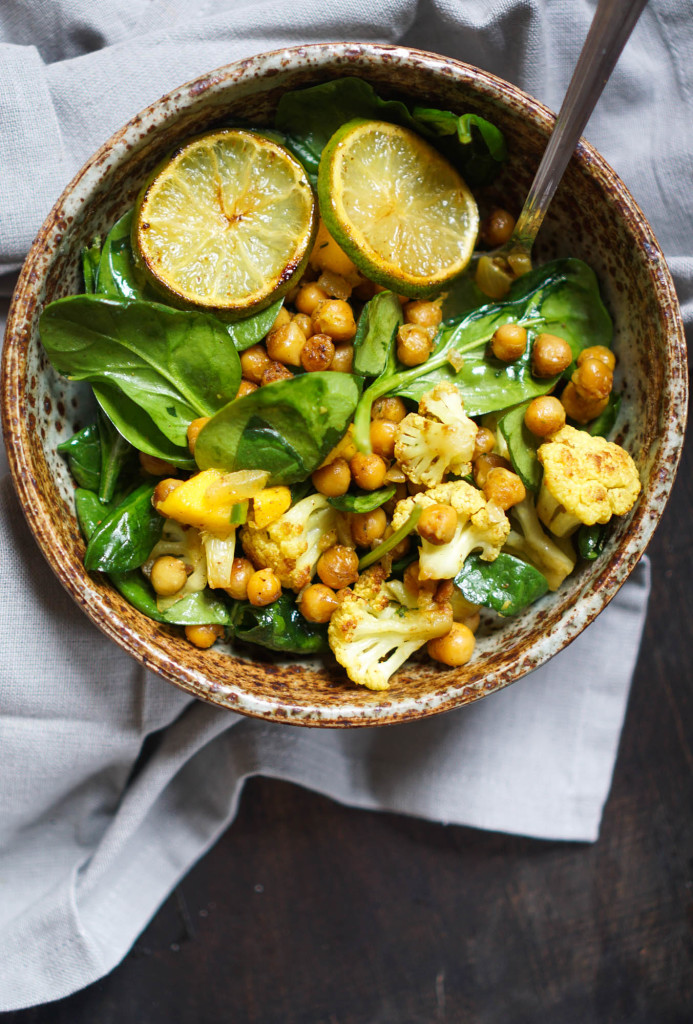 As far as the dressing it is nothing more than a simple squeeze of lime. Can this get ANY healthier I mean reallllly?
The only thing you may be stumped with is what to do with the leftovers. You really want to avoid re-heating it as the spinach will completely wilt and turn into the opposite of the salad you started with. So, I did what I only know best and that's to chop it all up. I added some banana peppers, dried cranberries, sunflower seeds, and a splash of balsamic vinegar, chopped it up with the chef's knife and went absolutely crazy. I have not stopped thinking about that leftover chopped salad and that's exactly why I HAVE to remake it this week.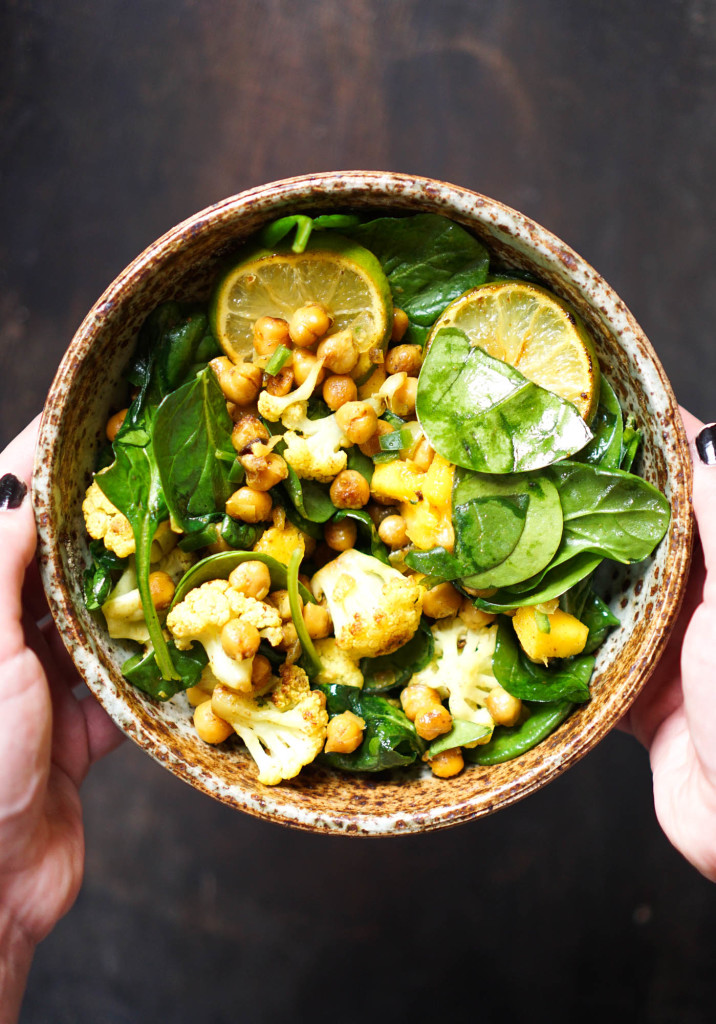 I can't wait for you to make this. Enjoy!
Vegan Spiced Chickpea & Cauliflower Spinach Salad
2016-03-28 06:27:31
Serves 4
Salad
1 head cauliflower, stem removed and florets cut into bite size pieces
15 oz. can chickpeas, drained
1/2 white or yellow onion, small dice
8 oz. bag fresh spinach leaves
2 teaspoons curry powder
1 teaspoon tumeric
1/2 teaspoon cumin
1/4 teaspoon sugar
pinch cayenne pepper
kosher salt and black pepper as needed
olive oil as needed
Toppings
1/2 jalapeno, finely diced
1 mango, diced
1 lime, cut in half
Optional: banana peppers, dried cranberries, sunflower seeds, balsamic vinaigrette
Instructions
Mix together the curry powder, tumeric, cumin, sugar, and cayenne. Place in a small bowl and have it next to the stove while you're cooking.
Heat 2 tablespoons of olive oil in a skillet over medium high heat. Add the onion and teaspoon of the spice mix and cook 3-4 minutes until translucent and soft. Transfer to a bowl and set aside until needed.
Add the cauliflower florets to the same skillet. If needed, add a tablespoon more of oil. Add 1/2 teaspoon more of the spice mix, and saute 6-7 minutes until tender and starting to brown. Transfer to the bowl with the onions.
Add the chickpeas, a half teaspoon more of the spice mix, and saute until starting to crisp, about 5 minutes. Transfer the cauliflower and onion back to the skillet with the chickpeas to re-heat. Taste and add salt, pepper, and more spice mix as needed.
Add the spinach to a large bowl and top with the warm vegetables. Add the diced mango, jalapeno, and a big ol' squeeze of lime juice. Toss. Serve warm or room temp.
**For leftovers I added some banana peppers, dried cranberries, and sunflower seeds. I transferred it to a cutting board, gave it a splash of balsamic vinegar, and chopped it with my chef's knife for a chopped salad. I ate that cold and OMG so good.
http://www.vodkaandbiscuits.com/