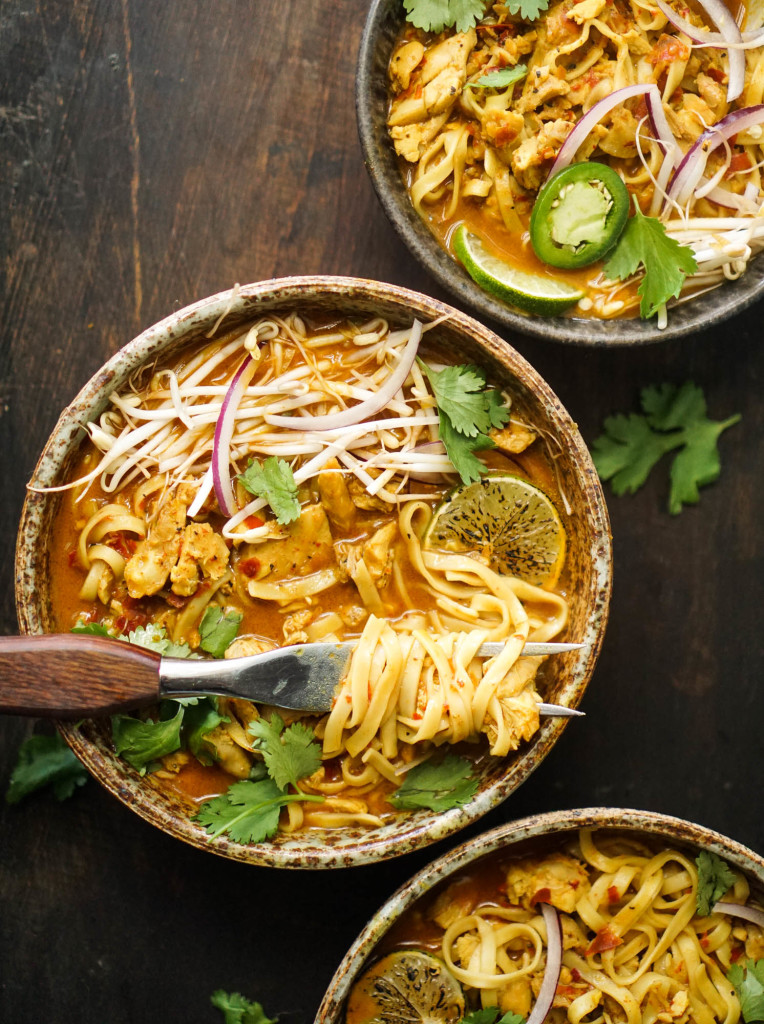 This is it people. I found the 8th wonder of the world.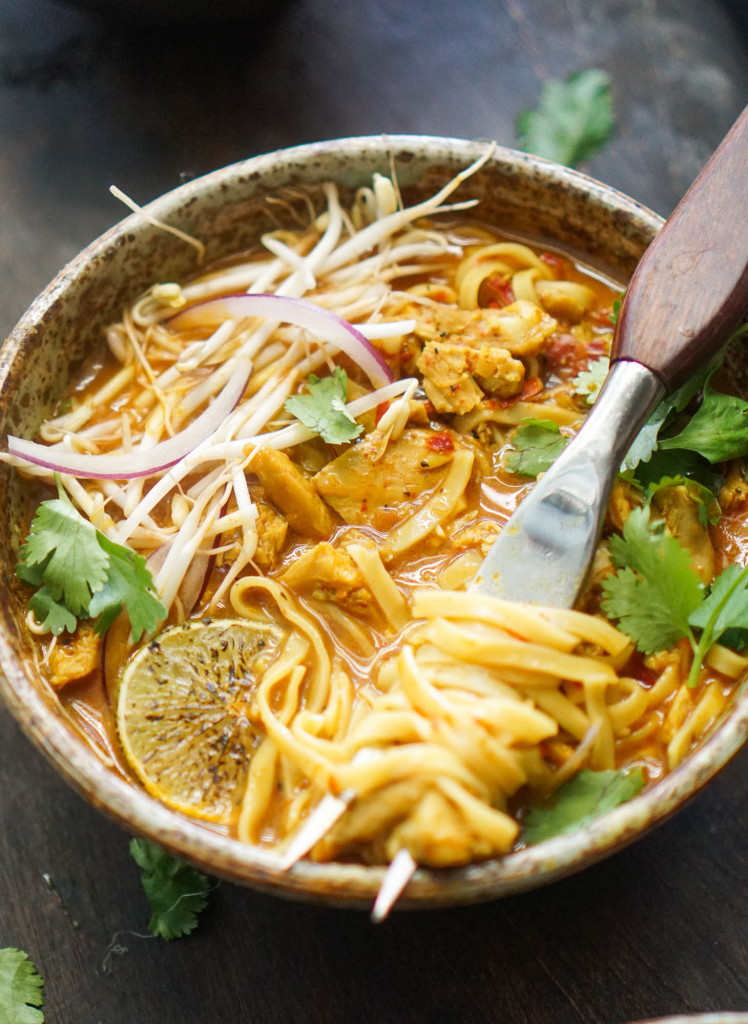 Who doesn't want to be sippin' on a FLAVORFUL and SPICY brothy-coconuty-noodley-chicken soup on a crisp fall day? I can't believe it's taken me so long to make this, but on the other hand I'm so glad I did just in time for sweater weather.
Earlier this year I was on a plane headed to Denver to see Scott with my purse full of culinary magazines. I have this thing when wherever I travel I bring a notepad to document whatever I ate/took pictures of for not only crediting the restaurant in pictures, but also for inspiration. I always get a head start with the notes on the plane with those magazines. For me, writing out recipes that I just read allows me to remember it better and add my own little pinch.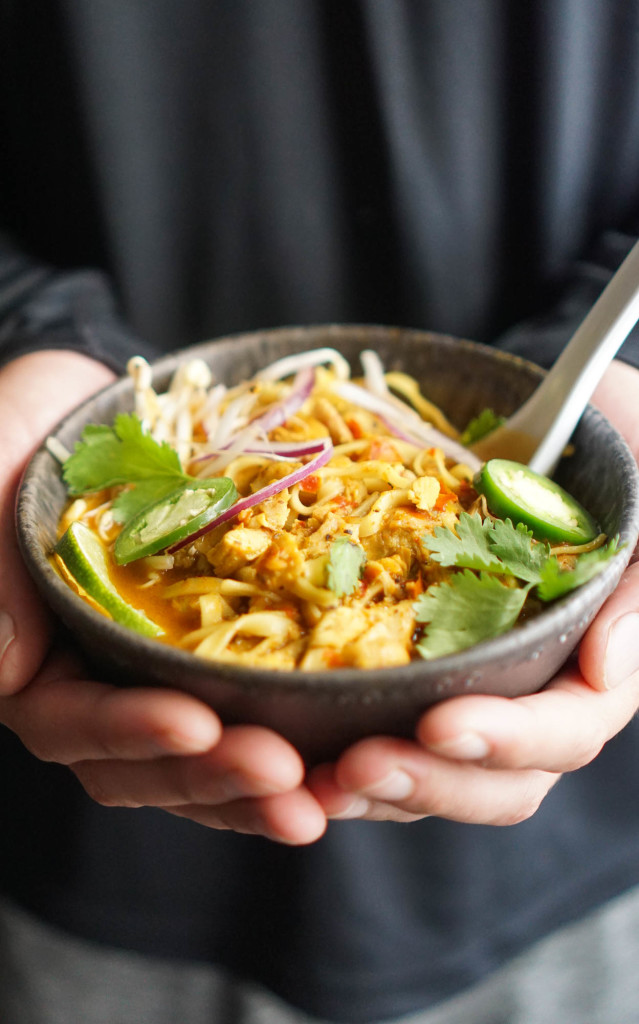 I stumbled upon this Chicken Khao Soi recipe from Epicurious and WOAH. I literally caught myself in a zone staring at the beautiful food styling, then drooling at the thought of the recipe. I've been wanting to post something similar to pad thai, but I've been stuck as I want something we all haven't seen a million times (cough cough pad thai). That "something similar" is this. A Thai inspired paste turned into a broth of stock and coconut milk, with braised chicken and egg noodles then toppings of lime, bean sprouts, onion, and more.
I'm SO excited to share this with you, so let's cook.
The Paste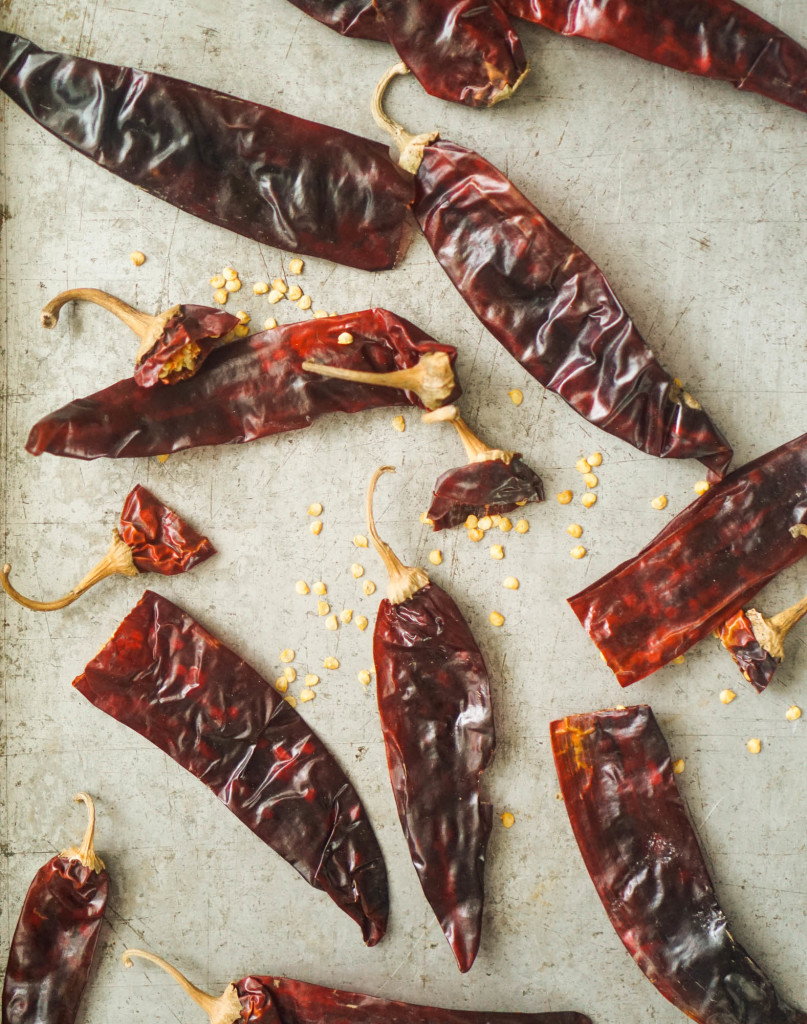 The recipe starts with a flavorful paste made up of aromatics and dried New Mexico Guajillo Chilies. NO DON'T STOP READING. Those peppers scared me too and were honestly the reason I put this on the back burner. I literally said to myself while re-writing "psh, never going to find those." Well, not even a few weeks after the trip I was shopping for something totally different and stumbled upon a pack of the chilies right in my local grocery store. I've had the peppers since then with the recipe on the back of my mind.
You can find these specific peppers packaged in your local grocery store, specialty stores like Whole Foods, or even Amazon.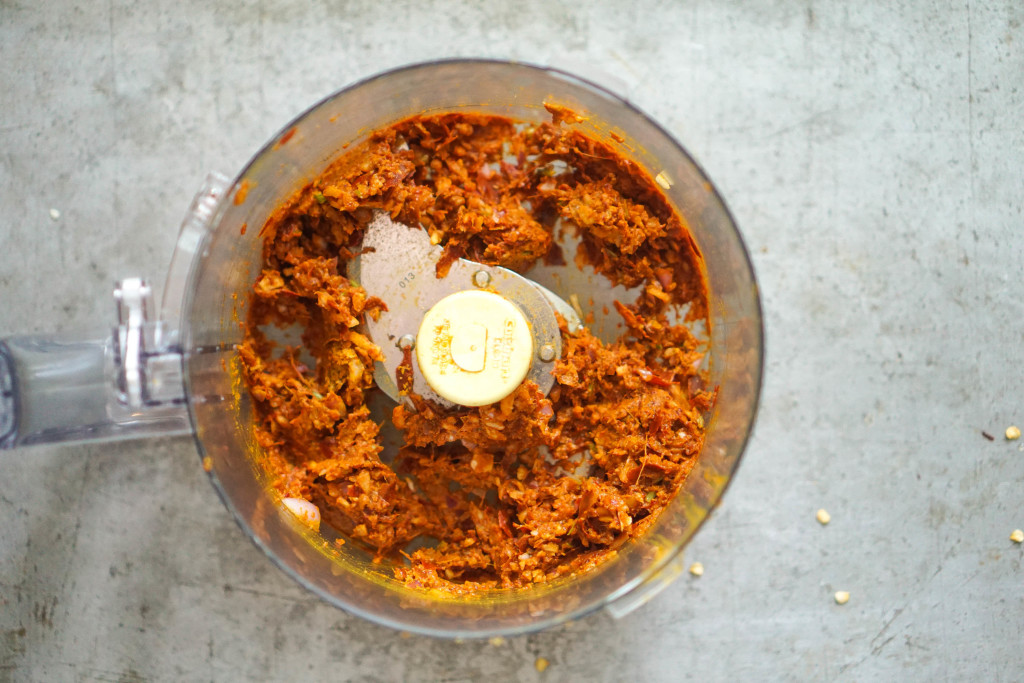 Every soup or stew needs to start with a base, and this base is a paste of reconstituted chilies, ginger, shallots, garlic, cilantro, coriander, tumeric, and curry. HOLY FLAVOR. That gets whipped up in your food processor then transferred to the stove. Oh, and close your windows so you can lock in the smell because you don't want that escaping anywhere.
The Soup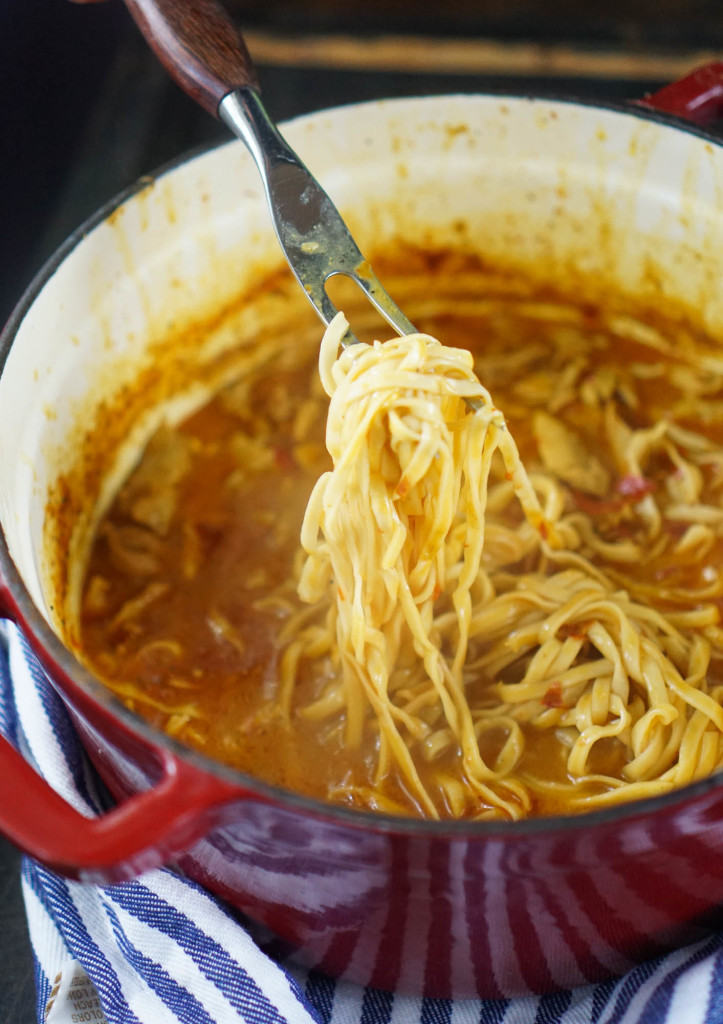 Once the paste gets cooked out for a few minutes, coconut milk and chicken stock are added. That's not only the body to our soup, but also used to braise chicken thighs. In thirty minutes you'll have tender fall-apart chicken thighs that's enriched with flavor from the soup. The chicken gets added back in with already cooked Chinese egg noodles, brown sugar, and a pinch of salt. Gulp.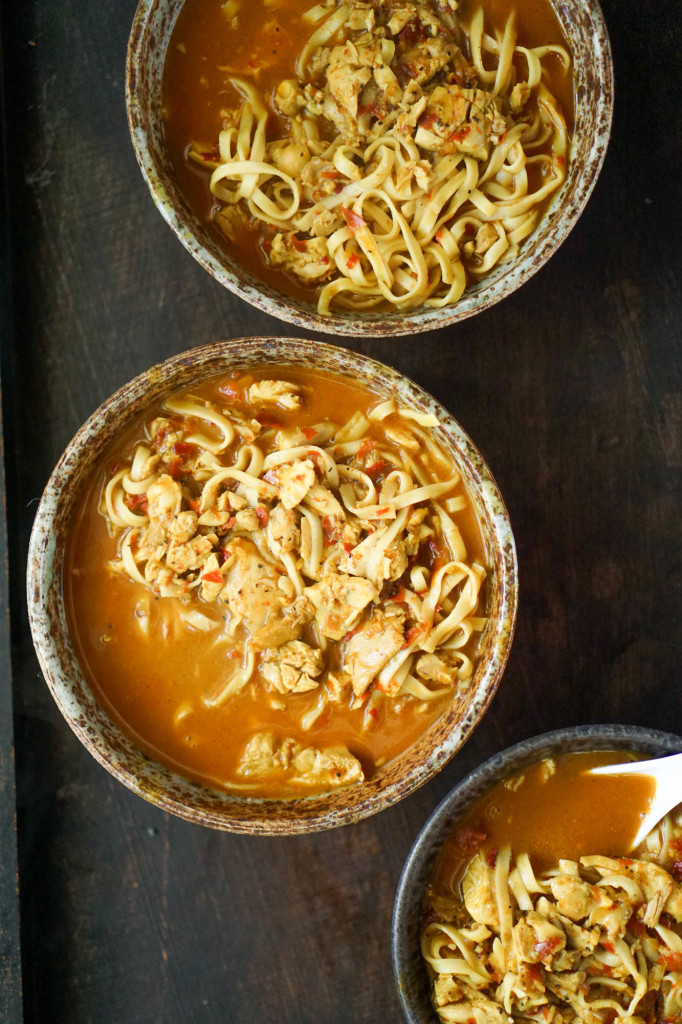 The Toppings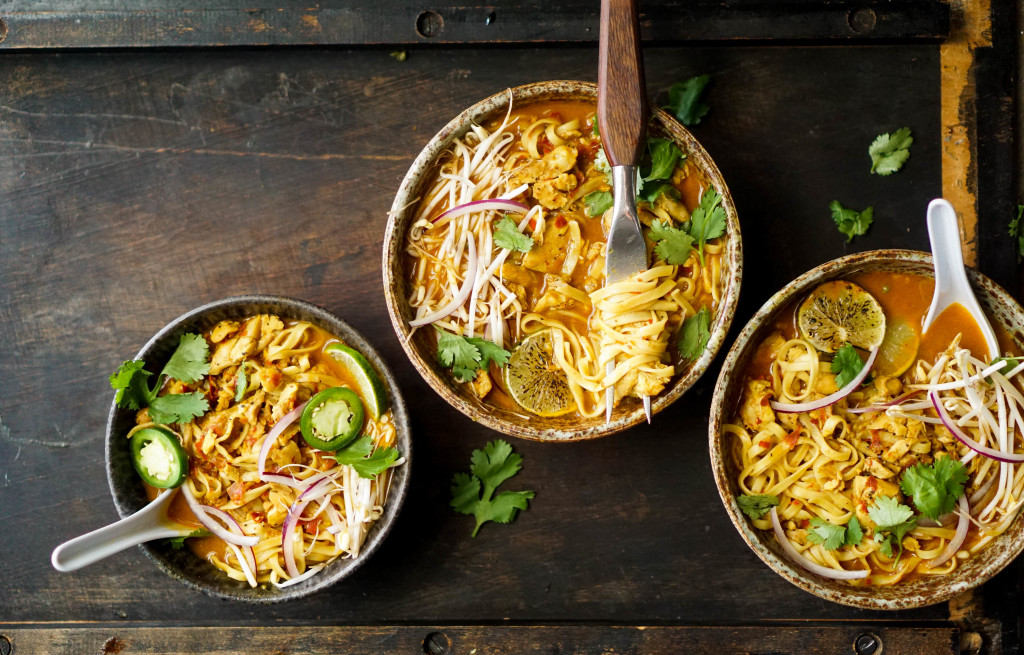 This is where it gets fun. I added slivers of red onions, cilantro leaves, lime, jalapeno, and bean sprouts. I totally recommend adding the bean sprouts because the crunch gets fun. You can also add roasted curry chick peas or anything you can think of (hi thinly sliced radish).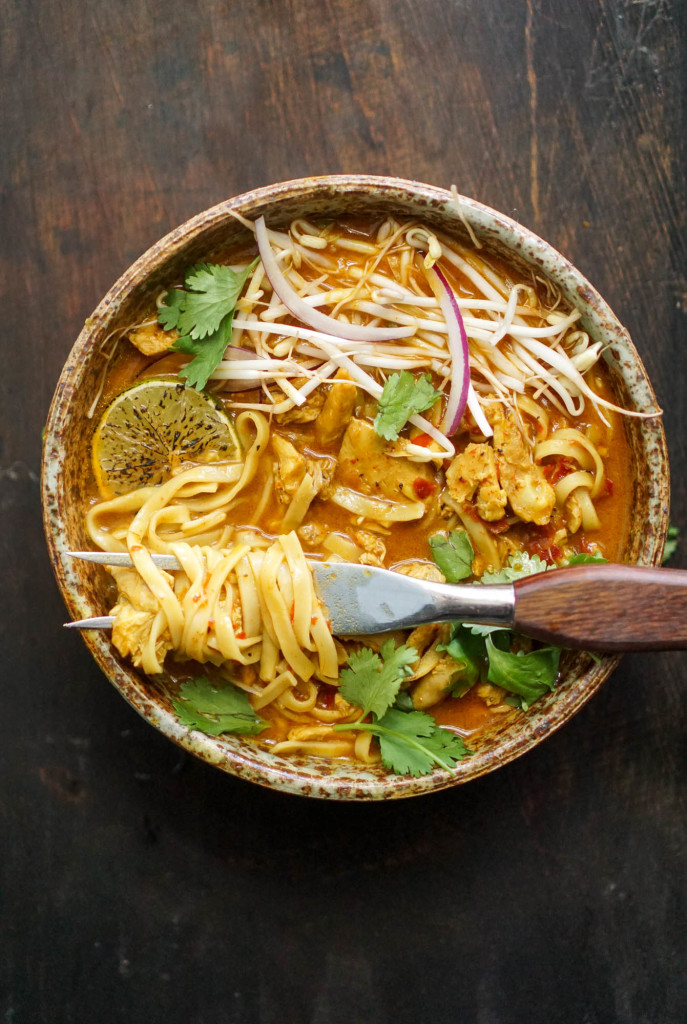 This recipe knocked my socks off. The most flavorful yet comforting (and helllooooo so simple) meal perfect for when you're feeling like spicing things up Thai style. The recipe was rich enough we couldn't even finish our bowls. You can substitute the chicken for shrimp or tofu, or use whatever type of noodle you have on hand. Just promise me you'll make this cozy bowl of goodness. Enjoy!
Recommendation: you can strain the soup before or after braising the chicken to rid of any "pulp" from the paste.
Chicken Khao Soi
2016-09-26 13:13:00
Serves 6
Khao Soi Paste
4 large dried New Mexico or guajillo chiles, stemmed, halved, seeded
1 medium shallots, halved
4-5 garlic cloves
2" piece ginger, peeled, roughly chopped
1/4 cup chopped cilantro stems
1 tablespoon ground coriander
1 tablespoon ground turmeric
1 teaspoon curry powder
For the Soup
2 tablespoons vegetable oil
2 14-ounce cans unsweetened coconut milk
2 cups low-sodium chicken broth
1 1/2 pounds skinless, boneless chicken thighs
8 ounces Chinese egg noodles
1 tablespoon (packed) palm sugar or light brown sugar
Kosher salt
Optional Garnishes: Sliced red onion, bean sprouts, cilantro sprigs, lime, jalapeno
Optional: 3 tablespoons fish sauce
For the Paste
Place chiles in a small heatproof bowl, add boiling water to cover and soak until softened, about 25-30 minutes.
Drain chiles, reserving soaking liquid. Add chiles, shallots, garlic, ginger, cilantro stems, coriander, turmeric, curry powder, and 3-4 tablespoons soaking liquid in a food processor and blend until smooth.
For the Soup
Heat the oil in a Dutch Oven or large heavy-bottom pot over medium-high heat. Add the paste and cook while stirring often for 5-6 minutes or until darkened.
Add the broth and coconut milk, bring to a boil. Add the chicken, reduce to a simmer, and cook until chicken is fully cooked and tender, about 35 minutes. Remove chicken to a plate, shred, then return to the soup.
In the meantime, cook noodles according to package directions.
Add the noodles to the soup along with the sugar and fish sauce (if using). Season with salt to taste. Simmer for 5 minutes to allow the flavors to blend. Divide into bowls and top with garnishes as desired.
Adapted from Epicurious
http://www.vodkaandbiscuits.com/