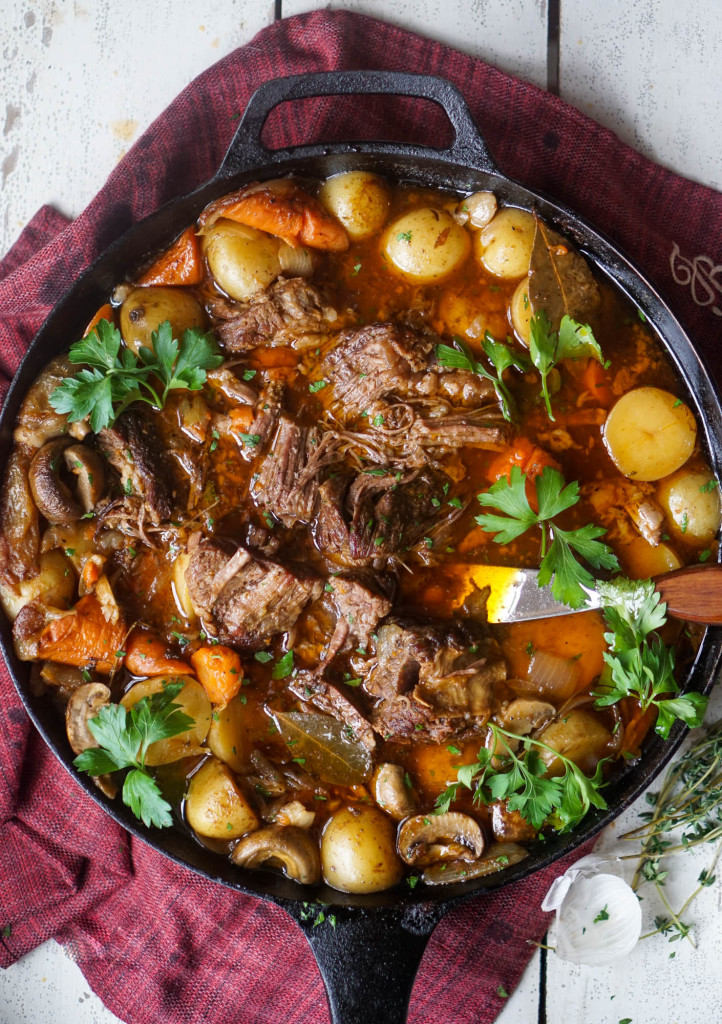 Cast iron. Short rib. Pot roast.
This you guys is everything.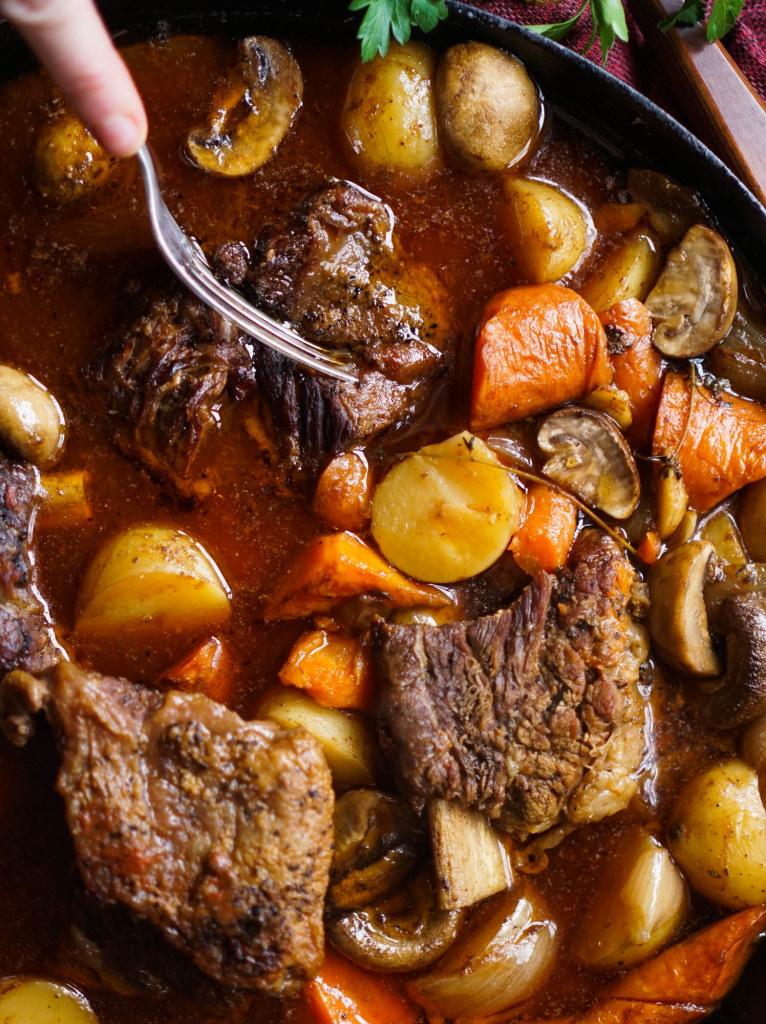 Let's also not forget to mention it's made in under three hours and entirely Whole30 friendly!
…Speaking of…
RIP to our Whole30 adventure. We both agreed we wouldn't finish W30 as the weekend before it ends Scott has a planned trip to Vermont with the guys and I'm teaching one of my cooking lessons. I teach twice a year and have to develop a few recipes. Not to mention we're also making chocolate eclairs. Swoon!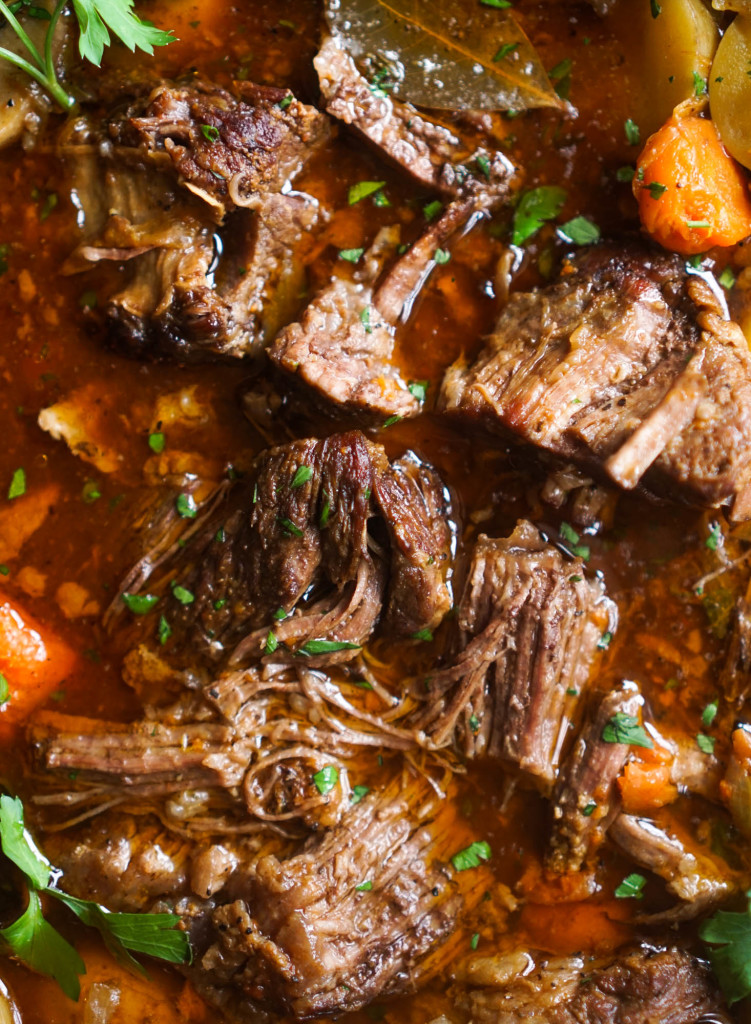 Here's the thing though, I'm bummed I won't be able to say I've completed all thirty days, but I'm so proud of what I learned these last three weeks. Avoiding sugar isn't so hard after all, even when it seems like everything contains processed sugar (GTFO bacon). Black coffee actually tastes good (who am I), and you don't have to feel like a piece of poop after every meal you eat. Not once did I feel bloated (hellooooo energy).
I have a new appreciation for whole and healthy foods and just because I won't be following the lifestyle on a daily basis, doesn't mean I won't share some of the yummy recipes I discovered during the journey. Let's start with this mouthful of a pot roast.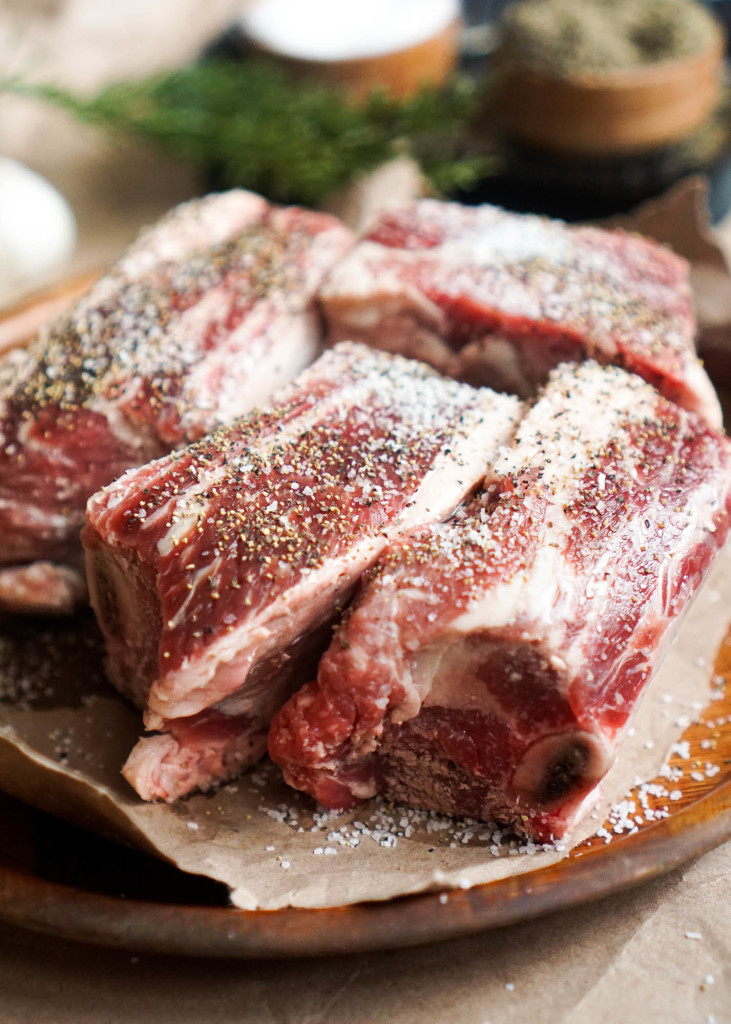 I swear by beef short ribs for any pot roast dish and I also swear by cooking them in a cast-iron skillet. I prefer short ribs over chuck roast or other cuts any day, whether I'm making pot roast, tacos, sandwiches, or noodle bowls. If you haven't had a chance to work with them yet PUH-LEASE make this easy-peasy recipe.
click for red wine braised short ribs and barbecue skillet short ribs!
When buying short ribs you'll probably find bone-in as boneless can be hard to find. I prefer cooking with boneless for a few reasons EXCEPT this recipe. Here's why. When braising, the bone releases collagen which helps to thicken up the juices naturally. Now, it won't be thick like gravy but it sure will be perfect. You can always add some flour to the skillet before adding in liquid if you did want to thicken the sauce up a bit, but I don't think it needs it considering the meal is already rich enough. The pan juices are what it's alllll about, and if I can avoid flour during Whole30, you bet I am.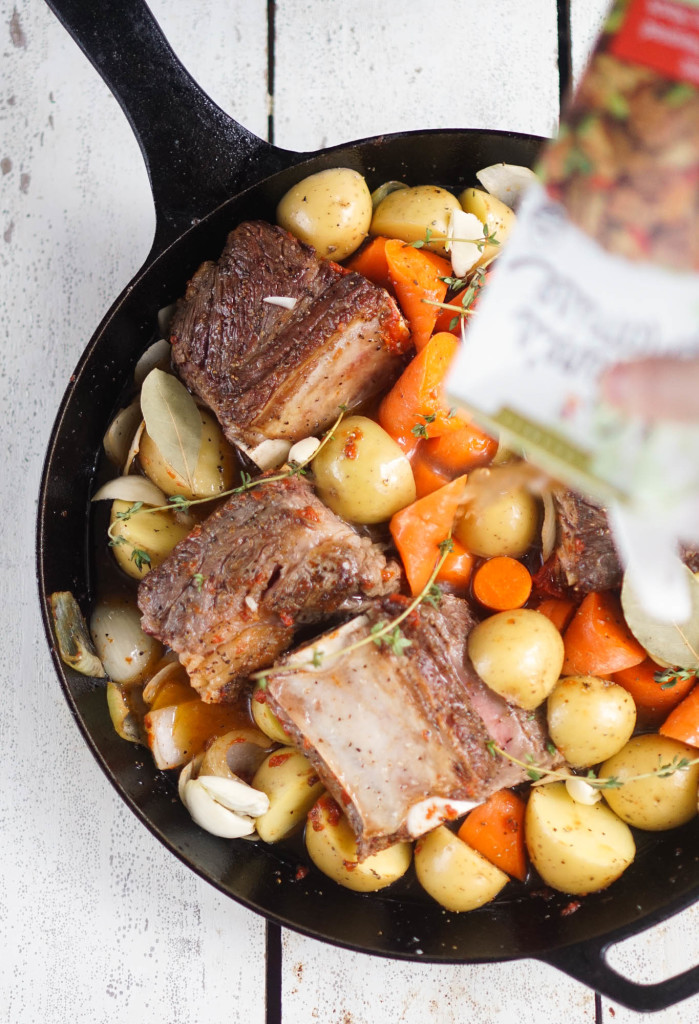 The short ribs get a good flavor bath in salt and pepper then seared to form a crispy brown crust. From there, vegetables like onion, garlic, potatoes, and carrots are added with tomato paste and herbs.
You can also add fennel or any other root vegetable! Mushrooms do get added later in the recipe and I SO recommend this.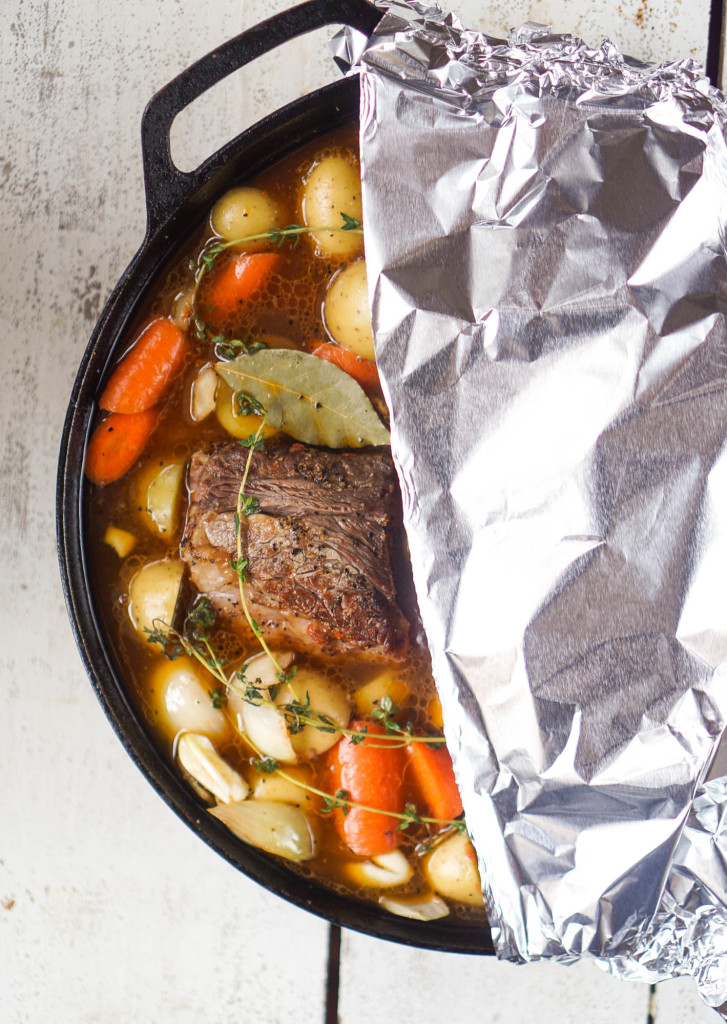 Traditionally wine and stock are added but since I'm a rule follower I only used beef stock. In the recipe I added 2-3 cups, but you'll probably be more on the 3-cup side. You want to cover the short ribs 3/4 of the way full and the vegetables should almost be submerged, but not completely. The stock should't also pour over the skillet, but if you don't think your skillet will be big enough than you can use a Dutch Oven.
Before making the recipe, fill your cast-iron skillet with 3-4 cups of water to see how big it will be. Keep in mind it will be full of vegetables.
The juices get brought to a boil then the skillet is wrapped in foil and tucked into a low oven for a good 3ish hours.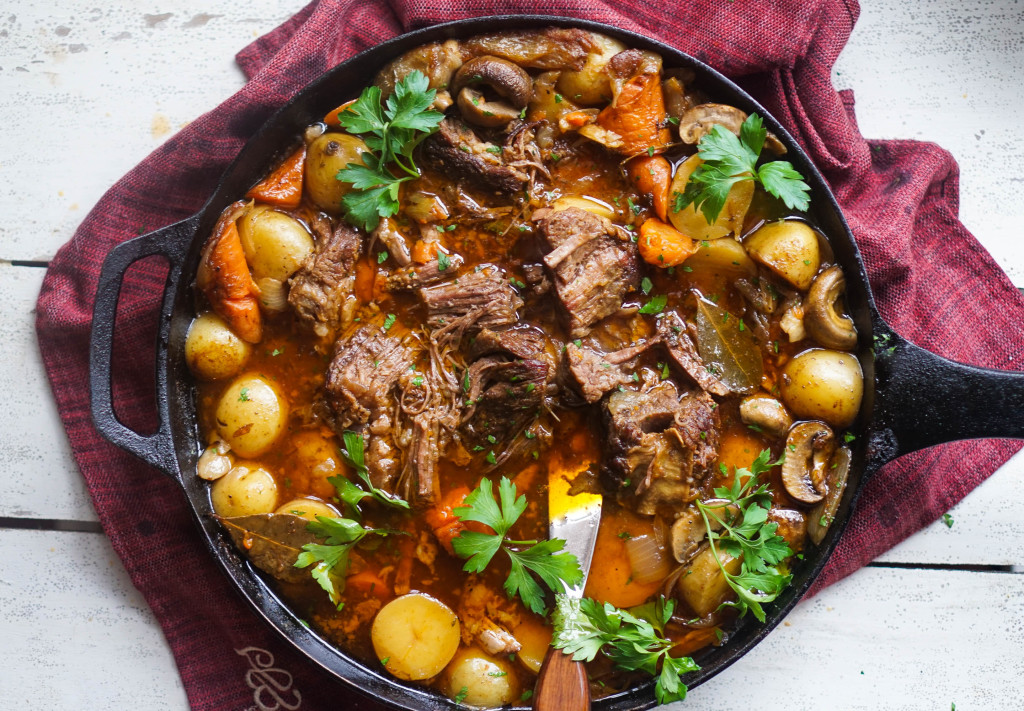 The cast-iron skillet keeps its heat and the foil almost acts as a pressure cooker. It'll take between 2 and a half to three hours, but I promise it'll be faster (and taste better) than your crock pot. The vegetables are so perfectly tender that they nearly melt in your mouth.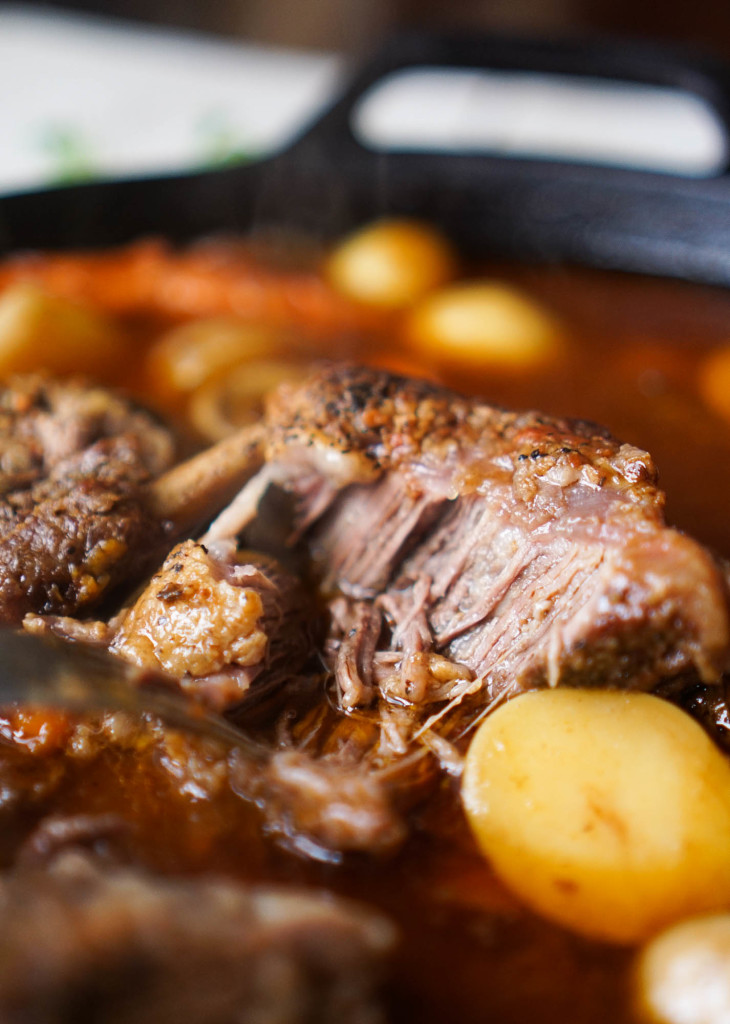 OH and if we want to talk melt-in-your-mouth just take a look at that beef. So tender you'll give up on your tongs. The juices from the beef, the stock, herbs, pepper, and sweetness of the carrots create a MOUTH FULL of flavor. I would recommend serving this on it's own as you have everything from your meat, vegetables, and potatoes right in front of you. A slice of toasted french bread to soak up the juices also won't hurt.
If you do find you have extra juice with leftovers, freeze it up! It'll make an excellent au jus for any steak, pork chop, or sandwich.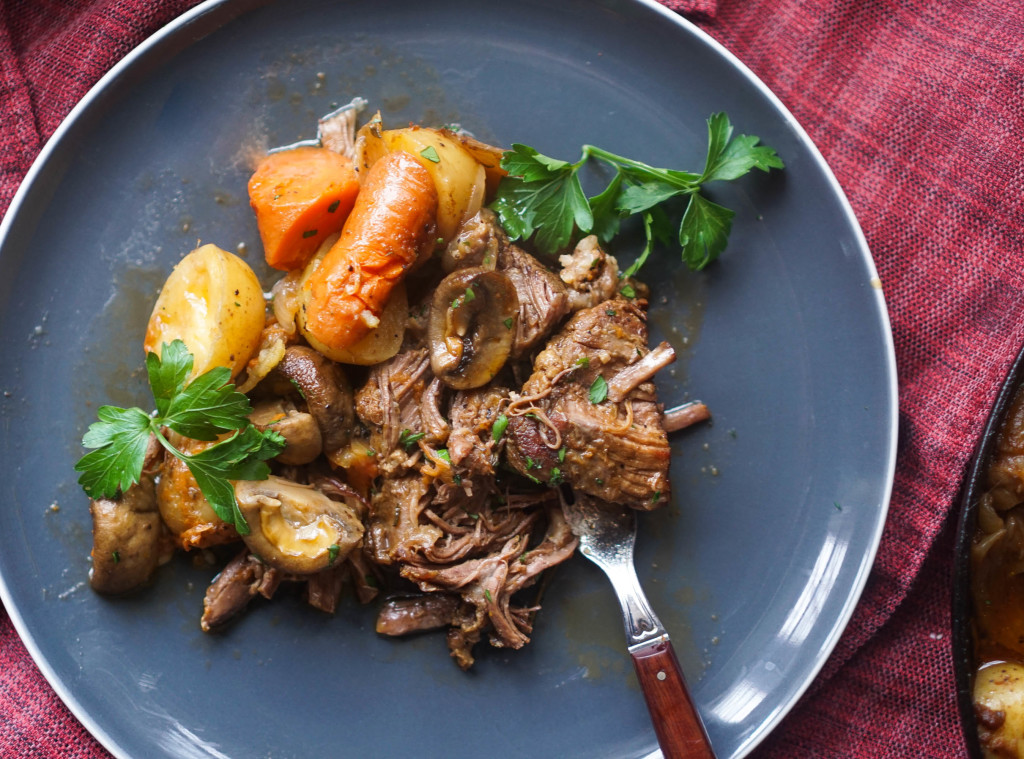 There's something special about simple food. A little salt, pepper, herbs, and natural flavors is all you need for a comforting meal. Enjoy!
Skillet Beef Short Rib Pot Roast (Whole30)
2017-01-26 06:33:07
Serves 6
Pot roast made with tender braised beef short ribs all in the cast iron skillet.
Ingredients
6-8 beef shortribs, preferbly bone-in
2 onions, large chop
5-6 carrots, large chop (about 2 cups)
8 oz. mini golden potatoes, cut in half (or more if desired)
3 cloves garlic, smashed
2 tablespoons tomato paste
3 cups organic beef stock (preferably low-sodium)
3 sprigs fresh thyme
2 bay leaves
8 oz. button mushrooms, cut in half
kosher salt and black pepper as needed
light olive oil as needed
needed: 12" cast-iron skillet*
Instructions
Pre-heat oven to 325 degrees.
Season the short ribs heavily on all sides with salt and pepper.
Combine the chopped onions, garlic, carrots, and potatoes in a large bowl and season with salt and pepper. Set aside until needed.
Heat 3-counts of the oil in the skillet over medium-high heat. Sear the short ribs on all sides until a nice brown color forms, about 8-10 minutes. Add the vegetables and toss to combine in the pan-juices. Add the tomato paste and cook while distributing the paste. Allow to cook for 1-2 minutes.
Add 2 1/2 to 3 cups of the stock until the vegetables and short ribs are just about (but not fully) submerged. Refer to pictures in post. Add the thyme and bay leaves. Bring to a boil and boil for 2 minutes.
Carefully cover the skillet with foil and transfer to the oven. Cook for 2 1/2 hours. Peel back the foil and if desired, add in the mushrooms. Cover and cook for another 30 minutes or until the beef is incredibly tender.
If you have extra pan juices after everyone eats, save and freeze as it will make an excellent au jus for steak sandwiches, pork chops, and more.
Notes
*if you have boneless short ribs, add 2-4 tablespoons of flour to the skillet before adding in the stock. the bone contains collagen which helps to give the juices body. you can even add the flour with bone-in short ribs if you are looking for a gravy like consistency.
*if your cast iron skillet does not hold 3-4 cups of liquid you may use a Dutch Oven.
http://www.vodkaandbiscuits.com/