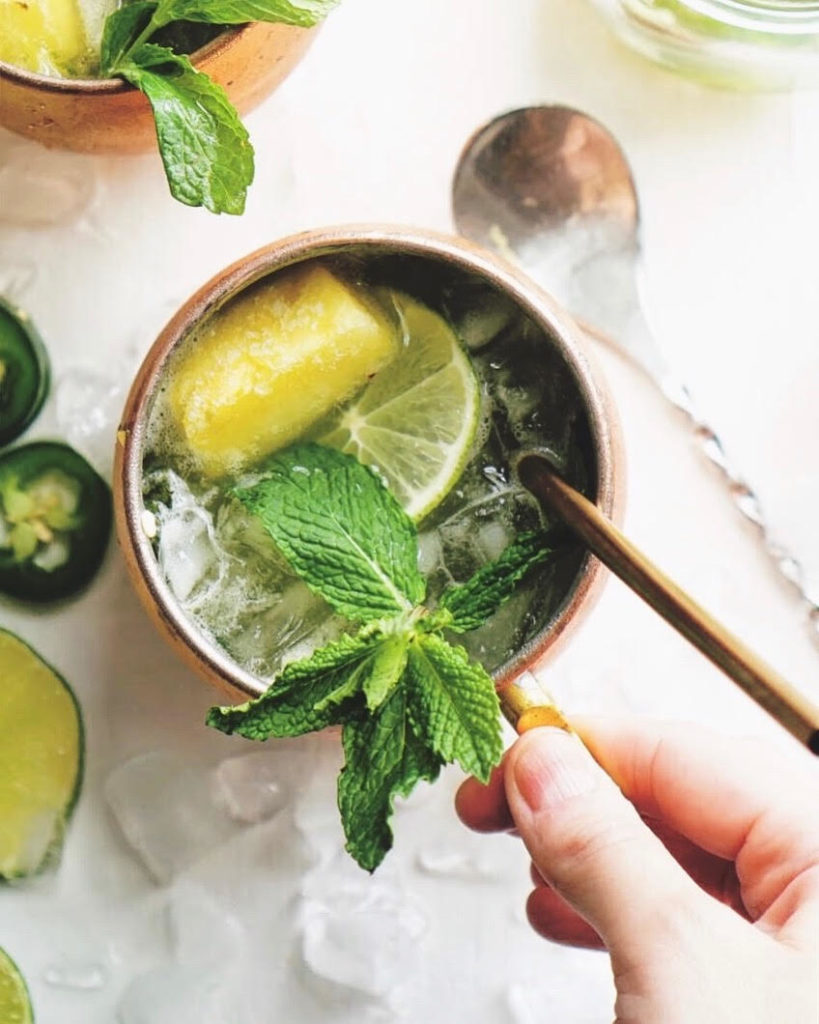 Where has jalapeño infused vodka been my whole life?
Actually, there's a bar in Fell's Point (Baltimore) that has a jar of jalapeño infused vodka for shots and I guess that's what I always associated it with. Forget shots, let's talk cocktails. Even better, let's talk SPICY MOSCOW MULES 💃🏼💃🏼💃🏼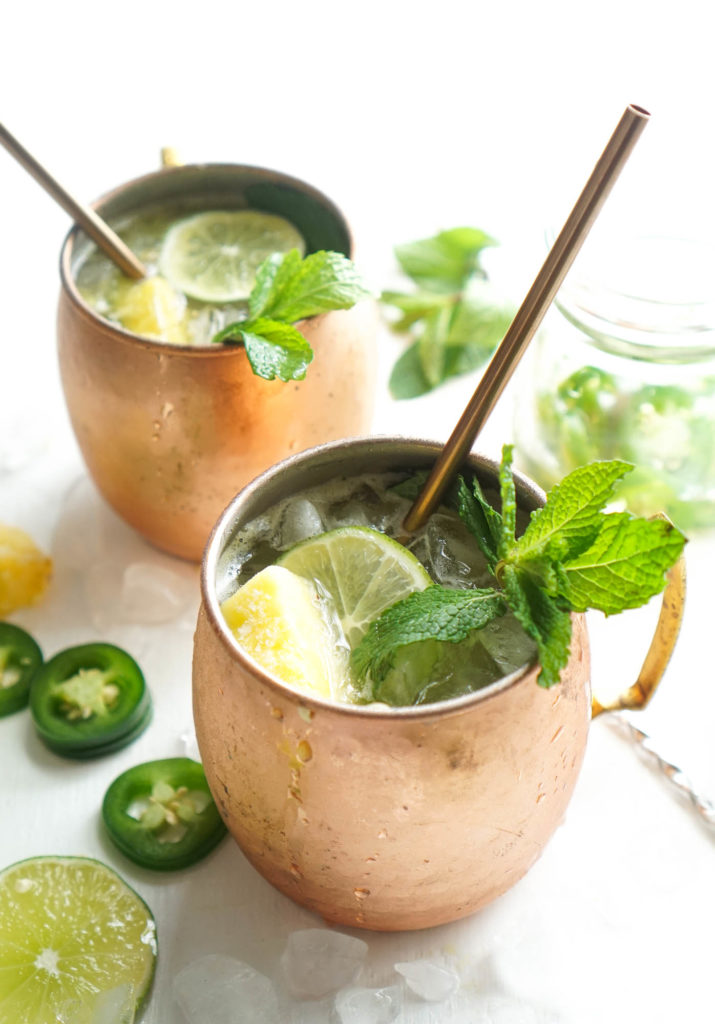 Moscow mule is my go-to cocktail and I love jazzing them up. Christmas time I make cranberry mules and have even set up a DIY festive muddle station at our family gathering. Muddle stations are life.
I can't think of a better cocktail to ring in spring, or better yet Cinco de Mayo. Moscow mule made with fresh pineapple, mint, lime, jalapeño infused vodka, and ginger beer. You thirsty yet? Let's make this.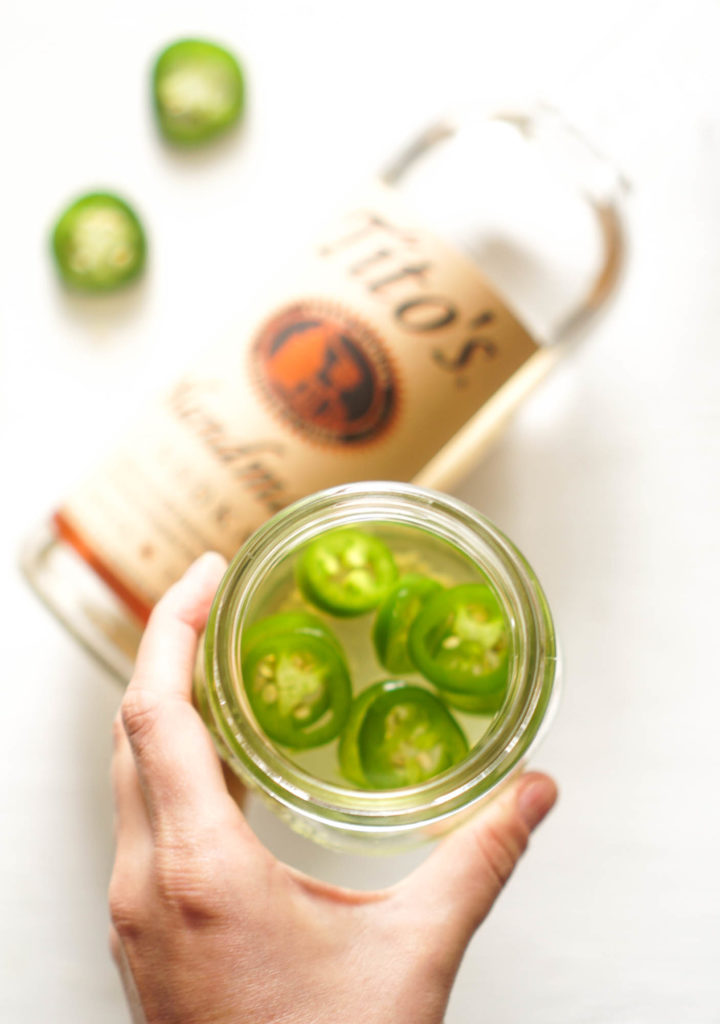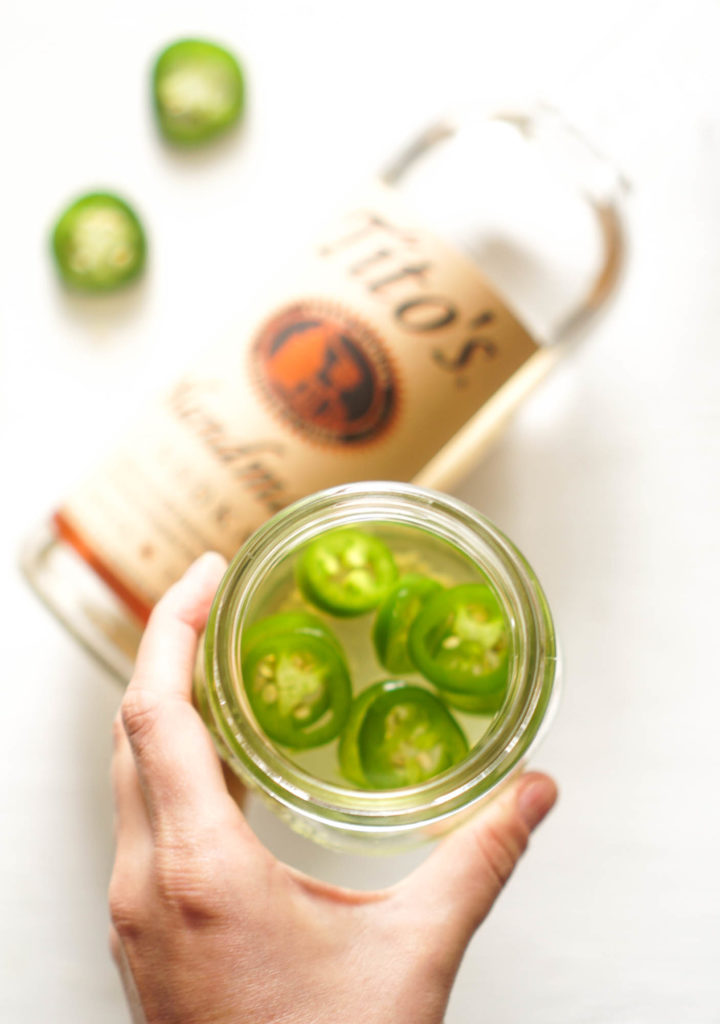 There's some prep involved, like infusing vodka with jalapeño slices, making simple syrup, and blending up some fresh pineapple chunks for a delicious pineapple puree. Here's some tips to make life easier:
1. I use 1/2 sliced jalapeño (seeds and all) for 1 cup of vodka. It's spicy, so you can use as little or as much as you want! I let it infuse overnight but if you're short on time I'd to a minimum of hours. Just plop em' in before work in the morning.
2. Simple syrup is nothing more than heating equal parts water to sugar. You can make enough for one, two, or a dozen drinks and keep extra in the fridge. For small amounts just heat water in the microwave and stir in sugar until dissolved! If you're not around a heat source (tailgate maybe?) just sprinkle a pinch of sugar while muddling.
3. Nothing compares to fresh pineapple so I recommend chopping up a pineapple and using half the chunks for muddle/garnish, then the other half for blending. Pineapple purée is nothing more than pineapple and water blended to your desired consistency. If you're only making 1-2 drinks and have a ton of pineapple leftover FREEZE IT!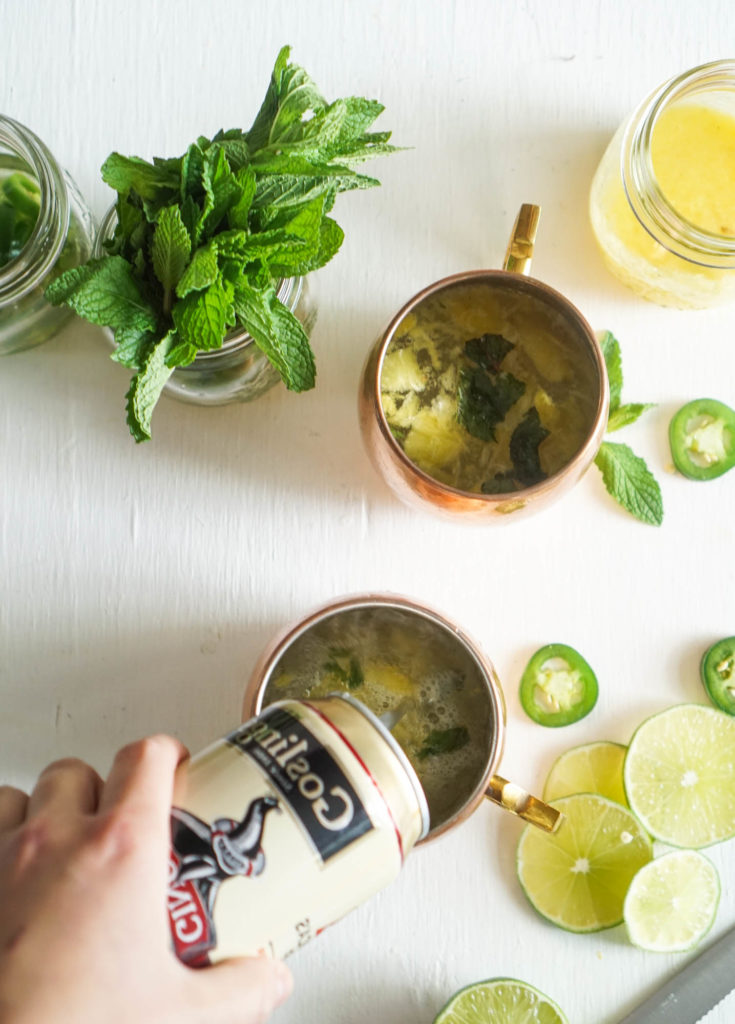 Once prep is done the drink goes something like this: muddle 2 chunks of pineapple with a squeeze of lime, splash of simple syrup, and a mint leaf. Pour over half a can of ginger beer, an ounce of spicy vodka, and a splash of pineapple purée or juice, depending on how much water you blend it with. Shake, ice, then sit back and enjoyyyyy.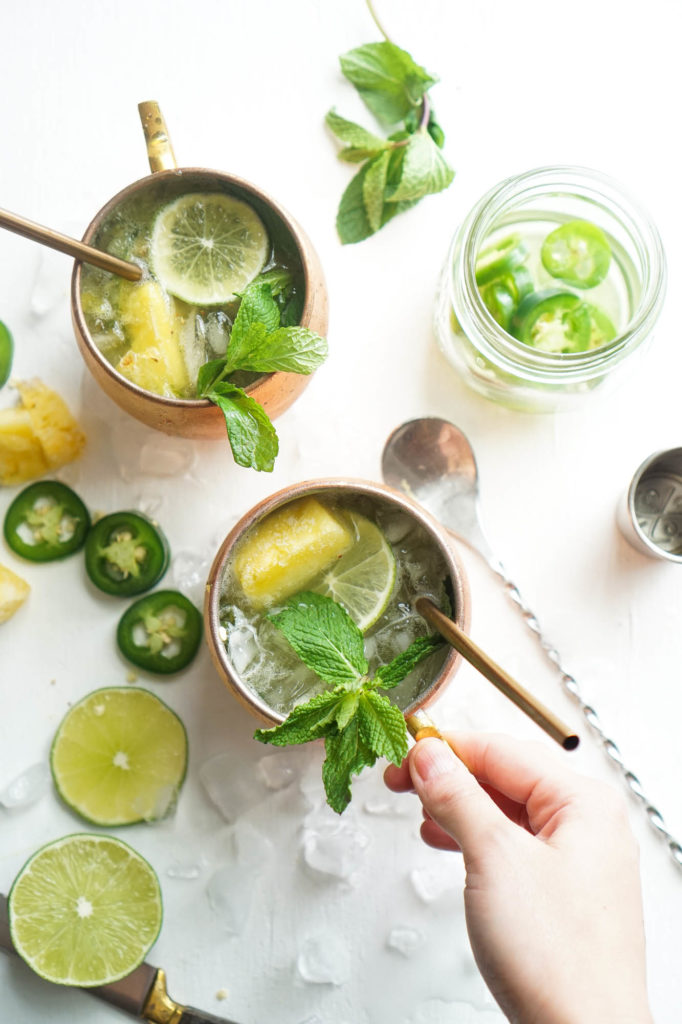 If you like things with a kick and you're a fan of a mule, you're going to love this. Scott said this drink is trouble because he takes a sip because he likes it, then another because his mouth is all spicy, then repeat 10x, then oops he's drunk. Trouble isn't always a bad thing.
Cheers!
NOTE: I wrote the recipe for ONE cocktail as it's easier to double, triple, and so on. Read the notes for tips!
ALSO NOTE: The vodka will need a minimum of 6 hours to overnight to infuse so plan ahead. Quantity guidelines are in the notes. You can also sub the vodka for tequila.
Spicy Pineapple Moscow Mule
2017-05-02 17:26:02
Serves 1
Ingredients
1/2 cup fresh pineapple chunks, reserving a few chunks for muddling
water as needed
1 mint leaf, torn into big pieces
1 tablespoon simple syrup or 1 sugar cube
1/2 lime
1.5 ounces jalapeno infused vodka (or Tequila)*
4 to 6 ounces Ginger Beer, according to taste
Optional garnishes: lime, mint leaves, pineapple chunks
Instructions
Add all but 3-4 pineapple chunks in a blender with a splash of water. Blend until desired consistency achieved. I like mine more chunky as a puree, however you can add more water to achieve a pineapple juice consistency. Set aside until needed.
Add the 2-3 reserved pineapple chunks, simple syrup, mint leaves, and a squeeze of half a lime to the bottom of a cocktail shaker. Muddle until the pineapple is crushed.
Add the 1.5 ounces of vodka, ginger beer, and top with splash of pineapple puree/juice. Shake until all ingredients are combined, then pour into copper mug over crushed ice.
Garnish with mint leaves, reserved pineapple, and lime wedge.
Repeat 12 times. Kidding, don't do that. Enjoy!
Notes
A good guideline is 1/2 sliced jalapeno (seeds and all) per 1 cup of vodka. Reduce/increase quantities depending on how many mules you plan to make. Infuse for a minimum of 6 hours or preferbly overnight. This is SPICY (which I like) so if you're skeptical remove the seeds from the jalapeno.
The infused vodka keeps well for 5 days at room temperature in a glass jar with a fitted lid. I find it is too strong anytime after.
This recipe will yield more pineapple puree/juice as needed, so if you do not plan to make more mules, freeze what you have leftover.
If you do not have a cocktail shaker, you can do this in the bottom of a glass cup and muddle with the bottom of an empty bottle. Just pour back and forth in another glass to combine.
http://www.vodkaandbiscuits.com/