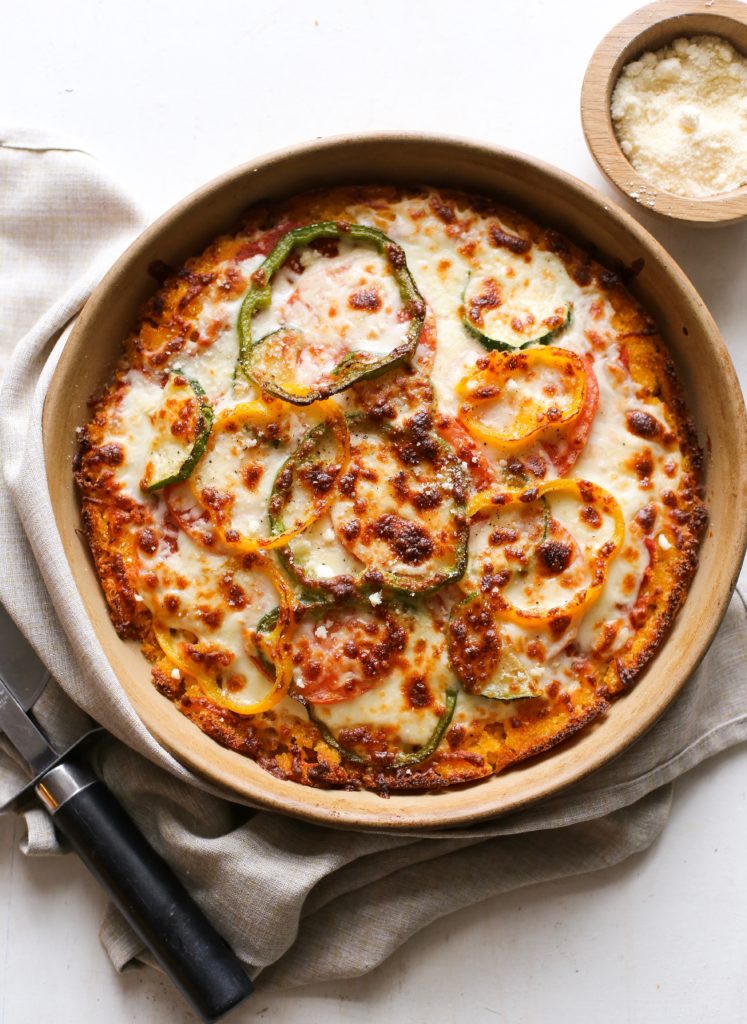 WELL HELLO THERE, 2019.
It's been a while. Like a real while (cough cough 14 months) since I've been here. While I stayed active on social media, I took what I thought would be a 2-month break from posting recipes and somehow it turned into over a year. Quick rundown of the last year:
engaged
both parents engaged
friends had babies
The Nook expanded to 2 and a half locations (omg)
and now wedding planning for a wedding happening in T-4 months
The year flew by, life keeps getting busier and busier, but while that break was refreshing and much needed, I feel more energized and motivated than ever to get back to what I love: posting my recipes online.
So, let's start right here right now with this AMAZING clean eatin'-gluten free-polenta pie inspired by Mollie Katzen.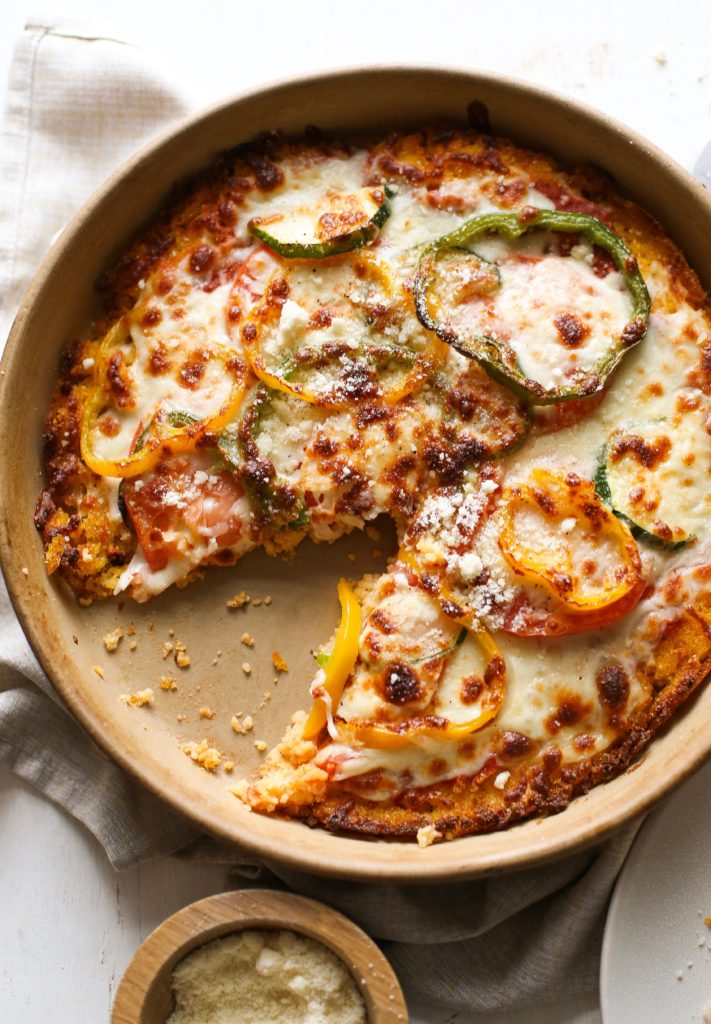 This does require a little bit of time but other than that, it couldn't be any simpler. Polenta is made with cornmeal, water, and a little salt. It's shaped into a 10″ pie pan (I love my Stoneware Pampered Chef pan!), baked for almost an hour, then topped with your favorite pizza toppings.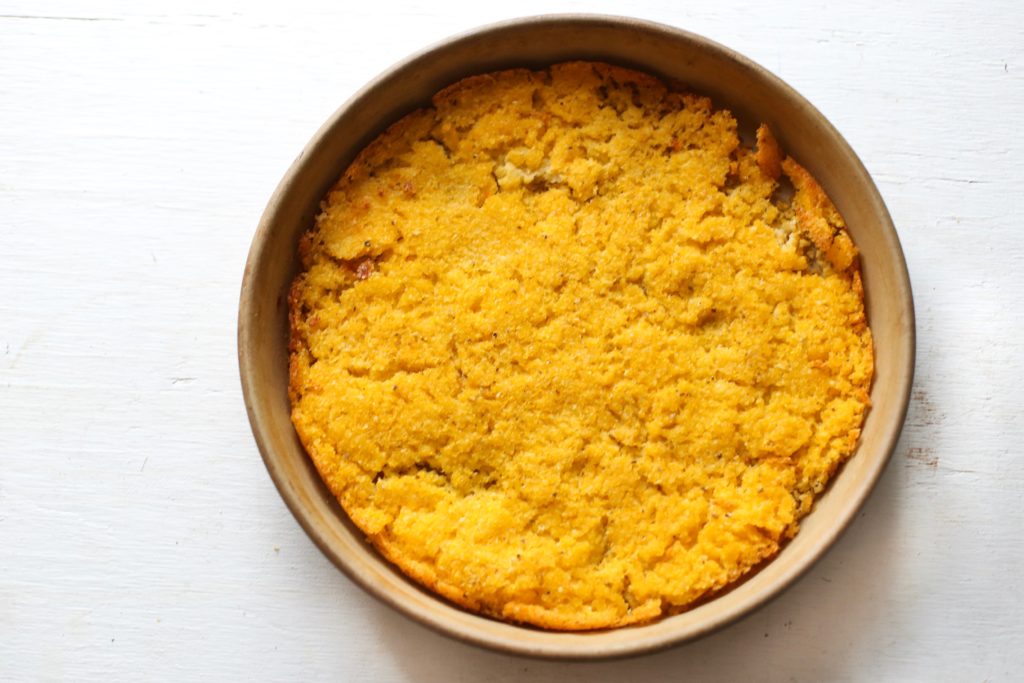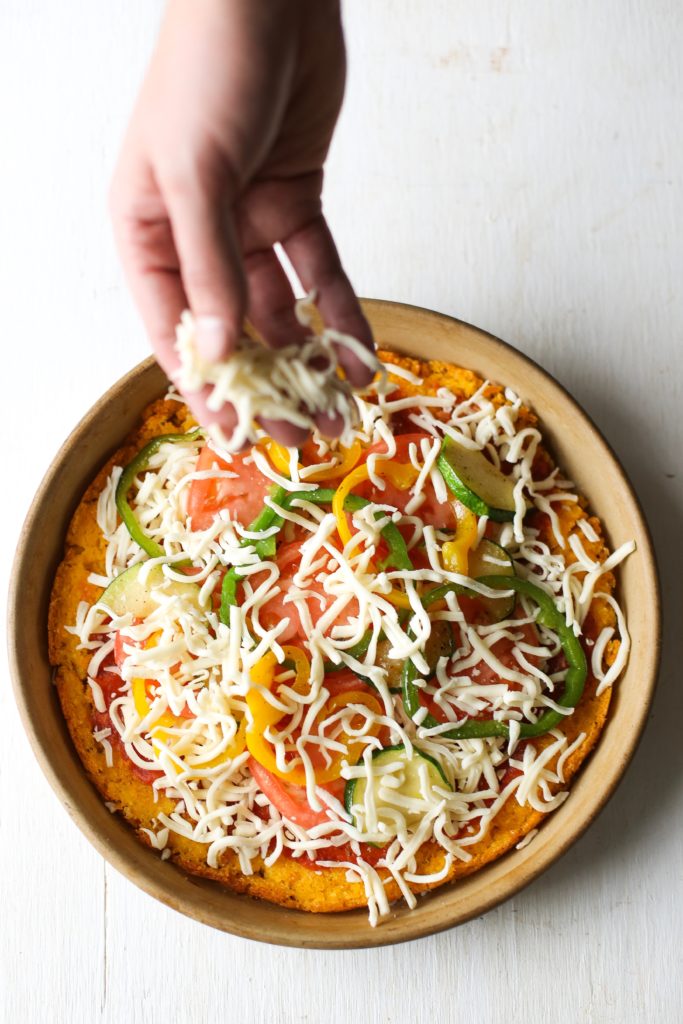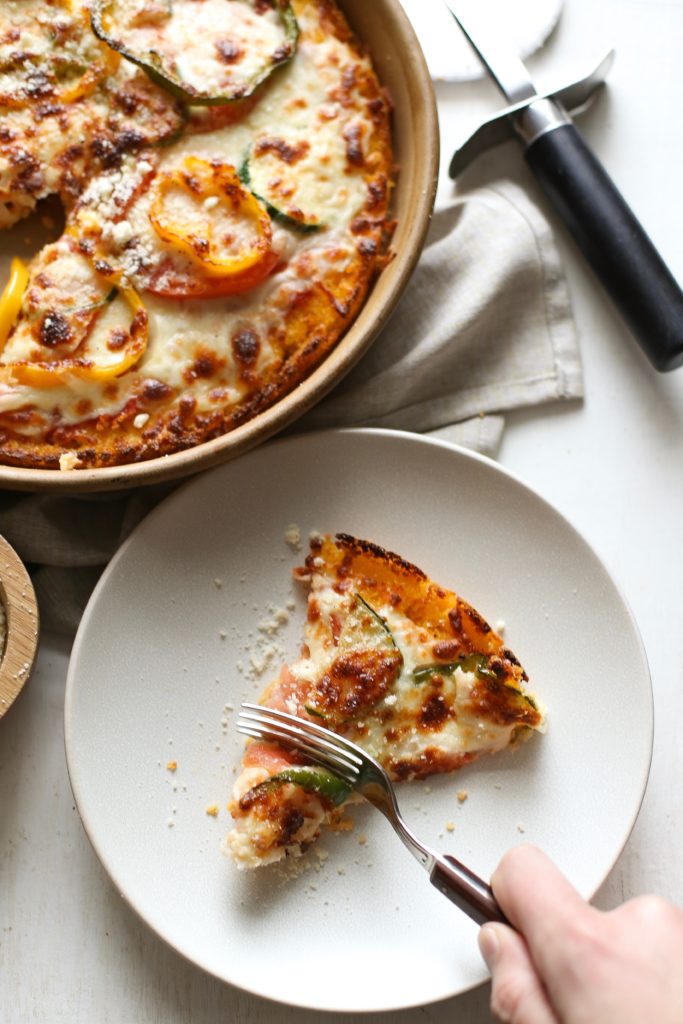 The crust is a perfect combination of crispy and soft. While you can aim to eat it with your hands, I'd recommend having a fork and plate on standby. It's a gluten-free healthier alternative after all. You can customize this with whatever toppings you prefer and it's great for a fridge forger.
Whether you're making this for meal prepping, dinner or having some friends over – this is healthy eating for everyone. Enjoy!
Be sure to share your yums by tagging your recipes #vodkaandbiscuits!
Clean Eating Polenta Pie
2019-01-06 10:15:45
Serves 8
A gluten-free clean eating alternative to pizza.
For the Crust
1 1/2 cups course ground cornmeal (or Bob's Red Mill Corn Grits)
1 1/2 cups cold water
1/2 teaspoon garlic sea salt
2 cups water, boiling
olive oil as needed
For the Toppings
1/2 cup pizza sauce, or more if desired
1 1/2 cups shredded mozzarella, or more of desired
1 tablespoon olive oil
1 small zucchini, sliced
1 large bell pepper, stem removed and core removed, sliced
1 large tomato, sliced
Optional toppings: basil, oregano, spinach, mushrooms, onion, ricotta, pepperoni, any favorite pizza toppings!
Instructions
Preheat oven to 375 degrees.
Begin by making the crust. Combine cornmeal, garlic salt, and cold water in a bowl and mix.
Bring 2 cups of water to a boil and add the cornmeal mixture. Whisk for 2 minutes until cornmeal becomes thick. Reduce heat to low, cover (to avoid the polenta from splashing out), and cook for 8-10 minutes, stirring often. It is finished once the conrmeal is tender and very thick.
Remove from the heat and allow to cool until warm to the touch. Taste and add salt and pepper to your liking.
Oil a 10-inch pin pan (a cast iron skillet works too). Add the polenta and use a spatula to form into a smooth thick crust.
Bake for 50-55 minutes. The edges will become crisp, but the pie will be soft to the touch.
For the Toppings
While the crust is baking, heat a tablespoon of oil in a saute pan over medium-high heat. Add the squash and peppers and saute until tender (other vegetables that would be yummy are mushrooms, onions, spinach, etc.). Set aside.
Assemble the pizza with the sauce, half of the cheese, toppings, and remaining cheese. Broil on high for 5-6 minutes.
Finish with Parmesan, red pepper flakes, or oregano if desired.
Notes
*Nutrition info is based on one piece of pizza if a 10" pan is cut into 8 pieces. I would account 2 pieces per person, or one piece if there are sides served.
Adapted from Mollie Katzen
Adapted from Mollie Katzen
http://www.vodkaandbiscuits.com/