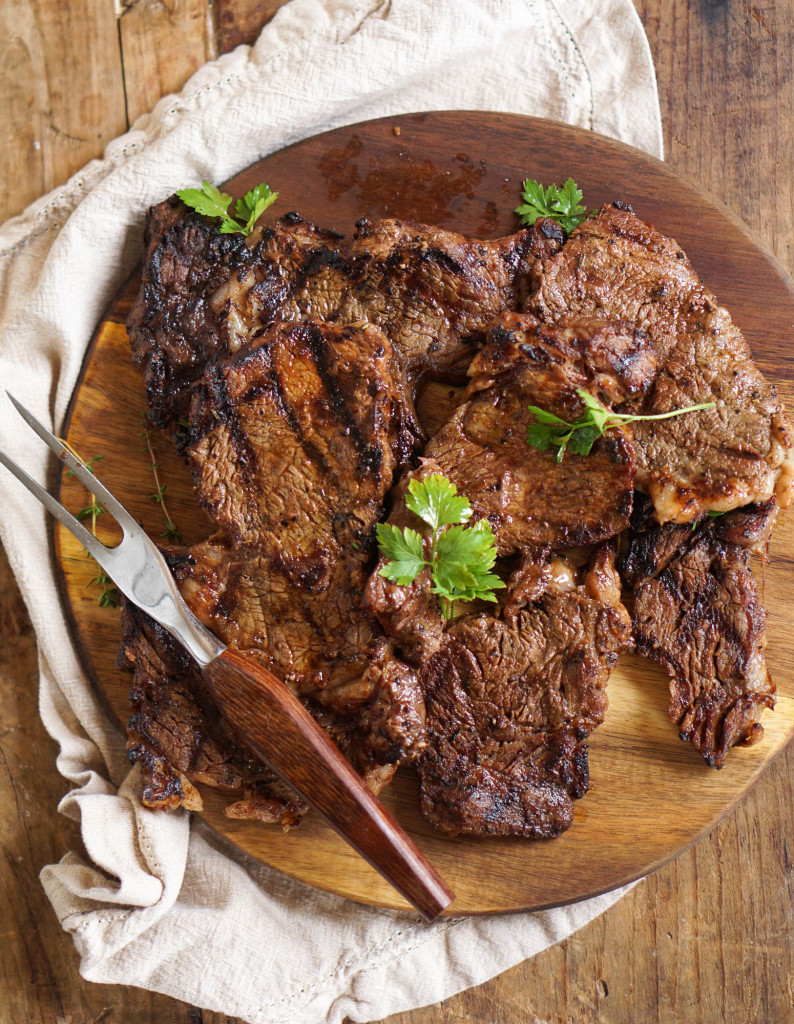 What the hell is an APL you ask?
Welp, you're in for a treat.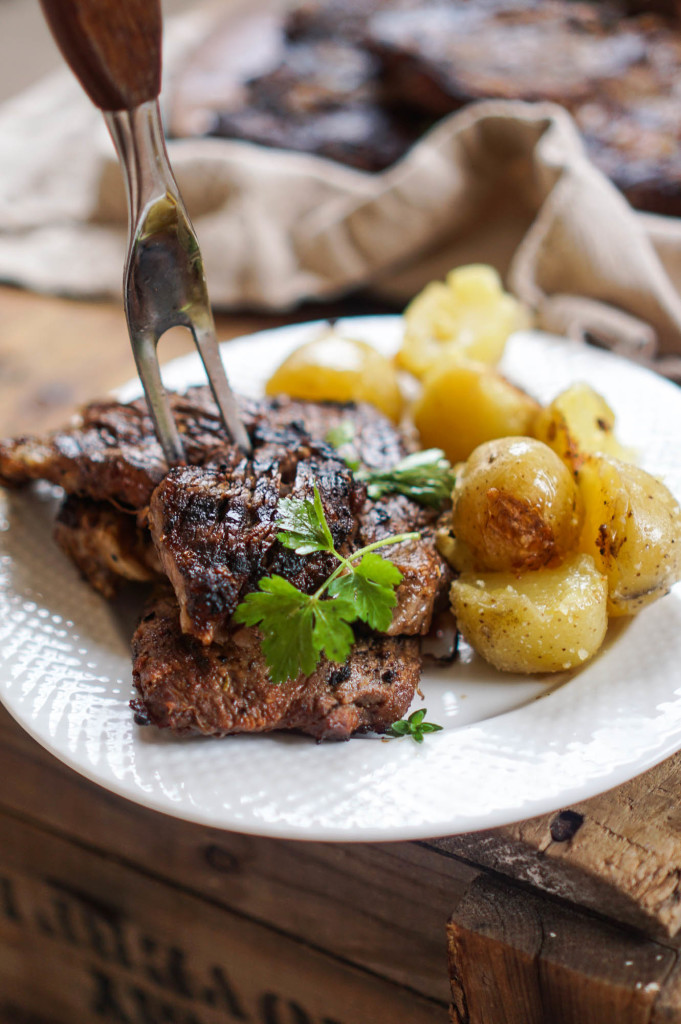 As of last year I came across chef, grill artist, and cook book author Adam Perry Lang after searching endlessly on cooking techniques for lamb chops. You can read all about that HERE, but since then I've become obsessed with his recipes and better yet, grilling techniques.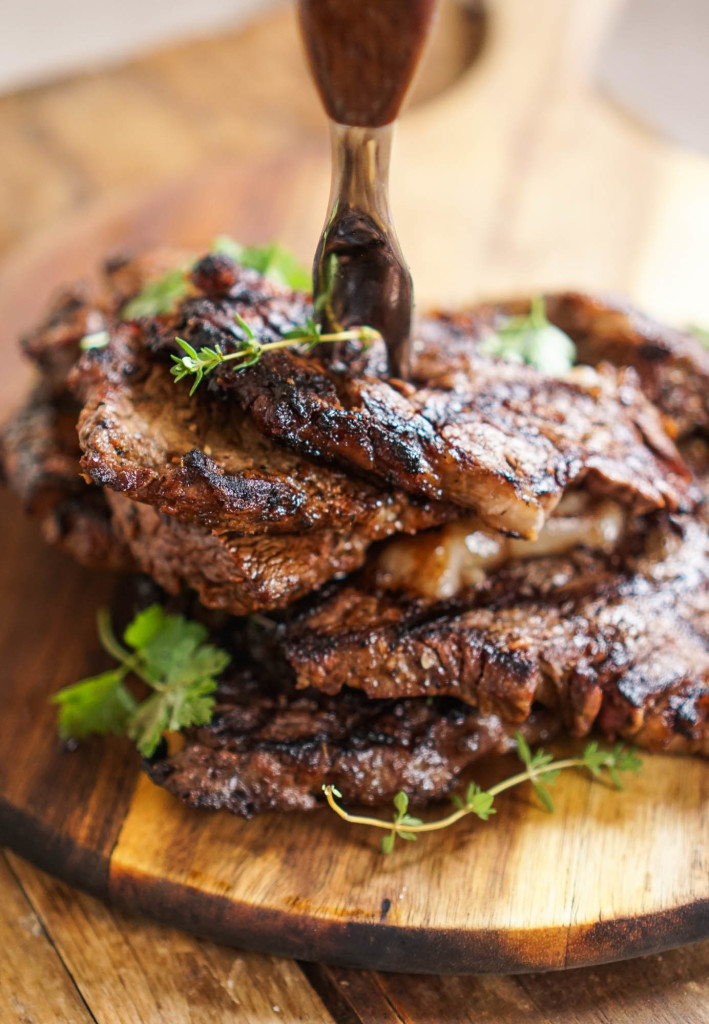 For Christmas my mom bought me BBQ 25 and I've been waiting for this crappy weather to break so I can fire up the grill and break into this cook book. This is my second recipe I'm sharing of his and let's just say I am typing this an HOUR after cooking this dinner because I'm THAT excited to share it with you. You guys, do yourself a favor and buy this book.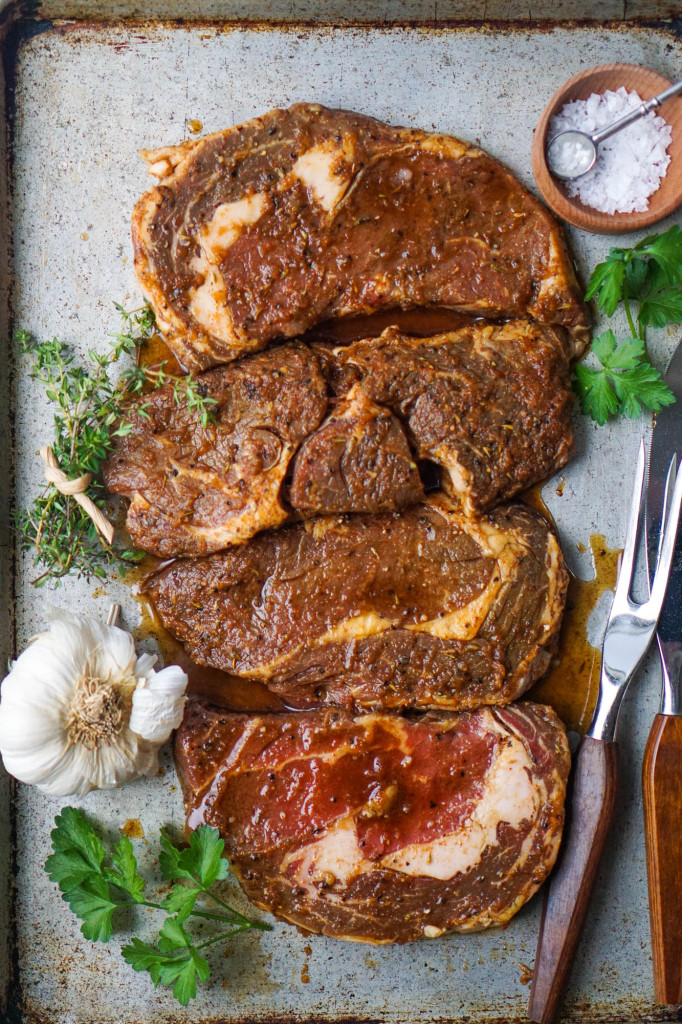 Boneless 1″ rib-eye steak marinated in a combination of yums like soy sauce, vinegar, sugar, garlic, onion, chili powder, and thyme then grilled to a caramelized perfection. You probably have almost all of the ingredients in your kitchen right now, just sayin'.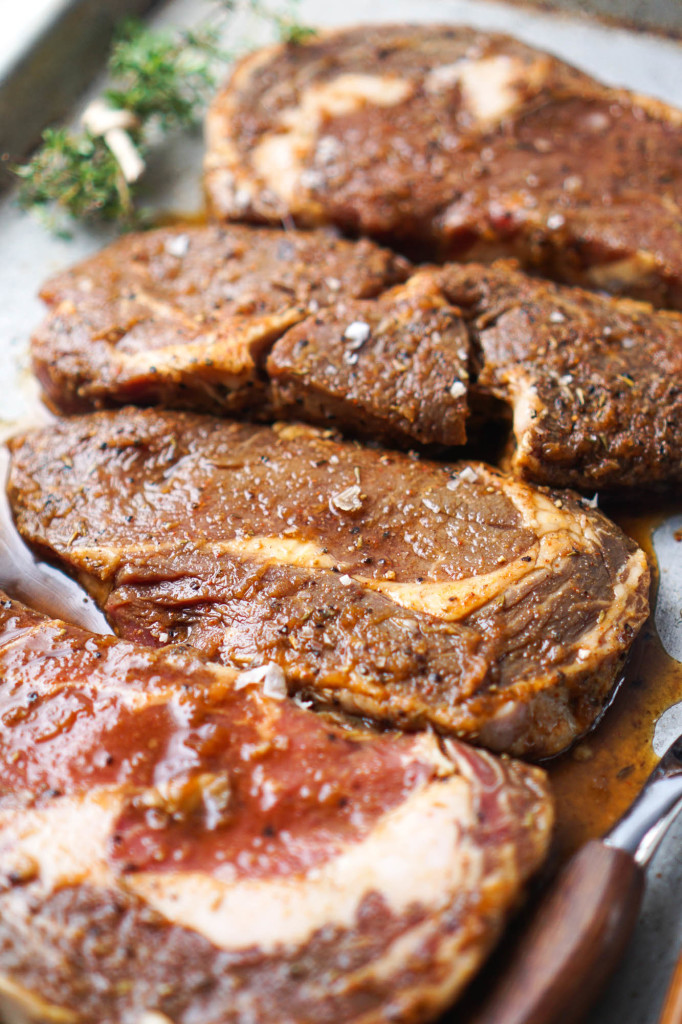 I let my steaks marinate for a good 3 1/2 hours and mine were SO flavorful I couldn't even handle. I'd say marinate yours for a minimum of two hours and a maximum of 24, or a minimum of three hours if your steaks are thicker than 1″.
Speaking of, I'm such a fan of thinner cuts of steak, especially cuts similar to rib-eye. I'm not saying a big bite of juicy steak isn't amazing, but if done right these 1″ or less steaks can be melt-in-your-mouth perfection. Also let's not forget to mention all the fun things you can do with them. When you're eating this steak imagine this on some crusty bread with arugula and peppered horseradish creme fraiche. GAH.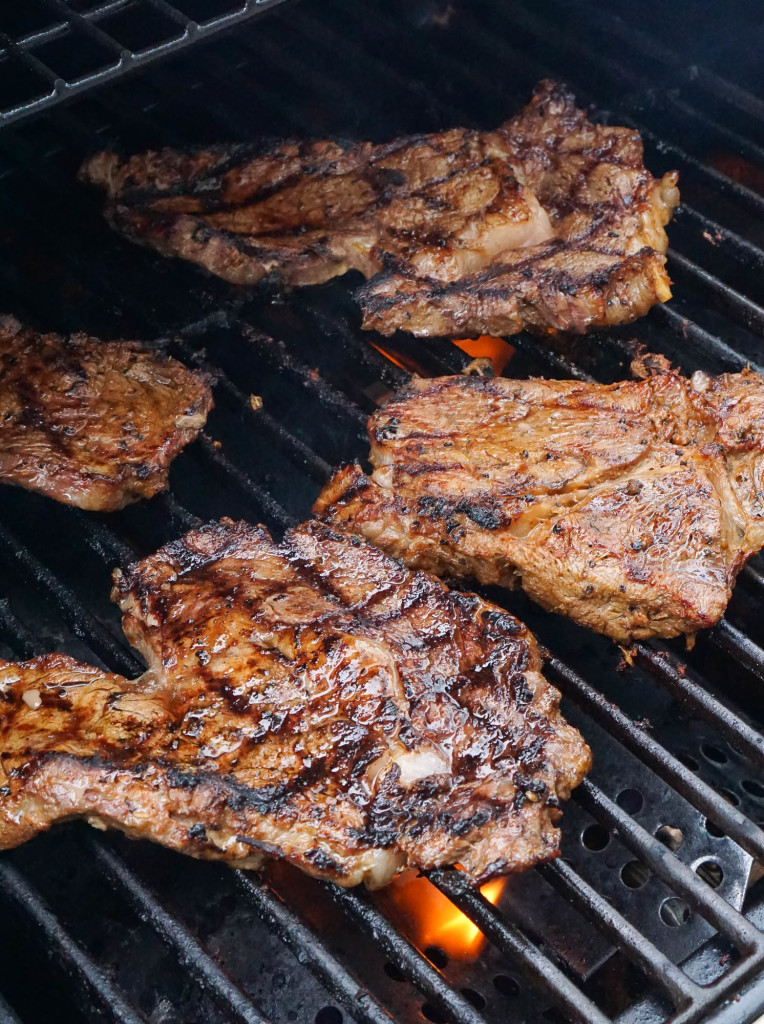 Grilling is the easiest part. After your steaks have had it's flavor bath, give it a good sprinkle of salt and pepper, brush of canola oil, and cook on the grill for about 6 minutes each side (depending on the size of your steak). Voila!
You'll see in the recipe talk about an herb brush. It's a simple basting technique that really enhances flavor using a bundle of thyme. If you have the ingredients, do try it out!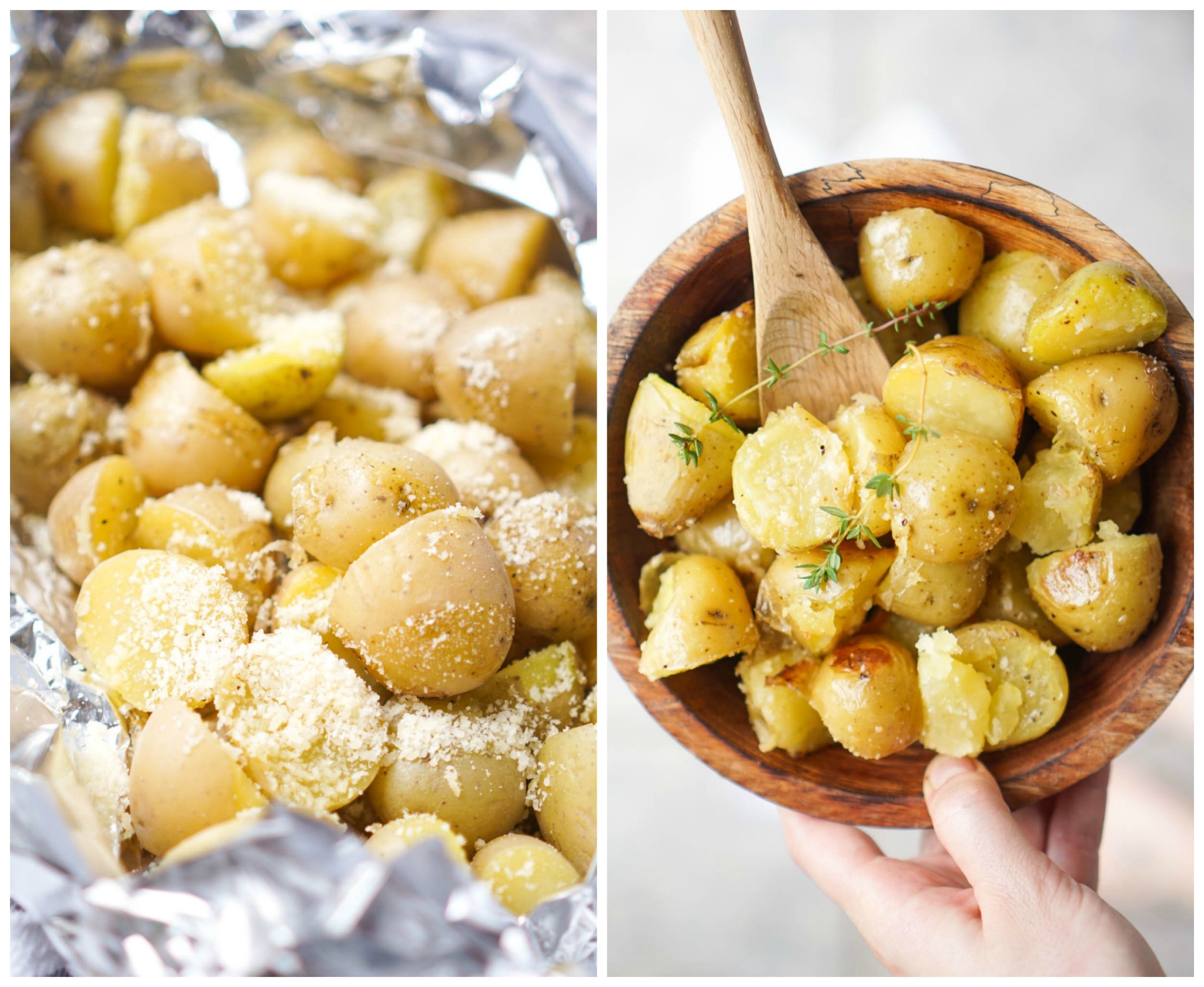 You can't have an amazing steak recipe without a killlller side dish so I adapted these potatoes from my darling's mom. Golden potatoes par-boiled, then wrapped in foil with a spoonful of butter (or olive oil), Parmesan cheese, garlic salt, and black pepper. Throw them on the grill next to your steaks and soon you'll be faced in front of a bowl of the cheesiest melt in your mouth potatoes. Game changer.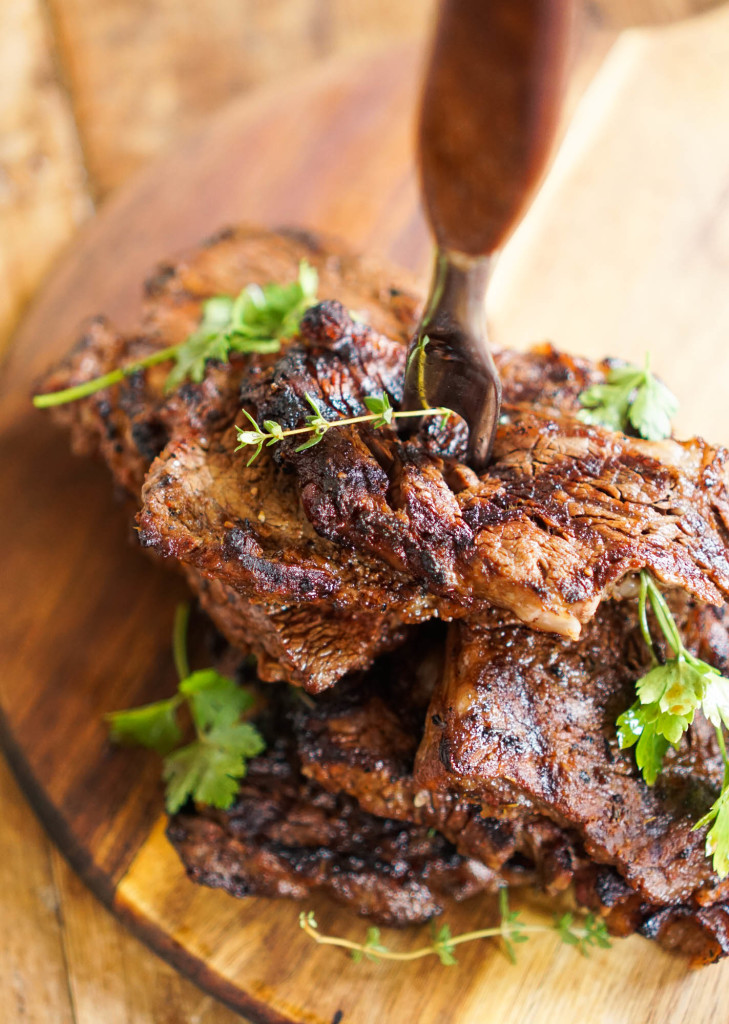 In the recipe I give Adam's suggestions on different cuts of steak, plus cooking times depending on the size of your steak. Read it through, plan it out, and make this ASAP. This recipe is everrrrything. Enjoy!
APL Marinated & Grilled Rib-Eye with Parmesan Grilled Potatoes
2016-05-09 17:28:52
Serves 4
Boneless Rib-Eye steak marinated in soy sauce, vinegar, thyme, garlic, onion, and chili powder, grilled to a caramelized perfection and served along side cheesy grilled potatoes.
For the Steak
2 tablespoons soy sauce
2 tablespoons rice wine vinegar
1 tablespoon granulated sugar
2 teaspoons black pepper
2 teaspoons chili powder
1 teaspoon garlic powder
2 garlic cloves, minced (or grated)
2 tablespoons shallot, minced (or grated)
1 bunch fresh thyme (or 1/2 teaspoon thyme leaves)
1 tablespoon beef base dissolved in one tablespoon of water*
4 boneless rib-eye, T-bone, or strip steaks cut 1" or less*
kosher salt and fresh ground pepper to season
canola oil as needed
Optional: herb brush*
For the Potatoes
8 oz. baby golden potatoes
kosher salt as needed
1/4 cup finely grated Parmesan cheese
black pepper as needed
2 tablespoons butter
Needed: aluminum foil
For the Steak
Combine the first ten ingredients in a large ziplock bag. Mix and crush with your hands to combine ingredients together. Add the steaks and marinade for at least two hours, up to 24 hours. If marinating longer than three hours, place in the fridge.
When ready to grill, preheat the grill to medium-high heat. Make sure the grill grates are well-oiled.
Drain the steaks and dry with a paper towel. Season the steaks lightly with kosher salt and black pepper on each side, then brush with a light layer of canola oil. Add the steaks to the grill and cook (lid open) to your desired temperature, ideally 6-minutes on each side for a total of 12 minutes. See notes below for optional herb brush!
If your steaks are more than 1" thick, cooking will take a total of 20-25 minutes. Use a meat thermometer to achieve your desired doneness (135 degrees for medium rare).
Allow to rest five minutes before serving. Serve with Parmesan Potatoes (below).
For the Parmesan Potatoes
Add the potatoes to a large pot and cover with water. Add 2-3 pinches of salt. Bring to a boil and cook 6-7 minutes until fork tender (this can be done hours before). While cooking, preheat the grill to medium.
Drain the potatoes and once cool enough to handle, cut in half. Transfer to a bed of aluminum foil. Dollop with two tablespoons of butter and evenly sprinkle the cheese.
Season with salt and pepper. Cover with another sheet of aluminum foil and place over the grill for 10-12 minutes until the cheese has melted and the potatoes are very soft.
Serve along side the steak.
Notes
*boneless rib-eye, T-bone, or strip steak less than 1" is ideal for this recipe. If your steak is thicker than 1", cooking times will increase. You may also substitute for a bone-in rib-eye.
*Beef base is something great to have on hand if you're ever in need of a flavorful beef base. Dissolve in water and add to the marinade, OR substitute with 1/4 cup beef stock.
*Herb brush is a bundle of thyme tied together used to baste the steak throughout cooking. To baste, combine 2 tablespoons olive oil, 2 tablespoons butter (melted), and two cloves smashed garlic. Dip the herb brush in the mix and baste on the steak throughout grilling.
Adapted from BBQ 25
Adapted from BBQ 25
http://www.vodkaandbiscuits.com/