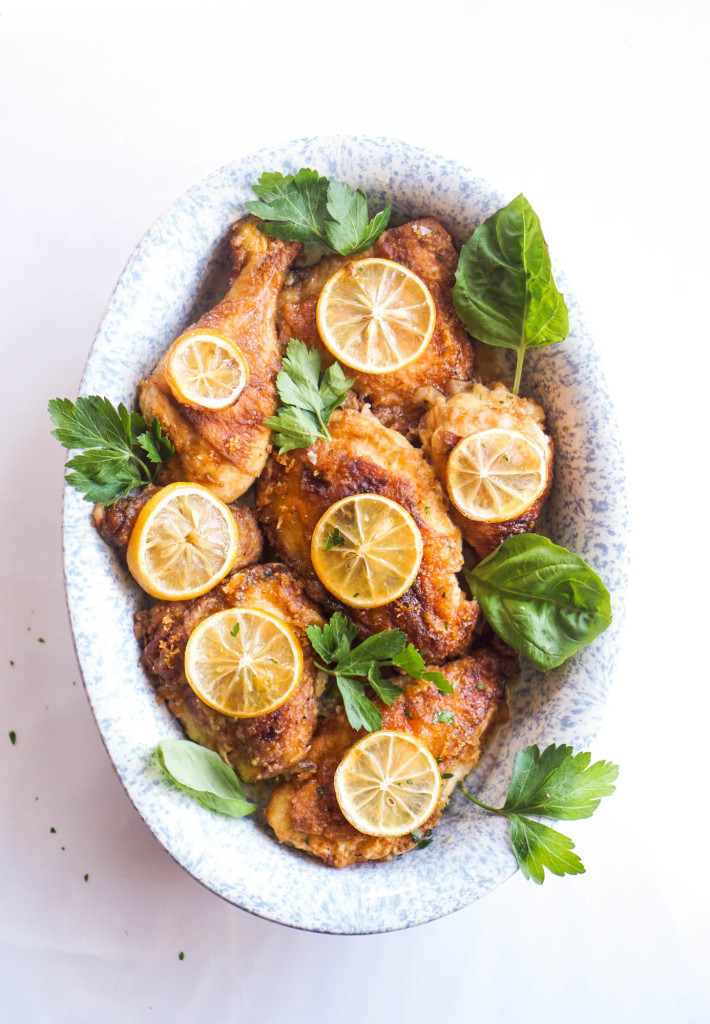 How much lemon chicken is too much lemon chicken because I've made this THREE times in ten days.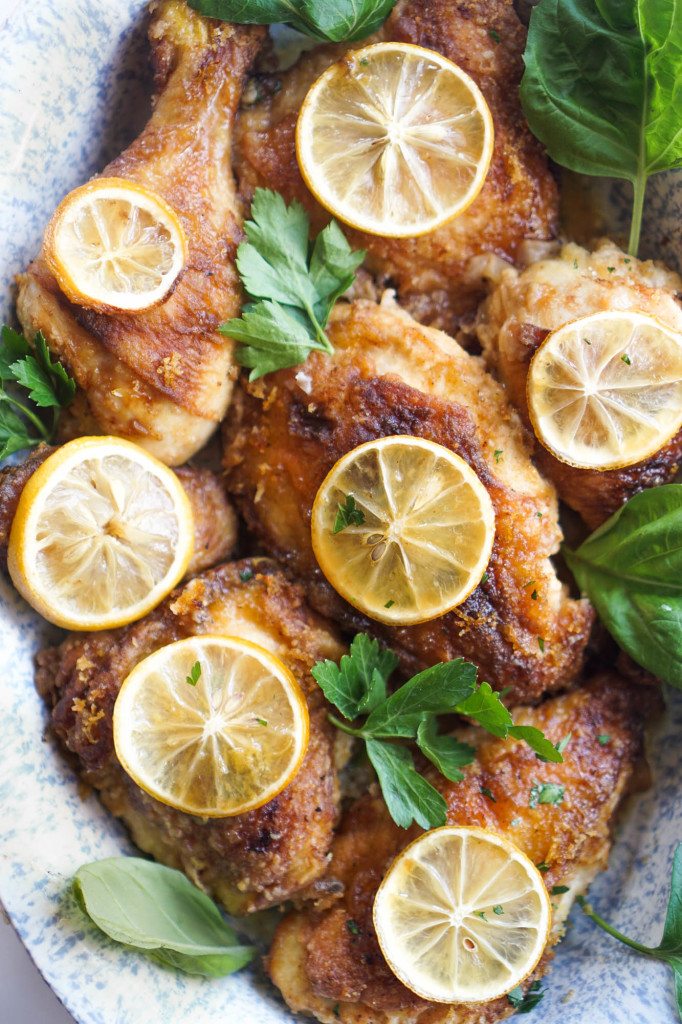 This is the final (for now) recipe I am sharing from the The Silver Palate Cookbook
. It's an old book that first came out in the 70's and I personally believe it's a classic everyone should have. I'm sharing recipes to show how some older recipes with simple ingredients and techniques are the best, like this beautiful tomato & spinach bread roulade, this hassle-free eggplant Parmigana, and now this divine lemon chicken.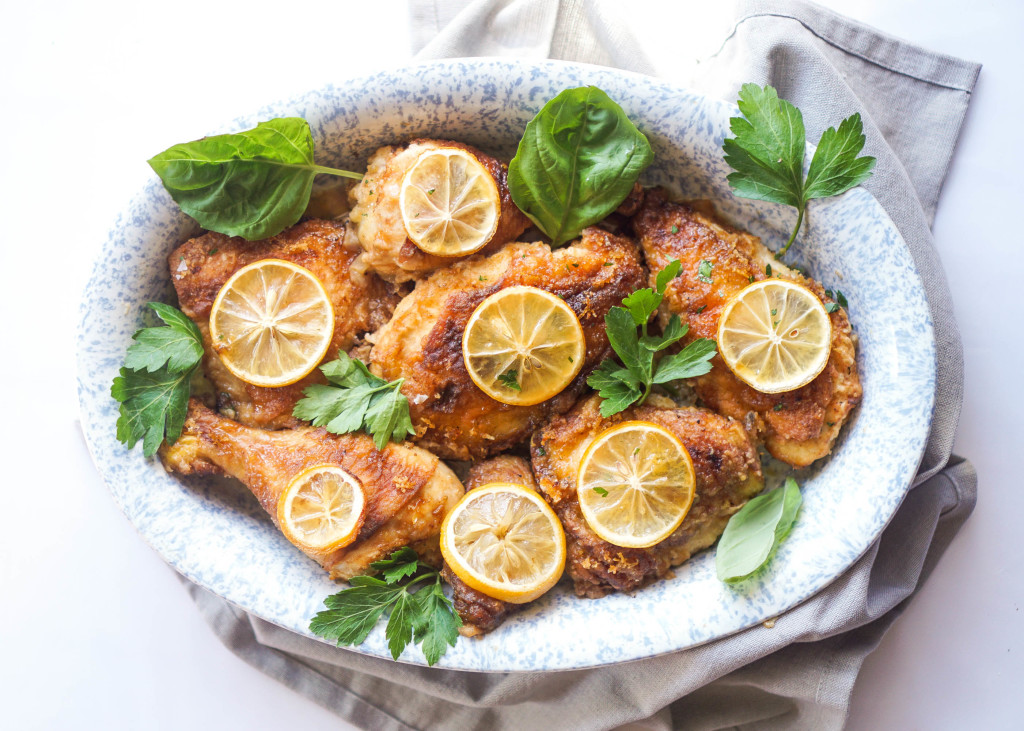 Chicken marinated in fresh squeezed lemon juice, dredged in seasoned flour, pan-fried to a golden breaded perfection, topped off with a peppery sugary lemon zest, then baked with a splash of stock, wine, and more lemon. Plan out your menu, go to the grocery store, and call over some friends. This chicken deserves it. Let's start cooking.
The Chicken
The recipe calls for an entire chicken cut into eight pieces which you can do at home or buy already butchered. There's nothing compared to the flavor of bone-in skin-on chicken and having the whole chicken gives your dinner guests a variety of white or dark meat. This recipe works with ANY cut of chicken, whether you want to use the entire butchered chicken, breasts, drumsticks, thighs, boneless, skinless, anything!
If you do decide to make boneless skinless chicken, read the notes in the recipe for revisions.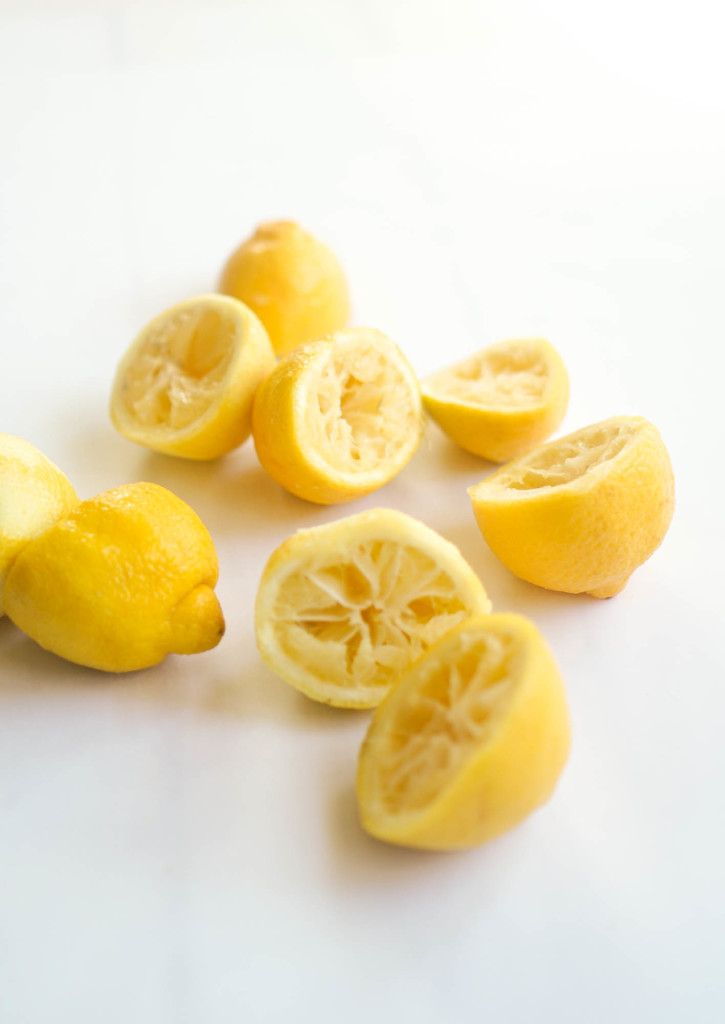 The first step is to marinade the chicken in fresh squeezed lemon juice. My eight pieces took 7-8 lemons. You basically want the pieces to be almost half way submerged. This is when you break out your citrus-squeezin' gadgets!
I've made this with only a few short hours of marinating and while it isn't the same, it's still delicious. Just sayin'.
It marinades overnight or the morning before cooking. I'm sure we've all read before that you're not supposed to marinade chicken in citrus for more than an hour, let's just forget that was ever a thing k?
The Breading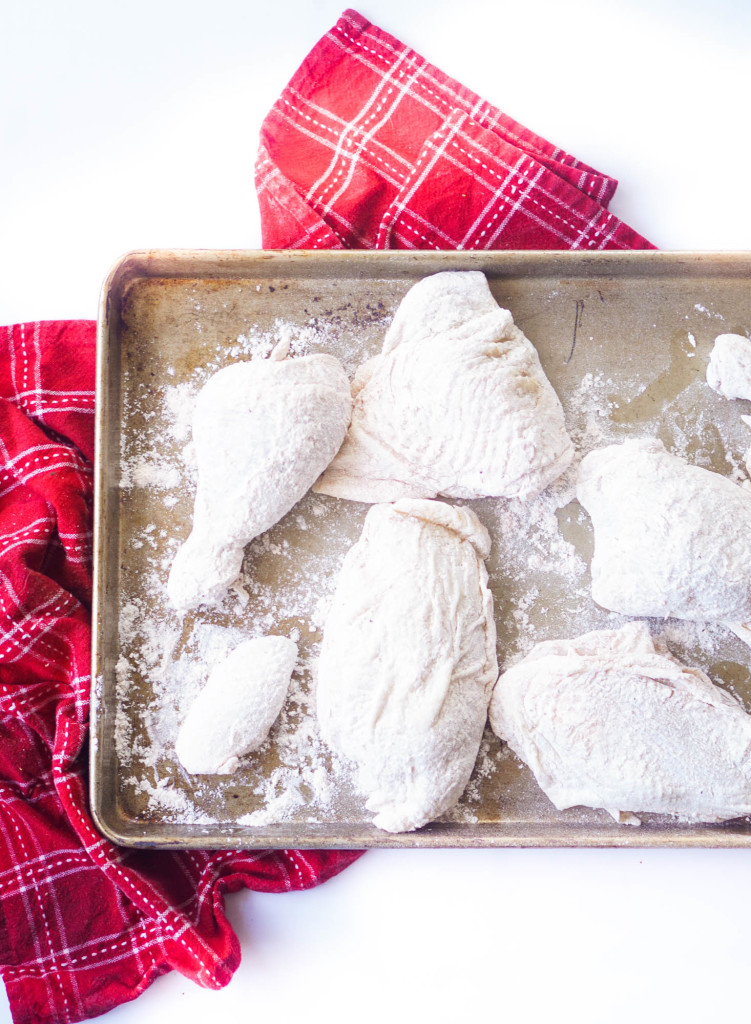 The chicken then gets coated in flour which is the part you want to call your kiddos into the kitchen. Fill a brown bag with seasoned flour and shake shake shake. It makes coating chicken SO easy and fun. That gets pan fried in a bit of oil on the stove top. It's not going to mimic deep fried chicken, but it will create a beautifully golden crispy breading.
The Bake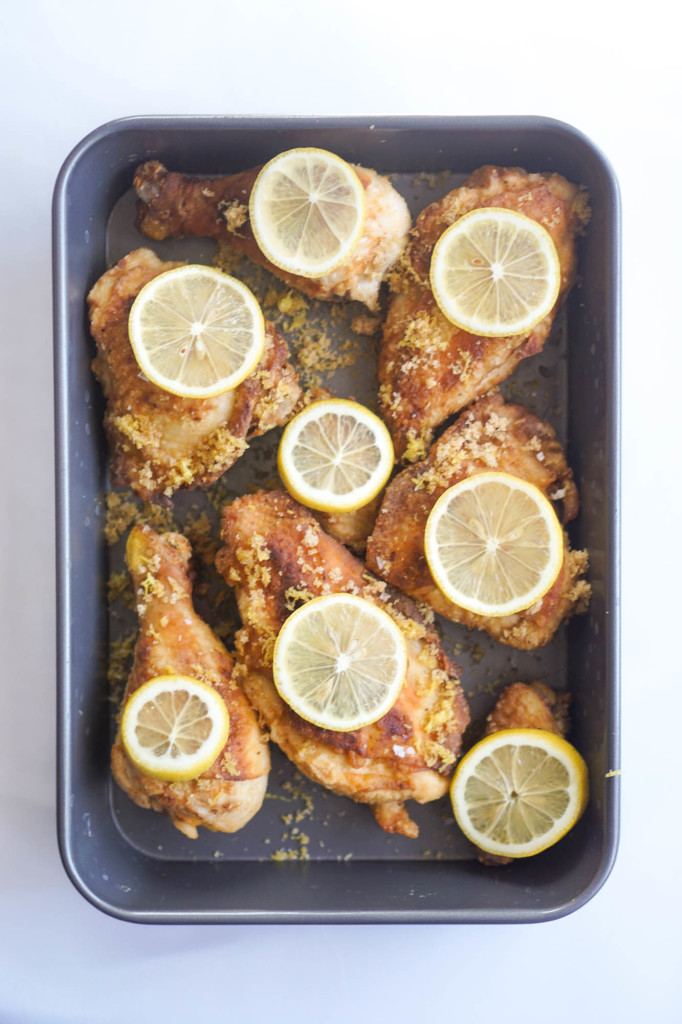 Before the chicken hits the oven you give it a sprinkle of brown sugar, lemon zest, & pepper, then add a splash of chicken stock and wine (optional but totally recommended). The whole sugary zesty sprinkle makes complete sense and I don't know why it's taken me so long to discover it. Silver Palate, ily.
The only problem I find with roasting a butchered whole chicken is the white parts (breast and wings) are done before the dark parts (legs, thighs, and drumsticks). If you're doing so, you might want to check and remove the white parts IF they're finished before the legs/thighs. I recently made this for a dinner party, served the breasts, then had to put the thighs and legs back in the oven for 10 more minutes. OOPS, thank goodness there was wine.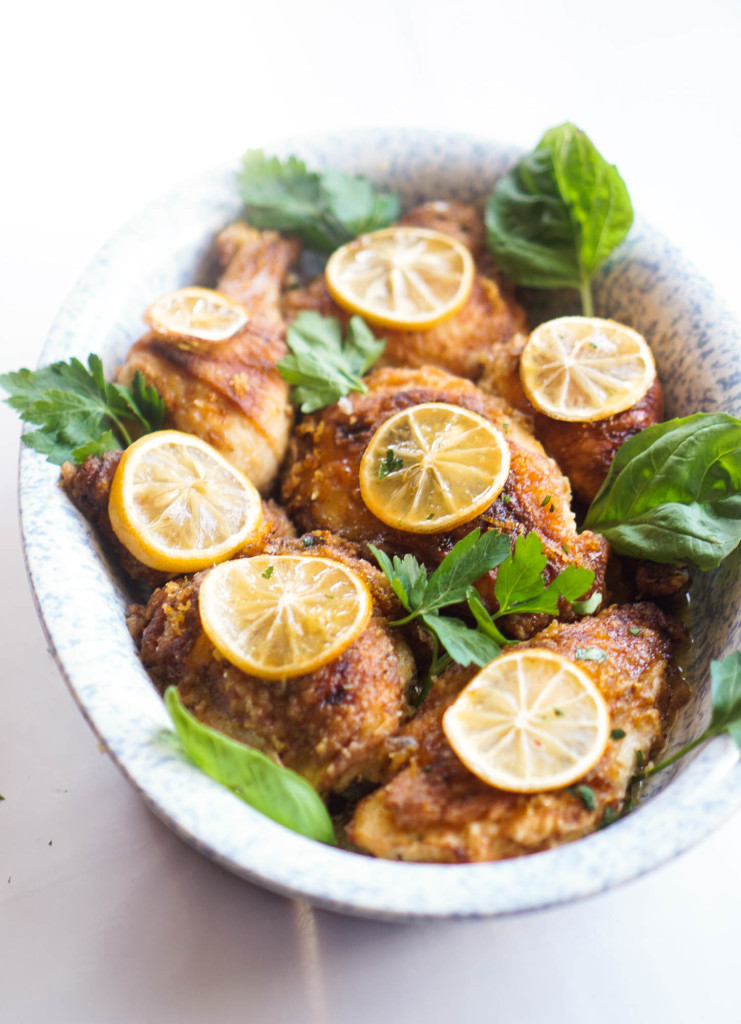 I think (I hope) my guests forgave me once they experienced the bite of this lemony, slightly sweet, juicy, perfect chicken. I recommend serving this with rice or something starchy so the pan juices can be soaked into your plate. The sugary zest melts into the breading and the breading melts into the chicken which will melt into your mouth.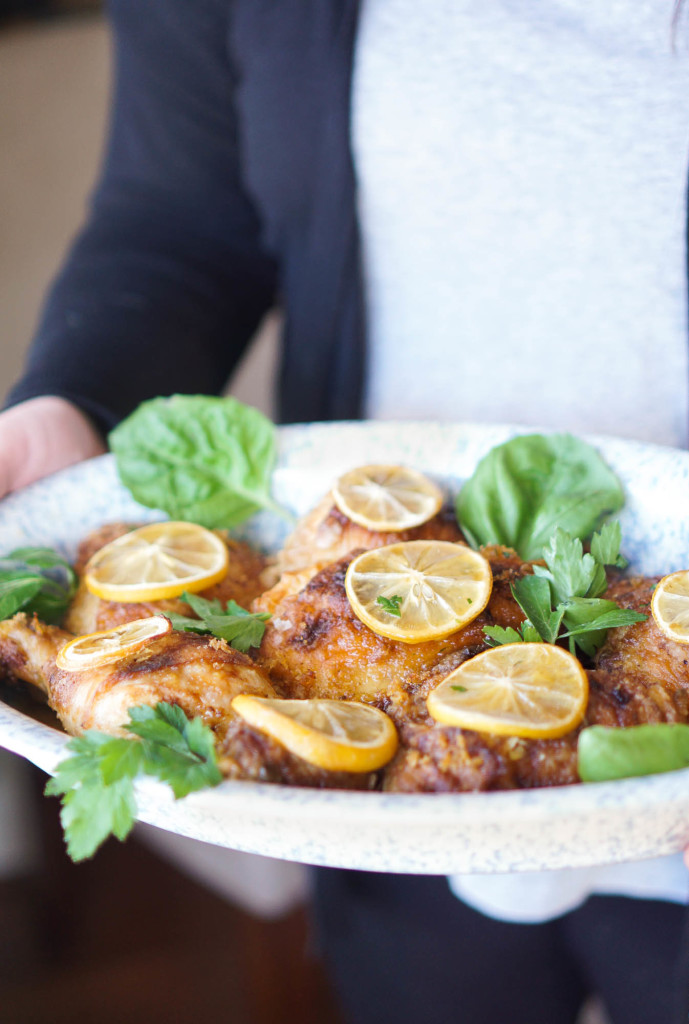 My family and friends have been introduced to this recipe and I cannot wait for you to introduce it to yours. Enjoy!
Silver Palate Lemon Chicken
2017-02-20 07:12:14
Serves 6
Ingredients
1 whole chicken, cut into 8 pieces*
1 cup fresh squeezed lemon juice, about 7-8 lemons*
1 cup all-purpose flour, plus more if needed
1 heaping teaspoon paprika
salt and pepper as needed
canola oil as needed
1 heaping tablespoon lemon zest
1 heaping tablespoon brown sugar
1/4 cup chicken stock
Splash of white wine (optional)
1 teaspoon lemon extract (optional)
1 lemon thinly sliced for garnish
Instructions
Combine the chicken pieces and lemon juice in a bowl just large enough to hold them comfortably. Cover and marinade in the refrigerator overnight or early the morning of cooking, turning every few hours.
Preheat oven to 350 degrees.
Rinse and dry the chicken pieces. Sprinkle lightly with salt and pepper. Set aside.
In a brown bag add the flour, paprika, 1 teaspoon salt, and 1/2 teaspoon black pepper. Shake to combine. Add the chicken pieces, 2-3 at a time, and shake to evenly coat in flour. Shake off excess flour and transfer to a plate.
Add enough oil to coat the bottom of a large skillet by 1". Heat over medium-high heat. Pan-fry the chicken, 2-3 pieces at a time, until well browned and crisped. This takes about 10 minutes per batch. Arrange the browned chicken pieces in a single layer in a large shallow baking dish.
Combine the brown sugar, lemon zest, and a 1/4 teaspoon black pepper. Evenly sprinkle the mix over the chicken pieces.
Mix the stock and lemon extract (if using) and pour around the chicken pieces. If using wine, add a splash or two. Set a thin lemon slice on top of each piece of chicken.
Bake until fully cooked, about 50 minutes.
Notes
You may use any cut of chicken as desired. For 2 boneless/skinless chicken breasts or thighs, you will need about 3 large lemons, 1/3 cup of flour, and bake time is 30 minutes (a little less for thighs).
I have marinated the chicken overnight AND the morning before cooking. Both times it has turned out great.
Read the entire recipe first as you will need plenty of lemons for marinade and garnish. Total is about 10. Please use fresh lemon as store bought lemon juice is not the same quality.
http://www.vodkaandbiscuits.com/